23 Best Road Trips from Nashville
Home of bluegrass, bourbon, and biscuits; Nashville doesn't have to try hard to please. This capital of Tennessee and country music has a deep history and a wonderfully alive contemporary culture. Another great thing about the Music City is that it is also centrally located for some remarkable road trips.
On this list of the 23 best road trips from Nashville, you can discover UNESCO World Heritage Sites, find rejuvenation in the Appalachian Mountains, relax on a white sand beach, and see iconic American cities from the heartland to the coasts.
Don't restrain your thirst for adventure any longer; all of Nashville's charms will be there when you get back. Read on below to find a guide to the road trip you've been daydreaming about.
Best road trips from Nashville
Day trips from Nashville (under 3 hours each way)
When you suddenly find yourself with a free day or feel like a Saturday escapade, these are some fun road trips from Nashville that you can fit into a day.
1. Mammoth Cave National Park, KY
1 hour 30 minutes from Nashville (90 miles)
Why you should visit: Get ready to explore an unparalleled natural wonder and still be able to make it back in time for supper.
As the name suggests, the Mammoth Cave system is massive. Consisting of over 400 miles, it is the longest in the world and contains amazing, cathedral-like, limestone formations.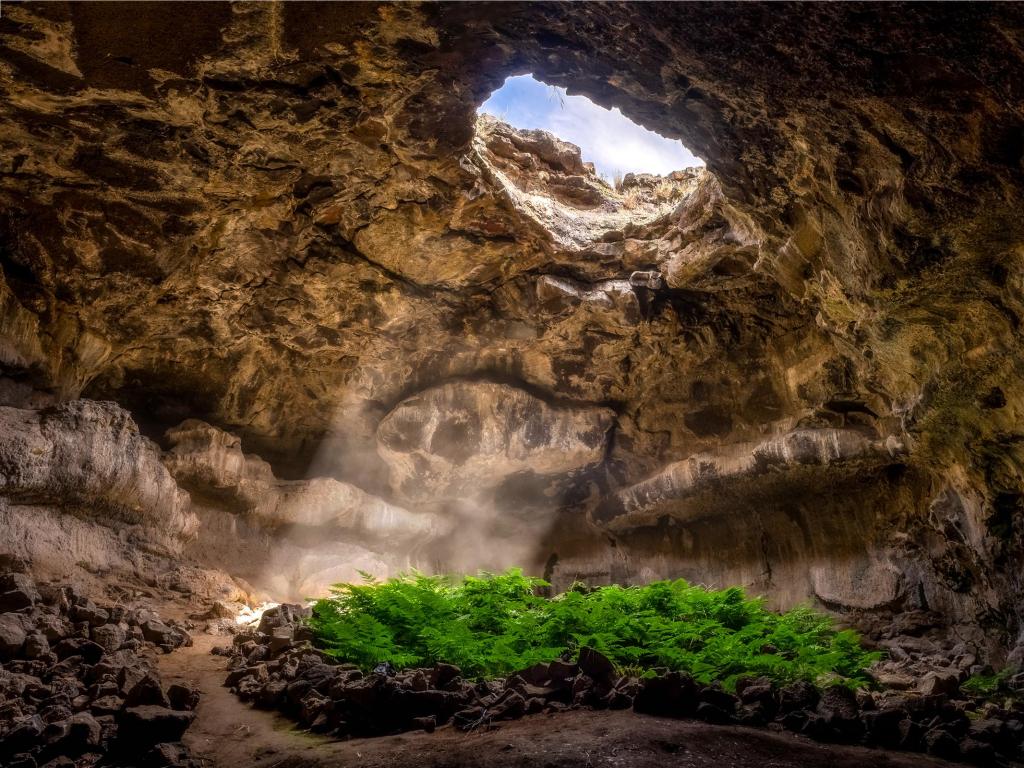 How to get there: Drive north of Nashville along Interstate 65 (I-65), then take Mammoth Cave Entrance Road in Park City to the caves.
Our highlights: Prepare to get down and dirty on one of the many tours available through the caves. The two-mile long historic tour is a favorite and a great way to learn more about the many generations who have been amazed by these caves.
A tight squeeze awaits you at Fat Man's Misery. Despite the name, most people should be able to navigate the narrow crevices of this popular underground trail.
Explore a bit above ground along the gorgeous Cedar Sink Trail, just south of the Green River. This short trail meanders through an emerald forest into a sinkhole surrounded by limestone cliffs where water descends into the caves below.
In case you want to adventure for more than a day, you can camp in Mammoth Cave National Park. Whether you prefer to rough it in a tent, glamp in a cabin, or stay in the Lodge, there are accommodations to suit everyone's preferences.
Bonus: Mammoth Cave is so unique that UNESCO created the Mammoth Cave Biosphere Region and deemed the area a World Heritage site.
Our travel tips: As you can imagine, summer is the most popular season, so any tours or camping sites should be booked before you visit during the warmer months. The National Park Service recommends booking tickets for popular tours weeks in advance.
2. Huntsville, AL
2 hours from Nashville (110 miles)
Why you should visit: This is one of the few places where that stranger whom you meet at a bar who claims to be a rocket scientist might actually be telling the truth. Housing NASA's Marshall Space Flight Center and the US Space and Rocket Center, it's easy to see why Hunstville is called "Rocket City".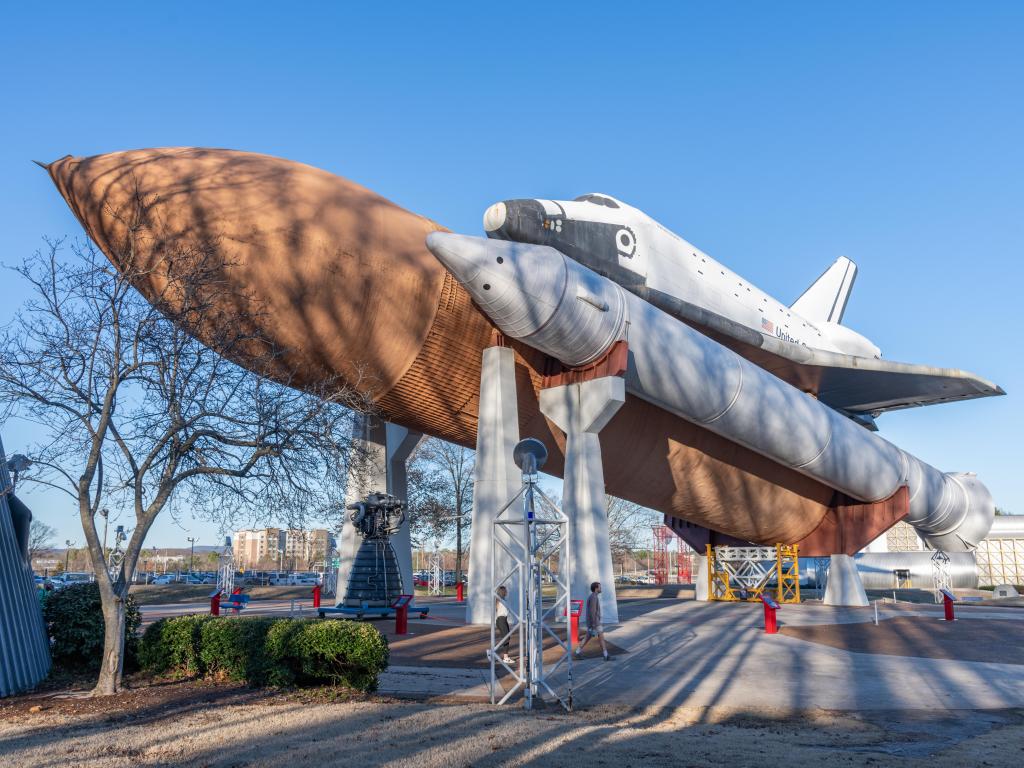 How to get there: Head south on I-65 until Ardmore, near the Alabama border. From there take Alabama Route 53 further south to Hunstville, AL.
Our highlights: It would be silly to come all the way here and not visit the U.S. Space and Rocket Center, Hunstville's biggest attraction. It has one of the most comprehensive collections of shuttles and rockets in America, spread out over an area so big they even have scooters for people to see all the exhibits without wearing out their legs.
For more earthly delights, head to the nearby Monte Sano State Park. Rolling hills carpeted with verdant forests interspersed with waterfalls and narrow canyons await your explorations. You can also find a carefully cultivated Japanese Garden here.
For stunning sunsets and a taste of local history, saunter up to Burritt on the Mountain. Situated on 167 acres, this 19th-century mansion built by an eccentric homeopathic doctor is both an educational park as well an event space.
Check their calendar before your visit and try to catch one of their cocktail hours or musical evenings.
Another outdoor gem is the Hunstville Botanical Garden. Spread out over several ecosystems, from forests to wetlands, it is open year-round. During a spring or summer visit you will be greeted by endless blossoms in a picturesque landscape.
Bonus: Despite the futuristic rocket theme that dominates modern Huntsville it is actually Alabama's first Anglophone town which was incorporated in 1811. At places like the beautiful Maple Hill Cemetery and Twickenham Historic District you can get a better sense of the town's deep roots.
3. Jackson, TN
2 hours 10 minutes from Nashville (120 miles)
Why you should visit: Rustic Jackson, TN has a long history as a center of railroad development and is the birthplace of Rockabilly music.
Less well-known than Memphis and Nashville, Jackson can still hold its own when it comes to music and whiskey. There's plenty to fall in love with in this country town.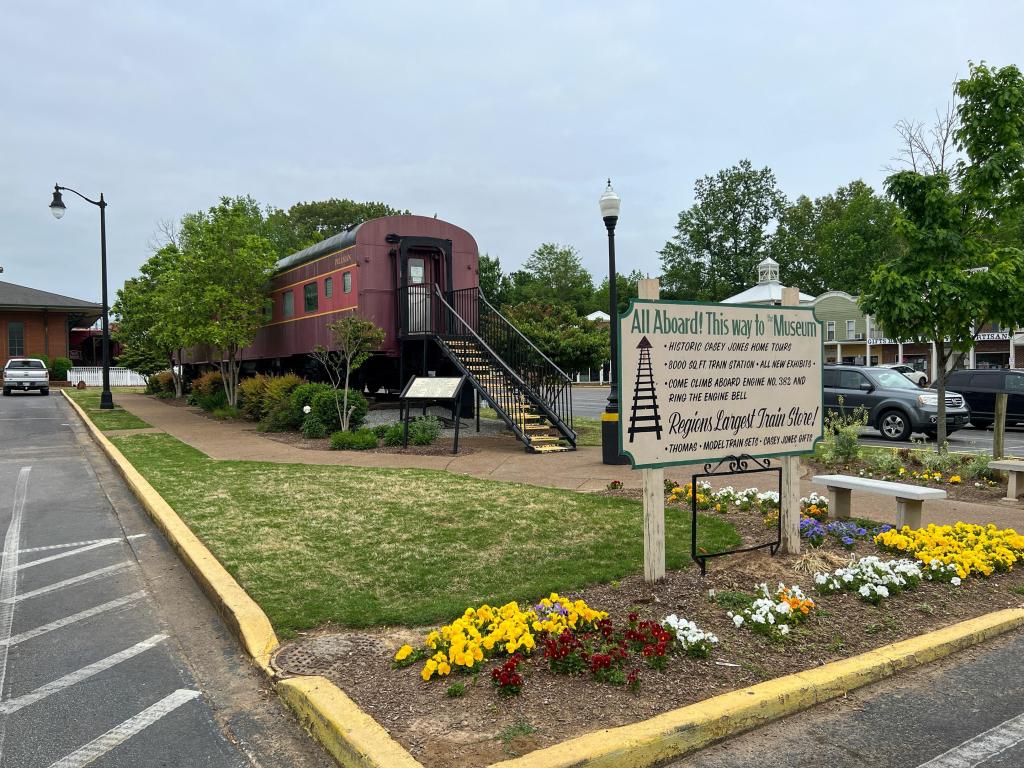 How to get there: I-40 directly connects Nashville and Jackson. Just head southwest from Nashville, then take US-70 for the last little stretch into Jackson.
Our highlights: At Rusty's TV and Movie Car Museum you'll get your daily dose of childhood nostalgia. Walking through their two warehouses full of over 50 cars and other props actually used in filming classics such as "Ghostbusters", you'll relive the magic that these movies inspire all over again.
Learn more about Jackson's role in the formation of Rockabilly, where country and rock n' roll mingle, at the Carnegie Legends Museum. This museum has memorabilia from individual musicians as well as telling the story of how the Hard Rock Café was born in Jackson.
Travel back to the romantic era of steam engines and railroad heroes at the Casey Jones Village and Railroad Museum. This historical site tells the tale of a supremely talented and ill-fated 19th-century locomotive engineer, Casey Jones, who was famed in life for his uncanny skills and immortalized after his death at 37 in "The Ballad of Casey Jones."
Spend a leisurely afternoon at the rustic Century Farm Winery, on the outskirts of Jackson. This friendly and unpretentious winery has a knowledgeable staff and a wide selection. Be sure to try the Blackberry wine, it's one of the best!
If you want to try something really embraces the country lifestyle, head out to the Samuel T Bryant Distillery just off Exit 74 on I-40. From fruit-infused moonshine to expertly distilled whiskey, there's a wide range of spirits to taste and learn about in their spacious, barn-like tasting room. Tours of the distillery are also available.
Just south of Jackson, you'll find Pinson Mounds State Archaeological Park. Here 15 Native American burial and ceremonial mounds are preserved, some dating back to 400 A.D. The museum on site is designed to model a mound that you can explore, along with many artefacts found throughout Western Tennessee.
4. Muscle Shoals, AL
2 hours 20 minutes from Nashville (120 miles)
Why you should visit: Surrounded by cotton fields and the heavy heat of the Deep South, this small town has been the creative incubator of some incredible music.
In addition to two iconic studios, FAME and Muscle Shoals Sound, where the likes of Aretha Franklin and Bob Dylan recorded some of their hits, this town has some more understated yet thoroughly enjoyable attractions.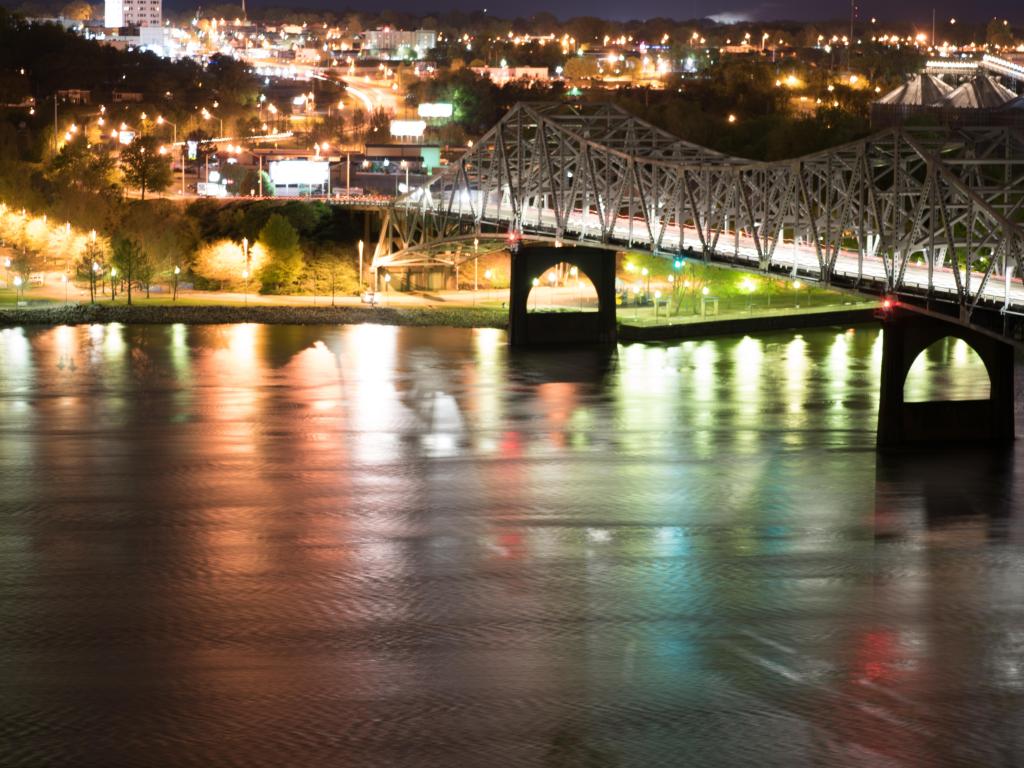 How to get there: From Nashville, drive south on I-65 to US Highway 31 in Spring Hill, which connects to US Highway 43. Take that all the way to Killen, then hop on US-72 across the river to Muscle Shoals.
Our highlights: FAME Recording Studio was opened in the early 1960s by producer Rick Hall. You can still visit the small wood-paneled studio and admire the many original photos and recordings of the dozens of soul and R&B hits that were recorded in this magical space.
In the neighboring town of Sheffield, you can continue your musical time traveling at Muscle Shoals Sound Studio, which was founded later in the 60s by several studio musicians who broke away from FAME Studio. Here the Rolling Stones recorded 'Brown Sugar" in 1969.
Move from a world of sound to the silent world of a familiar face. In Muscle Shoals, you can tour the birthplace and childhood home of Helen Keller, who broke innumerable boundaries to show a world that doubted her what she really was beyond her perceived disability.
What's a trip down South without some soul food? Try and record your own "Hot Ones" style interview at the Rattlesnake Saloon as you munch on some incredibly spicy wings.
Fans of the great American architect Frank Lloyd Wright will be excited to know that across the river in Florence, the Rosenbaum House is open for visitors. The only house Wright ever built in Alabama, this striking Usonian home was constructed in 1939 and contains many of the features that make his houses instantly recognizable.
Bonus: You can prepare for your trip by watching the 2013 documentary "Muscle Shoals" about the town's two genre-defining recording studios.
Click here to skip back to the top.
Weekend trips from Nashville (3-5 hours each way)
If you are convinced that a weekend should be more than catching up on chores and binging your favorite show on TV, find inspiration below for your next weekend getaway.
5. Chattanooga, TN
Via McMinnville and Jasper, TN
3 hours 10 minutes from Nashville (160 miles)
Why you should visit: Nestled in the foothills of the Blue Ridge Mountains, Chattanooga is a premier adventure destination in southeastern Tennessee. Beyond breathtaking views and forest trails, Chattanooga has great food and shopping in the rustic riverside downtown area.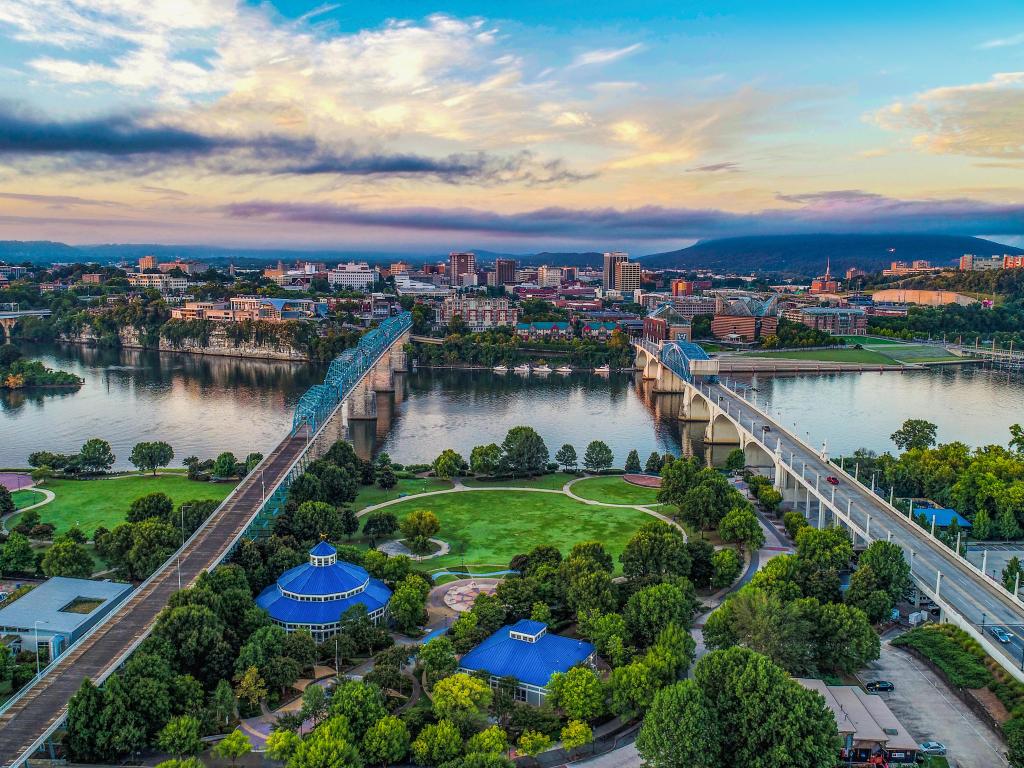 How to get there: Take I-24 east towards Murfreesboro, then hop on US-70 south towards McMinnville. After smelling the roses there, take Tennessee Highways 8 and 28 to Jasper and finally cross the Tennessee River to arrive in Chattanooga.
Our highlights: Two wonderful places to explore on the way are McMinnville, the "Nursery Capital of the World" and perfect for gardening enthusiasts, and Jasper, which has a cute downtown area and is surrounded by climbing spots.
In Chattanooga, start your sightseeing by taking the Incline Railway up to Lookout Mountain. Operating since 1895 and retrofitted with a see-through ceiling, you can enjoy spectacular views all the way up to the top.
Once you get there, be sure to check out the Civil War battle sites which marked a great turning point in the course of the war.
In the land of bourbon, it is quite an accomplishment to be a thriving distillery for over 100 years. The Chattanooga Whiskey Experimental Distillery is one of the area's top attractions and is deserving of its stellar reputation. Try a flight and discover your next go-to nightcap.
Raccoon Mountain Caverns is a must-see for adventure seekers who aren't afraid of the dark. These intricate limestone caves were formed over millions of years and boast a cavern so impressive it was deemed the Crystal Palace Room.
If you want to get some thrills above ground, Chattanooga is a mountain biker's paradise. Raccoon Mountain is a popular spot with an extensive trail system, as is Enterprise South Nature Park on the other side of town.
After a day of adventure, wind down with a sunset stroll over the wrought-iron Walnut Street Bridge. It is a pedestrian-only bridge that connects the two sides of Chattanooga. There are plenty of dining options, shops, and viewpoints on either side and along the way.
Bonus: Ruby Falls is the largest underground waterfall in the US. Take a guided tour and learn about its unlikely discovery and all the work that went into making it an accessible and unmissable Chattanooga sight.
Our travel tips: Chattanooga is increasingly known as a fine dining destination, so plan on eating out often to try as many of the great flavors of this scenic town as you can.
There are mountain bike and e-bike rental places around the town, in case you don't feel like hauling around your own cycle.
6. Memphis, TN
Via Jackson, TN and Hatchie National Wildlife Refuge
3 hours 30 minutes from Nashville (220 miles)
Why you should visit: Memphis is a city of soul; from food to music this is a city that knows how to get to the heart of goodness. Famous for influential recording studios and key moments in the Civil Rights Movement, this city has a great balance of fun and historically significant sites to visit.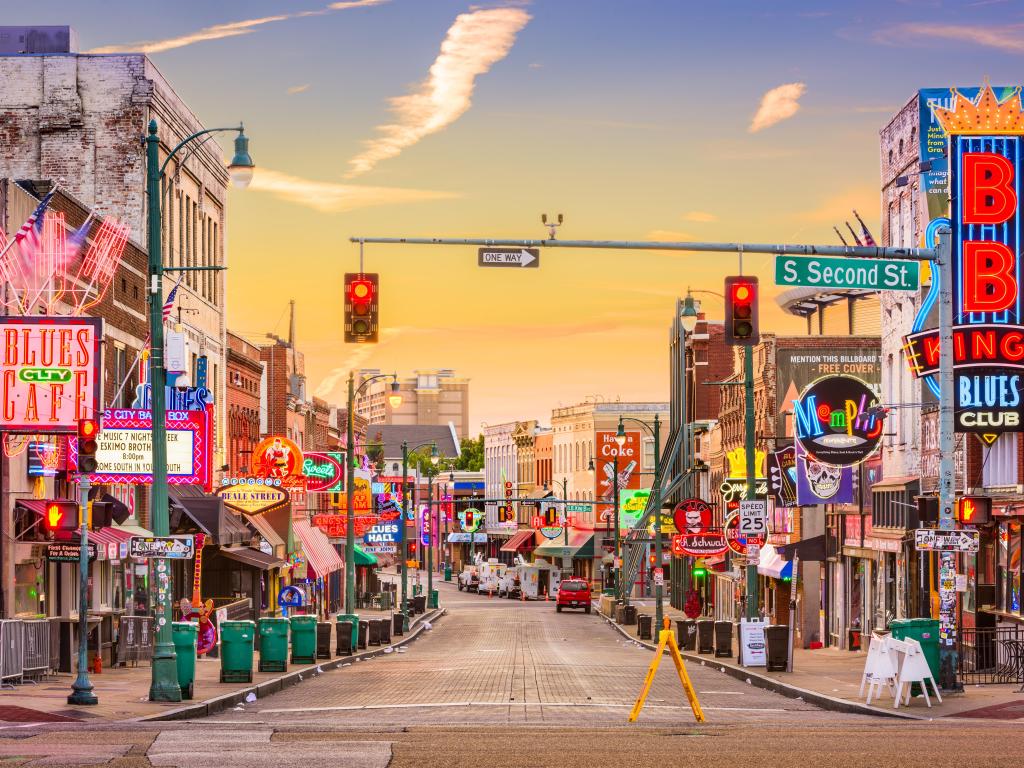 How to get there:I-40 stretches all the way between Nashville and Memphis on this road trip, down in the southeast corner of Tennessee. Along the way, we suggest stopping in quaint Jackson, TN and Hatchie National Wildlife Refuge if you'd like to make this a multi-city trip.
Our highlights: The Hatchie National Wildlife Refuge is a unique floodplain environment that is great for birdwatching. You can explore the area via the extensive trails or on a kayak as you take a break from the road.
Just outside of Memphis, pay homage to the King at Graceland, a 13-acre complex Elvis Presley purchased to be in a place he loved. You can tour the mansion and learn more about the legend at the Elvis Presley Museum.
When Elvis was just 19, he recorded at Sun Studio in downtown Memphis and the rest is history. You can still tour this small studio where B.B. King and Johnny Cash also recorded.
Follow it by visiting the highly interactive and groovy Stax Museum of American Soul Music where they tell the complete story of how soul music came to be.
Memphis is also home to the Lorraine Motel where Dr. Martin Luther King Jr. was assassinated in 1968. It has since been transformed into the National Civil Rights Museum and is a must see for those who want to learn more about the long struggle to realize the American Dream for everybody.
To go deeper into the cultural and economic roots of the area, stop by the Cotton Museum at the Memphis Cotton Exchange. This small museum in the renovated Exchange building won't take more than an hour to explore, but it will be worthwhile for anyone interested in this plant that shaped the American economy for centuries.
Bonus: Memphis was named for the ancient Egyptian city and around this American counterpart you can still catch a few nods to their ancient namesake.
There's a free museum of Egyptian artefacts at the University of Memphis and even a 60% scale version of the Pyramid of Giza that was turned into a Bass Pro shop. Here you can still ride a 28-story elevator to the top for incredible views of this river city.
Our travel tips: Get around downtown Memphis via the affordable and adorable vintage trollies.
Be sure to buy tickets for Graceland ahead of time online as it is one of Memphis' most popular attractions.
READ MORE - Road Trip from Nashville to Memphis
7. Tupelo, MS
3 hours 50 minutes from Nashville (220 miles)
Why you should visit: Tupelo is best known as the place where Elvis Presley was born, but it is also the headquarters of the Natchez Trace Parkway. You can find our ultimate guide to Natchez Trace parkway here.
Especially if you've already visited Memphis, where Elvis first made it big, a trip to Tupelo will really complement many of the sights and tidbits about the King's life you picked up there.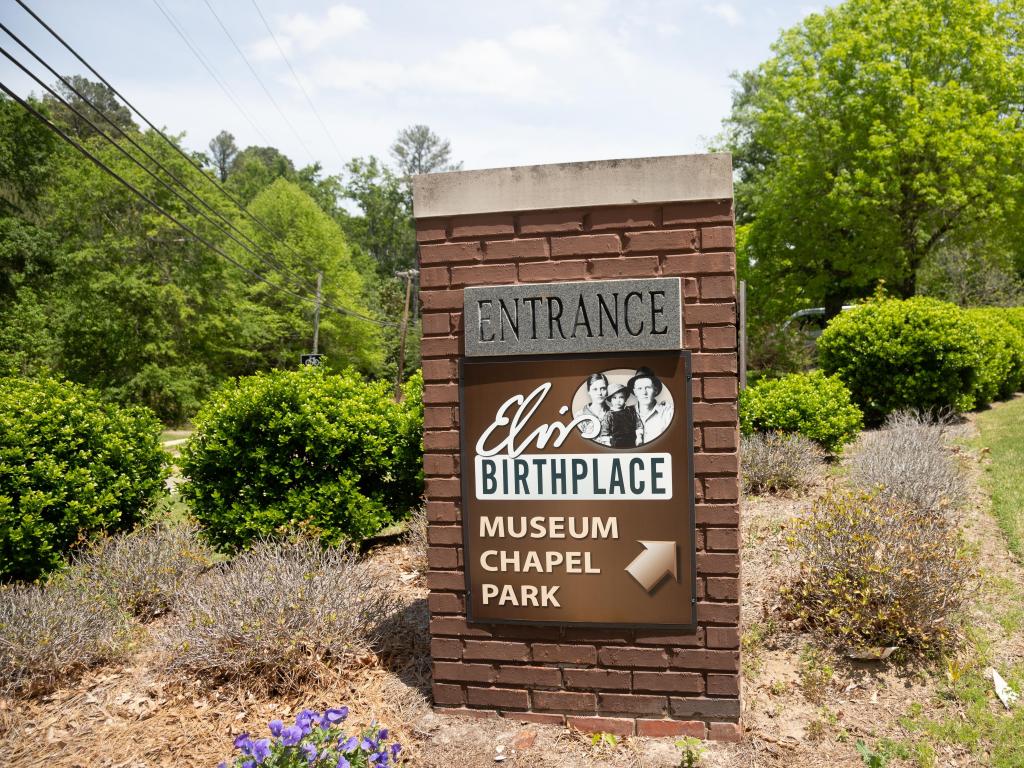 How to get there: Take I-65 south until you get to the Highway 64 bypass in Frankewing. Use that to get to Tennessee Route 11, which connects to Alabama Route 64 and leads towards Tuscumbia, AL.
After visiting this charming town, head towards Red Bay on the border with Mississippi and navigate towards Interstate 22 which will take you towards Tupelo.
Our highlights: The main attraction here is the memorialized birthplace of Elvis, which consists of the small wooden house where he was born and his small childhood church. They've even preserved his outhouse!
Many people feel like they finally get the complete picture of who Elvis was as a whole human being after visiting this site of his humble origins.
You could easily turn a trip to Tupelo into a soul food tasting tour. In the downtown stretch, you'll find several great places where you can sample the delicious cuisine of the area. They all have delicious fare and plenty of flair to make for some memorable meals.
Just to the west of the city, you'll run into part of the 444-mile-long Natchez Trace Parkway, a scenic byway and a popular biking route. In case you're an avid cyclist, this would be a great place for a long, scenic ride as part of a weekend getaway.
Learn more about one of the Native tribes which lived along the historic Natchez Trail at the Chickasaw Village Site towards the northwest part of town. This village consisted of several roundhouses and had been inhabited by the Chickasaw people since the 1500s.
Bonus: In addition to Elvis, Tupelo is also the birthplace of modern electronic musician Thomas Wesley Pentz, better known as Diplo. To catch some of the live music atmosphere in Tupelo, spend an evening at the Nautical Whimsey for one of the acoustic sets after dinner.
8. Gatlinburg, TN
3 hours 50 minutes from Nashville (220 miles)
Why you should visit: Gatlinburg is the gateway to the Great Smoky Mountains, being situated just outside the national park. As you can imagine, there are ample opportunities for hiking, biking, fishing, and every sort of adventure. The town itself is incredibly charming and welcoming.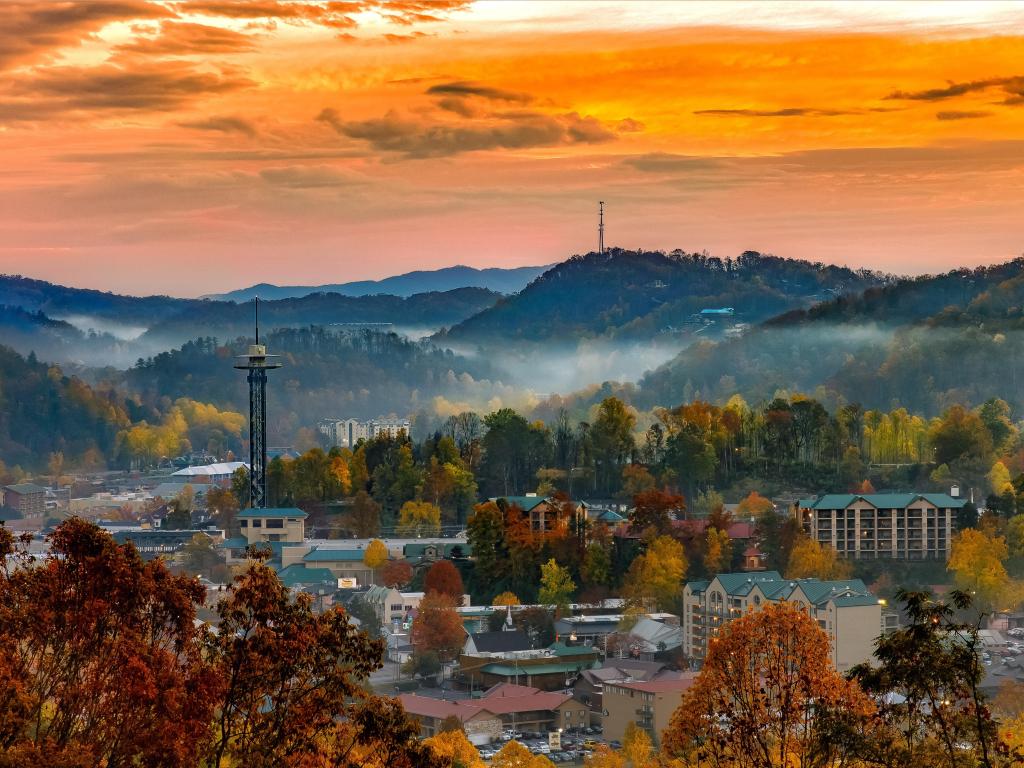 How to get there: Head out on I-40 east for the bulk of the journey until you reach Kodak. From there, start driving south on Tennessee Route 66 to get to Dollywood. Gatlinburg is only 10 miles south of there, along US Highway 321.
Our highlights: Be sure to have a peek at Dollywood, the Southern-themed park jointly operated by the one and only Dolly Parton. It's only a few miles away from Gatlinburg, so you can see it on your way or make a day trip. There's a tram that goes into the park from Pigeon Forge so you can avoid the high parking costs.
Once you arrive in Gatlinburg, you can't help but notice the hazy and picturesque backdrop of the Great Smoky Mountains National Park. While this park is a joy to explore in every season, there's just something about the fall that's filled with magic as the park's many trails and waterfalls are enwreathed by gilded leaves.
If you want to take in the mountain views without leaving town, visit the Gatlinburg SkyLift Park. Not only can you enjoy the unobstructed eastern Tennessee scenery on your way up in the open ski lift, but once you get there, you can test your vertigo while walking across the longest pedestrian bridge in the US.
Proud of its country roots, Gatlinburg is a great place to acquaint yourself with some moonshine. There are a few distilleries in town, the two most prominent being Ole Smoky and Sugarlands Distilling Company. So, try a flight and plan on taking a taxi back to the hotel.
Another reason to visit Gatlinburg from Nashville in the fall is the opportunity to do your Christmas shopping at the delightful Village Shops. This shopping center is full of boutique stores featuring local artists and plenty of a particular local delicacy: pancakes!
Bonus: Black bears are a symbol of the Smoky Mountains and the mascot of Gatlinburg. There are an estimated 1,500 bears in the park.
Our travel tips: Regarding those darling bears, be careful when hiking in the spring as mothers emerge from their winter hibernation with new cubs in tow.
In case you make the trip in the winter, there are plenty of places to go sledding, tubing, and even skiing- Gatlinburg has the only ski resort in Tennessee.
READ MORE - Road Trip from Nashville to Gatlinburg
9. Cumberland Gap National Historic Park
4 hours 40 minutes from Nashville (240 miles)
Why you should visit: From breathtaking mountain vistas to the mesmerizing Gap Cave, and the original trail tread by Daniel Boone, there is a great breadth of attractions at this Historic Park.
This massive park spread over 14,000 acres and three states (Virginia, Kentucky and Tennessee) has 85 miles of trails in addition to places central to pioneering American history.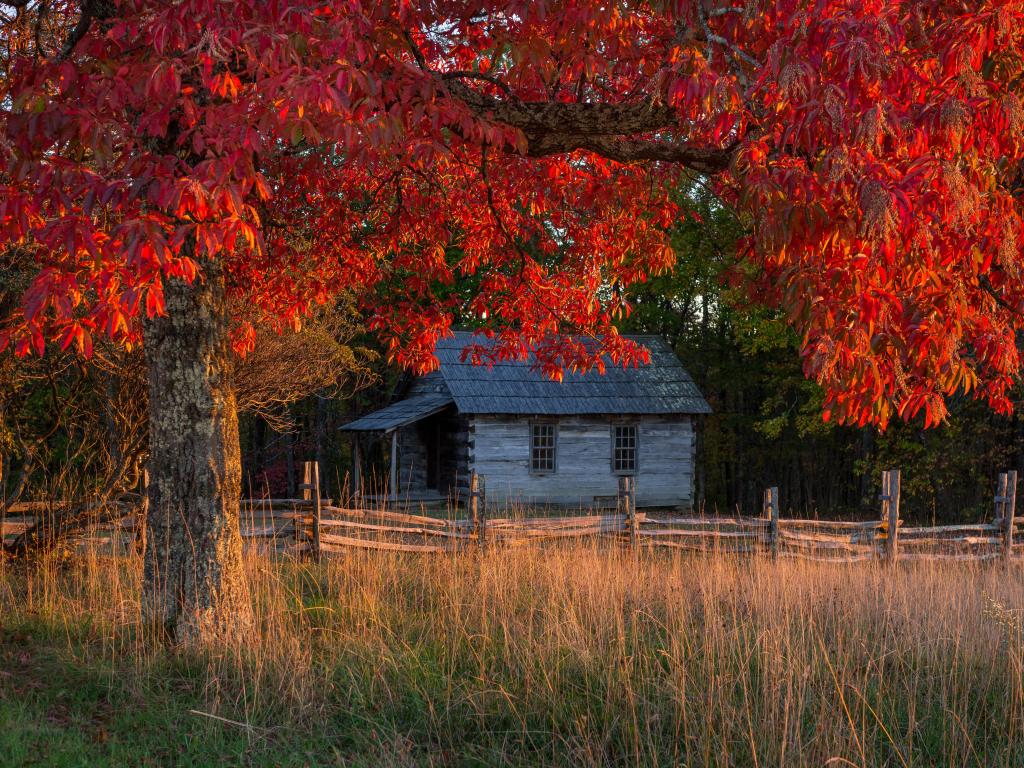 How to get there: Start driving east on I-40 from Nashville until you reach Monterey. From there, follow signs to Jamestown via US-127. Spend some time in this quaint town or continue on to Pickett State Park.
After exploring the park, take the winding Tennessee Route 297 to Oneida then take several routes to Caryville where you'll link up with Tennessee Route 63 which will take you towards Cumberland Gap and the Historic Park.
Our highlights: On your way to Cumberland Gap, spend an evening in one of the adorable wooden cabins at Pickett State Park in northern Tennessee.
It is thought that even before Native Americans forged the gap trail through the wilderness to reach hunting grounds, the route was worn by herds of buffalo seeking natural salt deposits.
Embark on a tour of Hensley Settlement and discover what life was like for the early pioneers in this living history museum on the Kentucky side of the park. There are 45 restored structures and tours are led from May through October by knowledgeable park rangers.
Stand at the tristate point within the park where Virginia, Kentucky and Tennessee meet. This is surely much closer to Nashville than the Four Corners.
The Daniel Boone Visitor Center is located in the Virginia section of the park and is surrounded by interpretive signs and metal sculptures. Inside, you can learn about how the American explorer Daniel Boone was hired to widen the existing trail in 1775 to allow for more hopeful settlers to try their luck out west.
Hike through the dense forest to the gap itself, where thousands of pioneers and innumerable Native American hunters and traders before them, made use of this low point along the Cumberland Range of the Appalachian Mountains.
In case you'd like to take in the views, but have mobility restrictions, you can drive up to Pinnacle Overlook from where you can survey all three states. There are also trails if you're up for a steep hike.
10. Covington, GA
4 hours 30 minutes from Nashville (280 miles)
Why you should visit: If you've ever seen a movie that featured a sprawling Southern plantation, it was very likely shot in Covington, which earned it the name of "Film Town".
Fans of "The Vampire Diaries" will instantly recognize Covington as the real-life Mystic Falls. Even if you've never binged the show, Covington is an idyllic town and a great place to unwind over a weekend.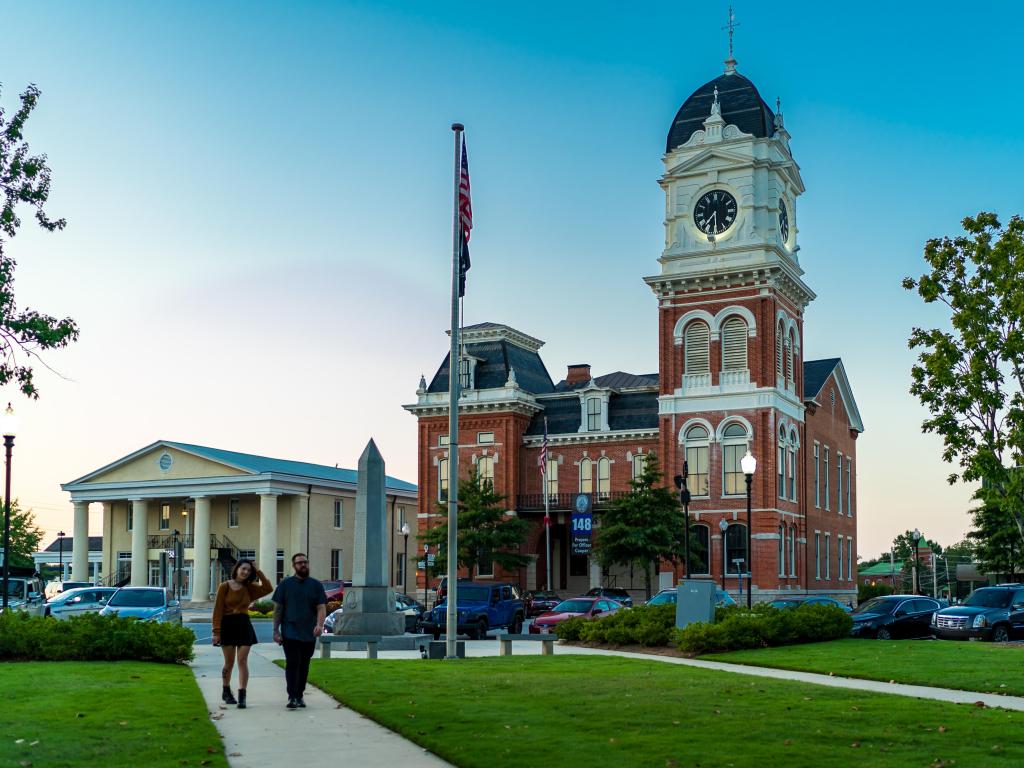 How to get there: Take I-24 to Chattanooga, then hop onto I-75 south towards Atlanta for the bulk of the drive. From Atlanta, take I-20 to Covington.
Our highlights: Meander through the impressive Covington Historic District along Floyd Street which passes by the charming town square and stately 19th-century courthouse. It is particularly festive around the holidays.
Fans of the resurgent romantic vampire genre will find plenty of places to swoon on one of the several "Vampire Diaries" themed tours around town. Vampire Stalkers is a popular one that is also a great way to see some of the area's notable mansions.
If you'd like a general orientation to Covington and to pick up some tips on top sights in the area, stop by the Covington Visitor's Center which also houses a small museum with some filming memorabilia.
Just north of Covington there's a small town called Oxford. Much like its British namesake, it is home to a university and the Oxford Historic district has many examples of Greek Revival and Gothic Architecture which are included on the U.S. Register of Historic places.
Bonus: Of the 140 movies and television series that have been filmed in Covington, some of the best-known are 'The Dukes of Hazzard", "My Cousin Vinny", and "Selma."
11. Indianapolis, IN
4 hours 20 minutes from Nashville (290 miles)
Why you should visit: If you've got a need for speed then a trip to Indianapolis, home of the Indy 500, will certainly scratch that itch. Beyond the raceway, Indianapolis, also known as "Indy" is the capital of Indiana with more than a few treats in store for the curious visitor.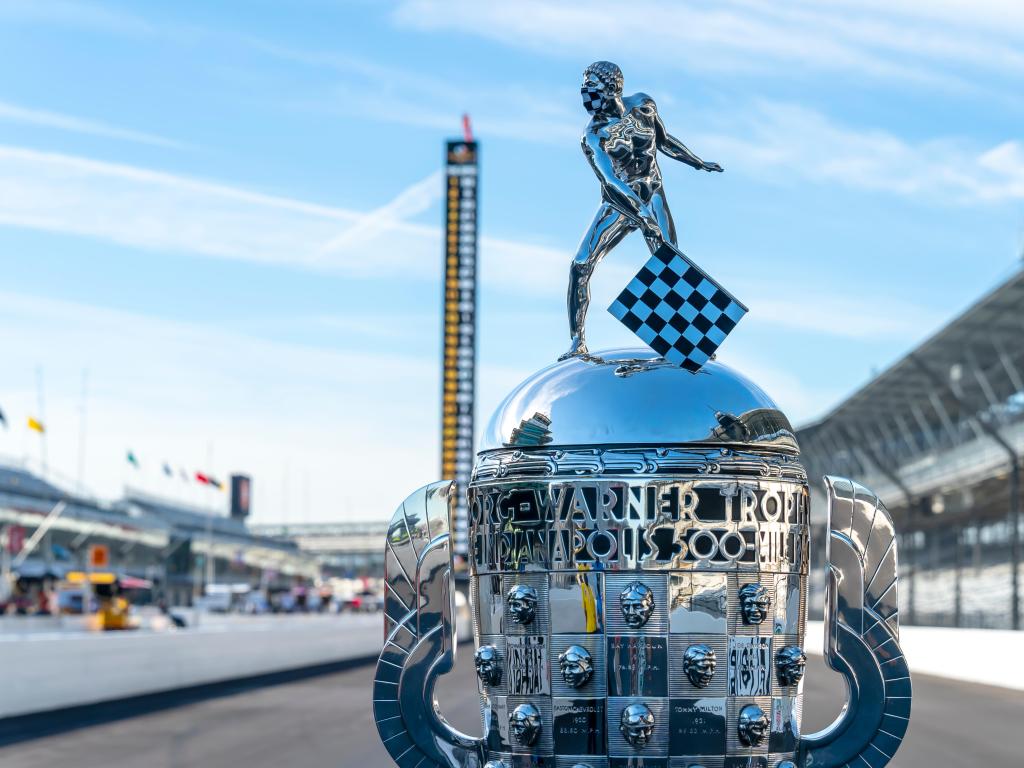 How to get there: From Nashville, simply start driving north on I-65 for the whole journey to Indianapolis.
Our highlights: A stop by the Indianapolis Motor Speedway Museum is definitely in order. Regardless of whether you're a fan of racing, the extensive collection of custom cars and the tour of the home of the Indy 500 will be a highlight of this trip.
Monument Circle forms the core of the impressive urban center of Indianapolis. The area is full of shops and restaurants and in the middle, you'll find a towering 284-foot limestone monument to "Hoosiers" that fought in various wars.
Another main feature of Indianapolis' cityscape is the White River State Park, the only urban state park in America. This hybrid park along the main waterway contains green spaces, museums, theaters, bike rentals, and even an outdoor concert venue.
Especially if you visit in the warmer months, you'll find yourself spending some thoroughly enjoyable hours here.
One of White River Park's attractions is the Eiteljorg Museum. With an extensive collection of Western Art and Native American artifacts, this well-curated museum has expanded since opening in 1989 to include more genres and is one of the most popular museums in the city.
Another museum to check out is the Indianapolis Museum of Art. It is housed in a beautiful, sprawling estate with manicured gardens; a visit here envelopes you in tranquility and refinement.
Bonus: If you need to wet your whistle, head to the historic bar at the Slippery Noodle Inn, one of the oldest in the state. It might be haunted, so keep an eye out for any ghosts.
12. Parke County, IN
5 hours from Nashville (290 miles)
Why you should visit: On this laid-back trip to the Covered Bridge Capital of the World you'll get your fill of provincial scenery and a fair share of covered bridges.
Road trips are all about a slower pace and discovering places you never knew were out there. A trip to Rockville and Parke County is full of pleasant surprised and will leave you feeling refreshed.
How to get there: Start out driving west on I-24, then hop on to I-169 north near Hopkinsville. Continue on until you reach Evansville, where you will switch to US-41, which will take you the rest of the way to Rockville, IN, the seat of Parke County.
Our highlights: Every October, Parke County celebrates the splendor of fall and its fabulous bridges during the Parke County Covered Bridge Festival. Sometimes as many as two million tourists come to this small county to enjoy the festivities and learn more about the county's 31 covered bridges.
In case you can't come during October, all 31 bridges are still waiting to be explored the rest of the year. Some of the most impressive include the Bridgeton, Neet, Narrows, and McAllister Covered Bridges.
If you just can't resist anything old, ornate, and preferably with a patina, then the many antique shops in Rockville and the surrounding area are calling your name. Nothing's better than finding the perfect piece for your living room mantel while on an unforgettable road trip.
To get some R&R in the great outdoors while on your trip, look no further than Raccoon Lake State Recreation Area. Here you can hike, bike, fish, boat, or just come to hang out with some locals having a barbeque.
Bonus: Legend has it that Rockville was named and chosen as the county seat after some drunk commissioners smashed a whiskey bottle on a rock in 1824. The gorgeous Parke County courthouse in Downtown Rockville is listed on the National Register of Historic Places and was built between 1879-82.
Our travel tips: The two weeks during October when the Covered Bridge Festival is on is understandably the busiest time of the year, so if you really want to visit during this time, make your bookings very, very early.
13. Atlanta, GA and Lake Lanier, GA
4 hours 40 minutes from Nashville (300 miles)
Why you should visit: A city that is both undeniably hip and green, Atlanta, or "The Big Peach" will captivate anyone who comes within its borders.
It is also known as the "New York of the South" due to its vibrant nightlife and many artistic and economic contributions that have impacted the whole country.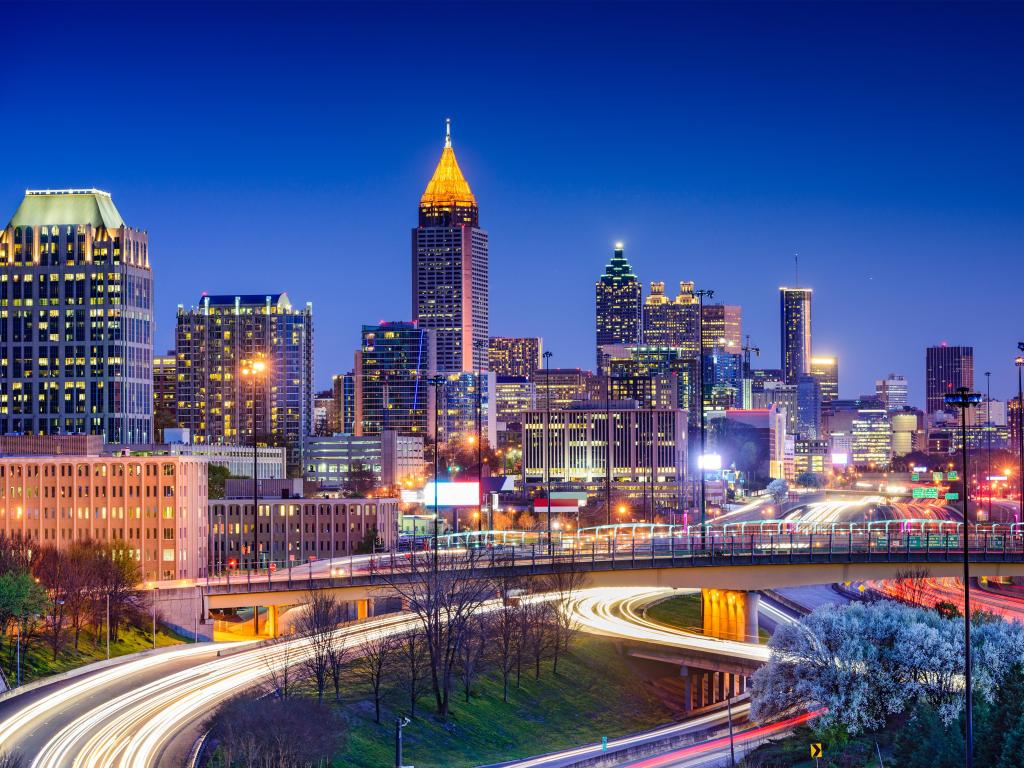 How to get there: From Nashville, drive southeast on I-24 to Chattanooga, just past there, change onto I-75 south to Atlanta. Lake Lanier is located to the north of Atlanta, and you can get there via I-85 and I-985 North towards Buford, GA.
Our highlights: Pick a park, any park. Atlanta is famous for its gorgeous green spaces that are just begging you to spend a leisurely afternoon with a sweet tea. Piedmont Park is the largest and at the center you'll also be able to visit the stunning Atlanta Botanical Gardens.
Atlanta was also the place where Martin Luther King Jr. was born and grew up. You can visit his childhood neighborhood at the MLK Jr. National Historic Park, which stretches over two blocks.
Make sure to also visit the National Center for Civil and Human Rights downtown to explore the complex journey to secure full rights for African Americans and the connection to the current movement for Global Human Rights.
Admire the striking architecture in the Fox Theatre Historic District, then catch an evening performance at the theater which was originally constructed by a masonic order in 1929 to resemble a mosque. It's also home to the second-largest theater organ in the country, the Mighty Mo.
The High Museum of Art is a work of art in itself and has been featured in several movies like "Black Panther" and "The Watch". On the inside, you'll find a stunning and extensive collection with top-notch special exhibits, making this the premier art museum in the South.
See the Atlanta of yesteryear at the Atlanta History Center, which also features the historic Swan House. The Cyclorama is bound to amaze and many people walk away with a new appreciation of the country's early struggles after seeing the Civil War exhibit.
If you proudly identify as a freak or just can't resist some vintage thrifting, the Little Five Points neighborhood is a must-see on your Atlanta trip. Anchored around the Junkman's Daughter emporium, this off-beat enclave is the epicenter of Atlanta's alternative culture.
Bonus: In 1886 in Atlanta, back before cocaine was a controlled drug, Dr John Pemberton, a chemist, used coca leaves and kola nuts in a "temperance drink" to remove headaches and pep people up. Boy did it work! At the World of Coca-Cola in Atlanta you can learn more about the humble roots of this global beverage behemoth.
Our travel tips: Prepare to sweat on a summer visit, but don't let that deter you! There are a lot of bodies of waters nearby to have a carefree day splashing about like a local. To the north is Lake Lanier and to the west is the Chattahoochee River.
14. St Louis, MO
4 hours 40 minutes from Nashville (310 miles)
Why you should visit: St Louis, or the STL as locals know it, is a fun-filled Southern town that offers great food, sights, and music in abundance.
This riverside city is the "Gateway to the West," where adventurers such as Lewis and Clarke prepared for their journey that would redefine American boundaries and the birthplace of musicians like Miles Davis who redefined American music.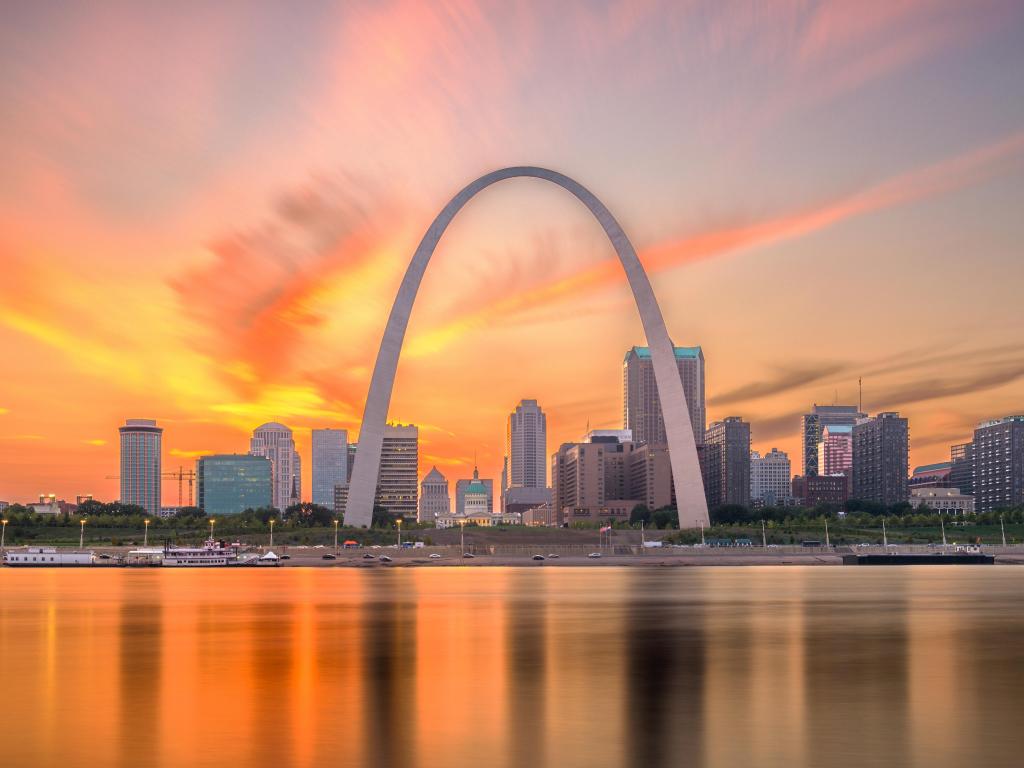 How to get there: From Nashville, hop on I-24 westbound, then take I-57 north towards Mt. Vernon. There, you'll change onto I-64 which will take you into St Louis.
Our highlights: The icon not only of St Louis but of a westward expansion that has been put into more sober perspective recently, the Gateway Arch is still a modern marvel worth seeing.
Located at the site of the founding of St Louis, it is both a National Park as well as a National Historic Landmark. There are trams to an observation deck near the top of the arch with spectacular views.
St Louis loves baseball and nowhere is this more apparent than at Busch Stadium, home of the Cardinals. This stadium is uniquely open and unfolds into a plaza with bars, and restaurants, all enveloped in that unmissable crimson.
For an exquisite example of urban green space, head to St Louis' Forest Park, popular with locals and tourists alike. Originally developed for the 1904 World's Fair and Olympics, the park has many architectural treats in addition to a free zoo and art museum.
For a truly whimsical and historical experience in St Louis, spend an afternoon at the Missouri Botanical Garden. In addition to its well-known dome, there is also an immaculately kept hedge maze and sites of historical significance in connection with its 1859 founding by Henry Shaw.
If you're young at heart and have a soft spot for the zany, be sure to squeeze in a visit to the City Museum. Spread overall several stories in a downtown building, there are winding staircases and slides between the museum's eclectic exhibits.
Bonus: It is rumored that people in St Louis consume more BBQ sauce per capita than anywhere else in America. This should be a hint to try as many barbeque joints as you can while you're here.
Our travel tips: Given the Cardinals' regional popularity, hotel rates downtown tend to spike whenever they have a home game. So, whether you're planning to see them or not, check their schedule online while planning your trip.
Click here to skip back to the top.
Long weekend trips from Nashville (5-8 hours each way)
Sometimes a weekend just won't do and you need some more time away from the grind. On these long-weekend trips you can enjoy a few days exploring a new city or hiking the Blue Ridge Mountains.
15. Columbus, OH
5 hours 50 minutes from Nashville (380 miles)
Why you should visit: While some Midwestern cities are struggling to hide their rust, Columbus is thoroughly fresh, hip, and ever-ready to innovate. This is a place that has tons of sightseeing to do during the day and opportunities to live it up with the locals at night.
With a world-class science center, vibrant arts scene, beautiful Capitol building, and historic neighborhoods built by early waves of German immigrants, you're sure to enjoy your time in Columbus no matter what floats your boat.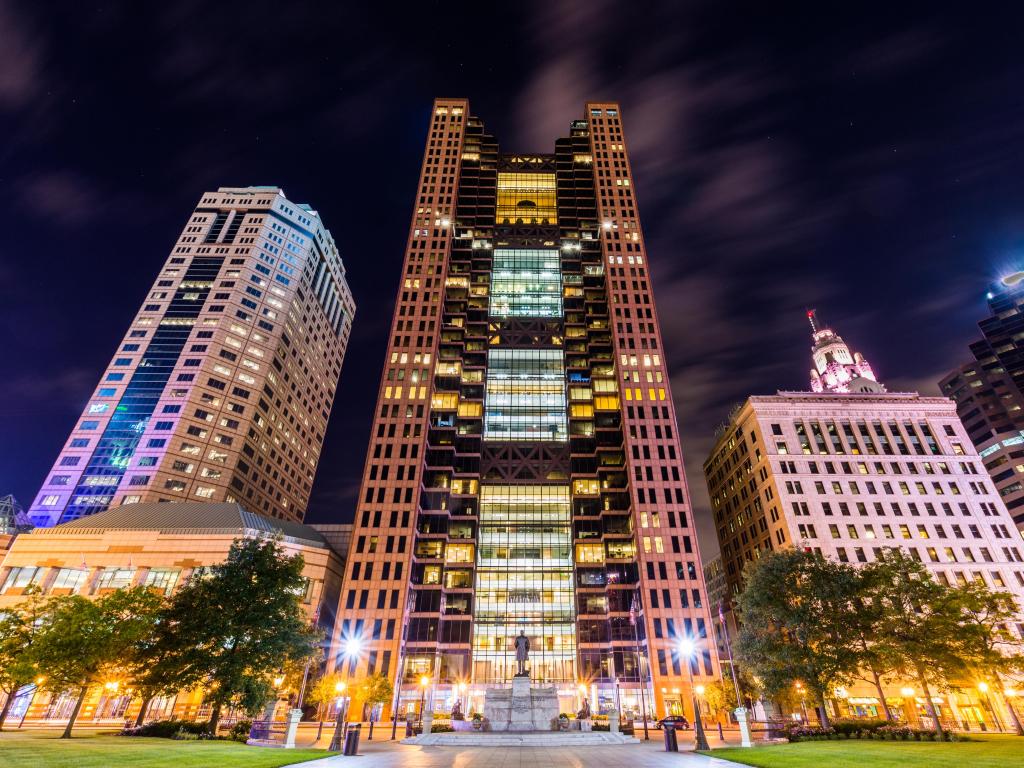 How to get there: Make your way north on Interstate 65, which runs through Elizabethtown, KY and on to Louisville, where you'll switch to Interstate 71 North. This will take you the rest of the way to Columbus.
Our highlights: On your way, spend an hour or so visiting Elizabethtown, KY. This is the place where Lincoln was born and where Fort Knox and several other places of importance to the Civil War are located.
Whether you're visiting Columbus on a fresh spring morning, sultry summer afternoon, or crisp fall day, the Franklin Park Conservatory and Botanical Gardens will provide respite from a bustling world. Well-maintained and informative, the gardens also feature a wonderful array of Chihuly glass sculptures.
Home to the Columbus Symphony Orchestra and regularly featuring Broadway plays, the historic 1928 Ohio Theater is worth a visit even if you don't catch a performance. Its ornate interior was fully restored in the 70s after passionate residents saved it from demolition in 1969.
Developed in the mid-18th century, the German Village located just next to downtown Columbus feels a world away. It has been scrupulously maintained as a distinct and wonderfully walkable neighborhood with too many places to stop and enjoy pastries, sausages, and of course expertly crafted beer.
The Short North district, nestled between downtown and the university, is at the very heart of Columbus' revitalization. Come here to feel the buzz, see some stimulating art, and shop for unique gifts while supporting local artisans. There are also great restaurants and venues perfect for a date night in the middle of your trip.
Bonus: At the Ohio Historical Center you can see a preserved two-headed calf that was born in the area in 1941.
Our travel tips: Another great attraction in Columbus is the Art Museum, which is free on Sundays.
Columbus is a multicultural city and there are several great festivals throughout the year, like the Ohio Black Expo, Dublin Irish Festival, and Columbus Asian Festival. If you'd like to participate in some counterculture, come to the Doo Dah Parade, held on the 4th of July.
16. Blowing Rock, NC and Blue Ridge Parkway
6 hours 50 minutes from Nashville (390 miles)
Why you should visit: Blowing Rock is enveloped in fresh alpine air and that small-town hospitality, making it a fantastic destination in the Blue Ridge Mountains. This trip also takes you along the breathtaking Blue Ridge Parkway for the last stretch of the journey.
Named for a rocky outcrop 4,000 feet above sea level, you can expect an abundance of sweeping vistas on this trip.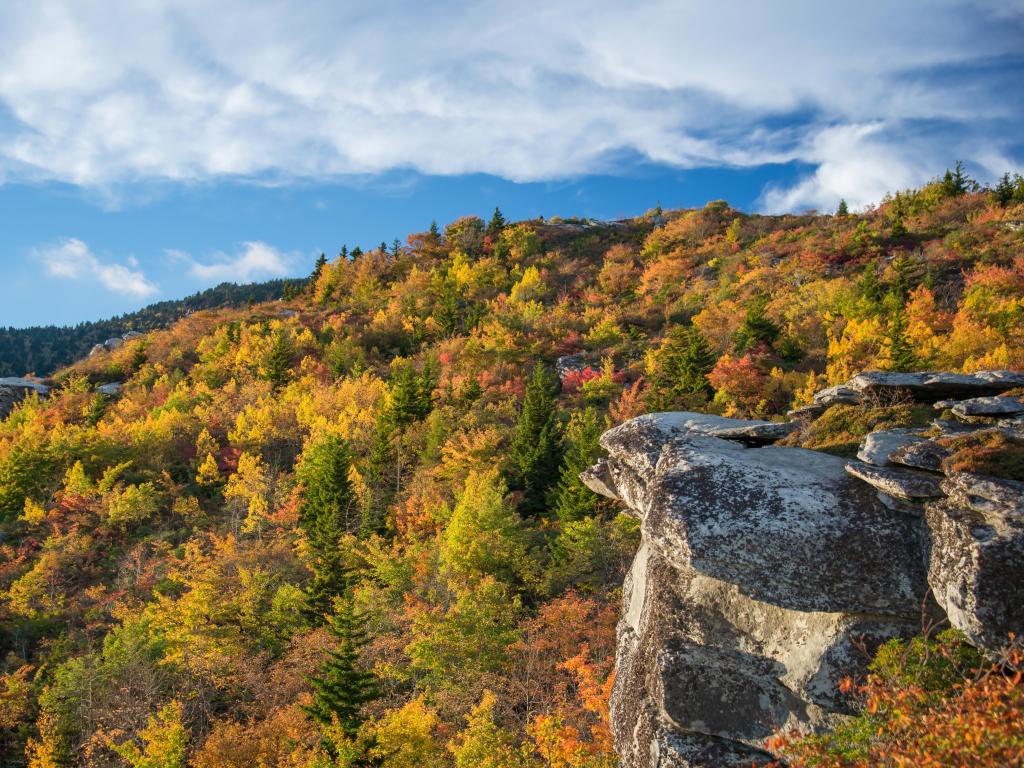 How to get there: From Nashville, head east towards Knoxville on I-40 and continue on to Asheville, NC. Once you get to Old Fort, NC, hop on US-70, which will take you to Lake Tahoma Rd/NC Highway 80, which connects to the scenic Blue Ridge Parkway. Follow "America's favorite drive" to reach Blowing Rock.
Our highlights: Well, you can't visit Blowing Rock without visiting the eponymous rock itself. Though once you arrive after an easy hike, you'll realize that the views over rolling hills carpeted in forest all the way to Grandfather Mountain steal the show.
A truly multifaceted treat in the area is the Moses Cone Memorial Park, formed out of the estate of a turn-of-the-century textile baron. There's a massive Colonial Revival mansion, 25 miles of carriage trails that you can explore by foot or in a horse-drawn carriage, several man-made lakes, and it houses the Southern Highland Craft Guild who give frequent demonstrations on the porch.
Enjoy a cold brew, hearty fare, and excellent company at the Blowing Rock Brewery. Occasionally you can catch a live gig on the patio and their pretzels are always to die for.
There are literal treasures in the Blue Rock Mountains and gem mining in the area goes back hundreds of years. A great place to see some sparkling stones and learn about the historical geography of the area is Doc's Rocks Gem Mine. Be sure to check out their impressive fossil museum.
Take a day to simply take it all in. Blowing Rock is surrounded by forests and trails that you can wander. Why not find a perfect picnic spot in the woods to take in all the natural beauty?
Bonus: Blowing Rock is one of the oldest tourist towns in North Carolina. Most of the development, such as paved roads, all came about in the late 19th century due to the influx of tourists. Luckily it hasn't been overbuilt in all that time and it still has its country charm!
Our travel tips: This route takes you through Knoxville, TN and a wonderful NC town called Little Switzerland. If you'd like to break the trip up, these are two great places to spend a night.
Blowing Rock is surrounded by white rhododendrons, also known as a Rosebay. To catch the peak of the blooming season, visit in late June or early July.
17. Hot Springs, AR
6 hours 40 minutes from Nashville (420 miles)
Why you should visit: As you might have guessed, the main draw of this town is its abundance of hot springs. They have been bringing people to this otherwise remote part of Arkansas since the early 1800s.
In our humble opinion, this is one of the coolest places in Arkansas. Not only can you enjoy these rejuvenating waters, but there's tons of natural beauty around and a whole street of perfectly preserved antique bath houses.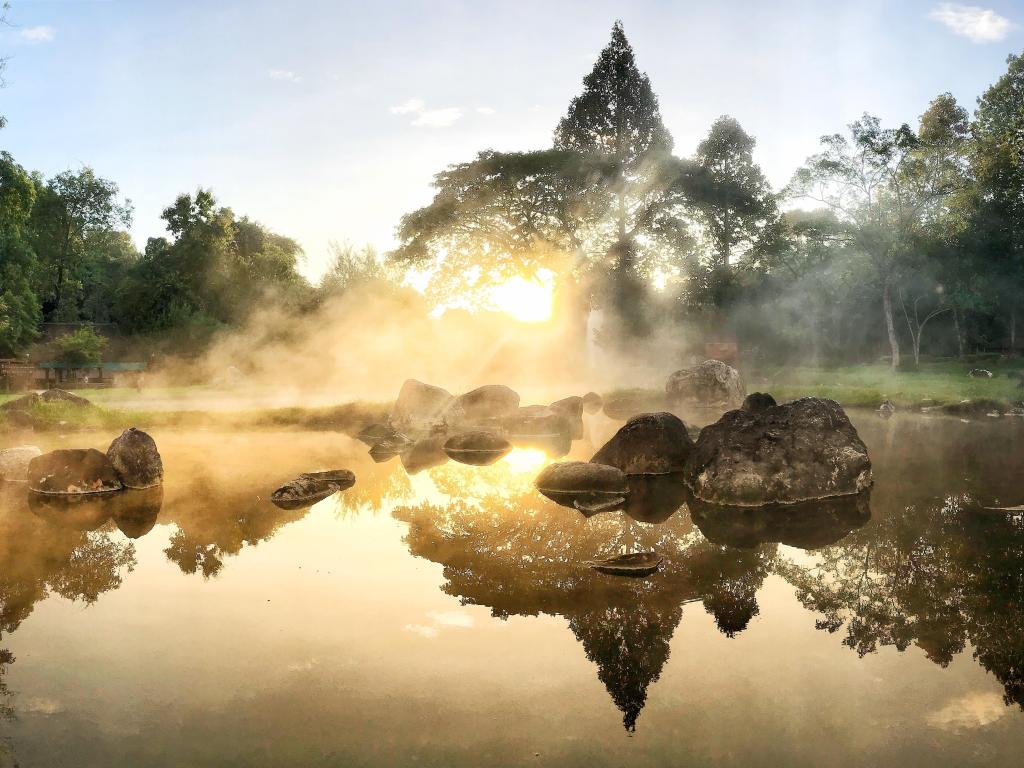 How to get there: Start heading west on Interstate 40 from Nashville until you get to Little Rock. From there head towards Benton, AK on Interstate 30 west which will connect to US Route 70, which will take you into Hot Springs. To get to Lake Ouachita, take Arkansas Route 227 which heads northwest out of town, for 15 miles.
Our highlights: Spend a day exploring the many trails and natural springs of Hot Springs National Park. Originally established as a Federal Preserve in 1832, the springs and the surrounding area have been kept in their pristine conditions.
While there's nowhere to soak in the 147 degrees Fahrenheit water outdoors, you can still experience the springs in their natural glory; watch the springs emerging from the hillside at the Display Spring and Hot Water Cascade.
Prepare to go back in time as you walk along Bathhouse Row downtown, which is also a national park. These exquisite buildings from the late 19th and early 20th centuries are unique architectural monuments. Two of them, Buckstaff Bathhouse and Quapaw Bathhouse, are still open so you experience a luxurious spa day on your trip.
Along the row, be sure to step into Fordyce Bathhouse, which now operates as a visitor center where you can get a better understanding of how such remote hot springs were carefully developed into a gorgeous spa town.
The Garvan Woodland Gardens is not only a beautiful labor of love but a hopeful testament to woodland regeneration following clear-cutting.
Consisting of 210 acres planted over 40 years by Verna Cook Garvan, this path-filled woodland and botanical garden is currently looked after by the University of Arkansas and open to visitors between 10 a.m. and 6 p.m.
Before you head back home, make the short drive out to Lake Ouachita, the largest lake in Arkansas. There are easy to moderate trails all around the lake and you can even take a boat tour to appreciate it from a different perspective.
Bonus: There are 47 thermal springs in the greater Hot Springs area, and it is the only park in the entire National Park System which is required to let the public partake of its unaltered natural resource.
There are plenty of spouts and fountains around town, so be sure to bring a few jugs along to fill and take home.
Our travel tips: There are a few prominent art and music festivals throughout the year here, like the Valley of the Vapors Independent Music Festival and the Hot Springs Documentary Film Festival, in case you'd like to visit when the small town is filled with excitement.
The nicest times to visit are in the spring and fall, to avoid the sweltering temperatures and tourist rush during the summer.
Click here to skip back to the top.
Longer trips from Nashville (Over 8 hours each way)
Schedule that tune-up and select your favorite tunes for a trip of a lifetime. These trips meander and stretch, so take ample time to fully enjoy their offerings.
18. Natchez, MS
9 hours 20 minutes from Nashville (460 miles)
Why you should visit: Well known for the abundance of antebellum mansions and historical charm, Natchez is the oldest town on the Mississippi River.
Of course, this is a great trip for history lovers, but the way to Natchez is strikingly beautiful and the outdoorsy types can enjoy numerous state parks and trails on the way. Even high rollers can have their fun on the Lady Luck riverboat casino docked in Natchez.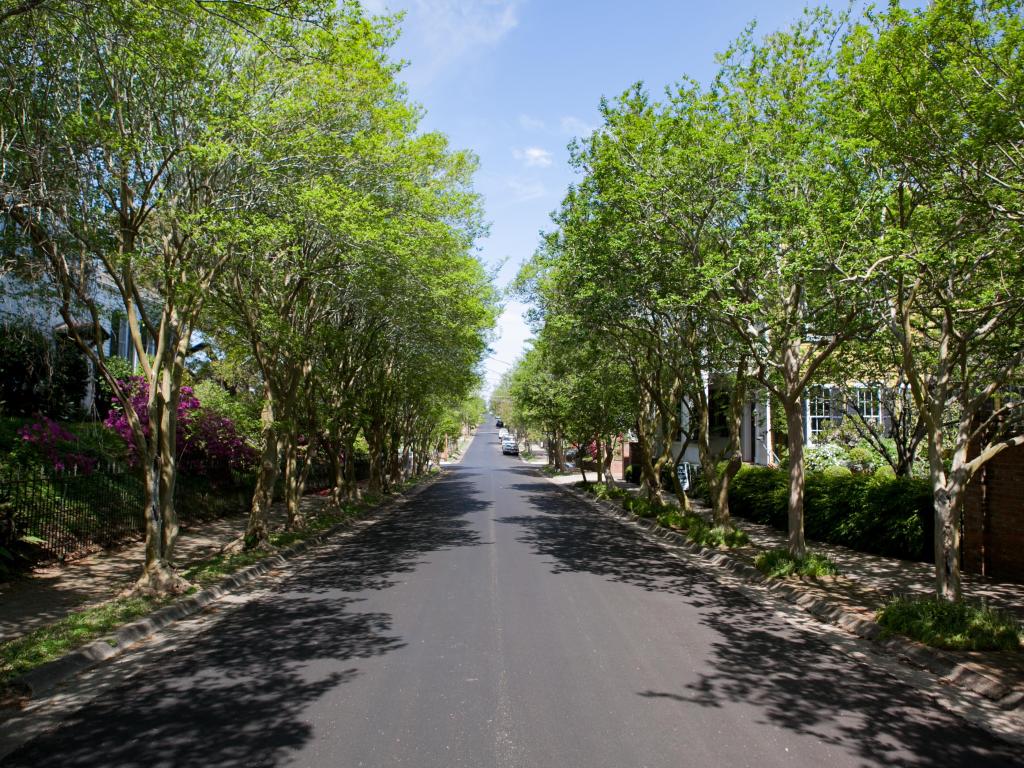 How to get there: Take Tennessee Highway 100 south of Nashville to find the terminus of the Natchez Trace Parkway, marked by milepost 444, and from here you can begin your journey through ample green spaces and roadside attractions the 444 remaining miles to Natchez.
Our highlights: On your way into Natchez, you can see one of the oldest structures in Mississippi, Mount Locus. Built in 1780, this site was at one point an inn, then a plantation. The building is open to visitors from Thursday through Sunday and has a regular schedule of interpretive tours.
One of the most impressive offerings in Natchez is Stanton Hall, a painstakingly maintained, 14,000-square-foot Antebellum Classical Revival mansion.
Surrounded by fuchsia rhododendrons and filled with antiques that were as rare in their own time as they are today, a guided tour can give you deeper insights into the historical background and unique features of this impressive estate.
Have you ever wondered what it would be like to live inside an octagon? Even if you haven't, Longwood, the unfinished 1860 mansion of a plantation owner, is an interesting example of this ambitious architectural style.
In addition to the aesthetic features, which also led to it being chosen as a filming location for "True Blood", this house is also a piece of tangible history which was left unfinished due to the outbreak of the Civil War.
Time seems to move just a bit slower down south. Ease into the relaxed pace here and stroll along the well-maintained paths of Bluff Park where you can take in the sweeping views of the Mississippi River. There are also interpretive plaques along the way which tell more about this historic port town.
Learn more about the people who built the eye-catching mansions in Natchez and formed the backbone of the local economy dating back to when the area was under French control at the Natchez Museum of African American History and Culture.
Bonus: The modern Natchez Trace Parkway follows a route through the wilderness that had been used by Native Americans for over 10,000 years before being developed into a road after President Jefferson's authorization.
There are six ancient mounds along the route, including two neat Natchez, as well as a small wooden inn where the explorer Meriwether Lewis likely took his own life.
Our travel tips: The route we've laid out follows the Natchez Trace Parkway between Nashville and Natchez. If you'd like to shorten the driving time, stick to the Interstates between Nashville, Memphis, and Jackson.
Because this is a scenic parkway, you won't readily see gas stations or towns from the road itself, but behind the greenery, there are tons of cute towns to explore and refuel at.
19. Destin, FL and Gulf Shores, AL
9 hours from Nashville (530 miles)
Why you should visit: Sparkling white sand as far as the eye can see will meet you at both these fun-in-the-sun destinations. Grab your shades and get ready to embrace the summer!
In addition to pristine beaches and the warm, azure waters of the Emerald Coast, you can cycle, kick it in a cabana, and try to spot some wildlife on this trip.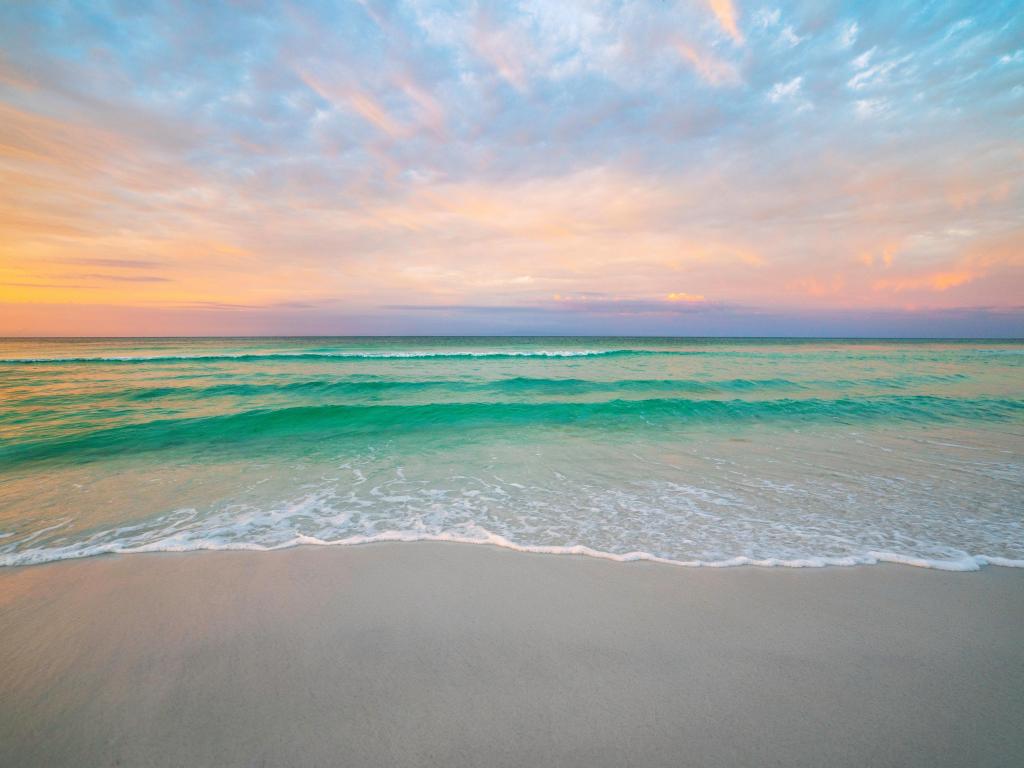 How to get there: Drive south on I-65 past Birmingham, AL all the way to Georgiana, AL. Here you'll take a series of smaller highways towards Florala near the Florida border, then take Florida Highways 2, 285, and 293 all the way south to Destin.
Gulf Shores is 80 miles west of Destin; start out on US Route 98 west, head across the Pensacola bridge and keep along the coastal roads until you reach Gulf Shores.
Our highlights: After all that driving, you'd better get straight to a seaside happy hour. Head no further than Destin Harbor, which contains a long stretch of bars, restaurants, and entertaining attractions.
Once you're rested and ready for full beach mode, Henderson Beach State Park in Destin will be calling your name. There's also plenty of space to spread out your beach towel or even make an epic piece of seashell art in the sand. Snorkeling is another popular activity in these crystal-clear waters.
No matter how you like to enjoy the beach-splashing in the waves, reading a novel with the sand between your toes, or by enjoying a sunset walk that never seems to end, Gulf State Park, Alabama welcomes all kinds of beachgoers with sugar-like sand and the crashing waves.
There are also 28 miles of paved trails in case you're up for a shoreline hike or cycle.
When you're out fishing, you never know what you're going to catch, and when you fish on a pier, you never know what kind of colorful characters you could meet. Whether you're out to catch dinner or just get those steps in with an ocean view, you'll have a wonderful time at the Gulf State Park Pier.
Bonus: Destin is a great place to spot some Dolphins. There are at least two species you can see, the Atlantic spotted dolphin and the more common bottlenose dolphin.
From the land, a great place to try and spot these aquatic cuties is the Okaloosa Island Pier. Alternatively, you can climb aboard a pontoon boat for a morning of marine life watching.
Our travel tips: You can also see dolphins frolicking across the horizon from the upper floors of the high-rise hotels along the Destin shores.
There are six different species of jellyfish that live in the waters near Destin and Gulf Shore, including ones that can pack a powerful sting like the Man of War. There seem to be higher numbers of jellyfish from mid-July to when the weather cools off in the fall.
20. New Orleans, LA
8 hours 10 minutes from Nashville (550 miles)
Why you should visit: Beyond the revelry of Mardi Gras, New Orleans is a simmering cultural hotspot where Cajun and Creole combine to make one of the most enjoyable and vibrant cities in America.
Whether you'd like to wander the French Quarter, catch an exhilarating jazz performance, try to spot a ghost, or simply eat your way through the city, there are oh too many ways to enjoy your time here and on a road trip from Nashville to New Orleans.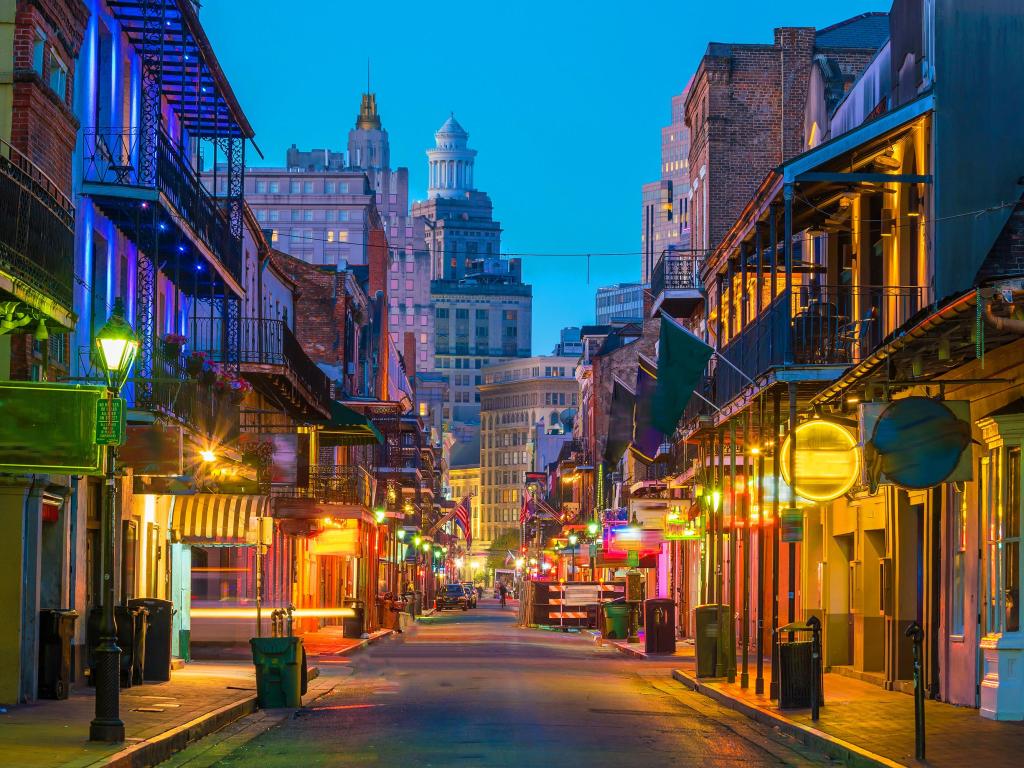 How to get there: From Nashville, start going south on I-65 to Birmingham, AL. From there take I-20 to Meridian, then I-59 to Slidell, where you'll hop on Interstate 10 for the last few miles into New Orleans.
Our highlights: If you've come to NOLA for the music, you won't want to miss an evening on trendy Frenchmen Street. There are dozens of bars and venues along this two-block stretch that is more toned down than Bourbon Street, but by not much. For starters, check out The Maison and Three Muses.
To see the intersection of music and history in New Orleans, head to Preservation Hall at the outskirts of the French Quarter. Being the oldest jazz venue in NOLA with live music 350 nights a year, this rustic venue is for the diehard fans of jazz.
What is it about wrought iron that just screams whimsy? There are literally tons of this ornate metalwork around the quiet Garden District, which was primarily developed between the mid-19th century and WWI.
This neighborhood is also home to St Louis Cemetery No. 1, the oldest in New Orleans, which features many elaborate, above-ground tombs and the occasional haunting.
It would be a shame to come to New Orleans without spending at least a little time in the French Quarter, even if crowds aren't your thing. This vibrant district dates back to the early 18th century.
This beating heart of the city is centered around the iconic Jackson Square and St Louis Cathedral. Here you can watch local performers and knock back a few beignets.
Many casual visitors to New Orleans might not know that it is also home to America's official World War II Museum. This extensive museum is expertly curated and is an affiliate of the Smithsonian.
Bonus: Gumbo is a southern Louisiana delicacy with West African roots, getting its name from "ki ngombo". For a fancier take on the dish head to one of the famous restaurants in the city.
Our travel tips: Of course, this city is completely transformed around Mardi Gras in the early spring, so if you are weary of high prices, crowds, and beads, plan your trip any other time.
READ MORE - Road Trip from Nashville to New Orleans
21. Savannah, GA
10 hours 30 minutes from Nashville (620 miles)
Why you should visit: Come wander tree-lined streets, where Spanish moss hangs as if frozen in time in Georgia's oldest city. With oodles of colonial architecture, southern comfort food, and welcoming locals, walking around this riverside city is an absolute delight.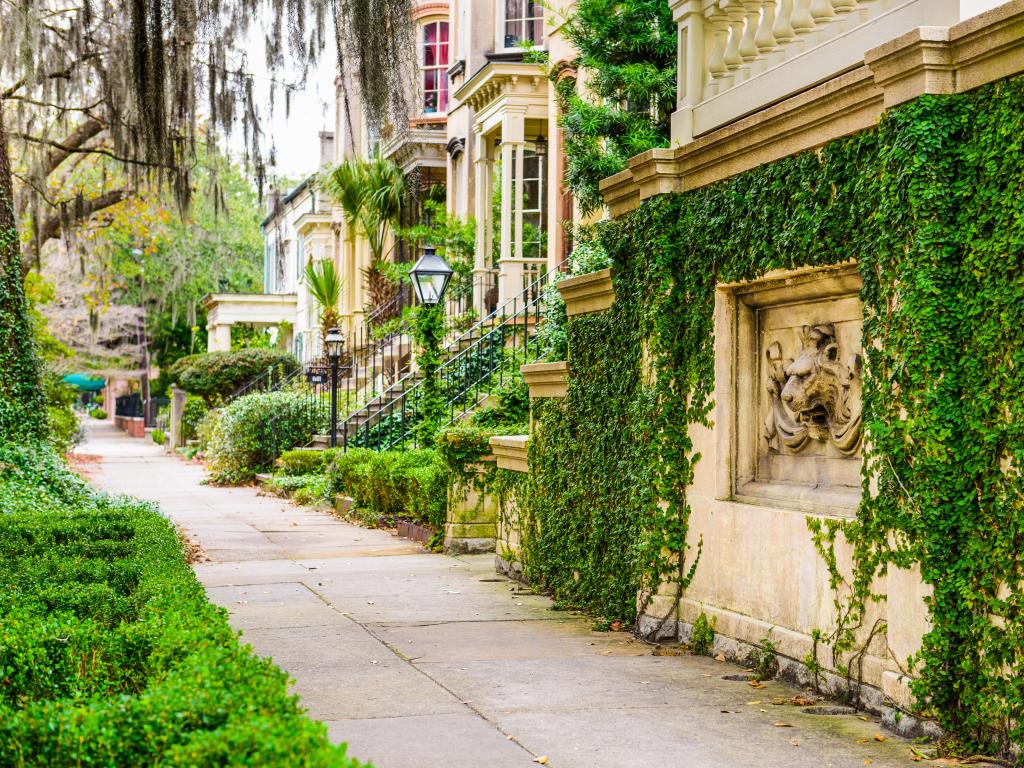 How to get there: From Nashville, take I-40 to Knoxville. From there, head towards Gatlinburg and the winding US-441 to tour the Great Smoky Mountains National Park. This road reconnects with I-40 and heads towards Asheville.
Once you've spent at least a day here, head south from Asheville on I-26, passing Columbia, until you come to the I-95 junction. Take I-95 south all the way to the outskirts of Savannah, then follow signs into town.
Our highlights: Take a tour of the historic downtown Savannah, where Neoclassical civic buildings mingle with Georgian and Gothic Revival homes.
This area is also home to Georgia's oldest Catholic Church, the majestic Cathedral of St. John the Baptist. Interspersed are tree-filled squares where the sweet aroma of magnolia blossoms lingers.
In the southern Historic District, you'll find Forsyth Park, a sprawling, 30-acre, urban green space. Filled with paths, historic statues and plaques, the centerpiece of the park is an utterly photogenic 150-year-old fountain.
On the other side of the Historic District, to the north, you'll find the cobblestone River Street along the Savannah River. There are street performers, souvenir shops, a bevvy of bars and restaurants, making this a lively spot to kick back in the evening after a day of historical tours.
Bonaventure Cemetery, one of America's oldest and most prominent cemeteries, is both historic and hauntingly beautiful. If you'd like to make a more intimate acquaintance with the residents of old interred here, you can take a guided tour.
To go all the way back to the early 18th-century origins of Savannah, visit the Wormsloe Historic Site. This is where you'll find that iconic oak-lined avenue for the perfect road trip pic.
At the Owens-Thomas House & Slave Quarters learn about the complex relationships of master and slave beyond all the grandeur and obvious wealth that once flowed through the city. This is a wonderfully preserved house and garden which offers self-guided audio tours.
Bonus: The oldest African American Church in America is located in the north Historic District. The First African Baptist Church was established in 1777 and later served as a safe house along the underground railroad. The church is open the visitors and offers guided tours.
Our travel tips: As you make your way to Savannah, you'll pass through some gorgeous places that are worth a peek. Any outdoor enthusiast can't help but love the Great Smokey Mountains and Asheville is an artsy mountain town with charm to spare.
22. Yellowstone National Park, WY
25 hours from Nashville (1,640 miles)
Why you should visit: The environment of Yellowstone is so incredible that it inspired Congress to deem it the first national park in America, and the whole world, starting a trend of preservation with global impacts.
Thermal springs, rugged mountains, and thundering falls are only a few of the natural wonders on full display in this extensive park that is perfect for adventure any time of the year.
How to get there: Start out on I-24 west towards St Louis, then find the scenic Missouri Route 36 towards St. Joseph, MO. From there, hop on I-29 north to Nebraska City, where you'll again start going west towards Lincoln, NE.
Navigate to I-80, which you'll stay on for 270 miles, then change onto US-26 in Ogallala, NE. Take that all the way to Moran, WY, where you'll finally get on US-191 for the final stretch into Yellowstone.
Our highlights: The most famous feature of Yellowstone is undoubtedly Old Faithful. This thermal geyser erupts every 1-2 hours and has been wowing visitors to Yellowstone for hundreds of years.
If you are a bit more intrepid and would like to see a less crowded backcountry geyser, try the 8.5-mile hike out to the Shoshone Geyser Basin.
Where there are mountains, there are valleys and Yellowstone has some striking ones. On an early morning trip to Lamar Valley, you can see the park's most magnificent wildlife, such as buffaloes, elk, wolves, and eagles, just going about their daily lives. A pair of binoculars would be really handy to get the most out of a trip here.
Dramatic waterfalls can be found in the Lower Falls of the Yellowstone River, where rushing water plunges 300 feet from the rocky cliff. A less crowded alternative is Fairy Falls, which can be reached after a short hike over flat terrain.
No trip to Yellowstone would be complete without seeing at least one of the thermal springs. By far the most striking is the aptly named Grand Prismatic Spring. Here vibrant tones of aquamarine contrast with yellow and rust-colored hues as steam rises up from pools which can get as hot as 188 degrees Fahrenheit.
Bonus: Yellowstone is home to 1,800 archaeological sites. You can learn more about the area's pre-history and geological history at the Museum of the Yellowstone near the park's west entrance.
Our travel tips: To skip the crowds and increase your chance of viewing wildlife, aim to visit during the shoulder season months of April, September, and October.
Any campsite in one of the park's 12 campgrounds must be reserved in advance on the National Park Service website. Only Mammoth Campground is open year-round.
Most of the park roads close in winter, though the park remains open, and you can go on guided snowshoe and snowmobile tours.
READ MORE - Road Trip from Nashville to Yellowstone National Park
23. Los Angeles, CA
29 hours from Nashville (2,000 miles)
Why you should visit: What could be more exciting than a trip from Nashville to sunny Los Angeles and Hollywood, where stars are born?
In addition to the magic of studios and celebrity spotting, LA also has amazing food and world-class art museums. You can top off every day by taking in the sunset over the Pacific Ocean beachside or in a trendy rooftop bar.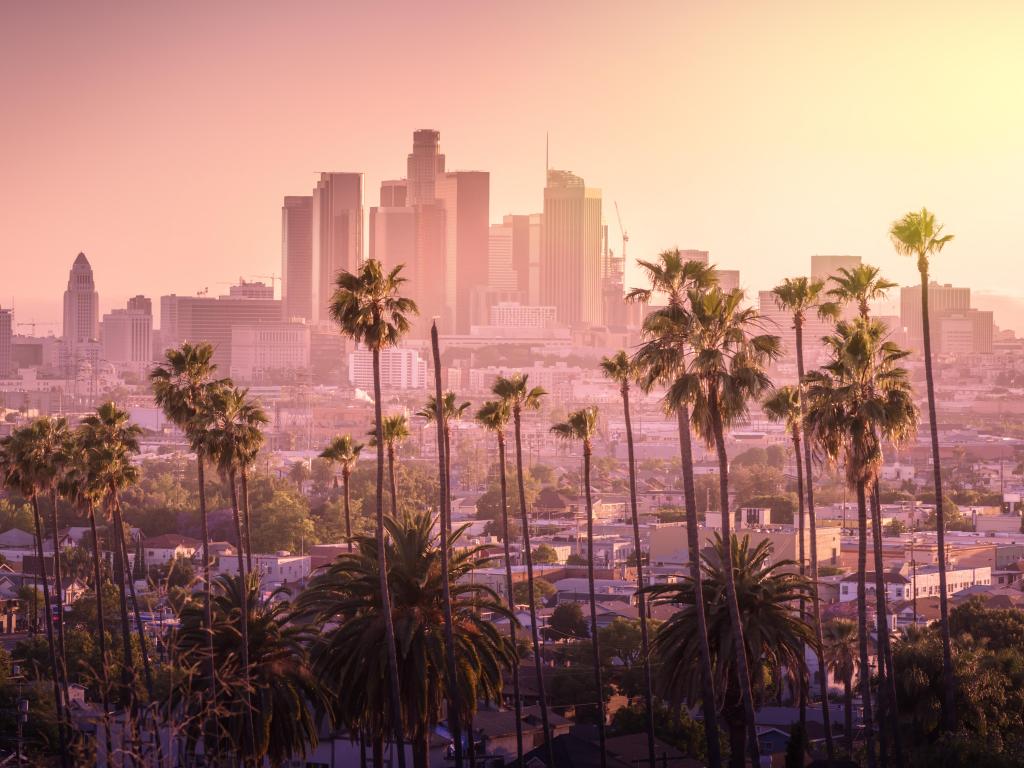 How to get there: For such a massive trip, the route is surprisingly simple: head due west on Interstate 40 for 2,000 miles to Los Angeles.
Our highlights: Through an iconic gate you'll find exhilarating rides and the chance to tour operational filming locations at Universal Studios. This is one of LA's most popular attractions with themed rollercoasters like Jurassic World and daily performances around the sprawling amusement park.
Santa Monica is a town in west Los Angeles that is home to some of the area's most iconic beaches, including Muscle Beach, and the buzzing Santa Monica Pier. A night here under the neon lights, passing by carnival games and roller coasters will make you feel like you're back in high school on a sneak away date by the beach.
How about a little natural history? Los Angeles is a major oil-producing region and this was actually one of the area's earliest industries.
Along with plenty of oil, America's largest tar pit is also located in LA. At the La Brea Tar Pits and Museum, you can learn about the early uses of tar and the 3.5 million Ice Age fossils that have been found here.
For fashionistas, a must-see stop will be Rodeo Drive in Beverly Hills. This road is studded with every major designer you can think of with thousands of dollars of opulent handbags, shoes, clothes, and sunglasses on display. This is the palm-tree lined street that really makes you feel like you're in LA.
A little north of downtown LA, perched on a hill, is the sprawling Getty Center. Replete with classical Greek and Roman sculptures, this art museum, estate, and gardens was developed from the home and private collection of J.P. Getty, one of America's early billionaires.
On the other end of the artistic spectrum, contemporary art lovers can revel in the excellent selection of modern art on display at The Broad, back in downtown LA. Their collection of over 2,000 pieces is housed in a fluid building that announces the boldness of many of the works within. We think the Infinity Mirror Room is especially cool.
Bonus: The film industry in LA began because of intellectual property disputes! At the time, Thomas Edison owned most of the patents for filmmaking equipment and could keep a closer eye on East Coast activities from his New Jersey home.
Hence Nestor Studio moved to Los Angeles in 1911 and built Hollywood's first filming stage to save on production costs. While the original building was demolished, Columbia Square facility stands on the site today.
Our travel tips: L.A. is a sprawling patchwork of smaller cities and there is horrific traffic around the commuting hours. Plan to stay close to the sites you most want to visit and leave lots of time to get to any show times or fixed appointments.
When there isn't gridlocked traffic, Los Angelenos like to drive fast. While the speed limit might proclaim to be 65 miles per hour, the average flow of vehicles is closer to 80. If you want to drive like a granny, stick to service streets.
READ MORE - Road Trip from Nashville to Los Angeles