25 Best Road Trips from Kansas City
Celebrated for its historic jazz scene, over 200 fountains and nicknamed the United States' 'Barbecue Capital', there's no denying that Kansas City has a lot to offer when it comes to unique attractions and delicious eats. But if you're yearning for an adventure outside the Kansas City limits, you'll find yourself almost overwhelmed with options!
From iconic bucket-list American landmarks, distinguished state parks and watersport-ready lakes to cities famous for their nightlife entertainment, we've compiled a list of 25 amazing road trips from Kansas City with something for everyone.
So queue your favorite road trip playlist, pack your bags and keep scrolling here to discover our best road trip routes from Kansas City, organized from nearest to furthest away.
Best road trips from Kansas City
Day trips from Kansas City (under 3 hours each way)
No need to worry about booking overnight accommodations; we think you could easily tackle these next few trips in a day!
1. Smithville Lake, Missouri
35 minutes from Kansas City (30 miles)
Why you should visit: If you're really not looking to get too far out of Kansas City, this trip is for you; Smithville Lake is easily reachable at a distance of just 35 minutes!
This relaxing lake is the ideal location for day trip, boasting top-notch facilities that include bathrooms, showers, and picnic areas. And if you're travelling in a large group, you'll even be able to rent a shelter! We recommend picking up a bite (or packing yourself a picnic at home) before driving the half-hour drive to this lake's sunny shores.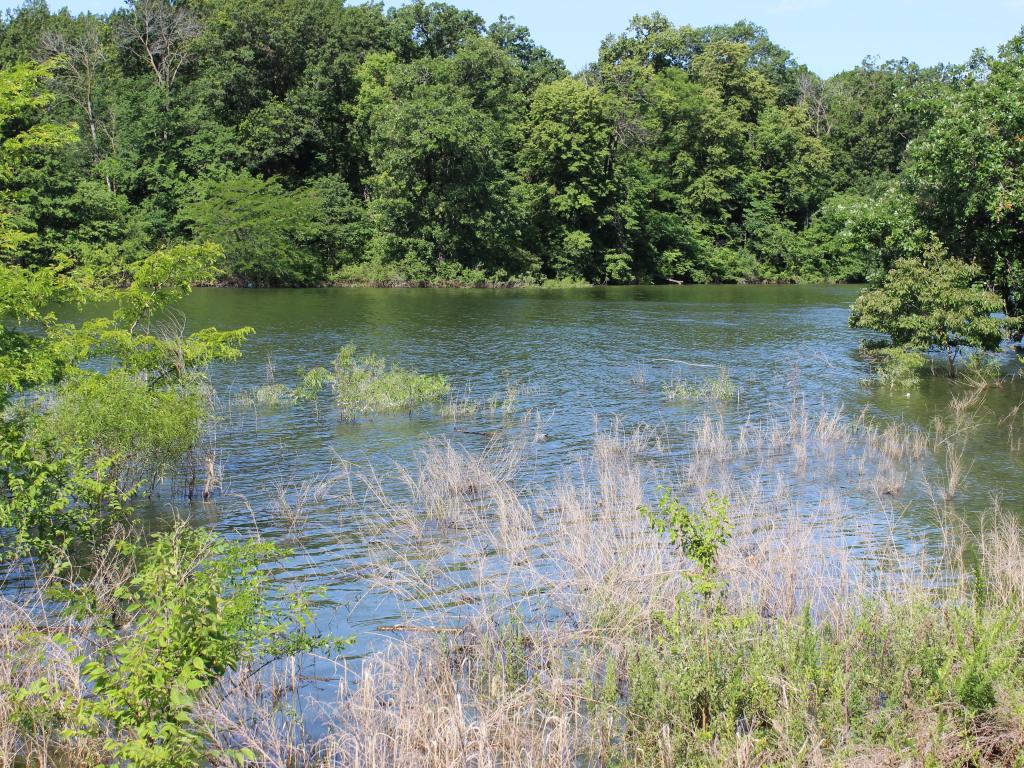 How to get there: Getting to Smithville Lake is incredibly easy; simply drive north on the US-169 before taking the Country Road, which will take you straight to your final destination.
Our highlights: Make sure to pack your bathing suits as there are two allocated swim beaches to choose from at Smithville Lake! Depending on the season, you may find a crowd; if you're looking for a little time to yourself, we recommend visiting in the morning when crowds are likely to be lower. You can also spend some time on the lake itself, as there are two marinas where you can hire a boat for the day.
Feeling up to a bit of exercise? Smithville Lake is best scene via hiking and biking, boasting over 35 miles of trails. The most popular one is the Smithville Lake Trail Loop, just under 8 miles in, allowing you to see this body of water in all its glory.
If you're up to some camping, Smithville Lake is a great spot to pitch a tent, offering 752 campsites that allow you to go to sleep amongst the stars and wake up surrounded by nature. And for the golfers out there, Smithville Lake offers two 18-hole golf courses at the nearby Paradise Pointe Gold Complex, open to the public!
Bonus: Can you guess how big Smithville Lake is? The lake covers a huge 7,190 acres and has over 175 miles of shoreline.
Our travel tips: Keep in mind that entrance to Smithville Lake costs $6, though if you're a Kansas City resident and open to visiting multiple times a year, we recommend picking up an annual pass for $40. Also, boat hire is available from Camp Branch Marina; reserve ahead, and if you're looking to save a bit, book during the week as prices are lower!
2. Weston, Missouri
40 minutes' drive from Kansas City (35 miles)
Why you should visit: This road trip is for you if you're looking for a healthy dose of history but don't want to stray too far from Kansas City. A favorite quick getaway in Missouri, Weston is steeped in history and was once a prominent port town on the Missouri River.
Weston is brimming with historical significance, and you're sure to find tons of activities to keep you busy on your visit. You'll have the chance to browse unique stores boasting antique treasures, after which you can enjoy a delicious meal at one of the local restaurants. Also, don't forget to try the local wine from the many wineries in this region.
How to get there: To get to Weston, join the I-29 and head North. Then, take exit 20 that'll be signposted Tracy; drive towards Tracy on the 273, continuing past it until you've reached the historic town of Weston.
Our highlights: The best way to discover this gem of a town is by strolling through the historic district, where you're sure to discover something special at one of Weston's many one-of-a-kind shops. Feel free to shop till you drop, or browse at a leisurely pace through the many antique stores in this quarter.
There are a couple interesting museums in Weston that'll definitely be leaving you more informed than when you came in. Delve into Weston's past at the Weston Historic Museum and the Lewis & Clark Historic Weston Educational Exhibit. Or, go the art route and discover beautiful silks from the 18th and 19th centuries at the National Silk Art Museum.
While you're in Weston, we absolutely recommend enjoy some delicious eats and tasty libations. We recommend trying the wines at the Jowler Creek Winery and the Historic Western Orchards, which have tons of delicious concoctions to taste. And if you're looking to combine a good time with a dose of history, a local tip is to drop in at O'Malley's 1842 Pub for a traditional Irish music and an Irish pub vibe.
Bonus: We aren't the only ones to recommend Weston for its antique culture—just recently, Midwest Magazine praised this little town as a top antique town in the US.
Our travel tips: For a particularly good time, plan your trip for early October, during which you'll be able to catch the Weston Irish Fest, full of delicious traditional food and great Irish tunes!
3. Perry Lake and Topeka, Kansas
1 hour drive from Kansas City (63 miles)
Why you should visit: Perry Lake makes for quite the interesting road trip: this reservoir is actually operated by the United States Army Corps of Engineers, whose involvement revolves around preventing unwanted flooding.
Topeka boasts tons of quirky and family-friendly attractions, so it's a great city to visit if you're looking for a healthy dose of fun that isn't too far from Kansas City.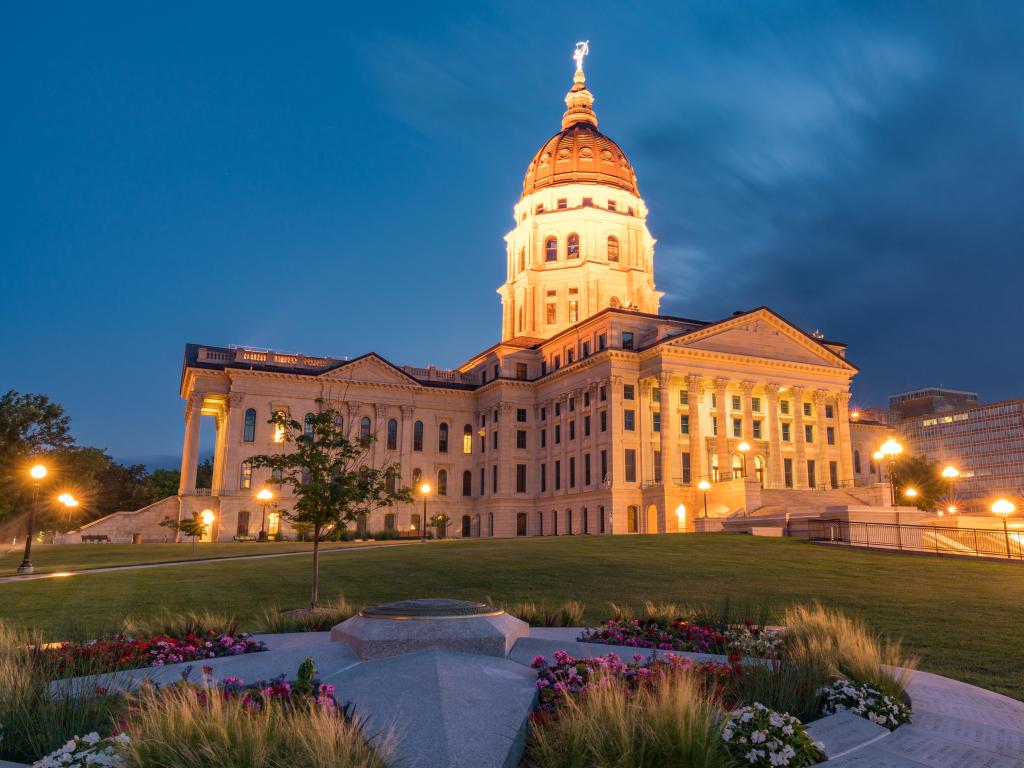 How to get there: It's pretty straightforward to get to these two locations. First, travel east on the I70 to Topeka, which you'll reach in no time. From Topeka, drive the US 24 East for Perry, then turn left on Ferguson Road. Make another left for 39th Street, and after a mile you'll be cruising into Perry Park Drive, right by Perry Lake.
Our highlights: As we mentioned, Topeka offers tons of fun for the whole family. For a dose of entertainment as well as history, ride the mini train through Gage Park, where you can also then float on a carousel that dates all the way back to 1908.
We definitely recommend checking out the Evel Knievel Museum, where you can learn about the life of this famous daredevil through many documents and artefacts, as well as a 4D jump experience!
For a more modern experience, you can always go to Evergy Plaza in downtown Topeka. Here, you can catch a concert or movie showing at a recently built outdoor venue. Check local listings to learn more about the many events that occur in this stunning center!
Get in touch with your inner Picasso at the Mulvane Art Museum and the North Topeka Arts District. The latter boasts over two blocks of historic buildings, now home to artists' studios and antique shops.
When you've had your fill of city culture, make your way to Perry Lake. Much like Smithville Lake, this oasis is perfect for biking, hiking, camping and a variety of watersports.
Bonus: Did you know that 'Topeka' is a Kansa-Osage word which means 'a good place to dig potatoes?' We'll take their word for it!
Our travel tips: You'll need a permit to park and stay overnight at Perry State Park; you can get them in person at a self-pay station or office, though we recommend easily purchasing them online beforehand.
4. Lake of the Ozarks, Missouri
2 hours and 30 minutes drive from Kansas City (145 miles)
Why you should visit: This is the ultimate road trip for TV-fans who've had the chance to watch the TV series Ozark, starring Jason Bateman and Laura Linney. Unsurprisingly, the popularity of this new show has very much increased the notoriety of this lake!
There's so much on offer at the Lake of Ozarks, including several public beaches and renowned fishing areas. There's plenty to do on the water, so make sure you pack your swimsuit if you're headed this way. And if you're looking for a nice place to stay or dine, the towns near the lake (such as Osage Beach) have some great options.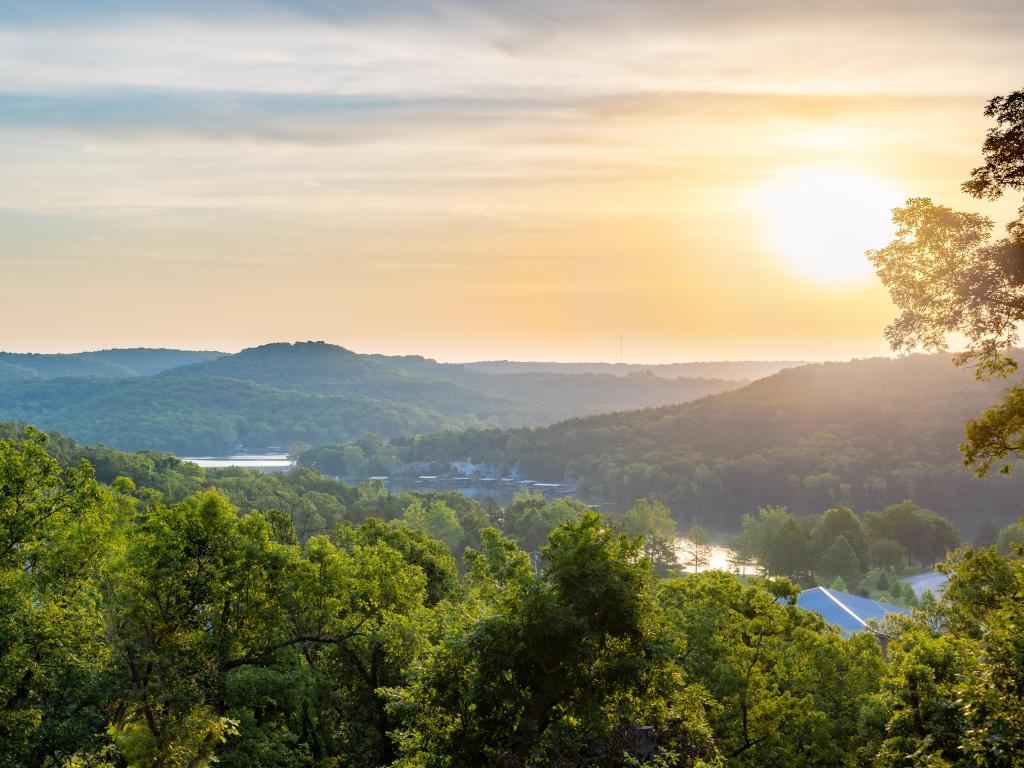 How to get there: You can get to the Lake of Ozarks with relative ease. First, head south on the US-71 from Kansas City. Following the I49, take the exit after Harrisonville to join the MO-7 South. Turn left at Greenview, and soon enough you'll find yourself at this lake's breathtaking shores.
Our highlights: Feeling up for a little bit of music? Check out the Main Street Music Hall, an Osage Beach Victorian venue nicknamed the 'Main Street Opry' which hosts a variety of performers performing live music.
There's no better spot to enjoy a day on the water than at Pirates Point, which offers tons of rentals ranging from speedboats, tritoons, pontoons, jet skis and inflatables. You're sure to find something to let you discover this lake in a whole new way!
You can also take a cruise on the Lake of the Ozarks through Celebration Cruises, this region's premiere cruising company. There are several different options to choose from, including the Even Sunset Lake Cruise, where you have a meal overlooking the lake as the sun goes down.
There are lots of trails that you can explore which are located all around the lake; we recommend the Rock Top Trail, right near Osage Beach and which is an approachable 3.5 kilometres.
Bonus: The Lake of the Ozarks has a distinct shape and from above looks like a serpent, which has earned this body of water the moniker, 'The Missouri Dragon'!
Our travel tips: If you're looking to hire a boat to explore the Lake of the Ozarks, be careful if you're on visiting in July. It's the busiest month, so either book your boat in advance or choose one of the shoulder season months!
5. Ha Ha Tonka State Park, Missouri
2 hours 40 minutes drive from Kansas City (160 miles)
Why you should visit: This is one of the coolest historical road trips you can take from Kansas City, as Ha Ha Tonka State Park is actually home to the ruins of an old stone castle. Not exactly what you'd expect to find looming over the lake, but certainly a sight to behold!
Ha Ha Tonka State Park is not only packed with history with the castle ruins, but you'll also discover beautiful scenic views of the southern tip of the Lake of the Ozarks and the Ha Ha Tonka Springs. If that wasn't enough, you'll also find lots of caves and trails to explore.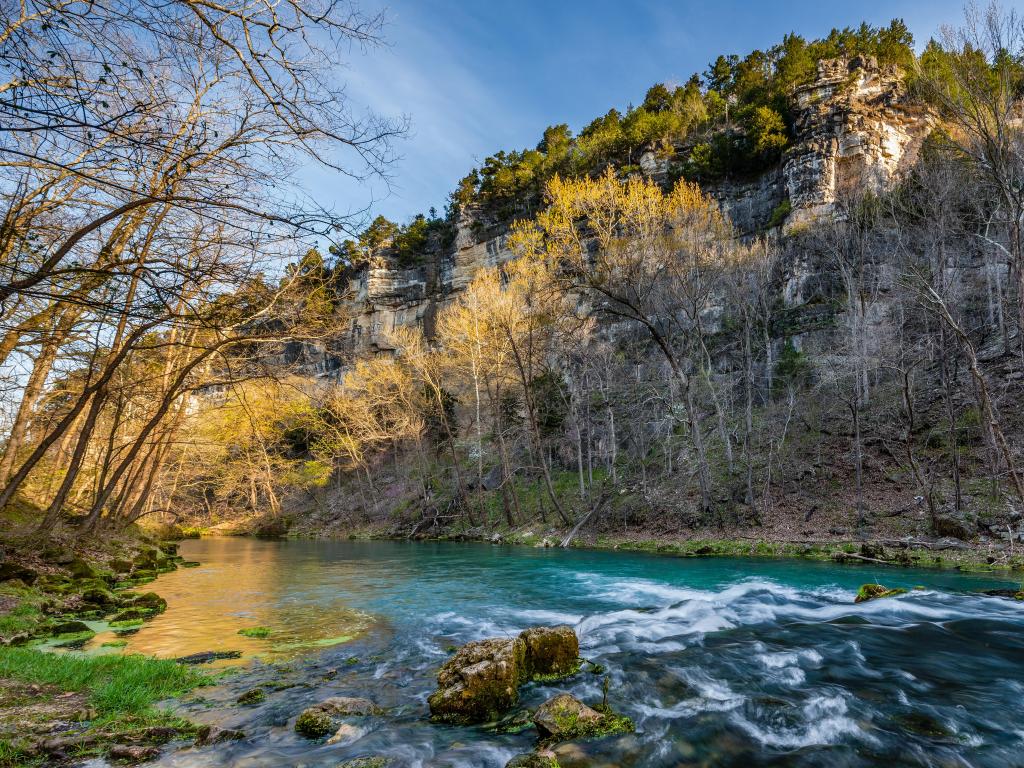 How to get there: Get to Ha Ha Tonka State Park by taking the US-71 South, then following the I-49 South. Take exit 157 off the I-46 and join the MO-7 South. At Warsaw, you can join the US-65 South; then, after around 68 miles at Preston, take the US-54 east to Missouri Highway D.
Our highlights: Bridal Cave is the perfect place to take in some jaw-dropping rock formations. Guided tours typically last an hour, and start frequently, so you're sure to catch one regardless of when you visit. Because the cave remains a constant 60-degrees Fahrenheit, you can drop in to this attraction any time of the year.
View the scenery in Ha Ha Tonka State Park from a new perspective by discovering this green paradise on a zip line. You can experience this adrenaline rush at the Adrenaline Zipline Co., which boasts twelve ziplines to try.
Switching to a more relaxed pace, we can't think of a nicer way to enjoy the serenity of this park than through a long, leisurely picnic. If you're looking for something extra luxurious, you can hire one of two picnic shelters for a reasonable $50. The shelters tend to go fast, but they offer electricity, picnic tables and a grill.
Get a workout in during your visit and hike one of fourteen hiking trails at this State Park. The easiest trail is the Castle Trail, a quick walk that clocks in at under a mile and takes you to the castle ruins with a view over the lake.
Our travel tips: Get some intel before heading into the park at the visitor center, where you'll find a map that shows you the many trails and breaks down each's difficulty level.
6. Omaha, Nebraska
2 hours 45 minutes (185 miles)
Why you should visit: The most populous city in Nebraska, Omaha might not be the capital but it still has tons of activities on offer, from fun outdoor and indoor attractions to a great nightlife scene. The most famous draw for tourists is arguably the Henry Doorly Zoo and Aquarium.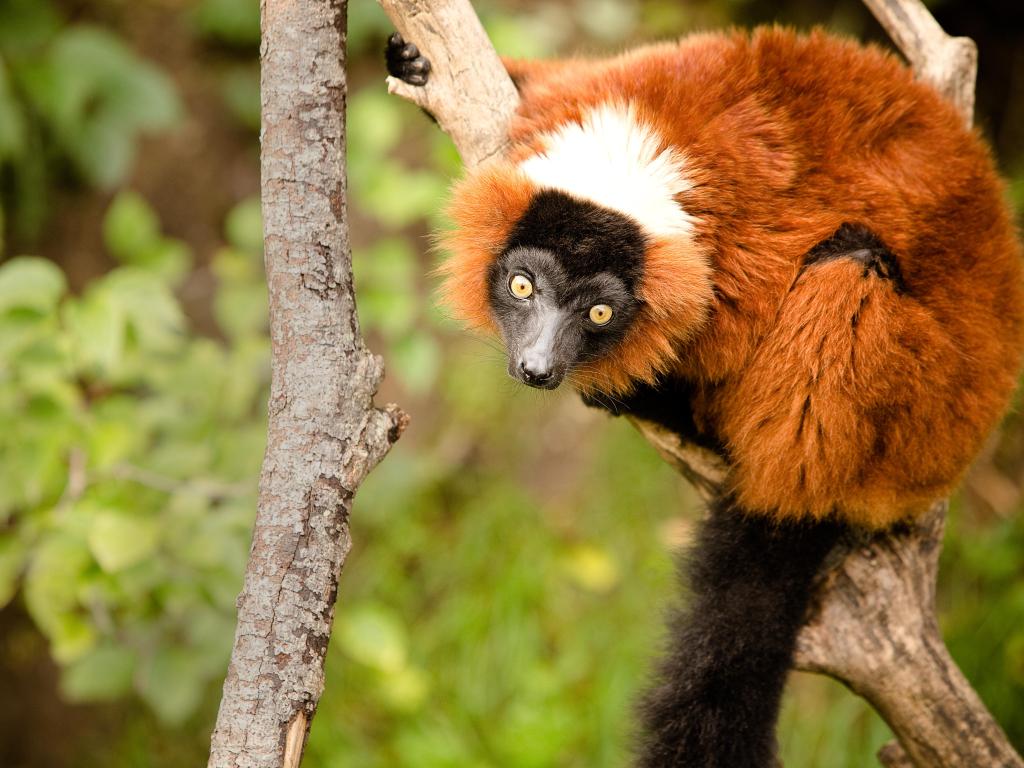 How to get there: Reach Omaha in just under three hours by driving north on I-29, then joining Broadway West over the Missouri River to find yourself in the city center.
Our highlights: The Henry Doorly Zoo & Aquarium is considered one of the best in the world, not least because it's host to the world's largest indoor desert, as well as North America's largest indoor rainforest.
We also highly recommend checking out Omaha's Old Market, the city's cobblestoned entertainment center. You can take a walk through this historic area, where you'll be able to enjoy shopping at dozens of cute stores and dine in some of Omaha's leading restaurants. And if you visit at night, you will find the area alive with pubs and jazz clubs, where you can sit and enjoy a drink along with some live music.
Take a calming walk along the Riverfront and across the famous Bob Kerrey Pedestrian Bridge, a 3,000-foot bridge over the Missouri River that locals affectionately refer to as 'Bob'.
If you're looking to learn a bit more about Omaha's wonderful history, we recommend exploring Joslyn Castle, a historic mansion located in the city centre which was completed in 1903. Make sure to plan when you'll be visiting in advance, as tours are only available Sunday, Monday and Thursday.
Bonus: Omaha is home to billionaire Warren Buffet, who is known to invite his celebrity friends - including the legendary Sir Paul McCartney - to visit and explore the city!
7. Des Moines, Iowa
2 hours 50 minutes' drive from Kansas City (190 miles)
Why you should visit: Des Moines may not have been on your bucket-list before now, but the city has received a significant amount of attention from tourists, growing into a real cultural hub over the last ten years.
Beat the crowds and check out Des Moines' many trendy neighborhoods, explore its historically significant buildings, take in its museums and discover its stunning state capital building.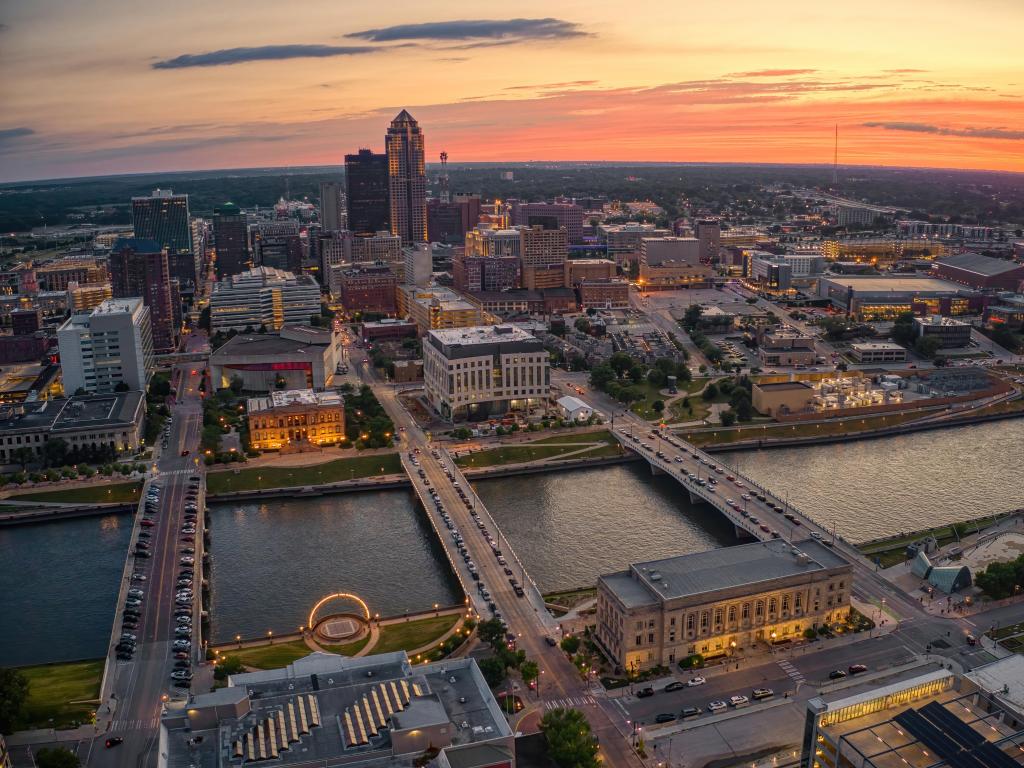 How to get there: Follow the 1-35 North, then take exit 72S and merge onto the I-235 East. From there, simply take the 8A and follow 7th Street to downtown Des Moines.
Our highlights: The architectural center of Des Moines is the stunning State Capitol, complete with a glowing gold dome that you'll see piercing the city's skyline. The outside will make for a fantastic picture, but if you're looking to learn more about this city's rich history, make sure you head inside.
If art is more your jam than history, look no further than the Des Moines Art Center. It's free to enter and houses a wonderful collection, with works from big0name artists like Monet and Matisse.
Combine a relaxing stroll and beautiful artworks by making your way through the John and Mary Pappajohn Sculpture Park, located right in Des Moines downtown center. This is one of the newer additions to the Des Moines cultural attraction list, just recently opened in 2009.
The best place to go out for night on the town is the East Village, a recently developed neighborhood that is a favourite amongst locals for it's lively entertainment and busy bars.
Bonus: The gold dome of the State Capitol contains actual gold. Made from iron and brick then covered with thin sheets of 23-carat gold. The gold alone weighs around 100 ounces.
Our travel tips: Before dropping anchor in this up-and-coming city, make sure you've learned how to pronounce its name. "Des Moines" is rooted in the French language but has been Americanized in pronunciation over time, so the correct way to say it is 'duh moin'.
Click here to skip back to the top.
Weekend trips from Kansas City (3-5 hours each way)
We've got a ton of road trips for you to choose from that are perfect for a weekend getaway! Keep scrolling to discover seven spots that are deserving of a few days' exploration.
8. El Dorado Lake & Wichita, Kansas
3 hours drive from Kansas City (200 miles)
Why you should visit: This road trip—which takes you from Kansas City to Wichita—allows you to stop at beautiful El Dorado Lake on the way. This serene lake is a great spot to stop overnight or simply spend a day at.
Amongst Wichita's many attractions, the standout is their zoo, which happens to be the seventh-largest USA. You'll also find some really unique attractions and a busy nightlife complete with trendy bars and chic restaurants.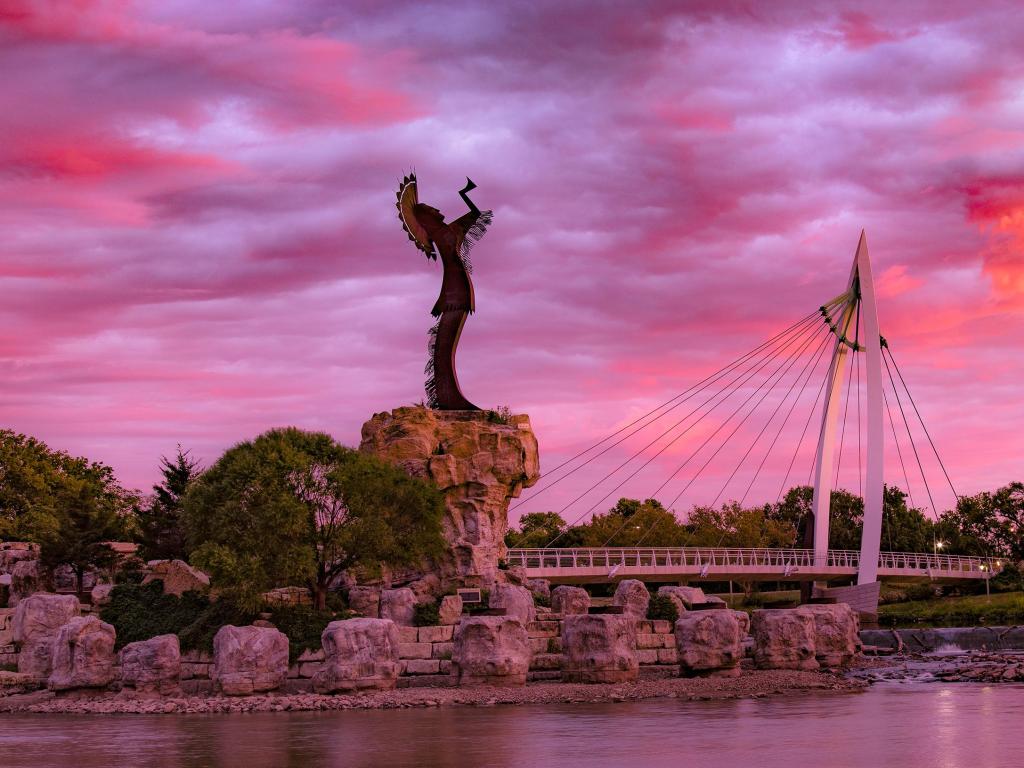 How to get there: To get to Wichita, take the I-35 South. You'll have to pay a toll after Emporia, but soon after you'll find El Dorado Lake, reachable through Myers Rd and then NE Boulder Bluff Rd. When you're done exploring the lakes calm waters, rejoin the I-35 which will take you straight to Wichita.
Our highlights: If you're thinking about staying the night at El Dorado Lake, you can choose between camping or staying in one of the on-site cabins. You can also count on tons of activities to enjoy, including fishing, boating, and hiking!
The Sedgwick County Zoo is a must-see for anyone visiting Wichita. Apart from the regular offerings from an animal sanctuary, including the opportunity to view and interact with a host of native and non-native animals, you'll also find really fun boat rides and the Safari Express.
Look no further than the Keeper of the Plains for what we believe is the most iconic Wichita landmark. This spot, where the Big and Little Arkansas Rivers meet, is home to a large steel sculpture that overlooks this unique city.
The Museum of World Treasures is quite massive, covering three entire floors. Full of interesting artifacts ranging from World War II paraphernalia to a real Egyptian mummy, this museum has a bit of everything!
Bonus: Did you know that Wichita is the air capital of the world? While you may think this is due to its crystal clean air, it's actually because it's the birthplace of many celebrated airplane designs.
Our travel tips: We really recommend checking out the Keeper of the Plains at night when it's surrounded by a ring of fire! The fire is lit between 9-9:15pm during the spring and summer, and a little earlier, from 7-7:15, in the fall and winter.
9. Branson, Missouri
3 hours 15 minutes' drive from Kansas City (210 miles)
Why you should visit: If you're Titanic enthusiast, this city is a must-visit! Branson is home to the largest Titanic Museum Attraction in the world, where you'll be able to discover memorabilia and exhibits that'll help you determine whether Jack and Rose could have both fit on the door.
Branson has tons to offer when it comes to entertainment, which totally support the claims that it's the fastest growing tourist destination in the whole of the USA.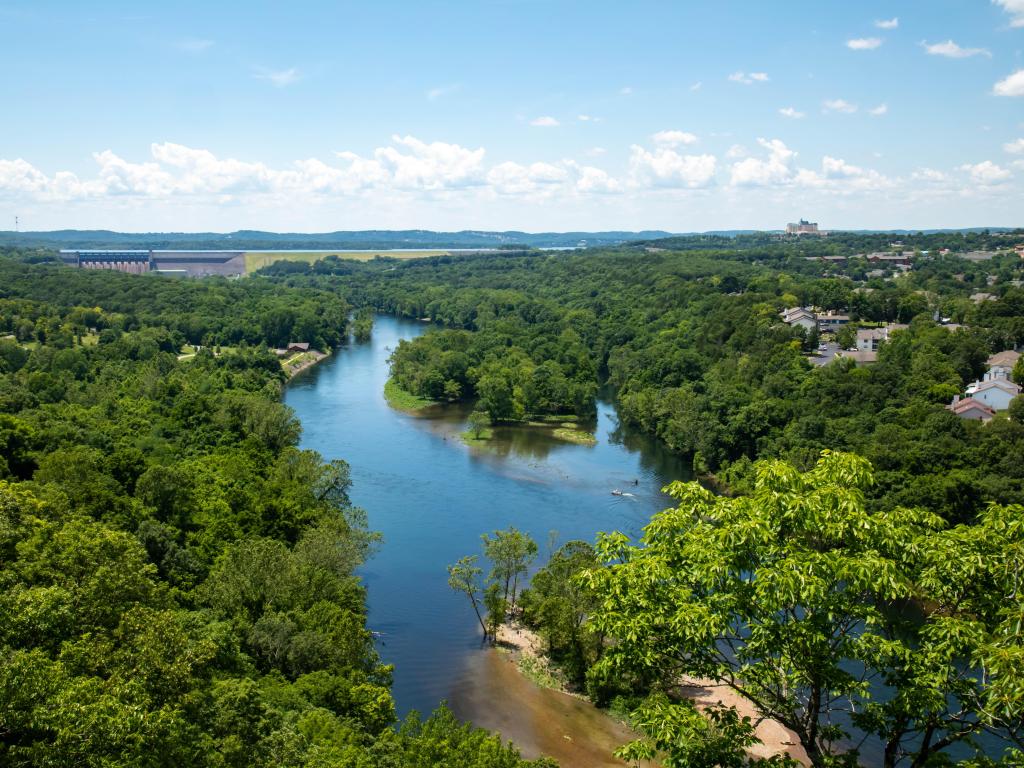 How to get there: To get to Branson, travel south on the US-71 and continue on the I-49. Follow the MO-7 and MO-13 S, then take exit 82A from Springfield to Branson.
Our highlights: For the adrenaline-junkies, satisfy your need for speed at Silver Dollar City! A sweeping theme park set in the stunning backdrop of the Ozark Mountains, you'll find a variety of rides to get your heart racing and tons of dining options to satisfy any craving.
Your mind may be blown by Branson's WonderWorks, whose outside resembles a toppled mansion, however we think you'll be even more wowed by the inside, where you'll find tons of mysterious things and interactive activities throughout its four floors.
Who doesn't love a great background to make your Instagram photos stand out on the feed? Beyond The Lens! is wall to wall with photo opportunities that'll take you social pics to the next level. Take a pic next to Bigfoot or walk through a kaleidoscope tunnel to achieve a totally trippy effect.
Whether or not you've had the chance to read about the Titanic (or enjoy the iconic James Cameron flic starring a young Leo DiCaprio and Kate Winslet), the Titanic Museum in Branson should be on your list. It boasts the largest Titanic model, where you can walk down the Grand Staircase before discovering artifacts and real crew stories relating to this fascinating and tragic event.
Bonus: John Joslyn is the owner of the Titanic Museum. If you hadn't heard of him, don't worry, we hadn't either! Apparently, Joslyn co-led an expedition to the wreckage of the Titanic, subsequently producing a TV show that broadcasted the first images of the Titanic on the seabed.
Our travel tips: While Branson may be cold in the winter, it's the place to be during Christmas. Locals have named this city the 'Christmas Tree Capital' for the magical atmosphere it achieves during the holidays!
10. Bentonville, Arkansas & Roaring River State Park, Missouri
3 hours 20 minutes' drive from Kansas City (210 miles)
Why you should visit: Bentonville boasts award-winning bike trails which attract riders and biking-enthusiasts from across the US. This hot spot actually offers over 28 miles of trails in total!
Visit Bentonville for its many outdoor activity offerings. The nearby Roaring River State Park and Buffalo National River provide visitors with several spots to take in the Ozark air.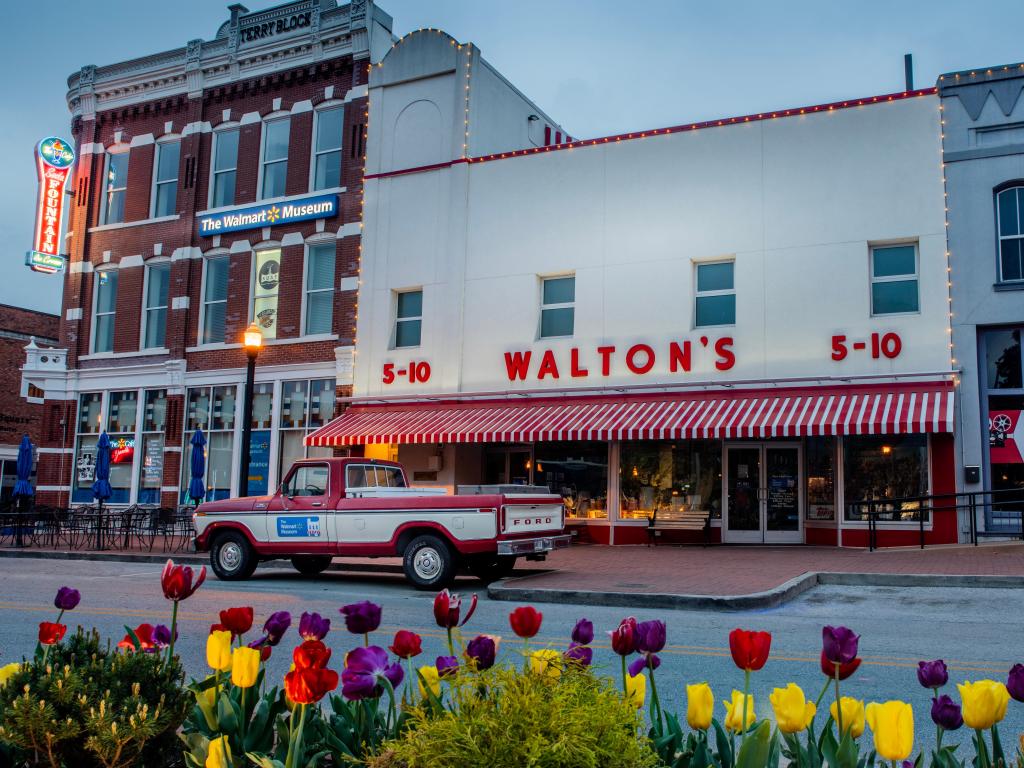 How to get there: Getting to Bentonville is pretty simple! Take the US-71 southwards, then continue on the I-49 to Bentonville for around 3 hours. Take N Walton Boulevard, and if you're planning on visiting Roaring River State Park, simply follow AR-70E, US 63E and then Highway 37 north.
Our highlights: Whether you're a mountain biking novice or a two-wheeling pro, we definitely recommend checking out the natural mountainous terrain of the Ozarks, which makes for impressive mountain biking trails. With climbs, rock descents and many opportunities for jumps, it's a mountain biking hotspot.
Roaring River State Park is one of Missouri's most popular state parks, nestled right at the foothills of the Ozarks. This beautiful park has hiking trails, picnic tables, campground, and cabins; you'll also find the waters filled with yummy rainbow trout, attracting eager fishers year-round.
The nearby Buffalo National River is an area of outstanding natural beauty, with some saying it's the finest in the US. The US Congress even named it the first National River! With several hiking trails leading to spectacular overlooks and with luxury cabins, it's the perfect romantic getaway.
Visit the Devil's Den if you're looking to discover a less well known State Park. Boasting unique rock formations, caverns, and Lake Devil, where you can rent a pedal boat, this park is the perfect opportunity to reconnect with nature. If you're feeling up to staying a bit longer, there are also cabins with kitchens and many campsites.
Bonus: Professional Mountain Biker Ryan Petry bikes the trails of Bentonville; he was full of praise for it's many paths, saying that "the sport will forever be better and more accessible because of you." High praise indeed!
Our travel tips: While Bentonville's trails may be its main draw, we recommend taking the time to visit this town's downtown center, which is flourishing with art museums and a delicious food scene.
11. Rolla & Mark Twain National Forest, Missouri
3 hours 30 minutes' drive from Kansas City (220 miles)
Why you should visit: Fan of road-side attractions? Rolla, MO was once a stop-off on the iconic Route 66 and today it boasts tons of unique attractions including the Mule Trading Post.
You can easily access the Mark Twain National Forest from Rolla. Once you've enjoyed Rolla's history and nightlife, we recommend taking the 40-minute drive to the National Forest, where you can reconnect with the great outdoors.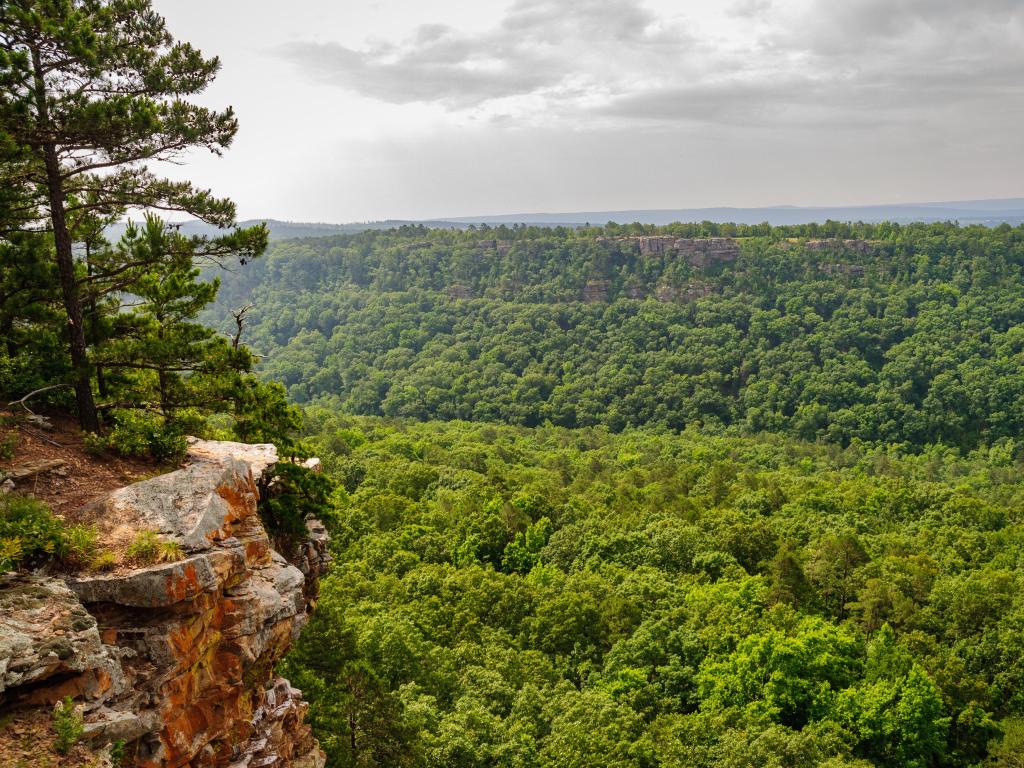 How to get there: Follow the I-70 East out of Kansas City. At Columbia, take exit 128A and follow the US-63 South to Rolla. From Rolla, you can get to the Mark Twain National Forest via the I-44 east, getting off at exit 208 towards Cuba.
Our highlights: The vast Mark Twain National Forest is one of the must-see attractions in this area, boasting hiking and camping facilities if you're looking to stay longer than a day. As you explore the Ozarks, you'll stumble upon lakes, rivers, and streams amid the forests.
Grab some great pics at the Mother Road signage post, located at the Mule Trading Post. Once you step inside, you'll find a combination of trading post and museum, dedicated to the rich history of Route 66.
If you're looking for a great spot to hangout day or night, look no further than downtown Rolla. As a college town, this small city boasts a really energetic nightlife scene; and during the day, you'll find boutique shops, tasty barbecue joints and the Roll Antique Mall, the antique hunters' dream.
You won't hear about this museum in the media, but luckily we've got the scoop for you. If you're looking for a unique attraction, check out the Museum of Vacuums, nestled in a repair shop. Here, you'll find tons of vintage vacuums, but make sure to call ahead if you'd like to see models from the 1920s onwards.
Bonus: Here's a really cool figure for you: the Mark Twain National Forest actually covers an enormous 1.5 million acres of public land, primed for exploration.
Our travel tips: When visiting the Mark Twain National Forest, make sure you come prepared. Learn the area and pick up a map so you don't get lost!
12. St Louis and Columbia, Missouri
3 hours 40 minutes' drive from Kansas City (250 miles)
Why you should visit: A truly historic city, St Louis was founded by a Frenchman and named after the French king St Louis IX. When you visit, you'll this history etched across the city's many historic sites.
There's no shortage of history in this beautiful city, offerings tons of points of interest for history buffs. You can deny that St Louis has a unique culture and is one of the United States' most prominent landmarks!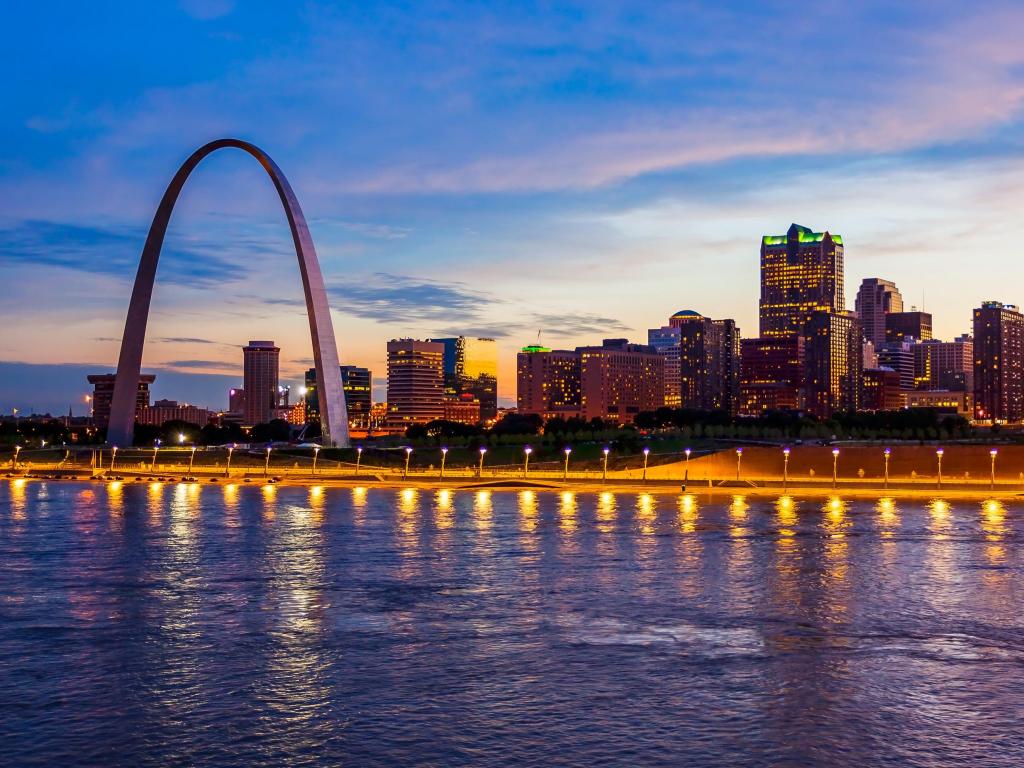 How to get there: To get to St Louis, head east on the I-70 E; then, take exit 126, which takes you to Columbia. From there, continue on the I-70 east, finally taking exit 39A for St Louis.
Our highlights: If you're making your way to St Louis, we definitely recommend incorporating the city of Columbia into your journey. This town has a college vibe and emits an old-world charm; check out 9th street, which has an artful demeanor and boasts tons of shops, galleries and cafes.
A must-see in St Louis is the Gateway Arch. There's no way you won't recognize this iconic monument, which looms over the city skyline. 630-foot high, this structure is dedicated to Thomas Jefferson and the expansion of the West.
Visit the Basilica of Saint Louis, known affectionately to locals as the Old Cathedral. The first Catholic church erected west of the Mississippi River, the Basilica of Saint Louis dates all the way back to 1914. Make sure you go inside to admire the decorative interior.
Named after St. Louis's founder Pierre Laclede, Laclede's Landing is brimming with historic buildings and structures. Today, this area boasts restaurants and bars scattered all along the riverfront, next to Laclede's Landings iconic cobblestoned streets.
Bonus: There's no denying that the Gateway Arch makes for an impressive monument from the ground, but did you know that there's a tram that'll carry you all the way to the top of the arch? There's no better place to find stunning views of St Louis!
Our travel tips: Make sure to book the Gateway Arch in advance at gatewayarch.com, as it tends to sell out!
13. Pawhuska and Tulsa, Oklahoma
4 hours' drive from Kansas City (240 miles)
Why you should visit: Pawhuska is home to the largest tallgrass prairie in the world; not only is this ecosystem full of different plant species, but you'll also get the opportunity to view some truly rare wildlife!
This road trip offers the ideal southern vibe. The city of Pawhuska was founded in 1872 and has since gone to great lengths to protect its southern heritage.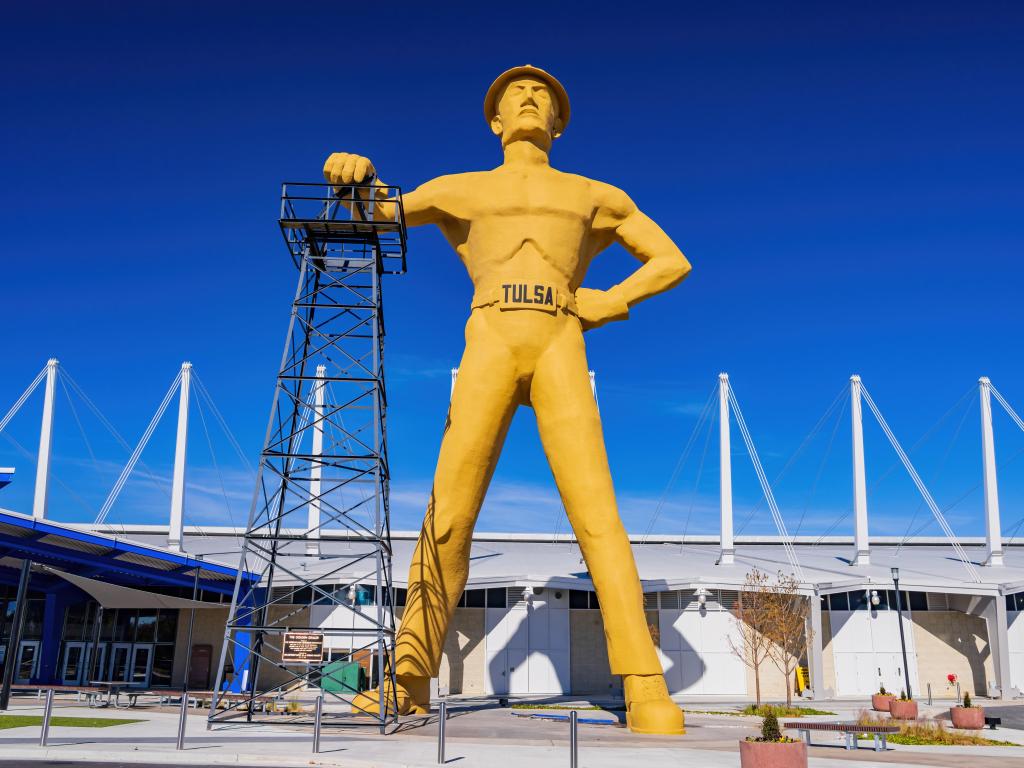 How to get there: Take the I-35 South from Kansas City; before Lebo, take a left onto the US-75 South. At Yates Center, you'll turn right, then left onto the KS-99 South. From there, continue the journey to Tulsa via the OK-11E.
Our highlights: Downtown Pawhuska is where you'll find the most historic architecture. In fact, there are 86 buildings here that have earned a place on the National Register of Historic Places. And if you're looking to get some shopping in, you can purchase native art and custom cowboy boots at the Osage Outfitters.
The largest tallgrass prairie in the world is at Tallgrass Prairie Preserve. Besides the expansive views and the opportunity to spot smaller animals like coyotes and armadillos, you'll also be able to catch a picture of a massive heard of bison, numbering over 2000!
Looking for a place to stroll? We recommend you take a walk across the swinging bridge, a local favorite dating back to 1926. Back then, crossing Bird Creek on the bridge was the sole way to enter the town, so you're sure to feel rooted in history upon visiting this attraction.
We think that Tulsa offers a natural stop on the way to Pawhuska. If you're looking for something to do in this wonderful city, we highly recommend a visit to the Philbrook Museum of Art and the Cave House, notable Tulsa landmarks.
Bonus: Fan of cooking? Pawhuska happens to be the hometown of the famous TV cooking show host and cookbook writer "Pioneer Woman" Ree Drummond.
Our travel tips: In the hometown of Ree Drummond, there's a place to get a taste of the cooking style that made her so popular. Visit the Pioneer Woman Mercantile, a curated bakery and deli that's open all day, serving breakfast, lunch, and dinner.
14. Springfield, Missouri & Glade Top Tail Scenic Byway
3 hours 50 minutes' drive from Kansas City (230 miles)
Why you should visit: For the nature-lovers, this road trip takes you through the largest glades under conservation in the USA!
The 23-mile byway you'll be on takes you through the glades of the Mark Twain National Forest; you'll get the chance to drive on ridge tops surrounded by stunning countryside.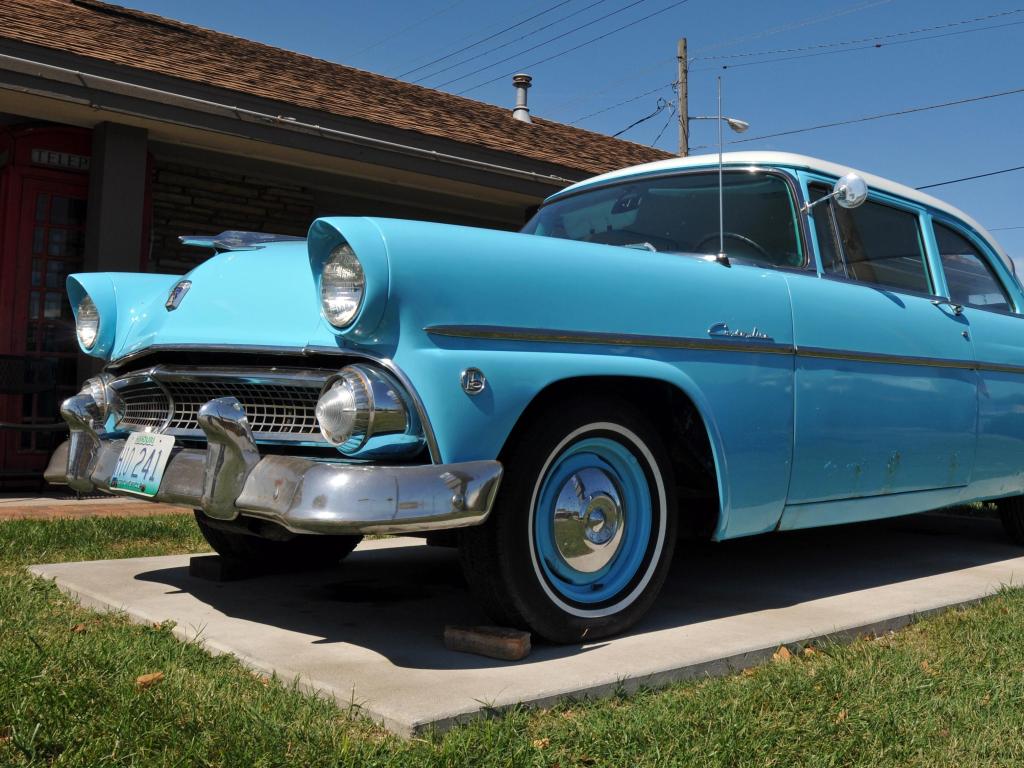 How to get there: Take the 49 East to get out of Kansas City. Follow the MO-7 south, then take the MO-13 South to reach Springfield. Leaving Springfield, head towards Cody on the US-65 South then take the US-60 East. Turn right onto State Highway 76 and follow Caney Creek Road.
Our highlights: On route to the Glade Top Trail National Scenic Byway, we highly recommend you stop in Springfield. If you're not sure where to start, the Route 66 Springfield Visitor Center has information and some interesting historical pieces!
While Springfield has tons on offer, we think one of the must-sees in this town are the Fantastic Caverns, which you can tour by tram. Other interesting attractions include the fascinating Wonders of Wildlife National Museum and the Dickerson Zoo.
Once on the Glade Top Trail National Scenic Byway, you'll find that there are plenty of overlook points to choose from, where you'll be able to take in the gorgeous views of the Mark Twain National Forest.
We recommend packing a picnic and enjoying it at the Caney Day Use Area. In spring and summer, you find yourself taking in beautiful blooming flowers, while in the fall you'll be able to catch the foliage change colours. Nearby, you'll find a short trail here leading to a small cave.
Bonus: The Glade Top Trail National Scenic Byway is the only National Scenic Byway in the state of Missouri! Neat, eh?
Our travel tips: Take note that you can't camp on the byway as there are no public campsites. Also, while the road is open all year long, be wary of road conditions in the winter.
Click here to skip back to the top.
Long weekend trips from Kansas City (5-8 hours each way)
These next few road trips are ideal for those who've got a bit more than a weekend's worth of time on their hands! Keep reading to discover our favourite long weekend trips from Kansas City.
15. Horseshoe Bend, Arkansas via Blue Buck Knob National Forest Scenic Byway
5 hours 30 minutes' drive from Kansas City (330 miles)
Why you should visit: What makes this journey extra special is that you can travel to your destination through the Blue Buck Knob National Forest Scenic Byway, a truly stunning route!
Often called the best-kept secret in Arkansas, Horseshoe bend is truly a hidden gem, nested amongst the beautiful Ozarks. If you're looking for something a little off the beaten path but with tons of character, we recommend this road trip!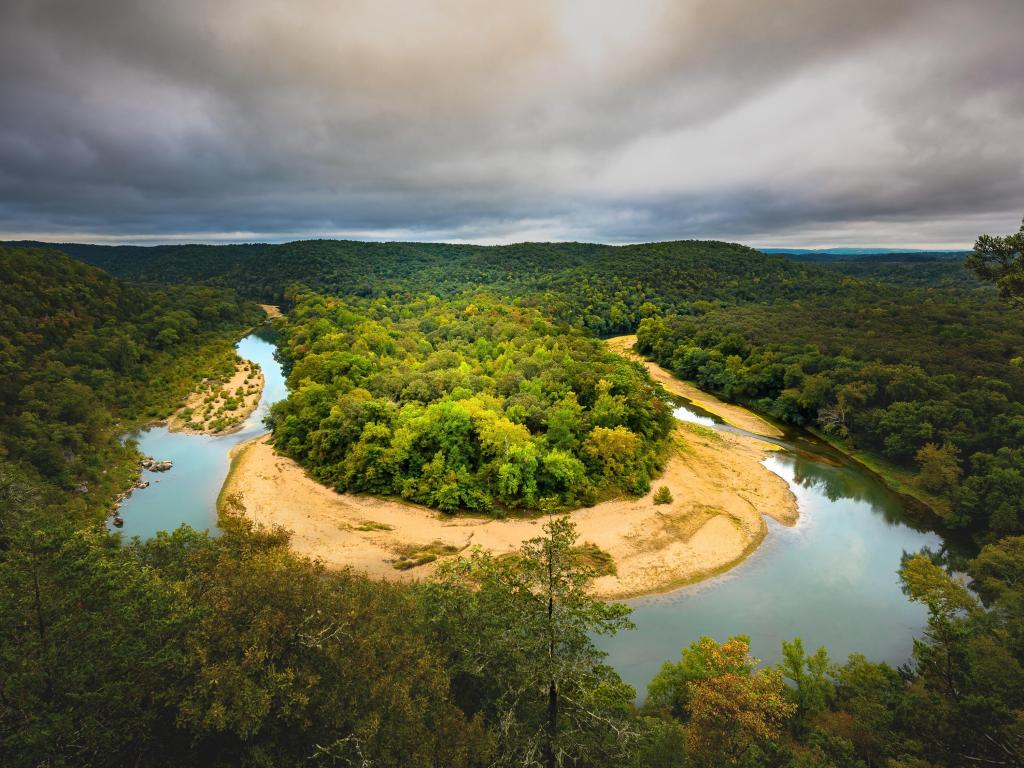 How to get there: Take the I-Y1 East, then the I-49. From there, take the MO-7 South and head east after Springfield on US-60. At Cabool, take the MO-181 South, then turn left onto Highway AP.
Our highlights: On route to Horseshoe Bend, make sure to pass through the Blue Buck National Forest Scenic Byway. This route allows you to discover over 24 miles of dense forest, complete with overlooks where we recommend you stop to admire the many views!
Looking to unwind? Relax at Crown Lake, where you can either stay in cabins or rented condominiums. This picturesque lake is ideal for swimming, boating, and fishing, amongst many other outdoor activities.
Another way to enjoy the Ozarks is through a game of golf. While some may say have said that this sport is a little dull to watch, there's no denying it's thrilling to play yourself. The Turkey Mountains Golf Course offers rolling hills as a backdrop to your game; if you haven't got your own, you can also hire clubs on site.
Take a stroll or have a picnic in Horseshoe Bend Garden Club Park, which is very picturesque all year but is especially stunning in the spring, when flowers are in full bloom.
Bonus: People have said that Horseshoe Bend is relaxing and quiet—no wonder, considering that the population in 2021 was just 2, 359 people!
Our travel tips: If you're hoping to rent a boat on Crown Lake, go to Box Hound Marina. Here, you'll be able to choose from a variety of boat models that'll be perfect for cruising along the lake's calming waters.
16. Chicago, Illinois
7 hours 50 minutes' drive from Kansas City (510 miles)
Why you should visit: Chicago offers a true big city feel with its many towering skyscrapers; in fact, the first skyscraper in the US was completed here in 1885. Visiting Chicago is a distinct change from the small towns and quant cities so far on the list!
One of the United State's most well-known metropolises, Chicago has tons on offer, from award-winning restaurants to celebrated museums. This beautiful city also sits on Lake Michigan, one of the Great Lakes and where you'll be able to enjoy relaxing waterfront walks.
Travel north on I-35 before taking exit 54 towards Springfield, then, follow the I-72 and I-55 eastbound. To include Milwaukee, simply travel north on the I-94.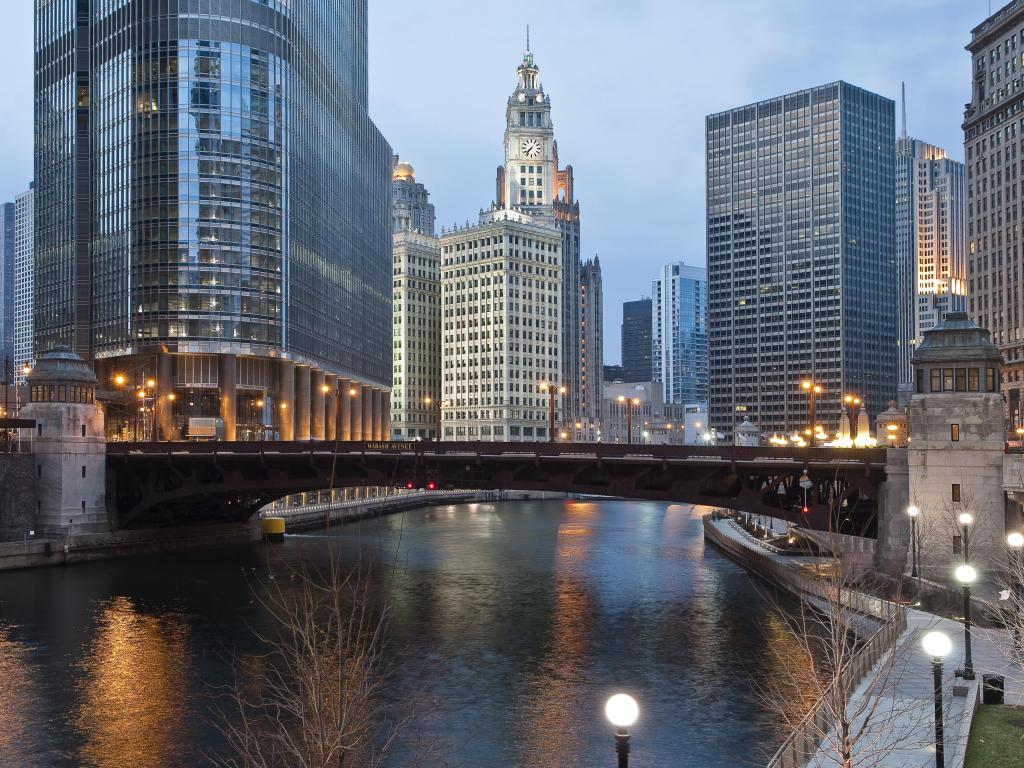 Our highlights: Looking for the best place to get a view of Chicago? We recommend you check out the John Hancock Center. On the 94th floor you'll find an observation deck called 360 Chicago with a spectacular view. And if you're chasing a dose of adrenaline, you can brave the Tilt, a thrill ride that'll tip you over the edge of the skyscraper.
There are few museums in this region that boast a collection that can rival that of The Art Institute of Chicago. Here, you'll be able to enjoy many works created by household names, including Van Gogh, Seurat, Picasso and Monet, to name a few.
If the Art Institute doesn't scratch your museum itch, there are many more to choose from, including The Museum of Science and Industry, a leading Chicago attraction. Trying to find something a little bit more under the radar? We recommend the disturbing but fascinating Medieval Torture Museum.
If you get a chance, you should absolutely travel North to Milwaukee; it's less crowded so sightseeing is easier. Enjoy walks on the lakefront or admire artwork at the Milwaukee Art Museum and the Harley-Davidson Museum.
Bonus: Measuring 234 square miles, Chicago is the third largest city in the United States.
Our travel tips: Don't forget to try one of Chicago's most iconic dishes, the deep-dish pizza! Also, Chicago offers really intuitive and punctual public transport, so we recommend you leave the car parked somewhere safe and use public transport to get from place to place.
17. Wisconsin Dells, Wisconsin
8 hours' drive from Kansas City (500 miles)
Why you should visit: The Dells of the Wisconsin gorge are notable for their scenic beauty, and what sets this road trip apart are the Cambrian rock formations along this 5-mile gorge!
Wisconsin Dells is a tourist hot spot thanks to its many water parks, so this is the perfect road trip if you're looking to cool off during the hot summer or enjoy some water sports.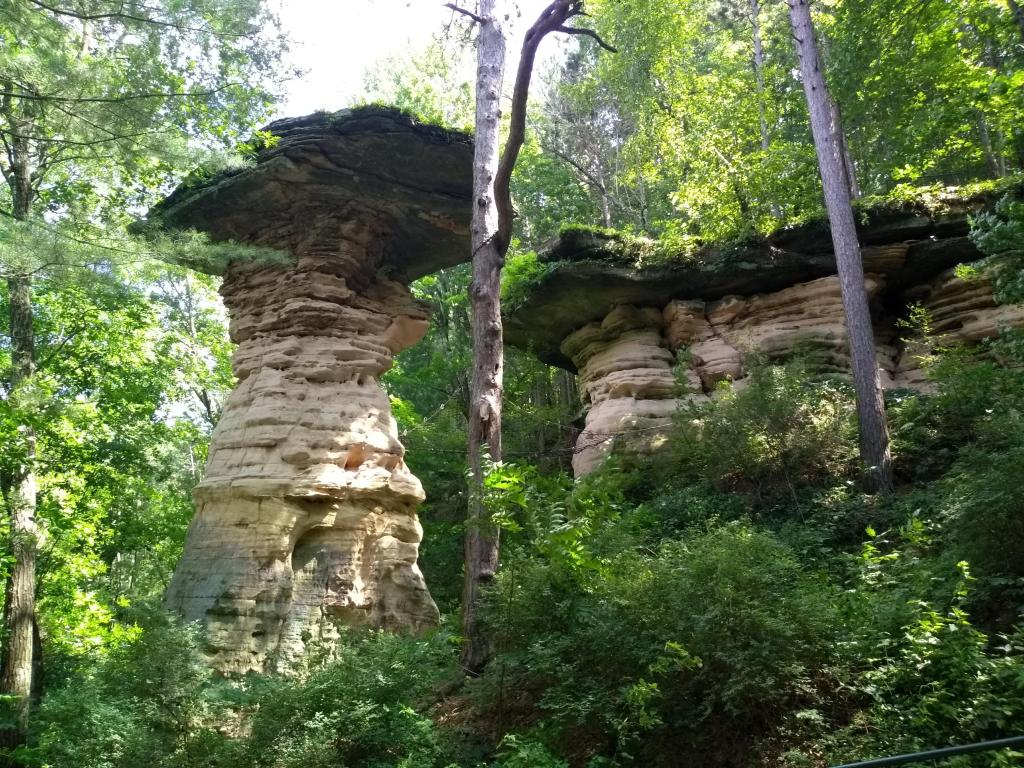 How to get there: Getting to the Wisconsin Dells is pretty simple: drive west on the I-70, then following the I-35N. After Des Moines, take exit 13A and merge onto I-90 east, which you can follow till you've reached your destination.
Our highlights: Hoping to take in stunning views while getting in some exercise? Check out the Dells of the Wisconsin River, which offers a scenic backdrop for a hike. The Chapel Gorge trail is our favourite, boating two miles of pine trees before reaching a natural beach opening.
For a new perspective on the aforementioned rock formations, we recommend you sign up for the Dells Boat Tour. This boat ride takes you down the gorge and to Witches Gulch, a narrow canyon that you can walk through.
Did we mention that Wisconsin Dells is known for its water parks? There are several to choose from within this small area, including Noah's Ark Water Park, Mount Olympus Water Park and Wilderness Territory.
Make sure not to overlook the history of the Wisconsin Dells area. The H.H Bennett Studio is an age-old studio built in 1875, which was once the workplace of famed artist H.H Bennett. You can even recreate a vintage self-portrait photo to hang up in your own home!
Bonus: Did you know that 'dalles' in French means slab-like rock? This is where Wisconsin Dells gets its name, because of the distinctive rocks at the Dells of the Wisconsin.
Click here to skip back to the top.
Longer trips from Kansas City (Over 8 hours each way)
Sometimes, a longer journey makes reaching your destination that much sweeter. These next eight trips are perfect for you if you've got a bit time on your hands and don't mind a longer drive!
18. Dallas, Texas
8 hours 10 minutes' drive from Kansas City (550 miles)
Why you should visit: Dallas is one of the more reachable places in Texas from the North, so if you've ever wanted to visit the Lone Star state from Kansas, here's your best choice!
Not only do you get to experience Texas' iconic southern culture, but there are museums and parks to discover; to top it all off, the Dallas nightlife is highly rated and boasts everything from swanky rooftop bars to rustic dive bars.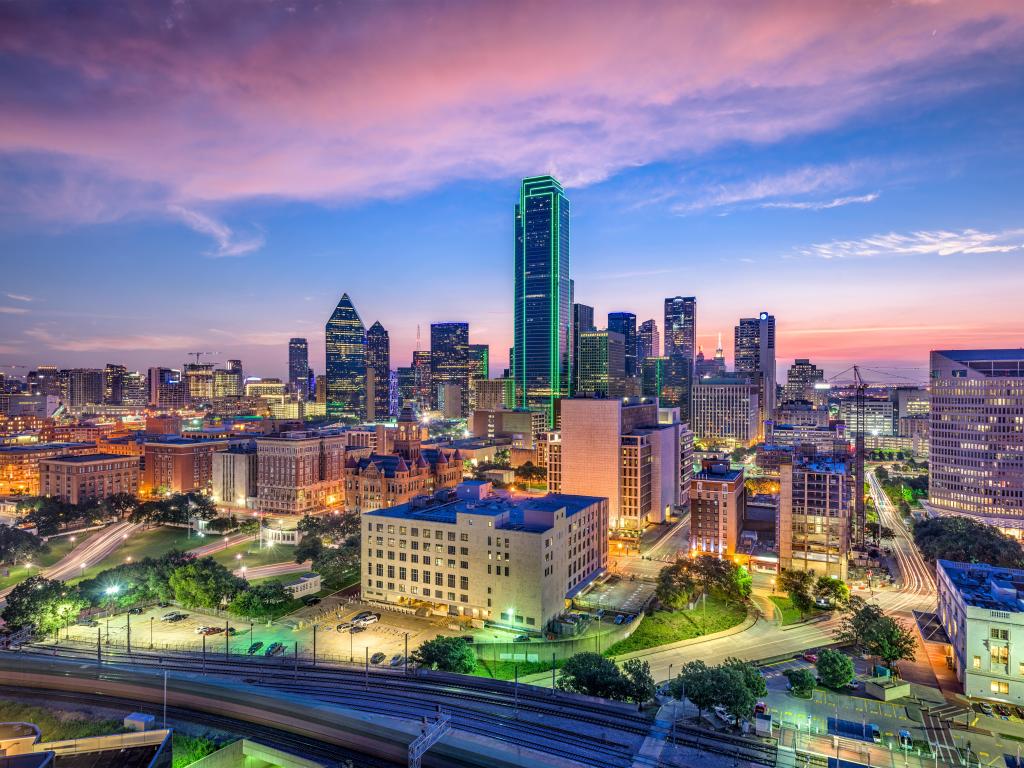 How to get there: To get to Dallas, head south on the I-35, continuing along this interstate for 550 miles until you've reach Dallas.
Our highlights: Did you know that John F. Kennedy was assassinated in Dallas? The Sixth Floor Museum is where Lee Harvey Oswald took the fatal shot that killed this great president, and today there's a museum and timeline where you can learn more about the travesty.
Looking to get a beautiful view of this iconic city? The Reunion Tower offers 360-degree views of downtown Dallas. Simply take an elevator up to the top observation deck for truly jaw-dropping panoramic views.
You could spend several days trolling the Bishop Art District, the largest in the United Stated. Here you'll find many restaurants, bars and cafes where you can enjoy a beverage or get a bite to eat; you'll also find several art galleries boasting works by local and renowned artists.
While in Dallas, you should definitely visit neighboring Fort Worth, otherwise known as Cowtown. There's a historic stockyard where you can see the cattle drive, and nearby is Billy Bobs, the world's largest Honky Tonk with a rodeo inside the music venue.
Bonus: Mariano Martinez, a Dallas native, invented the frozen margarita machine. Today, it's claimed Dallas is the Frozen Margarita Capital of the world, so you'll find that many bars and restaurants offer the classic drink.
Our travel tips: Get a City Pass if you're planning to do the sites. You'll get into most of Dallas' favourite attractions at a discounted rate, including the Reunion Tower and the Dallas Holocaust and Human Rights Museum.
19. Nashville, Tennessee
8 hours 10 minutes' drive from Kansas City (550 miles)
Why you should visit: There's no city anywhere in the US quite like Nashville. It's a hub of the music industry and has an electric nightlife, attractive visitors from all over the globe.
Not only is Nashville a musical pilgrimage, but it's also got tons of landmarks, parks, and big sporting venues, offering a little something for everyone! With its signature southern hospitality, you'll find that this big city also offers a real small-town atmosphere.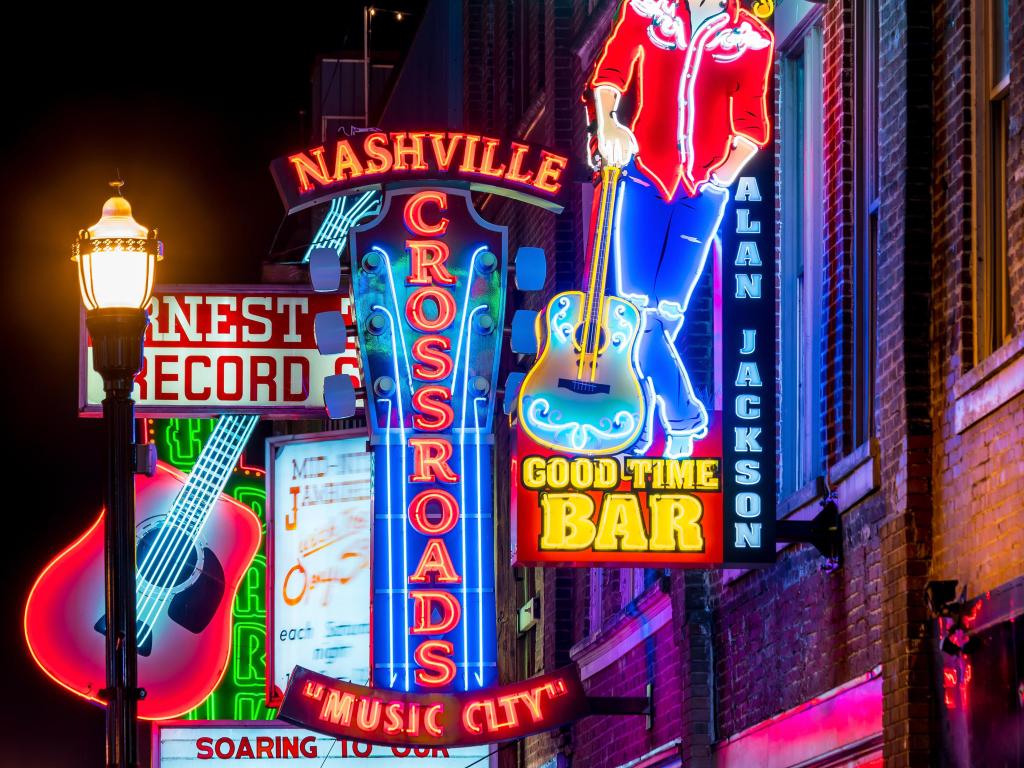 How to get there: Whether you're there during the work week or visiting for the weekend, you should absolutely spend a night on Broadway. This bustling street offers tons of spots to let loose, and you're sure to catch some great live country bands.
Nashville is positively brimming with museums, so you'll have no shortage of spots to choose from to learn a little while travelling. We recommend the Johnny Cash Museum, the Country Hall of Fame and Museum, and the Patsy Cline Museum if you're a country music fan. There's also the Tennessee State Museum and the Frist Art Museum, boasting rich collections.
Even if you're not very familiar with Nashville, you've probably heard of the iconic Grand Ole Opry. If there's an event on, you're in luck! And if you're not so lucky, you can still pay a visit to this legendary site to enjoy a tour around one of the world's most famous venues.
No, you didn't accidentally end up in Greece! You've just wandered into Nashville's lush centennial Park, which boasts a full-size replica of the Parthenon, the celebrated Greek temple.
Bonus: Did you know that the Grand Ole Opry is a radio show broadcast on WSM Radio? Not only that, it's the longest-running live radio show in the world having started in 1925.
Our travel tips: While downtown is the undoubted king of bustling Nashville, the surrounding areas and neighborhoods are full of fun. East Nashville is the place to be for hipsters with its vintage stores, while Belle Mead has parks for picnics and the Bluebird Cafe.
20. Denver, Colorado
8 hours 50 minutes' drive from Kansas City (625 miles)
Why you should visit: Known as the Mile High City, Denver is actually 5,280 feet above sea level, or at least in parts! They've highlighted this milestone on the 13th step of the Colorado State Capitol, one of the main draws of this beautiful city.
While downtown Denver is very cosmopolitan, there are plenty of outside activities to explore on the outskirts. For example, the famous red rocks offer scenic backdrops to hiking trails!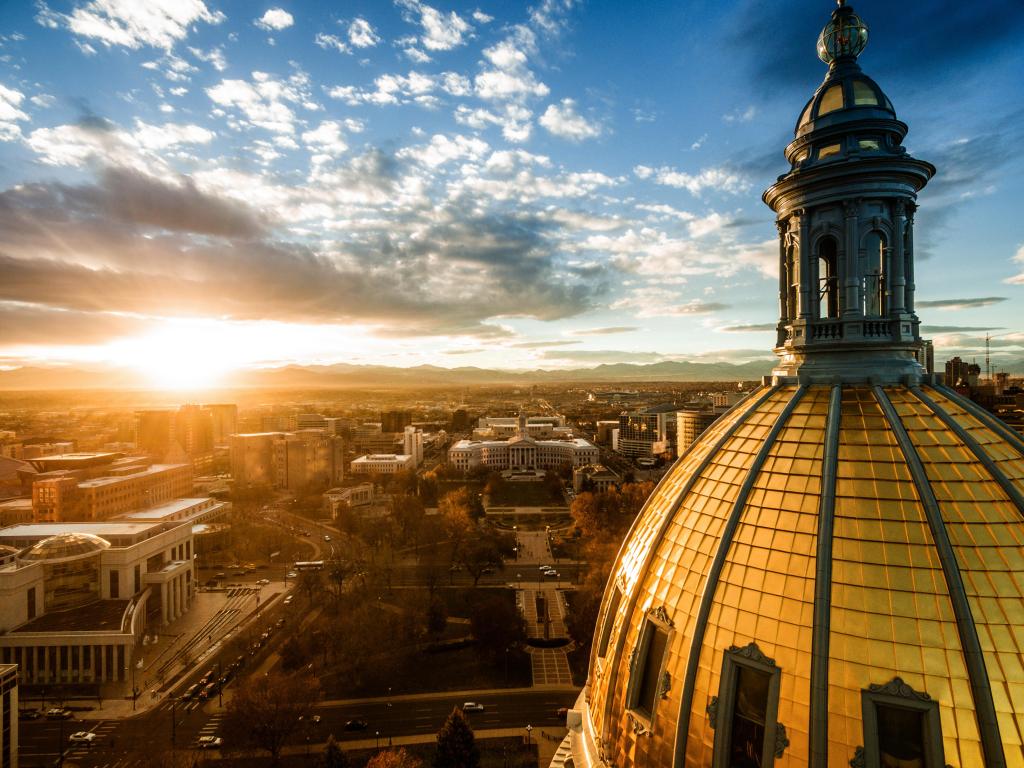 How to get there:Getting to Denver from Kansas City is very easy: simply head west on the I-70 and follow this road for around 600 miles.
Our highlights: Take a photo next to the spot where the Mile High City reaches exactly 1 mile above sea level! Then, go inside the State Capitol where you can climb to the top of the rotunda and see the snow-capped Rocky peaks on a clear day.
If you're looking for a dose of glamour, we highly recommend visiting Larimer Square, which we think is Denver at its cosmopolitan best. There's an arts vibe in this area, where you'll also find restaurants, cocktail bars, and shopping.
Discover the red rocks in full glory at the Red Rocks Amphitheater. It's a famous music venue, making for special shows as the rocks improve acoustics; however, visitors often don't know that it's open to the public during the day, so you can hike and admire the views of Denver.
Although a bit out of town, you should absolutely ride on the Cog Railway, the highest cog train in the world. It'll take you up to the 14,110-foot summit of Pikes Peak, otherwise known as America's Mountain!
Bonus: Denver's favorite drink is beer; every day, local breweries brew over 200 different beers. There's none more famous than Coors which they brew in nearby Golden, the largest brewery site in the world, brewing 22 million barrels per year. You can tour most breweries, even Coors!
Our travel tips: If you are visiting Rocky Mountain National Park, keep in mind that the national park uses a timed entry permit system. Please check the national park's website to see if you need to make a reservation before your visit.
Use the free electric shuttle bus to travel through Downtown Denver. Also, keep in mind that due to its high altitude, you might be susceptible to altitude sickness while visiting this city; make sure to drink water and stay hydrated, and remember the alcohol might be a bit more potent than usual.
Finally, if you decide to visit Cog Railway, remember that it's near Colorado Springs, providing you the perfect opportunity to drive through the Garden of the Gods.
READ MORE - Road Trip from Kansas City to Denver, Colorado
21. Mount Rushmore, South Dakota
10 hours 20 minutes' drive from Kansas City (730 miles)
Why you should visit: Mount Rushmore is unlike any other landmark in the world; carved into granite rocks are massive sculptures of US presidents George Washington, Thomas Jefferson, Theodore Roosevelt and Abraham Lincoln. This attraction is truly a sight to behold!
While Mount Rushmore may be the star of this road trip, there's a lot to see and do in and around the Mount Rushmore National Memorial. In fact, you'll find that this state has tons of canyons, caves, and lakes to discover.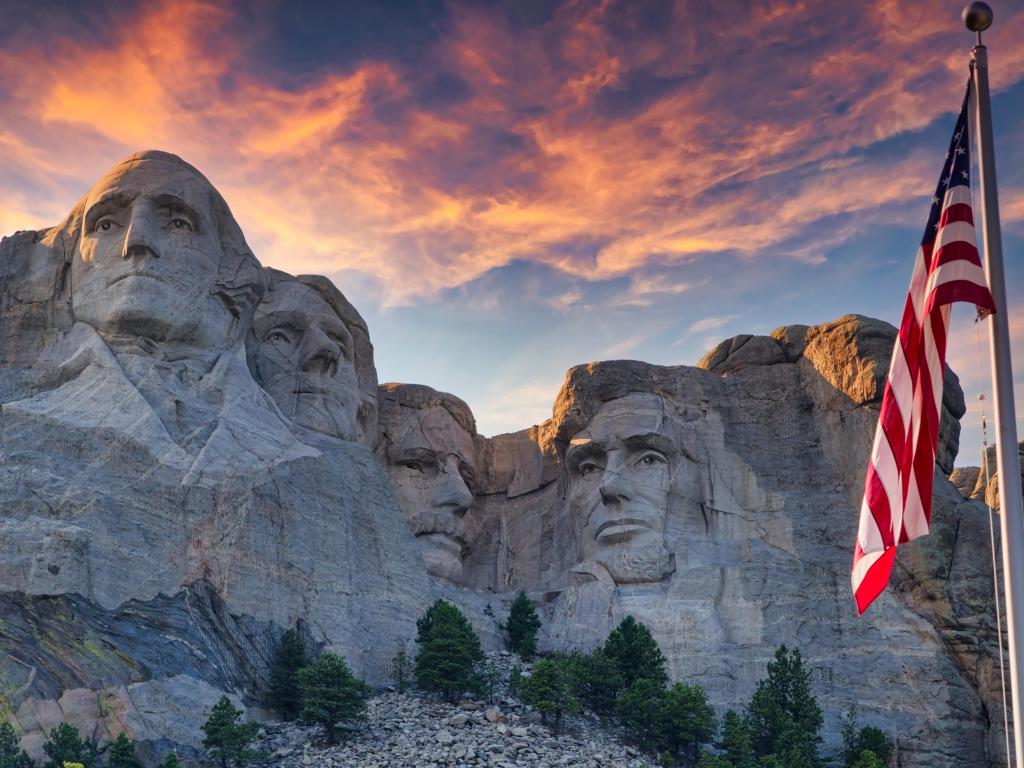 How to get there: Drive north on the I-29, then take exit 90 to visit Sioux Falls. From there, follow the I-90 west, then Bypass 16 to reach Mount Rushmore.
Our highlights: As we mentioned, the highlight of this road trip is the incredible Mount Rushmore. Marvel at this iconic landmark with 60-foot-high sculptures of presidents carved into the rocks; walk through the Avenue of Flags to get to the Grand View Terrace, the most popular platform to view the sculpture.
Looking for a bit of exercise while exploring this beautiful sculpture? Hike the President's Trail, which will lead you to different viewing areas at the bottom of the mountain. It's a peaceful walk and is less crowded!
If you want to learn more about the mind behind the monument, check out the Sculptures Studio, where you can learn about the methods used by Gutzon and Lincoln Borgium to carve Mount Rushmore.
Before reaching Mount Rushmore, we recommend a stop at Sioux Falls. Here you can visit Falls Park with its famous waterfalls; also, the Big Sioux River flows through the park and there are several paths to walk, making this stop the perfect place to stretch the legs and take in some views.
Bonus: It's obvious Mount Rushmore is popular, but do you know how popular it is? Over two million people each year make the trip to this monument! Also, little known fact: there's a chamber that the public can't access behind the head of Lincoln.
Our travel tips: Mount Rushmore is the busiest during June, July, and August; we recommend you visit in May, September, or October before 9am or after 3:30pm for a more tranquil experience.
22. Niagara Falls, New York
15 hours 10 minutes' drive time from Kansas City (1000 miles)
Why you should visit: Niagara Falls is the 5th most popular tourist attraction in the world receiving 22,500,000 visitors annually. Consisting of three waterfalls and a 160-foot vertical drop, the falls span both the US and Canada.
There are a ton of hiking trails near the falls which lead up to the Niagara Gorge. You can also get close to the Falls on a boat trip, a thrilling experience!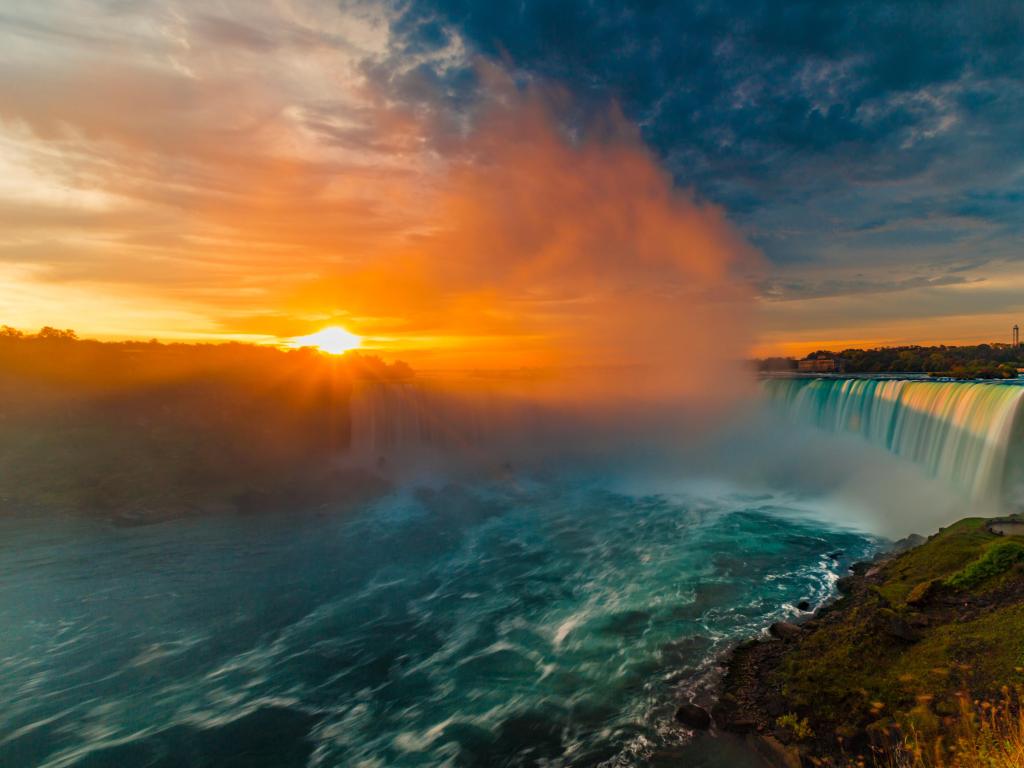 How to get there: Getting to the Falls is pretty simple! Take the I-70 East, the just before Columbus follow the I-71 North. Then, follow I-90 East along Lake Erie, then north until you reach Niagara Falls.
Our highlights: Niagara Falls State Park is where you'll see the falls in full glory. Go to Prospect Point, a quick walk through the park, then head up to the Observation Tower. Here you'll have stunning views of all three falls: the American Falls, the Bridal Veil Falls and the iconic Horseshoe Falls.
The boat trip to the falls is called the Maid of the Mist and is very close to the Observation Tower. Here you'll sail past the American Falls and Bridal Veil Falls on the US side and the Horseshoe Falls, which are the only falls of the three shared by both America and Canada.
If you're a keen hiker, you can avoid the crowds that tend to gather to this area and go on more secluded trails. Devil's Hole State Park will take you to the Niagara Whirlpool; there you'll find a stone staircase leads you to a gorge with surrounding canyons.
We highly recommend checking out the Old Fort Niagara, a historic site dating back to the 18th century. The original buildings still stand and you can explore the grounds where soldiers battled for the continent.
Bonus: The Maid of the Mist continues to attract celebrities. In the past, Princess Diana and President Jimmy Carter have jumped aboard, while more recent celebs include Brad Pitt, Hugh Jackman and Sienna Miller.
Our travel tips: The Maid of the Mist runs every 15 minutes. But remember, it only sails from late April to early November, so check ahead to make sure you don't miss out.
In July and August, the weather is good, but these are the busiest times. Go in June or September to get decent weather and a less crowded experience!
23. Yellowstone National Park, Wyoming
16 hours 30 minutes' drive from Kansas City (1090 miles)
Why you should visit: There are few parks in the US that have reached the level of renown that is enjoyed by Yellowstone National Park. This park is most known as being home to geysers, rare hot springs that erupt, sending fountain-like jets of steam and water up into the air.
Apart from the jaw-dropping geysers, you'll find that Yellowstone National Parks has tons of natural wonders to offer, ranging from hot springs to canyons.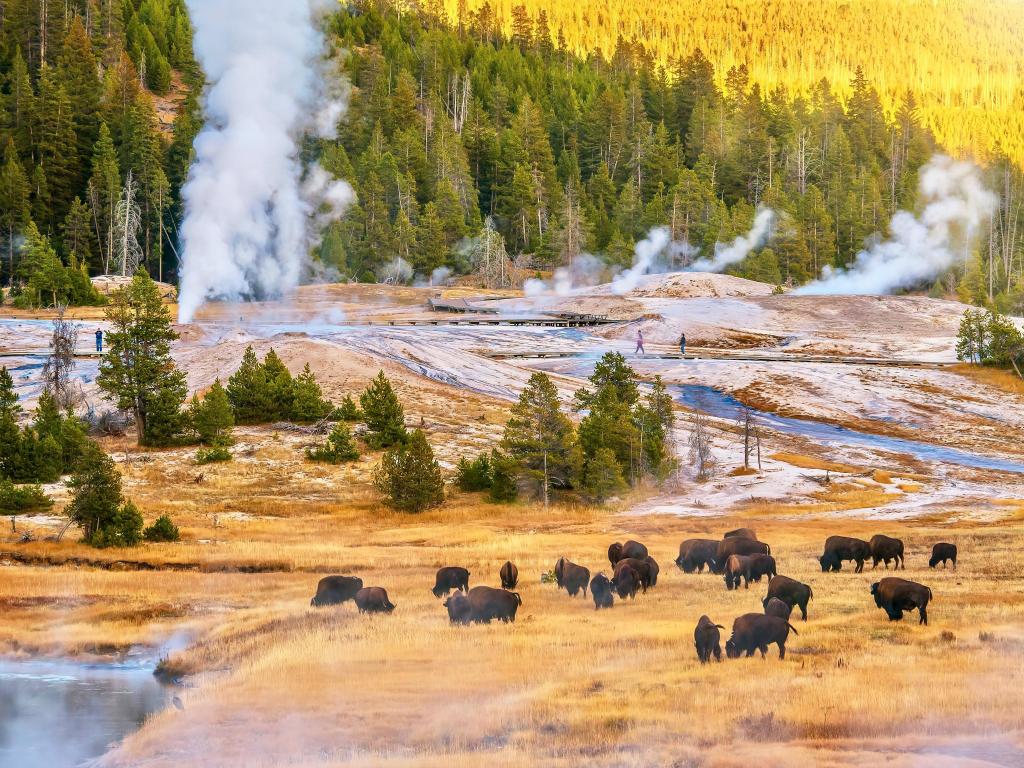 How to get there: While this park is a bit of a drive away, it's certainly worth it. Follow the I-29 North, then take exit at 10 to join the I-80 West at Lincoln. Take exit 215 at Rawlins, then continue on the 287 north for Yellowstone National Park.
Our highlights: A unique wonder boasting gorgeous vibrant colours, the Grand Prismatic Spring is also the largest hot spring in the USA. When you visit this stunning natural attraction, you'll be able to take in its unique coloring, made of a blue center with a yellow and orange outer ring.
Another famous natural wonder of Yellowstone National Park is the Old Faithful, which erupts around every 90 minutes. Just remember it's a natural geyser, and not set by a clock, so the schedule may vary slightly. Make sure to stay put until you see the jets erupt.
Go off the beaten path to discover the Morning Glory Pool. It's like a mini version of the Grand Prismatic Spring and a short and scenic hike from the Old Faithful.
Yellowstone Canyon is often referred to as the Grand Canyon of Yellowstone, and it's no wonder that so many artists have taken inspiration from its beautiful landscapes. We recommend you check out Artist Point for awesome views, accessible from South Rim Drive.
Bonus: The Grand Prismatic Spring gets its vibrant colors from a combination of the water, bacteria and warm temperatures.
Our travel tips: Try to get a view of the Grand Prismatic Spring from above; access such views from the Fair Falls trail.
READ MORE - Road Trip from Kansas City to Yellowstone National Park
24. Orlando, Florida
18 hours 50 minutes' drive from Kansas City (1240 miles)
Why you should visit: You've probably already heard of iconic Orlando, which has earned its crown as the theme park capital of the world. If it's thrill rides and entertainment you want, then you should definitely visit Orlando!
Apart from its famous theme parks, there's so much more entertainment to enjoy in Orlando. You can go on a Boggy Creek Airboat Adventure where you'll ride on a swamp and see some gators; or, take some photos next to realistic waxworks at Madame Tussauds.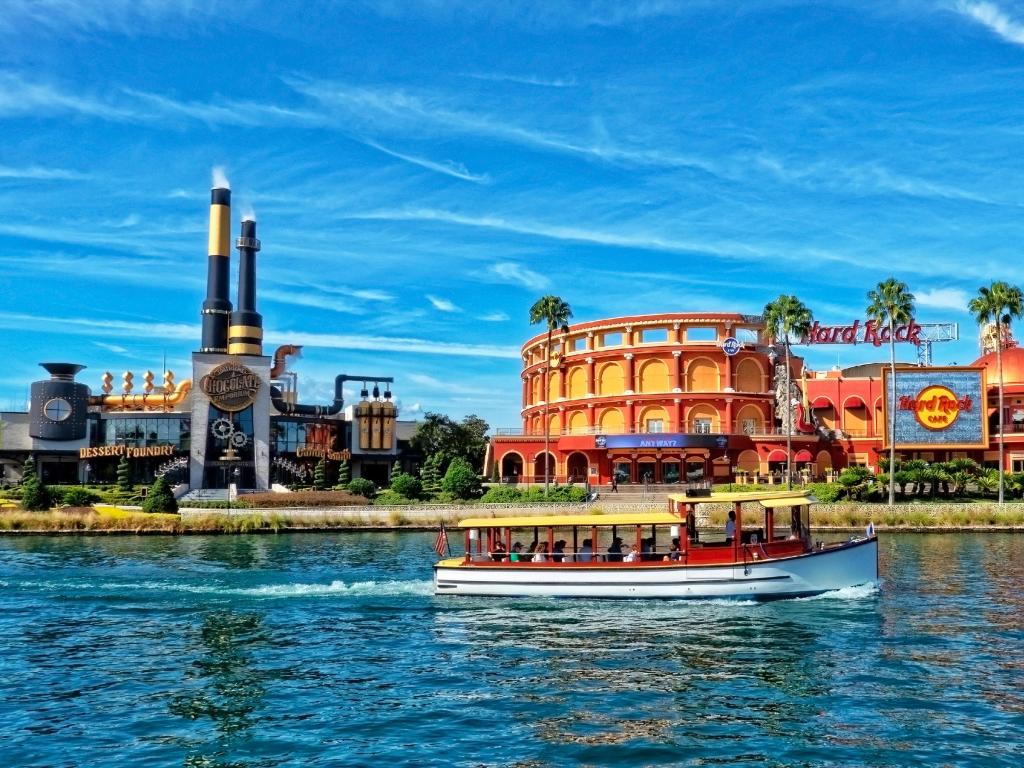 How to get there: Drive on the I-70 East, then after St Louis join the I-64 east. Before Mount Vernon, go south on the I-57 then on the I-24 east. After Chattanooga, take the I-75 South to Orlando.
Our highlights: Walt Disney World is a magical theme park where famous characters walk along the streets amid the backdrop of Cinderella Castle. It's got tons of rides, delicious food, and other Disney-themed attractions, and is probably one of the (if not the) most famous theme park in the world.
If Disney isn't your thing, you can always opt for Universal Studios. For the Potter-heads, you'll be able to explore a replica of the Hogwarts Castle and there's also a new section dedicated to Marvel Super Heroes!
If you're looking for a marine life experience unlike any other, SeaWorld is for you. Not only does it boast tons of roller coasters and live animals, but you'll also be able to see tons of creatures that call the ocean home, including orcas and dolphins. You can even get face-to-face with the animals at an extra cost.
For a break from the theme parks visit downtown, where you'll find the Lake Eola Park. There, you can take a serene walk with the Orlando skyline in the background before watching the found blast water in the air. Super impressive at night with the lights!
Bonus: To understand the scale of the theme parks, Walt Disney World Resort covers around 30,500 acres. That's more than the city of San Francisco!
Our travel tips: There's no way around it: the theme parks get busy. So, decide when to go wisely; during summer, especially school holidays, it's busy. It's also busy during Christmas, when some guests can get turned away due to the park's capacity limits. March and May are good times to visit.
READ MORE - Road Trip from Kansas City to Orlando, Florida
25. Las Vegas, Nevada
19 hours 30 minutes' drive from Kansas City (1350 miles)
Why you should visit: There aren't many, if any, places in the world where you can walk into a casino, play the slots then hop on an indoor gondola ride. You can at the Venetian in Las Vegas!
Las Vegas is the ultimate entertainment destination. The nightlife never stops, and you're sure to have a visit to remember—just remember what they say: what happens in Vegas, stays in Vegas.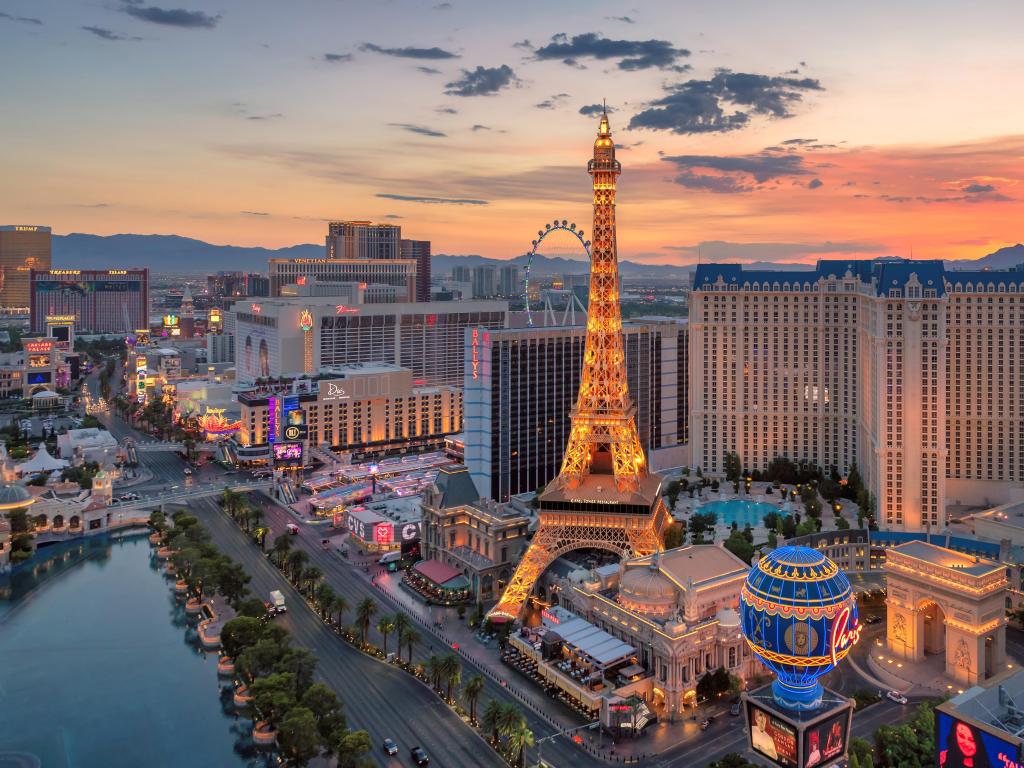 How to get there: Leaving Kansas City, take the I-70 West. Then, head south on the I-15; follow signs for Las Vegas Boulevard.
Our highlights: There's really no end to the fun you can have on the Vegas Strip. It's the most famous part of Vegas, with unusual hotels and casinos. If you're looking for a spot to party or a spot to try your luck on the slots, this is the place to go.
Fremont Street is what Vegas was before the glitz and glamor of the Strip; it's definitely worth a visit, as it's still tinged with retro vibes. You can take the whole area in from above, via a zipline.
One of the most famous fountains in the entire world, the Fountains of Bellagio are a Vegas icon. Every 30 minutes the jets of water dance in time to music, and at night, the fountains put on a display every 15 minutes.
If the partying gets too much, take some time to relax while visiting the Hoover Dam. It's an engineering marvel! You'll be able to walk across its entirety and look over the edge at the 726-feet monumental dam and the sweeping views that extend into Nevada.
Another way to discover Vegas is by helicopter ride, which offers truly unparalleled views of this iconic city!
Bonus: Vegas is home to the tallest observation tower in the USA. The Stratosphere stands 1,149 feet. What's more, at the top there are 3 thrill rides located high on the Strat!
Our travel tips: Make sure you check for resort fees before booking your accommodations; most Vegas hotels have them, but if you are unaware, costs can add up. Also, if you can, avoid weekends. Vegas is always busy, but weekends are when it's overcrowded.
Finally, keep an eye on the time when gambling! There are no clocks in the casinos, nor windows, and there's no closing time, so it's easy to lose track of time.
READ MORE - Road Trip from Kansas City to Las Vegas