Road Trip from Kansas City to Las Vegas
Do you want to visit the resort city of Las Vegas? If yes, what better way to reach it than loading up the car and hitting the road! This scenic route will traverse through diverse landforms and give you a chance to explore some awe-inspiring National Parks along the way.
The 1,350-mile trip from Kansas City to Las Vegas takes around 20 hours. Pass through popular cities like Colorado Springs, Denver, and Albuquerque. On the way, encounter attractions like Zion National Park, Vail Ski Resort, Hoover Dam, and more.
Whether you want to hike Mt. Evans, follow a trail in the Rocky Mountain National Park, or relax by the beautiful Hanging Lake, your trip is sure to be one for the books. Keep reading to learn more about the route you'll take, the attractions you'll pass, where to stop, and more.
How far is Las Vegas from Kansas City, and how long will the road trip take?
Comparison of road trip route options between Kansas City and Las Vegas

| Route | Distance | Driving Time |
| --- | --- | --- |
| The Denver Route | 1,350 miles | 19 hours 40 minutes |
| The Albuquerque Route | 1,360 miles | 20 hours 30 minutes |
The road trip from Kansas City to Las Vegas is around 1,350 miles long and will take approximately 20 hours without considering the detours you'll take along the way at the beautiful attractions. This route passes through the vibrant city of Denver.
If you'd like to travel via the plains of Nebraska, that route will take you barely an hour more. The Albuquerque Route is only another hour extra than the Denver option at around 20 hours 30 minutes and 1,360 miles.
A mountainous-forested-desert road trip all in one whether it takes the Denver or Albuquerque route, this journey is bound to be unforgettable, therefore, it's best to space out the drive over two to four days.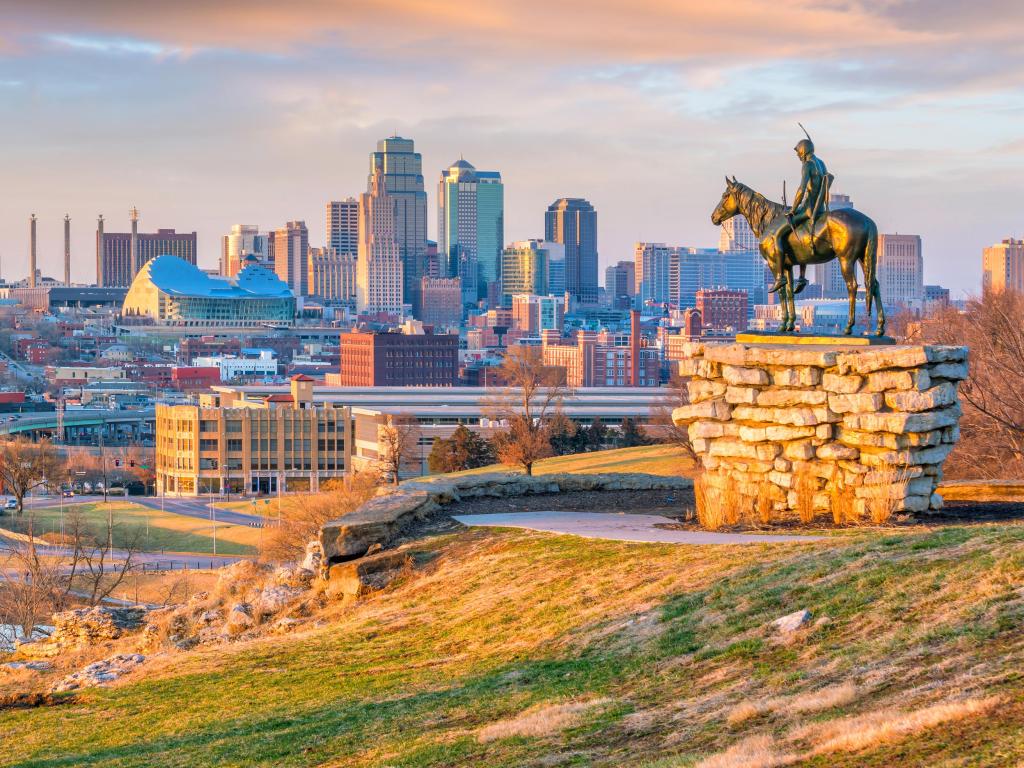 Best road trip route from Kansas City to Las Vegas
There are several possible routes for the road trip from Kansas City to Las Vegas, each unique in its own way, so which one is the best will depend on your expectations.
The Denver Route is the simplest to navigate as it is primarily an interstate drive, and the most scenic in terms of lush mountains, forests, and the awe-inspiring desert. It passes through Denver and Utah, into Nevada and finally Sin City.
The Albuquerque Route gives the opportunity to visit iconic towns like Wichita, Albuquerque, Santa Fe, and even Flagstaff - which may be familiar to fans of the Stephen King book and film, The Stand. So stop off and take a picture at the town sign!
If you choose to divide the trip into two or more days, you can spend time stopping at iconic attractions like the Denver Art Museum, Coors Field, and Iron Mountain Hot Springs as well as absorb the natural beauty of places like the Golden Gate Canyon State Park.
How to drive from Kansas City to Las Vegas
The map above shows our suggestions for the best road trip routes between Kansas City and Las Vegas. Keep reading for detailed descriptions of both routes, where to stay on either, and the best things to do on the way.
The Denver Route
You'll begin your journey from Kansas City by getting on Interstate 70 from your start-off point. You'll follow I-70 westbound and keep right at the Y Junction as you drive towards Topeka, the capital of Kansas, where you'll find neoclassical art, iconic museums, and more.
You'll continue on I-70 West to enter the state of Colorado and drive through Denver, where you can follow I-25 for a detour to Colorado Springs. Keep on the interstate and drive through Arapaho and Roosevelt National Forests, Vail and the White River National Forest.
The interstate will then take you into Utah and past Arches National Park. You will also have the opportunity to visit the stunning Grand Canyon by following us-89 past Monroe.
Otherwise, merge onto Interstate 15 past Sulphurdale and drive past Dixie National Forest and Zion National Park.
You'll enter Nevada and take Exit 42 to merge with Interstate 515 south and as you take Exit 75 A for Las Vegas Boulevard, you will have made your way to the famed party city of Las Vegas.
The Albuquerque Route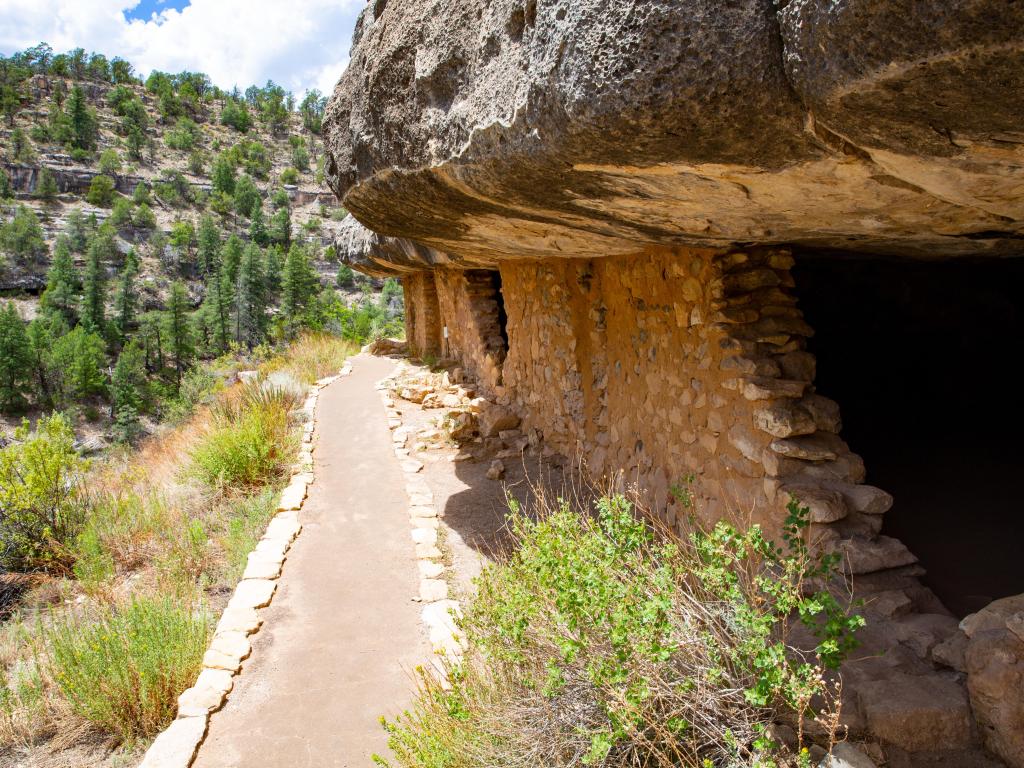 From your starting point in Kansas City, get on to Interstate 35 South. This highway will be your path for 192 miles until just east of Wichita, where you turn right onto US Highway 400 West.
Continue in this direction on US-400, which then merges to become US Highway 54. Follow this highway as you briefly enter Texas and then Nex Mexico, until you turn left onto Quay County Road Ai, just past the town of Logan.
Turn right to merge onto Interstate 40 and follow this into Albuquerque. Here you will have the option to make a detour to the city of Santa Fe and Santa Fe National Forest by following Interstate 25.
Otherwise, keep driving on the interstate past El Malpais National Monument, Cibola National Forest and Petrified Forest National Park.
When you reach Flagstaff, you can visit the Grand Canyon by taking US-180 and then turning onto AZ-64 past the Grand Canyon Junction. If you choose not to make this detour, follow the interstate until you reach Kingman, Arizona where you take Exit 48 and aim for US Highway 93.
Traveling northwest now, Interstate 93 will take you to Hoover Dam, where you will continue on Interstate 11 and merge onto Interstate 515 to reach your destination in Las Vegas.
Best places to stop between Kansas City and Las Vegas
If you decide to break your trip into three or four days, there are several places where you can spend a comfortable night and get a chance to explore all that your stopover has to offer.
Here our some of our top suggestions for the best places to stop to make the most of your time on this epic road trip.
Test out the slopes in Vail, Colorado
While you're on this mega desert road trip from Kansas City, you must stop over at one of the iconic towns along the way to rest and reenergize. About halfway along your trip on the Denver Route sits Vail, Colorado, one of the best ski resorts in the country.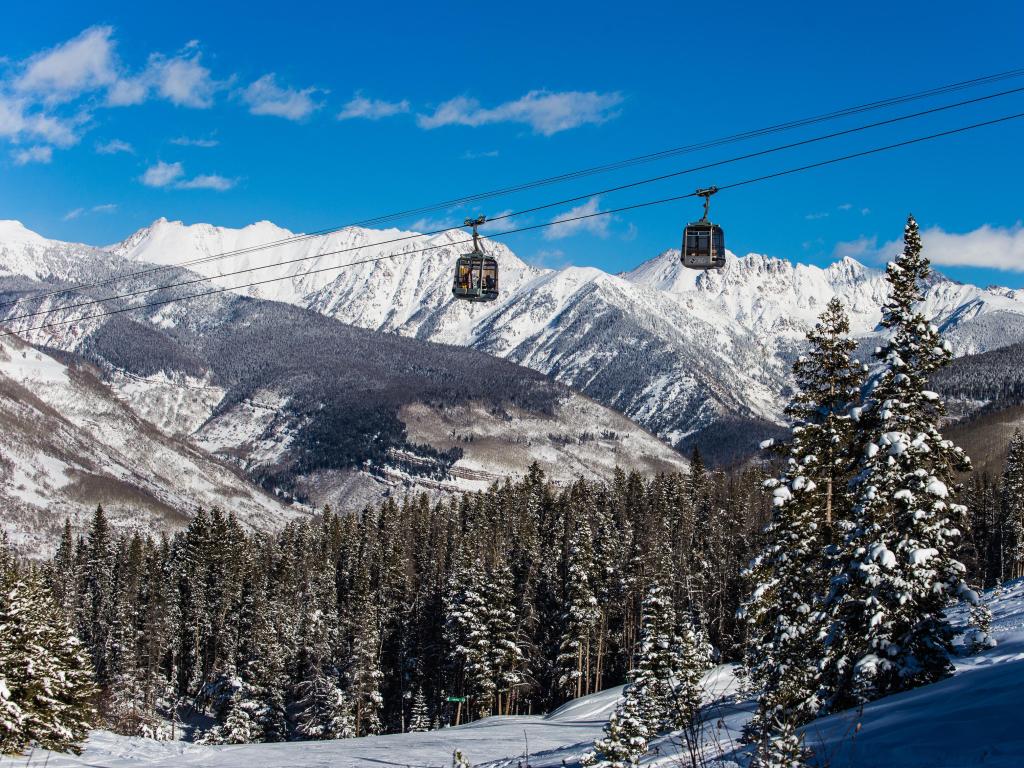 After a long day of driving through Kansas, by the White River National Park, and other attractions, you can check into the lovely Tivoli Lodge in the ski-resort city of Vail.
It's a place known worldwide for its skiing opportunities in the winter and an equally great place to explore and shop in the summer months.
This family-owned ski resort has a friendly vibe with European-inspired architecture and stunning views of the Golden Peak ski area and is a short walk to Vail Village, as well as right on the Free Town Shuttle Bus Route.
Relax and unwind with a drink in the outdoor hot tub, a magical and relaxing end to your day of driving or your adventure on the slopes.
Admire the natural beauty in Zion National Park
With so many national parks available to explore along the way, it would be a crime not to spend time in at least a couple. The fantastic Zion National Park is located less than 3 hours from Las Vegas on the Denver Route as you make your way through the diverse state of Utah.
Close to this natural wonder, you will need a comfortable stay and Fairfield Inn & Suites by Marriott Virgin Zion National Park is one of the best options for accommodation in the area. This hotel boasts rooms with mountain views and an outdoor pool to relax in.
This hotel is the perfect base to explore Zion National Park. Dixie National Forest and Red Cliffs National Conservation Area are also a short drive away, providing perfect opportunities for outdoor activities.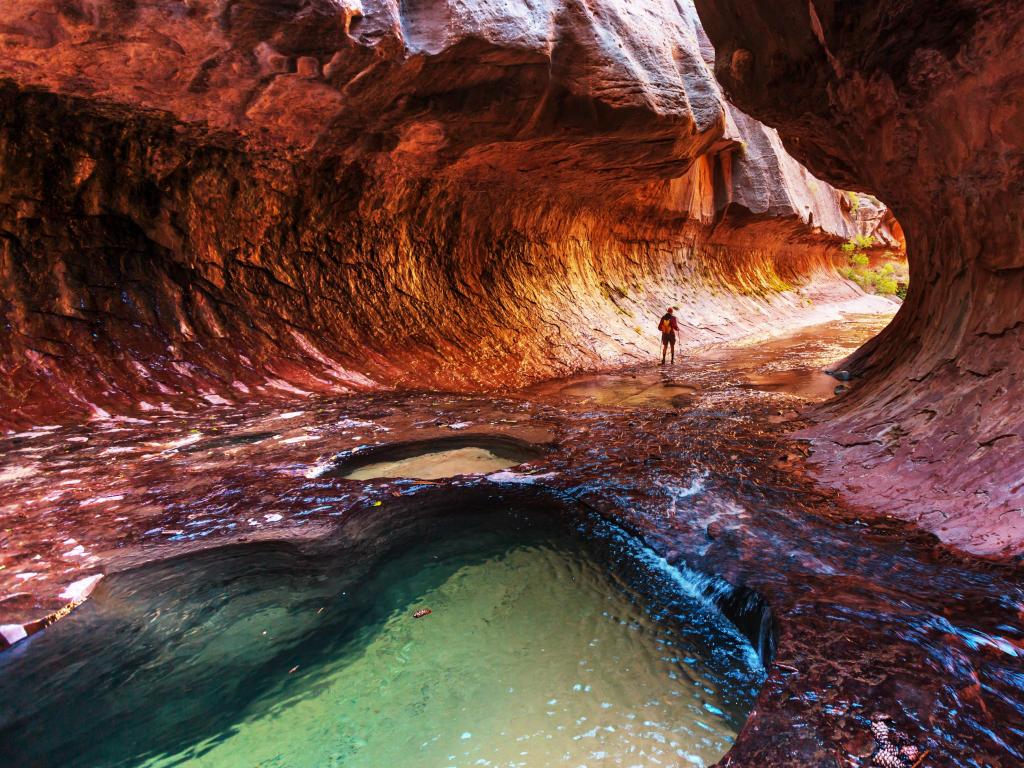 If you prefer a more leisurely activity to adventurous hikes and rock climbing, the hotel provides its guests with bikes to explore the area, after which you can take a dip in the fabulous hot tub to unwind before the last leg of your trip.
Experience New Mexico with a stay in Albuquerque
Located a little over 8 hours from Las Vegas, the beautiful city of Albuquerque is perched on the Rio Grande River, giving the perfect opportunity for a scenic overnight stay.
An ideal pick for your accommodation could be Hotel Chaco, a luxury hotel that is situated in the Old Town with stylish rooms and suites. Located right off the interstate and in the heart of the city, you will find most attractions within walking distance.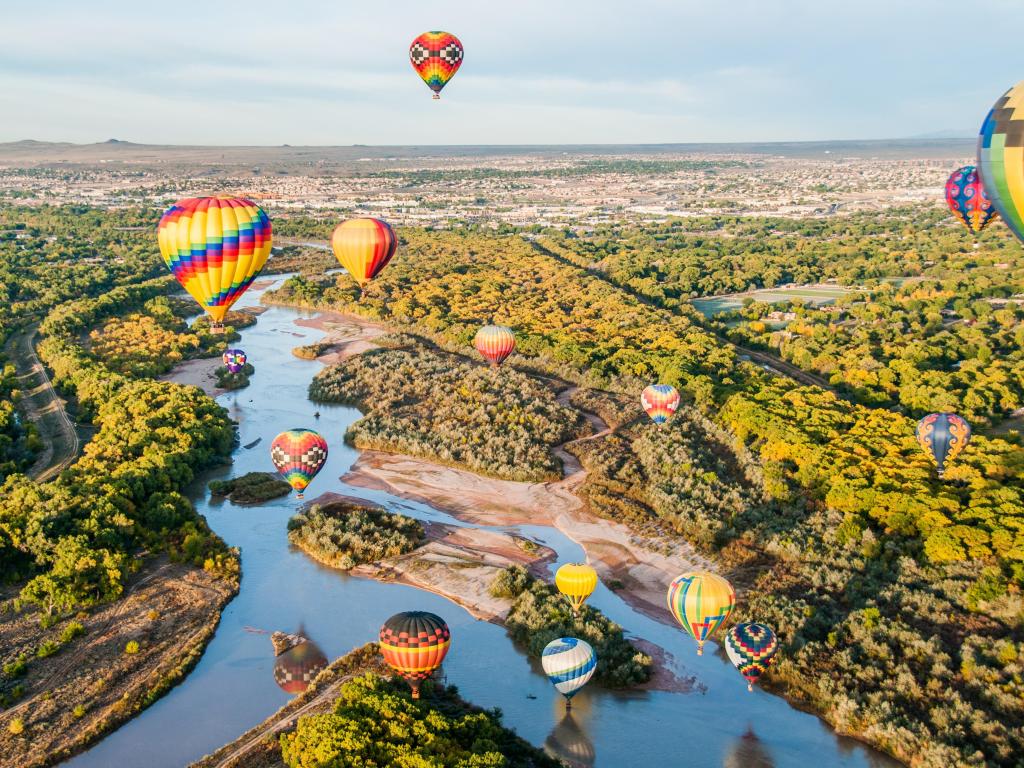 You can visit the New Mexico Museum of Natural History and Science nearby or take a walk around the 3 or 5-mile loop of nearby Tiguex Park, soaking in the greenery and relaxing before visiting the Albuquerque Museum right next to it, for another dose of culture.
Visiting the Albuquerque Old Town is a great way to take in a lot if you have limited time; experiencing the Plaza and San Felipe de Neri Church, with historic buildings converted into lovely galleries, restaurants, and museums.
If you're feeling more adventurous, maybe you could book a hot air balloon ride for sunrise the next day - or take a Breaking Bad RV tour!
Things to see on a road trip from Kansas City to Las Vegas
The road trip from Kansas City to Las Vegas has so many iconic attractions, museums, and national parks along its way. Below is an abbreviated list of some of the things you really should check out:
The Denver Route
Rocky Mountain National Park - A scenic National Park that spans over 415 square miles and is home to scenic hiking trails and wildlife. Keep in mind that the national park uses a timed entry permit system. Please check the national park's website to see if you need to make a reservation before your visit.
Bryce Canyon National Park - A slight detour from the route, but totally worth it, this National Park has panoramic views of the region and a natural amphitheater.
Red Rocks Park and Amphitheater - Red stone cliffs with a gift shop, hikes, biking trails, and an amphitheater that hosted some famous acts over the years, maybe you'll even catch one!
Mountain Evans - Located on the route, a tall Rockies peak, accessible in the summer months via a scenic route and home to beautiful old trees and a killer view.
Denver Art Museum - Located in the iconic city of Denver, it is a fantastic architectural building that celebrates regional and Western art.
Denver Botanic Gardens - A beautiful attraction on the route is this horticulture wonder that is home to rare plants, seed formations, and more.
Golden Gate Canyon State Park - A 12,119-acre state park located on the route, it has several walking trails and some trails that are open for horse-riding and biking.
Zion National Park - A favorite National Park amongst many locals, this Park has spectacular views and offers several trains, climbs, and hikes. If you'd like to hike up to Angels Landing, you will need a permit and will need to make a reservation. Check the Zion National Park's website for more details.
Arches National Park - A popular red rock national park located in Utah, it has 2,500 unique formations and picturesque views that you must see. You might need to make a reservation for a timed-entry permit while visiting Arches National Park. Please check the national park's website for up-to-date information.
Coors Field - A nearly 80-acre mansion of the famous Colorado Rockies, with unobstructed views of this spectacular mountainous region.
Breckenridge Ski Resort - Located on the route in Colorado, it is a fully equipped ski town with recreational activities, terrain parks, and more.
Hanging Lake - A picturesque lake located near Glenwood Springs reached via a hiking trail, with seating areas to soak in the beauty of the region.
Valley of Fire State Park - Located in Nevada just outside of Las Vegas, this state park is famous for its red sandstone and petrified wood and is home to many hiking trails and camping spots.
White River National Forest - The most visited National Forest in the United States, it is named after a beautiful River that passes through its Northern region and has up to 12 ski areas within its boundary.
Glenwood Springs, Colorado - A resort city known for its hot springs, it has scenic views of the mountains and the White River Forest.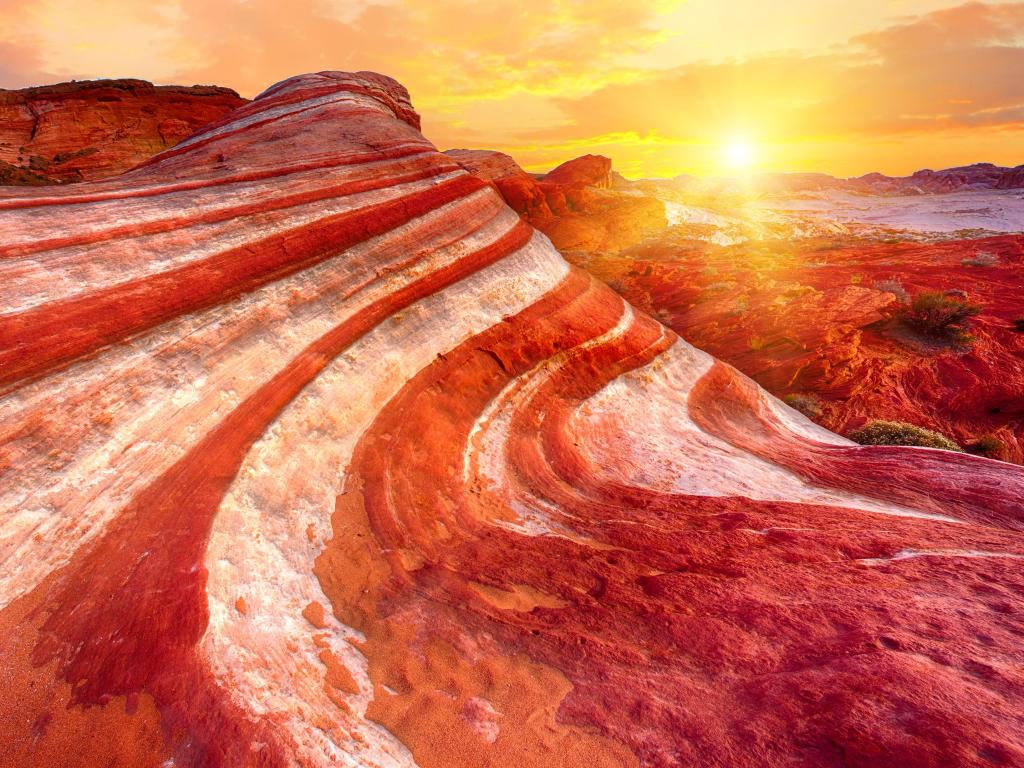 The Albuquerque Route
Wichita, Kansas - A thriving city that retains the Old West vibe, with quirky museums, Native American art installations, and for the airplane buff, visit the Kansas Aviation Museum.
Dalton Gang Hideout - Just south of Dodge City this house owned by Eva Dalton Whipple, housed the infamous gang, with tunnels unearthed years later, open to view and explore.
Dorothy's House, Seward County Historical Museum - Just a few miles along the route, this tribute to The Wizard of Oz motion picture contains Dorothy's House and a large exhibit taking you on a journey through the wonderful world of Oz.
New Mexico Route 66 Museum - Situated at Tucumcari, just past Dalhart, this museum charts the famous route's heritage, going back to the Ozark Trails to current day Route 66 with photos, signage, and memorabilia, this would be a roadsters must-see.
Mesalands Community College's Dinosaur Museum and Natural Science Laboratory - Nearby the Route 66 museum, this museum displays replicated and original fossils from the Mesozoic period found locally, as well as specimens being unearthed in real-time in the lab.
Santa Fe, New Mexico - This famous town hosts many sights including the Santa Fe Railyard where people gather for food, art exhibitions and performances.
Meow Wolf's House of Eternal Return - A "mind-bending," art experience where you will feel like you are having an adventure in Alice's Wonderland!
Albuquerque, New Mexico - And, of course, there is the wonderful stopover city itself with many exciting museums, parks, and nightlife to keep you occupied.
Cibola National Forest - Southwest of Albuquerque is this majestic Forest. At 1.9 million acres in total, a visit can take a bit of research and preparation so that you can soak up the activity you prefer, from cycling, fishing, and hiking to horse riding and water activities.
Meteor Crater & Barringer Space Museum - This fascinating stop off just past Holbrook and before Flagstaff includes Meteor Crater with optional guided tours, a 4D theater and a Space Museum.
Walnut Canyon National Monument - Just outside Flagstaff, this monument is a fascinating short stop to view some ancient cliff dwellings and stunning views along curved canyon walls.
Flagstaff Extreme Adventure Course - Feeling adventurous? Clamber over the adrenaline-fuelled obstacle course among the trees, with rope bridges and zip lines getting you from one end to the other, graded easy to difficult!
Grand Canyon Caverns - North of Seligman on Route 66 is the astounding Grand Canyon Caverns. Worth a northerly detour to experience the 65 million-year-old cave system that was once the bottom of a prehistoric inland sea that divided North America.
Hoover Dam - Just outside Las Vegas, is the incomparable Hoover Dam, built over five years it became the largest of its time and is now a National Historic Landmark as well as one of America's Seven Modern Civil Engineering Wonders.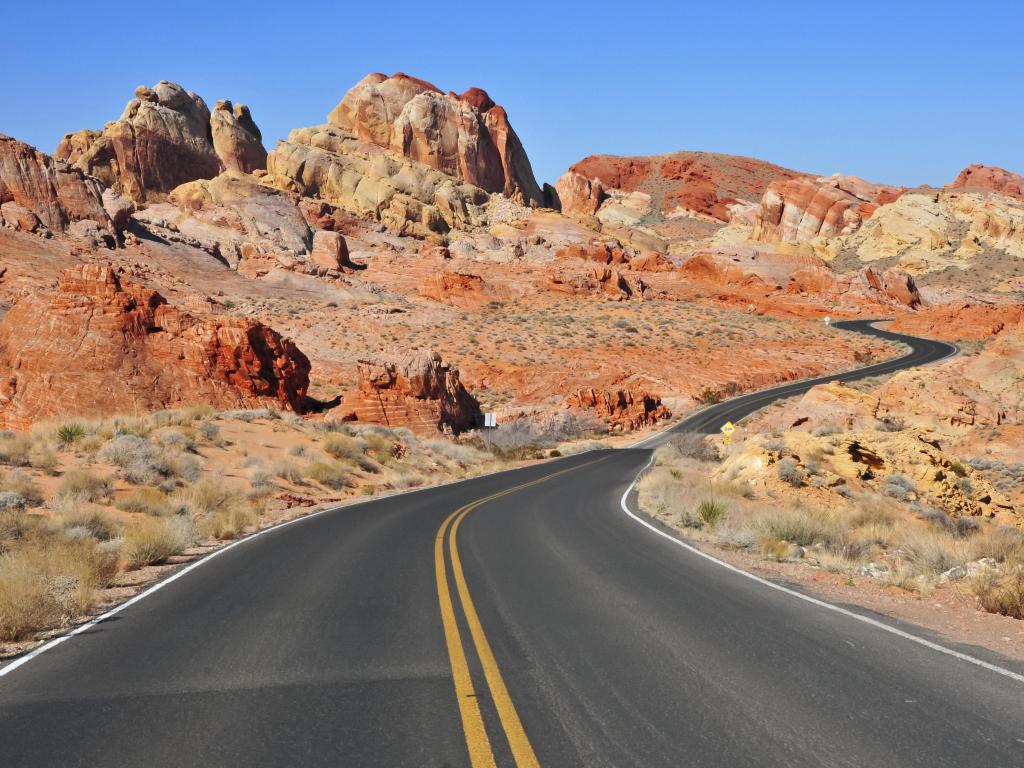 Road trip from Kansas City to Las Vegas
Though you can make the road trip from Kansas City to Las Vegas during any season of the year as most attractions are indoors and not affected by the weather, spring or fall months are recommended.
Visiting in these months also avoids international and local tourist crowds in the Summer and Winter months.
With most national parks being in the Utah, Nevada, or Arizona region, visiting in the summer may be rather hot with temperatures ranging between 85 and 100 degrees Fahrenheit, and the desert in the winter can often get a bit chilly at 45 -47 degrees Fahrenheit.
If you're looking to do some hikes and tread some trails, the spring or fall months are great. You'll also witness the beautiful fall foliage in the autumn months.
However, if you're okay to brave the weather in the winter, your time in Denver and Vail is sure to be extra exciting because of the snow and skiing activities. The temperature averages at 50-55 degrees Fahrenheit will work in your favor if you are looking to hit the slopes.
No matter what time of year you decide to visit and which route you take, you will definitely have a wonderful time exploring some of the most fantastic landmarks and attractions on the way.
A road trip is best done with your favorite people, with whom you're bound to make countless memories as you make your way to the famous city of Las Vegas!