Road Trip from Kansas City to Nashville
Head out on the open highway through America's breadbasket and into the heart of Country Music. This road trip from Kansas City to Nashville will be filled with incredible sights, experiences, and wonderful moments on the open road.
The 660-mile road trip from Kansas City to Nashville will take about 10 hours to drive. Notable highlights en route are Springfield, Ozark, Branson, Bagnell Dam, Lake Ozark, Osage Beach, St. Louis, Route 66 Car Museum and Mammoth Cave National Park.
This will be a road trip of a lifetime for Country Music fans and those who love the American countryside. Continue below to learn more about our selected routes, where to stay, and what to see and do along the way.
How far is Nashville from Kansas City, and how long will the road trip take?
Comparison of road trip routes between Kansas City and Nashville

| Route | Distance | Driving Time |
| --- | --- | --- |
| The St Louis Route | 660 miles | 10 hours |
| The Branson Route | 660 miles | 11 hours 30 minutes |
The Branson Route covers 660 miles with 11 hours and 30 minutes of driving time. You'll pass plenty of state and national parks as well as charming towns on the way.
The St Louis Route allows you the chance to stop in St Louis, one of America's most exciting cities. You'll drive the same number of miles as the above route (660 miles) for roughly 10 hours.
Regardless which route you choose, we recommend taking 3-4 days for your journey. Read on to learn more about our recommended routes, where to stay, and what to see and do along the way.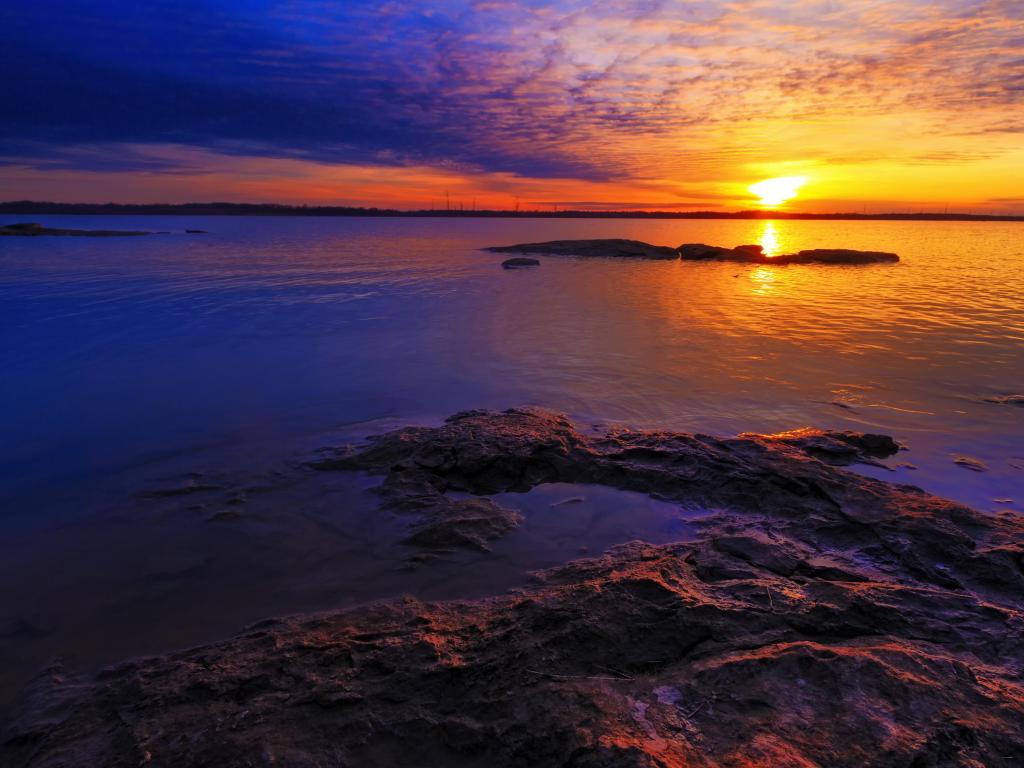 Best road trip route from Kansas City to Nashville
The Branson Route is the quainter route taking you through quiet American towns on your way to the city of Nashville. There are lots of opportunities to stop in some state parks and national forests as well.
Many attractions are for outdoor lovers, and there are opportunities to enjoy some outdoor activities. Hikers will especially love this route as it's full of natural wonder and activities that get you into the great outdoors.
On this route, you'll stop in Branson, a small city that's home to many theaters and famous for its entertainment. There are also fun museums there too so stopping here will be perfect for history lovers.
The St Louis Route is the most direct and fastest route to Nashville. If you're in a hurry, this route may save you a little time.
Another perk of this route is that you'll stop in St. Louis. You'll get to see some unique destinations along the way, including Lake Ozark and some of the lakeside communities that make this area such a popular area for vacationers.
The Branson Route
From Kansas City, head south towards the city of Springfield. From here, make your way to the beautiful town of Ozark. Next, head to the city of Branson. After stopping in Branson and enjoying the theaters and museums, continue on route east.
Drive through the small towns of the Ozarks, just south of Mark Twain National Forest. From here, continue on route to your destination of Nashville, TN.
The St Louis Route
From Kansas City, head east towards Lake Ozark. From here, check out the beautiful community of Osage Beach. Continue on route east towards the city of St Louis. After exploring the big city, continue on route southeast into southern Illinois and Kentucky.
From here, continue on the route south into Tennessee. You'll pass beautiful countryside before arriving at your destination of Nashville, TN.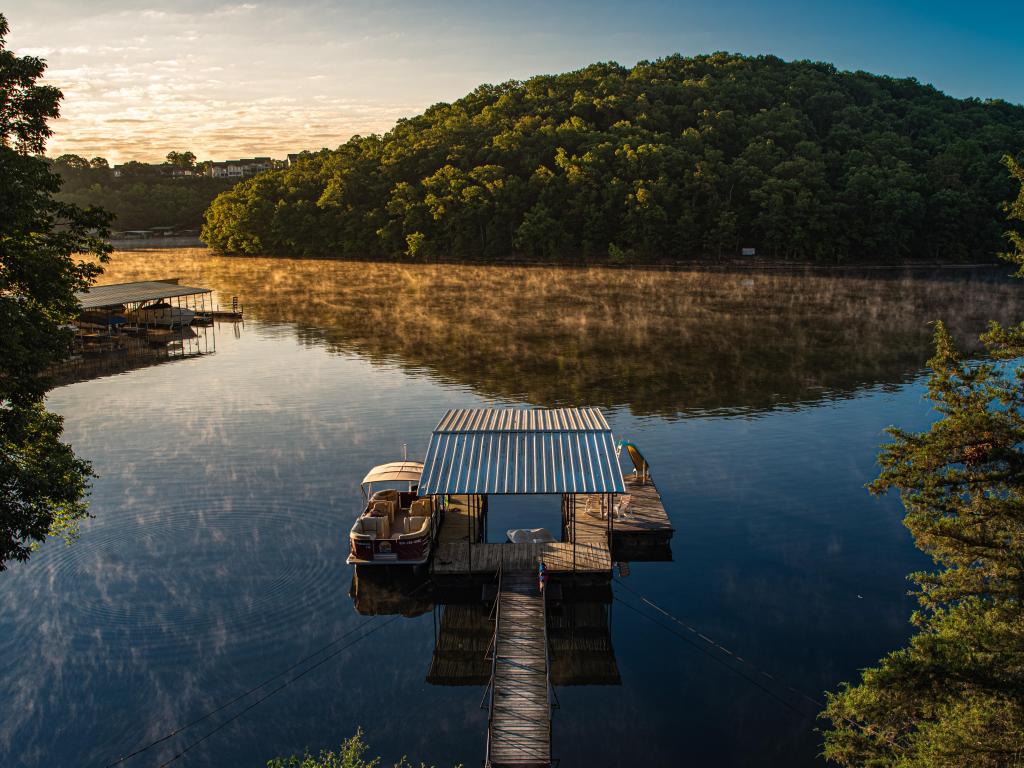 Best places to stop between Kansas City and Nashville
Along both routes, we recommend stopping along the way to get the most out of this journey. Below are our recommended stops along the way so you can get the most out of this one-of-a-kind road trip.
Soak up nature in Branson
About 7 hours from your destination is the charming and scenic city of Branson. There are plenty of restaurants, bars, and other things to enjoy within this small community.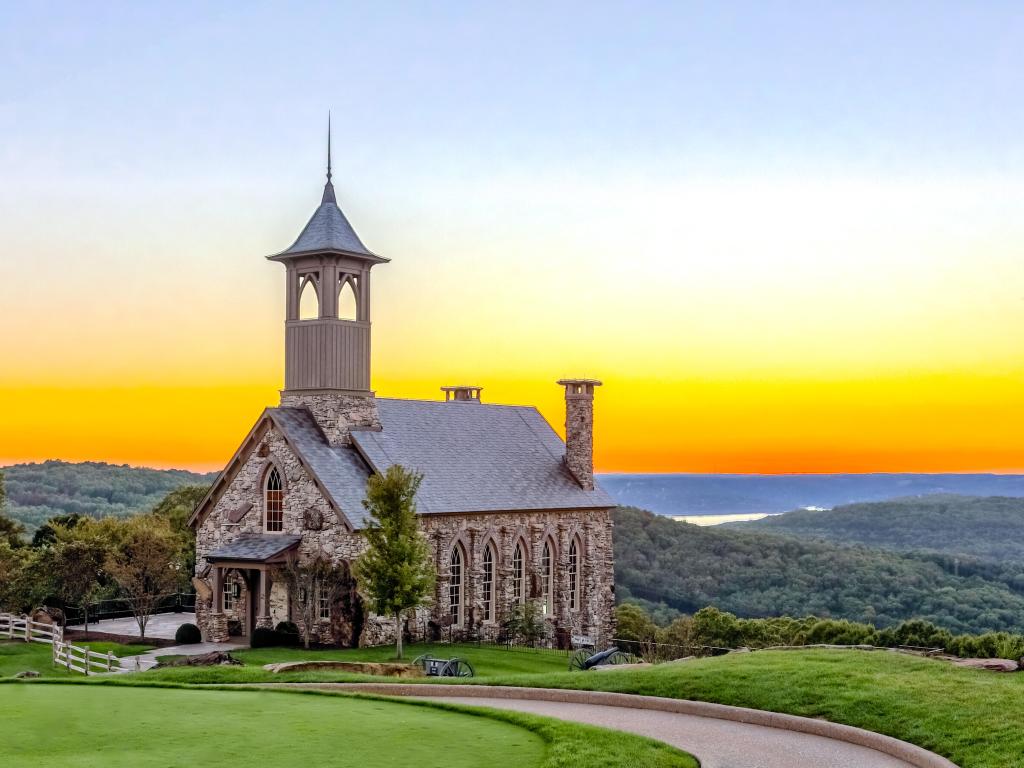 This small city is known as the "Live Entertainment Capital of the World". Branson has over fifty theaters providing a range of live entertainment.
When you're in Branson, make sure to check out the TITANIC Museum Attraction. This museum celebrates and honors the ship, passengers, and crew of this famed boat.
Next, make your way over to the Hollywood Wax Museum. This is a fun specialty museum where you can get up close and personal to some of your favorite celebrities!
When in Branson, we recommend staying at the beautiful and charming Lodge of the Ozarks. This rustic-themed hotel is located right on the main strip of Branson. You'll enjoy its indoor heated pool, modern fitness center, and spa baths in the rooms.
There's a complimentary breakfast and free parking available as well, so right when you arrive and before you depart you can relax. The hotel is easily accessible from the highway and only within walking distance of many attractions like the Ferris Wheel, Titanic Museum, and several theaters.
See the famous arch of St Louis
About halfway on the St Louis Route is the city of St Louis. Known as the "Gateway to the West" this city brought the Midwest to life and is known for its part in history over the years. The city also provides an incredible blues music scene.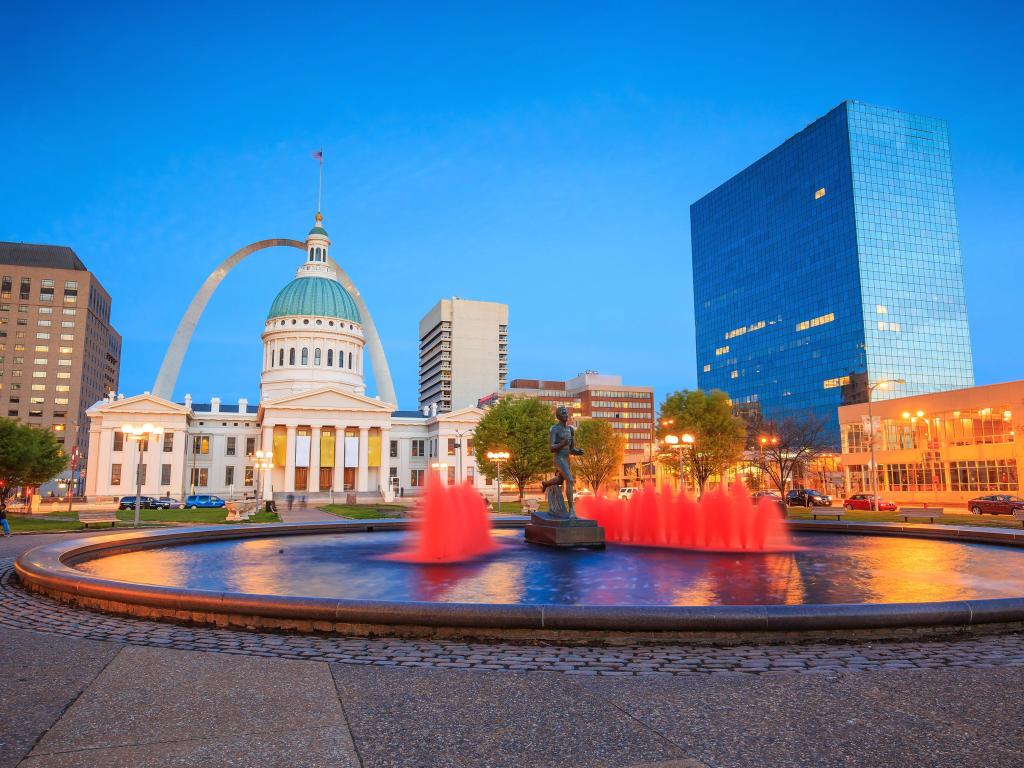 Once you're in St Louis, make sure to visit its top sight: the Gateway Arch and make sure your camera is charged because you will want to take photos of this famous arch or maybe even selfies!
Next, make your way to Grant's Farm. This unique estate provides a one-of-a-kind experience and is home to more than 900 animals.
Finally, make a trip to the famous Missouri Botanical Garden. This beautiful garden has over 79 acres of incredible horticultural displays, where you can both unwind and learn more about fascinating plants.
When you reach St Louis, we recommend staying at the luxurious and highly-rated The Last Hotel. This wonderful hotel is perfect for those who want to relax.
This boutique hotel was restored in the old International Shoe Company building, a classic building with plenty of historic significance. You'll be amazed at the wonderful decor and classic furniture.
To help you relax, you'll love the well-equipped fitness center, rooftop bar and outside pool. There's an amazing on-site restaurant that provides an incredible Italian menu and wine list.
At the Last Hotel, you're only walking distance from the famed St Louis Gateway Arch. You'll love the free and private parking as well, so you can come and go with no stress and explore the attractions on foot.
Where to stay when you reach Nashville
Once you get to Nashville, we recommend staying at the highly-rated and luxurious Hutton Hotel. Here, you'll only be steps away from the famous Music Row, Gulch shopping district, and many modern museums.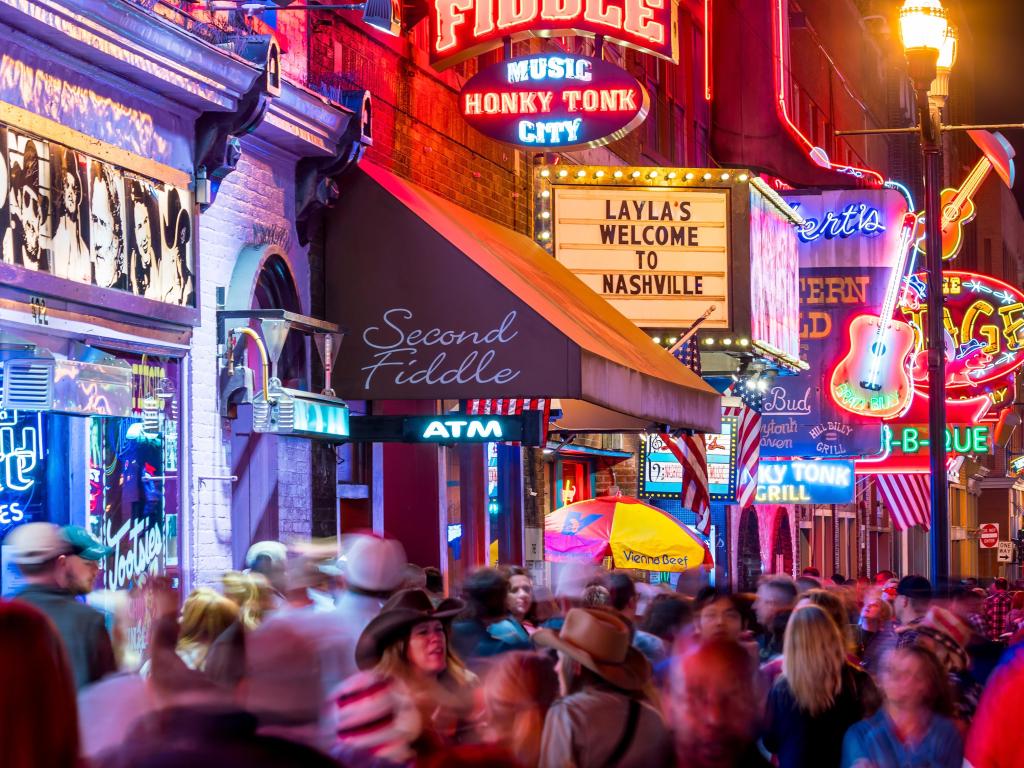 This is a modern boutique hotel with plenty of beautiful and highly decorated rooms. You'll love the classy furniture, amenities, and friendly southern charm of the staff.
There's an on-site live music venue and bar for grab & go coffee. You'll be able to sit and see the music that makes this city so much fun.
Things to see on a road trip from Kansas City to Nashville
With so much to see and do, you'll find plenty of excitement. Below are our recommended highlights along both routes to help you make your plans easier.
The Branson Route
Route 66 Car Museum, Springfield - Dedicated to showcasing some of the most beautiful automobiles in history.
Ozark - Visit some of the underground caverns or find yourself relaxing at the lake.
National Tiger Sanctuary, Saddlebrooke - This nonprofit organization offers a sanctuary for lions, tigers, and other animals.
Branson - Known for being home to 50 theaters, visit a theater for some live entertainment.
Dogwood Canyon Nature Park, Lampe - Discover the unique canyons situated in this less traveled park.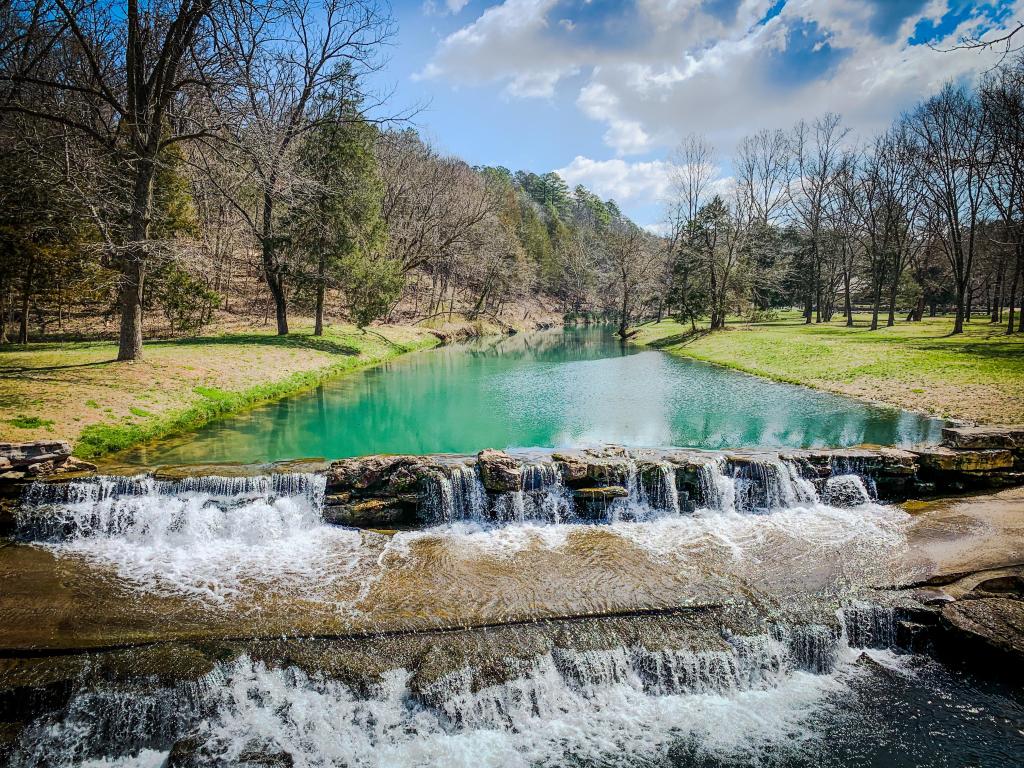 The St Louis Route
Walt Disney Hometown Museum, Marceline - Celebrating the 100th Birthday of Walter Disney, this museum was built to tell the history of how the Disney corporation came to be.
Bagnell Dam, Lake Ozark - Visit the dam that created the Lake of the Ozarks.
Osage Beach - Discover this little town that is surrounded by Lake Ozark and visit its quaint shops and boutique restaurants.
Rock Bridge Memorial State Park, Columbia - Explore some of the unique sites in this park like Connor's Cave or the Devil's Icebox.
City Museum, St. Louis - Unique art installation with interactive architectural playgrounds.
Shawnee National Forest - Enjoy nature while you find yourself on a beautiful hike or kayaking through this park.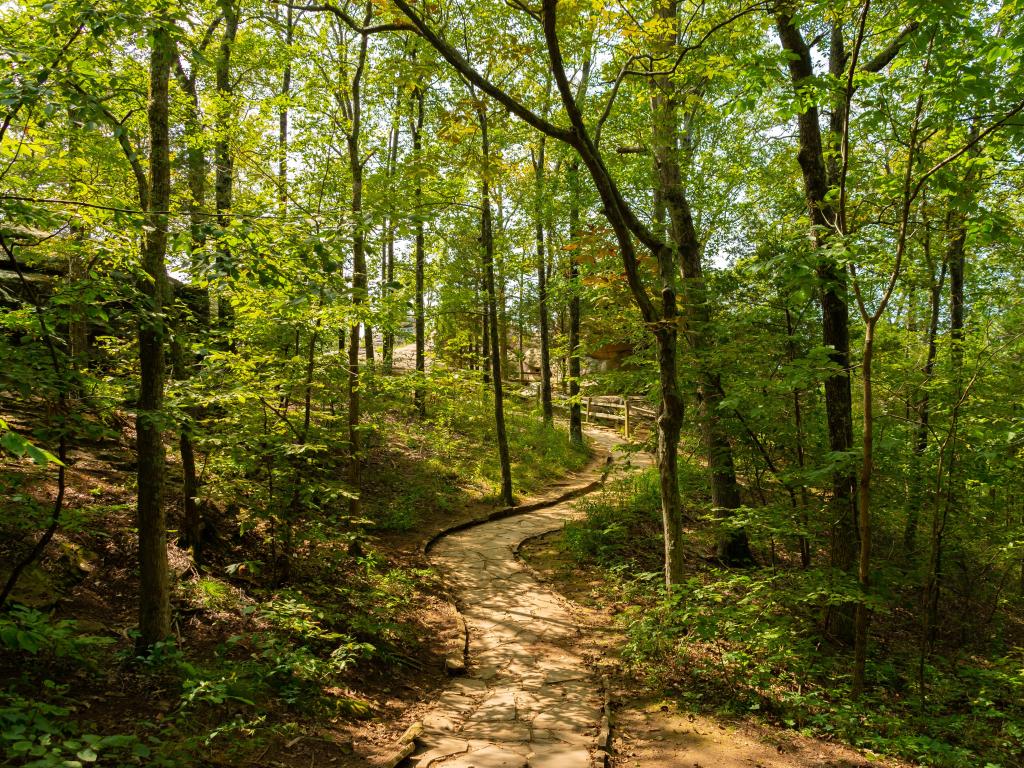 Both Routes
Onandaga Cave State Park - Massive underground cave offering guided tours but also provides a lake and campsite for overnight visitors.
Mark Twain National Forest - Beautiful forest in the Ozarks of Missouri. You'll see old growth forest and some of the most pristine forest land in the country.
Land Between the Lakes National Recreation Area - Visit one of the educational attractions like the Golden Pond Planetarium or the Woodlands Nature Station.
Wall to Wall, Paducah - Mural painting depicting the history of Paducah and the Atom Age.
Dunbar Cave State Park - Pre-historic site where you can discover Native American cave drawings dating back to the 14th century.
Mammoth Cave National Park - Take a detour to this UNESCO World Heritage Site, home to the world's longest known cave system.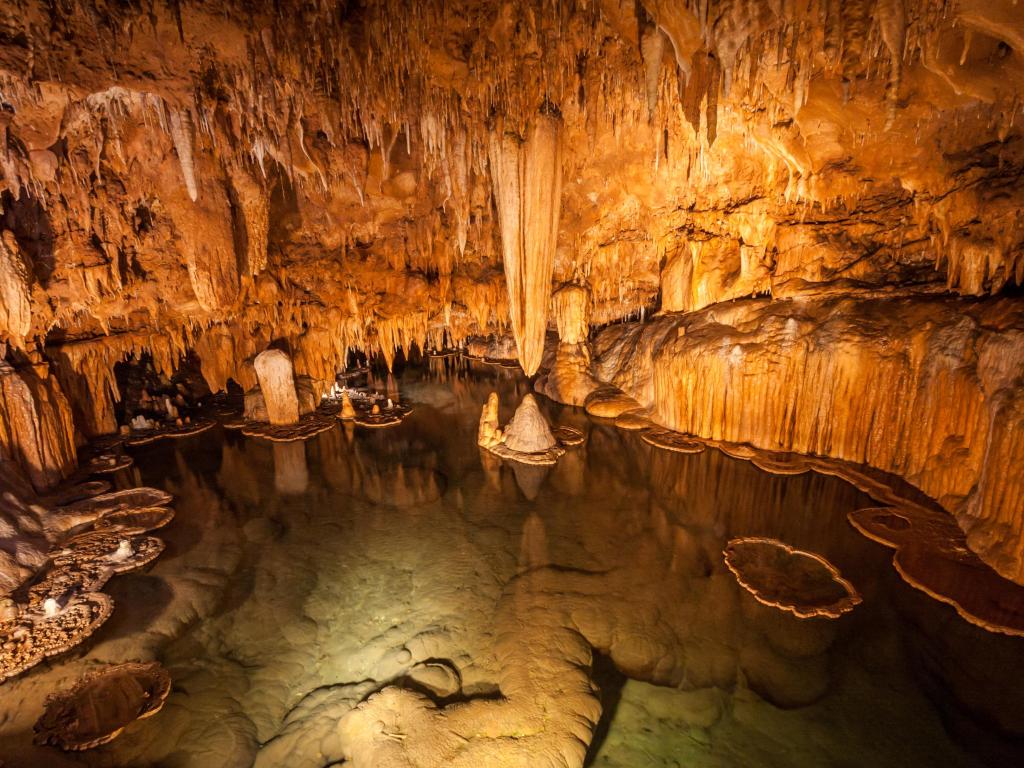 Best time to go on a road trip from Kansas City to Nashville
This road trip would be perfect for doing either during spring, summer or fall. While it can be done in the Winter, many of the attractions are outdoors and won't be as enjoyable.
The states of Missouri and Tennessee are both characterized by different winters, so it would be best to visit during months when the weather is more consistent.
Summers are often hot and humid in this area. Average temperatures range from 80 to 90 degrees Fahrenheit. Summer is considered to be the best time to visit Nashville, however, it is the busiest during the summer months.
Their music scene brings in lots of visitors during the summer months and is a common celebration and party destination during the summer. This season is also known for its parades and the 4th of July Festival. Nashville's celebrations are second to none, and they attract lots of people every year.
Missouri often has harsher winters, and you might come across snow and ice storms. Average temperatures range from 20 to 40 degrees Fahrenheit. Check weather warnings before setting off.
Nashville and Tennessee in general are characterized by mild winters where snow is uncommon and average temperatures range around 50 degrees Fahrenheit. Unless you find yourself traveling to the Appalachian Mountains, winter will be mild at your final destination.
To avoid sizable crowds and lower prices, the best time to visit is during the spring and fall months. The weather is pleasant and milder than the summer months, making some of the outdoor activities more enjoyable.
Average temperatures range from 50 to 70 degrees Fahrenheit, often warmer in Tennessee than in Missouri.
Because Nashville is known as the Music City, they host many large music events throughout the year. Some of their larger more notable events that are on music lovers' bucket list such as the Tin Pan South songwriter festival on the last weekend of March.
The CMA Fest takes place in June, and the CMA Music Awards in November. Nashville provides many musical attractions that make it a desirable place to visit any time of the year.