Road Trip from Kansas City to Los Angeles
If you're looking for a one-of-a-kind vacation that takes you through some of America's best National Parks and gives you a chance to explore the diverse scenic landscapes of the country, a road trip from Kansas City to Los Angeles is perfect for you!
The 1,818-mile road trip from Kansas City to Los Angeles will take you about 27 hours, passing through Denver, Colorado Springs, Moab, Las Vegas, Glenwood Springs, San Bernardino, Garden of Gods Park, Valley of Fire State Park and The Narrows.
To make the most of your epic trip, check our tips below and get to know more about the route you will follow, the must-see attractions on the way, and where to stay.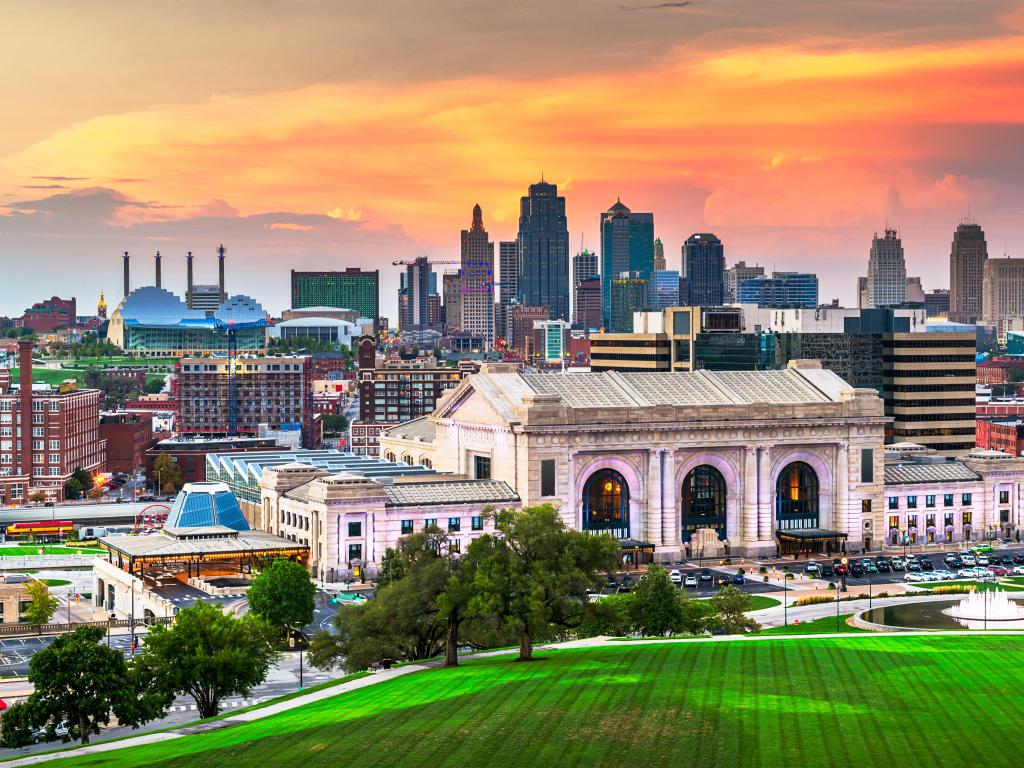 How far is Los Angeles from Kansas City, and how long will the road trip take?
The road trip from Kansas City to Los Angeles will cover 1,818 miles and take up to 27 hours of non-stop driving, without accounting for any detours you might take to sightsee or eat.
There is an alternative route that passes through Oklahoma and New Mexico, which takes the same time to drive and covers 1,795 miles.
The first route (which we've named the Colorado Route) features a drive through some of the most majestic terrains, National Parks and historical landmarks that will leave you in awe. You will also see the iconic cities of Denver, Colorado Springs and Las Vegas on the way.
Our second route (the New Mexico Route) passes through iconic Oklahoma City, vibrant Albuquerque and the majestic scenery of the Grand Canyon, which can be the road trip of a lifetime.
By dividing the trip into at least four days, you'll be able to stop over in several iconic cities and spend time soaking in the natural beauty of landscapes and so much more!
Comparison of routes between Kansas City and Los Angeles

| Route | Distance | Driving Time |
| --- | --- | --- |
| Colorado Route | 1,818 miles | 27 hours |
| New Mexico Route | 1,795 miles | 27 hours |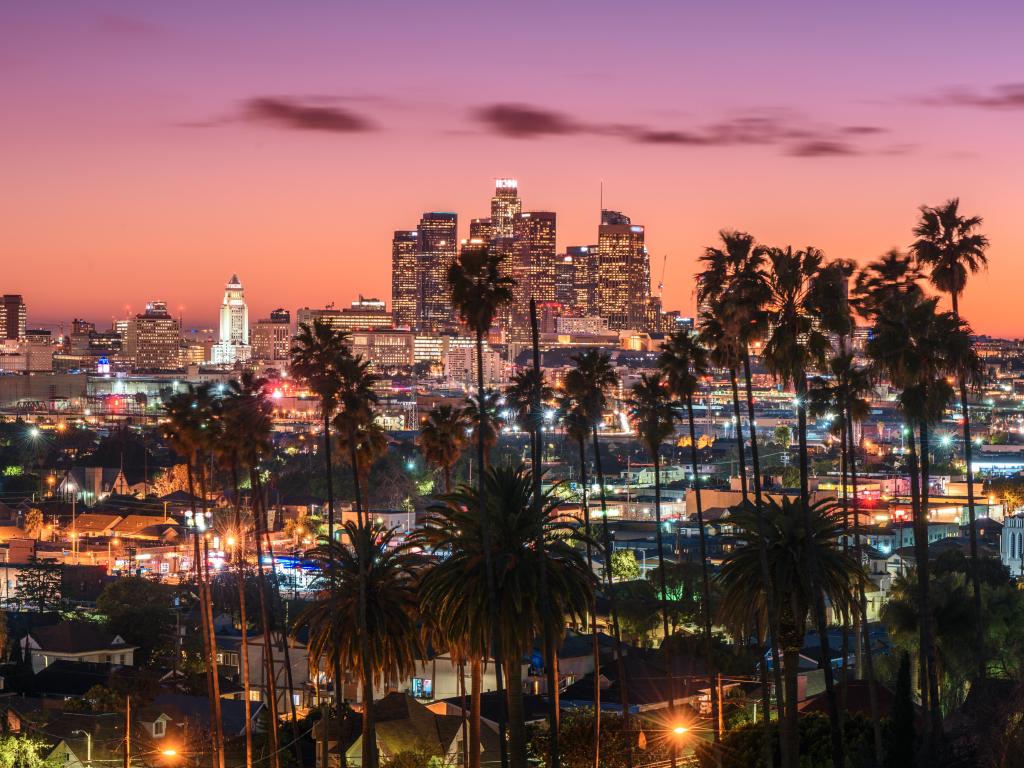 Best road trip route from Kansas City to Los Angeles
There are several different routes that you can take while on a road trip from Kansas City to Los Angeles, and each of them is unique. Our two recommended routes are the most scenic among the options and they pass through different sights and beautiful National Parks.
Colorado Route
Begin your road trip from Kansas City by getting to Interstate 70 East from E 10th Street. Continue driving on Interstate 70 East/US Route 71 South and follow Exit 2L towards Wichita. Merge with Interstate 670 West and enter Kansas.
Take the exit onto Interstate 70 West and keep right at Y Junction as you follow the route towards the capital city of the state, Topeka. Follow Interstate 70 West to enter Colorado. Take Exit 274 to merge onto I-25 in Denver to make your way to Colorado Springs.
After your visit, follow I-25 and take Exit 209A-B to merge back onto I-70. You will pass by White River National Forest, McInnis Canyons National Conservation Area, Zion National Park, Arches National Park, and many other scenic national monuments during your drive on this highway.
Take Exit 182 for US-191 if you are stopping overnight in Moab and follow the same road on your way back towards I-70. After driving on Interstate 70 West for a while, in the Southern part of Utah, take the exit on the left onto Interstate 15 South that heads towards Sin City, Las Vegas.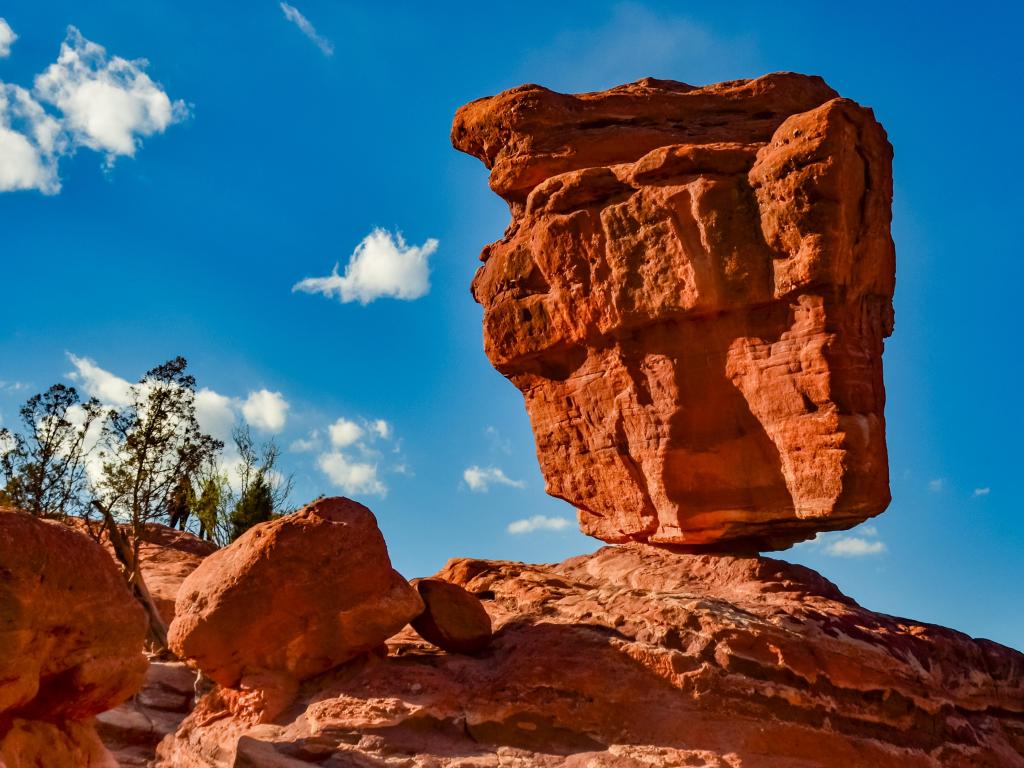 As you pass through this popular city, you can stop by to visit the iconic Las Vegas Strip, High Roller, play a round or two at a casino, and eat at one of the many world-class restaurants the city is home to.
After your visit, take the Interstate 15 South Exit heading towards Los Angeles and take Exit 115A to merge with California Route 210 West towards Pasadena. Finally merge with Interstate 10 West to make it to your destination: The famous Hollywood city of Los Angeles.
New Mexico Route
On departure from Kansas City, follow I-70 briefly and continue onto I-335 past Topeka and then onto I-35. Following this highway, you will cross from Kansas to Oklahoma.
Keep left to stay on I-35 and enter Oklahoma City, and then continue onto I-40 West, which you will follow for the most part on this route. You will pass by the vibrant cities of Amarillo and Albuquerque, where you can spend an extra day or two if you have the time.
Take Exit 211 past Winslow and turn right onto US-89 N. Take the 3rd exit onto AZ-64 in Cameron. This road will take you to the infamous Grand Canyon with its spectacular views and back onto I-40 towards Los Angeles.
Past the beautiful views of the Mojave National Preserve, merge onto I-15 South. Keep right past San Bernardino and take Exit 115A to merge onto CA-210 West. Taking Exit 22 to merge with I-10 West, you will reach your destination, Los Angeles.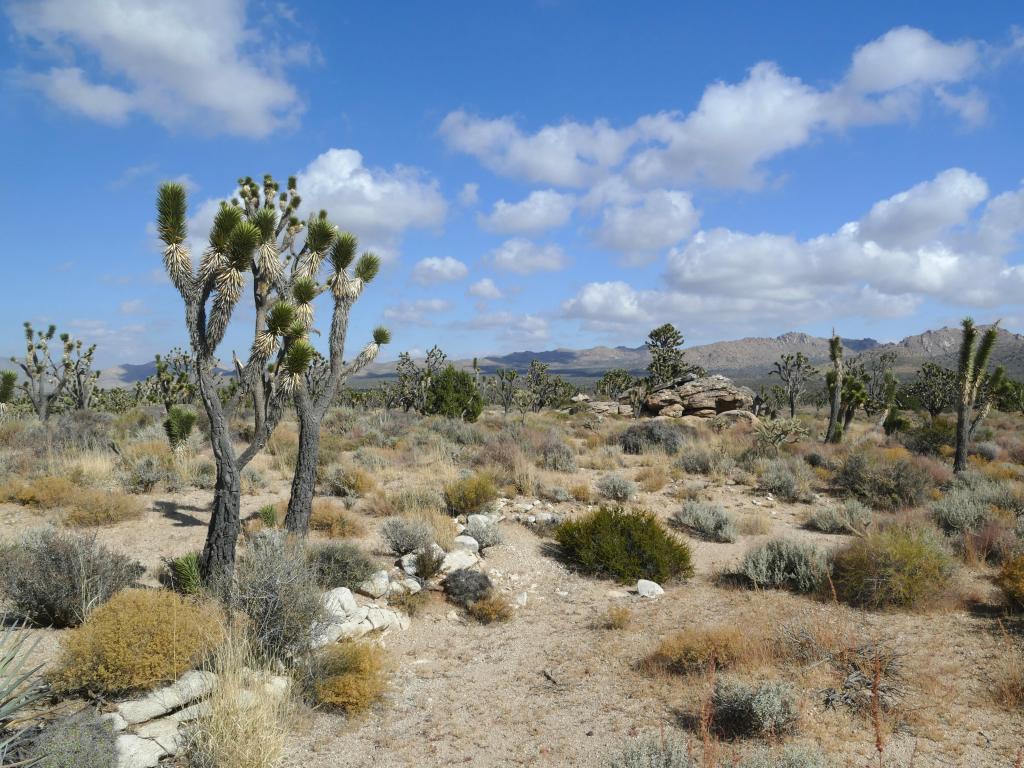 Best places to stop between Kansas City and Los Angeles
While on this epic road trip, there are so many places that you can stop at for a good night's sleep and explore parts of the country that you never thought you would!
Enjoy the great outdoors in Colorado Springs
Colorado Springs is well worth visiting with its adventurous outdoors, mountainous scenery, and cultural attractions despite the long drive required to get there. If you prefer a closer stop, Hayes and Colby are other great options.
While visiting Colorado Springs, you might want to enjoy the splendour of Garden of the Gods Park or marvel at Pikes Peak, which is lovingly dubbed "America's Mountain". There are many activities you can enjoy such as horseback riding, road and mountain biking, hiking or fly fishing.
If you would rather spend your time in urban surroundings, you can visit The Colorado Springs Pioneers Museum and learn about the history of this iconic city.
When it comes to accommodation, Garden of the Gods Club & Resort is an excellent choice with its rustically decorated rooms boasting fireplaces and unparalleled mountain views. The property also offers a fabulous spa, a golf course, and a fine dining restaurant.
Soak in the tranquility in Moab
If you wish to spend a peaceful and serene night but also have places to explore, stopping in Moab for the night is ideal. There are many accommodation options to choose from in the desert area, and one of the best is genuinely the Hyatt Place Moab.
You'll be within proximity of the iconic Arches National Park with the Mesa Arch, Landscape Arch, and more just a short drive away. You can check into the hotel by late evening after a long but exciting day of driving, get a drink by the pool or from the nearby Moab Brewery, and settle in for an early night.
The following day, you can be up early and explore the Arches National Park, go on a scenic hike in the mountains that surround you, take a dip in the Colorado River, visit the Dead Horse Point State Park, and more before getting on your way to Los Angeles.
The property is a slight detour from the route but nestled between the mountains, the oasis of luxury is worth the extra half hour of driving. With a hot tub, terrace, and stunning mountain view, this property is a great find and will let you vacation in style without being too heavy on the pocket.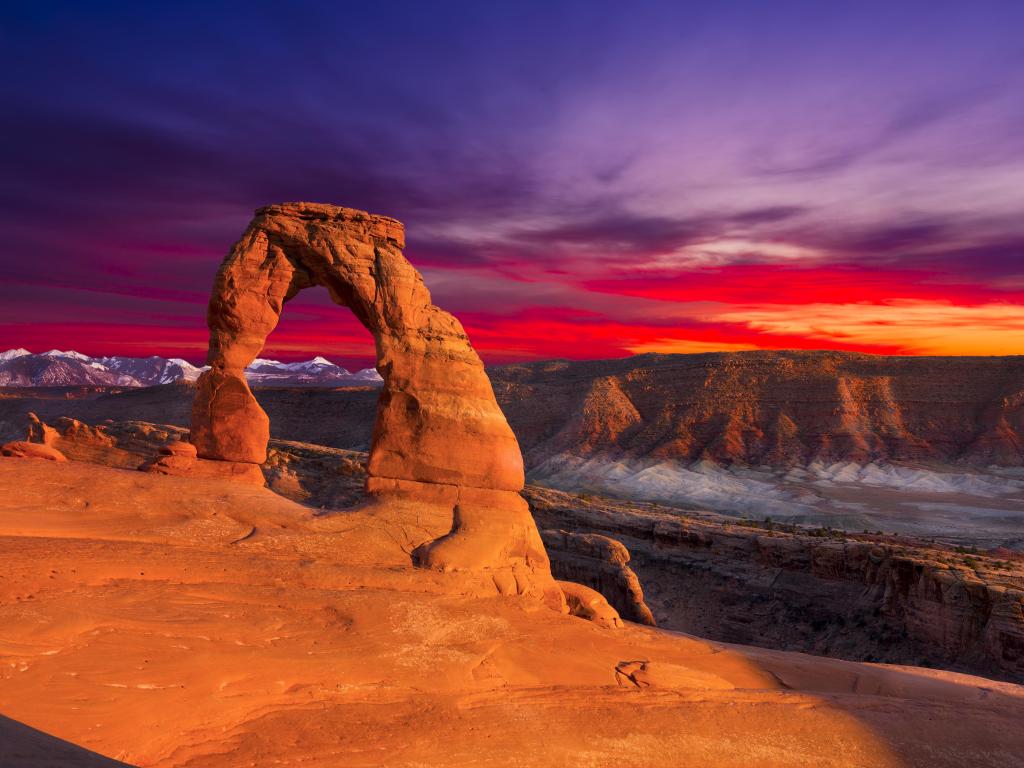 Spend a night in Sin City
While you're on your way from Kansas City to Los Angeles, amongst all the natural beauty and National Parks, is the resort city of Las Vegas, and it honestly wouldn't be right to pass through an iconic city and not stay for at least a night.
Being an international tourist destination, there's no shortage of luxurious accommodation options in the town, but if you're searching for a reasonably priced hotel located in the heart of the city, look no further than Mandalay Bay. The property is located on the iconic Las Vegas Strip and is home to swimming pools with a lazy river and a beach where you can relax.
You'll be close to attractions like the Ka Theatre if you're keen on watching a Cirque du Soleil performance, the High Roller if you're feeling adventurous and the Gondola Ride at the Venetian if you want to be transported to Venice for the night.
The neon-lit city has so much to offer that you won't ever feel like you've seen it all. The town is also known for its restaurants that serve quality food paired with signature wine and cocktails. In fact, the Mandalay itself has up to twenty-two restaurants on-site, making sure that your stay in Sin City is sure to be one for the books!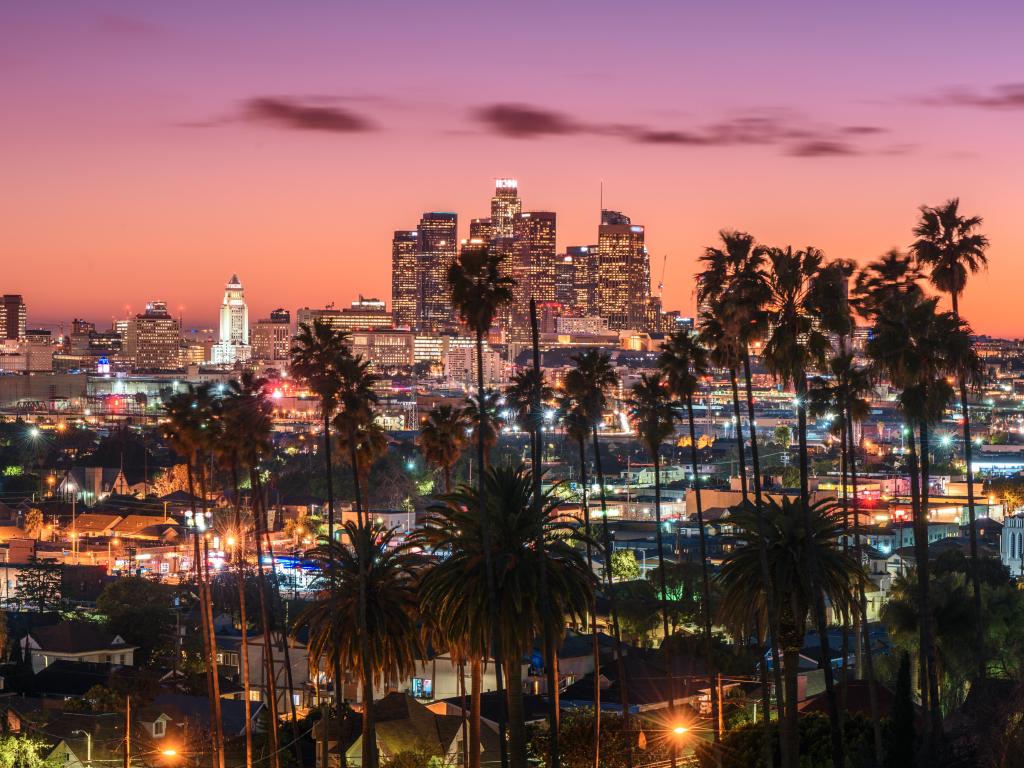 Witness an urban renaissance in Oklahoma City
Known for its Southern charm and colourful urban atmosphere, Oklahoma City is a wonderful place to visit if you are following the New Mexico route. For overnight accommodation, Colcord Hotel Oklahoma City, Curio Collection by Hilton offers stylish rooms, an upscale restaurant and easy access to the attractions.
This energetic city is the home to top-rated museums, which are minutes away from the hotel located in the heart of the city. You can pay a visit to Oklahoma City National Memorial & Museum, Oklahoma City Museum of Art or National Cowboy & Western Heritage Museum.
If you would like to explore the city look no further than Bricktown, a bustling entertainment district. Here, you can ride a Water Taxi along the canal, enjoy shopping, or sit down at a bar for a well-deserved rest after a day of recreational activities.
Upon your return, enjoy a meal at the hotel's fabulous restaurant to make the most of your evening.
With so much choice, the decision comes down to your interests and preferences. One thing is for sure when you are visiting Oklahoma City; you will never be short of choice.
Things to see on a road trip from Kansas City to Los Angeles
There are so many attractions to discover while on a road trip from Kansas City to Los Angeles. While the list is virtually limitless, here's a shortlist of the things that you really can't miss.
Colorado Route
Old Town Museum - Located in Burlington, Colorado, this museum was established in 1976 and honors the local history, culture, and heritage.
Rocky Mountain National Park - Spanning over 415 square miles, this gorgeous National Park has many hiking trails, diverse wildlife, and scenic spots that will leave you in awe. Keep in mind that the national park uses a timed entry permit system. Please check the national park's website to see if you need to make a reservation before your visit.
Denver Art Museum - Located in the heart of Denver, this uniquely designed institution is home to western and neo-classical art.
Arches National Park - Slight detour, this National Park is located in Moab, Utah, and boasts up to 2,500 one-of-a-kind red rock formations. You might need to make a reservation for a timed-entry permit while visiting Arches National Park. Please check the national park's website for up-to-date information.
Valley of Fire State Park - Home to red sandstone and petrified wood structures, this state park is a famous camping spot in the area.
Zion National Park - One of the most iconic National Parks in the country, this destination has spectacular views and several trails and hikes for everyone to enjoy. If you'd like to hike up to Angels Landing, you will need a permit and will need to make a reservation. Check the Zion National Park's website for more details.
The Narrows - A popular section of the Zion Canyons, this is an area loved by hikers for its scenic hike that leads to the Temple of Sinawava.
Denver Botanic Gardens - A unique attraction in the capital of Colorado, this beautiful garden is home to many unique seed formations, plants, and more.
Hoover Dam - With breathtaking views of the Colorado River and Lake Mead, the dam is both a tremendous scenic spot and a historical monument that you can learn about.
Garden of the Gods - A popular park in Colorado Springs with magnificent views and impressive natural attractions.
Pikes Peak - The magnificent 14,115-ft. peak located in Colorado is an excellent spot for hikers and has a view like no other.
Royal Gorge Bridge & Park - Home to one of the world's highest suspension bridges, this is a 360-acre amusement park located on top of a canyon in Canon City, Colorado.
Bryce Canyon National Park - National Park located in Utah, it is home to beautiful unobstructed views of the region, a natural amphitheater, and several hiking trails.
High Roller - One of the most popular attractions of Las Vegas, this 550 ft. Ferris Wheel has large cabins that can fit nearly 40 people each and boasts panoramic views of the city.
Las Vegas Strip - The iconic destination in Las Vegas, it is home to casinos, hotels, nightclubs, restaurants, and more.
Red Rock Canyon National Conservation Area - Located near Las Vegas, this area offers picturesque drives through its red-stone canyon structures. You might need to make a reservation for a timed-entry slot, so check the official website before traveling.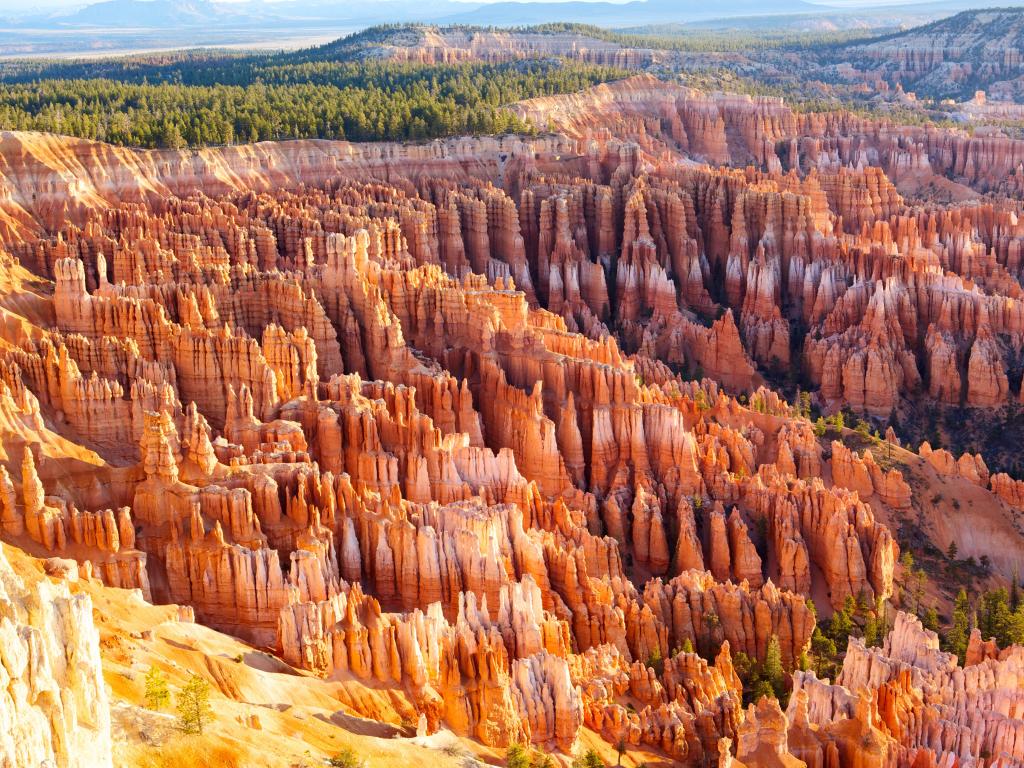 New Mexico Route
National WWI Museum and Memorial - A multi-building museum dedicated to remembering and understanding the Great War and its impacts.
Kansas City Zoo - A popular attraction for all ages, this zoo is home to more than 1,300 animals and is voted one of America's Best Zoos.
Palo Duro Canyon State Park - The second largest canyon in America, which features hiking trails and mountain biking paths.
Cibola National Forest - This forest covers 1.9 million acres and consists of four ranger districts, lovingly called "sky islands".
Oklahoma City National Memorial & Museum - Built on the infamous site of the 1995 bombing, this memorial offers comfort, strength, peace, hope and serenity.
National Cowboy & Western Heritage Museum - An institution in Oklahoma that features a superb collection of Western art and artifacts.
Bricktown - A former warehouse, this area was rebuilt as an entertainment district that houses many shops, restaurants, bars, and Oklahoma's famous Water Taxis.
Grand Canyon - One of the most visited national parks in the country and a natural gem located in Arizona which overlooks the magnificent geological structures and the Colorado River.
Mojave National Preserve - A mosaic of ecological habitats, this National Preserve features canyons, mountains, former military mines and outposts.
Best time to go on a road trip from Kansas City to Los Angeles
While you can take the road trip from Kansas City to Los Angeles during any time of the year, your trip is sure to be better during some months compared to others.
The best time to visit Los Angeles is when the weather is pleasant, and the city is not too crowded during the spring or fall months. If you make the trip in the fall, you will also get to witness the red-orange-hued foliage at its peak.
Since your mega road trip passes through many National Parks and Monuments, most of which are in the Utah and Arizona regions, it might be good to note that temperatures reach above 100 degrees Fahrenheit in summer and that these attractions tend to get crowded.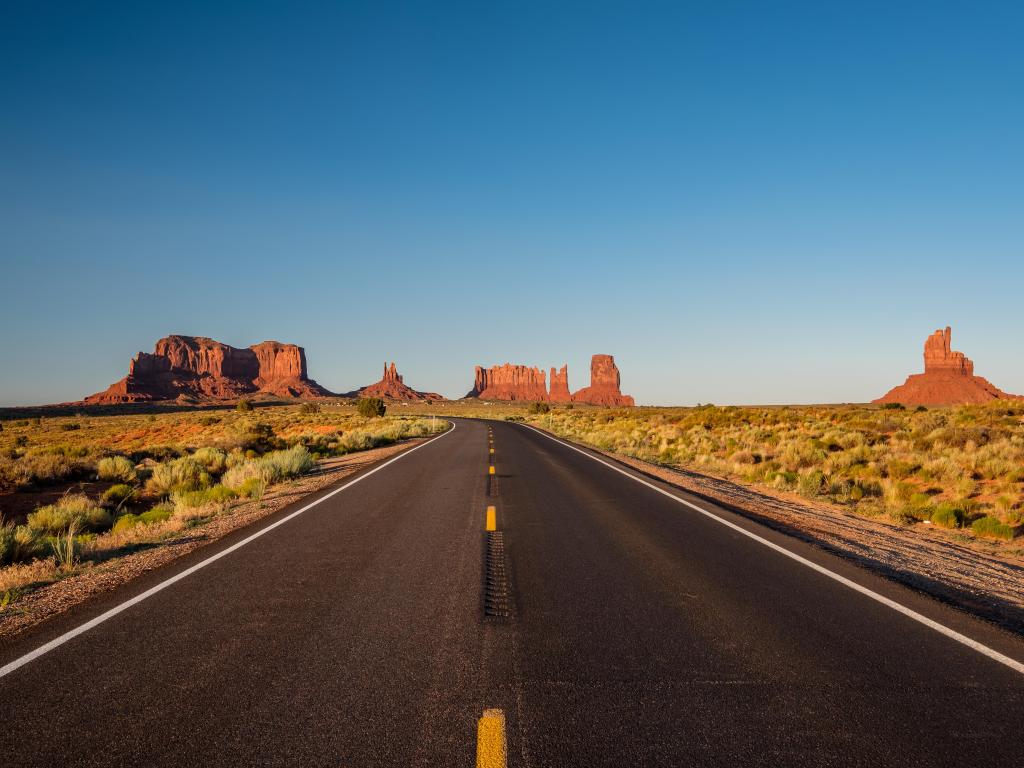 In the wintertime, the temperature can go below 20 degrees Fahrenheit in Utah and 45 degrees Fahrenheit in Arizona, which isn't the best for hiking, following trails, or soaking in nature. However, winter is a great time to visit if you're looking to hit the slopes in Colorado.
Regardless of which time of the year you make the road trip, be sure to take as many days as possible to cover the distance, learn more about the diverse landscapes you pass through, and play those road trip tunes, and you're sure to have a trip like no other!