Road Trip from Kansas City to Denver, Colorado
Explore the fascinating Midwest US on this historic road trip from Kansas City to Denver, Colorado. Pass by national monuments, culture-rich towns, lakes and parks, before driving through the flatlands towards your destination where you'll be surrounded by stunning mountainous scenery.
The 730-mile road trip from Kansas City, Missouri to Denver, Colorado takes 11 hours to drive. Key stops include Omaha, Wichita, Dodge City and Colorado Springs, as well as El Dorado Lake, Cave of the Winds, Barr Lake State Park and Santa Fe Trail.
There's plenty to see on this relatively short but historical road trip, whether you love the great outdoors and exploring nature or love discovering the culture of new towns. Keep reading to find the best routes, times to visit and places to stop along the way to Denver.
How far is Denver, Colorado from Kansas City, and how long will the road trip take?
Comparison of road trip routes between Kansas City and Denver, Colorado

| Route | Distance | Driving Time |
| --- | --- | --- |
| Direct Route | 600 miles | 8 hours 30 minutes |
| Nebraska Route | 730 miles | 10 hours 50 minutes |
| Kansas Route | 730 miles | 12 hours |
There are two fantastic route options you can follow from Kansas City, Missouri to Denver. While you could drive between the two cities in just over 600 miles, taking 8 hours and 30 minutes, we wouldn't recommend following the direct route unless you're especially keen to get to Denver quickly.
Our recommended routes aren't much longer than the most direct option, but they offer some great places to visit along the way. The quickest of our two takes you through Nebraska and spans a distance of 730 miles, taking 10 hours and 50 minutes to drive.
An alternative option, which will take you through the state of Kansas and through Wichita and Dodge City, will take close to 12 hours and covers a similar distance of 730 miles. This route will take longer because you won't be retracted to just interstate driving.
While you could drive to Denver in a single day if you follow the most direct route, our suggestion would be to spread your road trip over a couple of days and enjoy at least one overnight stop along the way. You'll get a much more pleasant drive and some additional places to visit as well.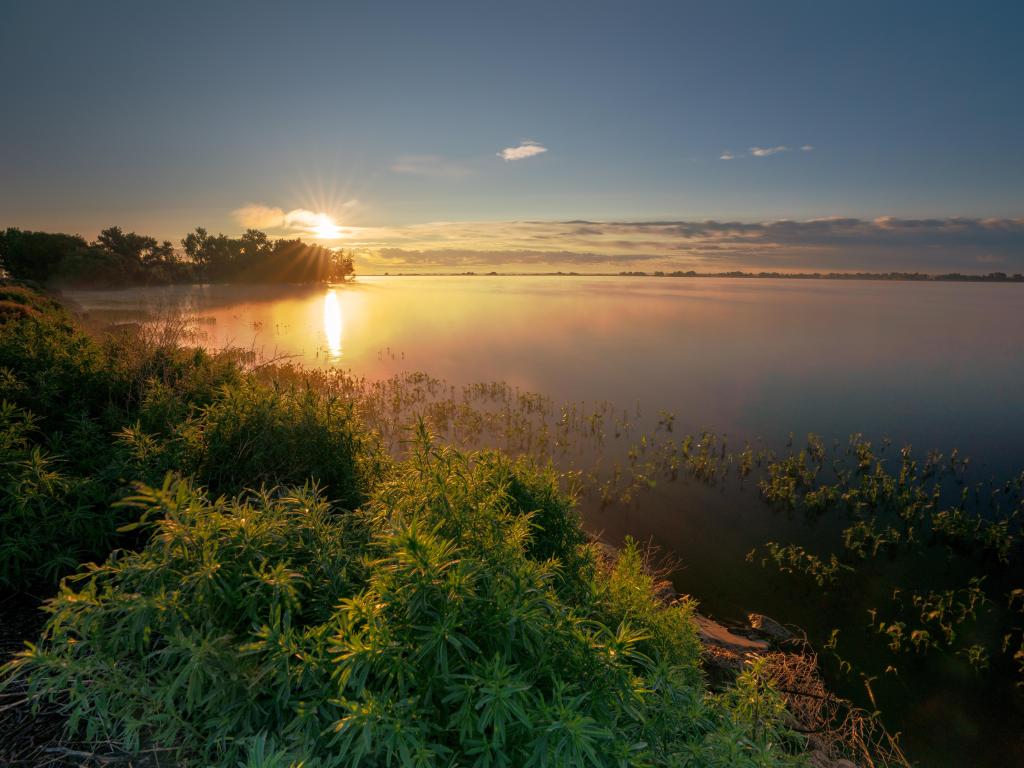 Best road trip route from Kansas City to Denver, Colorado
Regardless of which direction you take from Kansas City, there are some fantastic places to visit en route. Our Nebraska Route shoots north after leaving Kansas City and takes you along the border of Iowa before crossing into Nebraska at Omaha.
You'll get the chance to visit plenty of museums along the way, and even a nearby zoo, before reaching Ogallala where you can pass Pawnee National Grassland, a uniquely beautiful flat landscape where you could even find local wildlife like coyotes, hawks and falcons.
If you'd like a quicker but equally scenic route, then you may want to consider our Kansas Route. This route will take you through Wichita to Dodge City, before entering Colorado and driving through Colorado Springs to Denver.
If you are visiting Rocky Mountain National Park, keep in mind that the national park uses a timed entry permit system. Please check the national park's website to see if you need to make a reservation before your visit.
The Nebraska Route
Leave Kansas City and head north on the interstate to Omaha where you can visit its fascinating zoo and aquarium which holds the world's largest indoor rainforest and desert.
You can either head east to Des Moines or continue west on Interstate 80 (I-80) to the city of Lincoln. After exploring the city drive alongside Kearney before landing in Ogallala.
Stop here for a trip to Lake McConaughy State Recreation Area where you'll find a large lake and beach area or take a longer drive to Crescent Lake National Wildlife Refuge to escape the road and enjoy the great outdoors.
Still following the interstate west, you'll drive alongside the Pawnee National Grassland to Denver, from where you can explore the Rocky Mountain National Park or enjoy views of Mt Evans.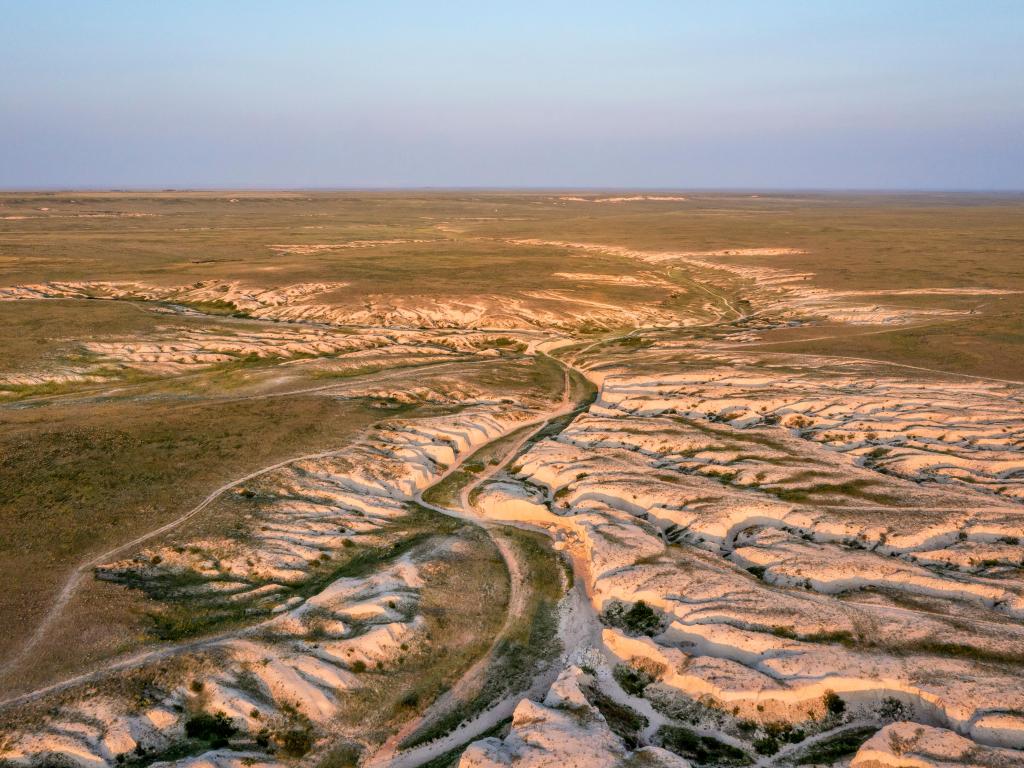 Kansas Route
Head south from Kanas City, through Overland Park and towards Wichita, passing Emporia and El Dorado along the way. Take a detour south to explore the city of Tulsa or continue west through Kingman to Dodge City.
Drive towards Colorado Springs through Garden City, which will take you close to Pike and San Isabel National Forest if you're up for a longer detour.
Stop at Cave of the Winds along the way, where you can enjoy tours or learn about ghost stories or explore the Cheyenne Mountains before continuing north on I-25 to Denver.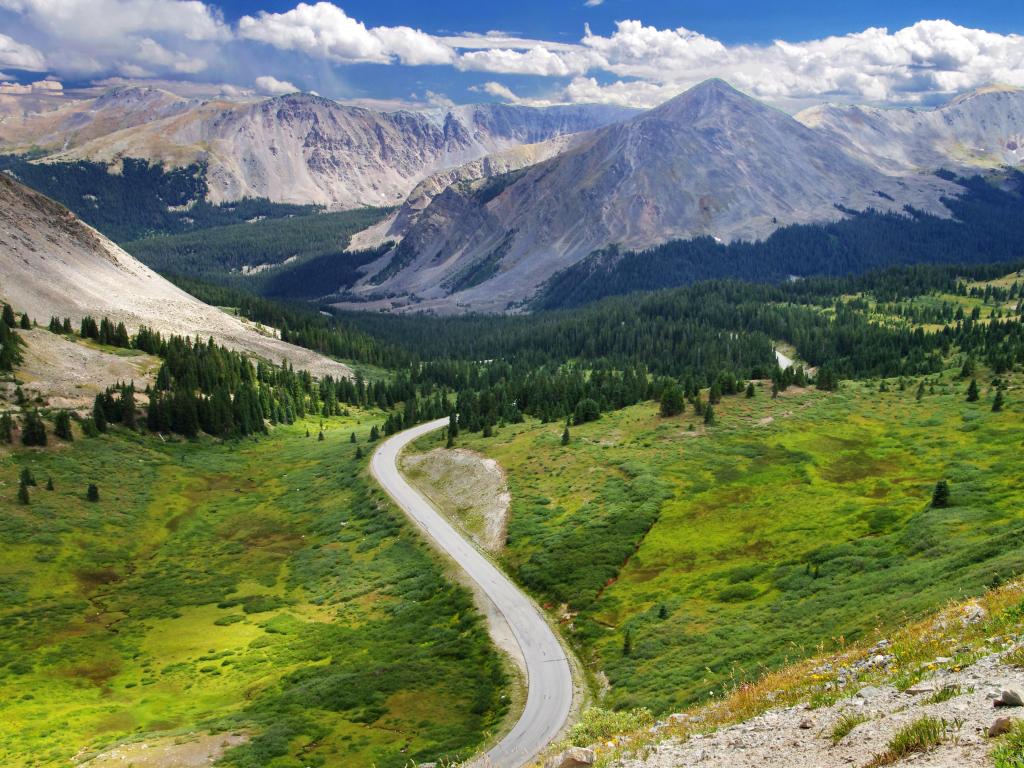 Best places to stop between Kansas City and Denver, Colorado
There are plenty of great towns and cites you can stop at between Kansas City and Denver, depending on which route you decide to opt for. Here are a couple of fantastic hotels that you might want to consider.
Stop in historical Lincoln
Located a third of the way to Denver and just 3 hours into your trip on the Nebraska Route, a stay in Lincoln is a solid option. Not only is Lincoln the capital city of Nebraska, but it's home to a vast variety of museums and a rich cultural center.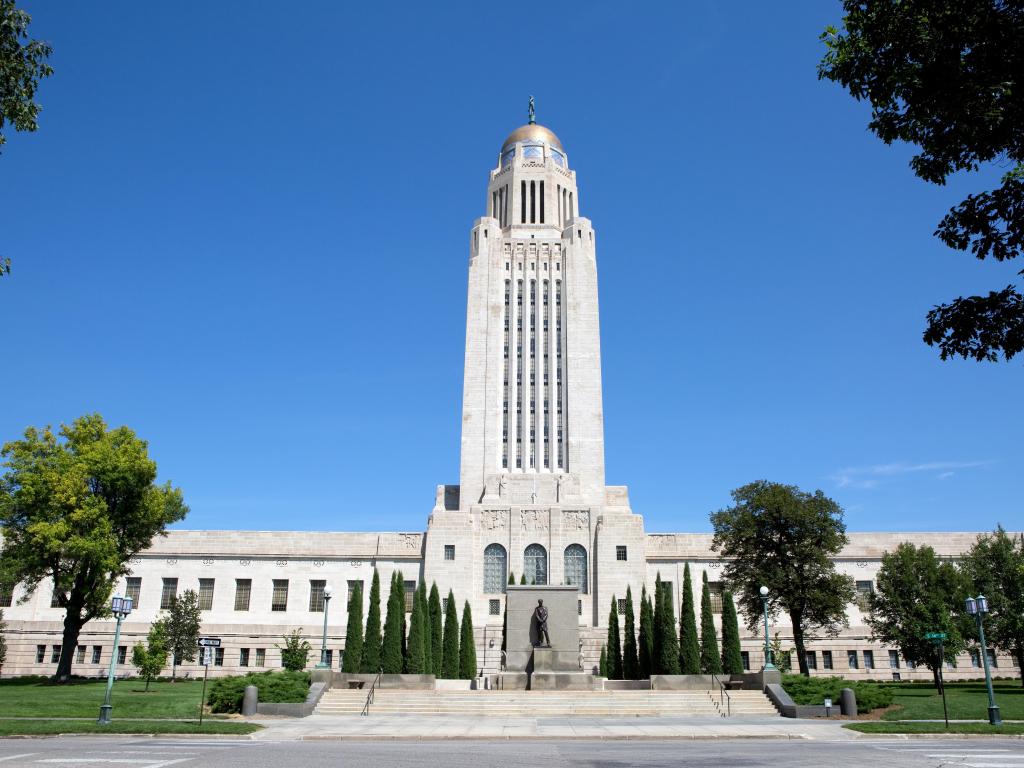 While staying here, you should pay a visit to the Haymarket Square. This historical area is where the city began and features great architecture, shopping, restaurants and nightlife, as well as art galleries and museums to really give you the authentic Lincoln experience.
To really enjoy your Lincoln experience, you won't go wrong with a stop at The Lincoln Marriott Cornhusker Hotel. This bright and modern 4-star hotel is located in the heart of the city and offers comfortable rooms, a welcome heated indoor pool and the option of two onsite restaurants.
The Lincoln Marriott is the perfect option if you're looking for a stress-free overnight stop. Guests can enjoy a drink in the bar after parking at the onsite private car park, or simply enjoy the city views from the comfort of your room.
Located conveniently close to Interstate 180 for a quick turnaround the following day, you'll be in the heart of downtown Lincoln with the University of Nebraska, State Capitol, Memorial Stadium and Woods Park just a short walk away.
Relive the cowboy era at Dodge City
Conveniently located halfway on our Kanas Route, Dodge City is not only a town you'll happen to pass through, but it is a tourist destination in its own right as it's the ideal town if you're a fan of Western films - yee-haw!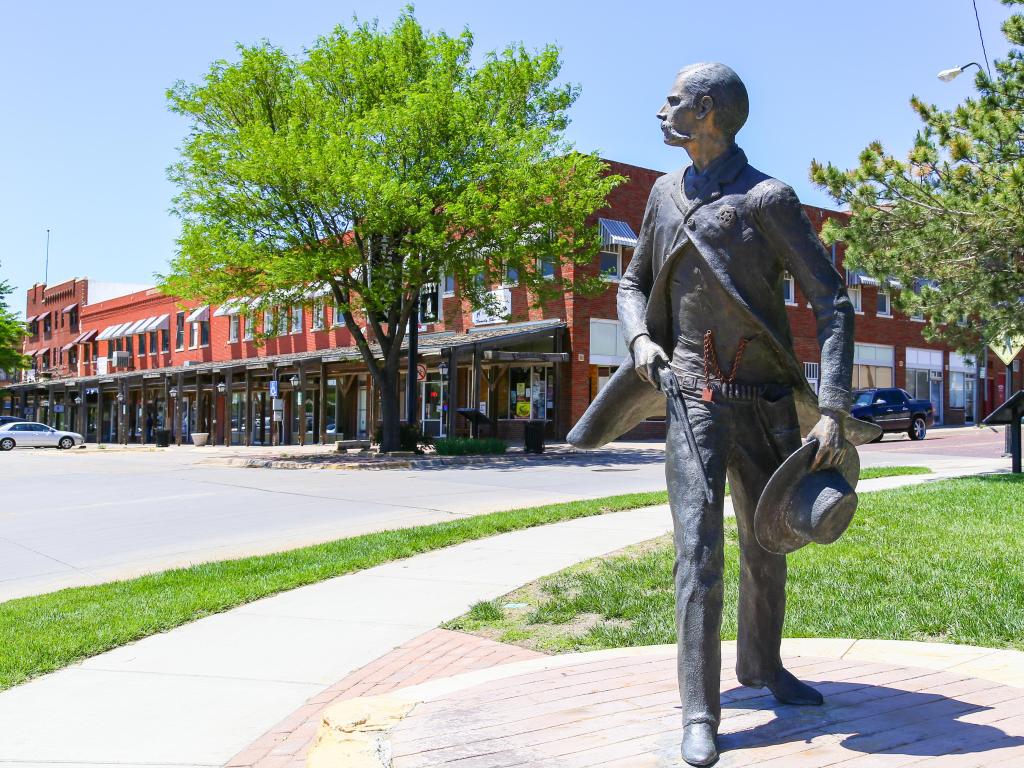 Dodge City was historically known as a wild cowboy outlaw town on the route of the Sante Fe railroad. The classic western saloons and outlaw vibe is what historical Dodge City was known for, and remnants of this culture still exist.
Highlights here include a visit to Front Street where you can enjoy exploring the replica of the Long Branch Saloon; plus a visit to Boot Hill Museum where you can learn more about the history and legend that is Dodge City.
After a busy day exploring, the Best Western Plus Country Inn & Suites is a great hotel to relax at. Close to all of the main attractions that the city has to offer, the hotel also offers a welcome heated indoor swimming pool, comfortable rooms and free parking.
Centrally located with easy access route back onto the main highway, the hotel is conveniently close to Boot Hill Museum, Wright Park Zoo and Dodge City Thurow Park making this a great base to explore the town before relaxing for the evening.
Urban vibes at Denver, Colorado
Denver, which is also known as The Mile High City, is the capital of Colorado and as such is packed full of fun things to see and do. Picture cool urban vibes meet art, culture, great food and music.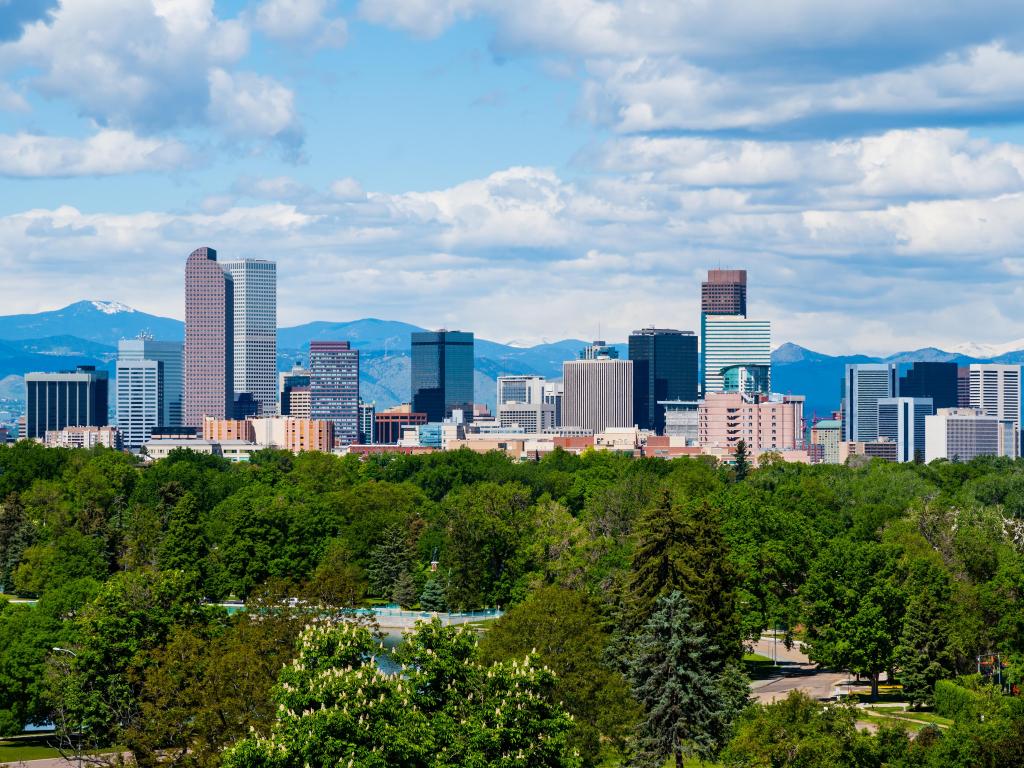 And that's not all, you'll also be within the Rocky Mountain region where you can hike and explore all day long if you desire. If you're looking to spend several days here (and we recommend that you do), you'll want an uber, cool and stylish hotel, like The Ramble Hotel.
This trendy hotel is the perfect blend of traditional meets modern. Expect dark panelling in the luxurious bedrooms, coupled with state-of-the-art bathrooms, fitness center and grand entrance.
Perfectly positioned in central Dodge City, this 4-star hotel offers select rooms with balconies, an onsite restaurant and terrace ideal for relaxing in after a busy day sightseeing. You'll also get private parking and be within walking distance of the Pepsi Center and the 16th Street Mall - perfect!
Things to see on a road trip from Kansas City to Denver, Colorado
Don't expect boring flatlands and nothing to see on this trip from Kansas City to Denver, Colorado. Despite some longer stretches of driving, you'll get plenty of interesting places to stop at along the way too.
We've highlighted some of the best bits from both routes to help you plan the best trip possible - you're welcome.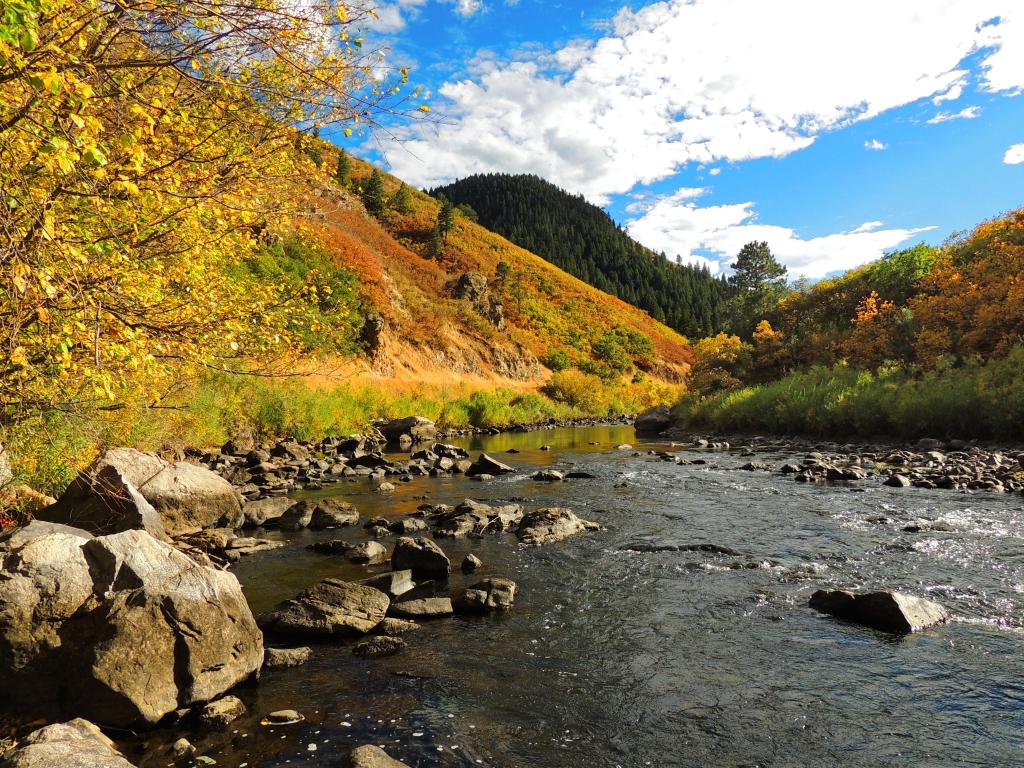 Nebraska Route
Omaha's Henry Doorly Zoo and Aquarium - This aquarium holds the world's largest indoor rainforest and desert as well as other stunning ecosystems.
Wildlife Safari Park - Hiking as well as drive-through options are available to see native Midwest animal species up close in a contained safari park.
Strategic Air Command and Aerospace Museum - Air and Space exhibits, historical displays, a planetarium, as well as interactive displays for kids are just some of the features this museum offers.
Museum of American Speed - A large collection of exhibits featuring cars and racing history, as well as toys and life-size models can be found at this museum in Lincoln, Nebraska.
Sunken Gardens Park - This park in Denver offers a lush environment of gardens and walking trails, as well as picnic tables and a playground (ideal for families). There are 12.5 acres to explore as well as a trail to follow if you'd like to immerse yourself in nature.
Platte River Recreation Areas - While driving alongside the Platte River, there are countless designated wildlife management areas that feature walking trails, river activities, lookouts and are a great place to stretch your legs in a natural area. Such as Bassway Strip Wildlife Management Area; Fort Kearney State Recreational Area; Sandy Channel State Recreational Area; Blue Hole State Wildlife Management Area; and Dogwood State Wildlife Management Area.
Nebraska Historical Marker: California Hill - First created in 1961, the Nebraska Historical Markers were created to commemorate significant people, places, sites or events. The California Hill sign marks the point where emigrants heading west during the Gold Rush and is a must-see destination for any history buffs.
Overland Trail Museum - This roadside museum in Sterling, Colorado, has both indoor and outdoor exhibits that feature antique items, historical buildings and so much more.
Barr Lake State Park - Just 20 miles from Denver, Barr Lake State Park features wetlands and a lake with hiking trails, picnic areas, boating fishing, and birdwatching options. You could even enjoy a stunning sunset here.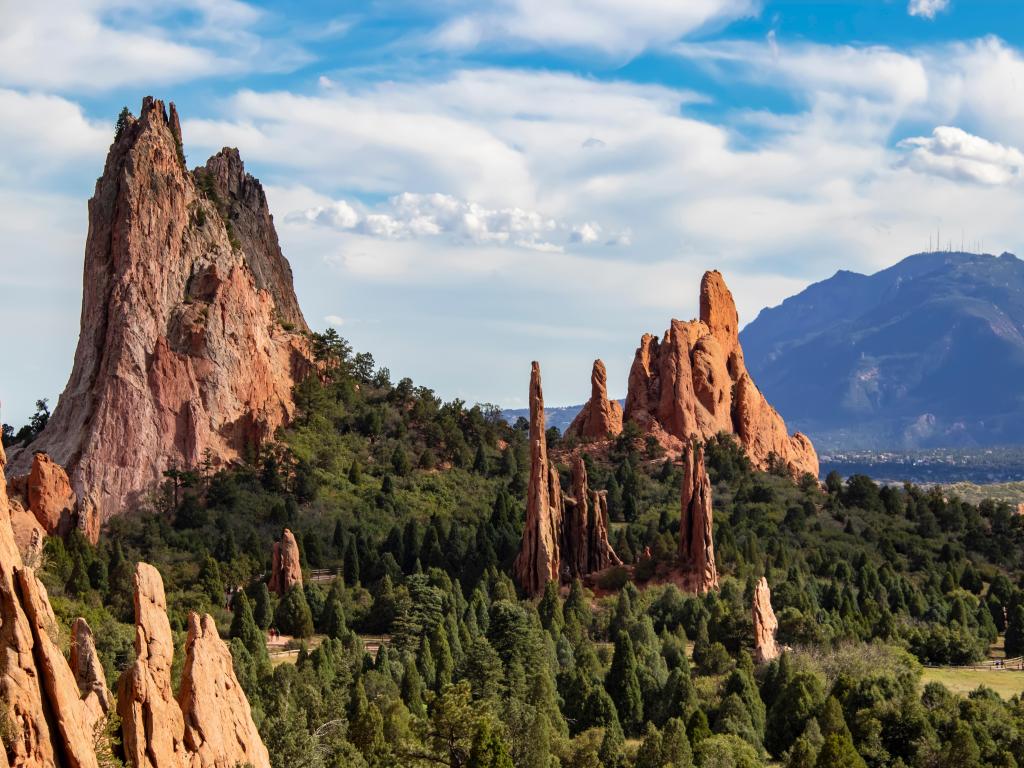 Kansas Route
El Dorado Lake - This beautiful lake features a beach (ideal for swimming) and great hiking/walking trails, as well as a rock scramble area.
Wichita Botanical Gardens - This site now features 17.6 acres of gardens and plant life, a butterfly garden, and children's activities. Open year-round, it's the perfect tourist spot for all ages, from young children to those who enjoy nature and wildlife spotting.
Dodge City Raceway Park - Discover Dodge City's legendary auto racing history at this racing center, which runs a variety of events and activities for all ages.
Santa Fe Trail Museum - Learn more about the historical Santa Fe Trail at this museum. Enjoy exploring the museum galleries, complete with museum grounds where you can enjoy a picnic, plus reproduction homes, two large exhibition buildings and historic structures.
Syracuse Sand Dunes - A site for off-roading vehicles to ride around on the sand and the tracks. Great for watching these vehicles or even just exploring the lake and natural area.
Cave of the Winds - Ideal for adrenaline junkies, the Cave of the Winds Mountain park runs cave tours, as well as zip lining and rope course offerings. Learn about the cave's rich history and discover eerie ghost stories - if you dare…
Cheyenne Mountain State Park - The perfect playground if you love the great outdoors, this state park offers scenic views with countless hiking and biking trails. You could even spot black bears, as well as deer, bobcats and if you're lucky, a mountain lion!
Garden of the Gods - This National Natural Landmark in Colorado Springs is a beautiful area with distinct rock features. Explore the visitor center or enjoy a hike where you'll be greeted with spectacular views of the massive red rocks that stand proud out of the ground.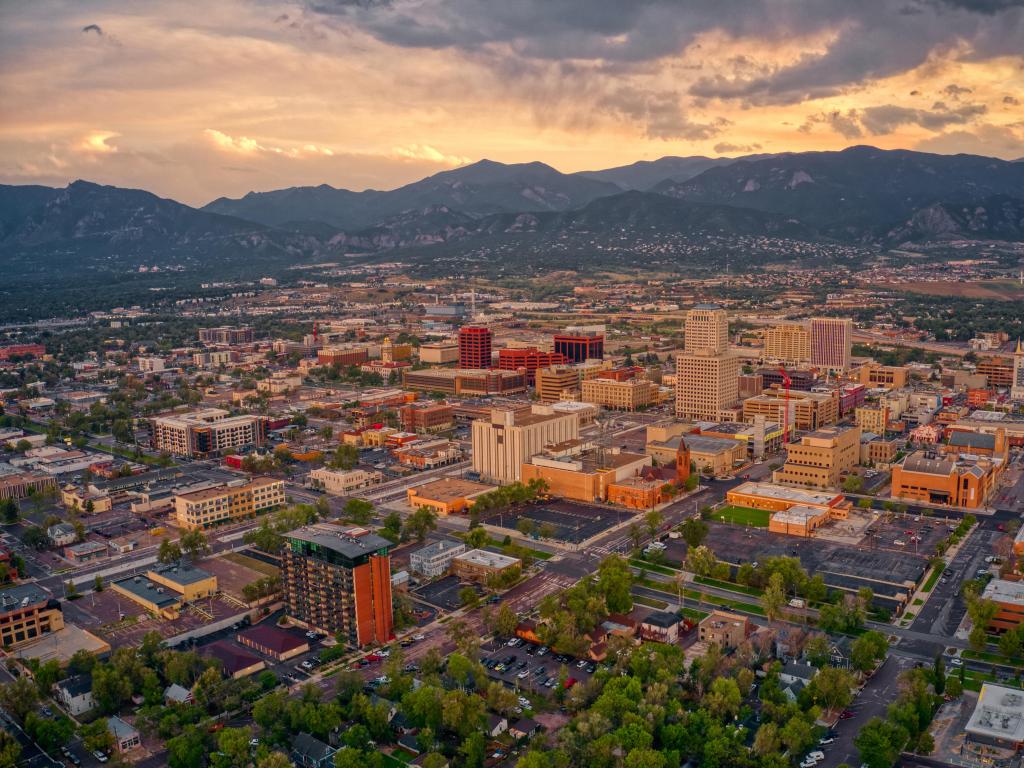 Best time to go on a road trip from Kansas City to Denver, Colorado
While this is a road trip that can be enjoyed year-round, the Great Plains are host to extreme weather conditions in winter as well as in summer. Traveling from Kansas City to Denver would be ideal from late summer to early fall, or late spring to early summer.
In the summer, while temperatures can reach over 100 degrees Fahrenheit in Kansas and Nebraska, you'll find Denver cooler with average daily highs of just above 80.
If you are planning on spending extensive time on activities outdoors on your road trip and do not handle heat well, peak summer should be avoided. Summer is also likely to be busier with tourists and that'll be reflected in hotel prices.
Winters in Denver are typically mild with average temperatures between 45 and 60 degrees. The months of November and December will see fewer visitors, so if you can brave the cold, you'll have fewer crowds to contend with.
Meanwhile, spring and fall are the most ideal times of the year for this trip due to their mild and comfortable temperatures. You'll also get to enjoy spring blooms or fall foliage at the parks and gardens along the way.
Finally, if you'd like to tie in an event along the way, Kansas is home to many state fairs and seasonal festivals. The most famous one, the Kansas State Fair, is at the end of July. There's also Denver Beer Week at the beginning of October for those who enjoy a pint, or two!