Road Trip from Kansas City to Branson, Missouri
If you are looking for a fun-packed long weekend road trip in the beautiful American Midwest, then look further as this amazing road trip from Kansas City to Branson, Missouri will tick all the boxes with its scenery, quirky roadside attractions and tons of history to learn about!
The 330-mile road trip from Kansas City to Branson, Missouri will take about 6 hours to drive. Highlights en route include Wichita, Ozark Mountains, Lake Ozark, Ha Ha Tonka State Park, Route 66 Museum, Talking Rocks Cavern and Smallin Civil War Cave.
This road trip from Kansas City to Branson will take you between 5 and 8 hours to drive, traversing between 300 and 500 miles depending on which route you choose. With a variety of attractions on the itinerary, including the bustling city of Wichita and the gorgeous Ozark Mountain range, this road trip has a little something for everyone.
Keep reading to discover all that awaits you on this epic trip from Kansas City to Branson, Missouri.
How far is Branson, Missouri from Kansas City, and how long will the road trip take?
Comparison of road trip routes between Kansas City and Branson, Missouri

| Route | Distance | Driving Time |
| --- | --- | --- |
| The Lake Ozark Route | 330 miles | 5 hours 45 minutes |
| The Wichita Route | 490 miles | 7 hours 45 minutes |
If you're looking for a shorter drive that includes nature stops, we recommend the Lake Ozark Route, which traverses 330 miles and will take you about 5 hours and 45 minutes to drive, not including stops along the way or any detours you might want to take.
The Wichita Route, more city-forward, is slightly longer at 490 miles and with a drive time of 7 hours and 45 minutes. This route is a little more leisurely than the previous and while you could do both in a day, we recommend taking three to four days to get the most out of either route!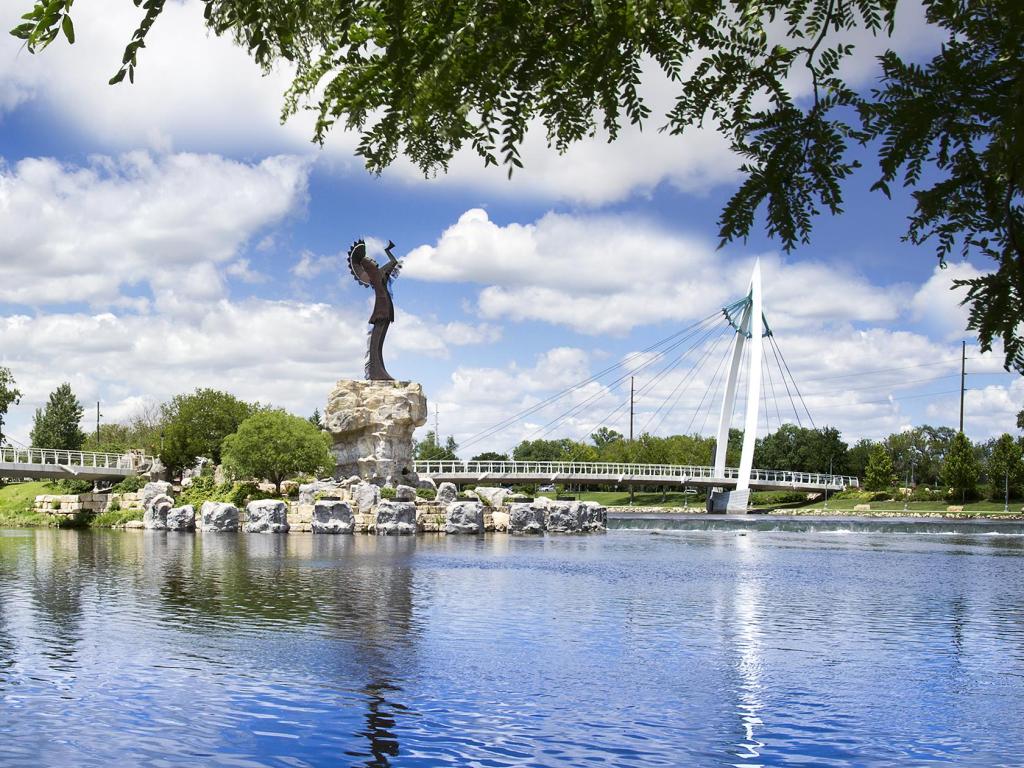 Best road trip route from Kansas City to Branson, Missouri
Both the Lake Ozark Route and the Wichita Route offer a distinct set of attractions that will make for a wonderful road trip either way. Which one is the best option for you will depend on what you'd like to see on the way.
The Lake Ozark Route is a perfect combination of city exploration and serene water-side locations. The highlight of this route is Lake Ozark, where you can experience a variety of world-class golf courses and enjoy the beautiful waters of the lake.
The trip also includes a stop in Springfield, a small city with a couple of unique attractions but mostly acting as a stopover on this route. Whether you're looking for scenic beauty or city excitement, this road trip has something for everyone.
The Wichita Route takes you through some of the most interesting cities in Kansas. Unlike the first route that explores mostly Missouri, this journey stays within the borders of Kansas. Start off by stopping in Topeka, where you can explore the city's rich history and attractions.
Known for its significant role in the civil rights movement, Topeka has plenty of historical landmarks and museums to discover. A highlight of this route is Wichita, famous for its aerial industry and offering a stunning cityscape as well as several beautiful museums.
With a perfect mix of history, industry, and entertainment, this road trip is perfect for those who want to explore the best of Kansas before getting to Branson.
The Lake Ozark Route
If you choose the Lake Ozark Route, you'll want to begin in Kansas City and head east on Interstate 70 (I-70) towards Columbia, Missouri, where you can explore the University of Missouri and enjoy the lively downtown area.
From Columbia, take MO-54 towards Lake Ozark and Osage Beach, where you can relax along the beautiful waters of Lake of the Ozarks. Enjoy boating, fishing, and swimming on the lake, as well as hiking and golfing in the surrounding area.
Next, head south towards Springfield, Missouri, where you can explore the city's historic Route 66 landmarks and attractions. Finally, drive to Branson, where you can enjoy tons of live entertainment shows while taking in the beauty of the stunning Ozark Mountain scenery.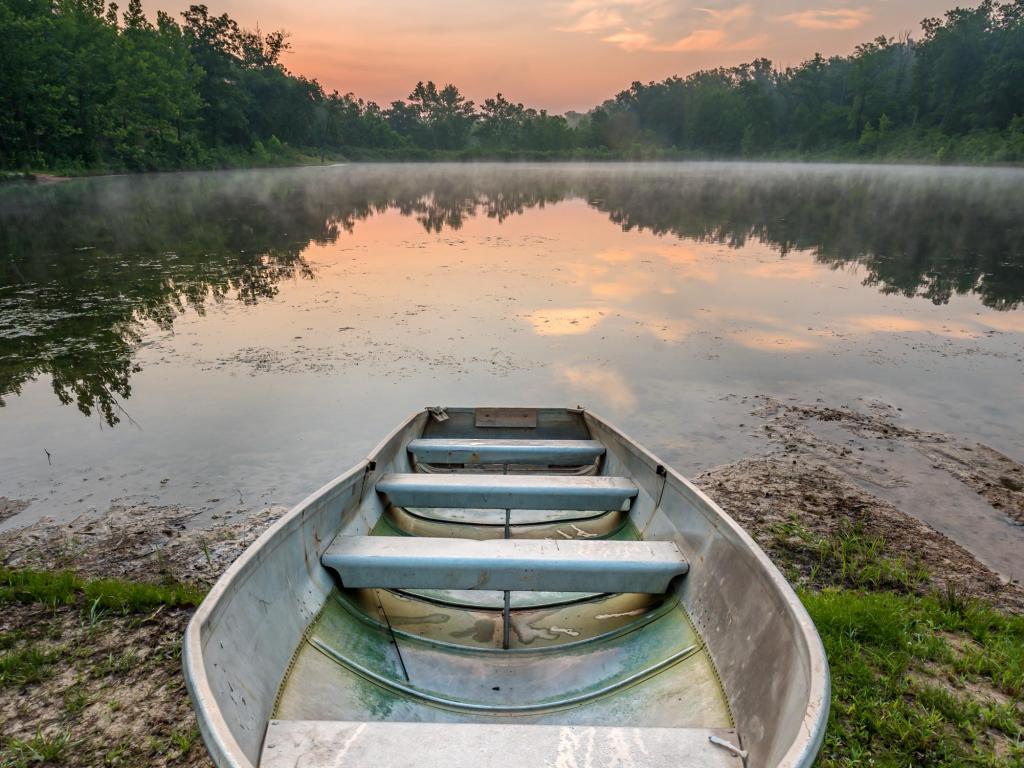 The Wichita Route
To start this road trip using the Wichita Route, head west on I-70 W from Kansas City towards Topeka, Kansas. After exploring Topeka, continue on I-335 S and merge onto I-35 S towards Wichita.
In Wichita, take the exit for US-54 W and head towards downtown, where you can explore the city's rich aviation history and vibrant entertainment scene.
From Wichita, take US-400 E and US-60 E towards Branson, Missouri. Enjoy the scenic drive through the Ozark Mountains as you make your way to Branson, where you can take in the stunning natural beauty and enjoy local attractions.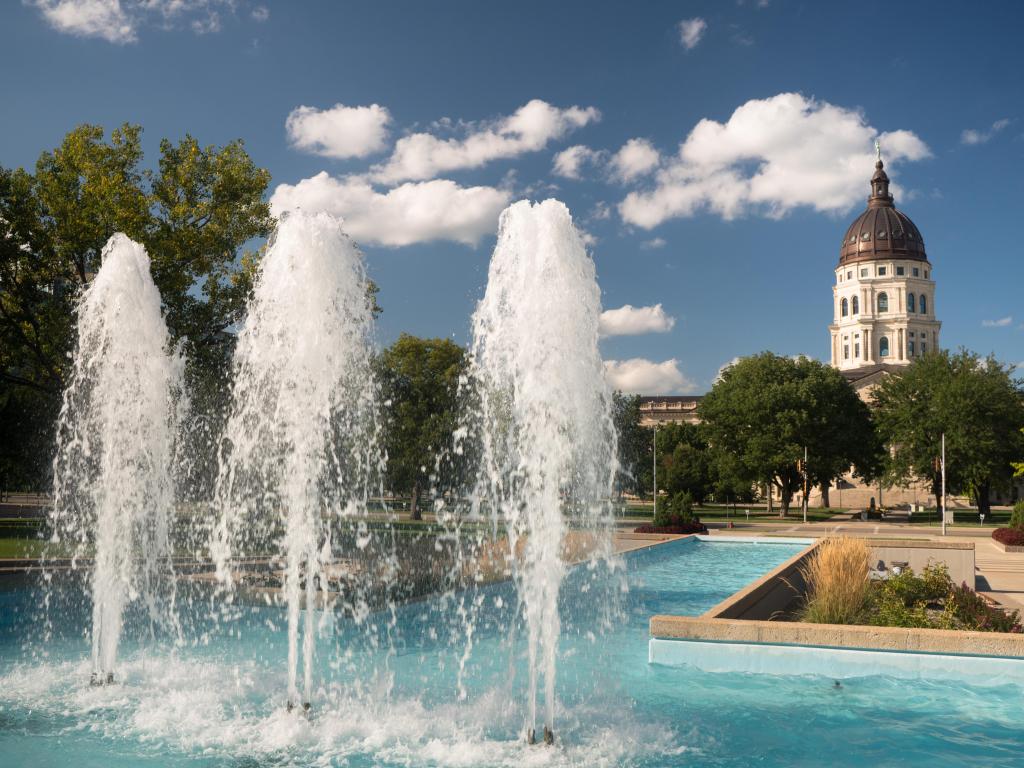 Best places to stop between Kansas City and Branson, Missouri
While there are tons of spots along either route, these two are our best bets for an overnight stay on this journey to Branson from Kansas City.
Admire the scenery in Lake Ozark
Nestled in the heart of Missouri, Lake Ozark is the perfect halfway point on your journey if you're taking the Lake Ozark Route. It's a popular tourist destination known for its scenic beauty, water activities, and lively nightlife.
Visitors can explore the lake's sparkling waters and enjoy activities like boating, fishing, and swimming. Additionally, the surrounding area offers hiking and golfing options for those who want to stay active on their vacation.
But Lake Ozark isn't just about outdoor activities. It also boasts a vibrant restaurant and shopping scene, offering plenty of entertainment options for visitors.
From upscale dining to casual lakefront eateries, there's something for every palate. And when the sun goes down, Lake Ozark comes alive with a lively nightlife scene that's perfect for those looking to let loose and have fun.
When it comes to specific attractions in Lake Ozark, there are several that you won't want to miss. First up is the Ha Ha Tonka State Park, which features stunning natural beauty and a variety of outdoor activities. Another must-visit attraction in Lake Ozark is the Bagnell Dam.
This historic dam was built in the 1930s and provides hydroelectric power to the region. Finally, for those who love music and entertainment, the Main Street Music Hall is a must-see destination. This theater offers live music performances featuring classic hits from the 50s, 60s, and 70s.
If you're looking for a luxurious and relaxing stay in Lake Ozark, then Camden on the Lake Resort is the perfect choice. This resort offers stunning lakefront views, upscale amenities, and a wide range of activities to keep you entertained during your stay.
Guests can enjoy the resort's private beach, multiple swimming pools, fitness center, and spa services. Additionally, the resort features several restaurants and bars, offering delicious cuisine and cocktails. Best of all, you'll be located near a variety of local attractions, including golf courses, state parks, and wineries.
Explore the Old Town district in Wichita
Halfway along the Wichita Route lies, well, Wichita, a wonderful and colorful city that's definitely worth spending a few days in. As the home to several major aircraft manufacturers and aviation-related businesses, Wichita has a rich aviation history and industry.
Additionally, Wichita's Old Town district is a must-visit, with its brick-lined streets, restaurants, shops, and vibrant nightlife. And don't forget to check out the Keeper of the Plains, a stunning 44-foot-tall steel sculpture of a Native American warrior located at the confluence of Arkansas and Little Arkansas Rivers.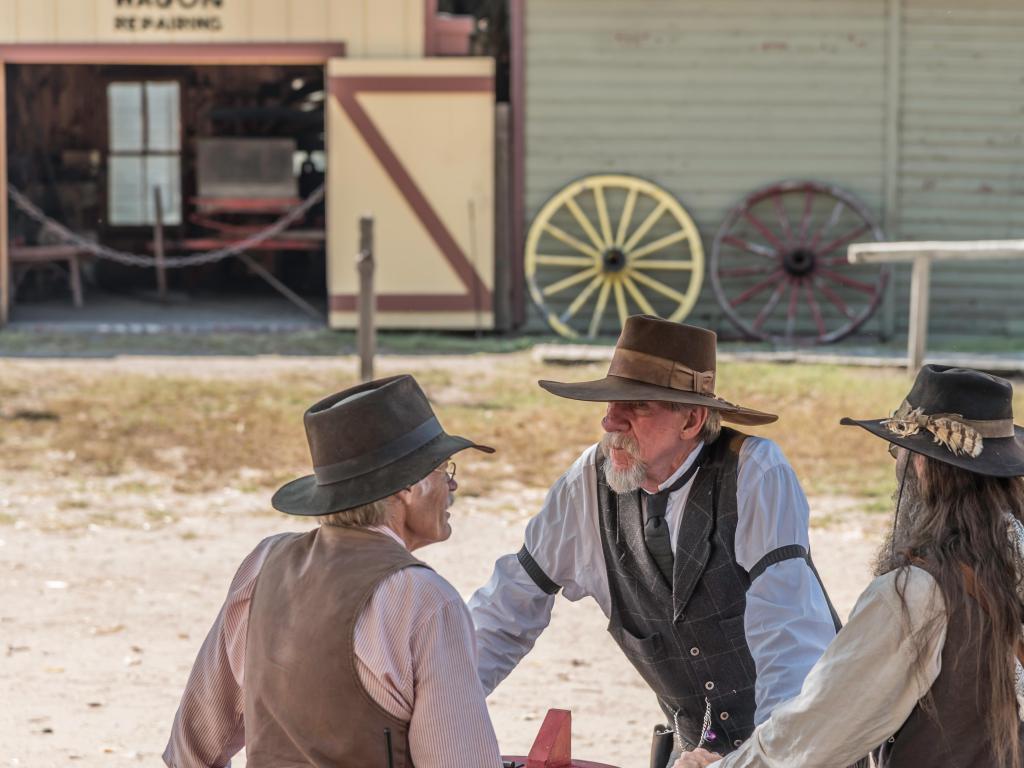 When it comes to specific attractions, we recommend checking out the Sedgwick County Zoo, a world-class zoo with over 3,000 animals and nearly 400 species.
You could also visit Exploration Place, a hands-on science and discovery center with exhibits on topics like space, flight, and Kansas geography where you can experience a virtual reality simulator or watch a live science show.
La Quinta by Wyndham in Wichita offers a comfortable and convenient stay and is one of our favorite hotels in the city. The hotel provides a range of amenities, including complimentary breakfast, a fitness center, and an outdoor pool.
Best of all, you'll find yourself close to all the essential attractions in Wichita and with easy access to the highway for a quiet exit in the morning.
Where to stay when you reach Branson, Missouri
Branson, Missouri is a hidden gem in the Ozark Mountains, and the Lodge of the Ozarks is the perfect place to stay while you explore this beautiful location.
With indoor and outdoor swimming pools, a hot tub, fitness center, and a complimentary hot breakfast buffet, you'll have everything you need to relax and recharge during your stay.
The Lodge of the Ozarks also offers meeting rooms and event space, making it a great location for corporate retreats or social gatherings. Plus, with free parking, you can easily explore all that Branson has to offer, from its famous live music shows to its beautiful hiking trails.
Whether you're planning a family vacation or a romantic getaway, the Lodge of the Ozarks is the perfect home base for your Branson adventure.
Things to see on a road trip from Kansas City to Branson, Missouri
There are many attractions along both routes from Kansas City to Branson that are worth stopping and checking out. Keep scrolling to read about some of our favorites!
The Lake Ozark Route
Powell Gardens – A 970-acre botanical garden with colorful flower displays, a butterfly garden, and walking trails.
Jesse James Wax Museum – Learn about the infamous outlaw's life and death through wax figures and artifacts.
Ha Ha Tonka State Park – Explore the ruins of a castle, natural bridge, and scenic overlooks in this picturesque park.
Uranus Fudge Factory and General Store – A quirky roadside stop with a fudge factory, gift shop, and unique attractions like the "Fudge Packer" t-shirts.
Route 66 Museum – Admire classic cars from the 1920s to the 1960s, including Corvettes, Mustangs, and more.
Fantastic Caverns – Take a tram tour through an underground cave system with unique formations and natural wonders.
Wilson's Creek National Battlefield – Explore the site of a significant Civil War battle with interpretive exhibits and walking trails.
Smallin Civil War Cave – A historic cave with Civil War-era graffiti, an underground river, and guided tours.
Top of the Rock – A nature preserve and attraction with stunning views of Table Rock Lake, a golf course, and a museum.
Talking Rocks Cavern – A cave system with crystal formations, underground lakes, and a gift shop. Guided tours are available.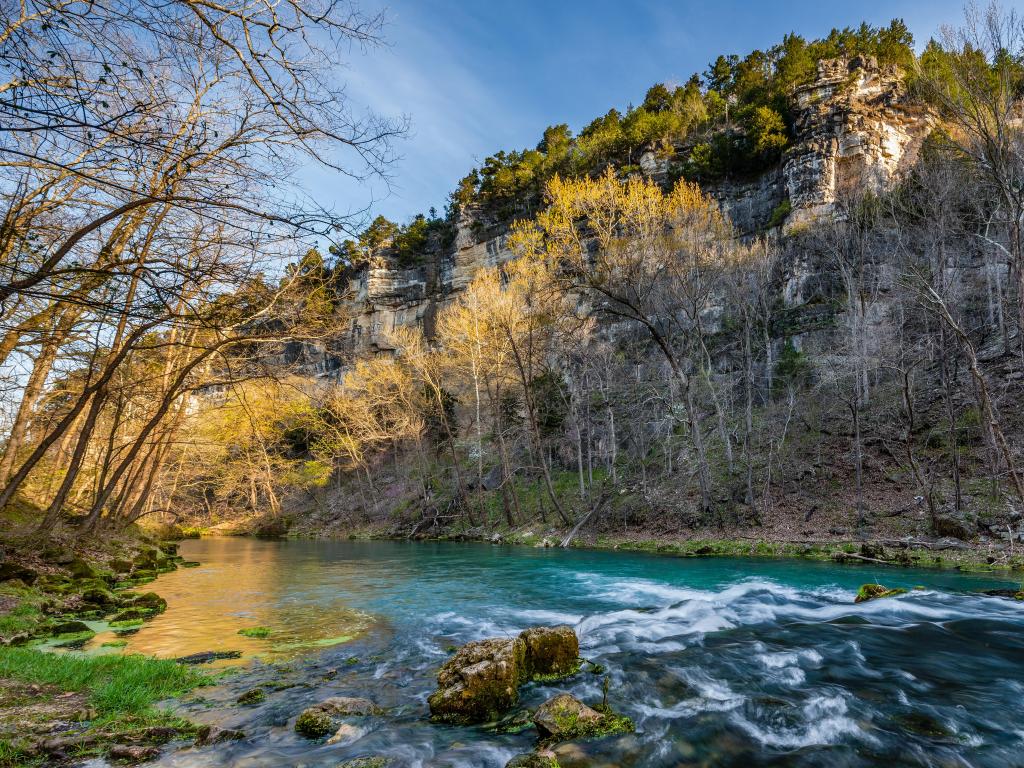 The Wichita Route
The Big Brutus – This 16-story-tall electric coal shovel is a wonder to behold, with tours and a museum.
Strataca – Descend 650 feet below the surface and explore the dark, labyrinthine depths of this active salt mine.
Prairie Museum of Art & History – Learn about the history and culture of the prairies through exhibits, tours, and hands-on activities.
World's Largest Czech Egg – This 20-foot-tall egg-shaped sculpture celebrates the Czech heritage of the region.
OZ Winery – Sample award-winning wines inspired by "The Wizard of Oz" and explore the whimsical tasting room and gift shop.
World's Largest Ball of Twine – See the ever-growing ball of twine and add your own contribution to this quirky roadside attraction.
Boot Hill Museum – Relive the wild west at this museum and living history town with gunfights, saloons, and cowboys.
World's Largest Hand Dug Well – Marvel at the engineering feat of this 109-feet-deep well that served as the town's primary water source.
Rock City – Walk through a maze of giant sandstone formations and enjoy the stunning panoramic views from the top.
Geographic Center of the Contiguous United States – Stand at the exact point where the 48 states meet and take a photo with the landmark monument.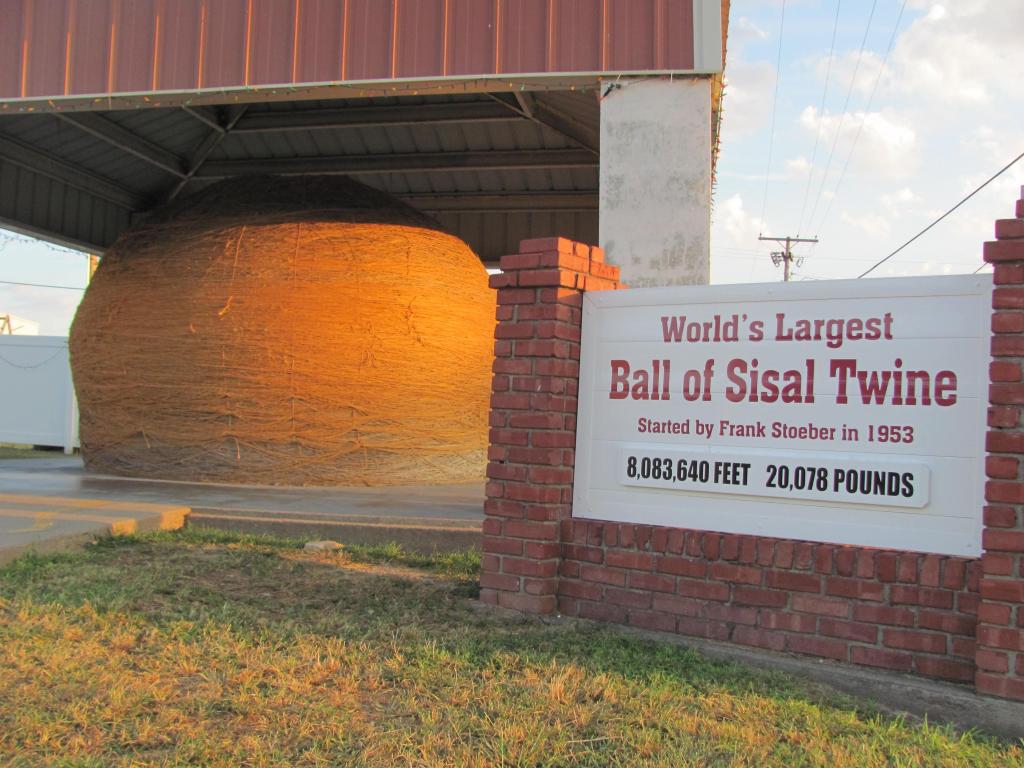 Best time to go on a road trip from Kansas City to Branson, Missouri
Branson, Missouri is a year-round destination with something to offer in every season. The best time to visit depends on your interests and preferences, but be sure that whenever you decide to visit, you'll find something exciting to do.
The city's peak season runs from May to September when the weather is warm, and the town is bustling with tourists. During these months, visitors can enjoy various outdoor activities, such as water sports, ziplining, and theme park rides.
Branson's lakes and water parks offer a refreshing respite from the summer heat, while its live entertainment shows and attractions provide indoor entertainment options. The temperature during this season ranges from 60 to 90 degrees Fahrenheit, making it a perfect time for visitors to enjoy the town's many offerings.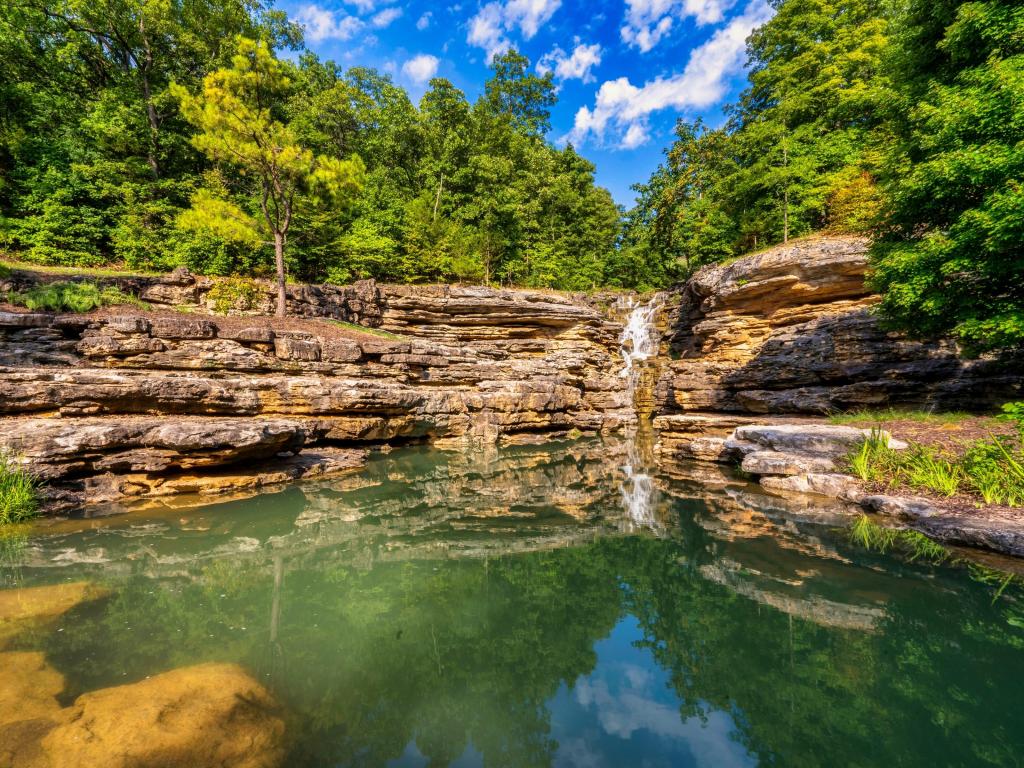 Branson is a popular holiday destination during the winter months of December to February. The town is known for its festive holiday lights, Christmas shows, and winter sports.
You can enjoy skiing, snowboarding, and tubing at nearby ski resorts or take a scenic drive through the Ozark Mountains. The temperature during this season ranges from the low-20s to 50 degrees Fahrenheit, which may be chilly for some visitors but also creates a picturesque snowy landscape.
The temperature during both the fall and spring seasons ranges from 40 to 70 degrees Fahrenheit, creating ideal weather for outdoor activities. During the fall months, the town sees fewer crowds and milder temperatures, creating a more comfortable environment for outdoor activities such as hiking, biking, and fishing
You'll find that Branson hosts several festivals and events throughout the year, including the Ozark Mountain Shindig Festival, Branson Music Fest, and the Silver Dollar City's Harvest Festival. These events provide visitors with unique opportunities to engage with the town's history and community.
Branson's holiday events, including the Ozark Mountain Christmas Festival and the Veterans Homecoming Week, are especially popular and draw large crowds.