Best Time To Visit San Francisco
San Francisco is known for its unique climate and the fact that the weather remains good throughout the year. The locals boast that you can wear shorts and a t-shirt all year round, although that is a definite stretch in the middle of the winter.
The best time to visit San Francisco is in September and October. The peak tourist season ends in August which means less crowds, the weather is at its best in early fall and there are great events and festivals on throughout September and October.
To help you choose when to go to San Francisco for the weather (and to avoid the fog), things to do or to catch a festival, read our guide below.
When should you go to San Francisco?
When to visit San Francisco - Summary
Best Time for Good Weather: September to October has the best weather of the year in San Francisco. These are the two warmest months, there's no rain and the summer fog has long cleared.
Best Time for Sightseeing: All the main attractions and things to do in San Francisco are open year round, so visiting in March to April and September to October is best to avoid the crowds and the summer fog. Winters are great with few other tourists around and the weather being mild, but you might catch some rain and a lot of the best sightseeing in San Francisco is outdoors.
Best Time for Saving Money: January and February are the cheapest months to visit San Francisco. The winter season is generally the least popular with tourists which brings hotel and flight prices down and while November and December bring holidays and the festive season, January and February are generally quiet.
Best Time for the Beaches: Despite its balmy weather and seaside location, the beaches in San Francisco are not the best for swimming - the water is bitterly cold and there are very strong currents going right up to the shoreline. Aquatic Park or Crissy Field are the best beaches if you do want to swim and the water is warmest in September and October at the end of the summer.
Best time to visit San Francisco
Best Time for Shopping: San Francisco shopping is great all year round with large malls, shopping streets and markets open in all seasons. Sales start after Christmas and run through January if you want to pick up some bargains and the shops tend to be more quiet than over the busy retail season around Thanksgiving and in December.
Best Time for Museums and Activities: Museum and key sights' opening times and prices are the same throughout the year without any seasonality - it's best to avoid the summer months as the high tourist season can mean queues to get in and having more people wherever you turn to.
Best Time for Restaurants: January to May and September to early November are best for eating out in restaurants in San Francisco. The summer months are very busy with tourists which can make your evening out crowded and it can be hard to find a table. Thanksgiving and the Christmas season attract a lot of family gatherings, office parties and other events which can be frustratingly loud when you're wanting to enjoy your meal.
Best Time for Concerts and Music: The San Francisco music scene comes alive in the summer with concerts and festivals from June to August. October and November are also great for more niche music festivals and local events ranging from Hip Hop to Bluegrass.
Best Time for Families and Kids: September to October if you can avoid the need to come during the summer school break. The weather is perfect and not too hot and there are less tourists making for a perfect family break.
Best time to Avoid Crowds: The least busy season in San Francisco is in January and February with few tourists in the city. If you want to avoid the coldest and wettest part of the year, consider coming in the first half of November when the crowds are gone, but the weather often holds up.
San Francisco travel seasons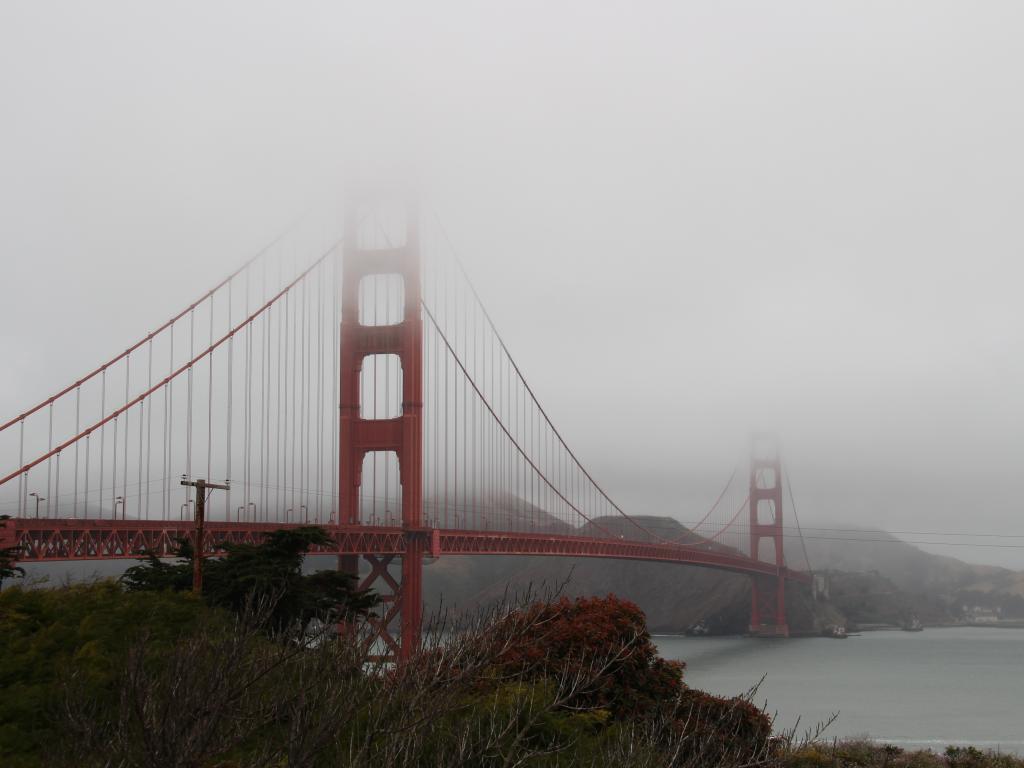 High Season for Tourists (June to August)
The peak travel season in San Francisco lasts through the summer months from the beginning of June right through to the Labor Day Weekend at the beginning of September.
Tourists from across U.S.A. and abroad fly in during the summer holidays and flights, hotels and other travel costs are at their highest.
Popular tourist attractions are busier between June and August even though the weather is not at its best during the early part of the High Season.
Shoulder Seasons (March to May and September to October)
Spring and fall tend to have less visitors than the summer months. Families with children can't visit San Francisco due to the school semesters and fewer people choose to visit outside the summer despite the weather and high prices.
September and October are surprisingly quiet despite the best weather of the year in San Francisco coming in the fall. A number of business events and conferences bring some visitors to town which means hotel prices are not as cheap as during the winter.
Low Season (November to February)
As the weather turns cooler, the low season for tourism in San Francisco starts from November and runs through to the end of February or early March.
Even though San Francisco winters are only cold by West Coast standards, demand for hotels drops considerably during the winter. With the rain setting in and the wind chill, it can feel considerably colder than the 52 °F (11 °C) that the average mean temperatures would suggest.
Best time to visit San Francisco for scenic views of the city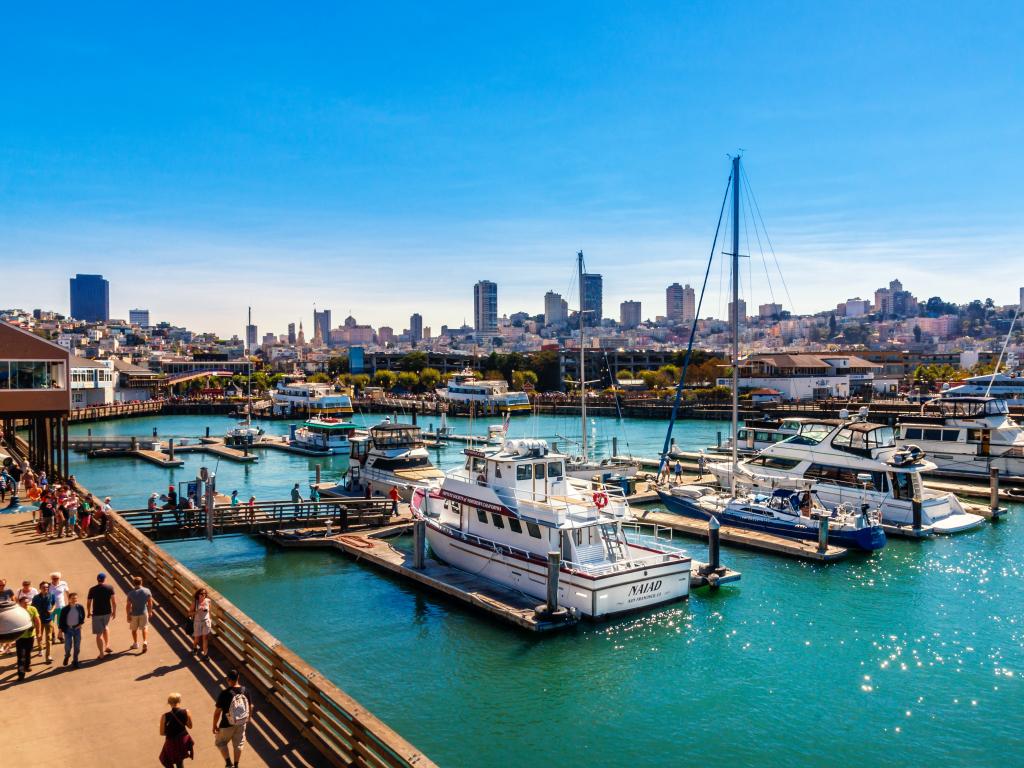 San Francisco has some of the most stunning city views you'll find anywhere - the Golden Gate and Bay bridges, Alcatraz and Treasure Islands and the steep hills make for amazing views everywhere you look.
If you want to snap some great photos and capture the sights, it's best to come to San Francisco in April or from September to October. These months are clear of the summer fog and don't carry the risk of winter rain which gives you the best opportunity to see the city in the best possible light.
Weather in San Francisco across the year
Weather in San Francisco is relatively consistent throughout the year without big temperature swings between summer and winter seasons. The main factors that affect the weather are the winter rains and the summer fog.
Average rainfall in San Francisco can be deceiving as the different years have very different patterns depending on the El Niño cycle with some years having a very wet winter and others having almost no rainfall at all. Even during the wet years, the rain tends to come in large quantities on a few days, rather than persistently falling through from December to February.
Summer fog is a big factor in San Francisco, as it is for much of the U.S. Pacific coast. Typically occurring in June, but often spreading into May and July, the fog can sit heavily in the Bay Area and can make the warmer temperatures fell a lot cooler. The higher humidity and damp effect of the fog makes early summer a bad time to visit San Francisco.
Average monthly temperature and rainfall for San Francisco
Average temperature highs and precipitation
Data sourced from U.S. NOAA Climate Data
Month
Temperature
Rainfall
January
56.9 °F / 13.8 °C

---

4.50 in / 114 mm

---

February
60.2 °F / 15.7 °C

---

4.46 in / 113 mm

---

March
61.8 °F / 16.6 °C

---

3.26 in / 83 mm

---

April
63.1 °F / 17.3 °C

---

1.46 in / 37 mm

---

May
64.3 °F / 17.9 °C

---

0.70 in / 18 mm

---

June
66.4 °F / 19.1 °C

---

0.16 in / 4 mm

---

July
66.5 °F / 19.2 °C

---

0 in / 0 mm

---

August
68.1 °F / 20.1 °C

---

0.06 in / 2 mm

---

September
70.2 °F / 21.2 °C

---

0.21 in / 5 mm

---

October
69.2 °F / 20.7 °C

---

1.12 in / 28 mm

---

November
63.1 °F / 17.3 °C

---

3.16 in / 80 mm

---

December
57.1 °F / 13.9 °C

---

4.56 in / 116 mm

---
San Francisco weather by month
San Francisco weather in January: January is a relatively cool and wet month by San Francisco's standards. Night-time temperatures are the coldest of the year with lows averaging 45.7 °F (7.6 °C). Rainfall is high as it is throughout the winter season and can come down heavily on a few days during January. Average temperature: 51.3 °F / 10.7 °C. Average precipitation: 4.50 in / 114 mm.
San Francisco weather in February: February is the last of the wet winter months and rainfall tends to become less common towards the end of the month. Temperatures are noticeably warmer than the lows of December and January with daily highs over 3 °F higher at 60.2 °F (15.7 °C). Average temperature: 53.9 °F / 12.2 °C. Average precipitation: 4.46 in / 113 mm.
San Francisco weather in March: March is a shoulder month in terms of weather - the rain drops considerably from the beginning to the end of the month and the temperatures continue climbing although March has the largest variability of any month with temperature swings common day to day. Average temperature: 55.1 °F / 12.8 °C. Average precipitation: 3.26 in / 83 mm.
San Francisco weather in April: April begins feeling a lot more pleasant with only 4 days on average receiving any significant rainfall. Nights become warmer with daily lows at 49.2 °F (9.6 °C) on average and towards the end of the month, days with temperatures in the 80s can happen. Average temperature: 56.2 °F / 13.4 °C. Average precipitation: 1.46 in / 37 mm.
San Francisco weather in May: May is a mixed month with the weather becoming changeable. Average temperatures continue improving with daily highs of 64.3 °F (17.9 °C) but the summer fog arrives towards the end of the month making it feel cooler and wetter. Average temperature: 57.6 °F / 14.2 °C. Average precipitation: 0.70 in / 18 mm.
San Francisco weather in June: June Gloom arrives in earnest with heavy fog covering the city for much of the month. Despite the fog, there is virtually no rain in June but the humidity and fog can make it feel more damp than the wet winter months. Average temperature: 59.6 °F / 15.3 °C. Average precipitation: 0.16 in / 4 mm.
San Francisco weather in July: July is the driest month of the year with rain only happening once every few years. Most years, there is an overhang of the fog from June causing early July to be less pleasant, but the weather gets better towards the end of the month with daily highs going above 67 °F (19.4 °C). Average temperature: 60.3 °F / 15.7 °C. Average precipitation: 0 in / 0 mm.
San Francisco weather in August: August is the start of the best weather season in San Francisco lasting well into October. The skies clear up (although there are years when the fog sticks around longer) and the temperature hits its peak. Daily highs reach 68.1 °F (20.1 °C) with some days at the end of August climbing into the 80s (above 27 °C). Average temperature: 61.6 °F / 16.4 °C. Average precipitation: 0.06 in / 2 mm.
San Francisco weather in September: September has the best weather of the year in San Francisco. The fog and clouds are gone, temperatures reach their maximum with daily highs of 70.2 °F (21.2 °C) and you might get a day or two over 90 °F (32 °C). Average temperature: 62.7 °F / 17.1 °C. Average precipitation: 0.21 in / 5 mm.
San Francisco weather in October: October weather is almost identical to September. The warm ocean currents extend the summer later than other parts of the United States and warm temperatures persist for the whole month. A few rainy days are likely towards the end of October as the winter looms. Average temperature: 61.5 °F / 16.4 °C. Average precipitation: 1.12 in / 28 mm.
San Francisco weather in November: Winter arrives during November with daily highs dipping significantly to below 60 °F (15.6 °C). Rain arrives towards the end of the month although in some years, you won't see a drop until December. Average temperature: 56.6 °F / 13.7 °C. Average precipitation: 3.16 in / 80 mm.
San Francisco weather in December: The winter season kicks in as December arrives. It is the wettest month of the year and only marginally warmer than January with daily lows going down to 46.1 °F (7.8 °C) making the evenings a lot cooler and daily highs dipping below 50 °F (10 °C) on some days. Average temperature: 51.6 °F / 10.9 °C. Average precipitation: 4.56 in / 116 mm.
San Francisco events and things to do by month
January in San Francisco
February in San Francisco
March in San Francisco
St Patrick's Day Parade - Despite being on the other side of the world to Dublin, San Francisco hosts one of the largest St Patrick's Day Parades in the world with plenty to see and do for the whole family.
San Francisco International Chocolate Salon - A growing event with over 50 chocolate artisans, producers and culinary experts gathering to showcase the best of chocolate for a day - entry ticket includes all the tasting you can muster!
April in San Francisco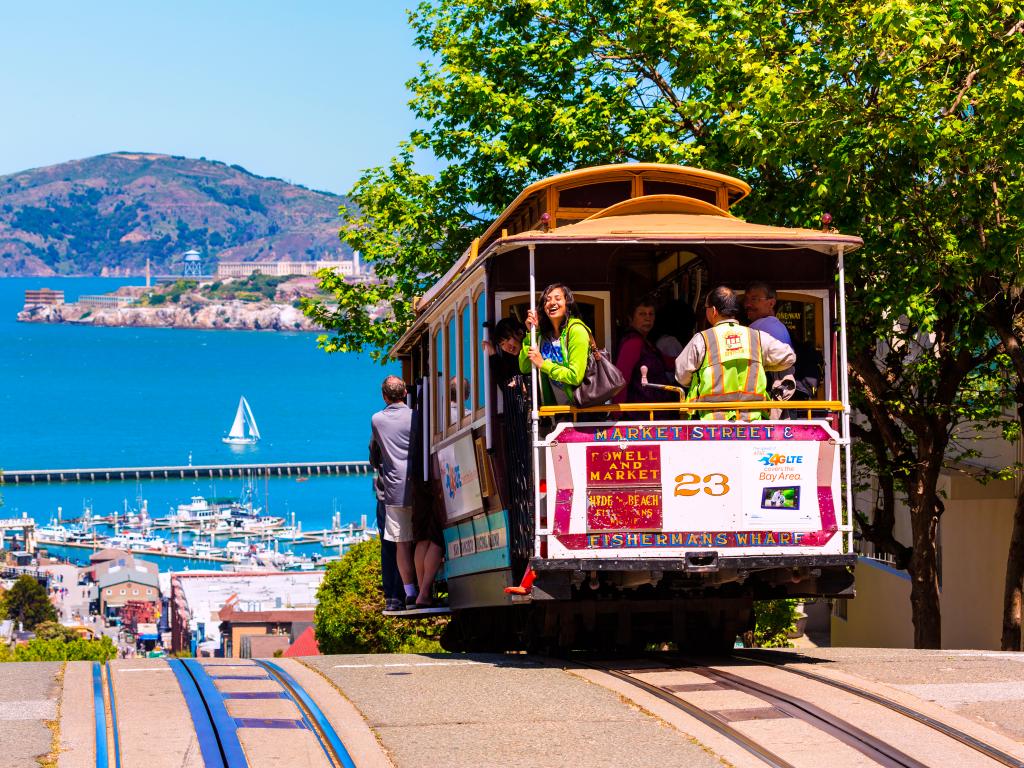 Northern California Cherry Blossom Festival - Taking place in Japantown over two weekends in mid-April, the festival has celebrated Asian traditions and Japanese culture for over 50 years.
San Francisco Film Festival - The longest running film festival in the Americas offers 2 weeks of events and movie screenings with some 200 movies of every genre represented from across the world.
San Francisco Salsa Festival - A weekend of dance competitions, stunning performances, opportunity to learn some salsa dance moves and party into the early hours.
May in San Francisco
June in San Francisco
San Francisco Jazz Festival - While SF Jazz runs amazing concerts throughout the year, the annual Jazz Festival in June attracts some of the world's best artists for the 2-week event.
Haight-Ashbury Street Fair - The event has run for over 40 years on the second Sunday of June along Haight Street celebrating counter culture with the slogan of Peace, Love & Happiness.
San Francisco Pride - The lesbian, gay, bisexual and transgender parade and celebration happens on a Sunday at the end of June with music performances across different stages and the parade that runs along Market Street from the Beale Street intersection to the Civic Center.
July in San Francisco
Fourth of July Events - A large program of events culminating in the spectacular fireworks display which you may or may not actually see with the summer fog descended on the city.
Fillmore Jazz Festival - The largest free jazz festival on the West Coast, the Fillmore happens during the first weekend in July on Fillmore Street come rain or shine.
San Francisco Marathon - Around 26,000 runners take part in a marathon with one of the best backdrops in the world. Some runners only do 5k or a half marathon, while the Ultramarathon runners run the route in reverse before joining the marathon start in the morning!
August in San Francisco
Outside Lands Music and Art Festival - The largest independent music festival in the United States takes place annually in the Golden Gate Park. It is known for its liberal and bohemian vibes from hosting wine tasting and an art fair to the legal sale of cannabis.
Nihonmachi Street Fair - A celebration of the culture, food and music of Asian and Pacific communities in San Francisco that takes place in Japantown.
September in San Francisco
Sausalito Art Festival - A festival for those who like the finer things in life with art, wine and music blending in Sausalito, right across the Golden Gate Bridge from San Francisco.
San Francisco Fringe Festival - A grassroots theater festival hosting indie performances by local groups pushing towards 100 shows over 10 days.
Folsom Street Fair - The incredibly niche and unbelievably popular fair is all about leather and fetish with 200 exhibitors and 250,000 visitors. If the live demos and good on sale are not enough, you can check out the Sick and Twisted performance stage.
Castro Valley Fall Festival -
Oktoberfest by the Bay - A whole weekend of Bavarian celebration with German food and drink and traditional Bavarian music and dancing - get your pretzel and a giant stein of fine beer!
October in San Francisco
Hardly Strictly Bluegrass Festival - Over 100 musicians on 7 different stages in Golden Gate Park over the first weekend in October and best of all - it's completely free.
Castro Street Fair - A popular street fair centered at the Castro Street and Market Street intersection with live music performances and great street food.
San Francisco Fleet Week - A series of events along the length of the Bay in San Francisco with a U.S. Navy Blue Angels Air Show, a ship parade that includes U.S. Navy and U.S. Coastguard ships led by a Fire Department fire boat and ship tours.
November in San Francisco
December in San Francisco
Great Dickens Christmas Fair - Runs from late November through most of December, the fair transports you into Victorian London with Christmas shops, special performances and traditional pubs.
Parol Lantern Festival - A parade and celebration of Filipino culture, music and food in the SOMA Pilipinas district that lasts deep into the night.