30 Best Road Trips From San Diego
San Diego might be known as America's Finest City, but that doesn't mean you shouldn't explore what the rest of Southern California and beyond has to offer.
Most of the best road trips from San Diego will take you up and down through California, but if you have more time, Las Vegas, Arizona and even New Mexico are not too far away.
Our list has got some of America's finest National Parks, amazing city breaks and islands off the Californian coast covered as well as the finest driving roads in the state.
From a 40 minute drive up the coast to Carlsbad to long road trips to Northern California and New Mexico, there's something for everybody depending on how much time you have and how far you want to go.
We've put together our list of the 30 best road trips from San Diego in order of time it takes to get there.
1. Carlsbad
50 minutes from San Diego (35 miles)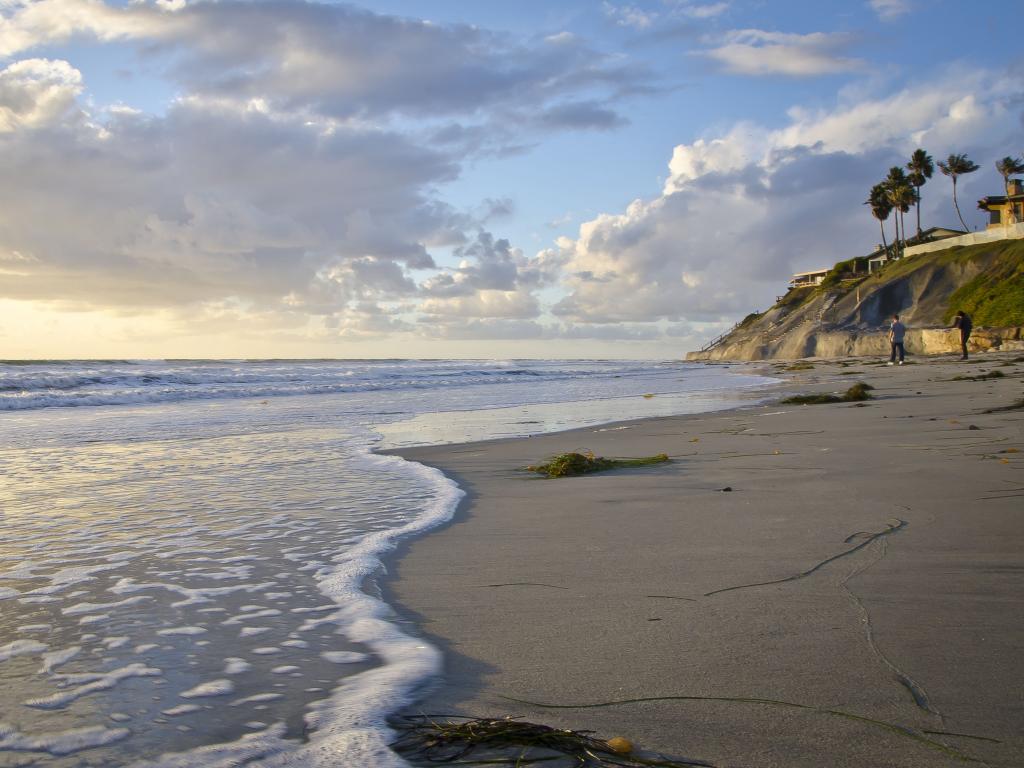 Carlsbad is under an hour away from San Diego and is the shortest of our road trips, placing it at number one in the list. If you want a day road trip, this is a great option as there's a surprising number of things to do in this small town.
The most well known attraction is Legoland California which was the first to open outside Europe in 1999. If Lego is your thing, or even if it isn't, this is a great place to spend a few hours.
There are fun rides, miniature versions of famous cities and landmarks from around the world and even a Sea Life Aquarium which is not made of lego but still lego themed!
The beaches in Carlsbad are popular and not too crowded - the South Carlsbad State Beach is great and you can pick your favourite beach type with parts of the beach covered in shingle although the majority is sand.
Don't miss the actual town itself. There's some great local stores and a quaint feel about the place - great for a coffee stop and a short stroll.
2. Juan Capistrano and San Clemente
1 hour 10 minutes from San Diego (67 miles)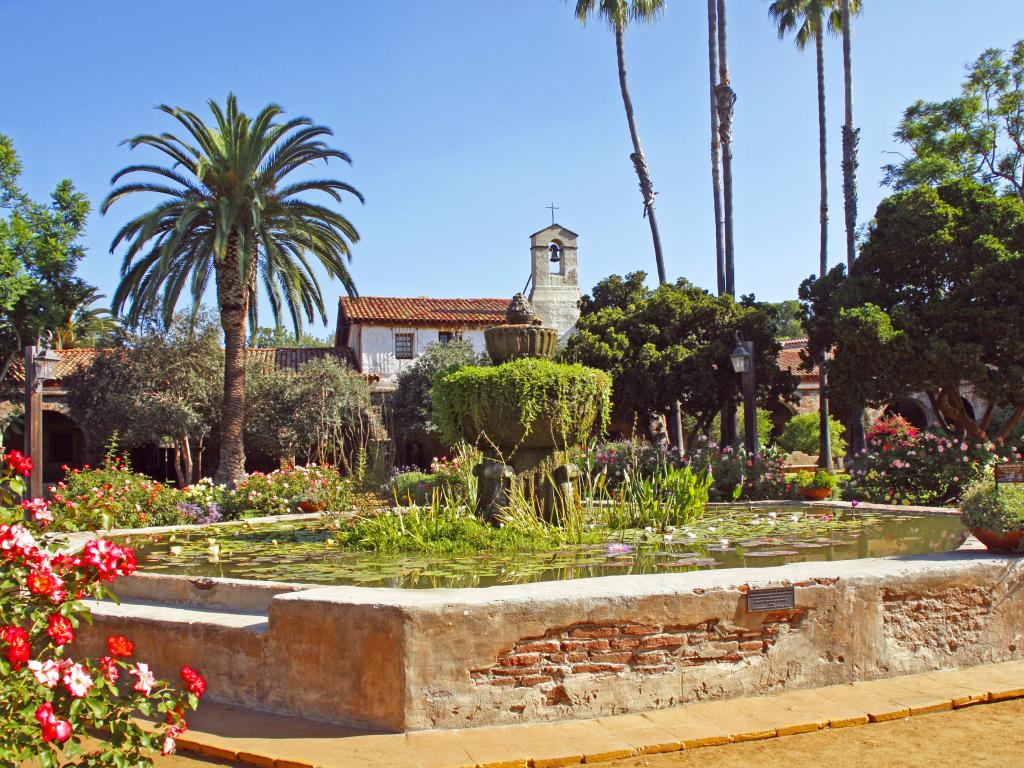 Just before you get to Laguna Beach is the seaside town of San Clemente. A little further along is the Mission of San Juan Capistrano and the small settlement around it. You're best off heading to San Juan Capistrano first and spending the morning and lunchtime there and then heading back to San Clemente later on.
The Mission of San Juan Capistrano dates back to 1776 and a number of the buildings that form part of the Mission were established in the 18th century. There is a chapel, museum and the Mission Basilica in the complex that are all open to visitors.
The Los Rios Historic District around the Mission is one of the oldest in California and a few of the buildings here date back to the 1700s as well - it's well worth your time to take a stroll and relax.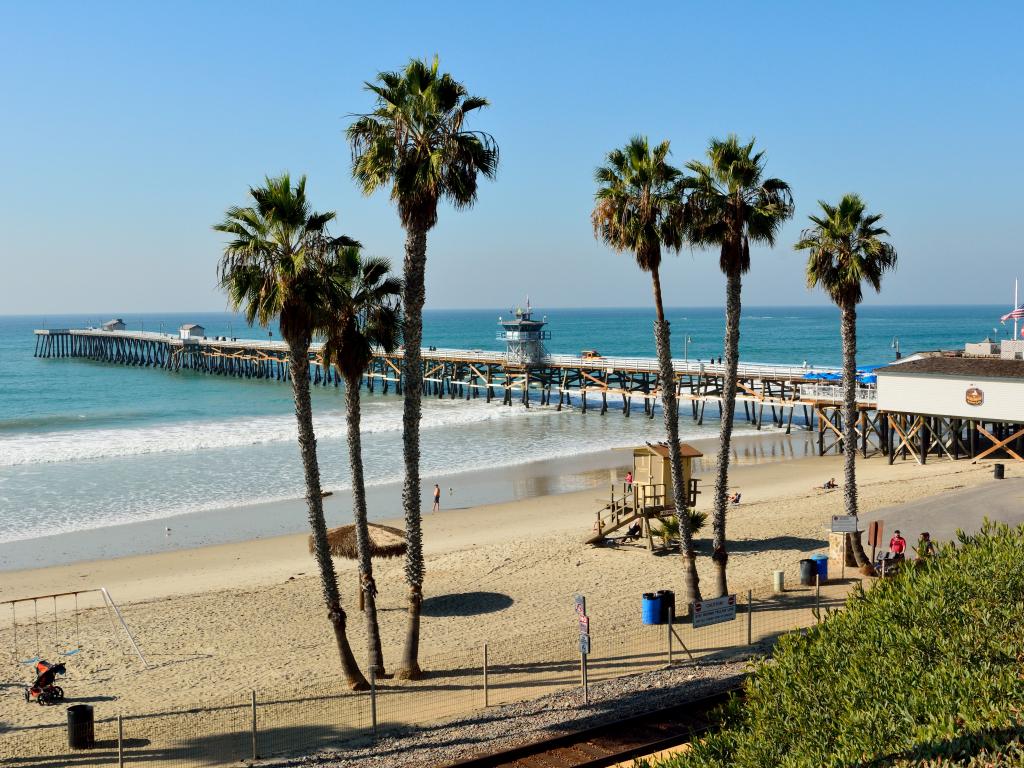 San Clemente has a relaxed vibe and is all about its beach setting. The San Clemente Pier is the main sight and makes for great photos at sunset. After taking your snaps, you can sit down at The Fisherman's Restaurant right at the start of the pier to enjoy fresh seafood with a view.
If you have time in the afternoon Casa Romantica sitting further up is a culture and history museum and has great gardens surrounding it that you can walk around.
3. Laguna Beach
1 hour 20 minutes from San Diego (73 miles)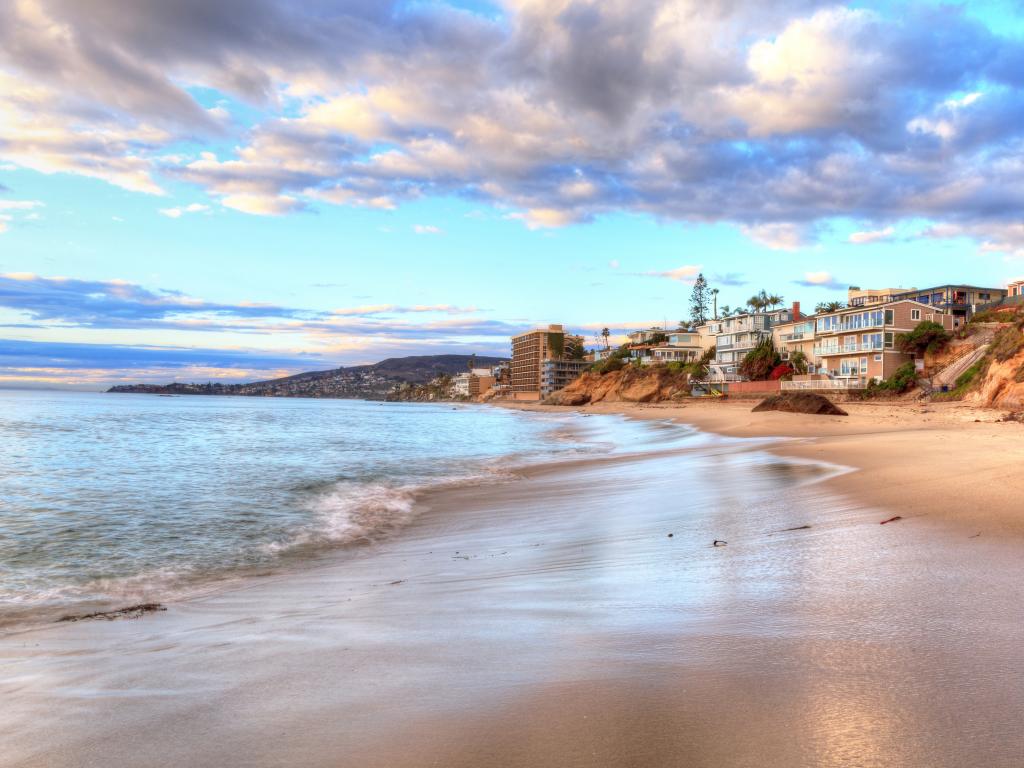 Laguna Beach lies along the coast just south of Los Angeles and has some of the best beaches in Southern California.
Ranging from small intimate coves, to long and wide stretches of sand, everybody can find a perfect spot somewhere along the coastline.
There's Victoria Beach with its castle tower-like structure that sits on the rocks. It's actually a staircase that leads from a private residence above down to the water, but the bottom part of the tower and the door are fully submerged during high tide which renders it useless half the time.
Some of the coves have small tide pools where you can see all kinds of sea life as well as sea lions and seals relaxing in the sunshine. Take care not to disturb the tide pools as these are home to fragile ecosystems with crabs, snails, stars and sea cucumbers among the residents.
If you like art, you're in luck. Laguna Beach is home to a number of art galleries and hosts some of the best known art events in the country. The Laguna Festival of Arts and Sawdust Art Festival happen every year and the Pageant of the Masters is a unique event where famous paintings are recreated in real life by meticulous designers and actors.
4. Disneyland Park
1 hour 40 minutes from San Diego (95 miles)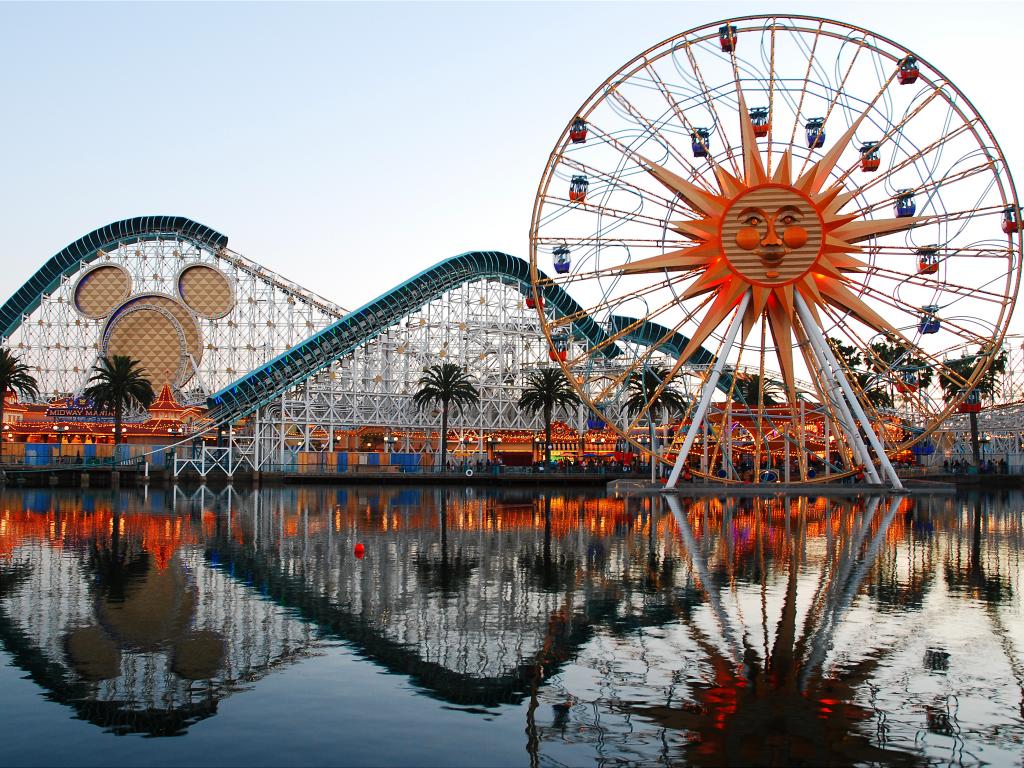 If you have kids, this might be top of your list, if you haven't already been here a dozen times. If you don't have kids, this might still be top of your list - who doesn't want to visit Disneyland?
Disneyland Park in Anaheim is the original Disneyland that came long before the Florida, Paris and the other locations around the world. True - it might be older and its castle may not be as grand as some of the newer parks, but this is the one that Walt Disney himself created so you simply have to go!
Getting up early is a good idea to beat the traffic as you approach L.A. and it also saves time getting into the park. There are some great breakfast spots there so get here early and pile on the pancakes.
Since opening, around 750 million visitors have come to Disneyland and it is still the second most visited theme park in the world, only just losing out to the Magic Kingdom park in Florida which is itself modeled on Disneyland.
Entry costs over $100 so make the most of the day and the ride queues are shorter early in the day. Whether you're a thrillseeker or want to relax, there's rides and attractions for everyone from the loud and looping Incredicoaster to the calm Mark Twain Riverboat.
5. Valle de Guadalupe, Mexico
1 hour 50 minutes from San Diego (84 miles)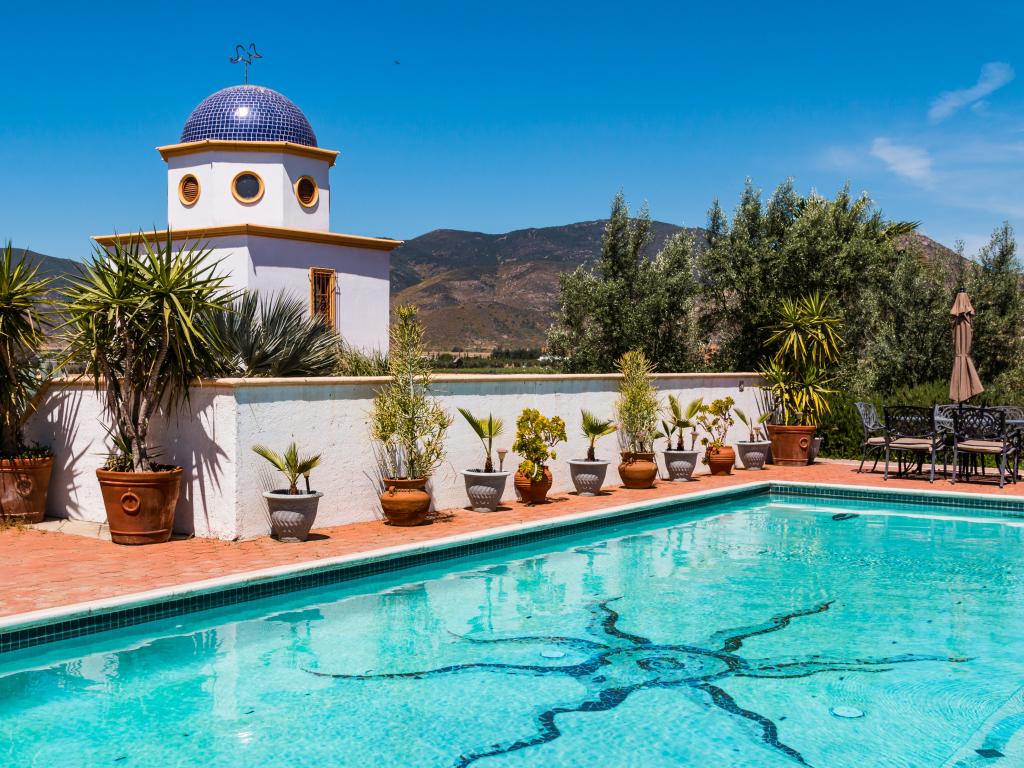 With San Diego sitting right on the border with Mexico, we had to include a road trip that headed south and the drive down toe Valle de Guadalupe is it. Sure, Tijuana can be a fun night out and Rosarito Beach is also nice, but they are so close to San Diego, it didn't seem right to call a 20 minute drive a road trip!
For those who might not know, Valle de Guadalupe is an area in Baja California that is famous for its wine making. The climate here is mild and similar to San Diego and the soils are surprisingly good for vineyards.
If you're scoffing at the thought of Mexican wine being a thing, don't make the mistake of dismissing before you try. You might just blow your mind!
To get here, skip the busy Tijuana crossing and drive east to Tecate instead. From here, Federal Highway 3 will take you all the way to the wineries.
If you want to add a bit more fun to your trip, keep going along the highway until you reach Ensenada on the Pacific coast. This is a typical holiday resort town full of restaurants, bars, shops and tourists. It can be a lot of fun and a refreshing change from the peace and quiet of the wineries.
6. Palm Springs
2 hours 10 minutes from San Diego (133 miles)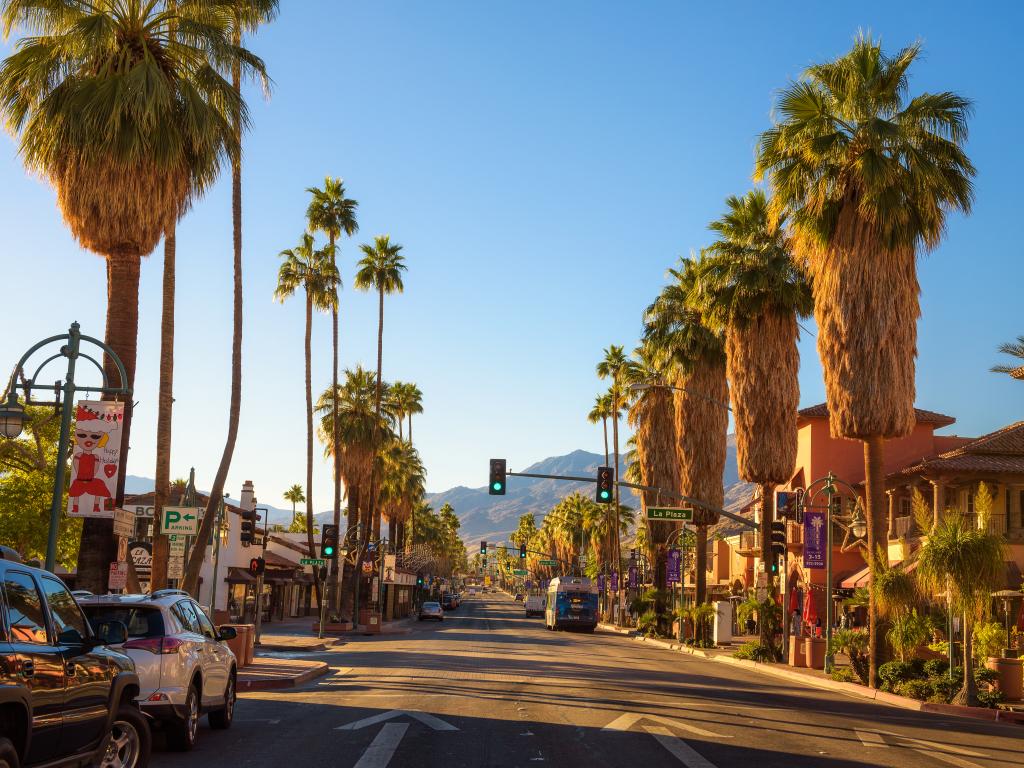 Getting to Palm Springs is relatively straightforward and surprisingly quick. The fastest route through Moreno Valley takes a little over 2 hours, but our advice would be to ignore your navigator and turn off onto California 79 in Temecula and following Route 74 all the way to Palm Springs - the road is quiet and the views are much better than you'll get on the interstate!
Although weather in San Diego is near perfect all year round, Palm Springs has a bit of a reputation for having bright and sunny days virtually every single day of the year. Summers do get hot with July and August daily highs averaging around 108 °F (42 °C) so bring plenty of sunscreen and carry bottled water.
The best thing to do in Palm Springs is nothing. That's right. Everything here screams relaxation - the luxurious hotels are perfect for sleeping in and lounging around the pool and downtown Palm Springs is great for an evening stroll.
If you feel a little more adventurous or get bored of the book you brought to read, go up the Palm Springs Aerial Tramway. The journey up takes 10 minutes and the tram rotates as it goes up making sure you get all the best views without having to turn your head.
At the top you'll find a couple of decent restaurants and over 50 miles of hiking trails through unspoiled wilderness. One of the trails lets you scale the peak of Mount San Jacinto at 10,834 ft (3,302 m) - remember the temperature will be a lot cooler up here so bring another layer to put on.
7. Salton Sea
2 hours 30 minutes from San Diego (118 miles)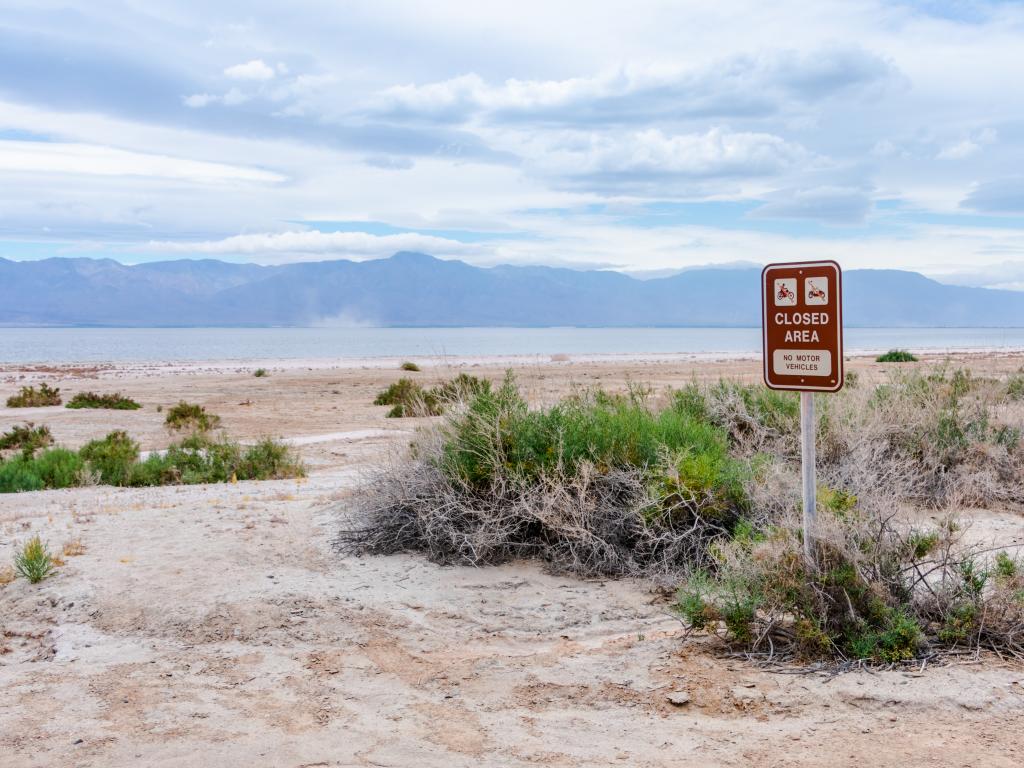 Salton Sea is one of the most bizarre places you can visit in California and maybe the whole of the United States which is exactly why it's worth a weekend of your time.
This huge body of water that is about the size of San Francisco Bay was created by accident in 1905 which is a good enough reason to visit it already.
Engineers were working on diverting water from Colorado River for an irrigation project before technical issues meant the water overflowed the banks and began spilling into the Salton Basin. By the time the engineers fixed the issue 2 years later, a new sea was born.
The area was a popular vacation resort in the 1950s but declined over the decades, leaving behind hints about the tourist destination it once was. Today it's fascinating to see the aged signs and abandoned buildings. The whole area has a feel of a place that time left behind.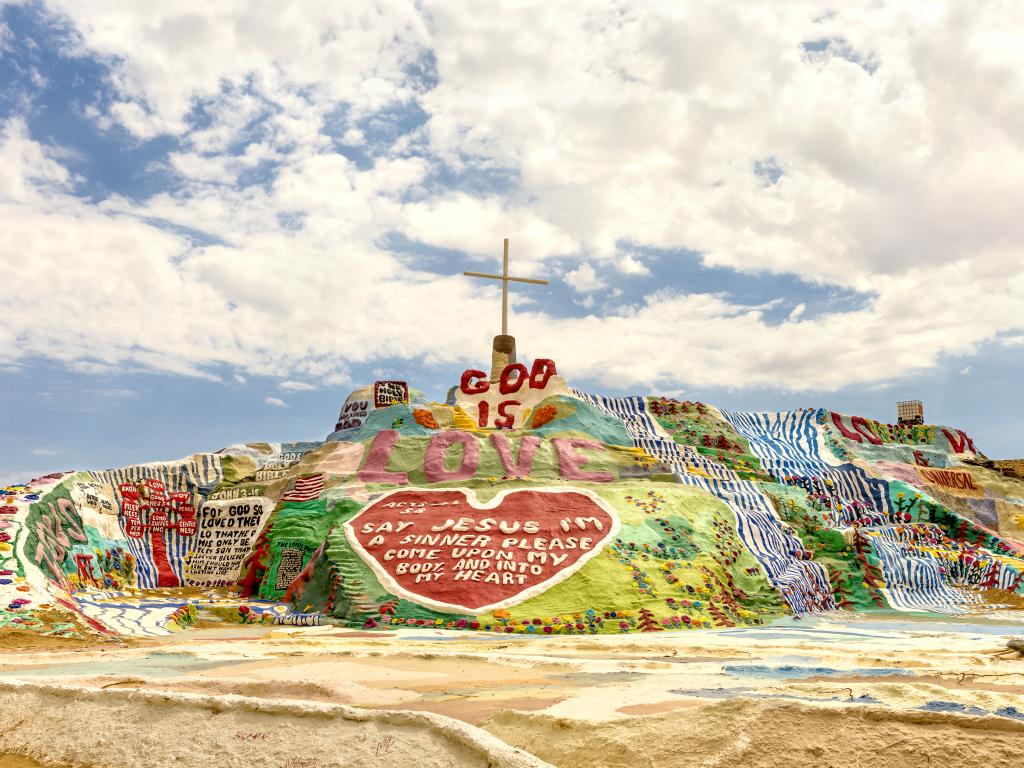 Salvation Mountain is a few miles off the southeastern corner or Salton Sea and was a project by a local resident Leonard Knight. He built the mount and installed themes, lessons and passages from the Bible to spread the word of Jesus.
Whether you're religious or not, you've got to come and see it for yourself - it is as mad as it is creative.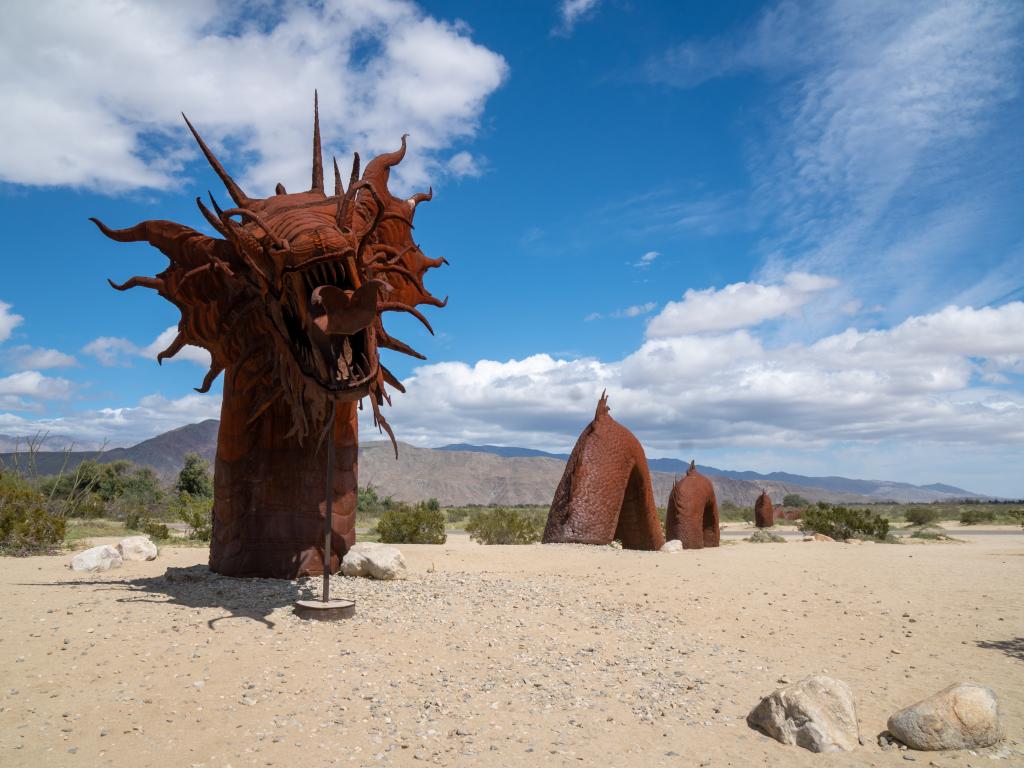 On the way from San Diego to Salton Sea, stop off at the Borrego Springs Sculptures. These totally random giant metal constructions have everything from dragons to elephants to a Jeep scaling rocks and even life-size fighting dinosaurs.
To make it even more nutty, these sculptures are in the middle of a desert which is in the middle of nowhere in the Anza-Borrego State Park.
We are not entirely sure what the artist, Ricardo Breceda, had in mind when he welded these creatures in the desert heat, but it is so random it makes it a must stop on your route.
8. Joshua Tree National Park
3 hours from San Diego (165 miles)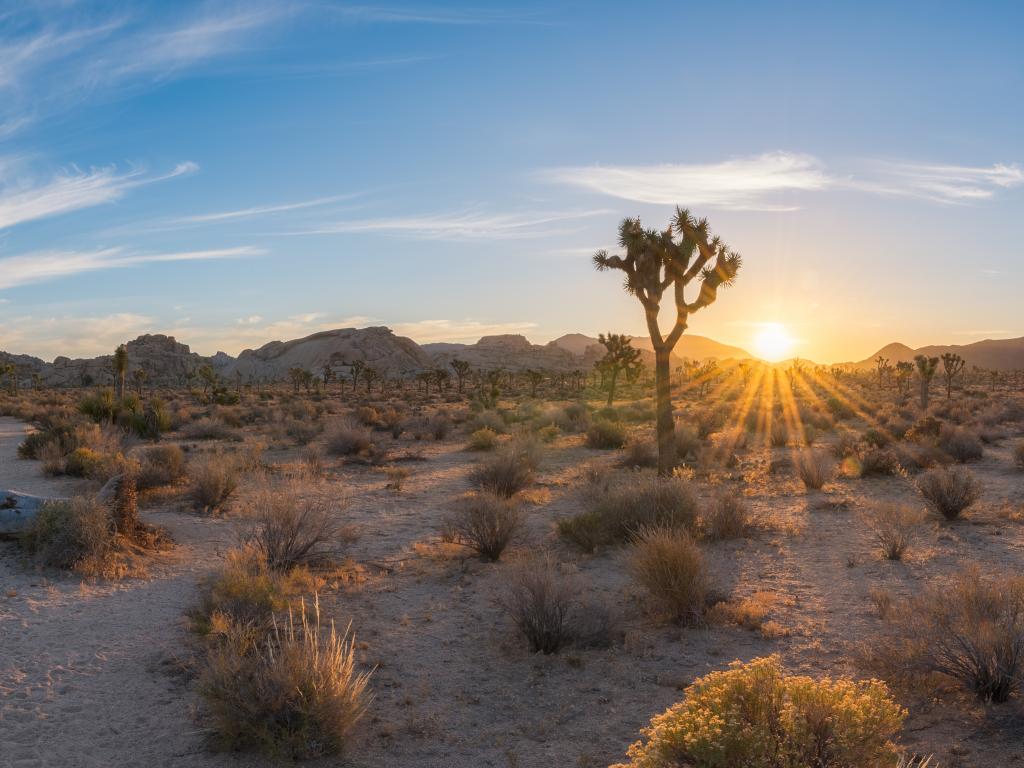 Joshua Tree is the closest of the big California National Parks to San Diego and it takes around 3 hours to get there whether you're headed for the South or North entry points into the park.
The park is named after the uniquely shaped trees which look like a person standing up with their arms stretched upwards. Don't be fooled by the park's name though, the Joshua Tree National Park is one of the hottest and most inhospitable deserts in the United States, so plan ahead and we would not recommend camping in July and August.
Summer temperatures in Joshua Tree are hot with daily highs averaging around 100 °F (38 °C) which will make hiking feel uncomfortable and even though nighttime temperatures dip to low 70s (around 21 °C), sleeping can be tough.
Although accommodation in the park is limited, there are over 300 spots you can camp and there are great trails and sights throughout - if you climb up Keys View (highest point in the park), you could see into Mexico on a clear day.
March and April are particularly good times to visit. The different types of desert plant flower during these months and the weather is relatively mild with daily highs sitting at a pleasant 75 °F (24 °C).
9. Lake Arrowhead and Big Bear Lake
3 hours 15 minutes from San Diego (160 miles)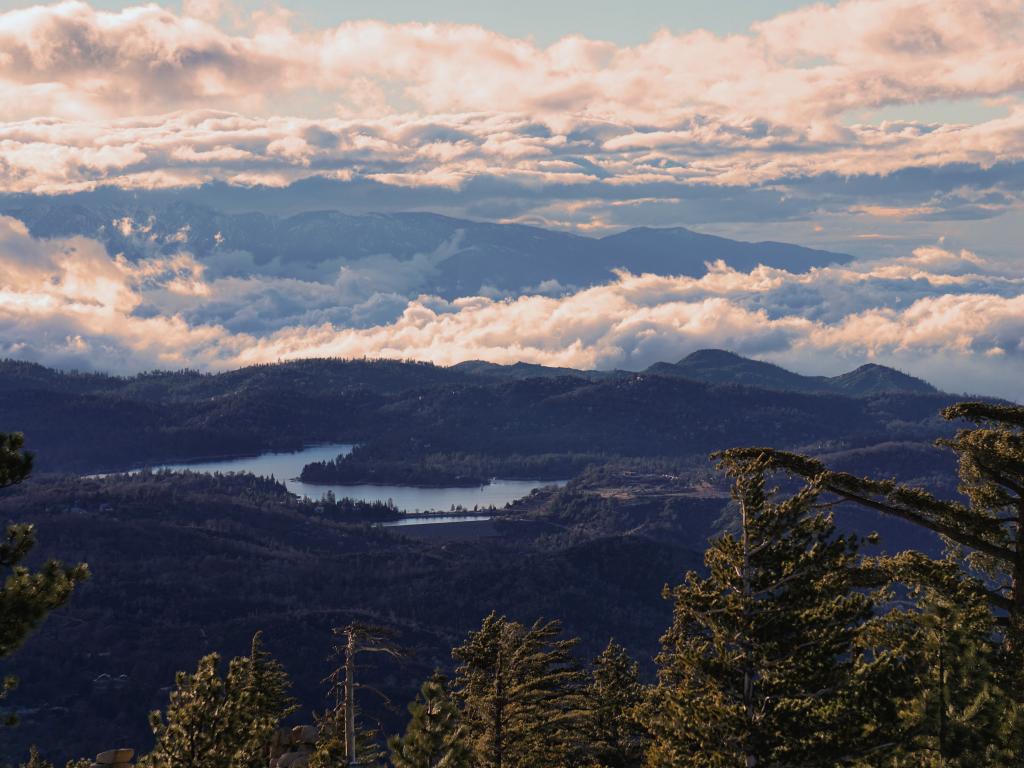 With Joshua Tree State Park to the east and the vast expanses of the Mojave and Death Valley to the North, the small enclave of temperate weather and forests in the northern part of the San Bernardino National Forest may come as a surprise.
The locals dub it the Alps of Southern California and while the mountain landscape is not quite as dramatic as the name would suggest, it's a great place to escape to from San Diego.
Lake Arrowhead is a private lake which means that you can go on boat tours and try your hand at water skiing at the local school, if you want to spend a day relaxing on the beach and swimming, you'll need to go to the smaller Lake Gregory instead.
Lake Arrowhead Village is worth a stop - there's a few great restaurants for lunch and dinner, a selection of shops and a really chilled out feel.
After you've explored the hiking routes and the neighborhoods surrounding the lake, you can drive a further few miles to the Big Bear Lake.
During the summer you'll drive along a scenic mountain route and in the winter you'll notice passing through a few ski resorts on your way - bring your skis and snowboards to explore the small ski mountain or have a go at snow tubing instead.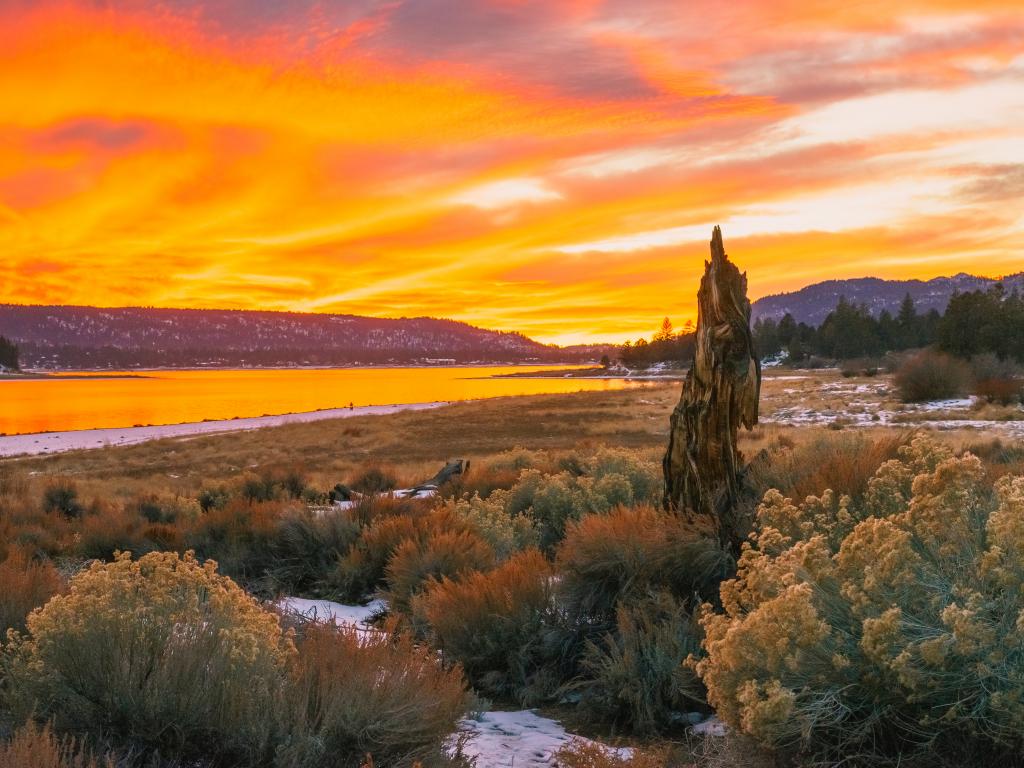 Big Bear Lake has all the same positives as Lake Arrowhead - there's plenty of activities come sunshine or snow and forest-covered mountains surrounding a pretty lake which is a little larger in area.
The village here might be even more charming with cobbled streets and traditional wooden clad houses nestled in-between the trees.
The prices are at their highest and the resort is busiest in January and February during the peak of the ski season so aim to come later on in the winter or during other seasons.
If you do come in the winter, make sure you get your car ready with appropriate tyres and snow chains - something very easy to overlook as you're setting off from the warm climes of San Diego!
10. Santa Catalina Island
3 hours 20 minutes from San Diego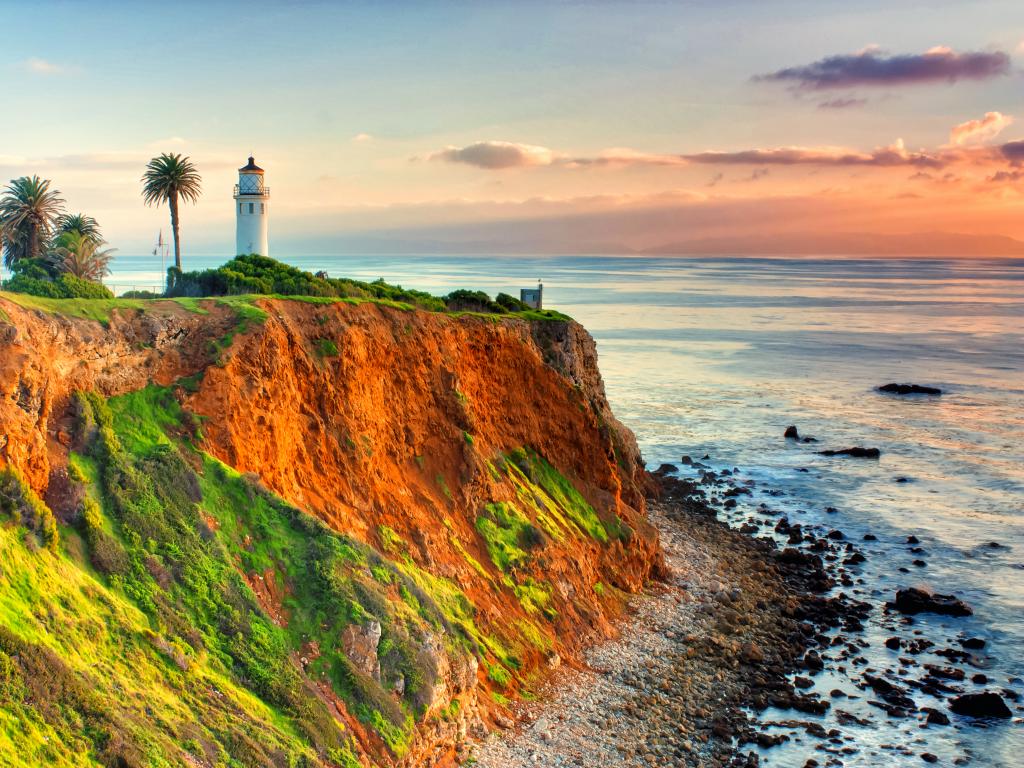 Santa Catalina Island, or just Catalina Island as it's often called sits just off the coast of Southern California and is a perfect destination for a day visit or longer trip.
Getting to Catalina Island from San Diego is relatively simple - it'll take around an hour and 15 minutes to drive north along the coast to Dana Point. Here you'll have to park up your car (I know - not all road trips allow you to sit in the car the entire way. Get over it!) and catch a ferry.
Ferries take an hour and a half to get to the port town of Avalon on the island and with a bit of time getting your tickets and boarding, you can get there in a little over 3 hours.
Over a million people visit the island every year and there is plenty to do on and off the land. There's reefs and shipwrecks you can explore sitting in a glass bottom boat, with a snorkel or full scuba gear. For those who want to see the island itself, there are endless hiking and walking trails that offer amazing views in every direction.
Aside from birds, flying fish, seals and sea lions, you may find a herd of bison roaming around. These stem from an original group of 14 that were brought in 1924 to film a movie and were left on the island to save cost on shipping them back to mainland. The bison scene never made it into the movie, but make it a challenge to go find them as you make your way around!
11. Los Angeles, Malibu Beach, and Pasadena
3 hours 30 minutes from San Diego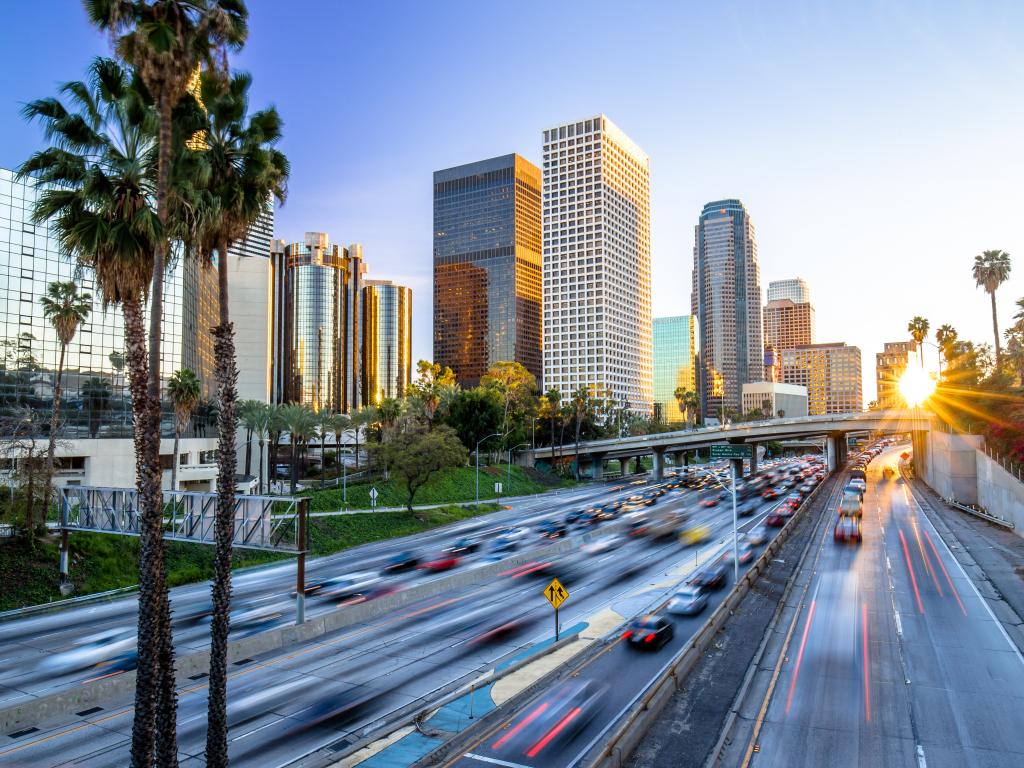 If you're in Southern California, you can't miss out on visiting L.A. - it never gets old and there is just so much to see and do, you can spend weeks exploring the city and not scratch the surface.
To get from San Diego to Los Angeles, just follow the San Diego Freeway north - you can get all the way into Los Angeles or save a bit of time for a few dollars by following State Route 73 (toll road) from San Capistrano.
What you should see in Los Angeles depends on how long you've got and what you're into - the city is huge and the best neighborhoods are spread out over miles.
Once you've ticked off the compulsory tourist dodging in Hollywood, watching rich people park Ferraris in Beverly Hills and walked along Sunset Boulevard, head on to Pasadena. This town has a lot more of a neighborhood feel, authenticity and a classic California vibe than many other parts of L.A.
Then head west and drive through places like Culver City, Venice and Santa Monica. When I say drive, I really mean, go and spend at least half a day in each time permitting. Santa Monica is small and seems to be full of famous people so you can get yourself a coffee and do some celebrity spotting.
Malibu is a long stretch of beach just outside L.A. and very popular with the locals at weekends.
You could spend a whole week just here - there's the Santa Monica mountains right behind you and beautiful golden sand beaches as far as the eye can see. Add a few places to stop - the Malibu Pier, Point Dume and El Matador State Beach should all be on your list.
12. Ojai
3 hours 45 minutes from San Diego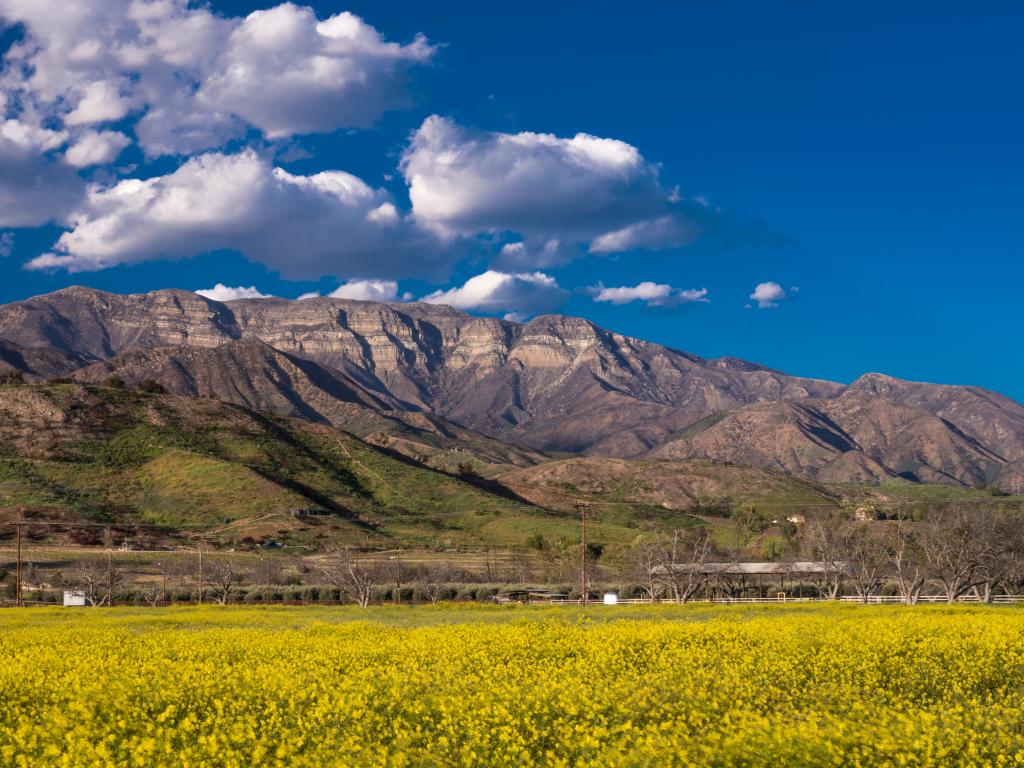 Ojai is literally in-between Los Angeles and Santa Barbara as well as being stuck in-between the two options in our list. It's only a small town and you could probably add it to either itinerary, but there's a good reason why it has its own spot.
Set in a lush green valley north of Ventura, Ojai has become a very poorly kept secret among those looking for retreats from the daily grind of city life.
Accommodation here is expensive whether you're going for the 5 star hotel or a random motel but many come with Spanish styling, beautiful gardens and quirky rooms.
If you are looking for meditation, relaxing Hawaiian massages or a broad selection of restaurants serving up vegan and paleo options, Ojai is the place for you. You also get small hipster shops selling all kinds of clothes and things that look good on a shelf back home.
When you've recharged your batteries, you can head out to Los Padres National Forest that starts just outside the town with hiking routes and mountain views aplenty.
13. Santa Barbara, Montecito and Solvang
4 hours 20 minutes from San Diego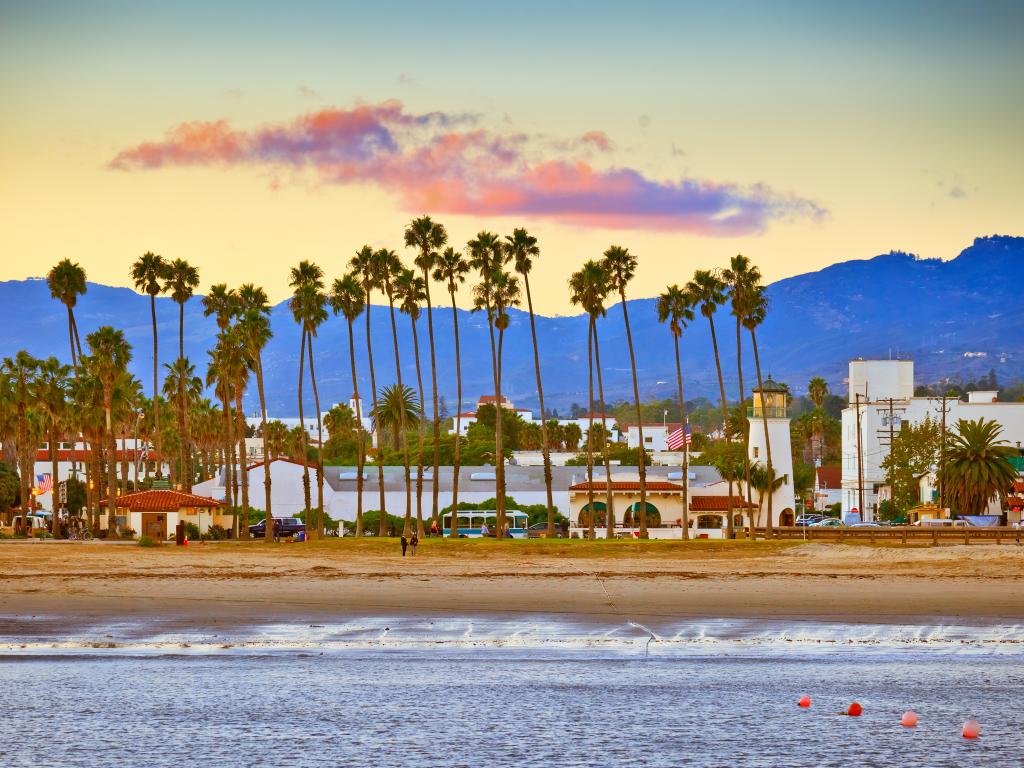 If you want to extend your trip to Los Angeles and Malibu (see #11 above) or just want to avoid the endless traffic-filled freeways, you can keep going along the coast past Malibu until you reach the much more relaxed Santa Barbara.
The moment you arrive, you'll see why so many people like to visit or even move here. Santa Barbara oozes old school Californian glamour.
From the Old Mission Santa Barbara to the palm tree lined waterfront, you will get a sense of classic chic all over the place. Although Santa Barbara dates back to the late 1700s, much of the city was rebuilt after a major earthquake in 1925 so the buildings you will see will be from the 1920s and 1930s, built in Spanish Colonial Revival style.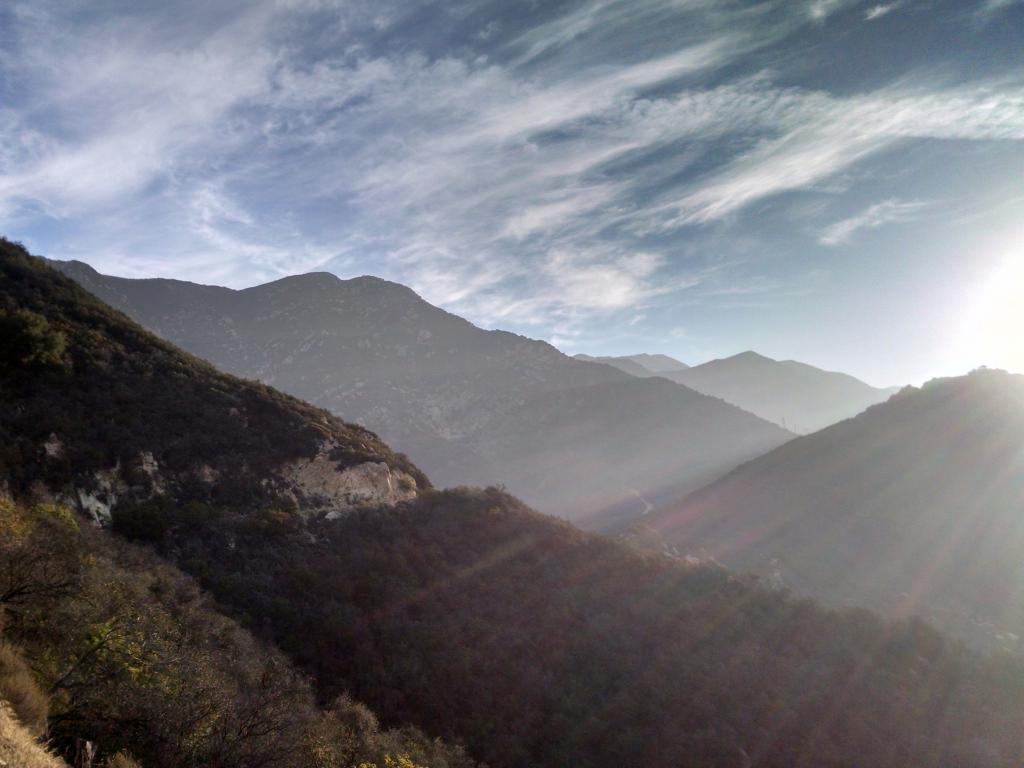 While rich people move to live in Santa Barbara, the super rich opt for the hillside suburb of Montecito. You can check out what it's like by visiting Casa del Herrero which is an open house museum and the Lotusland botanical garden. Keep your eyes peeled for the likes of Oprah who live in this quiet town.
To get to Solvang, you'll need to head inland from Santa Barbara - take the San Marcos Pass Road to climb the hills.
Solvang is an old Danish village and this means you get traditional Danish horse-drawn carriages, trams, quaint Danish style houses and even 4 Danish windmills. It has recently become a little on the tourist trap side of things for my taste, but it's still worth visiting if you're in the area.
14. Channel Islands National Park
4 hours 45 minutes from San Diego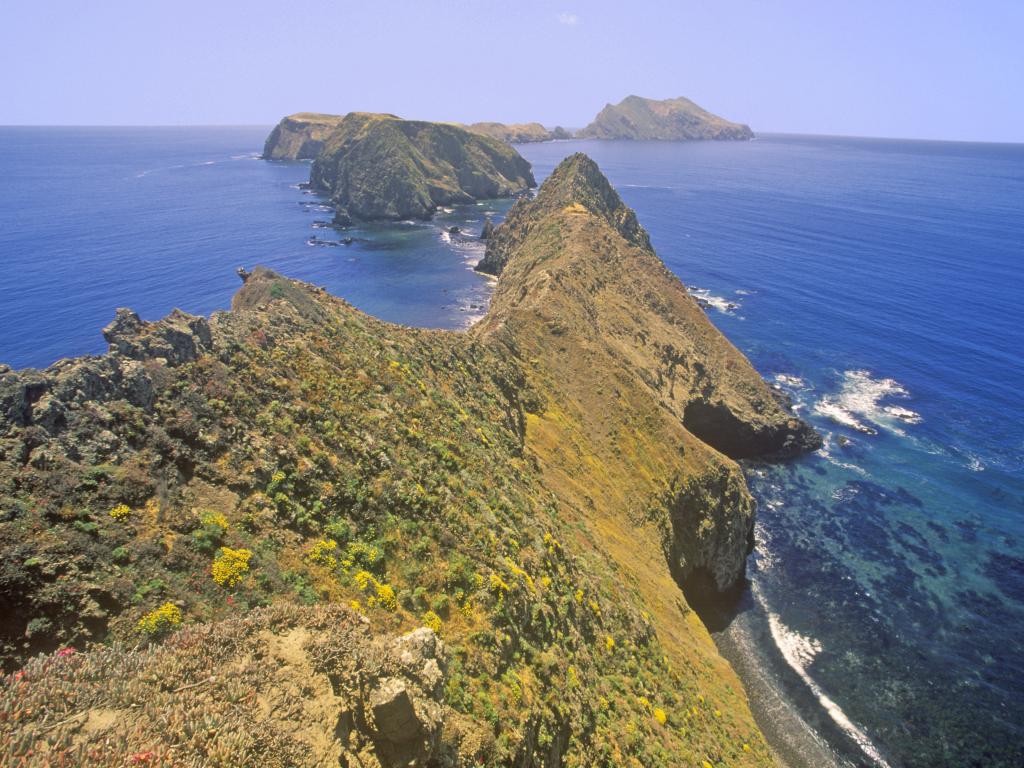 The Channel Islands National Park is around 20 miles off the coast of California and to get here, you have to drive up to the port of Ventura - around 3 and a half hours from San Diego depending on how much time you spend getting through Los Angeles.
Depending on which part of the park you want to visit, the boat ride takes between 1 and 3 hours. The small Santa Barbara, Anacapa and East Anacapa Islands are popular with visitors and offer some great views like the one in the photo.
If you want to do a bit more hiking, the biggest island of Santa Cruz is the best option and it will take you a little over an hour to get there.
Sometimes called the Galapagos of North America, the unspoilt nature is the main reason to come here. From whales passing by the islands and dolphins swimming along with canoes to the impossibly cute island fox, it's a perfect way to spend some time away from civilization.
If you're planning to spend more than a day here, note that there is no accommodation of any kind, no shops and the facilities are limited. You can camp overnight at one of the campgrounds but plan in advance and bring everything you need in your backpack.
15. Death Valley National Park
5 hours from San Diego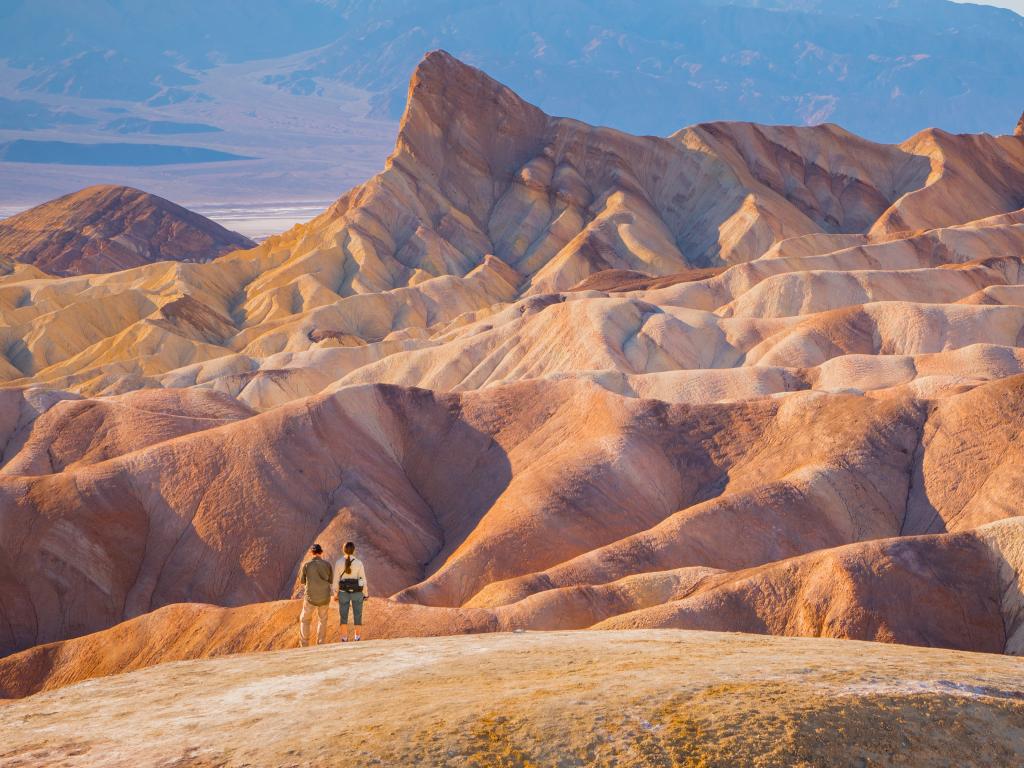 If your idea of the perfect road trip is to drive to the hottest place on Earth, I present to you the Death Valley National Park.
In case its name is not enough of a giveaway, Death Valley gets mighty hot in the summer and I'd recommend you don't visit from June to August where average daily highs are above 120 °F (49 °C). November to March is a much better call to see the varied landscape without the incessant heat.
Death Valley sits between Las Vegas and the forested mountains of Sierra Nevada. It's a large National Park and you can find almost every type of desert here. There's dried out lake beds, inhospitable rocky desert and even sand dunes so you can see it all.
Death Valley National Park is the largest in the United States excluding Alaska and it is an International Dark Sky Park which means that there are is no light pollution at night. This makes it one of the best places in the world for stargazing with perfectly clear night skies where you can see thousands of stars and galaxy shapes with the naked eye.
16. Las Vegas
5 hours from San Diego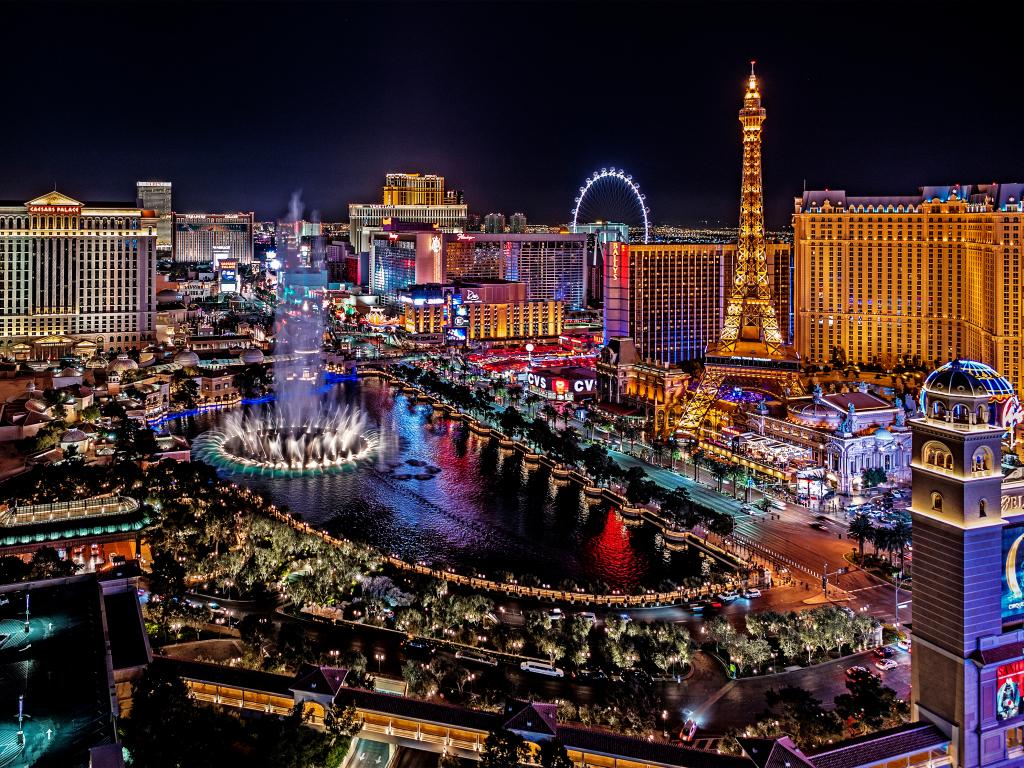 Everyone has to visit Sin City at least once in their life. The complete insanity of building replicas of the Eiffel Tower, Egyptian Pyramids and giant water fountains in the middle of a desert has a very American je ne sais quoi about it.
Most of what you'll want to see in Vegas is up and down the strip and you can get here in 5 hours flat from San Diego if traffic is on your side.
You've simply got to stay in one of the big hotels to get the full experience. The newer end of the strip is my preferred choice - Aria and the Cosmopolitan are both great options.
Most hotels have giant casinos downstairs with a few exceptions including the Cosmo. They range from the ridiculous opulence of the Bellagio to the old school dark MGM Grand.
It's almost as much fun walking around and people watching as playing although I'm not sure how I feel when I see an old lady feeding a thick stack of dollars into a slot machine.
Make sure you check out the rest of what Las Vegas has to offer. There are some amazing shows and music events every night of the week and restaurants for every taste and budget which can really surprise you with the quality of food and wine.
17. Phoenix and Scottsdale
5 hours 20 minutes from San Diego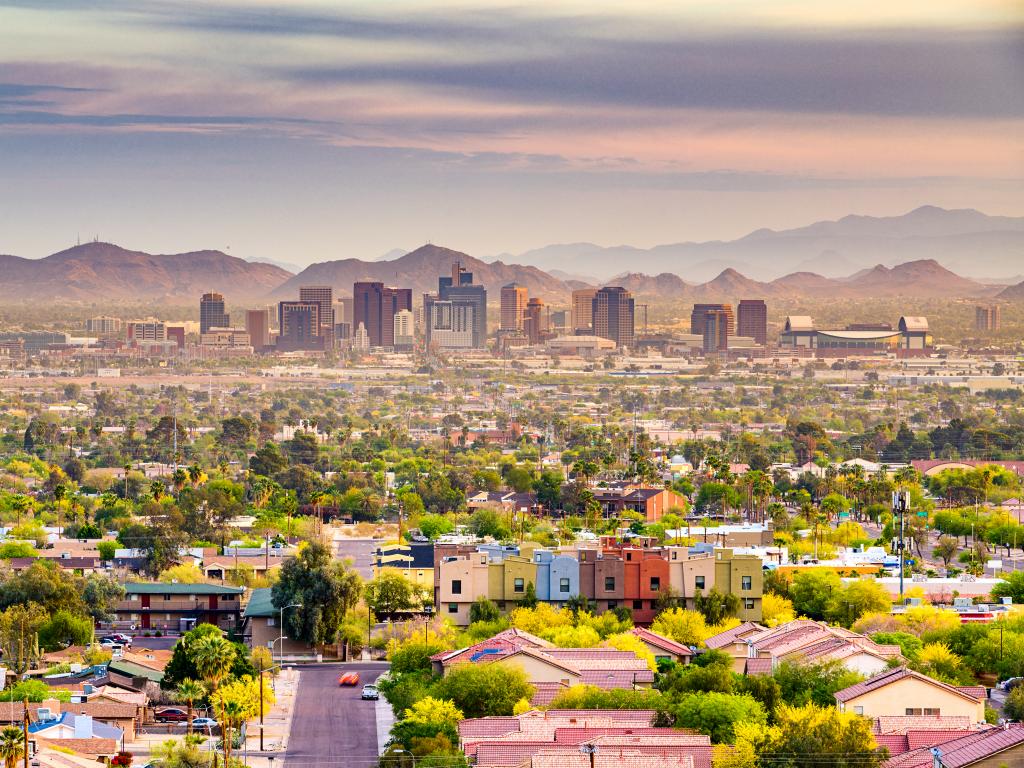 The fastest way to get from San Diego to Phoenix is to follow the I-8 along the southern edge of the United States - you'll be driving close to the Mexico border, sometimes close enough to see across. Don't make the mistake of getting too close - we accidentally drove onto the border mound near Yuma which didn't impress the border patrol.
Phoenix and San Diego have a close relationship that few people outside these cities know about - there's a trend for those who live in Phoenix to escape the hottest months of the year to the cooler Californian coast and San Diego is often the destination.
Phoenix has been booming in recent years. A number of successful startups have begun growing and more established companies are increasing their Phoenix bases.
The art and culture scene is one of the best in the country - there's the Heard Museum and occasional street art exhibitions as well as small galleries to visit.
Scottsdale is a hip and vibrant neighborhood of Phoenix. While downtown Phoenix has businessmen in suits rubbing shoulders between office buildings, Scottsdale has a relaxed old town with shops, cafes and restaurants and some of the best hotels in the city.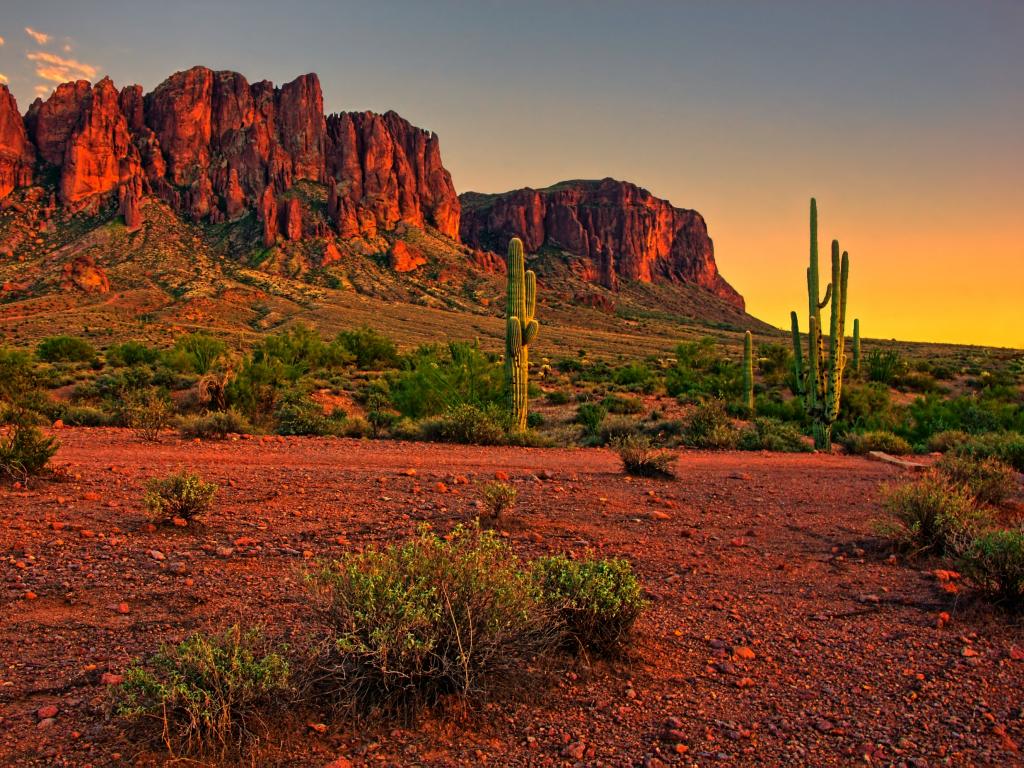 The drive to Phoenix goes through some really scenic wilderness areas and one thing I'd highly recommend is bringing a picnic and turning off the highway somewhere on the way to have it.
The unique Arizona cactus grows all over and there's a relaxing mix of hills and flat desert to make the perfect backdrop. Apparently mountain lions are a thing here, although I'm yet to meet anybody who has actually ever seen one.
18. San Luis Obispo and Morro Bay
5 hours 30 minutes from San Diego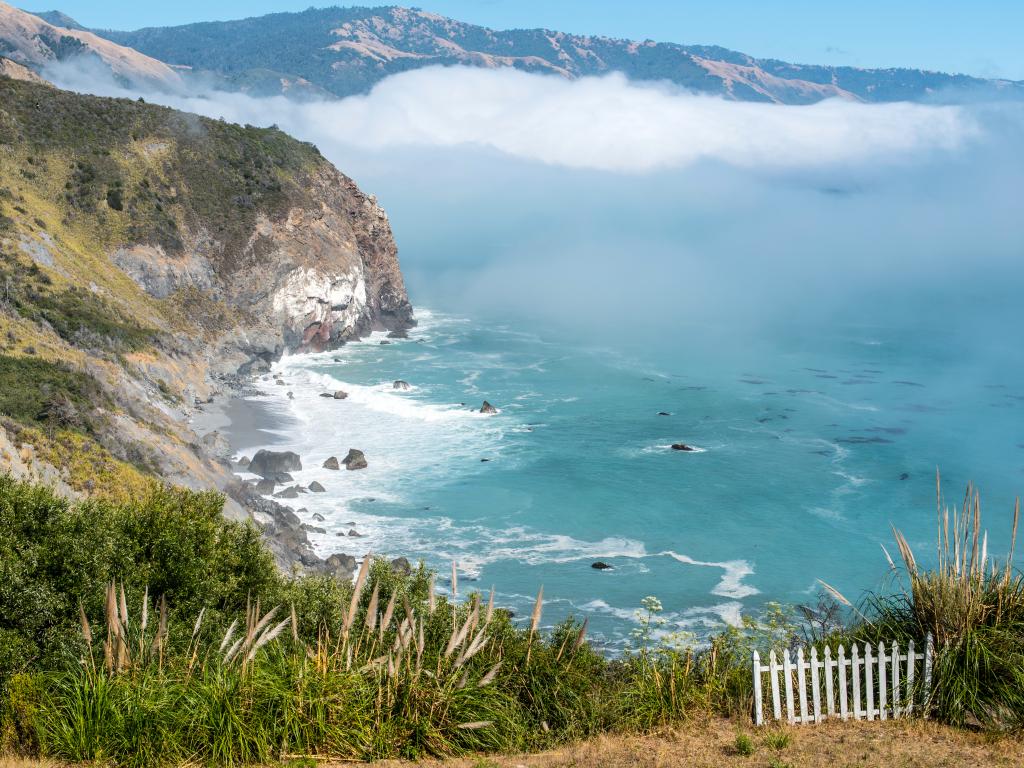 San Luis Obispo is a town a few miles from the oceanfront in Central California. It is one of the oldest towns in the state and is centered around the Mission San Luis Obispo de Tolosa which dates back to the 1700s.
The pace of life is slow here and one big driver of visitors is Pismo Beach. It stretches for 17 miles south of San Luis Obispo and is a surfer destination with wild waves crashing into the shore. The dramatic cliffs and rocks that stick out from the water give it extra appeal points.
Not many people know, but San Luis Obispo has two wine areas - Edna Valley and Arroyo Grande. There are dozens of wineries you can visit and even if you're not wanting to taste the wines, the roads and scenery are reason enough to go.
Chardonnay and Pinot noir are the best grape varieties that grow in the area so you have a choice of red or white!
Morro Bay is a few minutes up the road and is a quiet seaside town where you can continue relaxing to the sound of the ocean waves. It's a fishing town, so find a good spot with a decent view and order seafood.
Put your phone and watch in the deepest part of your bag and enjoy living life the slow way for once!
19. Tucson
6 hours from San Diego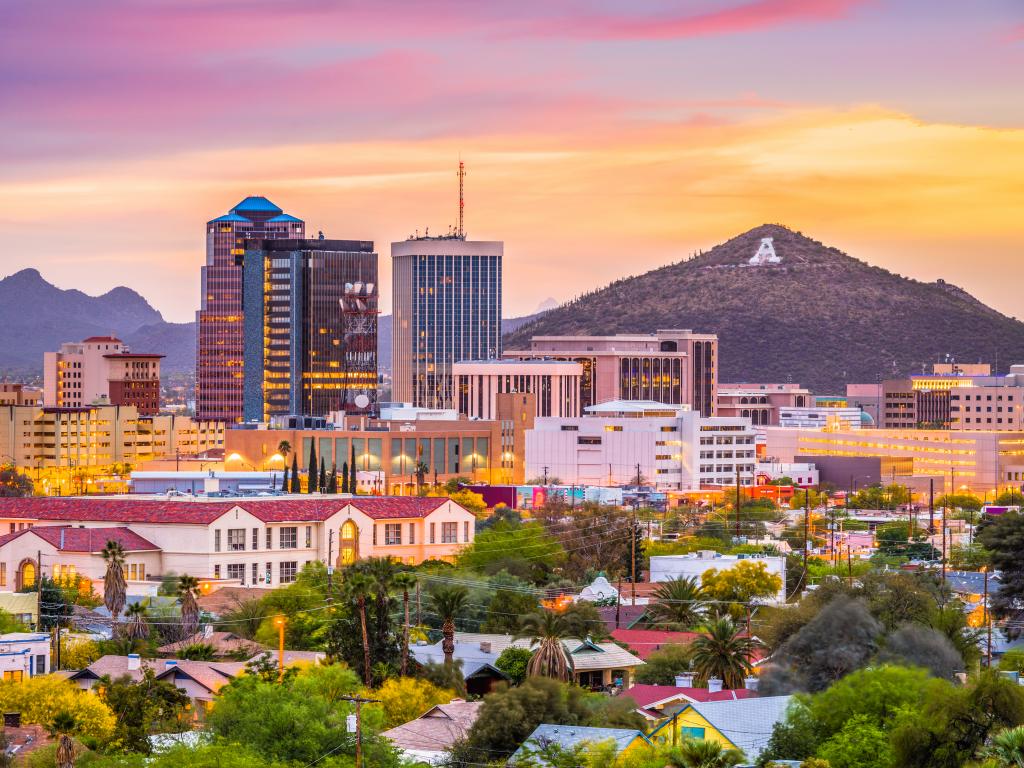 For those who want to go on a road trip to Arizona, but not spend time in a large and busy city there is Tucson. About one third the size of Phoenix and set in stunning scenery, Tucson has a small town feel about it which you won't get in the big city.
Getting to Tucson is easy - follow the I-8 all the way until it merges into the I-10 and you'll find yourself driving right into the city. With a stop for lunch and rest breaks, it's a drive you can easily do in a day. If you have kids or more time, I suggest you set off earlier. There's really not many good places to stop along the way other than roadside motels.
The Saguaro National Park just outside the city as you approach it is a great place to see. It's home to a huge number of the Saguaro cacti that have become one of Arizona's unofficial symbols.
The Arizona-Sonora Desert Museum is inside this park and has a small zoo with 200 species of desert animals, 1,000 different species of desert plants, a local natural history museum and even an art gallery.
In downtown Tucson, stop by the San Xavier del Bac Catholic Mission and the Cathedral of Saint Augustine. These classic Spanish style buildings are some of the best examples of classic colonial architecture and have a strong south European feel.
20. Sedona and Flagstaff
7 hours 15 minutes from San Diego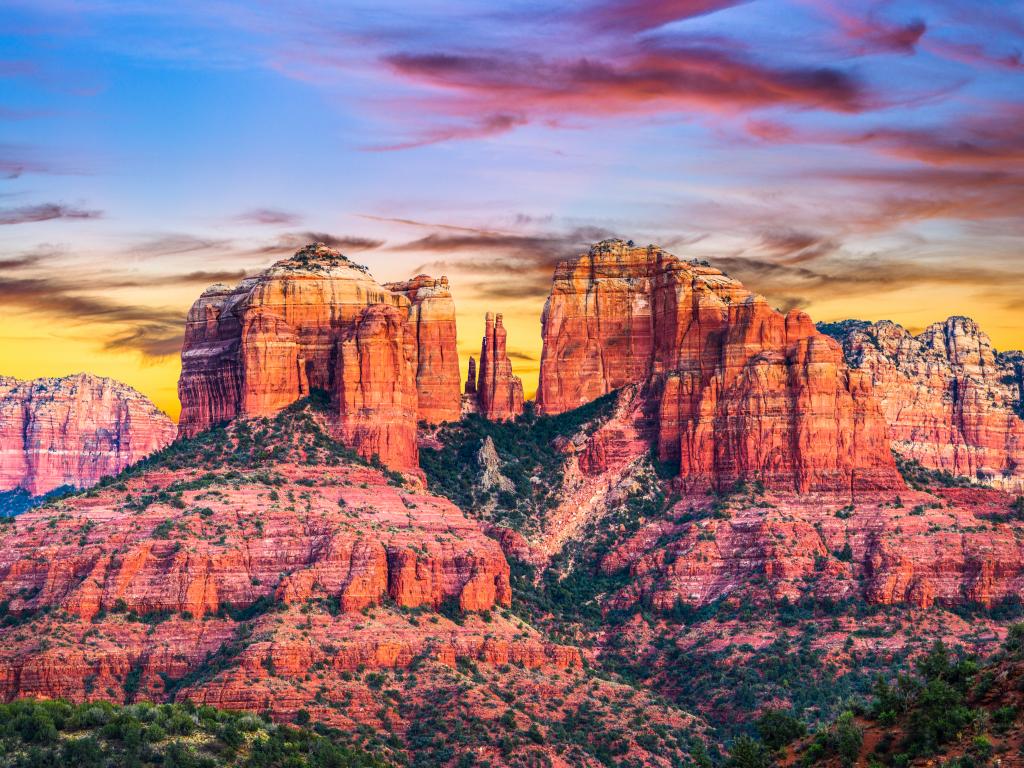 There are two places that are best for seeing the famous red rocks in Arizona. Monument Valley in the north east of the state on the border with Utah is about 11 hours' worth of driving from San Diego before you account for food stops and breaks.
The good news is that the Red Rock State Park near Sedona is much closer and can be reached in a day or two shorter drives with a stop in Phoenix.
The Red Rock Scenic Byway is a 7.5-mile stretch of Route 179 that might just be one of the most stunning pieces of road you can drive anywhere in the world. No wonder they call it a museum without walls.
You'll be driving right past the giant red rock formations including the famous Bell Rock and Cathedral Rock. There are plenty of lookout points where you can stop so park up at one of them before taking your eyes off the road!
You can go hiking in the rocks which will open up even better views - the Devil's Bridge Trail is the one to do if you haven't been before with some unbelievable views along the way.
21. Zion National Park
7 hours 30 minutes from San Diego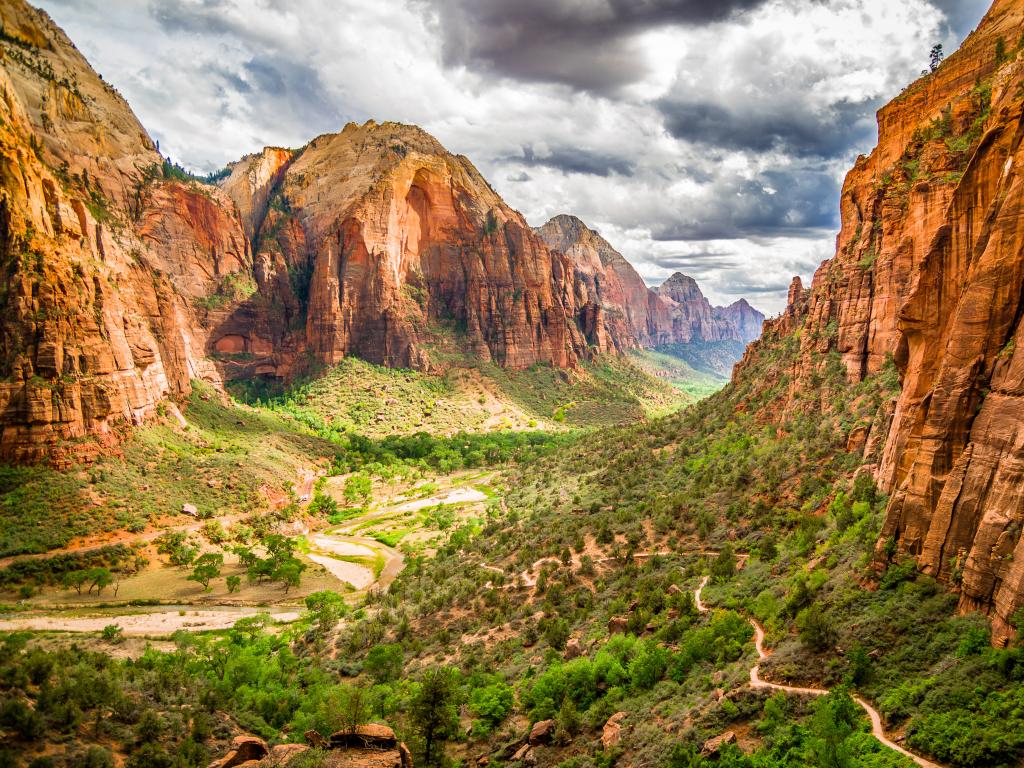 Zion and the neighboring Bryce Canyon National Parks are a wild card on our list, but one you might just want to choose for your road trip from San Diego.
You will technically drive through 4 states, starting out in California before going through small bits of Nevada and Arizona before arriving in Utah, but you can just about do it in a day, still have time for stops and arrive before dinner.
I don't know about you, but this might just be the most beautiful National Park in southwestern United States - imagine spending a few days walking around valleys like in the picture above!
The trails are clearly marked and you can choose the difficulty level that ranges roughly speaking from "Walk In The Park" (I know... literally) to "Mountain Goat" for those who like their hiking steep and tiring.
Bryce Canyon is not a canyon, but instead has a number of large amphitheatre-shaped formations with the distinct vertical rocks called hoodoos looking like giant people inside. Bryce Canyon sits at a higher elevation than Zion National Park with the rim going up to 9,000 feet (2,700 m) so bring an extra layer of clothing as you might feel cool.
22. Big Sur and Carmel-by-the-Sea
7 hours 30 minutes from San Diego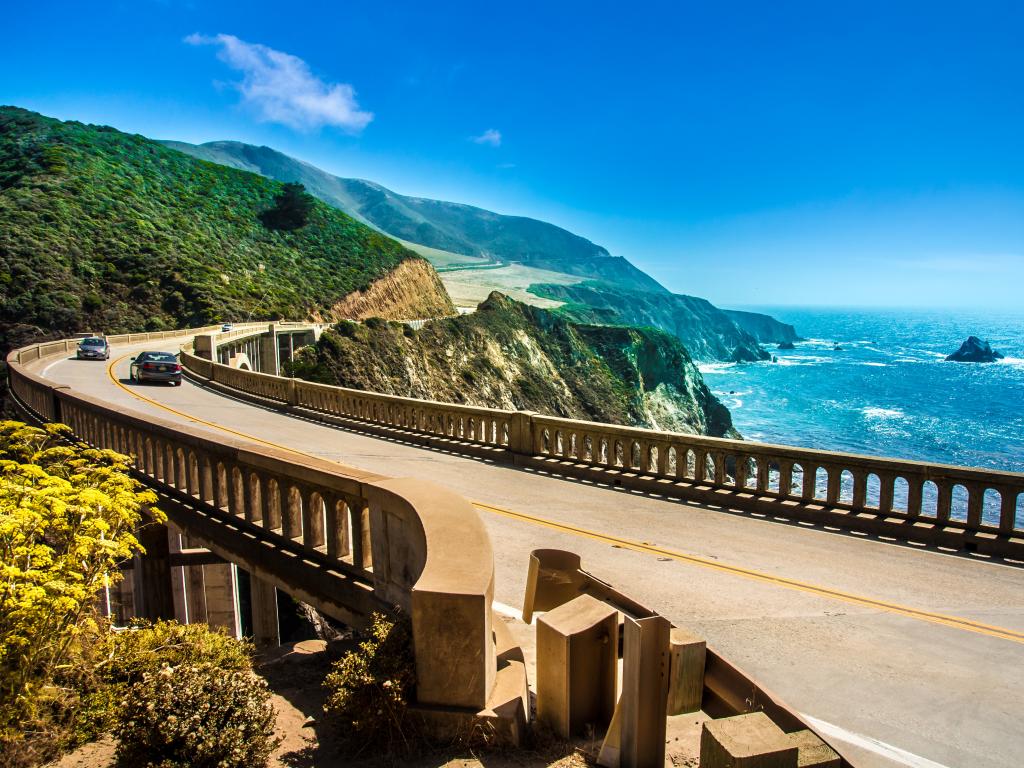 Big Sur is a long way from San Diego. Not quite as far as San Francisco, you'll have to drive a fair way up the Californian coast to get here but once you do, you'll know the journey is worth it.
The long stretch of rugged cliffs and waves pounding the rocks below is a great way to unwind and relax. Roll the windows down and enjoy wind blowing in your face as you make your way up Highway 1.
Bixby Creek Bridge (in the photo above) has been a backdrop for countless movies, TV series and adverts and you can park up at the overlook to take a better look at the bridge and the creek below.
Carmel is a quiet seaside town that is another of the many along the Californian coast that was built up around a Catholic Mission.
It's so quiet and relaxed that some people who live in Los Angeles, San Francisco or Silicon Valley use it as a place to come and reset. Everything happens a little slower here and you can do amazing things that you haven't done for years like sit in a cafe and read a book. No seriously - try it!
23. Kings Canyon & Sequoia National Parks
7 hours 30 minutes from San Diego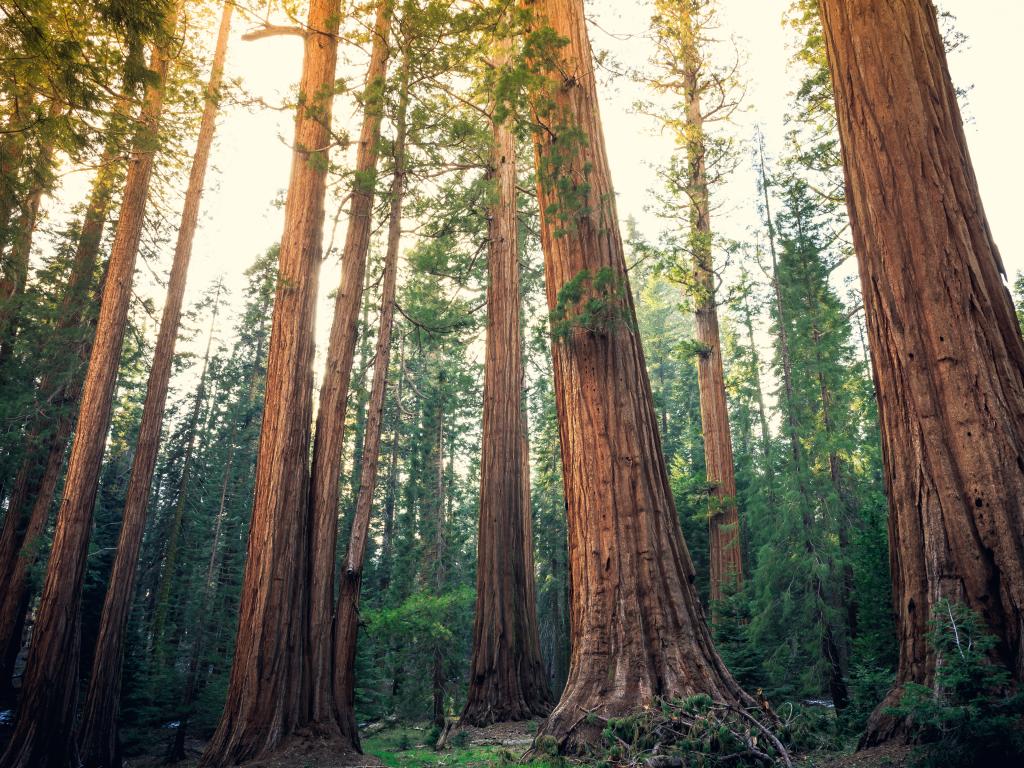 The closest place to San Diego to see giant sequoias are the parks of Kings Canyon and Sequoia. The Sequoia National Forest is closer than the National Park and is larger than its more famous namesake, but despite its name is largely covered in desert-style shrubbery with no tall trees in sight.
The world's largest tree (but not the tallest!) called the General Sherman Tree grows in the Sequoia National Park and you can visit it via a short walk although if there weren't signposts telling you so, it would be mighty hard to judge with all of the trees here stretching into the sky.
Make sure you drive along State Route 180 that runs between the two parks - this is one of the prettiest stretches of road in the Sierra Nevada and zig zags its way to Kanawyers where you can park up.
From here there is a selection of trails that run in all directions offering up the best mountain views, a good workout and plenty of mountain creeks.
Make sure you plan ahead and turn back before you get too tired - some of these trails can get pretty tough and can run for dozens of miles through the Sierra Nevada.
24. Yosemite National Park
8 hours from San Diego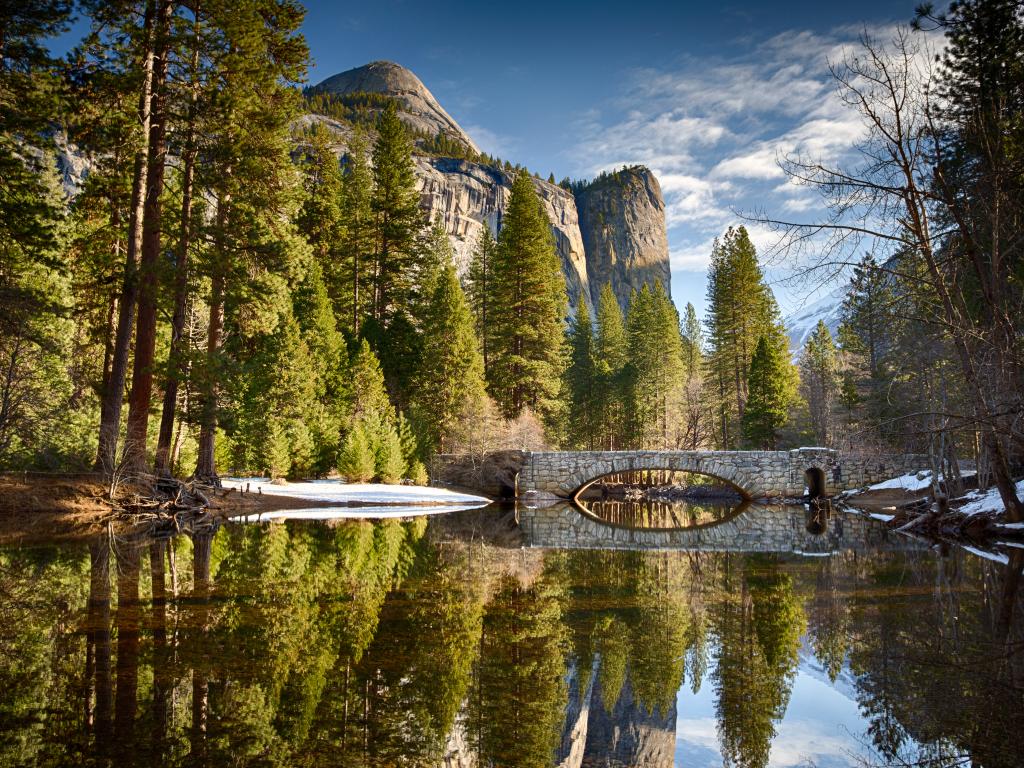 Yosemite is the most famous of the California National Parks and is a huge expanse of mountains, valleys, rivers and sequoia forests.
It'll take you around 8 hours to get here from San Diego before accounting for stops, so you should either set off early or add a stop on the way if you want to make sure you have time to settle in or set up camp.
The majority of visitors to the Yosemite National Park only visit a tiny part of it - the Yosemite Valley which includes the El Capitan and Sentinel Dome granite rocks. This part of the park has lodging, amenities and a selection of restaurants.
If you want a bit more hiking trail than peppercorn sauce, head out to the rest of the park - there are more trails than you can ever walk, amazing scenery and stunning places you can camp in. Just remember that it gets cooler as you go up into the mountains so bring layers even during the summer months.
25. San Francisco
8 hours 30 minutes from San Diego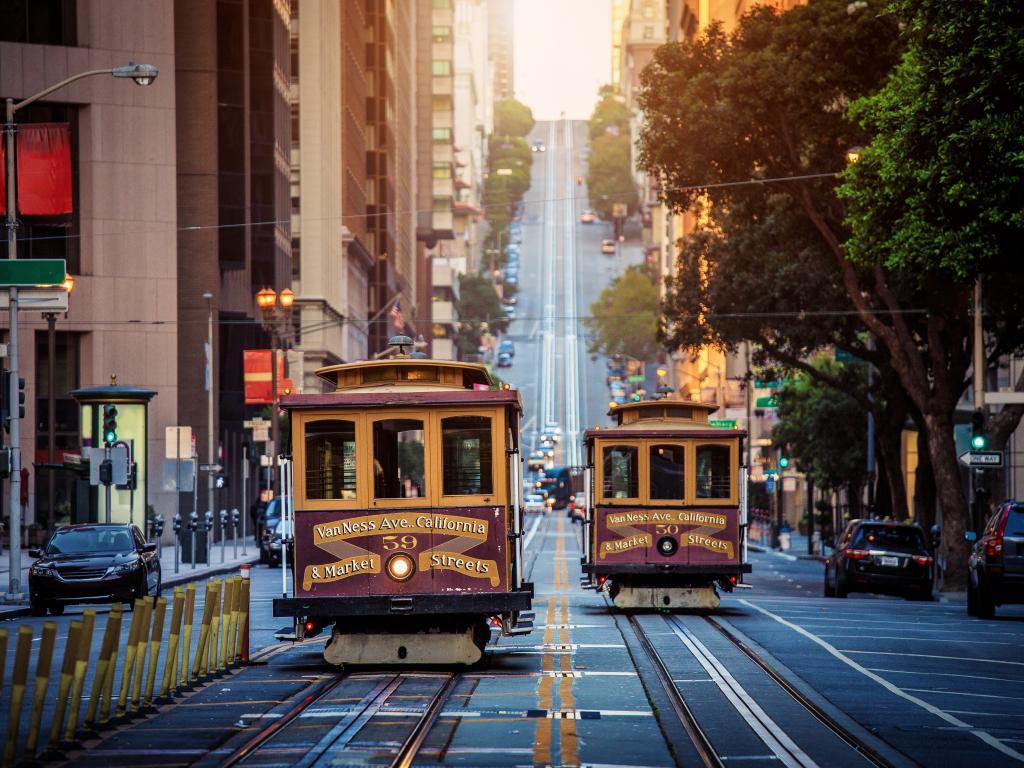 If you're after a more traditional city break, San Francisco is the perfect city to come to. The fastest way from San Diego can be done in a day, but if you want to make it a real road trip and stay on Highway 1, hugging the coastline all the way up, you should really break it up into a few legs.
Luckily for you, Los Angeles, Malibu, Santa Barbara, San Luis Obispo, Big Sur and Carmel are all along the way and all on our list!
San Francisco is a stunning city built on hills and sitting in-between the Pacific to the west and San Francisco Bay to the east.
The list of things do in San Francisco is almost endless - there's the retro cable cars you've got to ride, sea lions to see at Pier 39 and the iconic Golden Gate Bridge. If that's not enough, you have Alcatraz, the Presidio of San Francisco and the largest Chinatown in the world.
Bringing a car means you can drive around the 49-mile Scenic Drive which takes you around some of the best sights in and around the city as well as hills with amazing views over the Bay.
26. Grand Canyon
8 hours 30 minutes from San Diego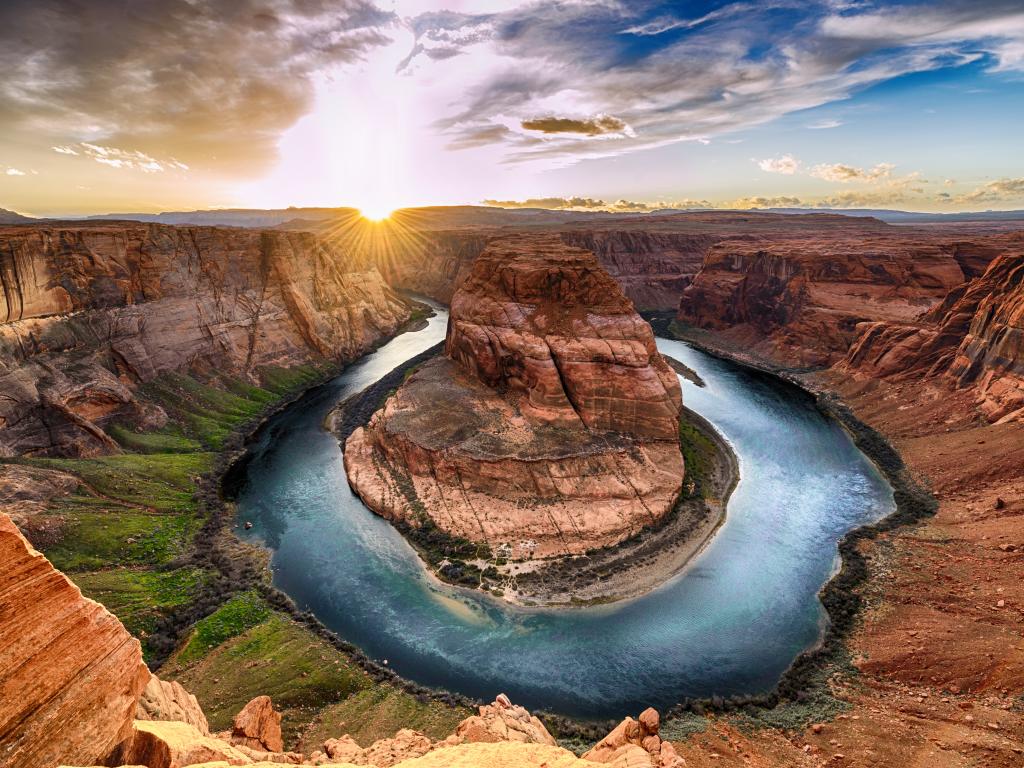 The Grand Canyon needs no introduction and if you want to see what the fuss is all about for yourself, you can get there in a day's drive with time for lunch and stops along the way.
Although you can get to parts of the Grand Canyon close to Las Vegas, just past Lake Mead, the more scenic parts are further along the Canyon and we'd skip Las Vegas and drive up Arizona to Grand Canyon Village to get your first snap from Mather Point.
From there, the Canyon goes all the way to the town of Page on the Arizona - Utah border where the Horseshoe Bend view point is (in the picture above).
This road trip can be easily combined with a visit to Flagstaff and Sedona as well as a stop in Phoenix if you have more time.
If you want to see more nature, keep on going into Utah - the Grand Staircase Escalante National Monument and the Glen Canyon Recrational Area offer almost 3 million acres of wild terrain to explore.
Here you'll find desert landscapes and rugged red rock formations as well as lakes, rivers and yet more canyons.
27. Napa and Sonoma Valleys
9 hours from San Diego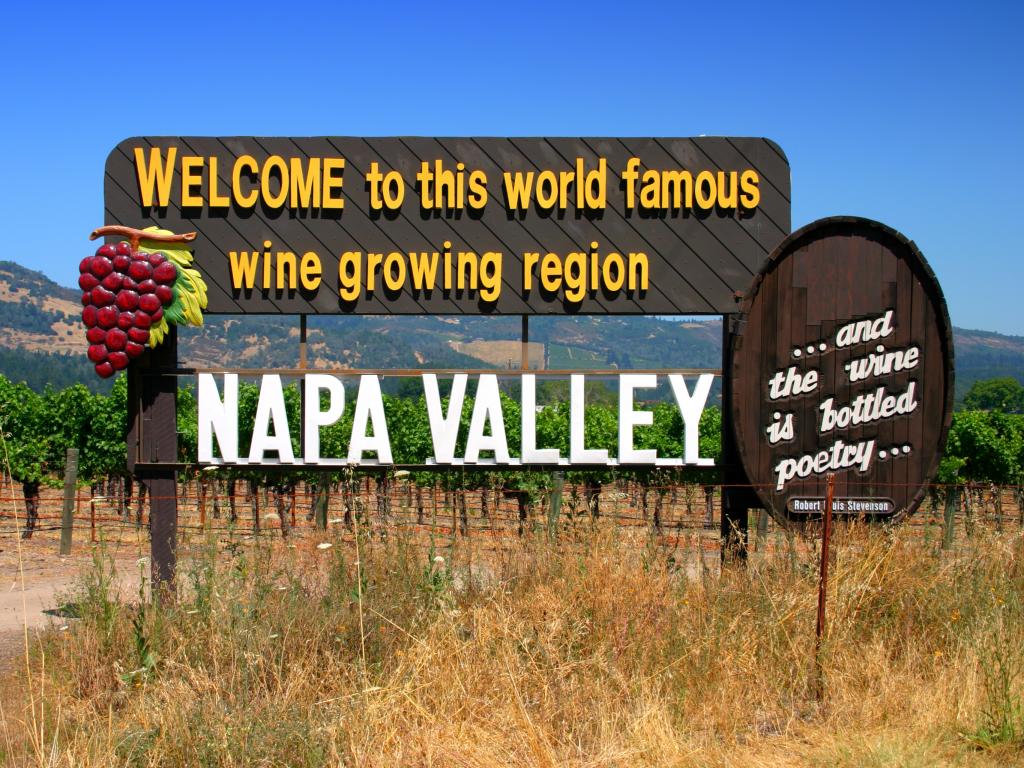 Going a little further north past San Francisco, you'll reach the most well known part of the California Wine Country - Napa Valley and its neighbor Sonoma.
How long you should spend here depends entirely on your love for wine - there are some 1,200 wineries in these two valleys and half of them have wine tastings, food and vineyard tours so you won't run out of new wines to try even if you try 6 different wineries per day for 3 months without a day's break.
A popular way to do this while staying on the right side of the law and not having a grumpy designated driver is to bring or hire bicycles and get between the vineyards on two wheels.
The weather here is great from spring to fall so all you need to do is find a place to stay. A big car is a good idea because it lets you pack a far greater number of bottles from your favorite wineries to bring back home. An especially large truck will have you stocked until you come back the next year!
28. Lake Tahoe
9 hours from San Diego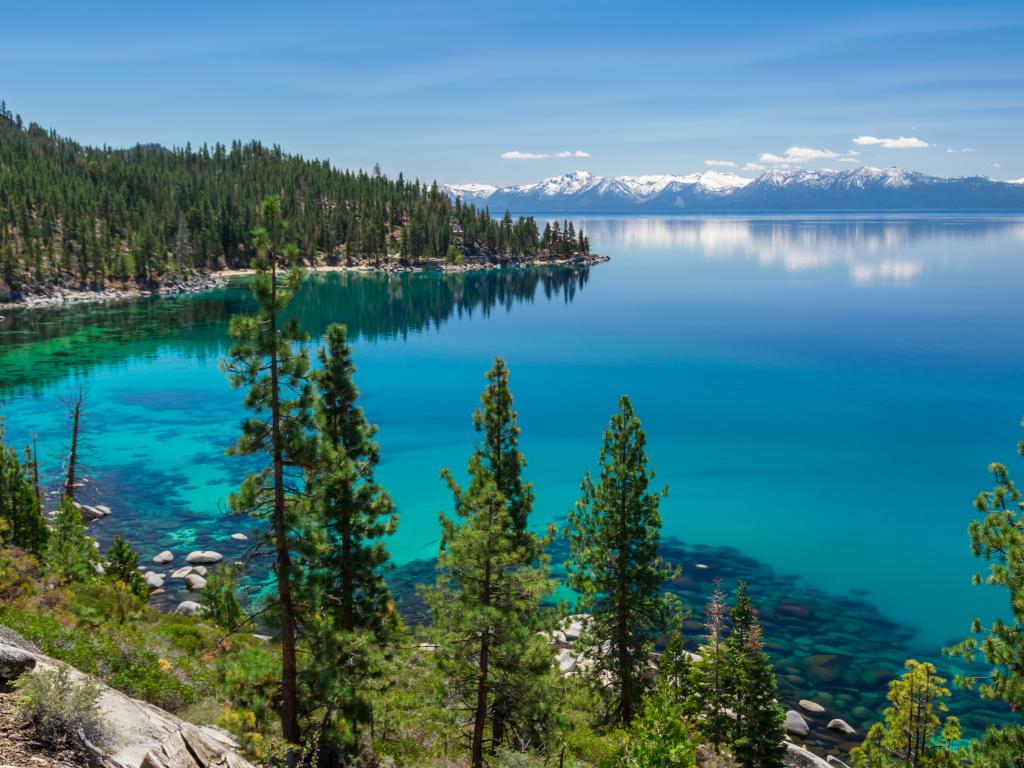 Lake Tahoe is unusual in being an incredibly great place to go virtually every single month of the year. The springtime bloom, summer activities on and around the lake through to winter skiing make this a great road trip destination whenever you find the time.
The best way to drive to Lake Tahoe from San Diego is to take U.S. Route 395 after you pass San Bernardino. Stay on US 395 right up until you reach the snow-capped peaks surrounding the lake.
9 hours is a pretty long way to drive in one go but you're in luck as the route takes you right up the spine of Sierra Nevada and past Kings Canyon, Sequoia and Death Valley National Parks as well as Yosemite and Mammoth Lakes. If you love nature, it doesn't get much better than this.
Sat on the California- Nevada border, Lake Tahoe is 6,225 feet above sea level (1,897 m). The water in the lake is crystal clear and it's surrounded by tall snow covered mountains on all sides giving it that picture perfect look.
Whether you want to canoe, jet ski or paddle board during the warm summer months or ski some of the best ski resorts in California including the famous Heavenly resort, Lake Tahoe is waiting so pack your bags and get on the road!
29. Albuquerque and Santa Fe
12 hours 30 minutes from San Diego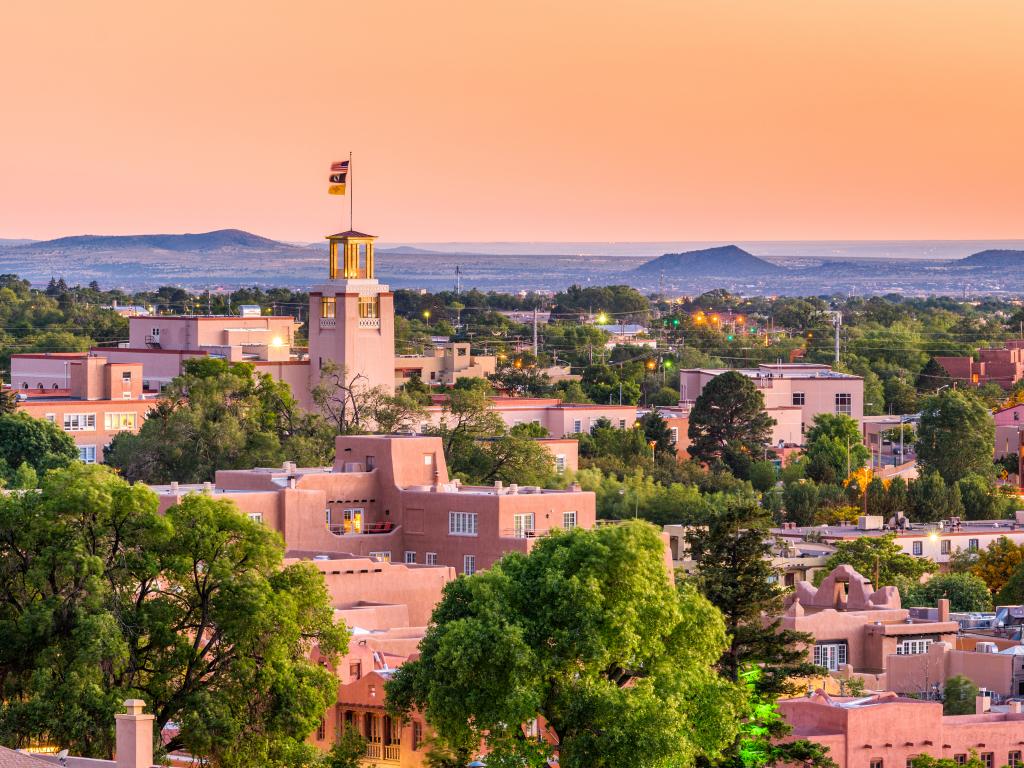 If driving to the next state is not far enough for you, we have just the right road trip from San Diego for you. The cities of Albuquerque and Santa Fe in New Mexico are a couple days' drive away and if you have enough time on your hands, this can be a great route to take.
Passing through Phoenix and not too far from the red rocks of Sedona, there's plenty of places to stop. A bigger detour can take you past the Grand Canyon and through Joshua Tree National Park.
One thing I need to check before I spell out the virtues of northern New Mexico is this: I hope you like the desert. Because the one thing this road trip has a lot of is desert. Miles and miles and hours upon hours of driving past funny shaped cactuses in Arizona and the endless hard sand of New Mexico, get a few bottles of water in the car with you just in case.
The two cities are about an hour apart but could not be more different. Albuquerque is a big business city - there's all the hustle and bustle, tall buildings and a sense of being busy in the air. Sure - there's a small Old Town, but it's more of a tourist aggregation spot than the heart of the city.
Santa Fe is much smaller and feels a lot more quirky. Again - there is a downtown with businesses in tall buildings, but the city is very different. The old colonial setup means there's a lot of cultural sights and a great amount of Indian art for you to explore.
Although it's pretty hard to avoid, make sure you try the local New Mexican cuisine - a blend of Pueblo Native food and Mexican. Chile peppers are a staple of most dishes and you'll love the piñones which is a local variety of pine tree nuts.
30. Redwood National Park
13 hours from San Diego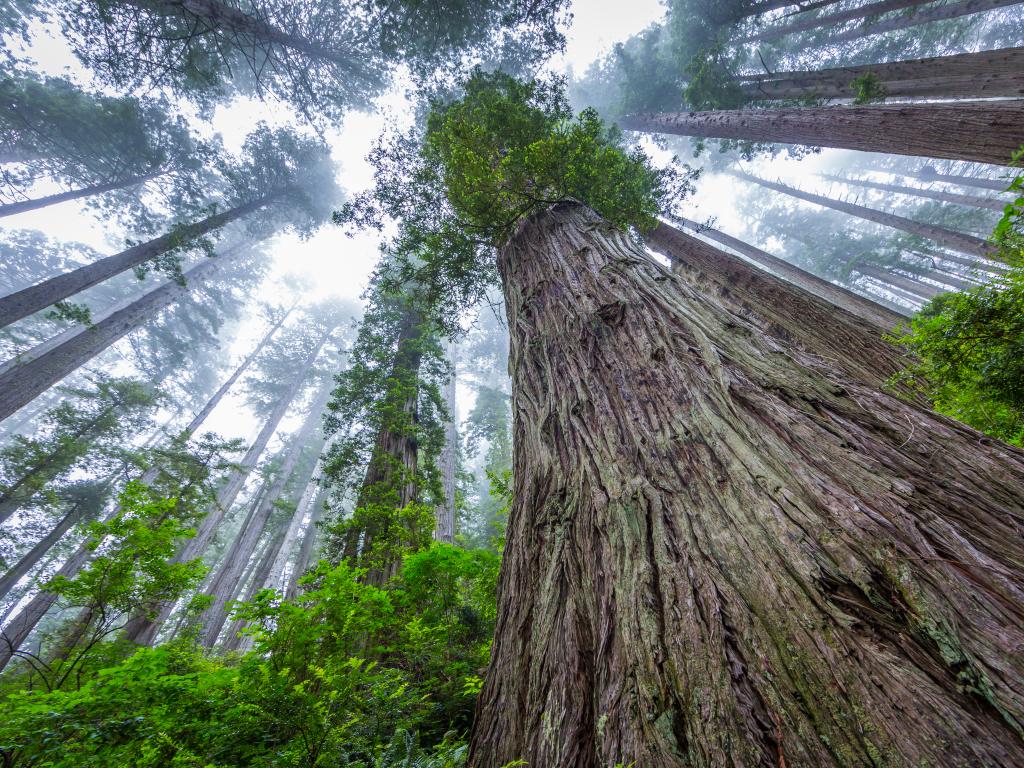 If the trees in Kings Canyon and Sequoia National Parks are not quite tall enough, you'll have to drive the length of California from San Diego to the Redwood National Park near the border with Oregon.
The fastest route along the I-5 will take you through Los Angeles and San Francisco, reaching the park in around 15 hours if you allow for a few stops along the way.
You could do it in a day if you set off early and have a hotel room booked at the other end, but I'd highly recommend breaking up the road trip and add in stops along the way. Check further up the list - half of the places are along your route so you can take your pick from the beaches of Malibu to a vineyard tour in Napa.
Your options for accommodation are simple - you can camp in the park at one of 4 designated campgrounds or apply for a permit to set up your tent at one of 8 other sites dotted around the park.
If you are a fan of creature comforts and thick mattresses, there are no lodges inside the park, so you'll need to get a room at one of the towns outside the boundary - Eureka to the south and Crescent City to the north are good options.
Inside the park, there are loads of paths and trails and you can see the trees that average several centuries old all over the park. Some are as old as 2,000 years and can reach over 350 feet (107 m) tall. The tallest tree in the world, Hyperion, is in the park and towers above the rest at a mighty 379.1 (115.5 m) feet above the ground.