Can you drive through Arches National Park?
Home to over 2,000 natural sandstone arches, the appropriately named Arches National Park presents visitors with a dramatic and pristine landscape that won't fail to impress. Travelers come to hike, climb and photograph the unforgettable red rock scenery, and it's a fabulous place to stargaze or look for meteor showers too.
You can't drive all the way across Utah's Arches National Park, but there's a fabulous 18-mile road into the park that takes you past many of this red rock landscape's main attractions, including Delicate Arch, the Fiery Furnace and the Devils Garden.
With more scenic drives just outside Arches National Park, you can also extend your road trip to explore the Colorado River and the surrounding Utah desert. Keep on reading to find out the best way to enjoy the hiking trails, river rafting and plentiful photo opportunities that this stunning area has in store.
Can you drive through Arches National Park?
The main ways to drive through Arches National Park

| Route | End point | Distance | Driving Time |
| --- | --- | --- | --- |
| Main Route | Devils Garden Trailhead | 20 miles | 35 minutes |
| Alternative Route | Tower Arch | 30 miles | 1 hour 10 minutes |
*Both routes are available to drive year-round if the road conditions allow
Arches National Park is situated in southeastern Utah, just a short distance from Moab. There isn't a road running all the way across Arches National Park but you can still drive into the scenic heart of the national park via Arches National Park Road.
The paved road takes you as far as the Devils Garden Trailhead; then you can loop back along the same road to exit the park. You can also extend your trip by taking a short detour to visit Double Arch and Delicate Arch.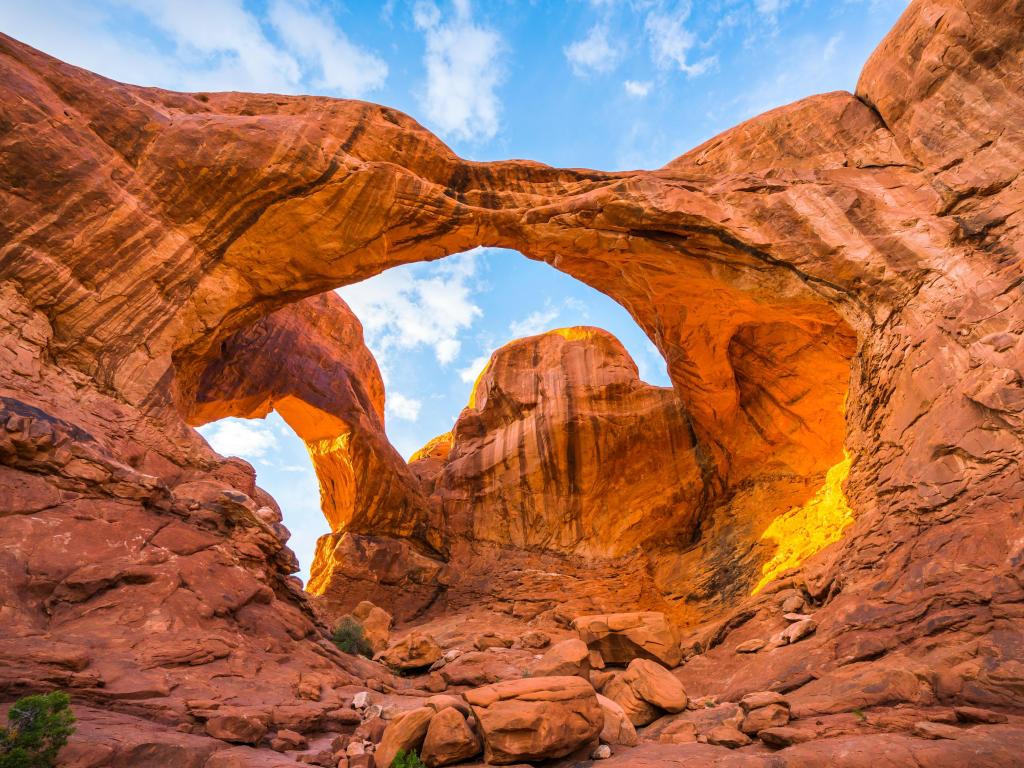 In case you're looking for a more adventurous trip, there's an alternative route that leaves Arches National Park Road behind and travels along the national park's unpaved roads via a 4WD.
As you'll see, this drive requires more planning and preparation and will be more difficult to drive after rain or snow due to the unpaved road, but it makes for an unforgettable experience.
If you don't fancy making the drive yourself, or if you don't have a vehicle for this trip, you can also take a scenic bus tour from Moab or book a tailored tour with a driver.
Tour guides will show you the best spots for photographs and potentially guide you on some of the trails through the national park, but this is a more expensive way to visit the park, and, as you'll see, it's not too challenging to navigate to the highlights of Arches National Park by yourself.
How to drive through Arches National Park on the Main Route
Arches National Park Road takes you from the main entrance gate all the way to the Devils Garden Trailhead, offering a wealth of viewpoints and trails along the way.
The road itself winds through the red rocks - take it at a leisurely pace so that you have as much time as possible to enjoy the view!
Starting at Arches National Park Visitor Center, you'll make your way past Moab Fault Overlook, Park Avenue Trailhead and La Sal Mountains Viewpoint before reaching the famous Courthouse Towers and Tower of Babel.
To your right, you'll see the Petrified Dunes before reaching Balanced Rock. You can see the Double Arch in the distance from the road, but for a closer look turn right down the Windows Road before returning to the main route and continuing towards Panorama Point.
There's another short detour along Delicate Arch Road to see this popular outlook up close, then follow Arches National Park Road on to Salt Valley Overlook, Fiery Furnace Viewpoint, Sand Dune Arch and the Skyline Arch Trailhead.
Once you've reached the Devils Garden Trailhead it's time to turn around and retrace your route back to the main park entrance.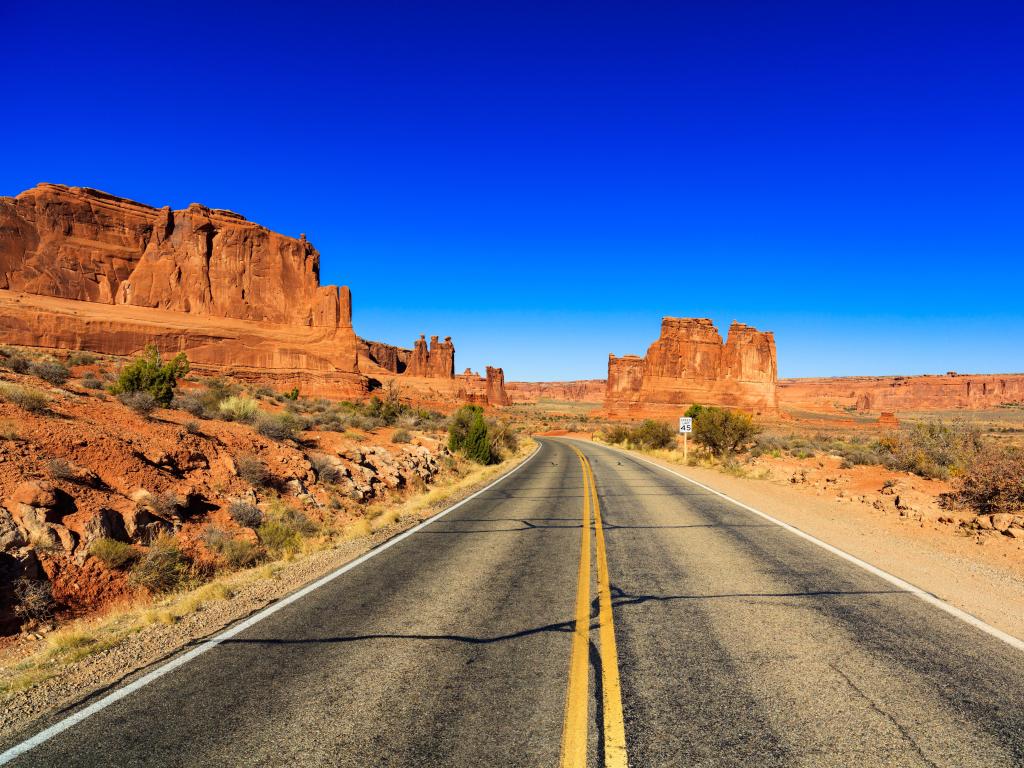 How to drive through Arches National Park on the Alternative Route
If you want to take your Arches National Park driving experience up a level, you have the choice to continue further into the park along the unpaved Salt Valley Road.
To reach the alternative route, follow the Main Route for 17 miles, which gets you as far as Sand Dune Arch. You'll have the option to stop at all the same viewpoints and trailheads along the way.
As you travel between Sand Dune Arch and the Devils Garden area, take the left turn, which leads you onto Salt Valley Road. You'll wind your way around a wide corner, then continue along a fairly straight road until another left turn takes you on to Anniversary Arch and Tower Arch.
This isn't a straightforward route as you'll be using an unpaved road after Sand Dune Arch, so it's only accessible using a 4WD vehicle. If you're equipped for the drive, though, you'll be rewarded with some quieter views of Arches National Park.
How long does it take to drive through Arches National Park?
As US National Parks go, Arches National Park is fairly compact, so it won't take you long to drive right to the heart of the national park.
If you're following the Main Route, it's just a 35-minute drive to the Devils Garden Trailhead, though you should allow plenty of extra time depending on the number of stops you plan on making along the way. Don't forget to factor in time to drive back to the entrance station, too.
Whichever route you take, it's possible that you'll hit some congestion at the park entrance, even with the introduction of timed admission slots. You'll need to pre-book a time slot from 1st April to 31st October.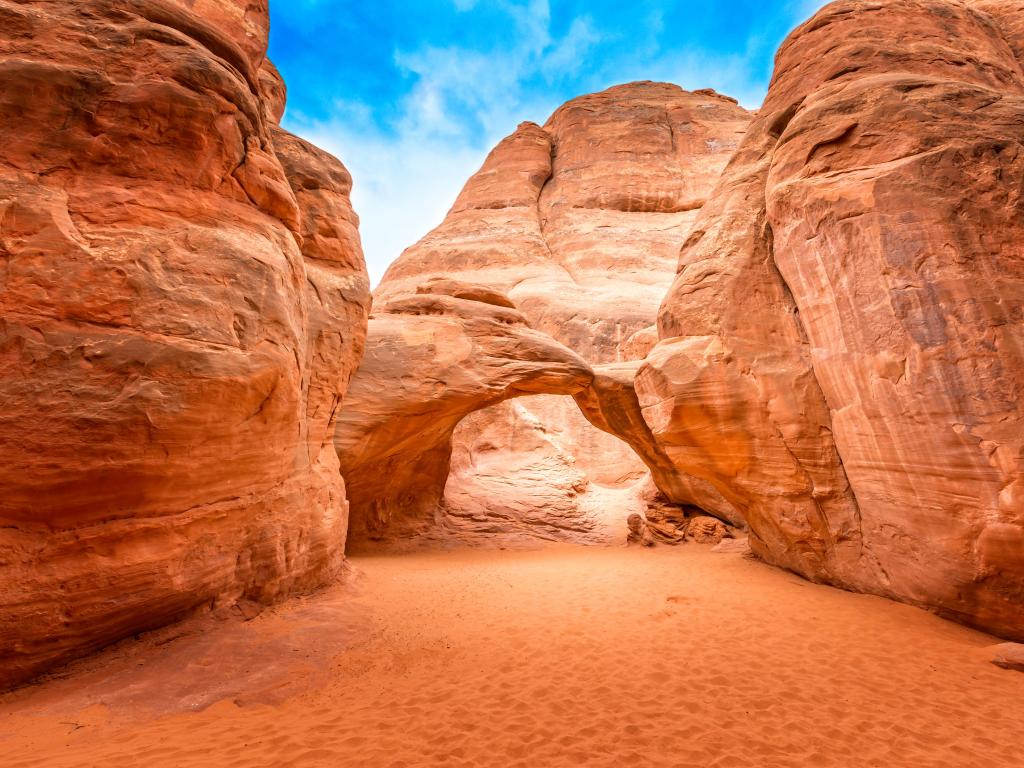 Which entrance should you arrive at in Arches National Park?
There's only one paved entrance to Arches National Park, so regardless of where you're starting your journey, you'll probably follow the same route into the park.
There are also the so-called secret entrances, where unpaved roads enter other parts of the national park, but you'll need a lot more preparation and a 4WD vehicle to access these, so we've assumed that you'll be using the main park entrance.
Unless you're flying into Moab, you'll need to factor in the time it will take to drive to Arches National Park. We've put together travel times and driving distances from a range of cities to help with planning your trip.
Comparison of travel times from major cities to Arches National Park

| Origin | Distance | Driving Time |
| --- | --- | --- |
| Moab | 5 miles | 10 minutes |
| Salt Lake City | 230 miles | 3 hours 40 minutes |
| Denver | 350 miles | 5 hours 20 minutes |
| Albuquerque | 370 miles | 6 hours |
| Santa Fe | 400 miles | 6 hours 30 minutes |
| Las Vegas | 450 miles | 6 hours 20 minutes |
| Phoenix | 470 miles | 7 hours 30 minutes |
| Seattle | 1.060 miles | 15 hours 30 minutes |
Best places to stop on a drive through Arches National Park
With Arches National Park and Canyonlands National Park being located so close together, many visitors to the area choose to stay overnight to allow more time to explore both of these stunning landscapes.
There aren't any hotels inside Arches National Park itself, but there are some fantastic choices just on the doorstep.
Stunning red rock views in Moab
Most visitors to Arches National Park will spend at least a night or two in nearby Moab. Located just 3 miles from the start of Arches National Park Road, it's considered by many to be the gateway to the park.
It's known as a hub for outdoor activities, ranging from hiking and biking to canyoneering and river rafting.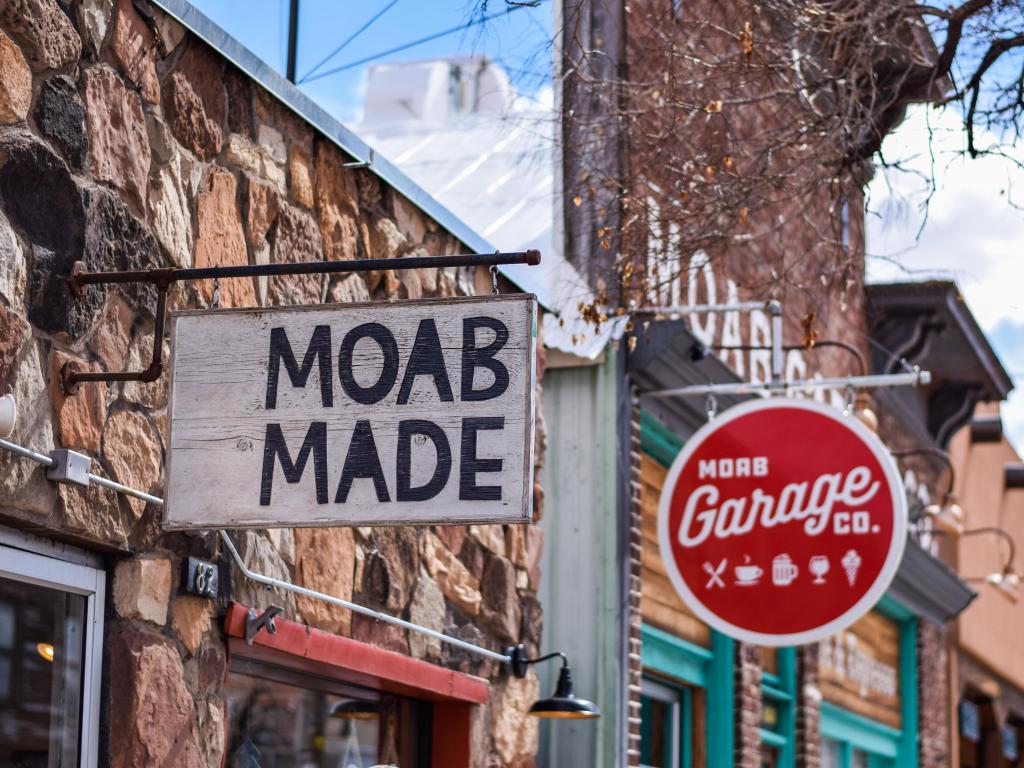 As an added bonus, it's also close to Canyonland National Park. It's easy to visit both national parks on a single trip while you're staying in Moab.
Set in a 12-acre private park, Moab Springs Ranch is a relaxing place to stay when visiting Arches National Park. It's just a 5-minute drive from the entrance gate, and its modernized bungalows and townhouses have red rock views.
The outdoor pool and hot tub also look out across the red rock landscape. Cool off here at the end of an amazing day in the national park, or else relax in a hammock in the peaceful grounds while you enjoy an organic coffee from the on-site coffee shop.
Nearby you'll find the Moab Museum, where you can discover more about the area. You can also arrange a river rafting trip with Ravens Rim Adventure Tours, which is based a short walk away.
If you're still feeling energetic, Moab Springs Ranch has access to trails along the Moab Canyon Pathway, a paved trail for cycling to the national parks, so you can leave the car behind if you fancy exploring Arches National Park on two wheels.
It also offers free parking and air conditioning, which will come in handy on a hot weather road trip
Back to nature in Green River
If you're traveling from further afield, you might prefer to stay overnight in Green River, a lush green oasis in the desert that is located around 45 miles from the entrance to Arches National Park.
The Green River itself is a popular place to enjoy water-based activities, and you might find that the city's bars and restaurants are a welcome contrast after spending time in Arches National Park.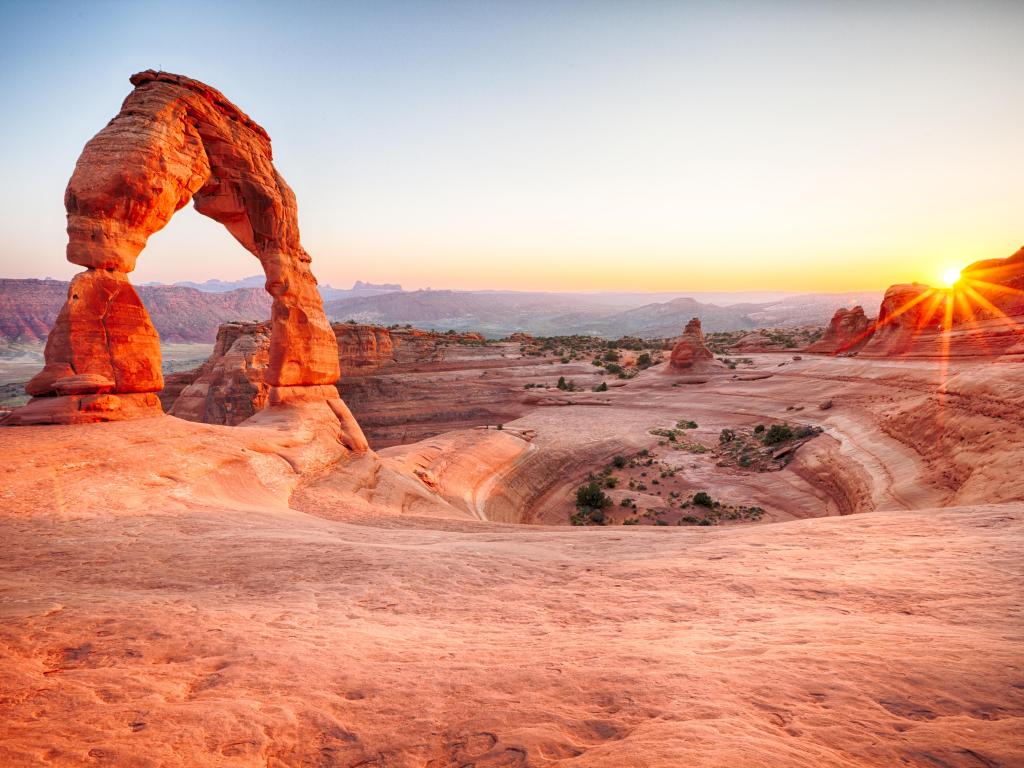 The area is also known for its dinosaur discoveries. Half an hour outside town you'll reach Mill Canyon Dinosaur Tracksite, where you can seek out traces of some of Utah's prehistoric residents.
As its name suggests, the River Terrace Inn has balconies and outdoor seating overlooking the Green River, as well as an outdoor pool and hot tub.
Round off a night in one of the Inn's large and comfortable rooms with a free, full breakfast that will set you up for the next day of your adventure.
It will take you around 40 minutes to make the 45-mile drive to Arches National Park, or an hour to reach Canyonlands National Park.
If you're spending a little longer in Green River, the River Terrace Inn is just a 5-minute walk from the John Wesley Powell River History Museum or a 20-minute drive to the Crystal Geyser.
Where to camp in Arches National Park
If you want to stay inside Arches National Park itself, your best option is to book a space at Devils Garden Campground. It's right in the heart of the national park, at the end of Arches National Park Road.
Stay on one of the 51 pitches here and you'll be camping next to the iconic sandstone arches. In springtime, flowering cacti and yucca will also add color to your surroundings.
Accessed via paved roads, you won't need an off-road vehicle to reach Devils Garden Campground, and once you've pitched your tent, you'll have access to flush toilets and drinking water, making for a comfortable stay.
As a bonus, you'll have easy access to Devils Garden Trail, which leads out to Private Arch, Double O Arch, and Landscape Arch.
If you aren't lucky enough to bag a spot at Devils Garden Campground, there are several other options just outside the national park. These include Oak Grove, Hal Canyon, Moonflower Canyon, and Big Bend Campgrounds.
Big Bend is a great choice if you're visiting in winter - it accommodates RVs, which means you'll be more comfortable in the colder weather. It's located on Scenic Highway 128, 10 miles from the entrance to Arches National Park and 15 miles out of Moab.
In summer you can enjoy the sandy beach, boat launch, and river rafting here too.
Things you need to know about driving through Arches National Park
Arches National Park Road is, in general, a very straightforward drive. The road through the park is relatively short, meaning you can take your time to stop and explore the fantastic natural sights along the way.
The paved road is easy to drive, and the clear signposts mean that you won't miss out on any of the highlights.
Arches National Park is open 24 hours a day, all year round, so you can visit whenever it suits. However, unsurprisingly, the national park is much busier at certain times of year.
Although the park is busiest between March and October, there's actually a slight dip in visitor numbers during the summer months. The extreme heat, which regularly reaches the mid-90s Fahrenheit, makes hiking and other outdoor activities challenging between June and August.
However, in spite of the heat, this is still a popular destination in the summer vacation period, so parking lots can fill quickly even on the hottest of days.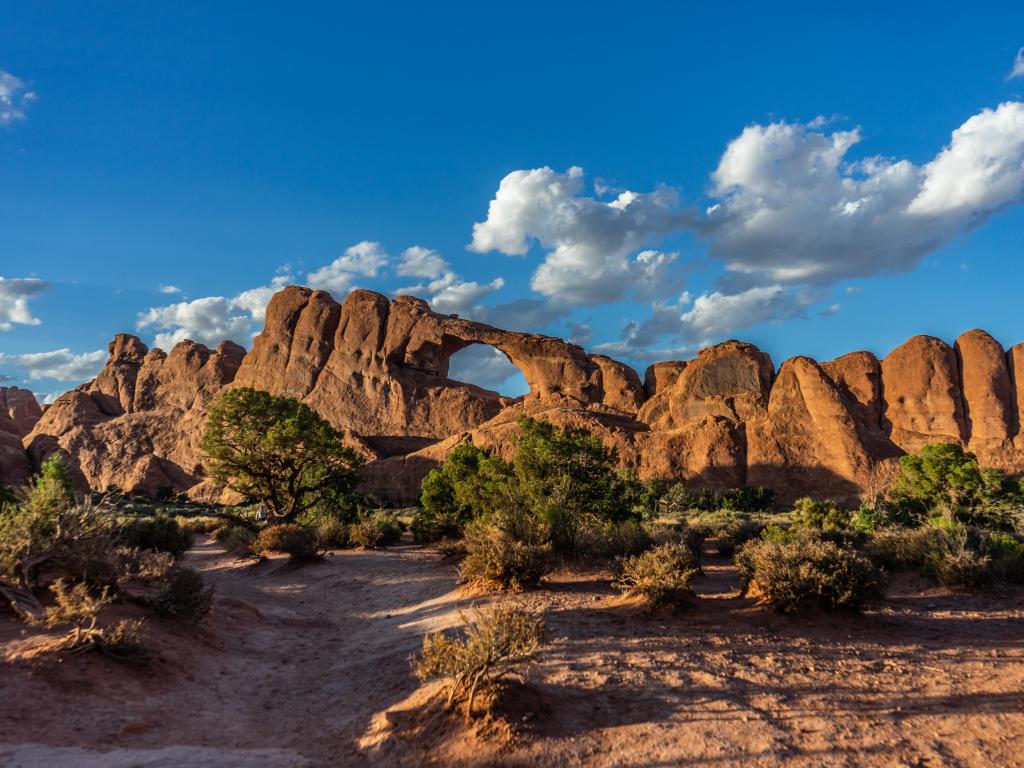 Arches National Park tends to be less crowded in the winter. You don't need to book timed entry, so you can be a little more flexible with your travel plans.
In contrast, average winter temperatures range from 29 to 41 degrees. You'll often see snowfall in December and January, though usually only a light scattering. Arches National Park Road can close for a few hours while plowing occurs, but it usually reopens later the same day.
Hiking trails through the national park also stay open in winter. However, take extra care as the trails, especially the route to Delicate Arch, can be slippery underfoot.
April, May and September are particularly busy times to visit Arches National Park. The milder temperatures make hiking more comfortable. However, higher visitor numbers mean that parking lots fill fast and there are often queues at the entrance station.
We recommend booking your entry time slot in advance, alongside your hotel, campsite, or any guided tour options.
On top of the park entry fee, summarized in the table below, you'll also have to pay a small charge to book your entry time slot.
NPS entry fees to Arches National Park

| Ticket type | Adult fare | Car fare |
| --- | --- | --- |
| Day pass | $15 | $30 |
| Annual pass | N/A | $55 |
*Calculated at the time of writing
Here are our top tips when it comes to preparing for a drive through Arches National Park:
Between April and October, you'll have to book a timed entry slot between 6am and 5pm. Book your time slot here, but remember you'll have to pay a $2 fee on top of the park entry fee.
As you enter the park, stop at the visitor center. There are many trails, and all have different difficulties, here, you can decide where to stop on the drive so you can have a tailored experience.
Check ahead for opening times for the Visitor Center, as these vary depending on the season.
During peak tourist season, there's congestion, especially at the entrance.
When booking your timed entry, try to get an early slot so you can secure a parking spot, or get up early and start your drive through the national park at 5am if you really want to avoid the crowds.
Similarly, parking spaces at popular hiking trailheads and viewpoints can fill fast.
Remember you'll be in the desert, so stay hydrated and have working air-conditioning in your vehicle.
Fill up on gas before entering the park, although a short drive there are no gas stations within the park.
We recommend staying on the paved roads unless you have the appropriate vehicle.
If you use the Alternative Route, the dusty unpaved roads require 4WD vehicles.
You'll need an entrance pass to enter the park - buy them online or at the entrance station.
You don't need a passport to visit Arches National Park, unless you're heading here directly from an international flight of course.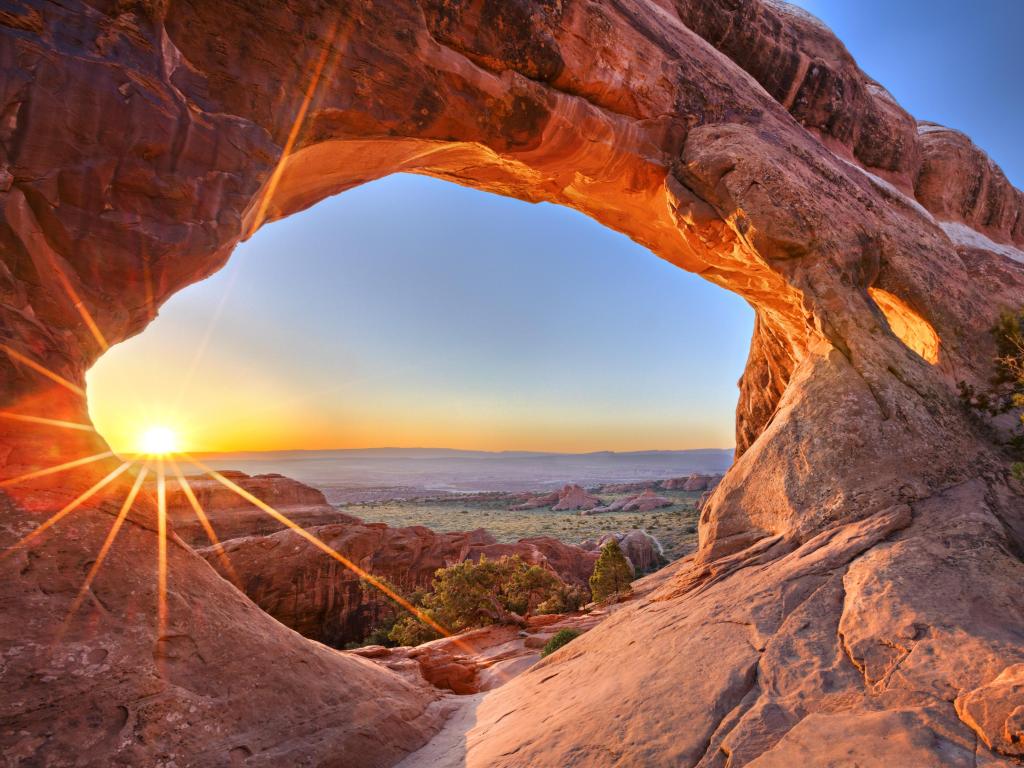 Things to see on a drive through Arches National Park
Arches National Park Road is one of those stunning drives where you don't even need to leave your car to appreciate the amazing experience.
The main attractions in the national park are all close to the road, so even if you're planning on hiking some of the trails, you can see them all in a day.
Delicate Arch - The 52-foot-tall Delicate Arch is one of the most iconic natural arches in the world and is a must-see for visitors. The trail is a 3-mile round trip, but at the end of this reasonably strenuous hike, you'll be rewarded with unforgettable views of the arch against the red rock backdrop.
Landscape Arch -This thin, delicate arch is located in the Devils Garden area, and the 1.8-mile round-trip hike is less challenging than the trail out to Delicate Arch.
Double Arch - You can see these two huge arches rising up from the same rocks without leaving The Windows Parking Lot, but it's a short 0.6-mile round-trip hike to see them up close.
Balanced Rock -Teetering on the edge of its foundation, this colossal 128-foot tall boulder looks like it'll fall any moment. Visible from Arches National Park Road, it's a quick stop but a must-see all the same.
Fiery Furnace - This challenging hike is often explored on a guided ranger-led tour (Advance booking is recommended). After passing through narrow passageways, you'll see a collection of sandstone canyons, arches, and unique rock formations.
Park Avenue & Courthouse Towers -A popular stop on the road through the park, this viewpoint showcases canyon walls and towering red rock resembling a city skyline.
The stunning drive through Arches National Park will be an unforgettable one, however you choose to experience it. Just make sure you've packed your sunscreen and water bottles before you hit the road.