Road Trip From Denver To Seattle
If you're a fan of the Midwest's breathtaking mountains and forests, consider taking your holiday to the next level with a road trip from Denver to Seattle. The drive will take you past some of the States' most iconic natural landmarks before culminating in the beautiful Emerald City.
The 1,300-mile road trip from Denver to Seattle takes 19 hours and 30 minutes to drive. Highlights include Arches, Canyonlands, and Yellowstone National Parks, scenic vistas from Devil's Tower and Mount Rainier, and Ashley and Sawtooth National Forests.
With so much ground to cover and so many things to see, keep reading for all the details!
How far is Seattle from Denver and how long will the road trip take?
| Route | Distance | Driving Time |
| --- | --- | --- |
| Southern Idaho Route | 1,300 miles | 19 hours 30 minutes |
| Montana Route | 1,370 miles | 20 hours |
Taking the quickest possible route, the road trip from Denver to Seattle covers 1,300 miles and takes around 19 hours and 30 minutes to drive. The length practically forces you to make at least one overnight stop, although you'll probably want to take a few weeks to do the trip.
This itinerary will take you past some of the most scenic parts of the Rockies and the Cascade Range, along with countless other landmarks in between. Never straying from the Interstate and avoiding major cities, the route leaves little room for unforeseen hold-ups or delays.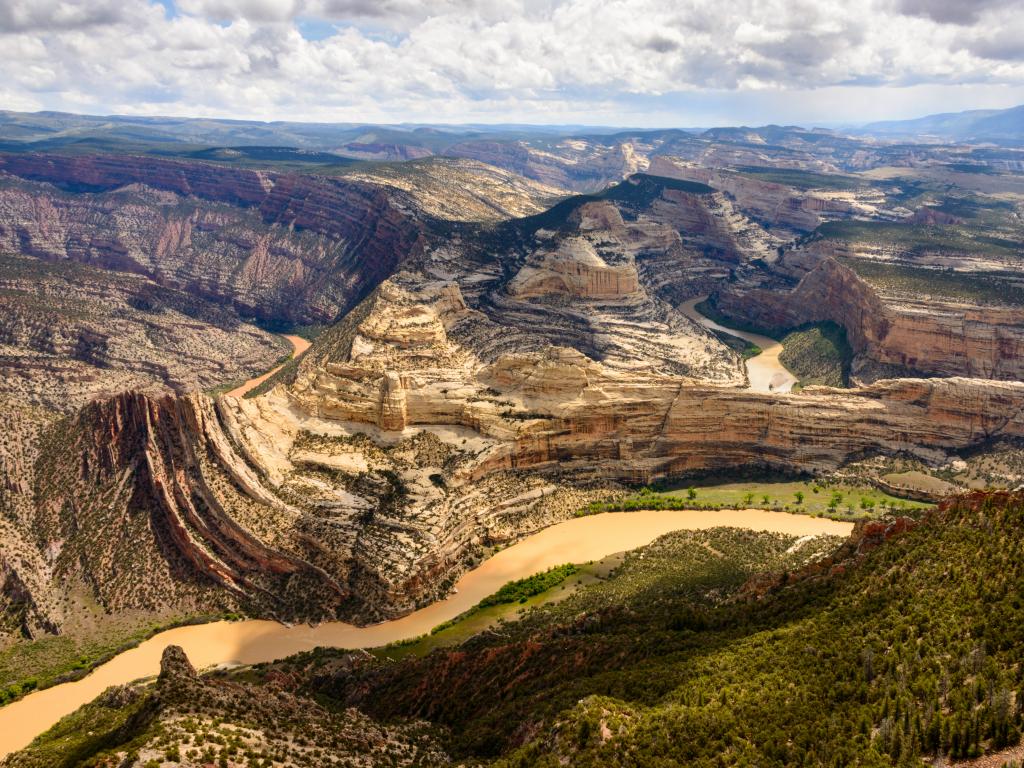 Instead of going through southern Idaho, an alternate route will take you further north to Montana, then following the interstate through the Rockies and Spokane. This particular segment of the itinerary is arguably the most scenic part of the drive.
Although it's only about 60 miles longer than the other route, driving through western Montana and Idaho's "panhandle" might warrant a slower, more careful drive, especially on a particularly snowy year.
Best road trip route from Denver to Seattle
The best road trip route from Denver to Seattle depends on what you're after - the quicker route is great and offers plenty of scenery, but the longer Montana route offers access to Yellowstone National Park and truly spectacular Rockies wilderness.
How to drive from Denver to Seattle
The map above shows our suggestions for the best road trip routes between Denver to Seattle. Keep reading for detailed descriptions of both routes, where to stay on either, and the best things to do on the way.
Southern Idaho Route
Take Interstate 25 north out of Denver, passing Rocky Mountain National Park before getting onto Route 287. Detour to Pawnee National Grasslands, or continue north to Medicine Bow Routt National Forest and get onto Interstate 80.
Follow the interstate past Dinosaur National Monument, Ashley, and Uinta-Wasatch-Cache National Forests before hopping onto Interstate 84 and following it north along the Great Salt Lake.
After checking out Craters of the Moon National Monument & Preserve, you have two options – taking a somewhat long but scenic detour to Idaho Falls and Yellowstone or sticking to the main route and passing Sawtooth National Forest.
Along the main route, visit Umatilla and Payette National Forests and switch over to Interstate 82, just before crossing the Snake River. Be sure to visit Mount Rainier National Park and Okanogan-Wenatchee National Forest before pulling up to Seattle.
As a side note, although it doesn't quite qualify as a separate route given the overlap, you can also leave Denver via Interstate 70 going west – this lets you pass Moab, as well as Arches, Canyonlands, and Capitol Reef National Parks. Once you're finished, you can follow Manti-La Sal National Forest and Utah Lake north to Great Salt Lake, then continue the trip as outlined above.
The Montana Route
Pass Rocky Mountain National Park and Pawnee National Grasslands via Interstate 25, then check out Bighorn and Black Hills National Forests before entering Montana and hopping onto Interstate 90.
Be sure to stop by Yellowstone National Park and Bridger-Teton National Forest before making your way through the Rockies, namely Helena, Flathead, Kanisku, and Colville National Forests, among others.
Near the heart of Washington, drive between Mount Rainier and Okanogan-Wenatchee National Forest. Soon enough, you'll make your way into Seattle.
Best places to stop between Denver and Seattle
Although none of the cities on the road trip from Denver to Seattle would qualify as metropolises, the sheer number of attractions on the way means there are plenty of great places to stop for the night. These are the hotels you should definitely consider booking:
Keep it old-school in Jackson
Yellowstone is one of the highlights of this spectacular road trip, so it stands to reason you'd want to spend a few nights in the area. There are countless amazing places to stay in the area, but the Rustic Inn Creekside in Jackson is the epitome of style, luxury, and grace.
Offering a unique blend of vintage and modern, the warm colors, fireplace, and overall inviting atmosphere of this resort will ensure a comfortable, relaxing night's sleep. What's more, you'll be waking up to one of the most scenic window views you could possibly hope for.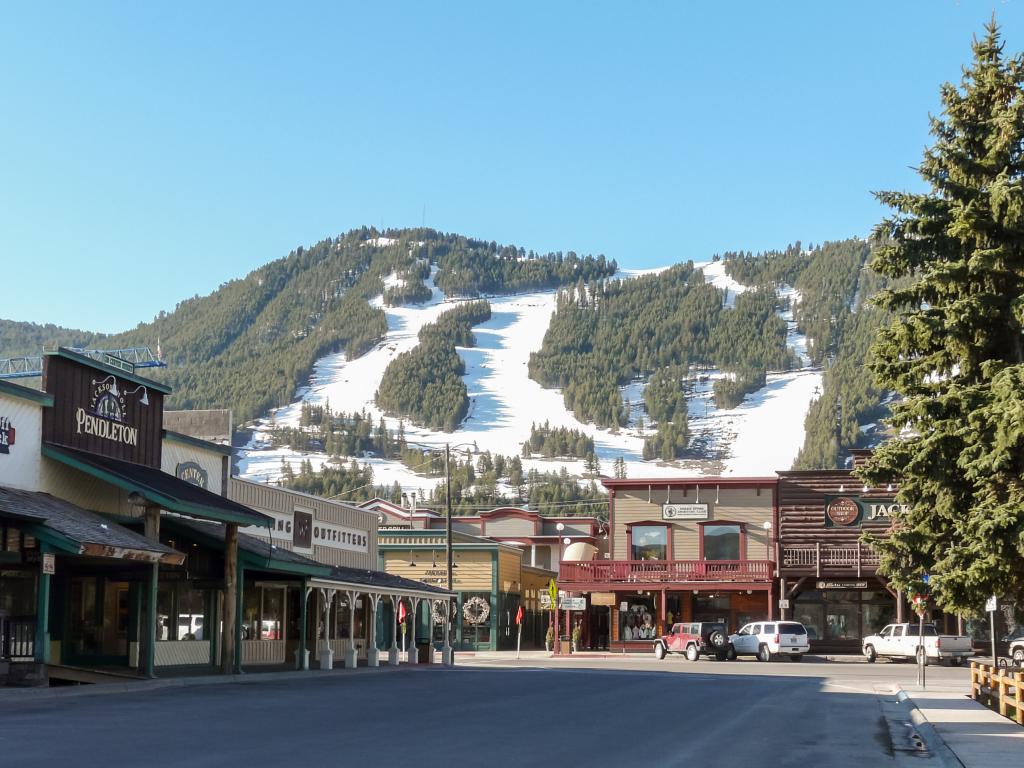 The cuisine at the on-site restaurant is exquisite, and the wine list is probably the best thing about it. The hotel also features an outdoor swimming pool and hot tub, as well as a fitness area and spa suites.
Located a very short drive from Yellowstone, this is a great place to stay if you want to explore the park in its entirety. The cherry on top is the price – the hotel is an outright steal considering everything it has to offer.
Enjoy an epic view of Seattle
Although you'll have to think about booking well in advance, you should have no trouble finding a great hotel in Seattle. The city is home to plenty of great resorts, although nothing can top the city view from the pool at Four Seasons Hotel Seattle.
Between the incredible views of the city and the impeccably decorated suites (equipped with a fireplace and touches of stone and wood), this is definitely one of the most aesthetically pleasing resorts in all of Seattle.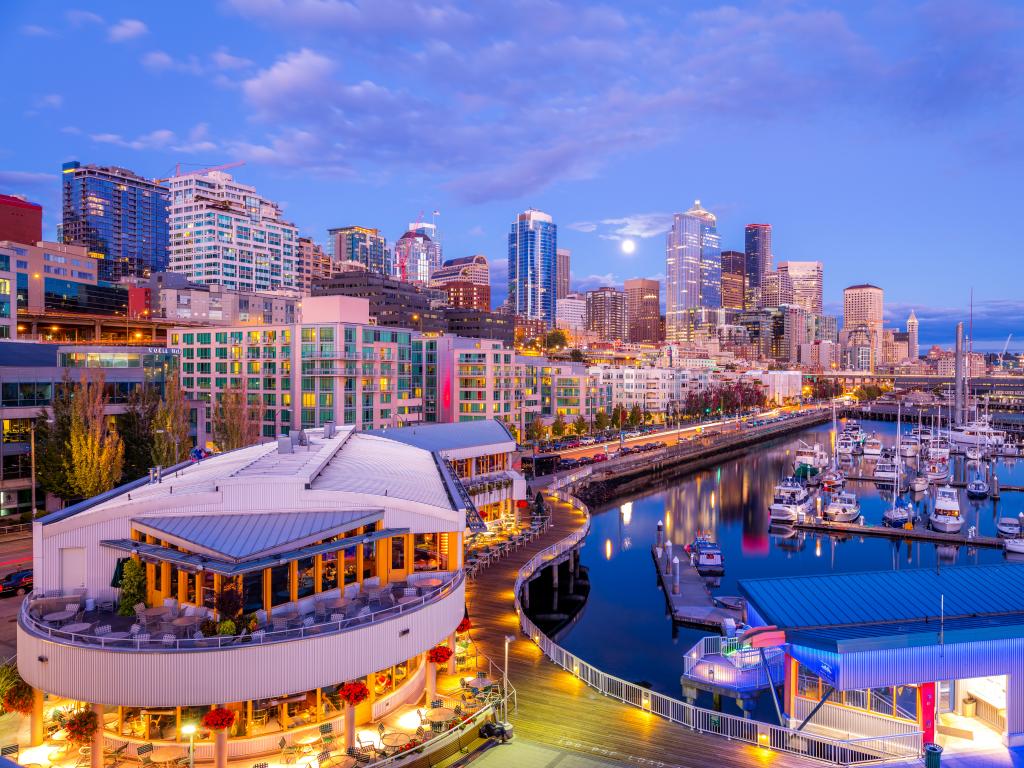 Best of all, you'll be located in the very center of town, putting you within walking distance of Pike Place Market and the Space Needle, among countless other attractions.
On the topic of great views, the rooftop swimming pool is the perfect place to enjoy the sunset with a drink and good company. The on-site Goldfinch Tavern has some amazing meal options, and you'll also have access to a bar and a fitness area.
Even by Seattle standards, this hotel is definitely on the expensive side. With that said, visiting during one of the city's shoulder seasons should give you a chance at a solid deal.
Things to see on a road trip from Denver to Seattle
With two epic routes to choose from for your road trip from Denver to Seattle, you'll find no shortage of beautiful places to visit. Take upwards of two weeks to explore as much of these itineraries as possible, and be sure to visit the following landmarks:
Rocky Mountain National Park – Combining epic views, crystal-clear lakes and the Trail Ridge Road, this park is the ultimate way of experiencing the Rockies. If you are visiting Rocky Mountain National Park, keep in mind that the national park uses a timed entry permit system. Please check the national park's website to see if you need to make a reservation before your visit.
Pawnee National Grassland – A scenic blend of prairies and buttes ideal for hikes and campouts.
Dinosaur National Monument – This monument is home to innumerable paleontological sites, and it is perhaps best known for Dinosaur Quarry.
Uinta-Wasatch-Cache National Forests – Totaling over 2 million acres of forests, peaks, and wilderness areas, this is one of the most beautiful pieces of land in all of Utah.
Craters of the Moon National Monument & Preserve – Easily identifiable by its lava fields, this aptly named preserve resembles the surface of the moon.
Idaho Falls – This Idaho city runs along the Snake River and is best explored along the River Walk area.
Umatilla, Payette, Salmon, and Sawtooth National Forests – This long chain of scenic forests in and of itself is enough of a reason to consider the trip.
Mount Rainier National Park – The crowning jewel of the Cascade Range, this is arguably the most scenic vista in all of Washington.
Okanogan-Wenatchee National Forest – 4 million acres of forested area sprawled across the Cascade Range.
Olympic National Park – An idyllic blend of forests, beaches, and mountains, and among the most scenic spots along the West Coast.
Arches National Park – This park is home to hundreds of natural stone arches and incredibly scenic hiking trails. You might need to make a reservation for a timed-entry permit while visiting Arches National Park. Please check the national park's website for up-to-date information.
Canyonlands National Park – Comprised of The Needles, The Maze, Island in the Sky and the stretch of land along the Colorado River, there's a little something for everyone at this park.
Capitol Reef National Park – One of the definitive Utah hiking spots, this park houses dramatic canyons, campsites, and the beautiful Waterpocket Fold.
Yellowstone National Park – Although it's somewhat of a detour, a visit to one of the States' most iconic parks is sure to spruce up your trip.
Bighorn National Forest – A one-off as far as Wyoming goes, this forest features the Rockies, lush valleys, beautiful lakes, and various campgrounds.
Black Hills National Forest – Home to hundreds of miles of scenic hiking trails and some of the most incredible canyon views you're likely to see.
Devils Tower National Monument – The States' very first national monument was considered a sacred site by Native American tribes of old.
Yellowstone National Park – One of America's most iconic national parks is famous for its biodiversity and beautiful, varied terrain.
Helena, Flathead, Kaniksu, and Colville National Forests – A sequence of scenic forests that start in western Montana and continue well past the Rockies and into Washington.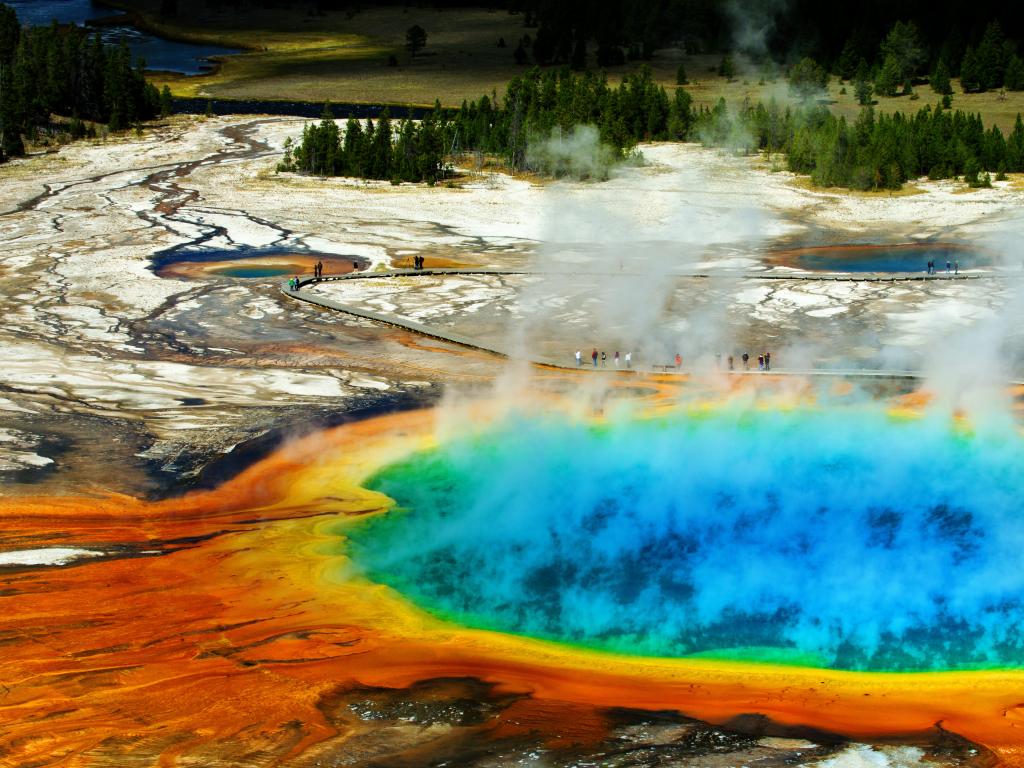 Best time to go on a road trip from Denver to Seattle
The best time to do the road trip from Denver to Seattle depends on whether you'll be going sightseeing or you want to participate in some seasonal sports.
As far as crowds are concerned, summer is the city's busiest season, and with temperatures around low 70 degrees Fahrenheit and a variety of scenic parks and forests in every direction, it's not hard to see why.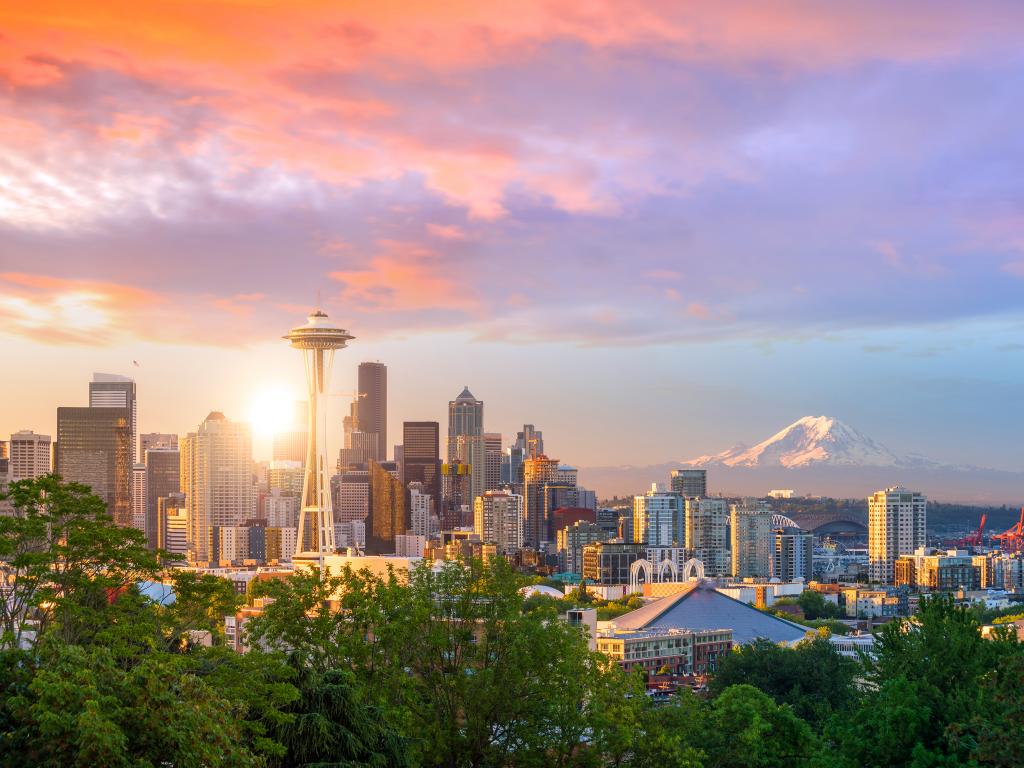 If you're looking to catch the city when it's less congested, consider doing the trip in the fall or spring. Both seasons tend to get quite rainy, especially in transitional months like November and March, but you can expect to score a good deal on a hotel room during these seasons.
There aren't a lot of sightseers in Seattle in the winter, but when it comes to skiers and snowboarders, it's an entirely different story – with the Cascades and Mount Rainier just around the corner, this is the perfect time to visit what is arguably the best skiing region on the West Coast.