Road Trip from Las Vegas to Arches National Park
If you're looking to leave the glittering neon lights of Las Vegas behind and set off on a stunningly scenic drive from Las Vegas to the breathtaking landscape of Arches National Park with its red rock formations, then this the perfect road trip for you.
The 540-mile road trip from Austin to Denver takes 10 hours to drive. Stops include Flagstaff, Boulder, Kingman and Moab, plus Hoover Dam, Lake Mead, Zion National Park, Grand Canyon, Dixie National Forest, Bryce Canyon National Park and Canyonlands.
The drive to Arches National Park is packed full of stunning views, from pretty villages and history-rich towns to incredible parks, mountain views and world-famous sites. Read on to learn about the best routes and places to visit along the way to make the most out of your trip.
How far is Arches National Park from Las Vegas, and how long will the road trip take?
Comparison of road trip routes between Las Vegas and Arches National Park

| Route | Distance | Driving Time |
| --- | --- | --- |
| The Northern Route | 540 miles | 9 hours 50 minutes |
| The Southern Route | 810 miles | 13 hours 20 minutes |
There are two distinct routes you can follow from Las Vegas to Arches National Park - namely north or south. The quickest of the two takes you north past Bryce Canyon National Park and covers a distance of 540 miles. Without stopping, this route will take 9 hours and 50 minutes.
Our Southern Route takes you via Flagstaff and the epic Grand Canyon. It's a slightly longer option in order to pack in as many fantastic attractions as possible, spanning a distance of 810 miles, it'll take you 13 hours and 20 minutes of non-stop driving to complete.
As this is a scenic road trip, we'd recommend spending three to four days and including a couple of fantastic overnight stops en route. This way you'll get longer to hike or watch a sunset or two at the beautiful locations you'll pass and divide the drive into manageable chunks.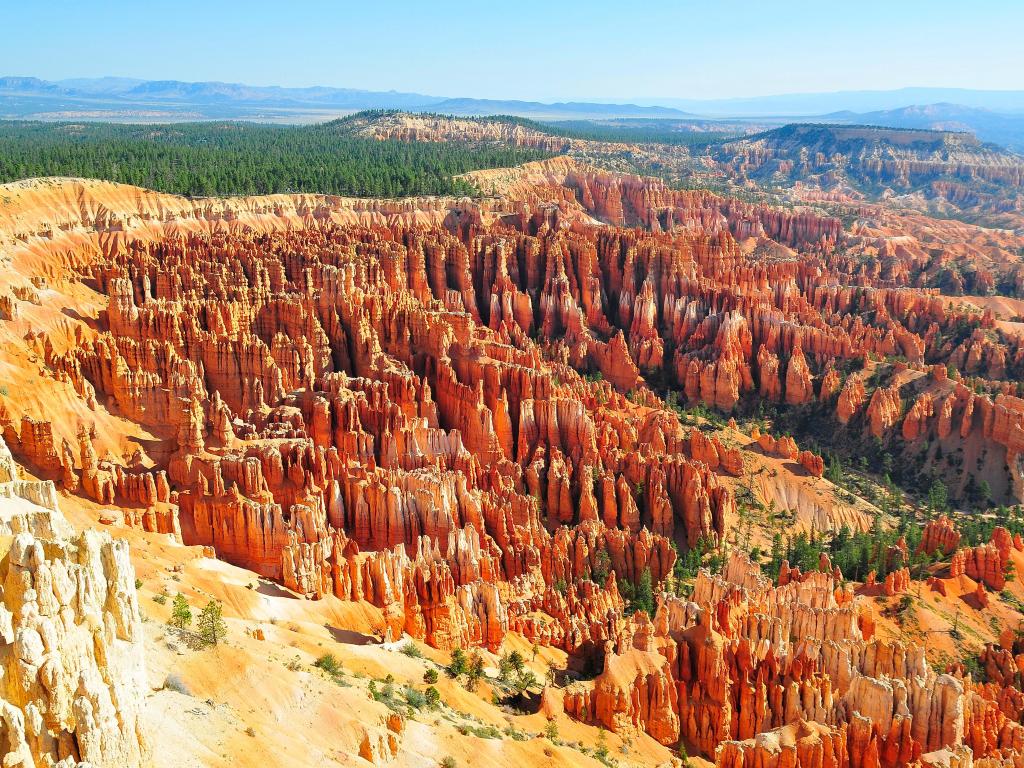 Best road trip route from Las Vegas to Arches National Park
The best route from Las Vegas to Arches National Park really will depend on your preference for places to visit along the way, as there's not a big difference in time or distance.
Our Northern Route is technically quicker, depending on how long you wish to explore the breathtaking natural landscapes encountered on the way. Every stop on the journey is filled with geological masterpieces and mountainous grandeur.
It is also a spectacular experience for the committed hiker and intrepid explorer, where you'll discover incredible views at Zion National Park and Bruce Canyon National Park, to name just a few. This is definitely an outdoor lover's paradise though, as there are less urban visits.
If you'd prefer to mix culture-rich towns with stunning parks, then you may find our Southern Route more appealing. Though this route is longer, it has more of a balance of indoor and outdoor attractions, making it a great year-round option.
Taking you through Flagstaff and Kingman, you can get your hit of historic and cultural vibes before exploring the iconic Grand Canyon or taking in the view of Hoover Dam and Lake Mead.
You might need to make a reservation for a timed-entry permit while visiting Arches National Park. Please check the national park's website for up-to-date information.
How to drive from Las Vegas to Arches National Park
The map above shows our suggestions for the best road trip routes from Las Vegas to Arches National Park. Keep reading for detailed descriptions of both routes, where to stay on either, and the best things to do on the way.
The Northern Route
Leave Las Vegas on Interstate 15 (I-15) North to Crystal, passing the stunning Valley of Fire State Park and Desert National Wildlife Range further west.
Cross into Arizona and then quickly into Utah towards Zion National Park, a stunning place to explore with mountains, waterfalls and incredible hiking trails.
At Mt Carmel Junction follow US-89 North where you can visit Dixie National Forest to the west and Bryce Canyon National Park to the east.
You will then drive through Cannonville to Boulder, where you can visit the nearby Grand Staircase-Escalante National Monument or Capitol Reed National Park.
Follow UT-24 and either detour to Fish Lake Hightop if you'd like a waterside stop or continue east to I-70 and near Canyonlands National Park. Head south towards Moab where you'll reach your destination of Arches National Park.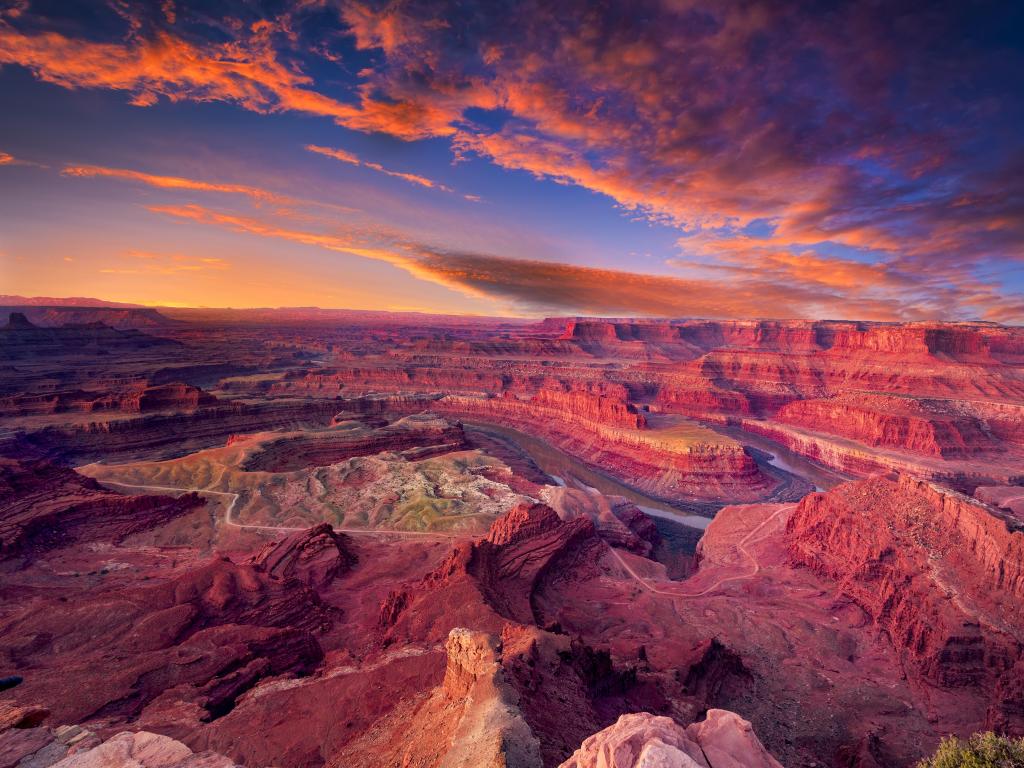 The Southern Route
Our alternative route takes you from Las Vegas on I-11, passing Sloan Canyon National Conservation Area and to Hoover Dam where you can stop and explore stunning Lead Mead.
Continue south on US-93 to Kingman, before taking the interstate east to Flagstaff, passing several towns and driving through Coconino National Forest.
At Flagstaff, you can drive to the South Rim of the Grand Canyon, through Kaibab National Forest, or continue north on US-89 and detour to the Grand Canyon just before Cameron.
Either way, you'll pass Wupatki National Monument as you drive north towards Vermilion Cliffs National Monument at Marble Canyon.
Follow the road towards Page, where you can visit Lake Powell and then join AZ-98 and US-160 East towards White Mesa. Pass Canyons of the Ancients National Monument and Canyonlands National Park before reaching Moab and Arches National Park.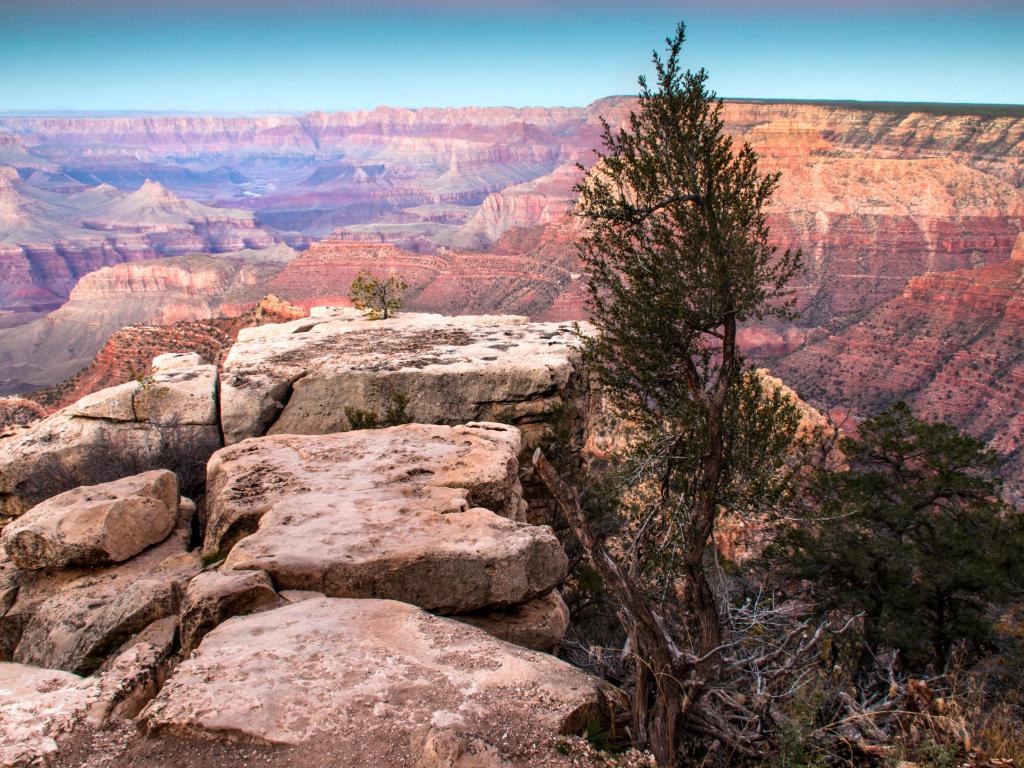 Best places to stop between Las Vegas and Arches National Park
Despite only being a short drive from Sin City to Arches National Park, you'll still have plenty of great overnight stop options that you can plan. Here are a couple of our favorite places to rest at, which offer great attractions and fun things to do while visiting.
Enjoy Utah's hospitality at Panguitch
If you decide to follow the Northern Route to Arches National Park, then an ideal halfway point if you're looking to split the journey over two days is the town of Panguitch.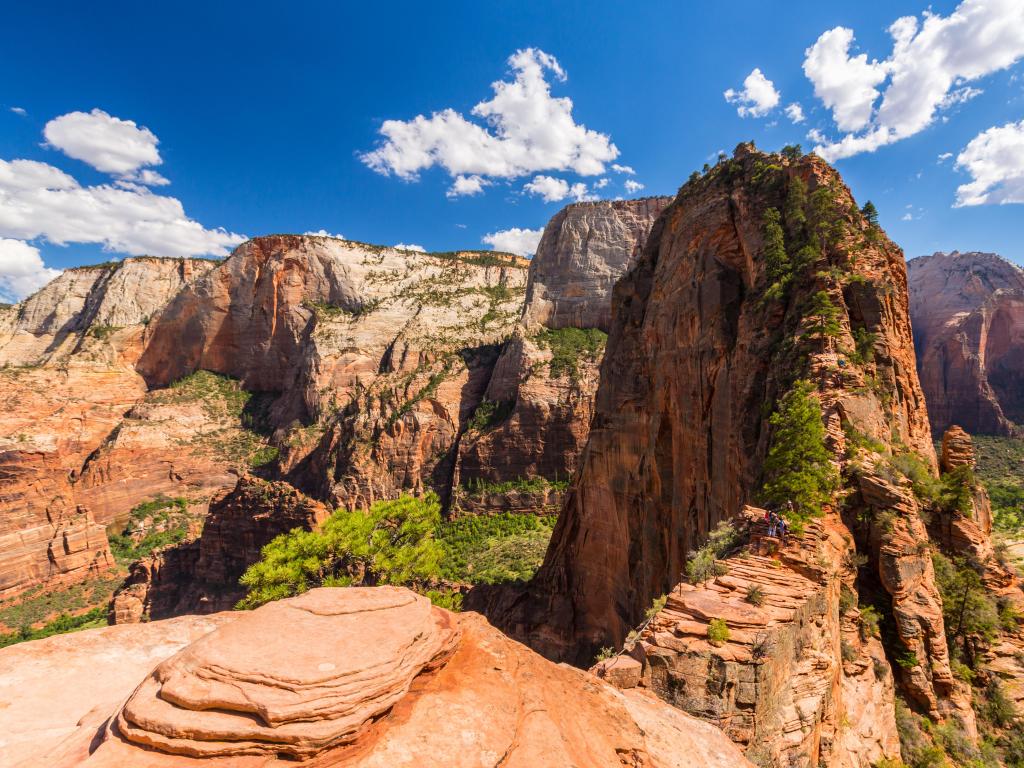 There are a couple of nearby places to stop, but for a cozy and convenient rest we'd recommend The Panguitch House. Expect clean and bright rooms and a welcome hot breakfast every day. It has free parking and is just a short walk to the historic city of Panguitch.
You'll get an authentic western experience at this home-from-home resort. If you don't feel like traveling far, there are beautiful gardens to explore and even an outdoor dining area.
Being located so close to Bryce Canyon National Park and Zion National Park you might want to venture out though if you're looking to spend some time hiking at these great locations or hunting for a spectacular sunset view.
Other great attractions close by include Panguitch Lake where you can enjoy camping, fishing or boating, and Cedar Breaks National Monument which is a stunning natural amphitheater of crumbling red cliffs.
Stunning views at Flagstaff
Known as the gateway to the Grand Canyon, Flagstaff is a real highlight on our Southern Route. And just four hours from Las Vegas, it also makes a perfect first stop en route to Arches National Park.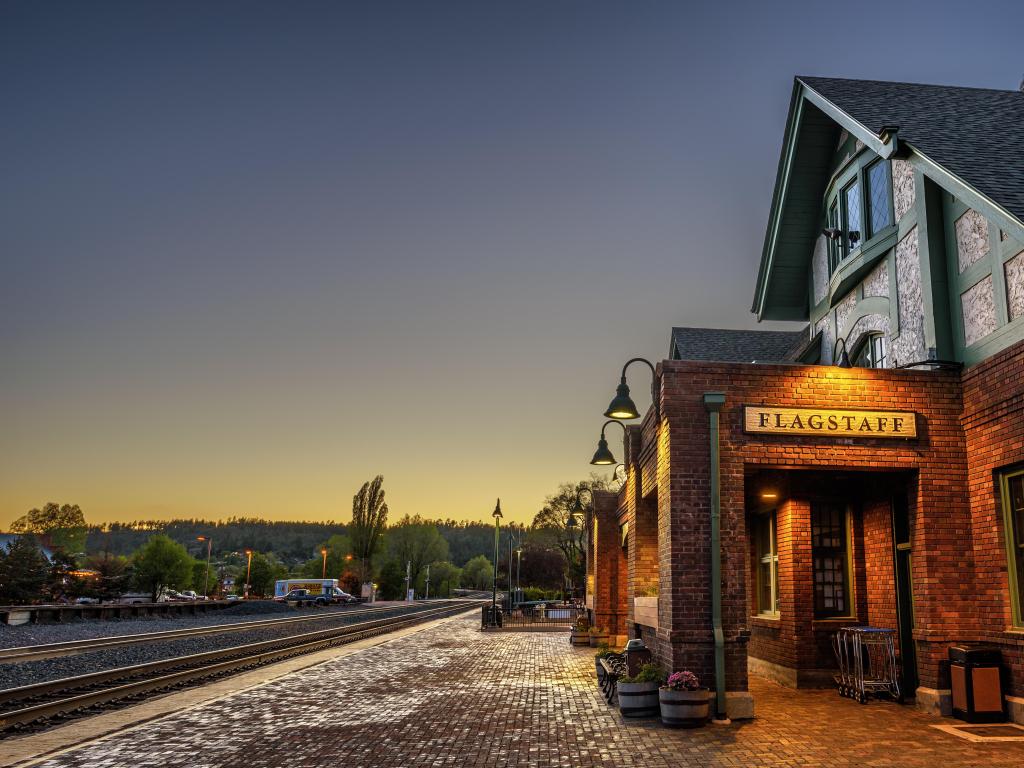 Flagstaff itself is a beautiful town which offers stunning mountain activities and outdoor natural beauty. It is a training ground for many Olympic US teams due to its seasonal climate, meanwhile the town itself is a vibrant place to explore with many restaurants and shops.
Another great nearby site is Wupatki National Monument, an age-old pueblo that was home to the Anasazi and Sinagua tribes. Plus of course, visiting the epic Grand Canyon or the lesser-known Walnut Canyon is a must!
Stop at High Country Motor Lodge and you won't be disappointed. Located on the historic Route 66, this stylish hotel will provide for all your relaxation needs. It has free parking, a gym, a pool, a sauna and a chic restaurant and bar where you can unwind after a long day of site seeing.
Not only does this great hotel make a convenient stop on your road trip, but it's a great location for visiting the Grand Canyon and still within walking distance to Flagstaff's popular downtown.
Stay at the gateway to Arches National Park
While you can't stay within Arches National Park itself, the closest town Moab offers a fantastic base to explore. Nestled among the mountains, Hoodoo Moab, Curio Collection by Hilton features rooms which boast majestic views, fantastic amenities and free parking.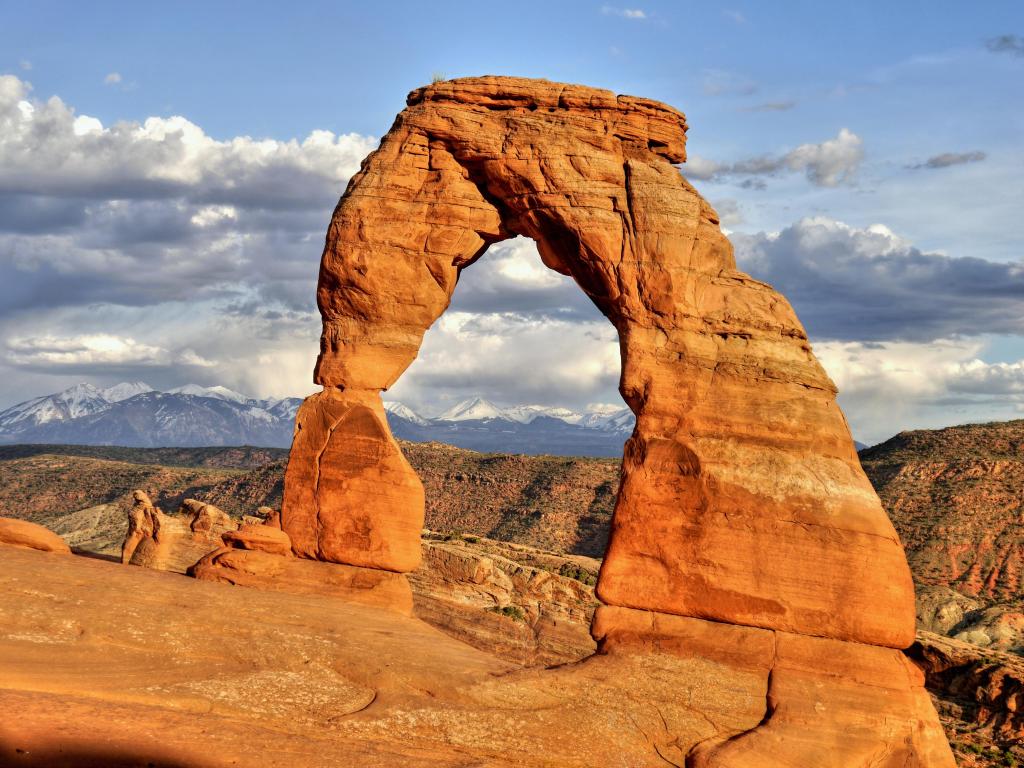 Located in Moab and just two miles from Arches National Park, this 4-star hotel is also just a short drive from Canyonlands National Park and Castle Valley.
After exploring these stunning parks, you can relax by the hotel's fabulous outdoor pool (with views!) or enjoy a meal at the onsite restaurant. Moab itself is surrounded by mountains, scenic rivers and forests, making it a stunning destination in its own right.
Things to see on a road trip from Las Vegas to Arches National Park
Both routes to Arches National Park offer a huge variety of great towns, national parks, forests and lakes to explore. If you're limited on time, we've set out a list of the highlights you'll pass along the way which will help you plan your own epic adventure.
Both Routes
Kaibab National Forest - Come here for great hiking trails, camping, fishing or just to admire the forest before exploring nearby Grand Canyon.
Grand Canyon National Park - This world-renowned and historic site is full of magnificent landscapes: canyons, mountains, cinder cones and basalt flows. It also contains archaeological remains of ancient humans. It is an area not to miss.
Moab - A gateway to Arches National Park, as well as being close to Canyonlands National Park, Moab is a city in Utah that's surrounded by mountains. Make sure to visit the dinosaur tracks at Bull Canyon Overlook or discover Native American rock art, or simply enjoy a hike.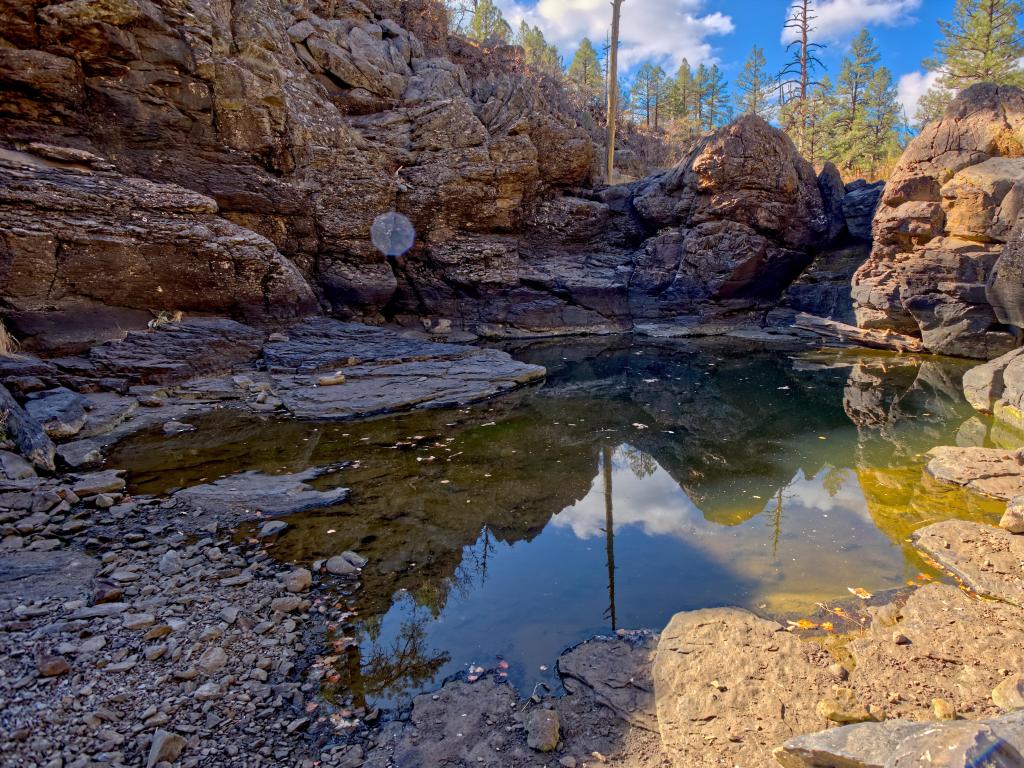 The Northern Route
Valley of Fire State Park - This stunning park features striking and beautiful red rock formations. As well as offering stunning views, there are great hiking trails to follow and 2,000-year-old petroglyphs to spot.
Zion National Park - This stunning nature preserve is a hiker's dream with its red cliffs and forest trails that follow the Virgin River revealing waterfalls and hanging gardens. If you'd like to hike up to Angels Landing, you will need a permit and will need to make a reservation. Check the Zion National Park's website for more details.
Dixie National Forest - Soak up nature's beauty in this two-million-acre nature reserve filled with mountains, lakes and Ponderosa pines. It is a great place to hike, camp or fish.
Bryce Canyon National Park - This unusual reserve is known for its expanse of red hoodoos or natural pointed rock formations. It also has spectacular lookout points.
Grand Staircase-Escalante National Monument - This monument is a geologist's dream. With its plateaus and the stunning Willis Canyon, it is a wonderful place to walk or drive and see nature's majesty.
Capitol Reef National Park - Explore this hidden treasure packed full of cliffs, canyons and hiking trails for all abilities. There's also a fantastic view from Panorama Point and petroglyphs to enjoy.
Boulder, Utah - This town intersects with the Burr Trails. There are ancient remains from Indian tribes and beautiful natural landscapes such as the Vermillion Cliffs and Devils Garden.
Capitol Reef National Park - This desert park surrounds the Waterpocket fold. It is known for its white sandstone domes and other striking natural rock formations.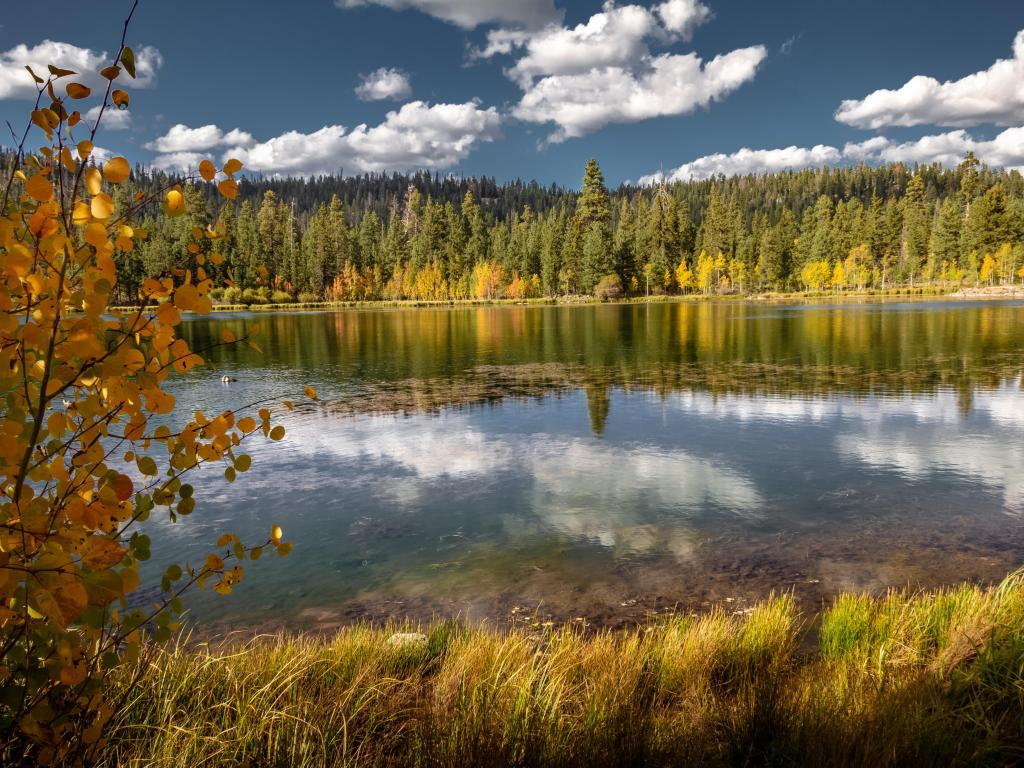 The Southern Route
Hoover Dam - This Great Depression-era concrete dam is located in the Black Canyon and is the largest reservoir in the US when full. It is a sight to see.
Lake Mead - A stunning reservoir created by the Hoover Dam, Lake Mead is well worth a visit. Despite its water level dropping, you can still enjoy a boat ride, hike or admire the landscape around the reservoir.
Kingman, Arizona - This city located on the famous Route 66 is home to numerous museums that give the visitor an understanding of the history of the area. It's a great stop to relax in an urban setting and learn about the west's history.
Flagstaff - Known as the gateway to the Grand Canyon, Flagstaff is a great town to explore and offers mountain views, great restaurants and several fantastic sites within a short drive away.
Coconino National Forest - With red rocks and pine forests, Coconino National Forest is a diverse and fascinating place to explore. Expect mountains, canyons, rivers and streams and enjoy great hikes, fishing or even a swim!
Wupatki National Monument - The national monument in Arizona was once home to a thriving community. The Pueblos and other formations at the Wupatki National Monument are a striking imprint on the landscape and make for a really interesting visit. i
Vermillion Cliffs National Monument - These stunning red cliffs are home to endangered California condors. Its views and wave-like rock formations are also not to be missed.
Monticello, Utah - This city is located on the Old Spanish Trail route and is known for its hiking trails, archaeological sites and places of education.
Canyonlands National Park - The dramatic landscape of Canyonlands National Park is definitely worth a visit. Discover towering rock pinnacles and remote canyons, enjoy a mountain bike hike or simply admire the view around this incredible site.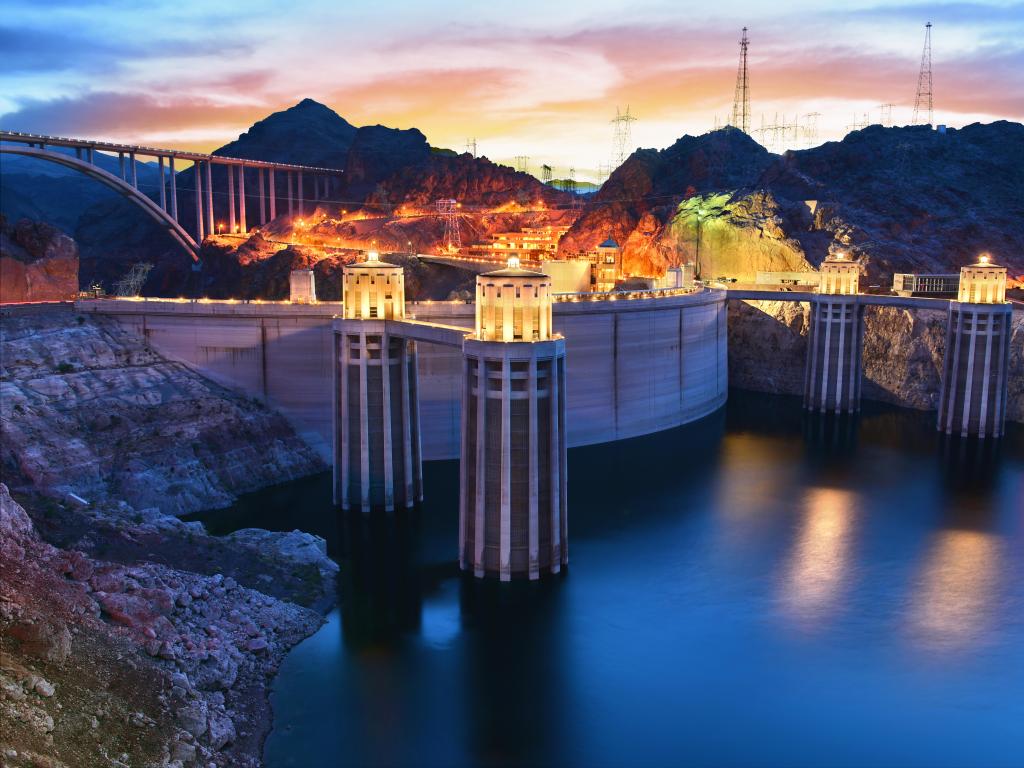 Best time to go on a road trip from Las Vegas to Arches National Park
While you can visit Arches National Park year-round, the best time will likely be determined by your preference of temperature and whether busy crowds are a dealbreaker.
During the summer months temperatures in this part of Utah can be quite drastic—at times over 100 degrees Fahrenheit. The heat will not only draw large crowds, but you'll find the temperature really challenging if you're hoping to enjoy some hiking along the way. You also need to watch out for flash flooding.
In comparison, winter can be a great time to visit. With fewer crowds and cooler temperatures averaging between 30 and 50 degrees, you'll get to enjoy the tourist hotspots without compromising on the view.
That said, the low temperatures and potential for snow can make trails dangerous to traverse and you might experience closed roads and parks along the way.
The shoulder seasons of spring and fall tend to be popular seasons to visit this area. Early morning and late afternoon, during this time of year, are great for avoiding heavy crowds, meanwhile, you'll get treated to stunning blossoms or fall foliage in the forests along the way.
If you'd like to tie in an event or two on your trip, there are a number of art festivals (artisan, jazz, folk music) like Moab Music Festival in September and even a Rodeo in Moab that you can enjoy in June.