Road Trip from New York to Las Vegas
The epic road trip from New York to Las Vegas will take you through buzzing cities, beautiful mountains, stunning deserts and lush parks and forests. For an unforgettable and fun-filled adventure that's out of this world, then this the trip for you. Just make sure you save some energy for your time in Sin City!
The 2,600 mile road trip from New York to Las Vegas will take 39 hours to drive. Key stops include Chicago, Colorado, Albuquerque, Santa Fe and Nevada, as well as Oklahoma, Ohio, Zion National Park, Denver, Utah, Flatirons and Arches National Park.
There are a huge number of great places to visit between New York and Las Vegas - as well as some fantastic natural wonders to admire - so be sure to keep reading until the end to for our top recommendations on the best route to take, where you can stay, the things to see and do and the best time of year for this trip.
How far is Las Vegas from New York and how long will the road trip take?
Comparison of road trip routes between New York and Las Vegas

| Route | Distance | Driving Time |
| --- | --- | --- |
| The Colorado Route | 2,600 miles | 39 hours |
| The New Mexico Route | 2,900 miles | 49 hours |
The route between New York to Las Vegas spans a distance of 2,500 miles. If you were to drive non-stop on the most direct route, the entire trip would take at least 38 hours of non-stop driving.
That said, with such a fantastic choice of places to visit on this cross-country journey, we're instead going to suggest a couple of slightly longer routes that give you the opportunity to truly make this your own ideal adventure.
The quickest of the two routes takes 2,600 miles and detours into New Mexico. At 39 hours, it's not much longer than the most direct route. meanwhile our second option is slightly longer at 2,900 miles and will take closer to 49 hours to drive.
You could easily spend several weeks completing this road trip. An ideal length is between 7 to 14 days, depending on how much time you'd like to spend in each location and how many overnight stops you would like to include along the way.
Best road trip route from New York to Las Vegas
The quickest route to Las Vegas to New York will take you through Albuquerque and Santa Fe in New Mexico, as well as Oklahoma and Columbus. Aside from the detour to make the most of the great attractions in New Mexico, it more or less follows the most direct route.
If you have slightly longer to spend on this adventure, then you should consider our alternative option which makes the most of the views around Nevada and Utah. This option, while longer in mileage and time spend on the road, also includes a visit to Chicago.
Both routes will see you move horizontally through several states before arriving at the bright lights of Las Vegas. Your choice on which option you take will largely depend upon the visits you'd like to make along the way.
The Colorado Route
The 2,600 mile road trip from New York to Las Vegas will take 39 hours to drive. Key stops include Chicago, Colorado, Albuquerque, Santa Fe and Nevada, as well as Oklahoma, Ohio, Zion National Park, Denver, Utah, Flatirons and Arches National Park.
Leave New York by following Interstate 78 west and taking I-80 through Pennsylvania. You could take a pitstop along this stretch at Brockville and visit either Allegheny National Forest or Susquehannock State Forest.
Otherwise, continue on I-80 west through several towns. Just before arriving at Elyria, you could detour to Cleveland on Lake Erie and have an optional overnight stop to enjoy the stunning setting of this city.
Take I-90 and continue west as you pass alongside Lake Michigan. Switch back to I-80 as you pass Davenport, Iowa City, Des Moines and Lincoln. If you wanted to visit Kansas City, you could follow I-35 south, otherwise continue on I-80.
Pass by the city of Omaha and Lincoln, continuing west, before switching to I-76 to Sterling. Stop here to visit Pawnee National Grassland, a stunning national forest and a great place to stretch your legs, before continuing a short drive to Denver in Colorado - an ideal overnight stop.
This next section of the drive is particularly stunning, as you follow I-70 through Colorado and alongside several stunning forests including White National Forest and Pike and San Isabel National Forest.
Follow I-70 west past Grand Junction and towards Utah, where you'll take the exit onto I-15 south. Follow this road through stunning scenery, passing Dixie National Forest and Zion National Park.
Continue heading south on I-15 and pass several towns, before driving alongside the Valley of Fire State Park before arriving at your destination of Las Vegas.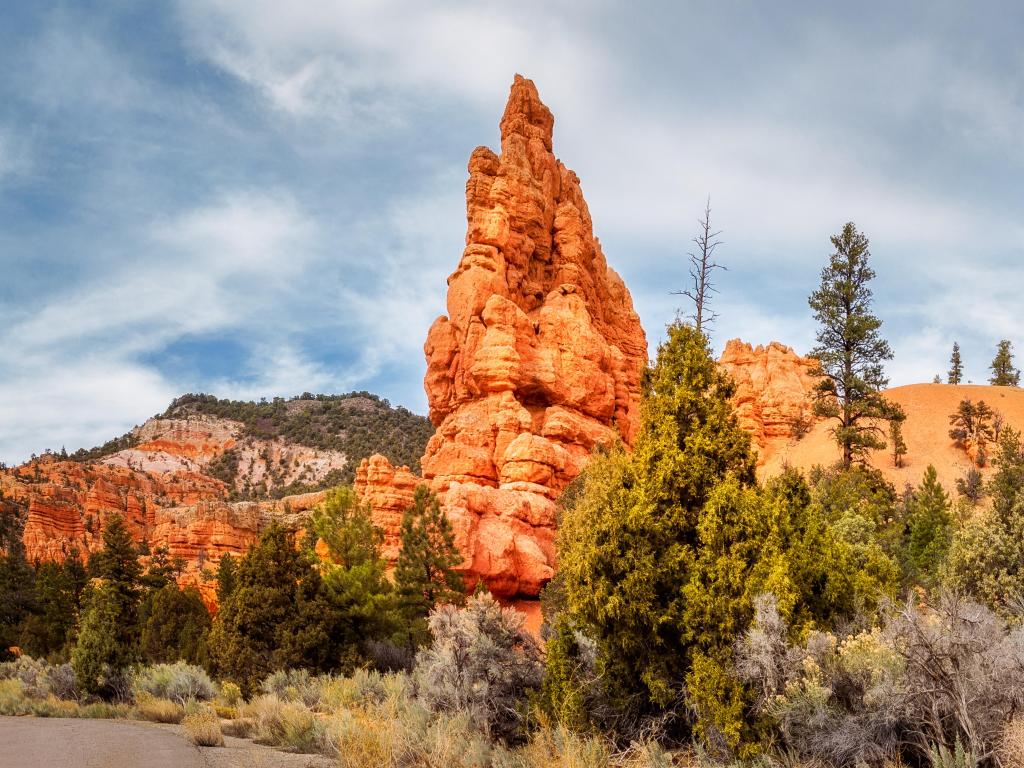 The New Mexico Route
Begin by taking Interstate 78 west through the great city of Allentown before merging with I-81 to Harrisburg. Next take I-76 west, passing the towns of Bedford, Somerset.
Just south of Pittsburgh, you'll continue onto I-70 and drive through to Columbus, a great option for an overnight stop to really explore this Ohio city. For a great hike surrounded by stunning woods, take a short detour to Wayne National Forest.
When you leave, you'll stay on I-70 and pass several more towns before arriving at Indianapolis. Continue west through Marshall and Effingham before arriving in St. Louis in Missouri.
From here you will follow I-44 west past Bourbon and St James. Option detours on this section include a visit to Mark Twain National Forest on the southern side or Lake Ozark.
Alternatively continue on I-44 and pass Springfield and several more interesting towns. Eventually this road will take you to Oklahoma City, a great point to stop and rest.
When you leave this great city, you'll be on I-40. Consider a scenic detour to Wichita Mountains Wildlife Refuge before following this road west to Amarillo and past Santa Rosa.
Change to US-285 north and visit Santa Fe before following I-25 to Albuquerque. Both cities will provide a great number of attractions and place to rest the night.
Next take I-40 and drive a short distance to the Petrified National Park, Holbrook, Winslow and Flagstaff. From here you can take another optional stopover and include a visit to the popular Coconino National Forest. You're also within a short drive of the iconic Grand Canyon National Park.
The rest of the trip follows I-40 before merging with US-93 at Kingman towards Lake Mead National Recreation Area, before following I-11 to Las Vegas.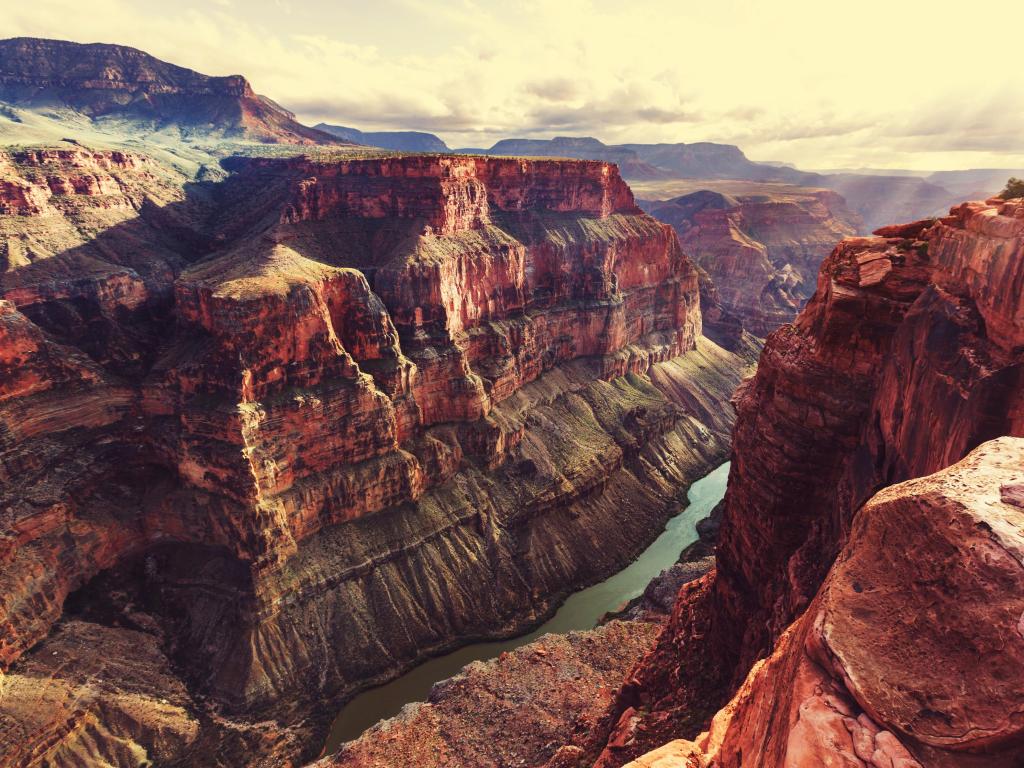 Best places to stop between New York and Las Vegas
With a road trip spanning such a vast distance, there are lots of towns and cities that you will pass that make excellent overnight stops. Your choice will depend on which route you decide to take and what attractions you would like to explore along the way.
Of all the fantastic hotels you'll pass, these are some of our favourite places that you won't want to miss:
A luxury city stop in Chicago
If you have chosen to follow the Colorado Route, then at just over 12 hours from New York, Chicago would make for a great city stop. With beautiful views of the great lakes close by, Chicago offers so much.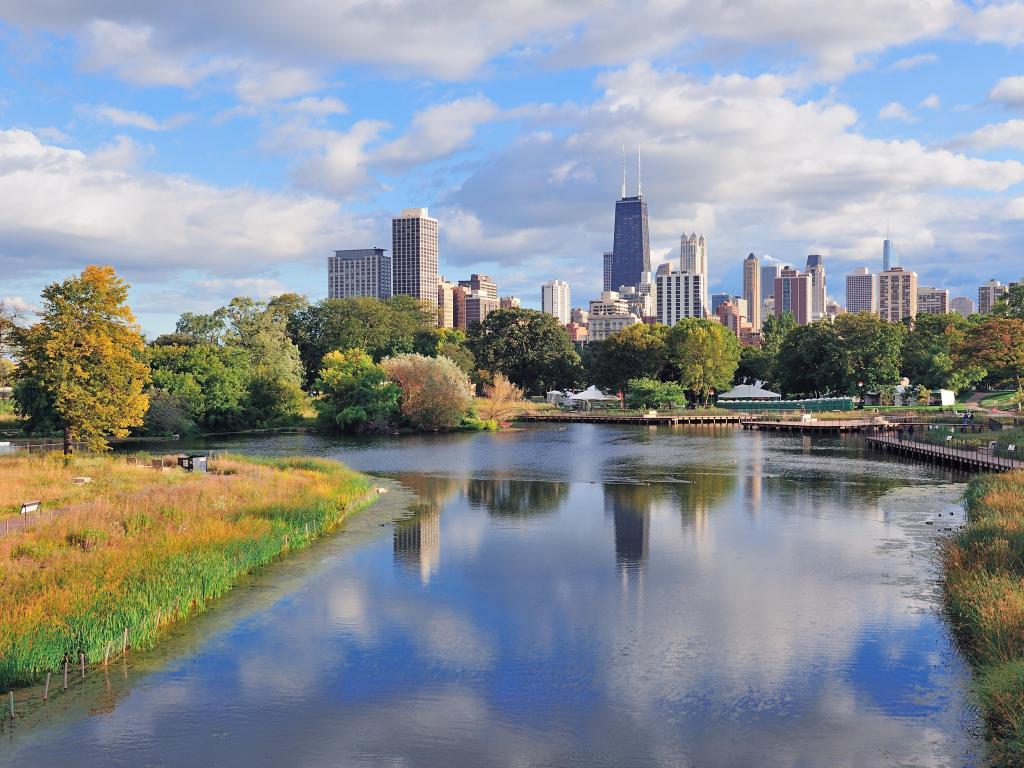 Explore the Illinois city, which is among one of the largest in the US. Famed for its bold architecture and stunning skyscrapers, it is also renowned for its museums, including the Art Institute of Chicago, restaurants and a great live music scene.
Of all the hotels this city has to offer, the Viceroy Chicago is a luxurious option that is hard to beat. The incredible 5-star hotel is situated just a four minute walk from the beach and just steps away from the famed shopping, dining and entertainment on the Magnificent Mile.
The historic hotel, located in Chicago's Gold Coast neighborhood, also features a rooftop bar and lounge with panoramic city views, onsite dining and a seasonal rooftop pool. With stunning contemporary rooms, the Viceroy is a great way to unwind before continuing your drive.
Get back to nature at Moab, Utah
Further along the Colorado Route and offering a setting with fantastic natural scenery, Moab is a quieter but no less enjoyable place to stop. At just under seven hours from Las Vegas, this city offers a much needed rest before you embark on the final stretch of your trip.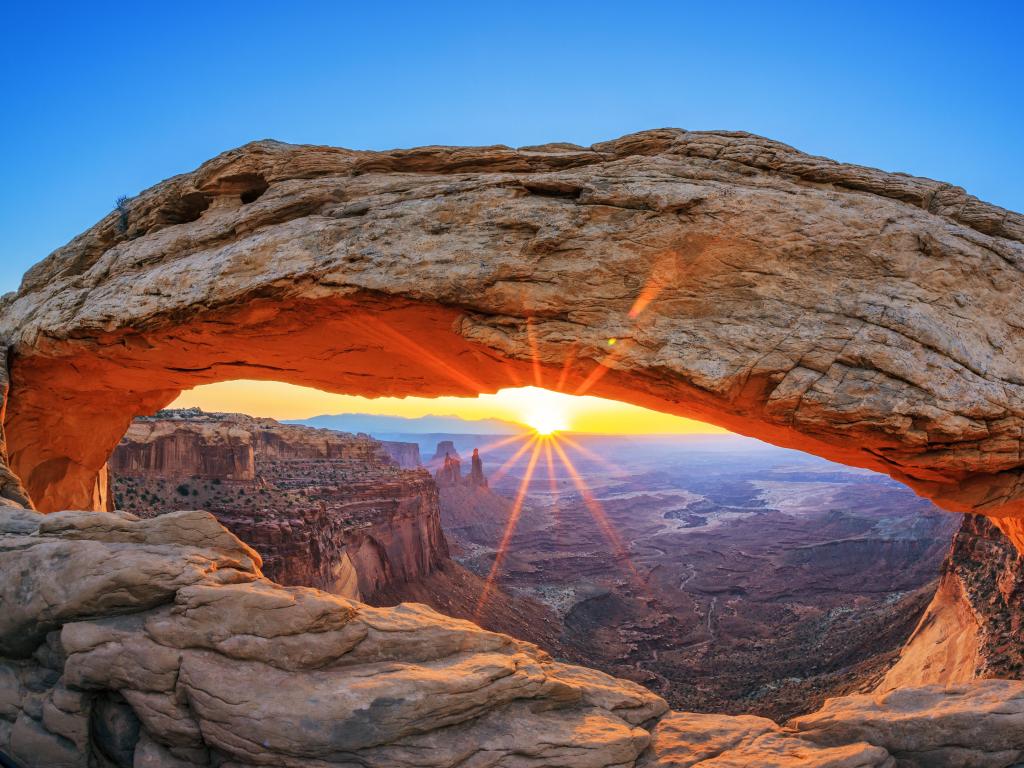 Famous for beautiful arches, canyons and rock formations, Moab features awesome hikes, some of the best rock climbing in the US, amazing places to bike and so much more.
Located in eastern Utah, Moab is also a great base to explore Canyonlands National Park and see Dinosaur tracks which can be found at sites like Bull Canyon Overlook and Copper Ridge.
A great hotel for an overnight stay to explore more of Moab and the surrounding area is the Hoodoo Moab, Curio Collection By Hilton. Sitting beside the area's famous red rocks, this stunning hotel is just 10 minutes from Arches National Park and a short drive from Canyonlands.
With an interior that pays homage to the surrounding Western landscapes, the Hoodoo Moab features an outdoor pool, full-service spa treatments, great dining options and free parking.
Making the very best of its natural views, this hotel will provide the right amount of luxury to offer a relaxing stop, while also being within easy distance of the area's most splendid attractions.
A stay in the heart of the city in Columbus
Just over 500 miles into the New Mexico Route, Columbus is an ideal first stop. This great city is Ohio's state capital and as well as having all the great attractions you would expect, it's also a fantastic location for exploring the nearby area.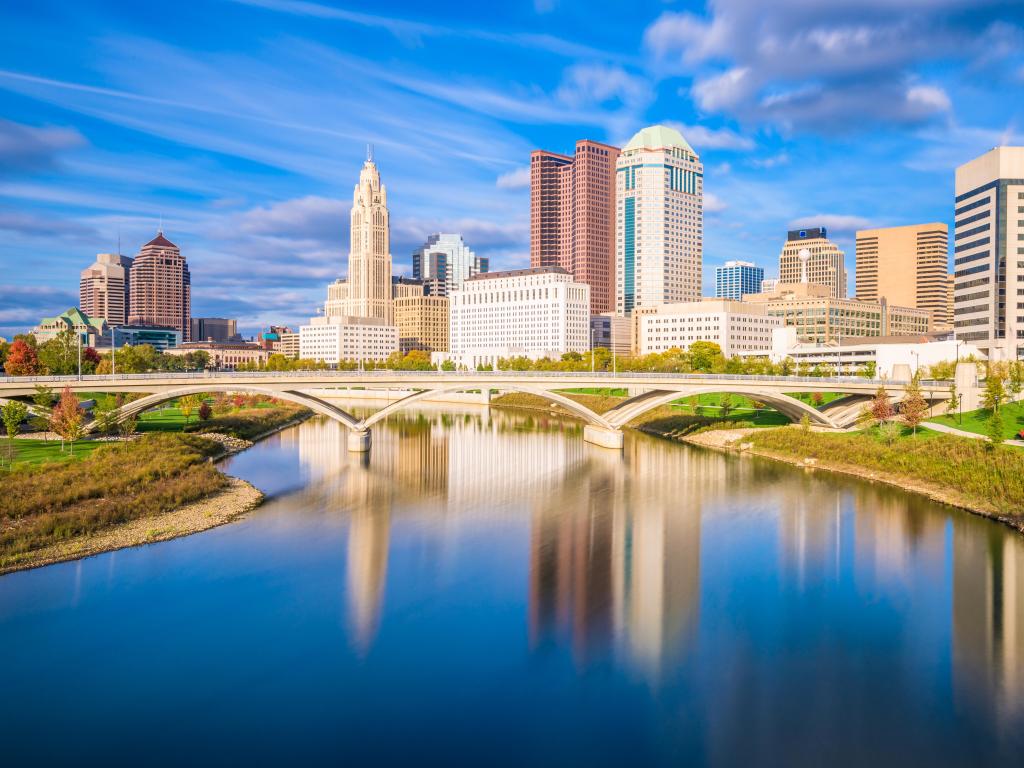 Discover the city's Scioto Mile, a string of parks on both sides of the Scioto River, with a huge interactive fountain and trails. On the west bank, there's also the COSI science center which offers hands-on exhibits and a planetarium.
Downtown, the Columbus Museum of Art includes American and European paintings and a sculpture garden, or if you're up for a short drive, the nearby Wayne National Forest offers great walks surrounded by nature.
For a central location giving you access to the best that this city has to offer, a stay at Sheraton Hotel Columbus Capitol Square is an ideal choice. This 4-star hotel offers stunning views, a fantastic restaurant and lounge area as well as beautiful gardens to enjoy.
Situated less than a mile from Columbus Museum of Art and within close proximity to Ohio Theater, the Sheraton Hotel combines stylish and modern rooms with a fantastic location.
Old meets new at Albuquerque
A lesser known but great location on the New Mexico Route, Albuquerque offers a stunning location with impossibly beautiful nearby attractions to explore. Situated under 700 miles from Las Vegas, it's an ideal second or final stop and a great place to take stock.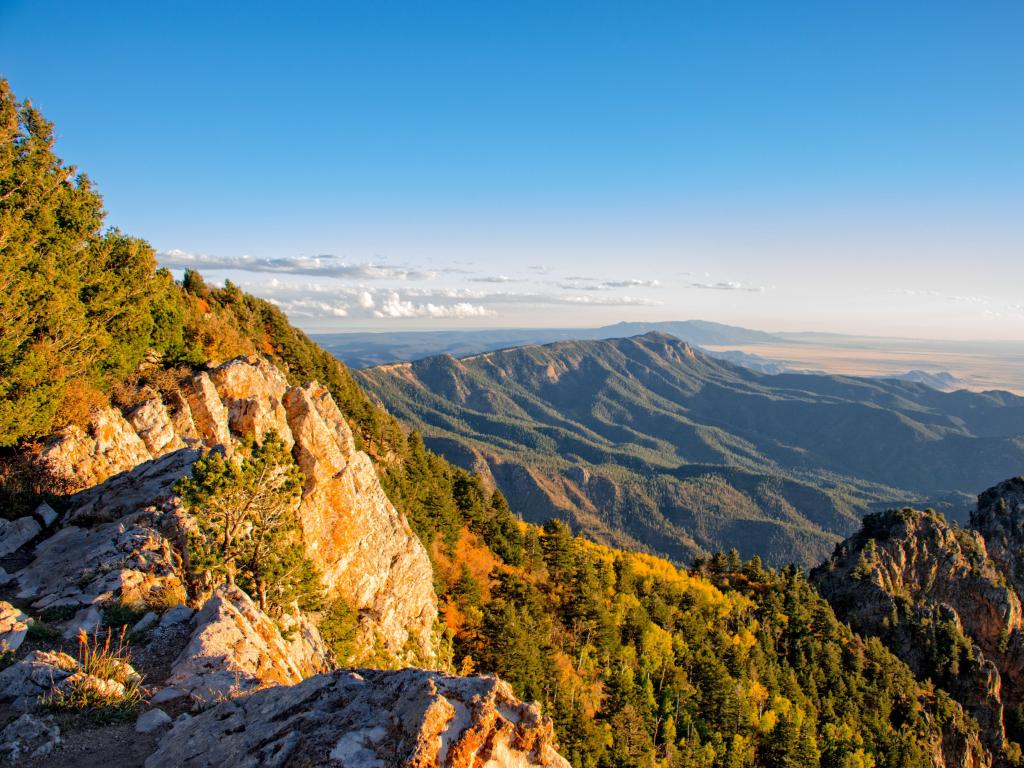 Albuquerque is New Mexico's largest city. Sitting in the high desert, its a city that marries its modern downtown with Old Town Albuquerque, with buildings dating to the city's 1706 founding as a Spanish colony.
Explore its Old Town which is filled with historic adobe buildings, such as San Felipe de Neri Church, as well as five museums and shops selling Native American handicrafts.
Escape the culture of the city and discover the Petroglyph National Monument or explore the Cibola National Forest. For fantastic views of the surrounding area, you can even take the Sandia Peak Tramway and see New Mexico in all its glory.
After a long day exploring, a stay at Hotel Chaco is a must. This beautiful hotel is in the heart of Albuquerque and has an onsite restaurant and fabulous outdoor swimming pool - an ideal way to relax and cool off after all that hiking.
Rooms are modern and stylish and there are beautiful grounds to explore. Alternatively, why not enjoy a drink and relax in the hotel's outdoor lounge area and watch the sun set? Either way, you'll wake refreshed after a stay at the Hotel Chaco.
Things to see on a road trip from New York to Las Vegas
There are so many things to see on the road trip from New York to Las Vegas, that you could easily spend a month just visiting them all.
But if you are pressed for time, here are our top pick of some of the best attractions you'll pass en route.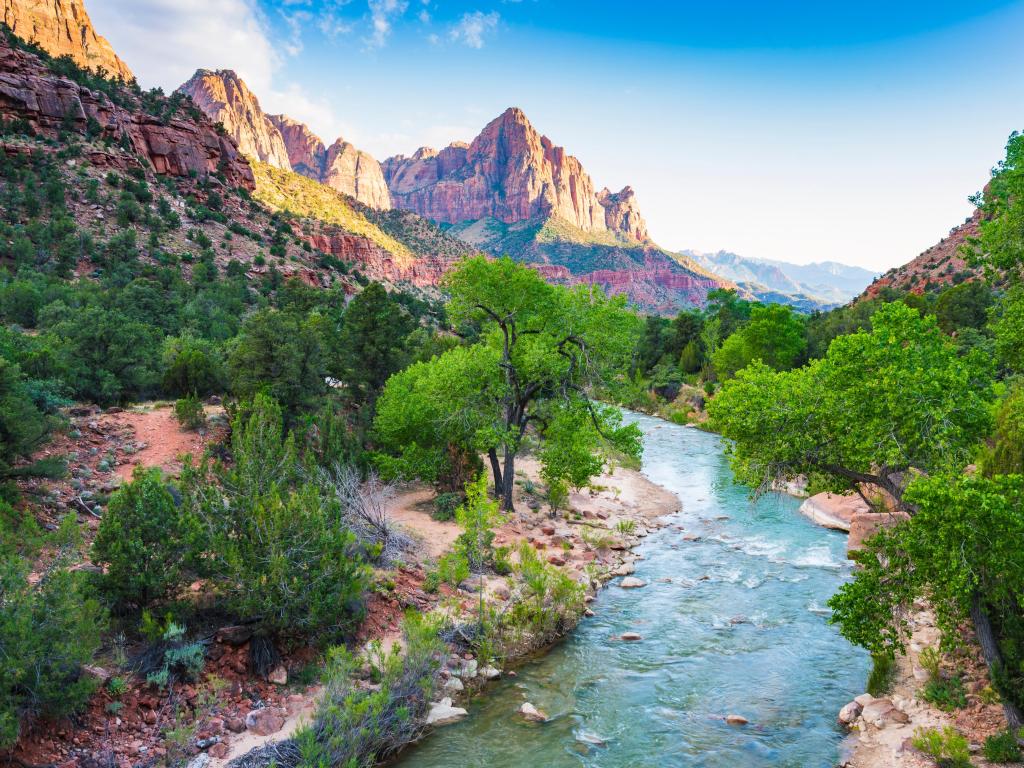 The Colorado Route
Art Institute of Chicago - Founded in 1879, the Art Institute of Chicago is one of the oldest art museums in the US. It has over 300,000 works, including famous paintings like Grant Wood's American Gothic, and Pablo Picasso's The Old Guitarist.
Explore the Magnificent Mile in Chicago - The 13 block known as the Magnificent Mile is one of the premier attractions of Chicago, and offers world class shopping, restaurants and amazing views.
Lake Michigan - One of the five Great Lakes of North America, Lake Michigan spans the entire west coast of Michigan's Lower Peninsula and offers great beaches and stunning views.
Dixie National Forest - Straddling between the Great Basin and the Colorado Rover in southern Utah, Dixie National Forest is a stunning and vast place to visit. Its 170 mile wide nature preserve showcases a variety of plants and animals and is great for long hikes.
Boulder - This city is situated at the foothills of the Rocky Mountains. Stay here for great restaurants, cafes, art galleries and fantastic hikes to the nearby national forests.
Boulder Creek Path - One of the most recommended hikes in Boulder, the 5.5 mile trail has a number of options for a leisurely afternoon spent in nature.
Flatirons, Colorado - The Flatirons are an iconic mountain formation synonymous with Boulder. Flatirons 1-5 are the most well known, but there are a number of smaller formations. There's plenty of hiking trails offering a great view of the area.
Dead Horse Point State Park - Sitting 2,000 feet above the winding Colorado River with a view of Canyonlands National Park stretching across the horizon, the desert's mesas and buttes give a gorgeous view to enjoy close by a parking lot for easy access.
Arches National Park - Another great choice for hiking is Arches National Park. Just a few miles north of Moab, massive sandstone arches sit among rocky desert hikes. There are options ranging from mellow walks to more moderate and intense hikes.
Zion National Park - Zion features the most iconic hikes in Utah, and for nature lovers it's a must see location. Beautiful canyon hikes and unique land formations will give you a great break before heading into Vegas.
Canyonlands National Park - Featuring mesas and buttes carved by the Green and Colorado rivers, this park also showcases Native American rock art.
Parowan Gap Petroglyphs - For history lovers, the petroglyphs are a set of designs marked into boulders by Native American groups. Archaeologists still don't know their specific age or meaning, but they are a truly unique sight that you can't find anywhere else.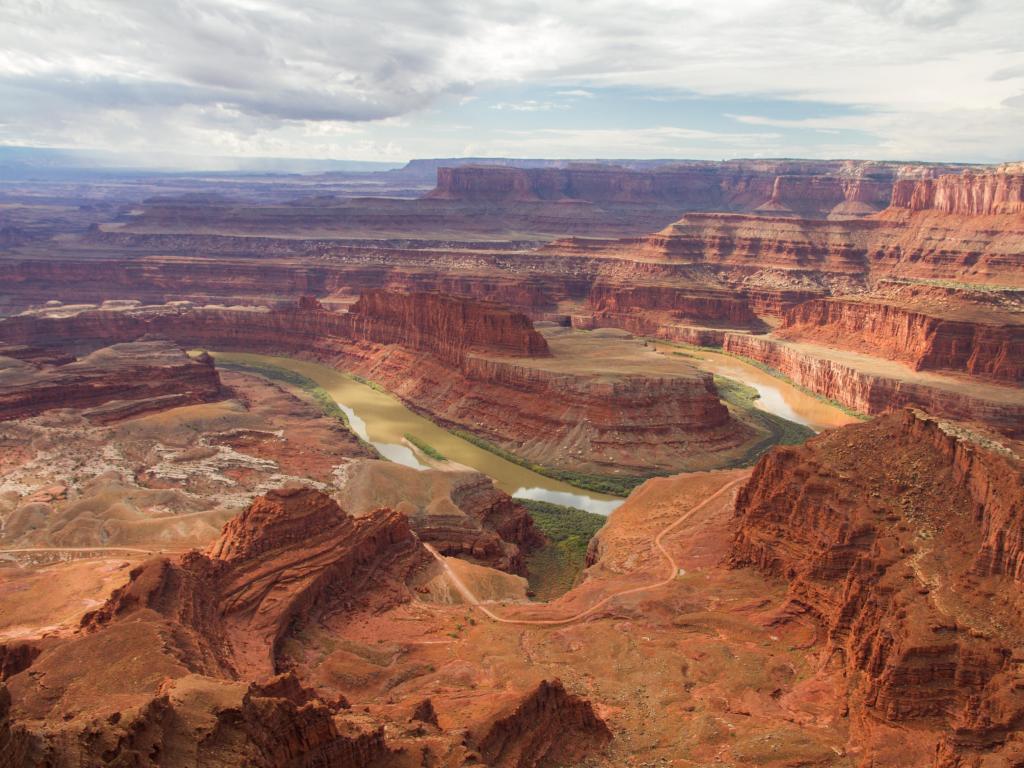 New Mexico Route
Columbus - Ohio's state capital, the city of Columbus has great museums, art galleries as well restaurants, shops, or take a walk on the city's Scioto Mile, a string of parks on both sides of the Scioto River.
Wayne National Forest - Located in south-eastern Ohio, this woodland area is the only national forest in Ohio. Enjoy beautiful scenery, walks and hikes or enjoy some wild camping.
Indianapolis - Explore this great city and discover fantastic attractions including Monument Circle, Indianapolis Cultural Trail and its great Central Canal.
St. Louis - Set along the Mississippi River, St. Louis is famous for its iconic Gateway Arch, built in the 1960s which honors the early 19th century exploration of Lewis and Clark and America's westward expansion in general.
Mark Twain National Forest - Encompassing 1.5 millions acres of beautiful public land, this forest in Missouri offers a wide range of popular recreation opportunities.
Oklahoma City - The capital of the US state of Oklahoma, this city has fantastic skyscrapers, a great zoo, museums, galleries and beautiful botanical gardens to explore.
Petroglyph National Monument - The New Mexico national park is famous for its rock carvings, great hikes and stunning views of along Albuquerque.
Flagstaff - Surrounded by mountains, deserts and pine forests, Flagstaff is a great base for exploring the nearby San Francisco Peaks and the Arizona Snowbowl ski resort.
Coconino National Forest - From the famous red rocks of Sedona to Ponderosa pine forests, from desert to alpine tundra, the Coconino National Forest has it all.
Grand Canyon National Park - Home to the famous and iconic Grand Canyon, this national park in Arizona is an incredibly popular destination and offers incredible views.
Mojave National Preserve - Spanning woodland, rugged mountains and canyons, the Mojave National Preserve is a great place if you enjoy long hikes or spotting local wildlife, including mountain lions, coyotes and bats.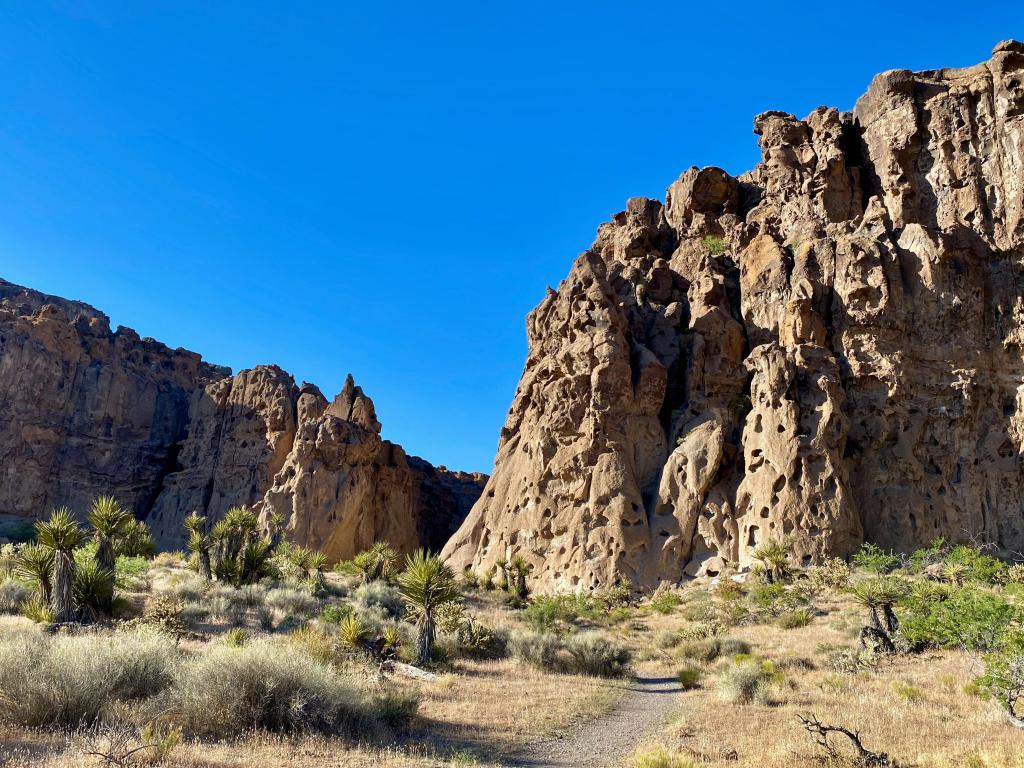 Best time to go on a road trip from New York to Las Vegas
Since the road trip between New York and Las Vegas passes through several climates, the ideal time for your road trip depends on your preferences for temperature and season.
Planning your trip during summer does mean that you'll enjoy warmer temperatures through Colorado and some midwest states, but with highs in Las Vegas above 95 degrees Fahrenheit between June and September and tourist attractions likely to be at their busiest, it isn't ideal for everyone.
If a winter road trip appeals to you and you would like to enjoy some winter sports en route, it may be smart to bring along some snow chains, traction mats, and winter clothing, especially if a quick ascent up a Colorado mountain is up your alley.
Given that a lot of the attractions you will pass include outdoor walks and that some will be closed for the winter months, you might want to avoid travelling in December and January.
A recommended time to visit Las Vegas in particular is from March to May and from September to November. Spring or fall not only offers better value on hotel stops, but temperatures during these periods offer the most moderate weather across the entire stretch of the journey.
Finally, for a rally memorable visit, you could time your trip with one of Las Vegas's most iconic festivals. Think Great Vegas Festival held in April or the Life is Beautiful festival in September, there's guaranteed to be something for everyone in this colorful and bright city.