Road Trip From Denver To Las Vegas
If you are ready to shake the cobwebs off and set off on an epic road trip adventure through majestic mountains and desert landscapes to one of the liveliest entertainment capitals of the world, then the road trip from Denver to Las Vegas is exactly what you need!
The 750-mile road trip from Denver to Las Vegas will take 11 hours to drive. Notable stops are Moab, Rocky Mountains, Arches, Canyonlands, Bryce Canyon and Zion National Parks, Grand Canyon, Grand Staircase-Escalante and Valley of Fire State Park.
To help you with planning your road trip, check out the sections below for some inspiration on the route and things to do along the way.
How far is Las Vegas from Denver and how long will the road trip take?
The road trip from Denver to Las Vegas is about 750 miles and will take you 11 hours of pure driving on the road before accounting for any breaks or stops.
If you set off from Denver during the rush hour and you happen to live on the wrong side of town, you could easily add an hour on top so even if you plan to set off in the morning, we're talking a very long day of driving if you plan on getting there in one day.
Even assuming that you keep it down to 2 stops for gas and the restroom and a quick lunch break, you'll need at least 12 hours and 30 minutes to make the journey.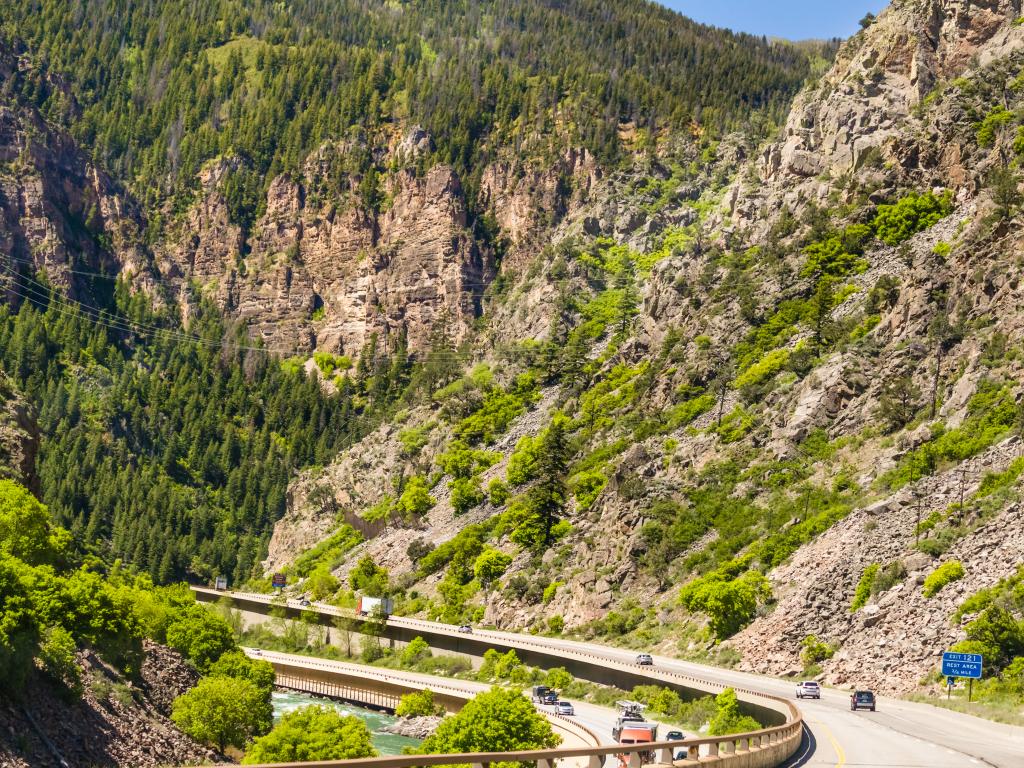 If you want to make a real road trip out of it, we suggest taking at least 2 days each way to drive from Denver to Las Vegas and back. You'll see some great options for overnight stops and things to do below.
Best road trip route from Denver to Las Vegas
There is one great route between Denver and Las Vegas that is not only the fastest way to get from one city to the other but is also stunningly scenic.
Unless you want to make a very specific detour to see some other sights along the way, you'll want to follow this route over the Rockies and across the Utah deserts.
You will get to visit the gorgeous national parks of Utah (Zion, Bryce Canyon, Capitol Reef, Canyonlands and Arches National Parks) as well as the bucket list-worthy Grand Canyon National Park.
If you plan on visiting any of the national parks or other scenic detours along the way, you'll want to add at least a day each to allow time to get there and explore.
If you are visiting Rocky Mountain National Park on the way, keep in mind that the national park uses a timed entry permit system. Please check the national park's website to see if you need to make a reservation before your visit.
Road trip route from Denver to Las Vegas
Hop on the I-70 right out of Denver headed west towards the Rocky Mountains. As you make your way through the jagged mountain tops and forests, you'll pass through the famous Vail resort, White River National Forest and Glenwood Springs before coming down to Grand Junction.
Staying on the same I-70, you'll begin passing by one stunning red rock area after another - Colorado National Monument, McInnis Canyons and Arches National Park come in quick succession before you reach Fishlake National Forest in the heart of Utah.
From there, take I-15 south that will pass near Zion National Park and Cedar Breaks National Monument before arriving on the Strip soon after you pass the turning for the Valley of Fire State Park.
Best places to stop between Denver and Las Vegas
If you're looking to break up the journey and stay somewhere overnight instead of driving all day, there are a few amazing options along the way. You can combine stopovers with things to do and unforgettable sights as well - you can find these further down.
Overnight stop in Moab, Utah
If you want to stop halfway, your best option is to head for Moab just across the state line in Utah. Moab is a great town in a beautiful location itself, but it's also the perfect spot from which to explore Canyonlands and Arches National Parks - two unbelievably scenic parks with red rock formations and amazing hiking routes.
Although there are a few good options, we think the best hotel in Moab is the Red Cliffs Lodge. It's about 25 minutes outside Moab, sitting right on the Colorado River and surrounded by stunning red cliffs (as the name suggests).
The setting is stunning, the decor is rustic and calming and best of all, the price is only marginally higher than your run-of-the-mill chain hotels in Moab itself.
For a more luxurious alternative, Hoodoo Moab, Curio Collection by Hilton will surely impress. This stunning hotel is nestled among the red hills that make Moab so famous and is just a short drive from both Arches National Park and Canyonlands National Park.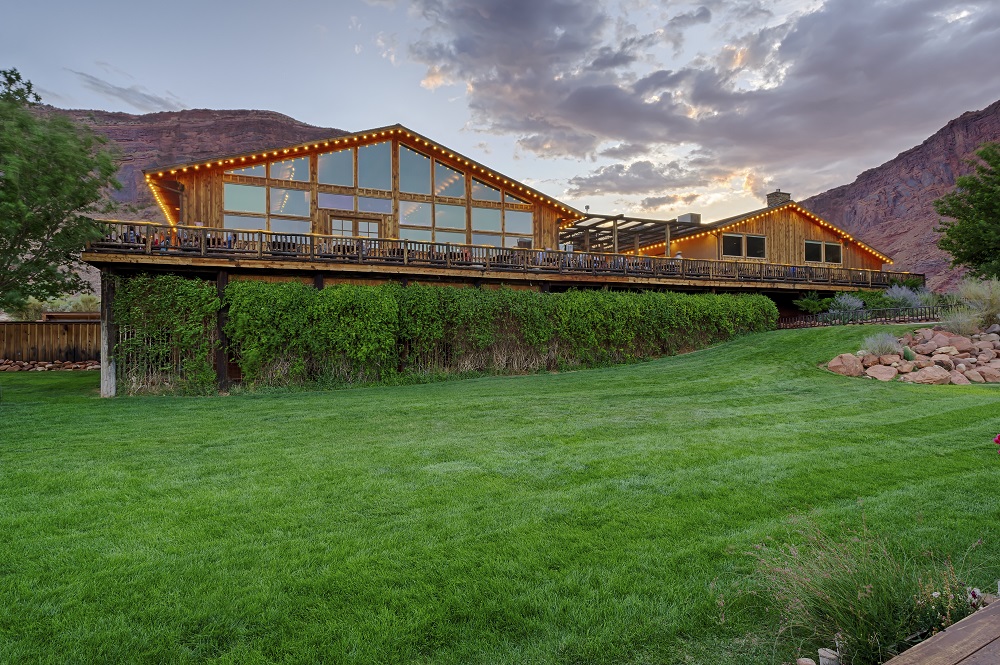 The stunning setting of the Red Cliffs Lodge near Moab, Utah.

© Red Cliffs Lodge
Stay over in Vail, Colorado
Vail is only about 2 hours out from Denver and it is a great stop if you want to make some headway after work, which will allow you to complete the drive the next day.
Vail is one of the best-known ski resorts in the United States and attracts people from all over the country and further afield during the winter, but it's just as great a place to stop in the summer months as well.
Enjoy the spectacular views over the Rocky Mountains, outdoor activities whatever time of year you come and best of all - Vail is right on the I-70 so you don't need to make a detour and add time to your overall journey.
Hotels in Vail are generally on the pricier side, but Sonnenalp is the hotel for those who want to get a rustic mountain experience without breaking the bank. You've got that special vibe of a family-run hotel and you'll be right in the middle of Vail, which is perfect if you're only spending a short time on your stopover.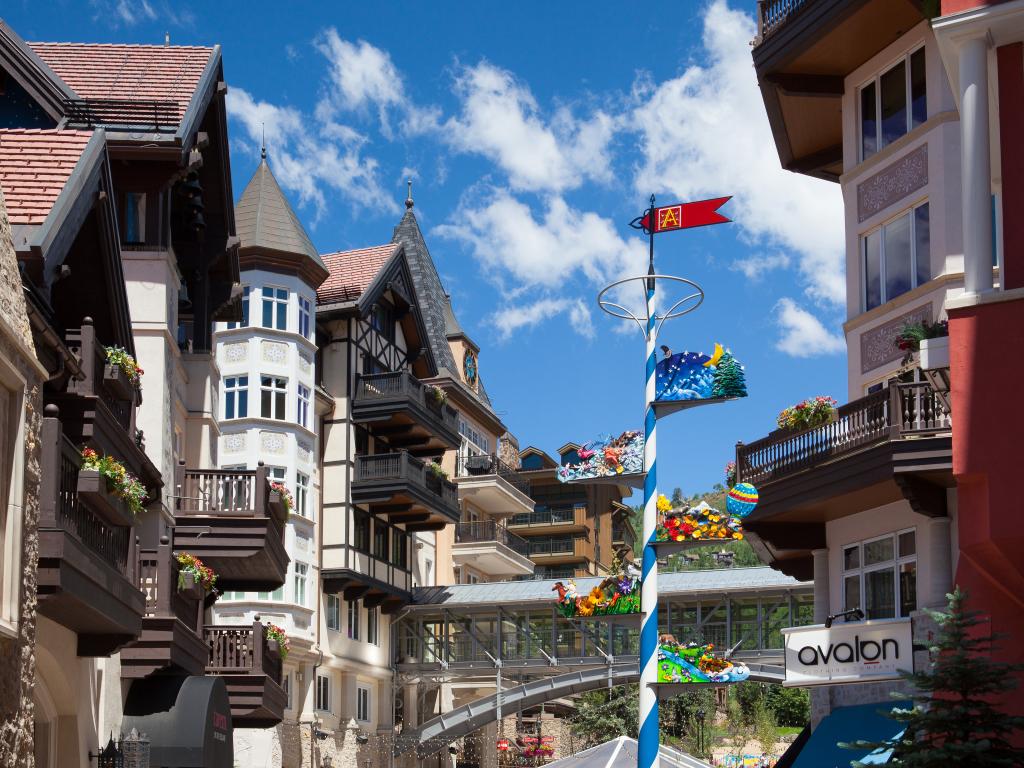 Things to see on a road trip from Denver to Las Vegas
The best thing about this road trip from Denver to Las Vegas is that there are plenty of amazing places to stop on the way - you can stay over in different places on the way there and back and you can easily spend as long as 10 days or 2 weeks if you want to explore places en route.
I could go on forever talking about the different sights and things to do so here's my best attempt at an abbreviated list of things to do between Denver and Las Vegas:
Rocky Mountains - Majestic and rugged, these mountains feature endless gorges, snowy mountain tops, hiking trails and the opportunity to get some fresh air.
White River National Forest - If you cannot get enough of the great outdoors, this national forest is home to huge stretches of pure wilderness.
Hanging Lake - Just before you get to Glenwood Springs you will get to admire this stunning picture-perfect lake in the mountains.
Glenwood Springs - World-famous hot springs destination, perfect for a break to pamper yourself and focus on your well-being.
Grand Mesa Scenic Byway - Runs south from the I-70, this is a road for those who love a twisty drive with beautiful scenery.
Palisade wineries - Yes, Colorado has a rather good wine region and it's on the way from Denver to Vegas! Make sure to stop and sample some of their offerings or buy some to sample later if you are the driver.
Arches National Park - One of the most stunning red rock national parks with unique arch formations, Arches National Park is easily reachable from Moab. You might need to make a reservation for a timed-entry permit while visiting Arches National Park. Please check the national park's website for up-to-date information.
Canyonlands National Park - A bigger park that will take more of a detour with great long hiking routes. We definitely suggest visiting this park if you can spare an extra day or two.
Mystic Hot Springs, Monroe - Another hot natural spring in unbelievable surroundings where you can unwind and re-energize.
Bryce Canyon National Park - This route is full of gorgeous national parks and Bryce Canyon comes on top of our list. The park features huge amphitheaters full of people-like rocks at high altitudes.
Zion National Park - Our favorite National Park in the country with some of the best views down its valleys. If you'd like to hike up to Angels Landing, you will need a permit and will need to make a reservation. Check the Zion National Park's website for more details.
Grand Staircase-Escalante - Huge area of utter wilderness with endless sights to explore.
Grand Canyon - Another detour, but it won't take you long to get to the North Rim and visit the Vermilion Cliffs National Monument.
Valley of Fire State Park - Just outside Las Vegas and visit the Valley of Fire State Park to see colorful sandstone layers.
Best time to go on a road trip from Denver to Las Vegas
You can do the road trip from Denver to Las Vegas any time of year. After all, most of the attractions in Vegas are indoors and the weather there holds up whenever you plan to visit.
Having said that, if you're planning to stop in some of the national parks along the way, remember that the hot deserts of Utah can feel quite cold and unpleasant in the winter, so if you want to go on some hikes and explore the red rocks en route, going from April to October is best.
Visiting in spring, you will also get the opportunity to let some steam off at the famous Electric Daisy Carnival in Las Vegas in May.
If you're traveling in the winter, you can take advantage of passing through the Rockies and do some skiing on the way. Vail is right along the I-70 and Aspen is only a short detour away.
Keep in mind that the temperatures on this part of the route tend to be between 20-40 degrees Fahrenheit, so make sure to pack warm clothes.
Summers in Las Vegas tend to be hot with the temperature sometimes reaching 100 degrees Fahrenheit and unlike many other touristic places, the peak season for Las Vegas is not summer (it is spring and fall). So you might be able to get deals on the hotel prices if you visit during the warmer months.