Road Trip From Denver To Las Vegas
A road trip from Denver to Las Vegas may at first seem like an odd idea. It's a long way to drive, you'll have to cross mountains and deserts and there are plenty of flights that will take 2 hours to get you there instead.
But if you're going to Las Vegas from Denver, you're probably up for an adventure and nothing provides more adventure than an epic road trip through some of America's greatest landscapes.
The road trip from Denver to Las Vegas will take a whole day of driving or two days if you want to take it easy. The drive will take you about 11 hours without accounting for any detours but you do get to see amazing scenery and amazing places to stop along the way.
To help you with planning your road trip, check out the sections below for some inspiration on the route and things to do along the way.
How far is Las Vegas from Denver and how long will the road trip take?
The road trip from Denver to Las Vegas is about 750 miles and will take you 11 hours of pure driving on the road before accounting for any breaks or stops.
If you set off from Denver during the rush hour and you happen to live on the wrong side of town, you could easily add an hour on top so even if you plan to set off in the morning, we're talking a very long day of driving if you plan on getting there in one day.
Even assuming that you keep it down to 2 stops for gas and the rest room and a quick lunch break, you'll need at least 12 hours 30 minutes to make the journey so setting off at 7am will still only get you to Vegas in time for a late dinner.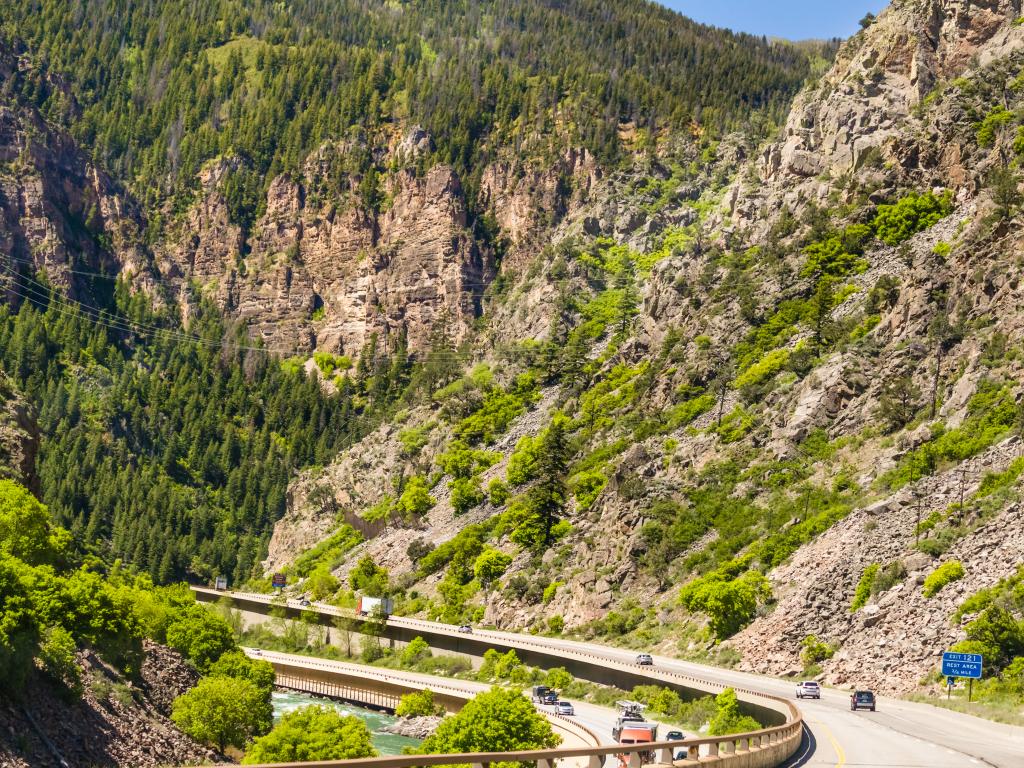 Most importantly, what's the point of a road trip if you're just pounding the miles without appreciating your surroundings. If getting there is the only thing that matters, you might as well get a flight - it'll be quicker and cheaper.
If you want to make a real road trip out of it, I'd take at least 2 days each way to drive from Denver to Las Vegas and back. You'll see some great options for overnight stops and things to do below. If you plan on visiting any of the National Parks or other scenic detours along the way, you'll want to add at least a day each to allow time to get there and explore.
Best road trip route from Denver to Las Vegas
There is one great route Between Denver and Las Vegas that is not only the fastest way to get from one city to the other, but is also impossibly scenic.
Unless you want to make a very specific detour to see some other sights along the way, you'll want to follow this route over the Rockies and across the Utah deserts.
Road trip route from Denver to Las Vegas
Hop on the I-70 right out of Denver headed west towards the Rocky Mountains. As you make your way through the jagged mountain tops and forests, you'll pass through the famous Vail resort, White River National Forest and Glenwood Springs before coming down to Grand Junction.
Staying on the same I-70, you'll begin passing by one stunning red rock area after another - Colorado National Monument, McInnis Canyons and Arches National Park come in quick succession before you reach Fishlake National Forest in the heart of Utah.
From there, take the I-15 south that will pass near Zion National Park and Cedar Breaks National Monument before arriving on the Strip soon after you pass the turning for the Valley of Fire State Park.
Best places to stop between Denver and Las Vegas
If you're looking to break up the journey and stay somewhere overnight instead of driving all day, there's a few very decent options along the way. You can combine stopovers with things to do and amazing sights as well - you can find these further down.
Overnight stop in Moab, Utah
If you want to stop halfway, your best option is to head for Moab just across the state line in Utah. Moab is a great town in a beautiful location itself, but it's also the perfect spot from which to explore Canyonlands and Arches National Parks - two unbelievably scenic parks with red rock formations and amazing hiking routes.
Although there's a few good options, I think the best hotel in Moab is the Red Cliffs Lodge. It's about 25 minutes outside Moab, sitting right on the Colorado River and surrounded by stunning red cliffs (as the name suggests).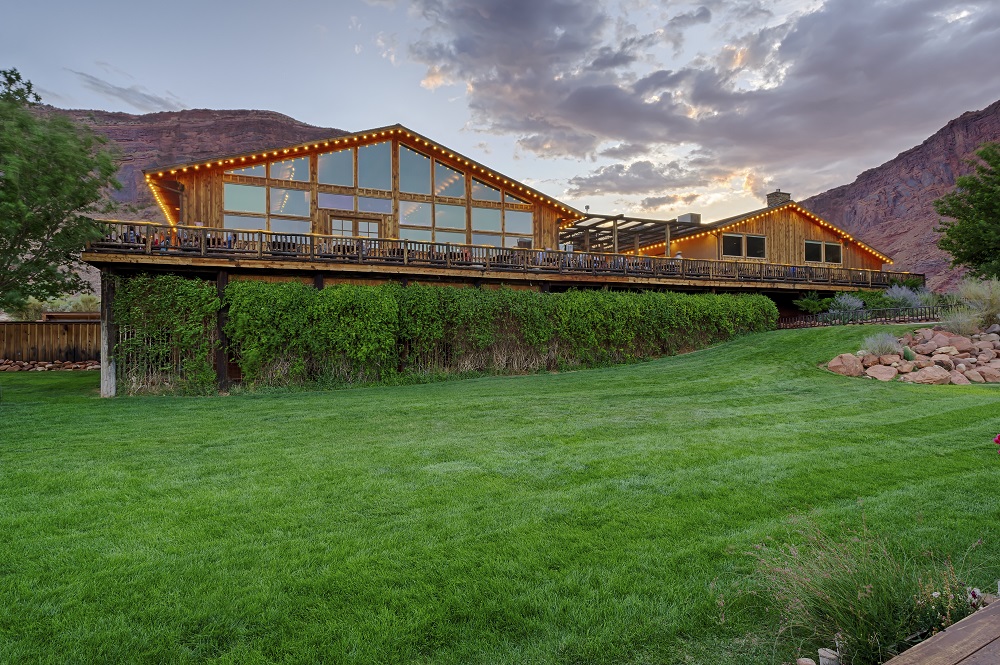 The stunning setting of the Red Cliffs Lodge near Moab, Utah.

© Red Cliffs Lodge
The setting is stunning, the decor is rustic and calming and best of all, the price is only marginally more expensive than your run of the mill chain hotels in Moab itself.
If you are feeling particularly fancy, the Sorrel River Ranch Resort and Spa is about as luxurious as hotels get. It's only a few minutes further up the Colorado River and oozes charm. You've got picture perfect views, unique rooms with beautiful wooden furniture and total peace and quiet, but it comes at a very hefty price tag - you'll be paying several times the rate of any other hotel in the area for the privilege.
Stay over in Vail, Colorado
Vail is only about 2 hours out from Denver so it's not a great stop if you're looking to break the journey into two equal parts but if you want to make some headway after work and complete the drive the next day or if you're driving back from Vegas and don't want to do the entire route in one go, Vail is a great place to spend the night.
Vail is one of the best known ski resorts in the United States and attracts people from all over the country and further afield during the winter, but it's just as great a place to stop in the summer months as well.
Enjoy the spectacular views over the Rocky Mountains, outdoor activities whatever time of year you come and best of all - Vail is right on the I-70 so you don't need to make a detour and add time to your overall journey.
Hotels in Vail are generally pretty expensive but Sonnenalp is the hotel for those who want to get a rustic mountain experience at a decent price. You've got that special vibe of a family-run hotel and you'll be right in the middle of Vail which is perfect if you're only spending a short time on your stopover.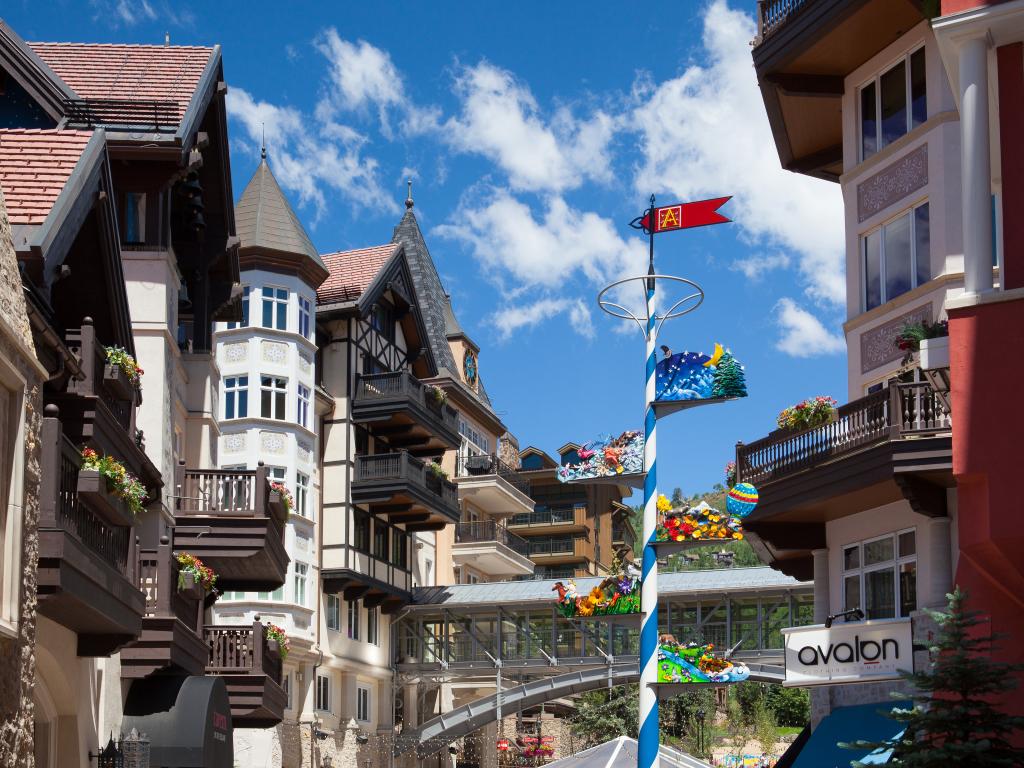 Things to see on a road trip from Denver to Las Vegas
The best thing about this road trip from Denver to Las Vegas is that there are plenty of amazing places to stop on the way - you can stay over in different places on the way there and back and you can easily spend as long as 10 days or 2 weeks if you want to explore places en route.
I could go on forever talking about the different sights and things to do so here's my best attempt at an abbreviated list of things to do between Denver and Las Vegas:
Rocky Mountains - endless gorges, snowy mountain tops, hiking trails and fresh air
White River National Forest - as above, but with huge stretches of pure wilderness
Hanging Lake - just before you get to Glenwood Springs - a stunning picture perfect lake in the mountains
Glenwood Springs - world-famous hot springs destination
Grand Mesa Scenic Byway - runs south from the I-70, this is a road for those who love a twisty drive with beautiful scenery
Palisade wineries - yes, Colorado has a rather good wine region and it's on the way from Denver to Vegas!
Arches National Park - one of the most stunning red rock national parks with unique arch formations
Canyonlands National Park - a bigger park that will take more of a detour with great long hiking routes
Mystic Hot Springs in Monroe - super hot natural springs in unbelievable surroundings
Bryce Canyon National Park - huge amphitheaters full of people-like rocks at high altitude
Zion National Park - my favorite National Park in the country with some of the best views down its valleys
Grand Staircase-Escalante - huge area of utter wilderness with endless sights to explore
Grand Canyon - another detour, but it won't take you long to get to the North Rim and visit the Vermilion Cliffs National Monument
Valley of Fire State Park - just outside Las Vegas and a great place to see colorful layers of sandstone
As I said - you can easily spend 3 weeks doing this road trip and still not see all the amazing sights along the way!
Best time to go on a road trip from Denver to Las Vegas
You can do the road trip from Denver to Las Vegas any time of year. After all, most of the attractions in Vegas are indoors and the weather there holds up whenever you plant to visit.
Having said that, if you're planning to stop in some of the national parks along the way, remember that the hot deserts of Utah can feel quite cold and unpleasant in the winter, so if you want to go on some hikes and explore the red rocks en route, going from April to October is best.
If you're travelling in the winter, you can take advantage of passing through the Rockies and do some skiing on the way. Vail is right along the I-70 and Aspen is only a short detour away.
Whenever you plan to go, make sure you bring some water, food and blankets in the car. If you decide to go on a little detour and break down, you may find yourself in a place with no cell reception and either very hot or very cold conditions. Southern Utah is famous for being the last part of the United States to be explored and mapped and much of it is still very remote.