20 Best Road Trips from Phoenix, Arizona
If you live in Phoenix - or are just visiting the Valley of the Sun - a road trip out of town could be the next thing on your action-packed agenda. Hitting the road in the southwest United States can open up a world of new adventures and luckily, you won't be short of amazing adventures to choose from.
From short day drives through the cacti-dotted Sonoran Desert to longer road trips exploring some of America's most beloved national parks, awe-inspiring national monuments, inspiring scenic byways and fantastic city breaks, we've got you covered.
The following is our list of the 20 best road trips from Phoenix starting with the shortest and working our way up in terms of the time it takes to get there. Make sure you look all the way down - some of the best destinations are that little bit further away!
Best road trips from Phoenix
Day trips from Phoenix (under 3 hours each way)
Phoenix might be known for its sunny weather and beautiful desert landscapes, but it is also a central hub to explore some of the most majestic sights in the country. These amazing day trips from Phoenix are less than 3 hours away!
1. Tucson, AZ
1 hour 40 minutes from Phoenix (110 miles)
Why you should visit: The Old Pueblo as the locals affectionately call it is "the other big city" in Arizona although Tucson is also commonly known as America's biggest small town and is famous for its saguaro cacti.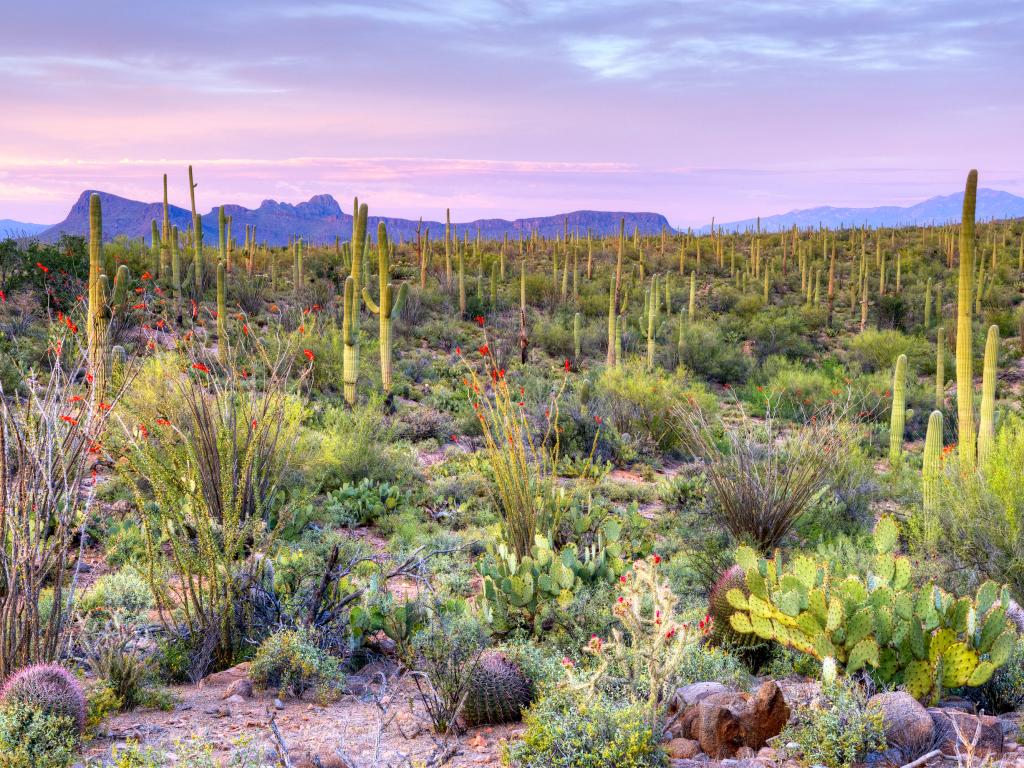 How to get there: As you drive down the I-10 to Tucson, Saguaro National Park will be to your right as you approach. The famous huge cacti of the Sonoran Desert are everywhere here and can reach heights of over 40 feet (12 m) over their lifespan which can last 150 years or longer.
Our highlights: Make a stop at the (very good) Arizona-Sonora Desert Museum which has a botanical garden and various animals including birds of prey.
Then, just before you enter the city, you'll get to Old Tucson. This is a classic Western movie set that is open to visitors as a family theme park when it's not being used as a movie backdrop.
Tucson itself is a rich mix of architecture and culture. There are a lot of old colonial buildings that make Tucson feel almost European, but the Pueblo-style architecture and the unique local mix of Mexican and traditional Apache-influenced food styles are unmistakably Arizona.
2. Rim Country, AZ
2 hours from Phoenix (110 miles)
Why you should visit: A road trip from Phoenix to Mogollon Rim, which is a 2,000-foot tall ridge that runs for some 200 miles through Arizona, is one of the most scenic drives that is close to the city.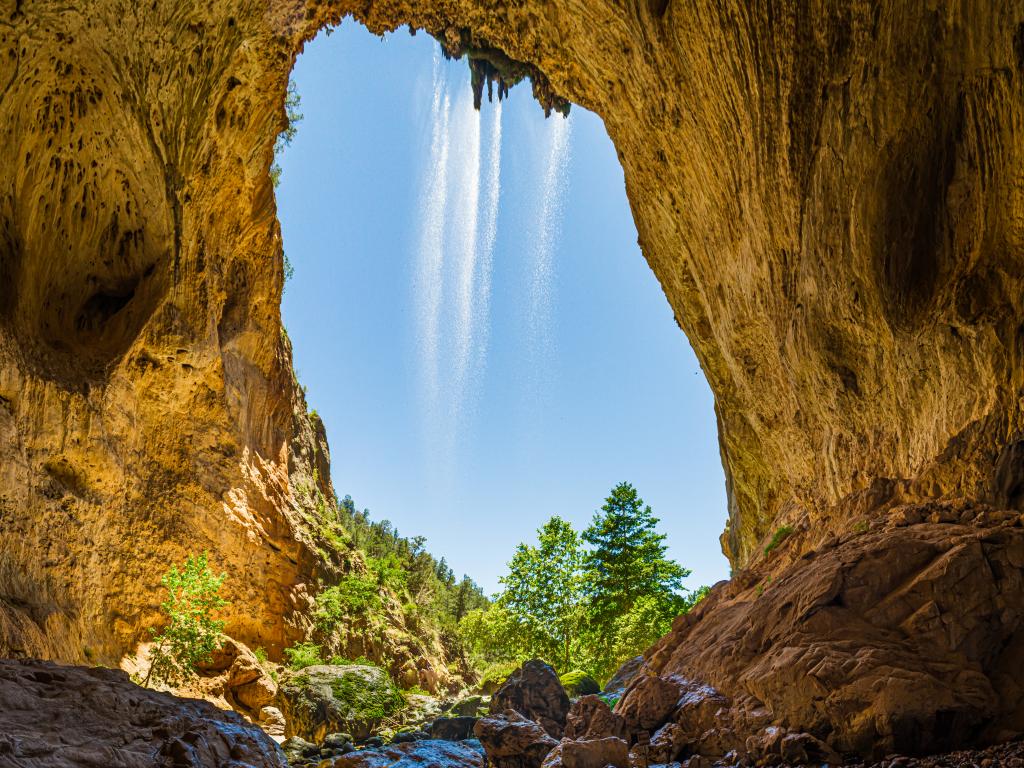 How to get there: To get to see the rim and the nature around it, head up the Beeline Highway (Route 87) to the town of Payson.
Our highlights: It's only going to take a couple of hours to get there, but you'll notice a lot of change as the dusty Sonoran Desert makes way for lush pine forests and rivers the closer you get to Rim Country.
The area is part of the Tonto National Forest. Remember that it's going to be much cooler on top of the ridge than it may be in Phoenix and even below the ridge, the plateau is at a height of 5,000 feet (1,500 m) above sea level which is a lot higher than the Phoenix metro area.
Once you've stopped in Payson, keep on driving up towards the towns of Pine and Strawberry. The Tonto Natural Bridge State Park is on the way and has some great hiking options - bring your boots and water.
Bonus: Look out for javelinas that live here - these small animals look a little like wild boars and are impossibly cute. If you see one, the rest of the family is usually somewhere about too!
3. Sedona, AZ
2 hours from Phoenix (120 miles)
Why you should visit: If you're in Arizona, it is almost compulsory to go to Sedona and see the amazing red rocks that dominate the landscape. This road trip from Phoenix will take you to an oasis in the middle of Arizona's desert landscapes.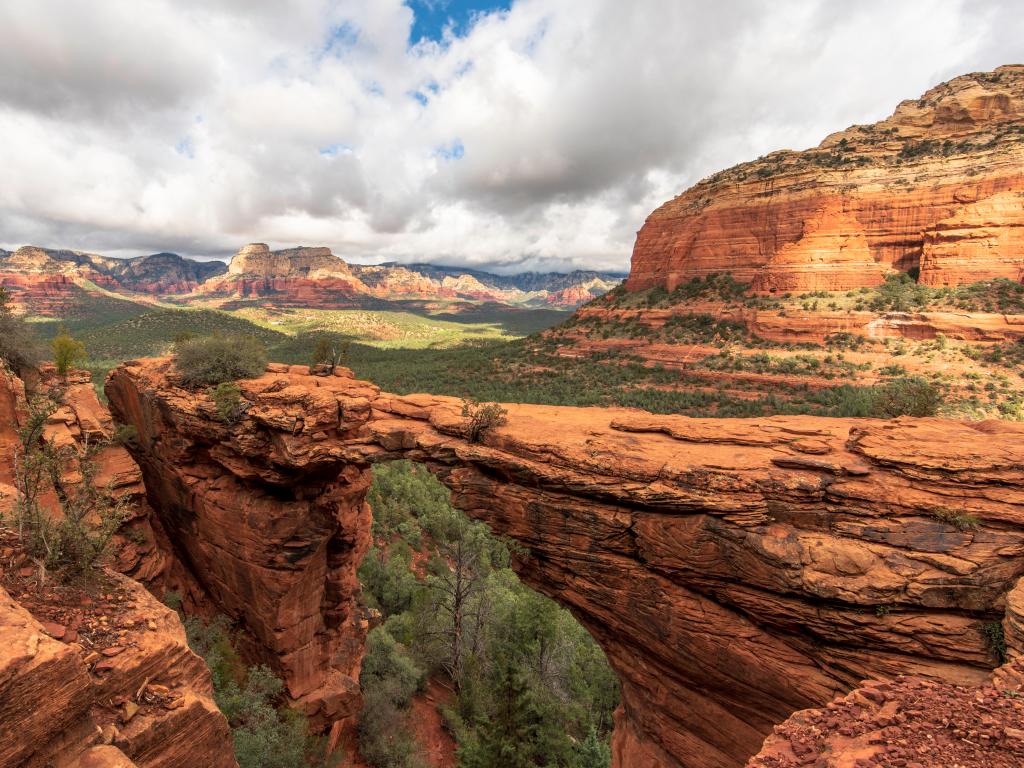 How to get there: The drive up to Sedona from Phoenix is simple - the I-17 will take you most of the way before you turn off onto Highway 179 for the last stint.
Our highlights: There are a few things you can see on the way - two junctions before your turn is the Montezuma Castle National Monument (see #4 below).
As you approach Sedona, you might want to visit the very unusual Chapel of the Holy Cross that is built into a red rock cliff - it looks spectacular from the bottom and has even better views from the top.
Once you get to Sedona, you can go in virtually every direction and find the amazing red rocks. Slide Rock State Park is to the north of the city, Red Rock State Park to the southwest and a large wilderness area with the Devil's Bridge to the northwest.
Red Rock Scenic Byway is the highway you've driven to get from Phoenix to Las Vegas. Some of the best-known rock formations, such as Cathedral Rock and Bell Rock, are right along the Highway and you can see them from the road or follow a short hiking trail to get closer.
READ MORE - Road Trip from Phoenix to Sedona
4. Prescott and Jerome, AZ
2 hours 50 minutes from Phoenix (150 miles)
Why you should visit: A relatively short drive out of Phoenix, the towns of Prescott and Jerome are a great road trip if you want to mix seeing spectacular nature, a few historic sites and local culture.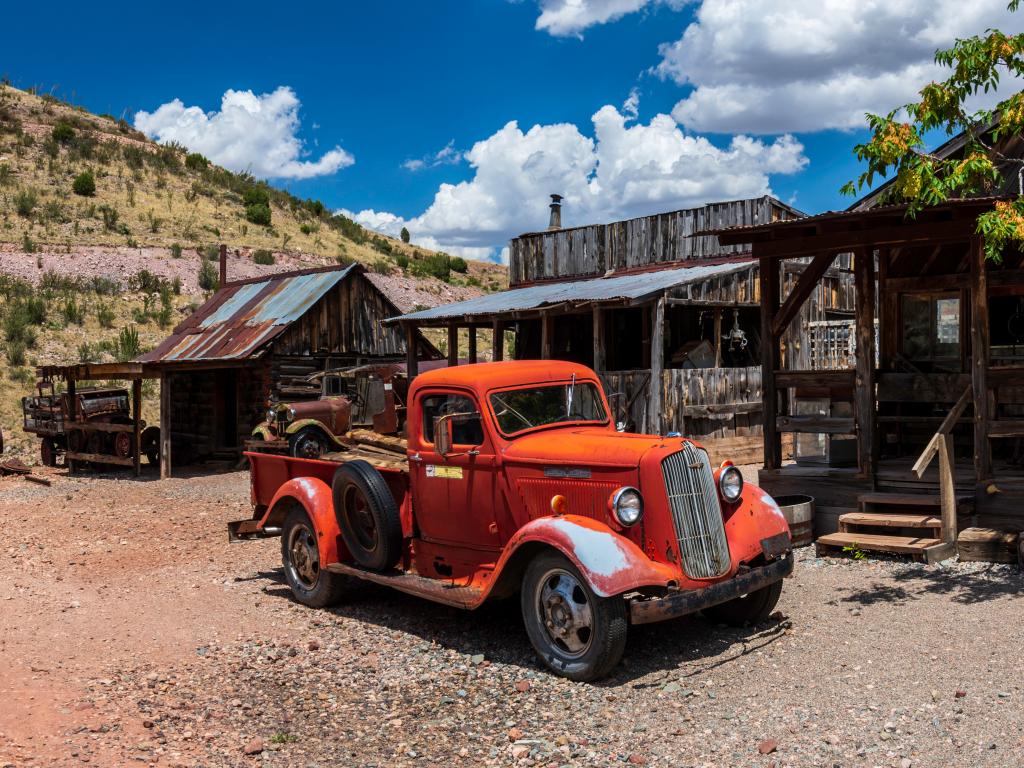 How to get there: Start off by taking the I-17 out of Phoenix and come off 90 minutes later in Camp Verde to make a stop at the Montezuma Castle National Monument.
Our highlights: Montezuma Castle is a ruin of an old fort that was built into the sheer rock cliff by the Sinagua people in the 12th century. It's a relatively easy hike up to see the ruins and a great start to the trip.
From there it's a half hour drive up to Tuzigoot National Monument along the Verde River. This is another historic ruin of a large pueblo construction that had over 100 rooms sitting on top of a mountain ridge.
The small town of Jerome is the next step along Route 89A with an optional stop at the Verde Canyon Railroad for a trip on a classic train.
The Ghost King Mine and Ghost Town just above Jerome is a little kitsch but still an awesome stop with a number of old rusted out pickup trucks and derelict buildings. The road that leads up to it is a great drive too - you can keep on going up the twists and turns if you like a scenic drive.
Last but not least is Prescott - this is a much bigger city than Jerome but there is a lot going on with frequent events in the historic district around Courthouse Square.
5. Flagstaff and Meteor Crater National Monument
2 hours 50 minutes from Phoenix (190 miles)
Why you should visit: Flagstaff is known to be one of the best places to base yourself in as you explore some of the most famous national parks (think Grand Canyon!) and monuments like Meteor Crater,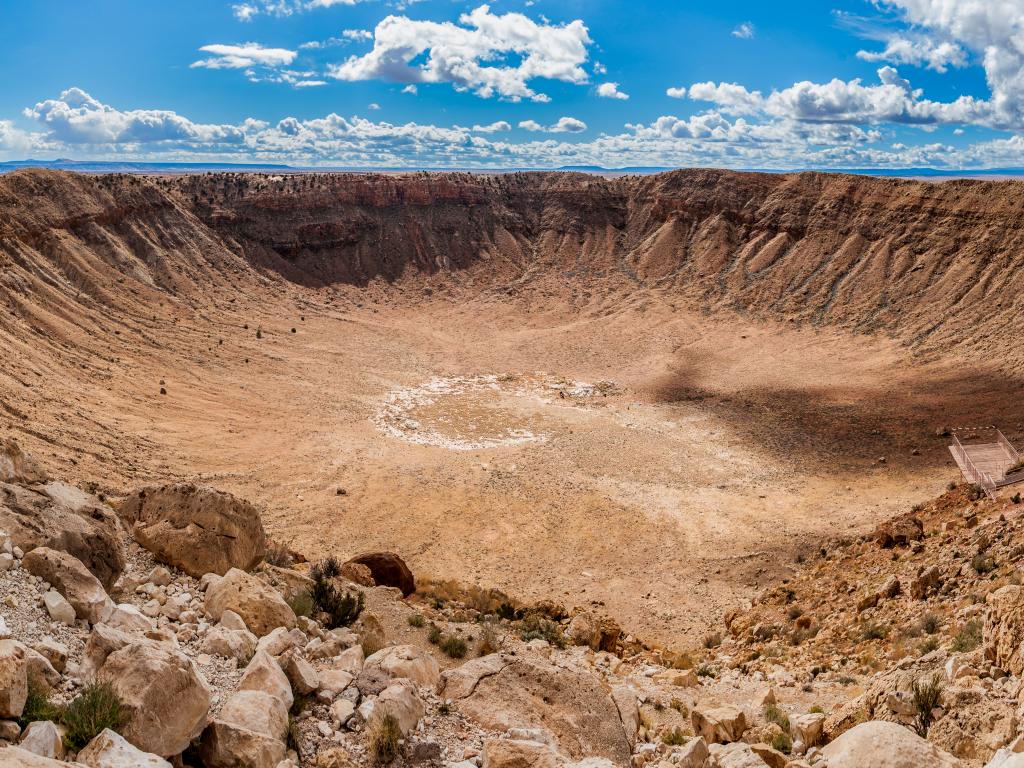 How to get there: Flagstaff is all about the outdoors and to get there from Phoenix, all you have to do is jump on the I-17 north in Phoenix and follow it until the interstate ends and merges with the Historic Route 66 in Flagstaff a little over 2 hours later.
Our highlights: The city is vibrant and young - 1 in 3 of the residents are students or staff at Northern Arizona University and you can feel the vibe as you walk around the historic Downtown or stop at one of the dozens of coffee shops for a drink.
Flagstaff sits on the edge of the Colorado Plateau and is 6,910 feet (2,106 m) above sea level which is a lot higher than Phoenix so expect the weather to be very different too.
The huge Meteor Crater is about 30 minutes drive out of Flagstaff. It was formed 50,000 years ago when a meteorite crashed into the Earth creating a 3,900 ft (1,200 m) wide and 560 ft (170 m) deep crater. You have to scale a 148 ft (45 m) tall rim just to peek inside - well worth the detour before heading back to Phoenix.
Bonus: If you want to climb even higher, the Arizona Snowbowl is just outside Flagstaff to the north. You can drive right up to it and take a chairlift up Agassiz Peak to get a great view. In the winter, the whole area unsurprisingly becomes a ski resort so it's a great destination all year round.
Click here to skip back to the top.
Weekend trips from Phoenix (3-5 hours each way)
Have more time on your hands? Why not plan an exciting weekend trip and get away from the hustle and bustle of the city? The road trips we listed below are only a couple of hours away and are great getaways.
6. Mount Lemmon and the Sky Island Scenic Byway, AZ
3 hours from Phoenix (150 miles)
Why you should visit: The Sky Island Scenic Byway can be found in the hills just outside Tucson but the drive up and the views down are so spectacular, it really had to have its own entry on this list.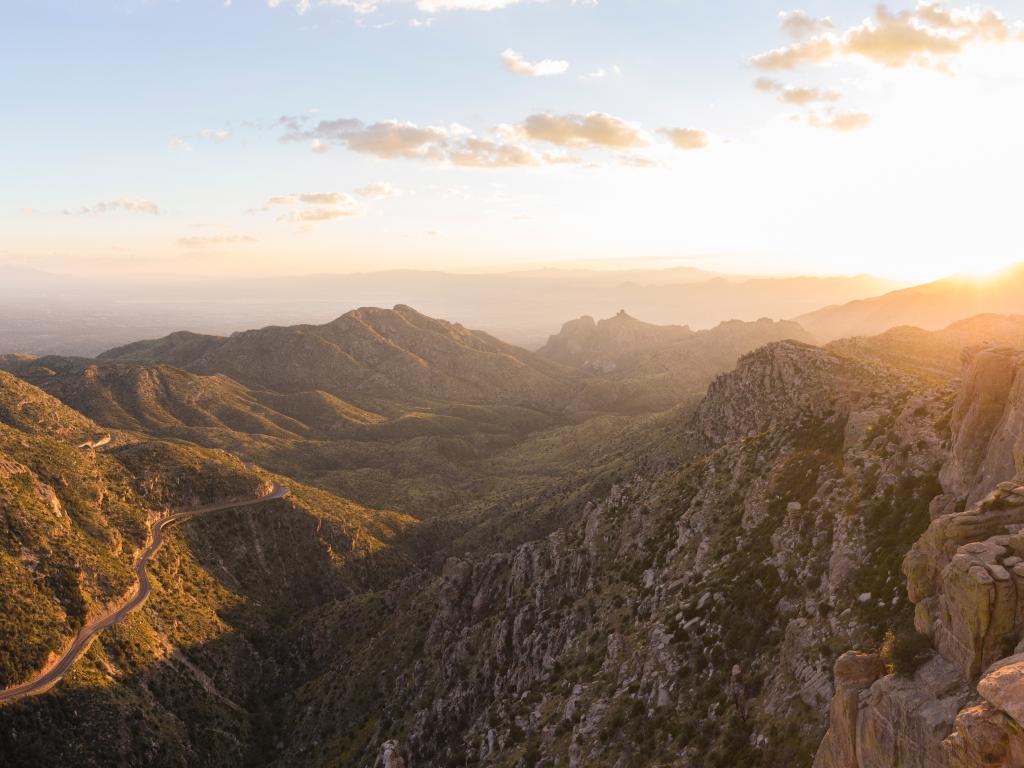 How to get there: If you don't want to visit Tucson on the way, it is well worth driving down the I-10 just to scale Mount Lemmon.
Our highlights: The road goes by many names - officially called the Catalina Highway, you might find it referenced as the General Hitchcock Highway or the Mt Lemmon Highway as well.
The Sky Island name comes from the unique mountains that stand in the middle of the desert, seemingly not part of a mountain range with no other major peaks nearby.
The route up Mount Lemmon is long and challenging so strap in. You'll be climbing 6,000 feet (1.8 km) on the way up and the road is 27 miles long which will take some time given the constant twists and turns.
You might be surprised by the fact that the road is also free - there's no tolls to pay unless you're planning to camp.
Our travel tips: Make sure you're prepared for the changing conditions - the huge difference in elevation will mean that you pass through different weather on the way up and the saguaro cacti at the bottom get replaced by pine forests.
While daytime temperatures in the summer may be in the 100 degrees Fahrenheit at the bottom, it can fall below 70 degrees in Summerhaven at the top of Mount Lemmon.
7. Lake Havasu, AZ
3 hours 10 minutes from Phoenix (190 miles)
Why you should visit: Lake Havasu is an artificial lake that was created in the Mojave Desert when the Colorado River was dammed in the 1930s. Driving over the London Bridge is an experience in itself!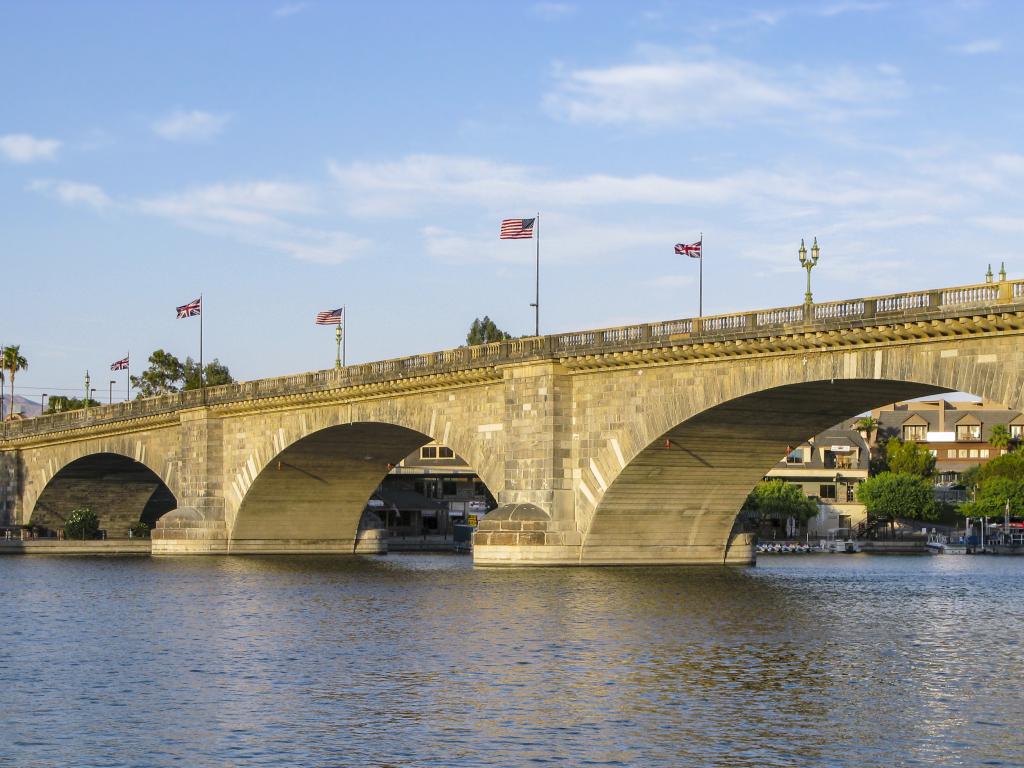 How to get there: To get to Lake Havasu from Phoenix, you'll need to follow the I-10 west, cut across to the Colorado River from Hope along Route 72 and then follow Route 95 north along the river to Lake Havasu City.
Our highlights: The lake has all the typical water-based activities and is particularly well known as a fishing destination. The large amount of bass in the lake attracts fishermen from far and wide and it holds regular big fishing contests.
One highly unusual sight in Lake Havasu City is the London Bridge. This is the old London Bridge that was dismantled in London in 1968 when it began sinking into the riverbed clay to be replaced with a newer structure. Out of all the bidders in the world, Lake Havasu City won an auction to buy the bridge.
After every single brick was carefully dismantled and labelled, the entire bridge was shipped to Arizona and carefully reconstructed - it certainly looks out of place but that's exactly why you should go and see it!
8. Joshua Tree National Park, CA
3 hours 10 minutes from Phoenix (220 miles)
Why you should visit: Joshua Tree is one of two National Parks (along with Grand Canyon) that are a little further away from Phoenix and both take a little over 3 hours to get to. Other than the small Saguaro National Park just outside Tucson (see #1 above), these are the closest two to Phoenix.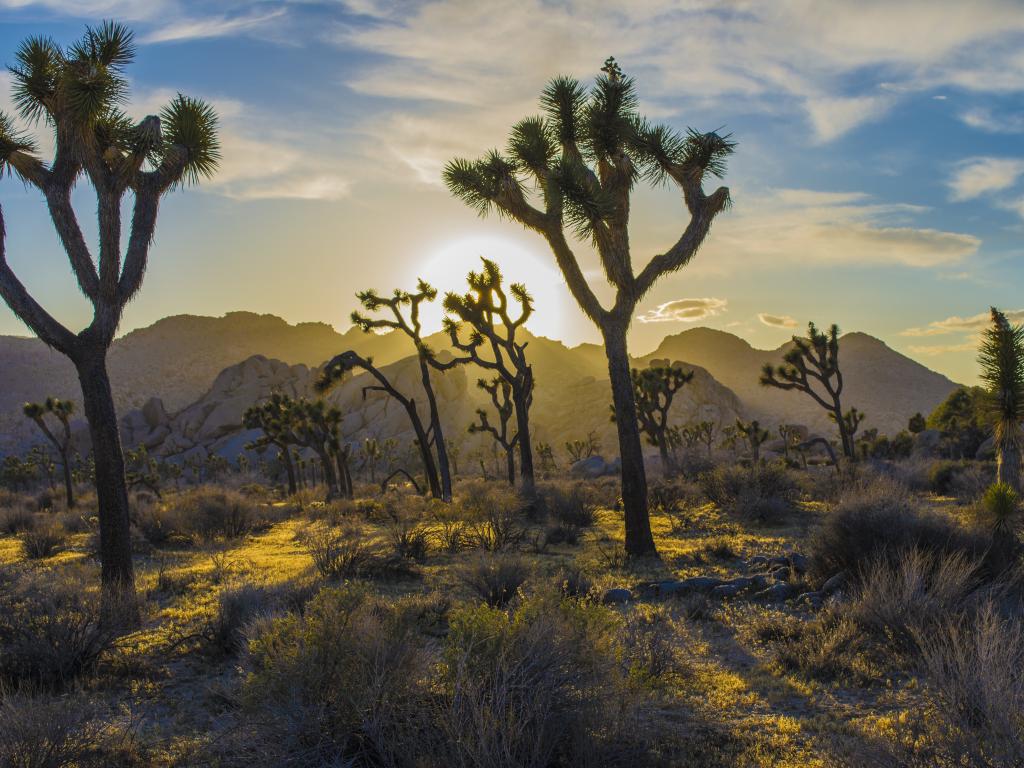 How to get there: Getting to Joshua Tree National Park from Phoenix is mighty easy - follow the I-10 for 220 miles right out of Phoenix heading west and then turn off towards the Cottonwood Visitor Center a few miles off the interstate.
Our highlights: Joshua Tree National Park is named after the unique trees that grow across the Mojave desert. These trees that can survive the extreme heat of one of the hottest deserts in the world have thick "arms" that stretch upwards and make them look like people - hence the name.
There's no shortage of National Forests near Phoenix - Coconino, Apache-Sitgreaves, Tonto, and Prescott National Forests are all within a 2-hour drive of the city, so you can stop by any of these on your way to Joshua Tree National Park.
There are some good and not very strenuous hiking trails to explore and in spring the desert has a desert flower bloom which is worth seeing - especially as the temperatures are a lot milder.
Our travel tips: If you're coming in the summer, you should aim to do your hikes before 9 or 10am as the daily temperatures will get hot - June to August average highs are over 100 degrees Fahrenheit!
9. Grand Canyon National Park, AZ
3 hours 20 minutes from Phoenix (230 miles)
Why you should visit: Grand Canyon is not just Arizona's but probably America's best-known natural feature and with only a short road trip keeping you from seeing it for yourself, how can you not go and see the huge crack in the desert?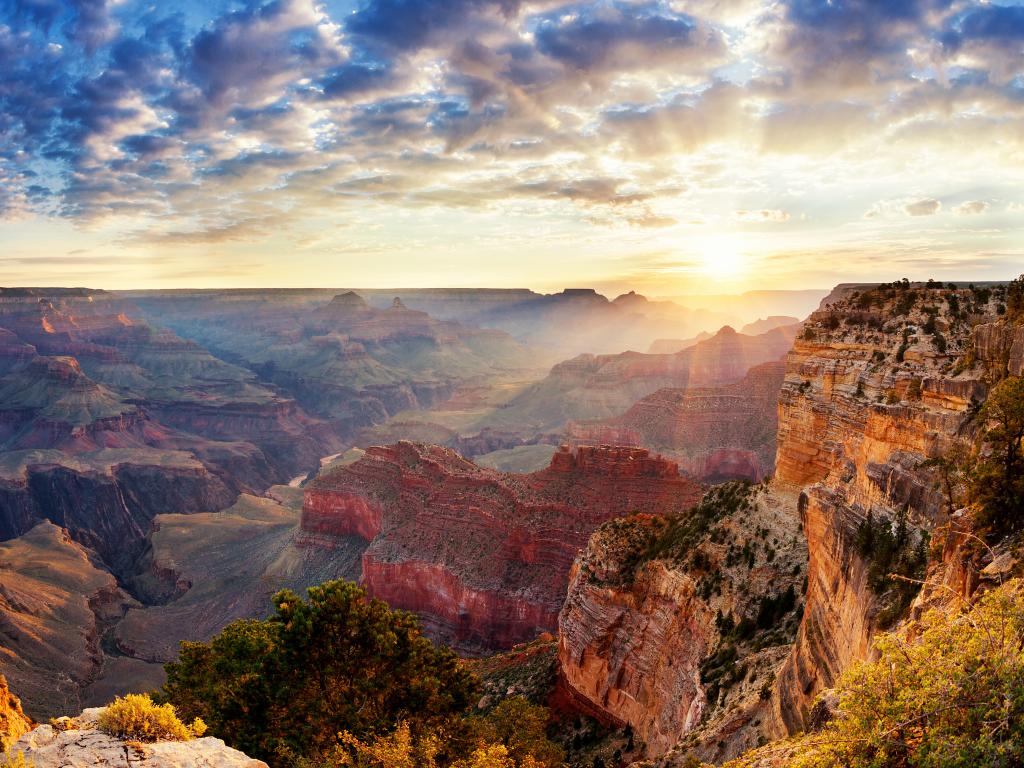 How to get there: The routes up past Sedona and Prescott both take about the same amount of time - you might want to head up one way and come back another with halfway stops in Prescott and Jerome (see #4 above) on the way up and Flagstaff (#5) or Sedona (#3) on the way back down.
Our highlights: Although there is a fair few places you can go to see the Grand Canyon, the Grand Canyon National Park is probably your best option and not only because it is the closest.
The views from Grand Canyon Village are some of the best and there are good facilities and places to eat there as well.
South Kaibab and Grand Angel Trails allow you to descend into and cross the Canyon and others follow the rim in either direction to get to a different viewpoint.
Bonus: If you do want to drive a little further to the North Rim, you can do so via Route 89 and you'll get to visit the spectacular Vermillion Cliffs National Monument on the way, but it'll take twice as long to get there so you'll need to plan for a much longer road trip!
READ MORE - Road Trip from Phoenix to the Grand Canyon
10. Palm Springs, CA
4 hours 10 minutes from Phoenix (280 miles)
Why you should visit: Palm Springs is known as a place where the sun always shines - sitting on the edge of the Mojave Desert in the Coachella Valley, the weather is bright and sunny virtually every single day.
If you fancy spending some time by the pool and quickly moving through the intense heat from one air-conditioned place to another, you can get to Palm Springs in a little over 4 hours.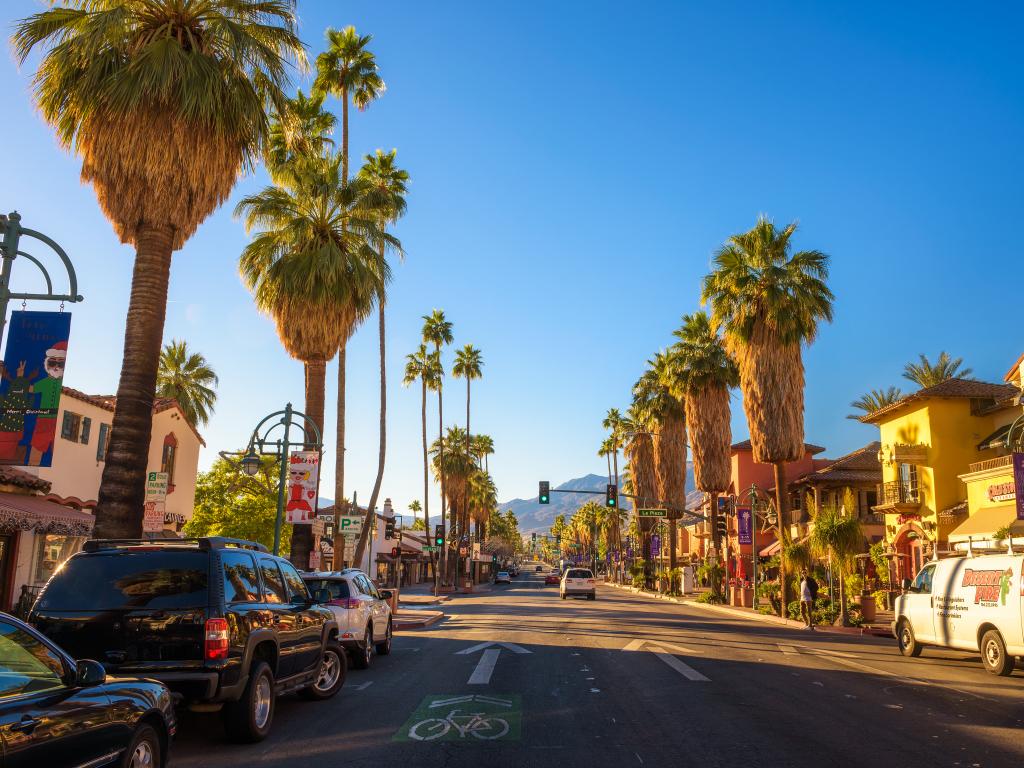 How to get there: The directions for the road trip from Phoenix to Palm Springs are simple - get on the I-10 headed west in downtown Phoenix and come off 260 miles later as you're passing right through Palm Springs. Simple enough!
Our highlights: If you want to get out and about and escape the heat, the Palm Springs Aerial Tramway will take you up to Mount San Jacinto State Park. It's a rotating tramcar which means every seat gets all the views in turn and at the top, you'll find a bar and a restaurant with views down into the valley.
There are two trails that lead from here - the Long Valley Discovery Trail (which is actually a short loop) and the Round Valley Trail which (together with other trails further along) can take you all the way up to the peak of Mount San Jacinto.
Our travel tips: Remember that it's a big difference in height and the temperature at the top can be 30 degrees cooler than down in the valley - if you're visiting in spring or fall, you might want to bring a light jacket with you.
The combination of it being the hottest desert in the world and being sunny means that summers tend to be seriously hot - we're talking daily highs of 108 degrees Fahrenheit on average through the months of July and August.
READ MORE - Road Trip from Phoenix to Palm Springs
11. Salton Sea, CA
4 hours 10 minutes from Phoenix (270 miles)
Why you should visit: If you want your road trip from Phoenix to come with a big serving of weird, you need to drive to the Salton Sea in southern California.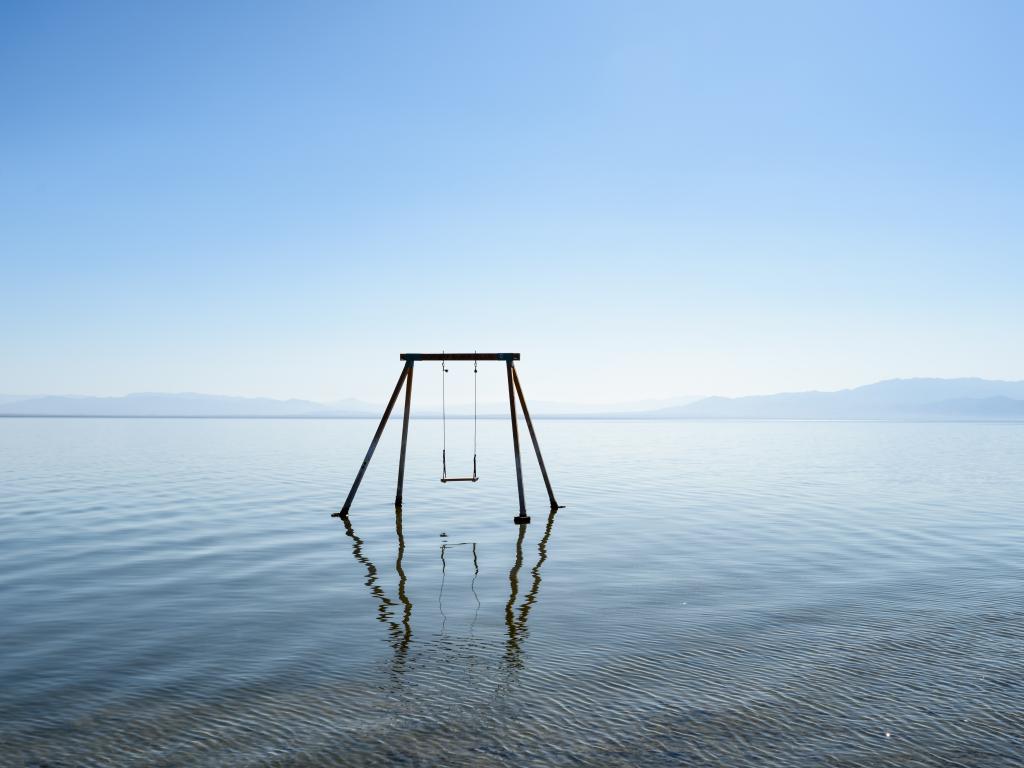 How to get there: Getting to the Salton Sea from Phoenix is extremely easy - simply follow I-10.
Our highlights: This large lake was created by accident when engineers working on an irrigation project on the Colorado River made a few miscalculations and water began flowing out of the river and into the Salton Basin. By the time they fixed the problem 2 years later, a huge lake was formed.
As the land where the lake was created was a dried-out salt flat (the area used to have a large salt mine industry), the water is saline and has almost twice the salt concentration of the Pacific Ocean.
The Salton Sea was a popular resort destination until the 1950s but quickly fell out of favor and today you can find lots of abandoned resorts, abandoned beaches and rusted-out infrastructure.
One of the main local sights is Salvation Mountain, which was built by a local resident with various verses from the Bible inscribed on it to spread the word of Jesus.
Another is the Borrego Springs Sculptures a little further away towards San Diego - these are giant metal structures depicting a huge serpent, fighting dinosaurs and other scenes in the middle of the desert.
We did warn you about the weird factor!
12. Las Vegas, NV
4 hours 30 minutes from Phoenix (300 miles)
Why you should visit: Everybody has got to visit Sin City at least once and given it's just a jaunt across the desert from Phoenix, it's a great option for a road trip, especially if you want to try your luck at the tables or admire the glitzy neon signs of this city that never sleeps.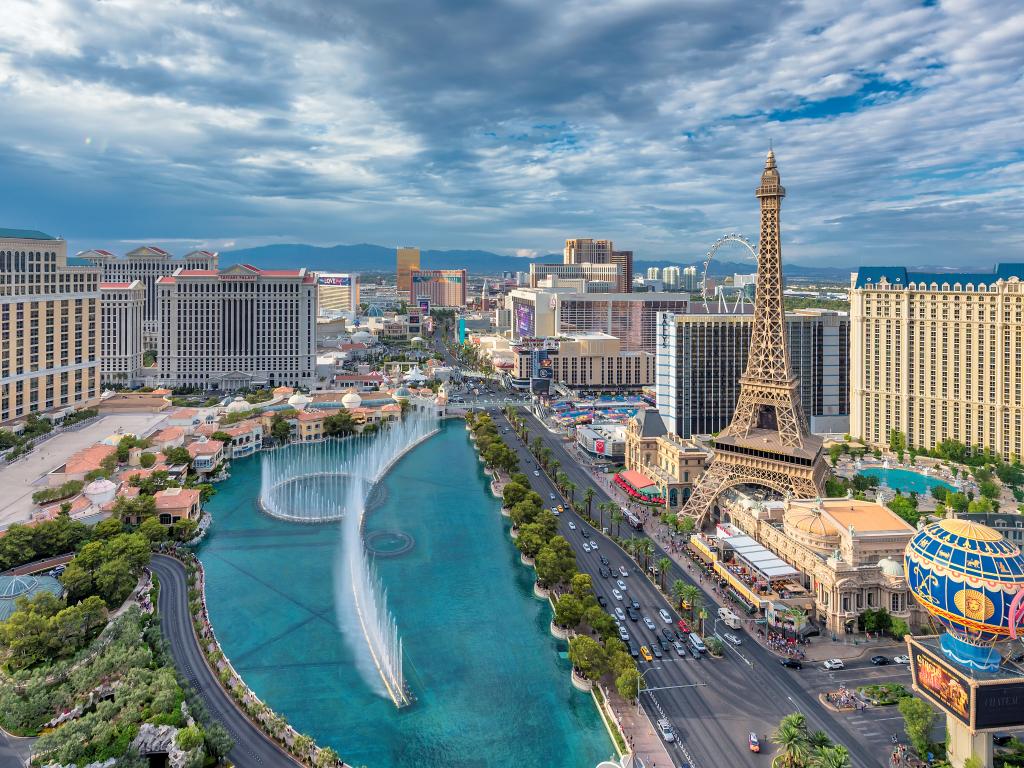 How to get there: Many doing this drive from Phoenix to Las Vegas go for the Interstate option going north along the I-17 and I-40 - the roads are good and there's plenty of places to stop.
Our highlights: US Route 93 is definitely the way you should go and it might just be one of our favorite stretches of road of all time. Not that it is particularly exciting to drive - it mostly goes completely straight through the desert that gradually changes from the saguaro cactuses and red dust of the Sonoran Desert to the more rocky and yellow hues of the Mojave.
But the towns along this stretch show exactly how bored the people building the highway were. Along with Bagdad and the town of Santa Claus, you'll pass through a town called Nothing. There is literally Nothing there - here's me trying to do a scenic photo.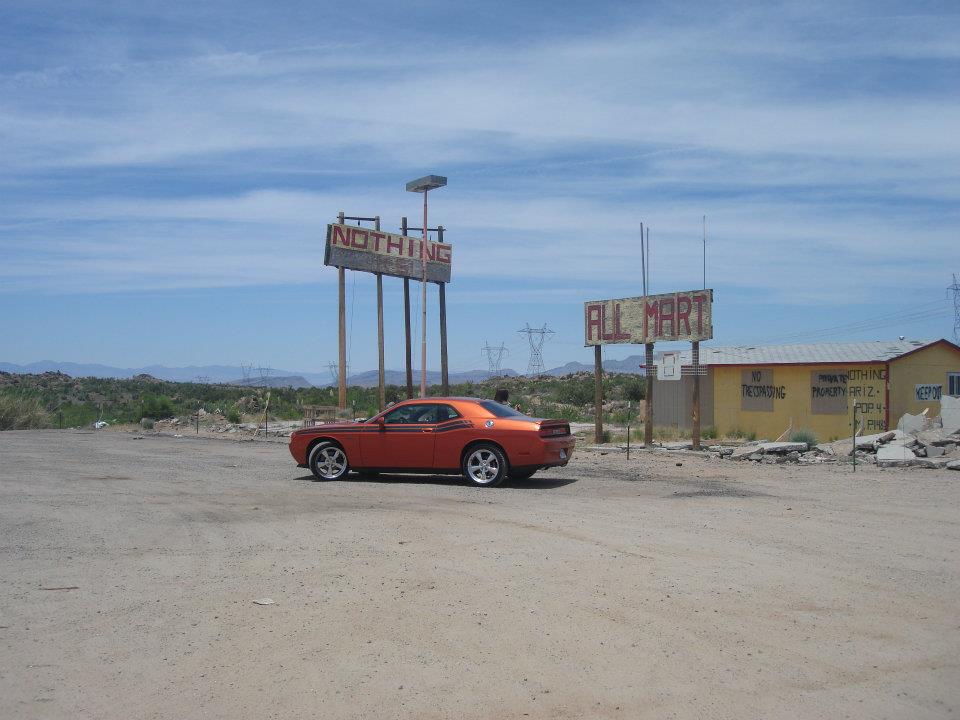 The surreal town of Nothing, Arizona.

LazyTrips
What you end up doing in Las Vegas famously stays in Las Vegas, but on a serious note - there are a lot of options!
If you like a flutter, this is the undisputed gambling capital of the world and from endless rows of slot machines to huge poker rooms, there's something for everyone.
Other than gambling, you've got a big selection of evening shows and some of the country's best restaurants. Be careful to pick one that matches your budget - some of the prices can escalate quickly!
Bonus: If you do a slight detour, you can check out Lake Mead and the Hoover Dam as you approach Las Vegas and if you set off early on the way back, you could go via the Grand Canyon (#9 above) or visit the red rocks of Sedona (#3) on your way.
Our travel tips: We personally prefer staying at the newer end of the Strip - hotels like Aria and Cosmopolitan have a much more modern feel at reasonable rates (you'll pay a big premium at the Bellagio) and there's slightly less focus on gambling (the Cosmo unusually doesn't have a casino).
READ MORE - Road Trip from Phoenix to Los Angeles
13. Grand Staircase-Escalante National Monument, UT
4 hours 30 minutes from Phoenix (300 miles)
Why you should visit: This part of south Utah wilderness was the last to be mapped in the United States and still remains almost completely untouched with amazing landscapes and unique rock structures perfect for exploration.
It was declared a National Monument only in 1996 and later scaled down in size by ex-President Trump, but there is still a lot within the National Monument area to see and do.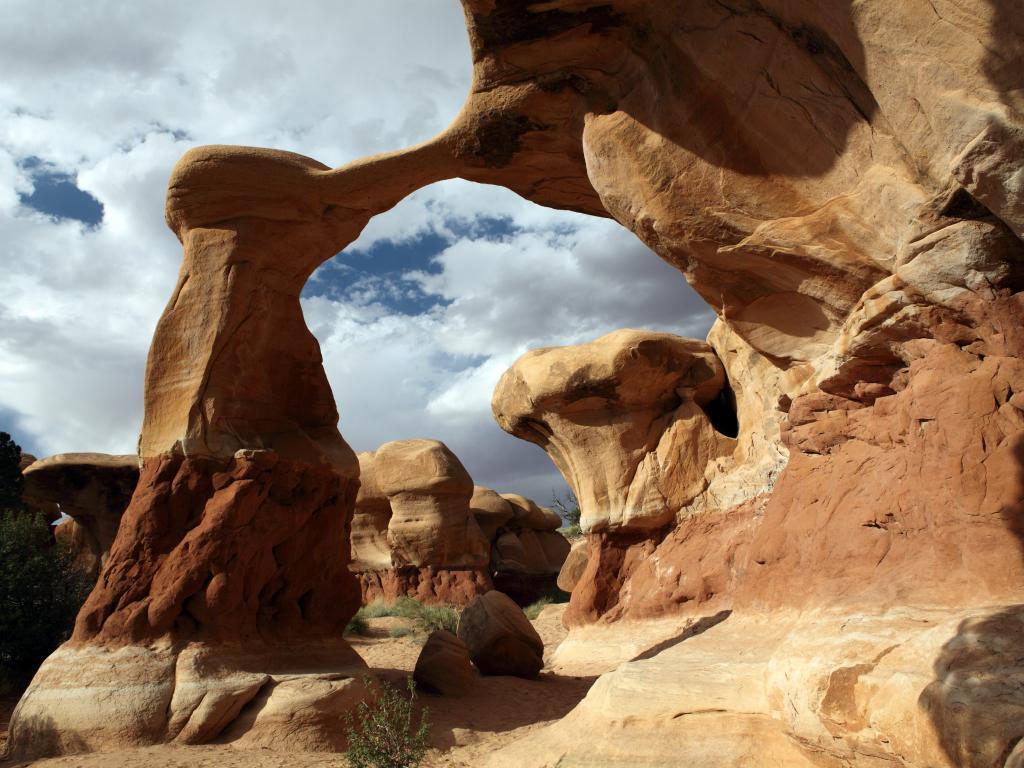 How to get there: Head north via Flagstaff to the town of Page in northern Arizona. Here you can stop to take a look at the Grand Canyon's Horseshoe Bend which is an incredible 180-degree bend in the canyon with an overlook that has the perfect view.
Our highlights: You will enter the Monument as you cross the border into Utah and approach Big Water but to reach some of the best sights, you'll need to loop all the way around to the town of Escalante and drive south from there.
Stop off at the Toadstool Hoodoos just off Highway 89 as you're going around.
Although Bryce Canyon sits right on the edge of the National Monument and Zion Park is just outside (see #19 below), those are best kept to a separate road trip unless you really have a lot of time o your hands to combine them all into one big wilderness adventure.
As you drive down from Escalante, you'll come across the Zebra Slot Canyon, Devil's Garden, Peek-a-Boo Slot Canyon and the Jacob Hamblin Arch all along the same road.
Our travel tips: Although it'll take you about four and a half hours to enter the National Monument, it'll take you the same amount of time on top to loop all the way around and drive down to the Jacob Hamblin Arch so plan your visit based on how long you've got to spend on the road.
Click here to skip back to the top.
Long weekend trips from Phoenix (5-8 hours each way)
If you have been wanting to explore some of the bucket list-worthy landmarks and sunny cities near Phoenix, then make sure to take a few days off for an epic long weekend trip.
14. Monument Valley, AZ and UT
5 hours from Phoenix (320 miles)
Why you should visit: Monument Valley is a spectacular desert valley with huge distinctive sandstone buttes that is about 5 hours away from Phoenix.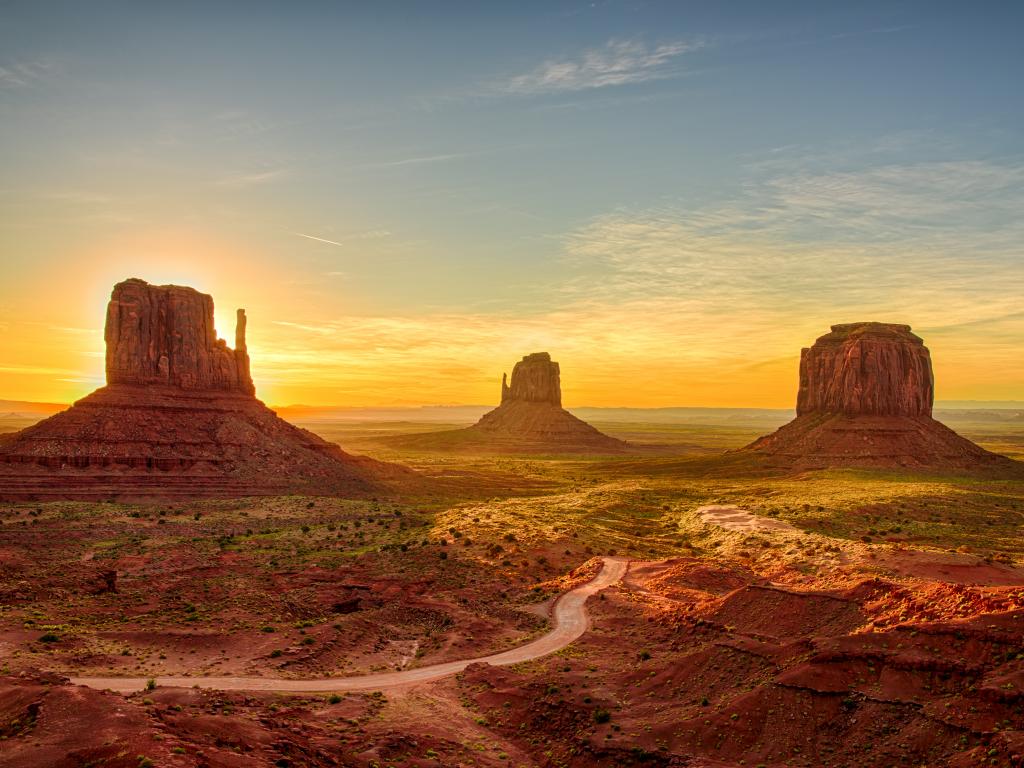 How to get there: Located on the Arizona-Utah border, Monument Valley is located to the north of Phoenix, so head out of the city on I-17 and keep on US-89 and then US-160 to reach there.
Our highlights: Unlike many of the other options on this list, Monument Valley is not a National Park because it is located within the Navajo Nation Reservation and the land cannot be Federally owned and managed.
Although the Grand Canyon, Death Valley and Zion National Parks are all within reach of Phoenix and all on this list, Monument Valley might just top them all for the sheer otherworldly feel that you get when you see these rocks for the first time.
If time is on your hands, you can take a slightly slower but much more scenic route up to Monument Valley and make more stops along the way.
Take the Beeline Highway up to Payson in the Tonto National Forest (#2 above) and then drive through the Apache-Sitgreaves National Forest towards the Petrified Forest National Park. This is not so much of a forest as a barren rocky landscape, but it has some really fascinating fossils and remains of a forest that once stood here which you can explore.
Then keep on driving north to Canyon de Chelly which is also on the Navajo Nation territory. It may not be well known as the Grand Canyon or other landmarks in Arizona, but it is a really beautiful canyon with many sheer cliffs and rocks that you can go hiking through.
15. San Diego, CA
5 hours 20 minutes from Phoenix (360 miles)
Why you should visit: If you want to go to the Pacific Coast to spot some sea lions and spend some time enjoying the beach along with the mild weather that comes with it, San Diego is the closest and easiest option to get to.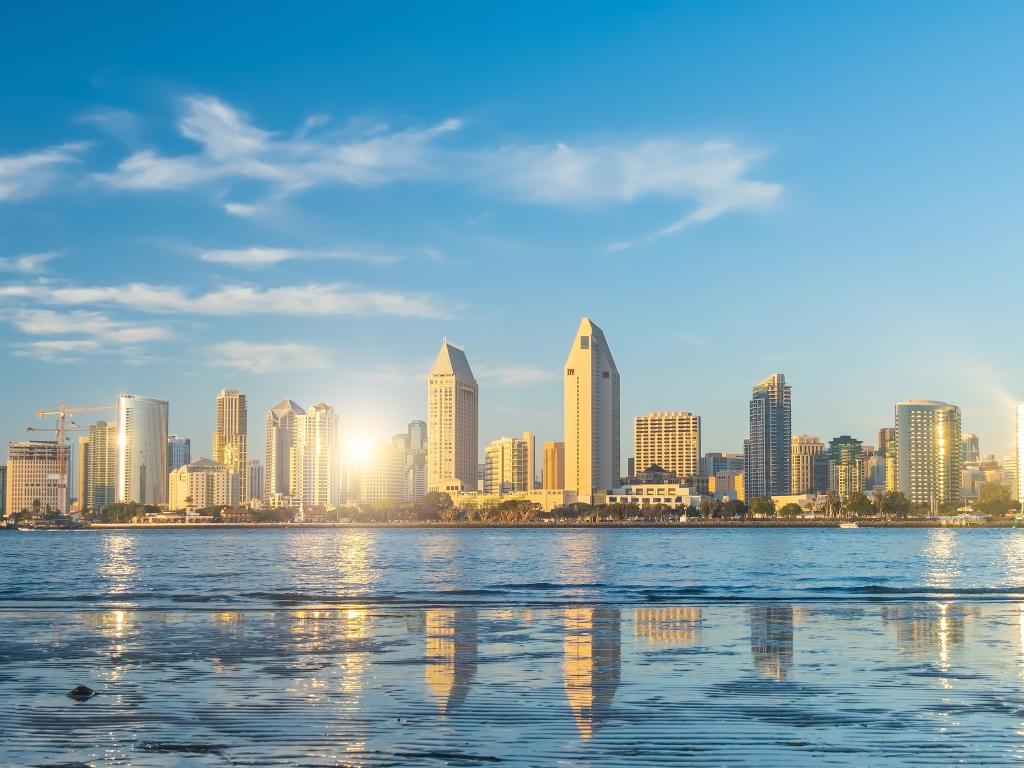 How to get there:Once you get out of Phoenix along the I-10, follow the I-8 that runs south through Yuma and close to the border with Mexico all the way into San Diego.
Our highlights: The scenery along this drive is pretty spectacular even though you're following an interstate route - you'll pass through saguaro groves, rocky desert landscapes and even sand dunes that make you feel like you've driven into the Sahara.
When we were doing this drive, we were amazed at the variance in the different types of desert and the gradual change as you approach San Diego.
San Diego boasts a moderate climate all year round which is exactly why so many people who live in Phoenix flock to America's Finest City during the impossibly hot summer months.
You can take a stroll through the historic Gaslamp District, spend some time in Coronado or see the sights of Balboa Park that include the world-famous San Diego Zoo, botanical gardens and a few top museums.
The beaches on Point Loma are great for an afternoon walk all the way to the Cabrillo National Monument with its historic lighthouse and views back over San Diego and down to Tijuana in Mexico.
Bonus: Make sure you go see the La Jolla neighborhood and the La Jolla Cove that is home to a group of sea lions - you'll be able to see them most days relaxing on the rocks.
READ MORE - Road Trip from Phoenix to San Diego
16. Los Angeles, CA
5 hours 30 minutes from Phoenix (370 miles)
Why you should visit: If you have more time or want to explore the neighborhoods, beaches and amazing sights of a big city, Los Angeles is only marginally further away than San Diego.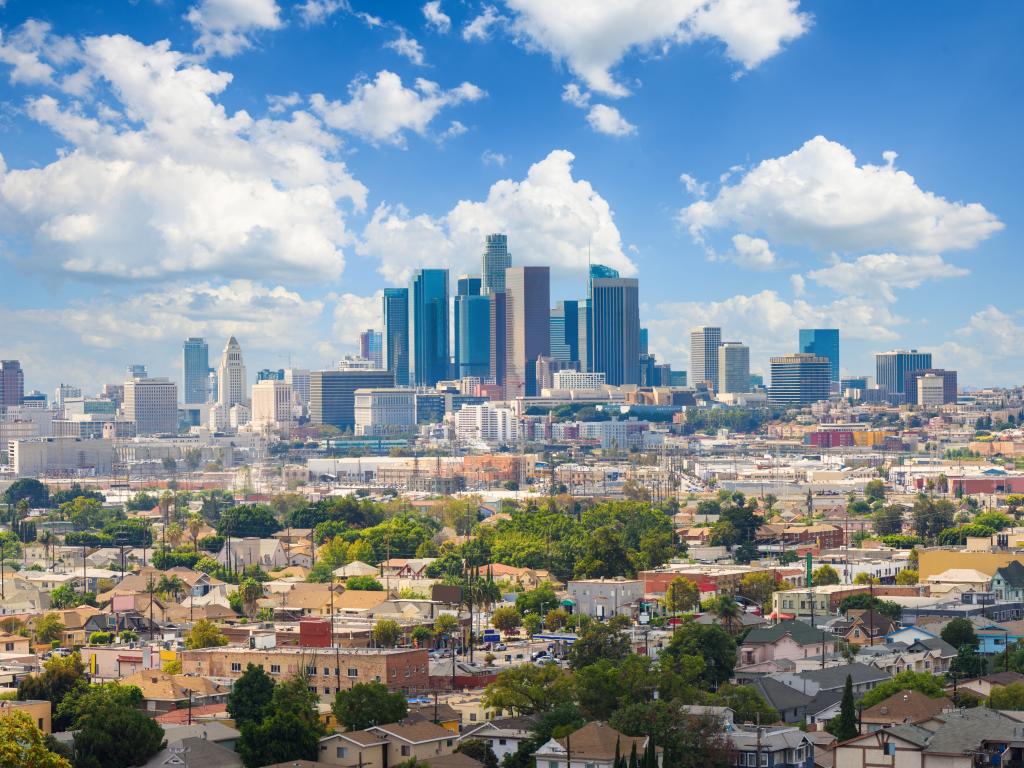 How to get there: The road trip from Phoenix to Los Angeles is incredibly simple even if it's the best part of 400 miles' worth of driving - hop on the I-10 and sit there until you cross the Los Angeles River and find yourself in downtown L.A.
Our highlights: You can spend a weekend in the City of Angels or 2 weeks and still have only seen a fraction of what this city has to offer.
Although many cities claim to cover a big area, the combined urban area around Los Angeles might just be the largest we've ever come across as neighborhoods, towns and cities from Pasadena all the way to Laguna Beach all seamlessly merge into each other.
Tick off the compulsory visit to the Hollywood sign (great views across Los Angeles from up there) and see the stars on the Walk of Fame along Hollywood Boulevard.
Then go see Rodeo Drive in Beverly Hills, the Sunset Strip and get lunch in Santa Monica if you want to see where the rich and famous of the city spend their time.
Culver City is a vibrant neighborhood that is not as popular as it should be, and Venice Beach is amazing for people watching from the Boardwalk and relaxing to the sound of the waves rolling in.
If you have kids, Disneyland in Anaheim and Universal Studios in Hollywood are perfect for a day out and to get away from the hustle and bustle, you can drive further up the coast to Malibu to enjoy a morning on a quiet beach followed by a hike in the Santa Monica Mountains right behind you.
READ MORE - Road Trip from Phoenix to Los Angeles
17. Death Valley National Park, CA and NV
6 hours 40 minutes from Phoenix (410 miles)
Why you should visit: If you thought Phoenix was hot in the summer, a road trip to the Death Valley National Park in California may change your perspective on what really hot means.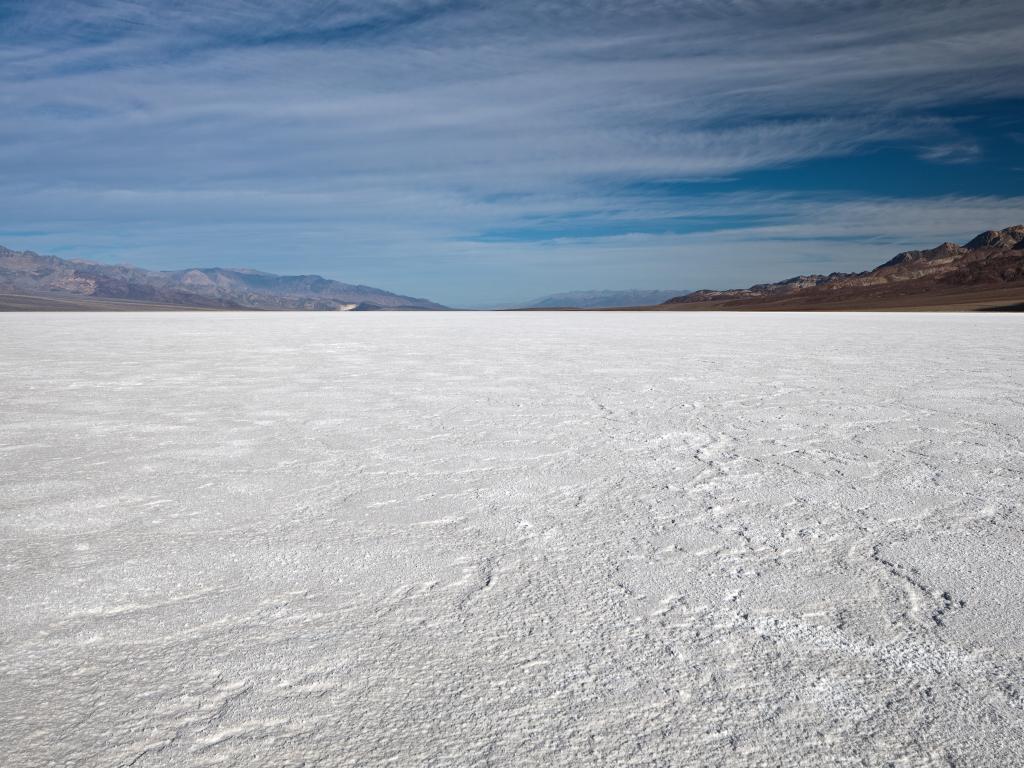 How to get there: The route from Phoenix to Death Valley will take you right past Las Vegas - it's about 2 more hours on the road after you've left Vegas in the rearview mirror.
Our highlights: Although it's a hot and arid desert, there are a lot of different landscapes and parts of Death Valley. It's the largest National Park in the United States if you don't count Alaska and there are dried-out lake beds, mountains and even sand dunes.
If you get to the Racetrack Playa (large dried-out lake), you might see the phenomenon of sailing rocks. These are large and very heavy rocks that appear to move around the basin on their own leaving a track behind them.
The truth is that they actually do move themselves during the winter months when Death Valley gets to freezing point overnight but despite the physics, it still looks odd.
Bonus: We actually would recommend not visiting Death Valley in the summer - the daily highs from June to August average out at 120 degrees Fahrenheit - you won't be able to do much hiking in the afternoon.
18. Albuquerque and Santa Fe, NM
7 hours 30 minutes from Phoenix (480 miles)
Why you should visit: The cities of Albuquerque and Santa Fe in northern New Mexico are a long drive, but a really interesting destination for a week-long road trip from Phoenix.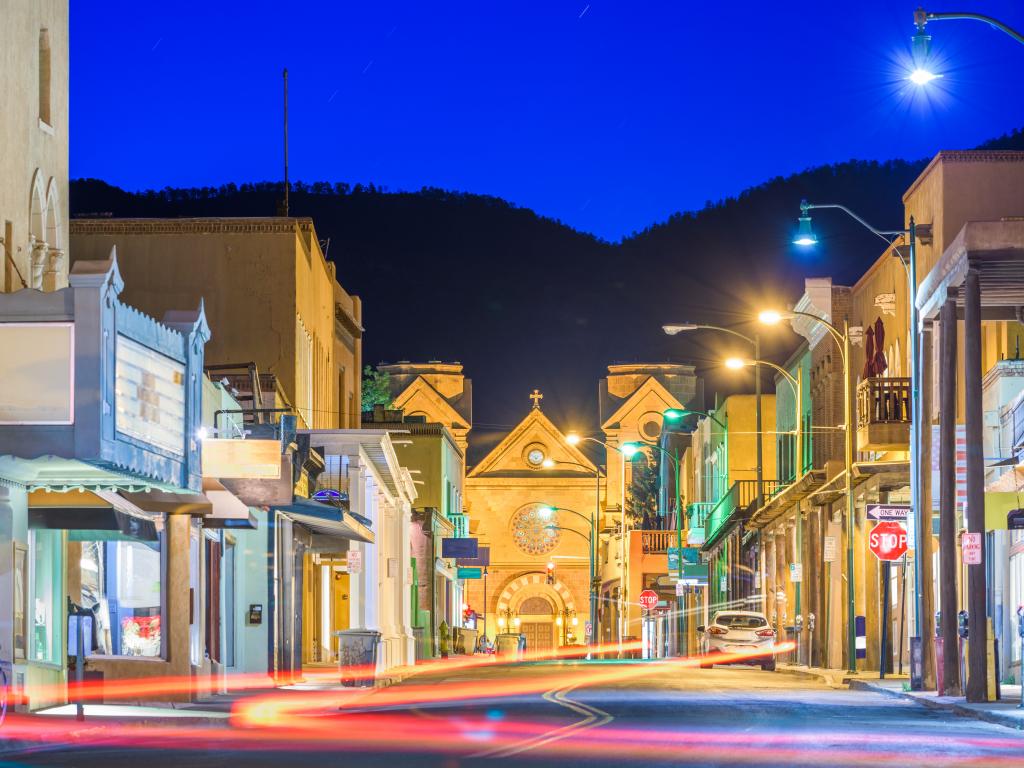 How to get there: The best route from Phoenix to Albuquerque is to head up Beeline Highway through Tonto National Forest towards Payson (See #2 above if you want to stop here) and then drive through the Apache-Sitgreaves National Forest to Holbrook.
Our highlights: Albuquerque has a big city feel to it - there's a busy downtown with businesspeople in suits going about being busy. You'll find a small Old Town, but there's not a huge amount there and it feels a little too touristy for my liking.
Although Santa Fe is only an hour away from Albuquerque, you'll notice it feels very different. As an old colonial city, the layout is more traditional, there's more of an art and culture scene from the Wheelright Museum of the American Indian (a little drive out of downtown) to the endless art galleries along Canyon Road.
Our travel tips: The pretty forest-covered hills will make way for dry desert for the rest of the journey along I-40 - bring bottled water in the car with you!
Click here to skip back to the top.
Longer trips from Phoenix (Over 8 hours each way)
If you would like to set off on an epic adventure in one of Utah's stunning national parks (deservingly known as "the Mighty Five") these longer road trips have you covered. Make sure to take your camera with you to get that award-winning snap!
19. Bryce Canyon and Zion National Parks, UT
8 hours 20 minutes from Phoenix (480 miles)
Why you should visit: Yes, it's a long way to drive to these two National Parks, but Zion might just be my personal favorite among the National Parks in Southwestern United States and that's quite a feat given the competition from the likes of Yosemite, Death Valley and Grand Canyon.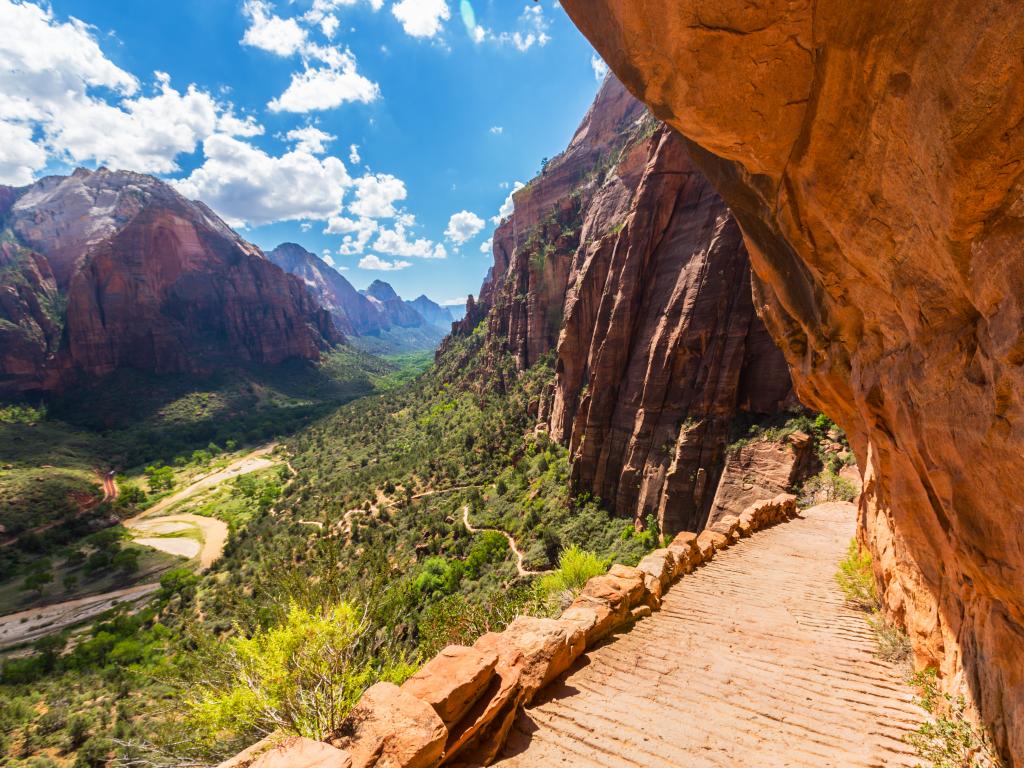 How to get there: Zion National Park sits in the southwestern part of Utah and you'll have to drive right past the Grand Canyon (#9 above) and along the edge of the Grand Staircase-Escalante National Monument (#13).
If you can stretch your road trip, we'd definitely include those in the itinerary. Sedona (#2) and Flagstaff (#5) are also en route and great for a halfway stopover point.
Our highlights: Not only is Zion National Park spectacular with its green canyon scenery, but the trails here are outstanding - you'll have paths that have been carved through sheer rock cliffs and overlooks that will leave you speechless.
For the more adventurous hikers, there are routes that will really challenge - the Narrows is a 16-mile one-way trek that will take you up through a tough canyon and includes wading chest-deep in the cold river water and squeezing through narrow cracks between rock faces!
Bryce Canyon is just over an hour further north. It's a small National Park that is famous for having a unique type of rock formation which has created large amphitheaters with many tall rock hoodoos that are densely packed inside that look like an audience.
Our travel tips: You can hike around the perimeter and look down but remember to bring an extra layer - the rim gets up to 9,000 feet high (2,700 m) and it can be much cooler than Phoenix even at the peak of the summer.
If you'd like to hike up to Angels Landing, you will need a permit and will need to make a reservation. Check the Zion National Park's website for more details.
20. Canyonlands and Arches National Parks, UT
9 hours 30 minutes from Phoenix (550 miles)
Why you should visit: Canyonlands and Arches National Parks are the furthest road trip destination on our list and it will probably take you a couple of days' worth of driving to get there.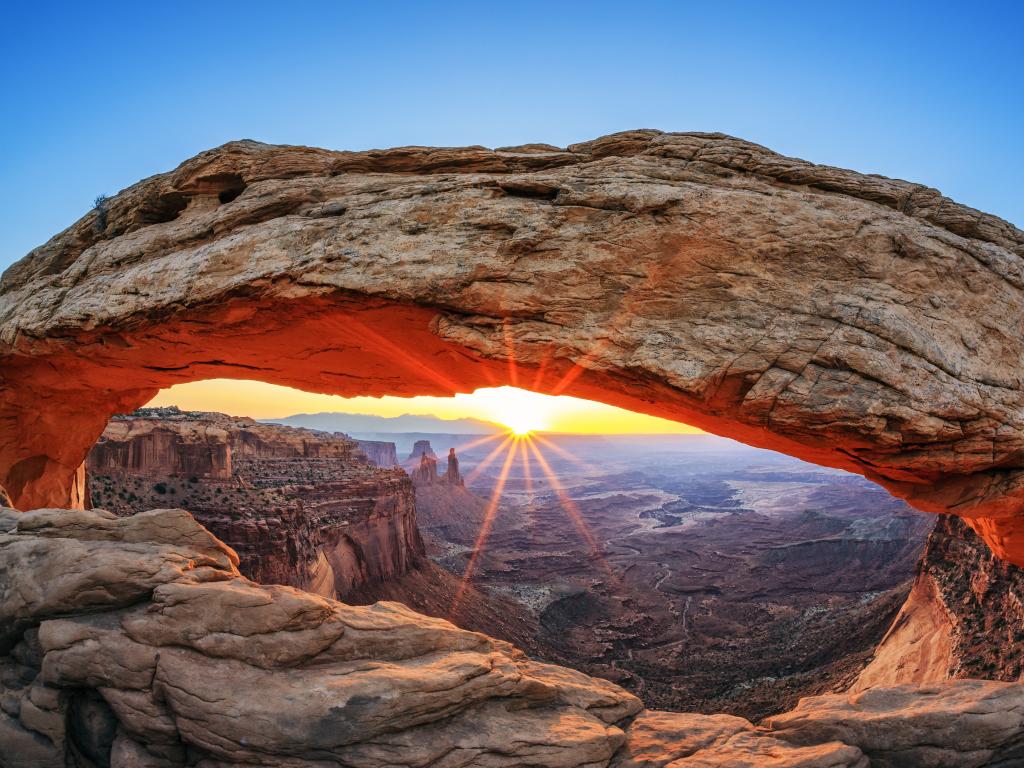 How to get there: But the route up from Phoenix offers so many amazing places to stop on the way up and down, that this might just be the perfect option - Prescott & Jerome (#4 above), Sedona (#3), Flagstaff (#5), Grand Canyon (#9) and Monument Valley (#14) are all along the fastest route and a slightly different route down can lead through Tonto National Forest (#2 in our list).
Our highlights: Arches and Canyonlands are on either side of the small city of Moab. It's not a big place and can get very busy during the summer months when tourists from across the United States come to stay when visiting the National Parks.
If you do come in the summer, check for camping options as an alternative - it also stops you from having to do the long drive in the morning to get into Canyonlands if you're already staying there!
Arches is the smaller park and much closer to Moab. It also has a few fairly easy trails where you can park close to the rock formations and this means there are a lot more visitors here.
Our travel tips: You might need to make a reservation for a timed-entry permit while visiting Arches National Park. Please check the national park's website for up-to-date information.
If you're coming all this way, definitely go visit both with America the Beautiful National Parks pass and if you have a decent 4x4 vehicle, spend a day driving around the Rim Road that circles Canyonlands and can get you to parts that most other visitors never see.