Can You Drive Through Big Bend National Park?
By
Pat Dorri
| Published on 18 September 2023
Big Bend National Park in the Lone Star State of Texas is home to a diverse landscape, carved into the desert over millions of years. with its stunning ridges and winding river corridors, you could be forgiven for thinking you were on another planet. With a host of outdoor activities to enjoy, an abundance of wildlife, and the most amazing dark skies, it is a trip that will live long in the memory.
You can't drive directly through Big Bend National Park, but you can drive into the heart of it. The enthralling 20-mile route from Pine Canyon Trailhead takes around an hour and will allow you to see many of the main attractions the park has to offer.
A trip to Big Bend National Park is memorable at any time of year so keep on reading to discover all there is to see and do at this geological wonder.
Can you drive through Big Bend National Park?
Whilst you can drive within Big Bend National Park, it is not possible to drive through from one side to the other. You can, however, drive into the center of the park and take as long as you like meandering through this magical landscape.
The park is open all year round although the intense desert temperatures in the summer months should be considered when planning your trip. If you are looking to explore the trails and the great outdoors, then it may be better to visit when the temperatures are cooler.
Not all the visitor centers remain open all year, some are closed from May-October and this is due to the extreme desert temperatures.
Outdoor activities can become dangerous when the thermometer exceeds 100 degrees Fahrenheit, and this means visitor numbers are lower at this time of year. This makes spring and fall the ideal time to visit, with cooler temperatures and more chance of booking a spot in the campgrounds.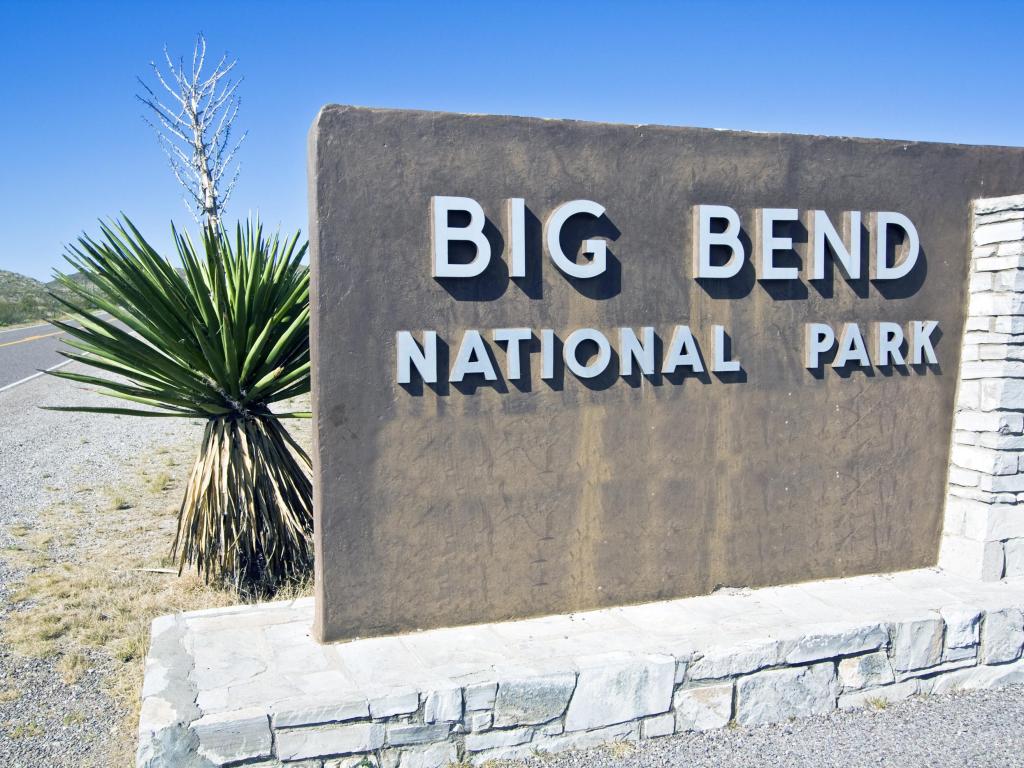 Driving into Big Bend National Park on the Main Route
Our main route into Big Bend National Park begins at Pine Canyon Trailhead and begins by heading east past several campgrounds.
The views here are exceptional but the road can be tricky and although a 4WD vehicle isn't necessarily needed, the higher clearance does come in handy in places. As you reach the end of Glen Springs Road, head northwest along Park Route 12.
You'll soon arrive at Panther Junction, with a useful Visitor Center and a gas station, a handy place to fill up before continuing into the park, and then continue along Gano Springs to Basin Junction.
The route then heads south towards Maple Canyon, and the vegetation becomes greener and more dense. The road has a few twists and turns just beyond Panther Pass and there is no overtaking allowed and the speed limit drops to 10 MPH.
You'll then arrive at Chisos Basin Visitor Center, with ample car parking, and there is a turn-off to its many campgrounds, a perfect place to stay the night and witness the amazing night sky above the park.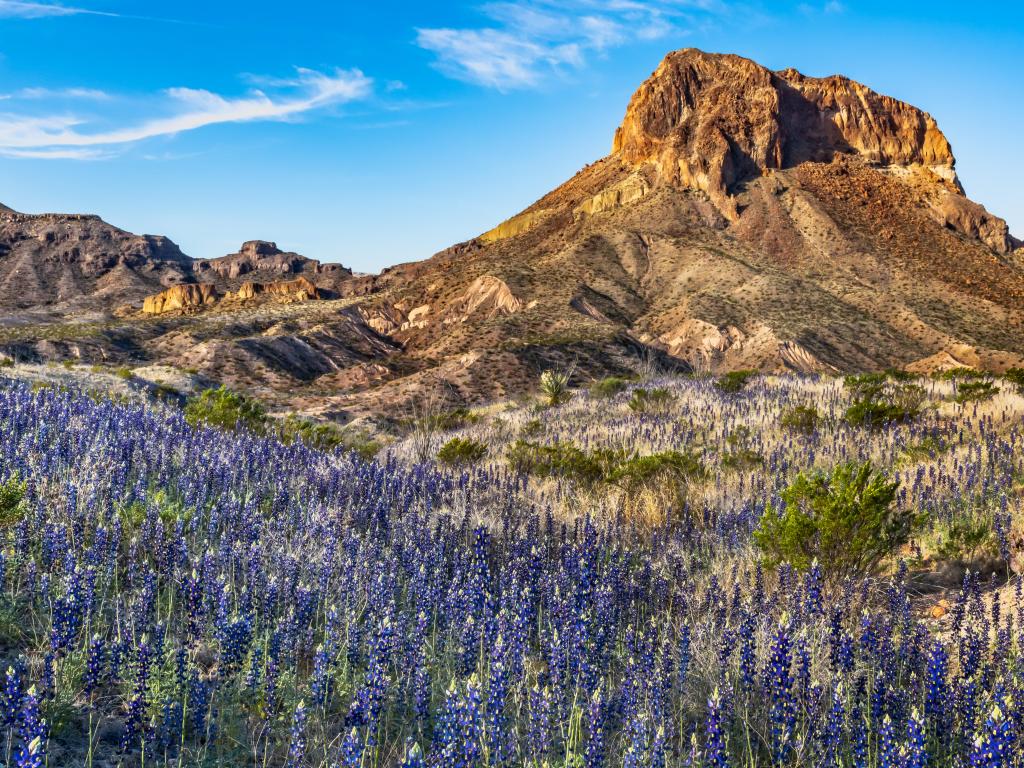 How long does it take to drive into Big Bend National Park?
A drive into Big Bend National Park on our main route can be done in around 1 hour, starting at Pine Canyon Trailhead. You may want to head straight into the heart of the park and explore its attractions, but with so much to see and so many trails to enjoy, you could easily spend a few days getting to know the place.
Travel route options into Big Bend National Park

| Route | Starting Point | Ending Point | Total Time |
| --- | --- | --- | --- |
| Main Route | Pine Canyon Trailhead | Chisos Mountains | 1 hour |
| Alternative Route | Basin Junction | Chisos Mountains | 20 minutes |
Which entrance should you arrive at in Big Bend National Park?
There are two entrances to Big Bend National Park, and your choice of entry will depend on where you are traveling from. Persimmon Gap entrance is located on the north side of the park, and is easily accessible from US Hwy 385, traveling from Marathon.
The Maverick entrance is located to the west of the park and can be reached via US Hwy 118. traveling from Terlingua.
Travel times and distances from major cities in the US to Big Bend National Park

| Origin City | Recommended entrance | Total Distance (To Entrance) | Total Time |
| --- | --- | --- | --- |
| Marfa | West (Maverick Entrance) | 110 miles | 1 hour 40 minutes |
| El Paso | West (Maverick Entrance) | 300 miles | 4 hours 40 minutes |
| San Antonio | North (Persimmon Gap) | 370 miles | 5 hours 50 minutes |
| Amarillo | North (Persimmon Gap) | 450 miles | 6 hours 40 minutes |
| Fort Worth | North (Persimmon Gap) | 500 miles | 7 hours 20 minutes |
| Albuquerque | North (Persimmon Gap) | 560 miles | 8 hours 20 minutes |
Is Big Bend National Park safe?
Traveling through Big Bend National Park is safe, as long as you stick to the rules of the road and are aware of other drivers at all times whilst looking out at the amazing views. However, there are a few things to consider when making the trip to ensure everything goes as smoothly as possible.
The park covers a vast area and spans over 800,000 acres and the distance between popular attractions can be further than you think. Ensure your vehicle is in excellent working order before embarking on your adventure and stock up on snacks and water for your journey.
If you are walking the park trails, you will be entering a beautiful and remote wilderness far from civilization. Embrace the solitude and marvel at the natural beauty that surrounds you, but do plan ahead and have a map of the area and even a compass, as well as the correct clothing and for the conditions, and supplies.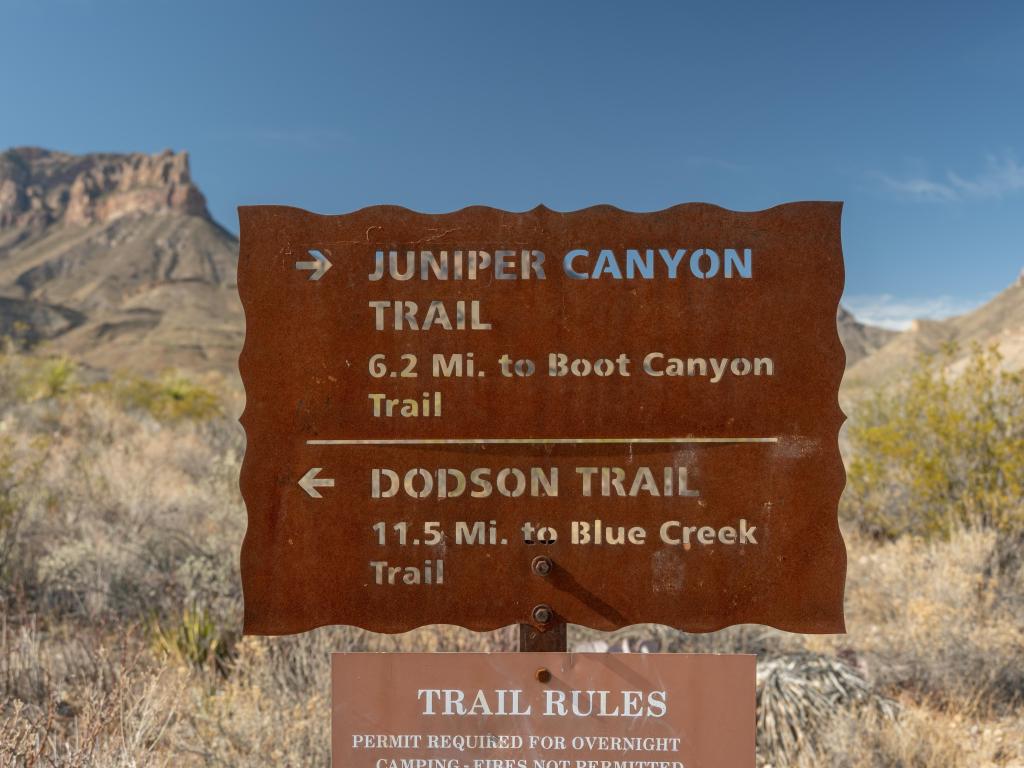 The weather in the desert is prone to extreme temperature variations. Prepare yourself for high temperatures during the day before the temperature drops sharply at night.
Low-lying areas also suffer from flash floods leaving parts of the park impassable, so it is always advisable to check the weather forecast in advance.
Cell Phone coverage in Big Bend is unreliable, to say the least, so make sure you have a map of the park and do your research before setting off.
The best network coverage is around Chisos Basin and Panther Junction but there are areas where you will have limited or no service at all. The GPS signal is not always reliable, so familiarize yourself with routes beforehand.
The roads through the park are well-maintained, it is a popular attraction, and a lot of the route is suitable for most vehicles. However, some of the roads are unpaved and should really only be tackled in a 4WD vehicle.
Some of the roads are also narrow, and there are some sharp hairpin turns, but these are all easily navigable and you won't encounter any cliff edges or steep inclines.
If you are concerned about driving through Big Bend National Park, then there are several local guided tour operators, who will lead you on an informative journey, letting you sit back and enjoy the experience.
There are tours to suit everyone, with vehicle tours, hiking tours, river trips, cycling tours, and you can even tour the park on horseback.
Things you need to know about driving into Big Bend National Park
The drive through Big Bend National Park is pretty straightforward if you stick to the route along paved roads. But there are certain things you need to consider:
If you're looking to explore more of the park by going off the beaten track, you'll encounter dirt tracks and some uneven road surfaces. Some are not suitable for normal vehicles and it is better to attempt them in a high-clearance or 4WD vehicle, especially after a bout of heavy rain.
The remote location of the park means there are limited services. It is advisable always to bring the essentials, such as food, water, and a jerry can of fuel, although you can fill up at the Panther Junction Service Station before entering the park.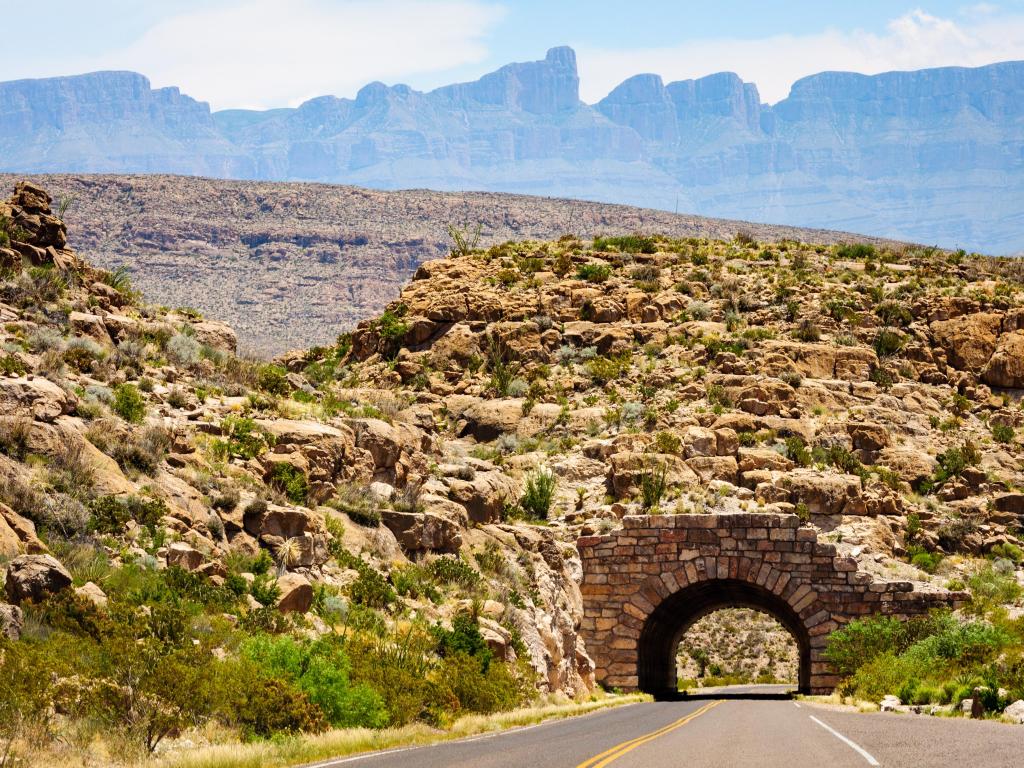 Big Bend is home to a variety of wildlife, including deer, javelinas, and roadrunners. Whilst they will be used to visitors joining them in their natural habitat, they can venture into the road at any time so remain vigilant when driving through the park.
Spotting wildlife when walking the trails is a fantastic experience, but do keep your distance and admire the natural inhabitants from afar.
Big Bend is a dark sky park and one of the darkest areas in the US, so at night, it is a mesmerizing experience as the sky comes alive. As a designated International Dark Sky Park, with very limited light pollution, stars fill the sky as far as the eye can see and you may even see the Milky Way and beyond.
You will need a pass to enter the park and you can purchase a day pass, a weekly pass, or even an annual pass if you are planning to return and explore the area further.
These are available from the Visitor Centers at Panther Junction and Chisos Basis, and also at the entrance stations at Maverick and Persimmon Gap.
The rates for entering the park are shown in the table below:
Travel Pass costs for Big Bend National Park

| Ticket Type | Provider | Adult fare | Car fare |
| --- | --- | --- | --- |
| Day pass | NPS | $15.00 | $30.00 |
| Weekly pass | NPS | $15.00 | $30.00 |
*Calculated at the time of writing
Tips to drive into Big Bend National Park in the shortest possible time
The drive to Big Bend National Park is a unique experience through the barren desert of southwestern Texas and although it's a straightforward drive, it can offer some challenges.
With that in mind, here are our top tips when it comes to preparing for a drive into Big Bend National Park:
Plan ahead and bring a map and compass, or use the Visitor Center for maps and advice.
Bring supplies including food and water. There are limited options to stock up in the park so make sure you bring your own.
Fuel up before entering the park. You don't want to run out of gas in such a remote location, help could be hours away.
Stay hydrated, remember you're in the desert and will need to drink more water than usual, especially if you are exploring the area on foot.
Check for road closures and general conditions on the official website before setting off.
Do take heed of the weather alerts. At the time of writing, there is an extreme heat advisory in place warning hikers to keep off the trails in the afternoon due to extreme temperatures.
Things to do on a drive into Big Bend National Park
With so much to experience at Big Bend National Park, it's worth planning an itinerary in advance to ensure you don't miss anything. Here are some of our favorite things to do:
Hiking - There are many hiking trails, catering to all abilities, with popular routes leading to Santa Elena Canyon and Emory Peak.
Rio Grande River - The river runs along the park's southern border, and you take to the water in a kayak or canoe or take a guided trip through Santa Elena Canyon.
Stargazing - Designated as an International Dark Sky Park, Big Bend is an outstanding location for observing the stars and planets. It has the lowest light pollution of any other national park and there are a number of Night Sky Programs and star parties to make the most of this incredible setting.
Hot Springs - Take a dip into the warm waters. From the Rio Grande Village, you can take a short hike to enjoy the soothing hot springs surrounded by desert scenery and enjoy the ancient rock art on the nearby limestone cliffs.
Chisos Mountains - The Chisos Mountains are located at the heart of the park. Temperatures here can be cooler and it can be a blessed relief from the intense desert heat. You can learn all about the area at the Chisos Basin Visitor Center, an ideal starting point for exploring the area.
Fossil Discovery Exhibit - Learn of Big Bends' prehistoric inhabitants and see Specimens of fossils found within the park. Discover how the park's plant and animal life have evolved over 130 million years.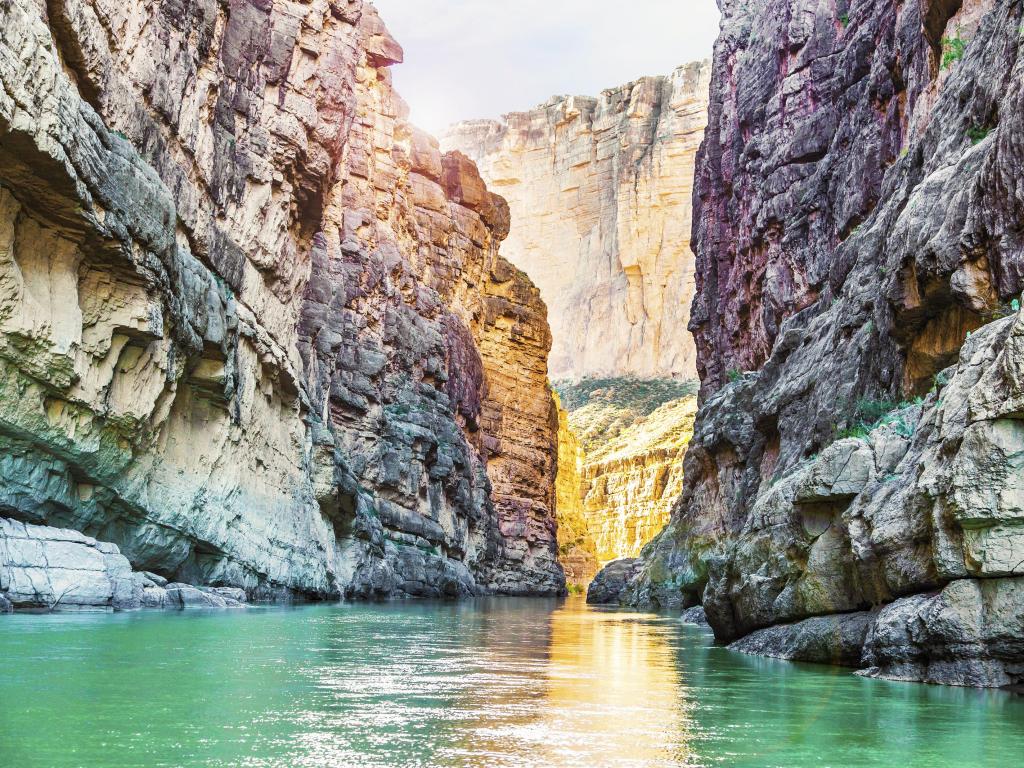 If you love the outdoors, then Big Bend National Park should be high on your list of places to visit with its abundance of impressive trails and activities in the heart of the Texan desert.
It's a geological wonder with dinosaur bones, volcanic dikes and so much more, so get your bags packed and put it firmly at the top of your adventure list.