Road Trip from Houston to Las Vegas
A road trip from Houston to Las Vegas is an epic adventure through some of the most exciting attractions and stunning landmarks that takes you from the capital of the sunbelt to the gambling capital of the world. This is a massive trip of a lifetime that will surely be one for the books!
The 1,445-mile road trip from Houston to Las Vegas takes 21 hours and 45 minutes to complete. Notable stops include Austin, Roswell, Albuquerque, Santa Fe, Flagstaff, Route 66, Grand Canyon, Coconino National Forest, and Kaibab National Forest.
Read on to learn more about the fantastic adventure that lies ahead on your journey to Sin City.
How far Is Las Vegas from Houston and how long will the road trip take?
Comparison of road trip route options between Houston and Las Vegas

| Route | Distance | Driving Time |
| --- | --- | --- |
| Albuquerque Route | 1,445 miles | 21 hours 45 minutes |
| El Paso Route | 1,475 miles | 21 hours 40 minutes |
There are multiple routes you can take on a road trip from Houston to Las Vegas which will take you past different points of interest in a matter of several days as you drive through Texas, New Mexico, Arizona and Nevada.
The 1,445-mile Albuquerque Route will take you 21 hours and 45 minutes to drive, where you will pass through some iconic cities, stunning national forests and parks as well as the rugged desert terrain New Mexico and Arizona is famous for.
There is another route option which will take you a similar time to drive and has just as much to see and do along the way that will appeal to those on a trip to Vegas.
This 1,455-mile alternative route will take you through the same states, but through different cities like El Paso and Tucson and landmarks such as the spectacular Big Bend National Park.
With almost a full day of driving, you're going to want to split this journey up to make it more enjoyable, so we recommend you do it over the course of at least a week.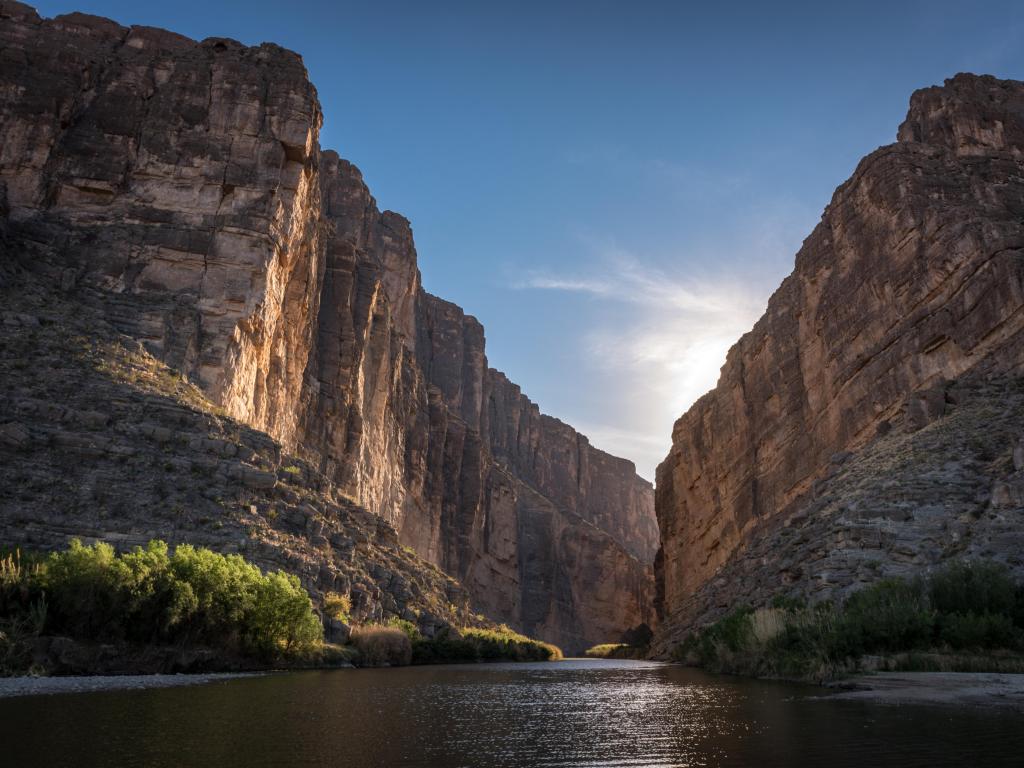 Best road trip route from Houston to Las Vegas
The incredible road trip from Houston to Las Vegas takes you directly through the heart of Texas, New Mexico and Arizona before you reach your destination in Nevada. The best route on this epic journey will depend on what you want to see and where you want to stop on the way.
You will be driving on the interstates and main highways on the Albuquerque Route, which means it will be a smooth and scenic drive with detour options, allowing you to customize the length of your trip.
The drive on the El Paso Route similarly takes place on the interstate and will allow you to visit many stunning national forests, parks and vibrant cities if you are not constrained for time.
To see everything on the way, you can consider taking one route to Las Vegas and the other on your way back.
As you will be passing through some major cities such as Austin, Albuquerque, El Paso, Tucson and Phoenix on either route, traffic congestion might be a concern, especially during holidays and rush hour. It is a good idea to avoid entering and exiting these cities during these times.
How to drive from Houston to Las Vegas
The map above shows our suggestions for the best road trip routes between Houston and Las Vegas. Keep reading for detailed descriptions of both routes, where to stay on either, and the best things to do on the way.
Albuquerque Route
Begin by setting out on Interstate 10 West (I-10 W) and follow it until you reach Exit 695, where you will change onto TX-71 West and drive through the first major city on the way, Austin.
Follow TX-71 W to its completion outside the town of Brady. From here you'll switch to US-87 and follow it west for 210 miles, to Lamesa. You'll then exit onto the smaller TX-137 North for a short while, to the town of Brownfield, where you'll then continue west on US-380.
Cross from Texas into New Mexico and upon reaching the curious city of Roswell, take US-285 North for 140 miles to Clines Corners, where you will turn left to merge onto Interstate 40 (I-40).
Here you have the option to visit Santa Fe by continuing on US-258. While visiting the city, you can also drive to Santa Fe National Forest and Carson National Forest, which will add an extra day to your trip.
If you choose not to make a detour to Santa Fe, merge onto I-40 and enter the historic city of Albuquerque. This next section will see you following a stretch of the interstate that runs along the historic Route 66.
Enter Arizona and drive through Petrified Forest National Park. You can take a break at Flagstaff, where you will have the opportunity to visit the breathtaking Coconino National Forest.
You will also have the option to visit the world-famous Grand Canyon as you exit Flagstaff by following US-180 towards the Grand Canyon Junction and AZ-64 through Kaibab National Forest.
Follow AZ-64 South after your visit to rejoin I-40. Take Exit 48 in Kingman for US-93 North until it becomes Interstate 11 (I-11) at the Nevada state line.
Follow I-11 all the way to its completion in Henderson. Now, simply follow Interstate 515 (I-515) its entire length to downtown Las Vegas.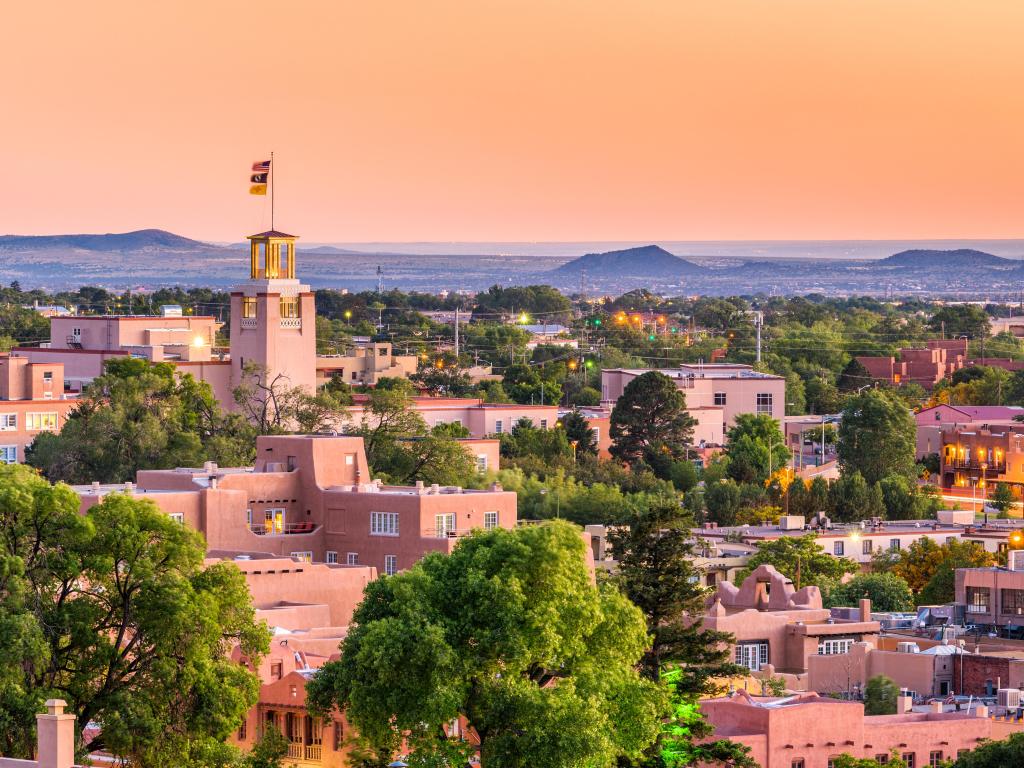 El Paso Route
Follow Interstate 10 (I-10) as you leave Houston and follow it towards San Antonio. The interstate will take you directly into the city. However, if you do not wish to visit the city, take the exit for TX-1604, which will allow you to bypass the city traffic.
Take the exit onto I-10 West as you drive past Shavano Park. The interstate will now take you through the cities of Boerne and Sonora.
You will have the opportunity to visit the gorgeous Big Bend National Park as you reach Fort Stockton. Take Exit 259A to do so and follow US-385 into the park.
Return back onto I-10 using US-385 on your way back and drive towards El Paso where you can make an overnight stop to rest and recharge. Here, you can also cross over to Mexico if you have the proper documents with you, to expand your journey even further.
You will be entering New Mexico as you leave El Paso. You can make several detours on this stretch of the interstate to visit some of the most stunning forests of the state.
Leave the interstate and follow US-180 to visit Gila National Forest and Apache National Forest.
If not making this detour, cross from New Mexico to Arizona past Lordsburg and continue on I-10 into Tucson. You will also drive through the iconic city of Phoenix.
Take Exit 124A for AZ-303 and then Exit 119 for US-60. Take the first exit at the roundabout in Wickenburg for US-93, which will take you all the way to Kingman.
From here, follow the same directions as the Albuquerque Route to reach the neon-lit city of Las Vegas.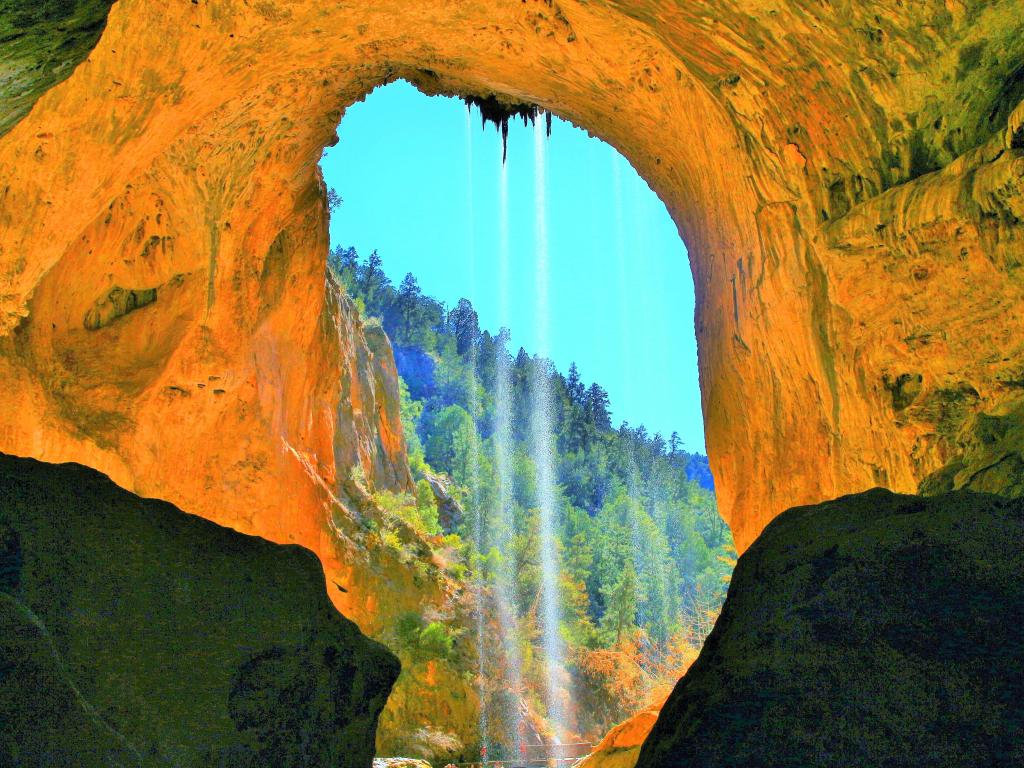 Best places to stop between Houston and Las Vegas
A road trip from Houston to Las Vegas is one filled with extraordinary things to do and see, on your way to one of the most unique cities in the world which welcomes millions of domestic and international visitors annually.
Passing through so many places filled with character on the way means there will be many inspiring detours and stops on the way. To make your planning easy, we have selected some amazing options for your overnight stops on this mammoth journey.
Add a little "extra" to your trip at Roswell
Located almost midway on the Albuquerque Route a little more than 10 hours from Houston, Roswell is known as the location where more extra-terrestrial sightings have occurred than anywhere else in the country, dating all the way back to the 1940s.
With billboards, sculptures and alien-themed attractions scattered all over Roswell from the second you reach the city limits, this is certainly a one-of-a-kind experience.
It's even the home of the International UFO Museum, so you can learn the history surrounding the area's unique reputation and make your own mind up about whether to believe in aliens or to see the town as a quirky attraction.
You might expect alien-themed hotels in this town but unfortunately, there aren't any. The next best place to spend a comfortable night is Home2 Suites by Hilton, located just 10 minutes' walk from downtown and the International UFO Museum.
Perfectly located in the heart of town and beautifully furnished, this is the best place to unwind and get your head around all the mind-boggling things you'll have seen and heard throughout the day.
A grand stop in Flagstaff
Flagstaff is located about 4 hours away from Las Vegas via our Albuquerque Route and is the closest city to the legendary Grand Canyon, which is located a little over an hour north of the city.
One of seven wonders of the world and the most visited natural attractions on Earth, the Grand Canyon is understandably on the must-visit list of most travelers with its stunning valleys, sunset-coloured rock formations and unparalleled scenery of its hiking trails.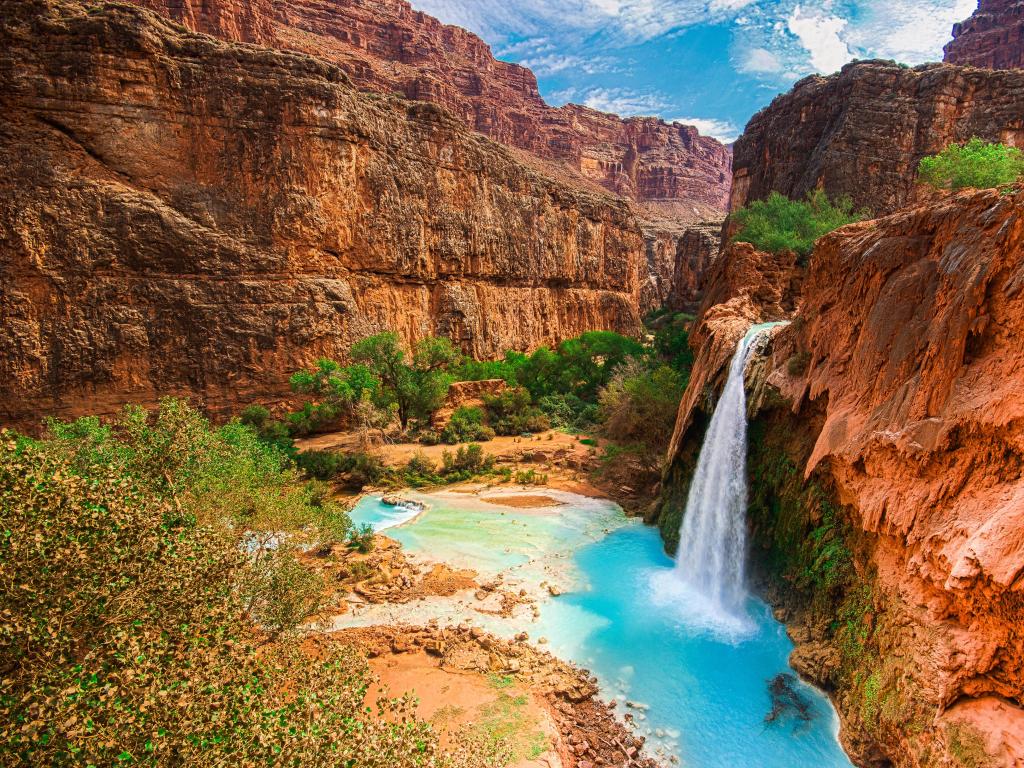 Besides the canyon, Flagstaff is also located on the edge of Coconino National Forest, the largest Ponderosa pine forest in North America, featuring an abundance of incredible scenery and wildlife. You can easily take several days to visit both of these awe-inspiring wonders.
As far as where to stay during your visit, the Little America Hotel and its traditional lodge design make for the ideal location to unwind in a more natural setting, on the very edge of the forest
You will find the perfect opportunity to unwind in the hotel's fabulous pine-crested outdoor pool and a delicious meal at the Little America Restaurant and Bar before heading off to the neon capital of the world.
Sample the best of Tex-Mex cuisine in El Paso
Known as "Sun City" for the impressive number of bright days this city experiences during the year, El Paso is located a little less than 12 hours, which makes it a great option for a second stop on our recommended El Paso Route.
This city is not only known for its cheerful blue skies but also for its amazing cuisine and food culture that bring tourists from all over the USA. You will be spoiled for choice when it comes to restaurants located downtown.
Also located downtown, you can visit El Paso Zoo and Botanical Gardens to stretch your legs after a big meal or visit the International Museum of Art for some inspiration. Magoffin Home State Historic Site is also nearby.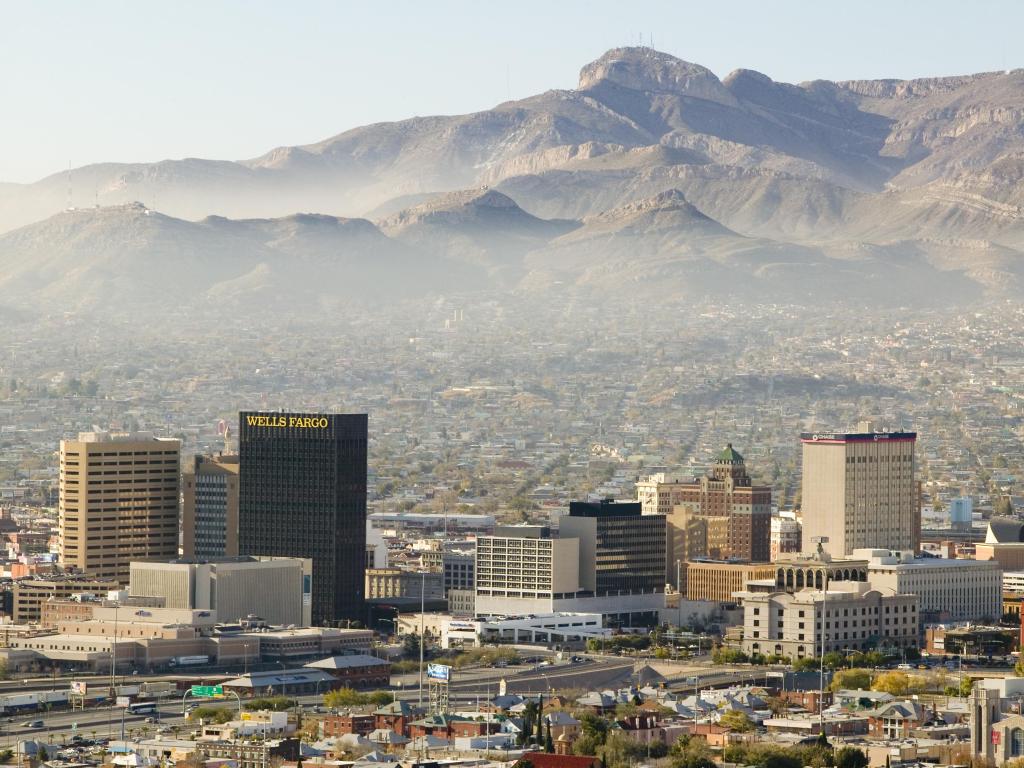 When it comes to where to stay in Sun City, it is hard to beat Stanton House El Paso. With its chic boutique feel and high-end amenities, you might feel tempted just to stay in all night.
However, as you'll be situated right in El Paso's historic downtown - and just a block away from vibrant San Jacinto Plaza - we strongly recommend you get out and make the most of this fantastic location. We promise you won't regret it!
If you have more time to spare for this leg of the trip, you can also venture out to explore Mexico using El Paso as your base, as long as you have the necessary documentation ready.
Things to see on a road trip from Houston to Las Vegas
On a road trip from Houston to Las Vegas you will be traveling through some of the most wonderful places in the country. When the destination is as iconic as Las Vegas, the attractions along the way need to be just as exciting to ensure the journey lives up to the destination.
Luckily, we compiled a list of top things to see and do on the way, which should be more than enough to keep your blood pumping on the way to the city that never sleeps.
Albuquerque Route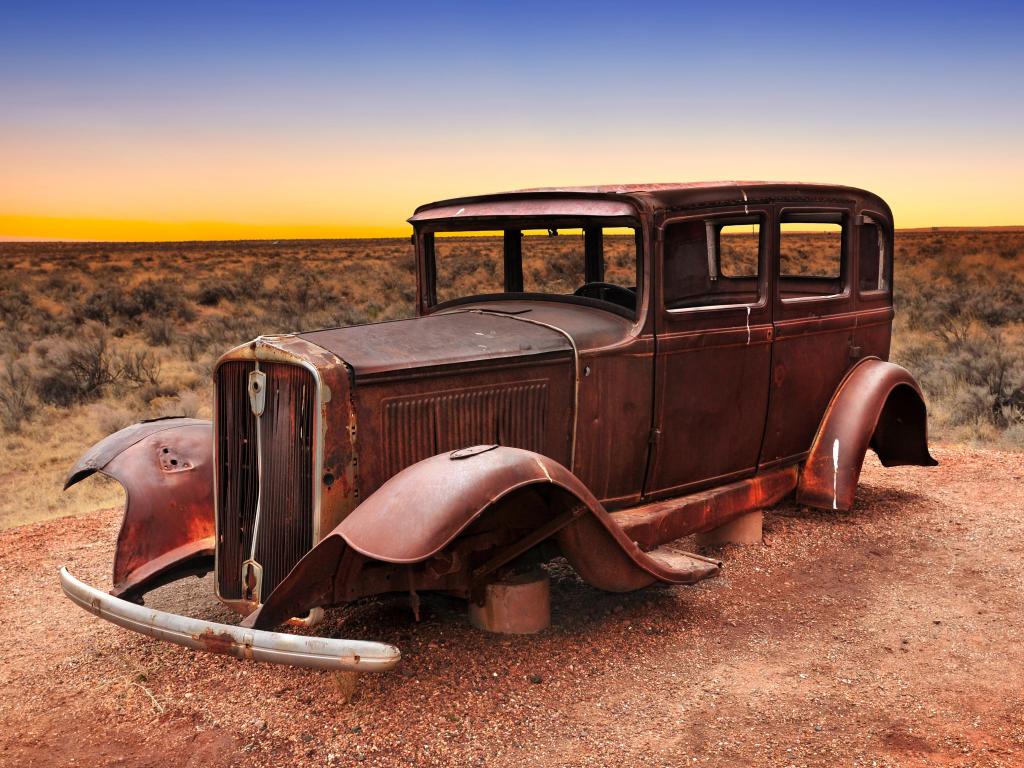 The Gas Station, Bastrop - The gas station from the original Texas Chainsaw Massacre movie, now converted into a horror museum owned by the actor who plays Jason Voorhees. Pick up some memorabilia and enjoy a delicious meal before getting back on the road.
McKinney Roughs Nature Park, Cedar Creek - A beautiful nature park where you can relax, learn about and enjoy your stunning surroundings. You can enjoy hiking, biking, horseback riding and even zip-lining if you are an adventurous soul!
The Dinosaur Park, Cedar Creek - A wax museum featuring recreations of dinosaurs that once inhabited the area in an unusual outdoor setting where you will be able to imagine yourself walking among real dinosaurs.
Austin, Texas - The capital and fourth-most populous city in the state of Texas. Known as the state's weird city, Austin is home to the Texas Capitol, Zilker Park, Bullock Texas State History Museum and the famous Congress Avenue Bridge.
Barton Creek Habitat Preserve, Austin - Home to two protected species of endangered songbird, this habitat preserve is a scenic and pristine landscape.
San Angelo, Texas - Historic town most known for being the location of Fort Concho, San Angelo hosts one of the largest rodeos in Texas, which takes place in April.
Roswell, New Mexico - Infamous town in New Mexico, famed for its connections with aliens and UFOs. Some of the highlights in Roswell include the International UFO Museum and Roswell Museum.
Route 66 - One of the most legendary routes in the entire country, famed for its scenic views. This highway holds a special place in America's heart and spans over 2,400 miles and crosses 8 states. Seligman is a historic town you can visit along the route.
Albuquerque, New Mexico - Largest city in the state of New Mexico and home to beautiful adobe architecture, Albuquerque is known for its unique geography and exciting attractions such as the Sandia Peak Tramway, La Luz Trail and Albuquerque Museum.
El Malpais Monument and National Conservation Area, Grants - Designated area, built up by ancient volcanic activity throughout the years. You can enjoy hikes and scenic drives here as well as lava tube diving.
Navajo Nation, Arizona and New Mexico - The largest Indian reservation in America, covering more land than each of the 10 smallest states in the country. Home to more than 170,000 Native Americans.
Petrified Forest National Park, Arizona - This forest park is a recommended stop for hiking and camping in the wilderness; check it out and see over 550-square miles of petrified wood, painted desert, dinosaur fossils and Native American sites.
Flagstaff, Arizona - Known as the city in the pines due to its location between the Kaibab and Coconino National Forests, Flagstaff is also a great gateway to explore the Grand Canyon.
Coconino National Forest, Flagstaff - The largest Ponderosa pine forest in North America, this forest is home to awe-inspiring red rock formations of Sedona and pine forests and alpine tundra.
The Grand Canyon, Arizona - One of the seven natural wonders of the world, the Grand Canyon is a must-see for everyone; you can hike, bike, ride a horse or walk across the Grand Canyon Skywalk.
Kaibab National Forest, Arizona - Bordering both the north and south rims of the Grand Canyon, you can spot buffalo herds in this beautiful forest which is a must-visit while in the area.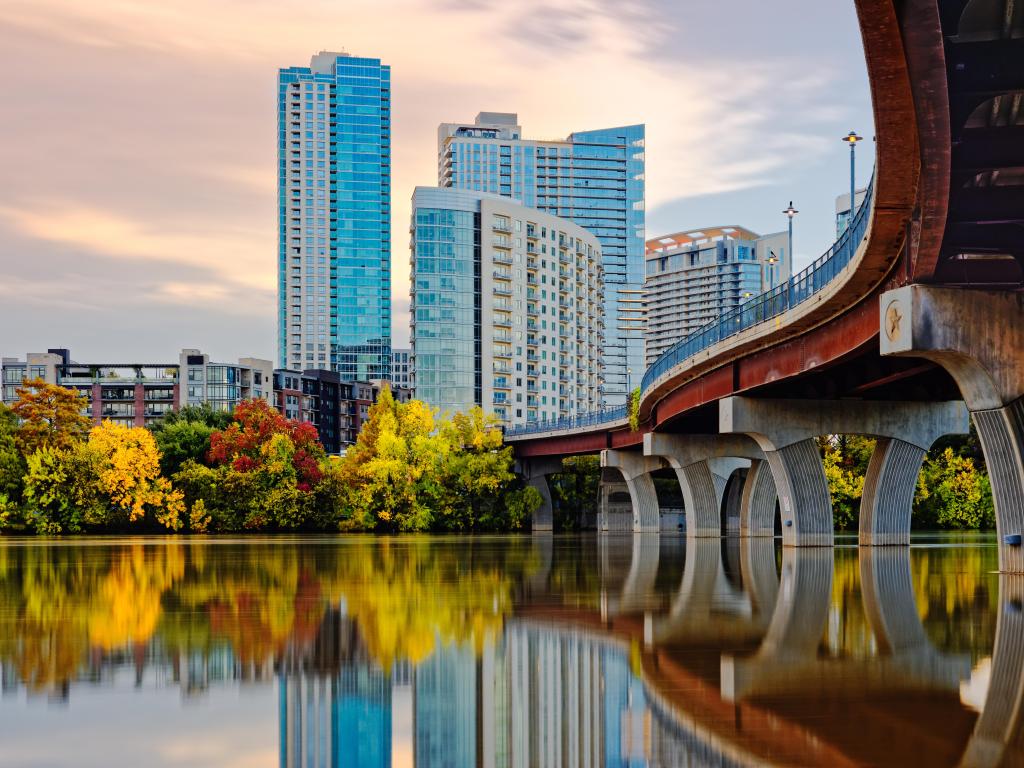 El Paso Route
San Antonio, Texas - Famous for impressive Spanish colonial missions, San Antonio is a must-visit destination for all history buffs. You can visit the Market Square, San Antonio riverwalk, The Alamo and San Antonio Botanical Gardens while there.
Caverns of Sonora, Sonora - These caverns are designated as a National Natural Landmark, and are known to feature one of the most beautiful show caves in the world.
Big Bend National Park, Texas - A stunning desert park which borders Mexico, you can enjoy day hikes, scenic drives and river trips in Big Bend.
Marfa and Presidio County Museum, Marfa - Located along US-90, this museum contains some interesting artifacts from Marfa history. You can learn about the past through Native American artifacts, pioneer tools and photos.
El Paso, Texas - Lovingly called "Sun City", El Paso is home to El Paso Zoo and Botanical Gardens, the International Museum of Art and Magoffin Home State Historic Site.
White Sands National Park, New Mexico - The glistening white sands of New Mexico, made up of a mineral called gypsum, are a true natural wonder which will make you feel like you are on a different planet.
Deming Luna Mimbres Museum, Deming - This museum, which features multi-cultural exhibitions spanning over three buildings, will take you back through a journey of New Mexico's history.
Gila National Forest, Silver City - This forest, best known for its wilderness area, boasts majestic mountain scenery. The cool summer temperatures and relatively warm winters allow recreational activities in all seasons.
Apache-Sitgreaves National Forest, Springerville - Filled with incredible experiences and natural wonders, the major attractions in this stunning forest are the Mogollon Rim and eight cold-water lakes.
Coronado National Forest, Tucson - This forest spans sixteen scattered mountain ranges or "sky islands", where you can enjoy hiking, camping and birdwatching.
Tucson, Arizona - Tucson is known for its rich cowboy history as a symbol of the Old West, where you can visit Saguaro National Park and Sabino Canyon Recreation Area for some leisurely recreational activities.
Tonto National Forest, Chandler - This beautiful national forest features some of the most dramatic and rugged terrains in the state, where you can escape the heat and cool down in lake beaches or cool pine forests.
Phoenix, Arizona - Known for its luxurious resorts and amazing cuisine, you can relax in Phoenix after a long drive and enjoy the Desert Botanical Garden, hot air balloon rides, Musical Instrument Museum and Papago Park.
Hualapai Indian Reservation, Arizona - Location of a beautiful desert oasis and home to the Hualapai people, whose name means "People of the Tall Pine".
Hoover Dam, Nevada - An arch-gravity dam responsible for producing electricity for the majority of the southwest coast. You can learn how the dam works and take a tour during your visit.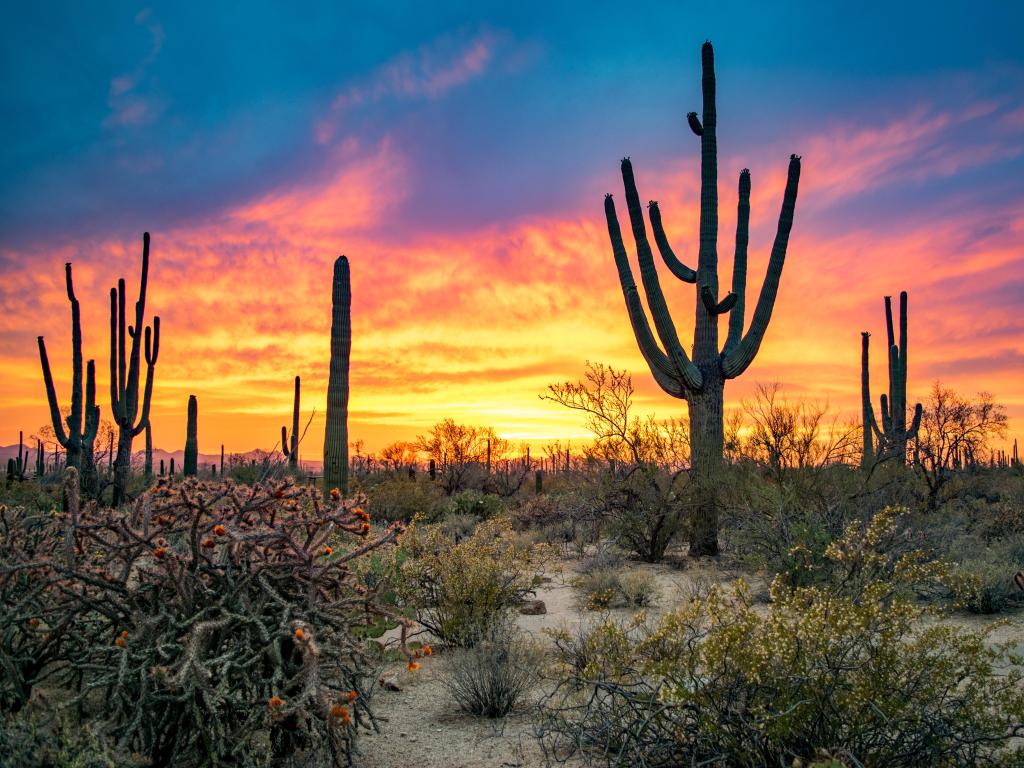 Best time to go on a road trip from Houston to Las Vegas
A road trip from Houston to Las Vegas is one that can really be taken at any time of year, as Las Vegas is a city that tends to have good weather in most months, while it tends to get hotter in summer with the average temperatures around 95 degrees Fahrenheit.
Keep in mind that the holidays will be extremely busy in Sin City, which means the hotel prices will be at their peak. If you aren't a fan of crowds, it is a good idea to avoid the city during its peak season in early spring.
As you will be traveling through the Southern parts of the States, the winter months tend to be mild during day times with temperatures around 60 degrees Fahrenheit.
This is also when the crowds dwindle in most attractions, though this is a city that never sleeps as the saying goes, and you can expect it to be crowded in general in Las Vegas.
Fall is a great time to visit Vegas, as the temperatures stay mild as the lowest temperature only reaches down to about 50 degrees in November. If you are visiting during this month, you can participate in the picturesque Rise Lantern Festival for a magical experience.