Road Trip from Austin to Grand Canyon
For some of the most beautiful desert landscapes and most gorgeous forests South America has to offer, consider the legendary road trip from Austin to Grand Canyon - the drive is a long one, but it's one you'll definitely come back to again and again.
The 1,400-mile road trip from Austin to Grand Canyon takes 24 hours to drive. Key attractions include Big Bend, Petrified Forest, and White Sands National Parks, Coconino and Gila National Forests, as well as San Antonio, Flagstaff, and Sedona.
There's a lot to unpack with this incredible road trip, so be sure to read until the end and learn everything there is to learn about the drive.
How far is Grand Canyon from Austin and how long will the road trip take?
Comparison of road trip routes between Austin and Grand Canyon

| Route | Distance | Driving Time |
| --- | --- | --- |
| Albuquerque Route | 1,950 miles | 30 hours |
| Trans-Pecos Route | 1,400 miles | 24 hours |
The road trip from Austin to Grand Canyon covers 1,400 miles and takes at least 24 hours to drive. You could do this drive in three or four days, but to really make the most of it, you should consider taking at least a week or two,
The route cuts through cities like Lubbock and Albuquerque before concluding at either the East or South Rim of the Grand Canyon - this gives you quite a few stopover options, and you even get to pass near Flagstaff and Sedona for good measure.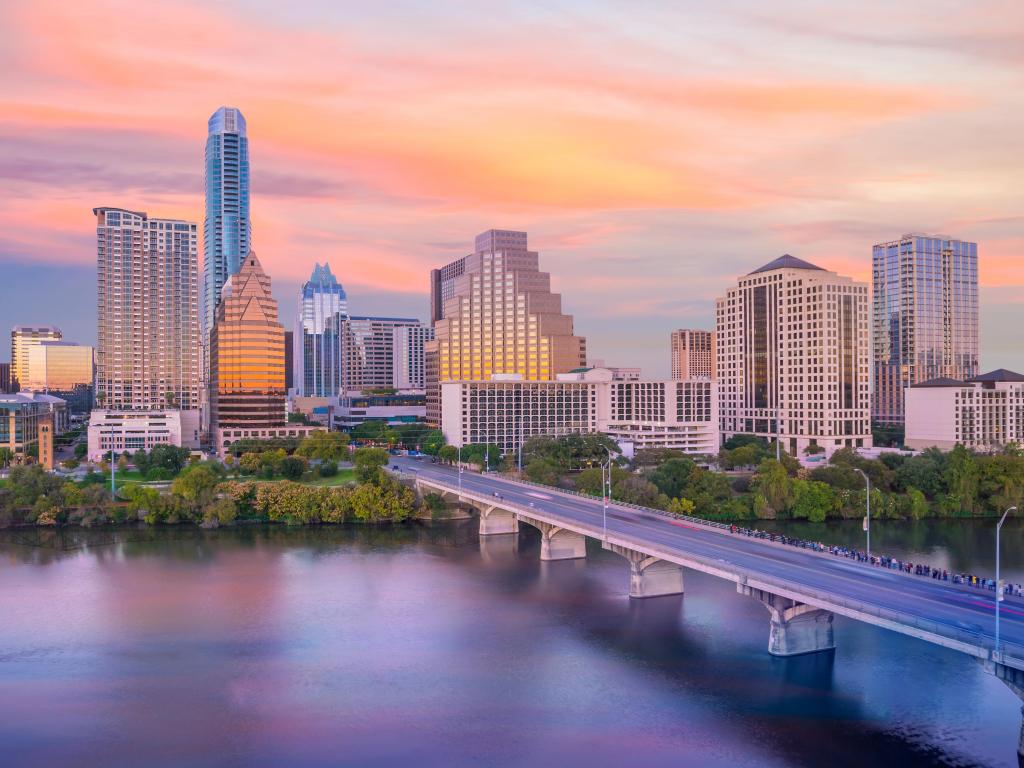 Another way of approaching the drive is to drive through Texas' Trans-Pecos region and briefly hug the Mexican border before making your way into New Mexico and Arizona - this route adds some Mexican-themed stopovers and forested landmarks to the trip.
What makes these routes so great is that you'll have plenty of locations to take a break in, yet the abundance of major metropolises means you're unlikely to run into major traffic until you've reached the Flagstaff region.
Best road trip route from Austin to Grand Canyon
Neither of the two routes can be called the 'best' road trip route from Austin to Grand Canyon - the two itineraries complement each other very well and have little overlap, so you could take one on the way to GC and the other on your drive back to Austin.
How to drive from Austin to Grand Canyon
Take Route 1 out of Austin through Barton Creek Greenbelt, then get on the Southwest Parkway to Barton Creek Habitat Preserve. Follow Route 71 past Balcones Canyonlands National Wildlife Refuge, then take Route 281 to Lampasas, visiting Inks Lake and Longhorn Cavern State Parks.
From Lampasas, take Route 183 to Brownwood, and be sure to visit Lake Brownwood State Park before driving to Coleman via Routes 84 and 283. Next, get on Route 153 and follow it past Hordes Creek Lake and Oak Creek Reservoir to Sweetwater.
Take a break here, then follow Route 84 to Lubbock, and either detour to Amarillo up north or stay on the main route past Lake Sumner, all the way to Santa Rosa. Get on Interstate 40 and follow it west to Albuquerque, stopping at Villanueva State Park on the way.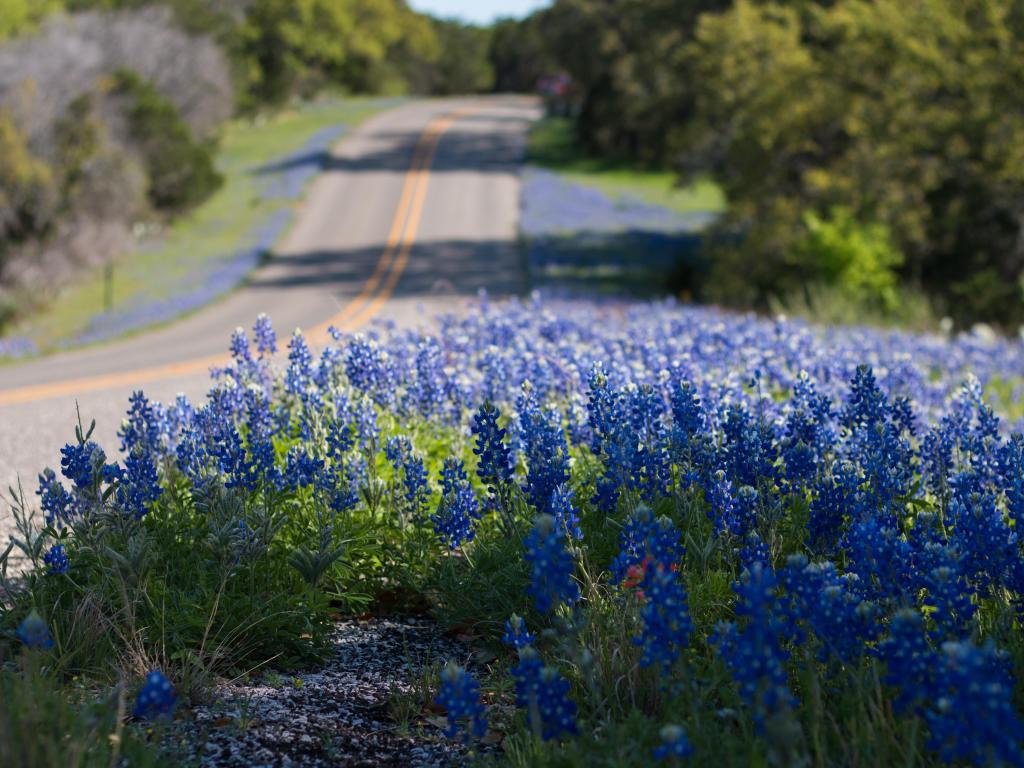 From Albuquerque, you have a few highly recommended detours to consider - Sevilleta National Wildlife Refuge to the south, as well as Santa Fe and Carson National Forest to the north. Then, get back to town, and follow the interstate to Arizona, where it merges with Route 66.
Drive through Petrified Forest State Park, then do a detour to Apache-Sitgreaves National Forest from Holbrook. Back on the interstate, pass Twin Arrows Casino and enter Flagstaff just past Walnut Canyon National Monument.
Once in Flagstaff, you can do a southward detour to Sedona and Coconino National Forest or head directly to Grand Canyon. If you opt for the latter, you can enter via the South Rim by taking Route 64 at Williams or follow Route 89 past Wupatki National Monument to the East Rim.
The Trans-Pecos Route
Take Route 290 out of Austin, passing Pedernales State Park and driving through Fredericksburg and Texas Hill Country - from here, you can either detour to San Antonio down south or follow the route to Jo Ranch before hopping onto Interstate 10 for about half of the drive.
Drive past South Llano River State Park, then continue past The Caverns of Sonora and take a break in Fort Stockton. From here, visit Big Bend National Park down south and Monahans Sandhills State Park up north, or continue along the interstate past Balmorhea State Park.
Past Sierra Blanca, hug the Mexican border and take a break at El Paso before visiting Las Cruces. This is a good time to take a detour to White Sands National Park and Lincoln National Forest before continuing west into Deming.
From here, take Route 180 through Gila National Forest and into Arizona, then get on Route 191 at Alpine. Follow it through Eagar and St Johns, then take Route 180 again past Petrified Forest State Park - at Holbrook, the route converges with the Albuquerque one the rest of the way.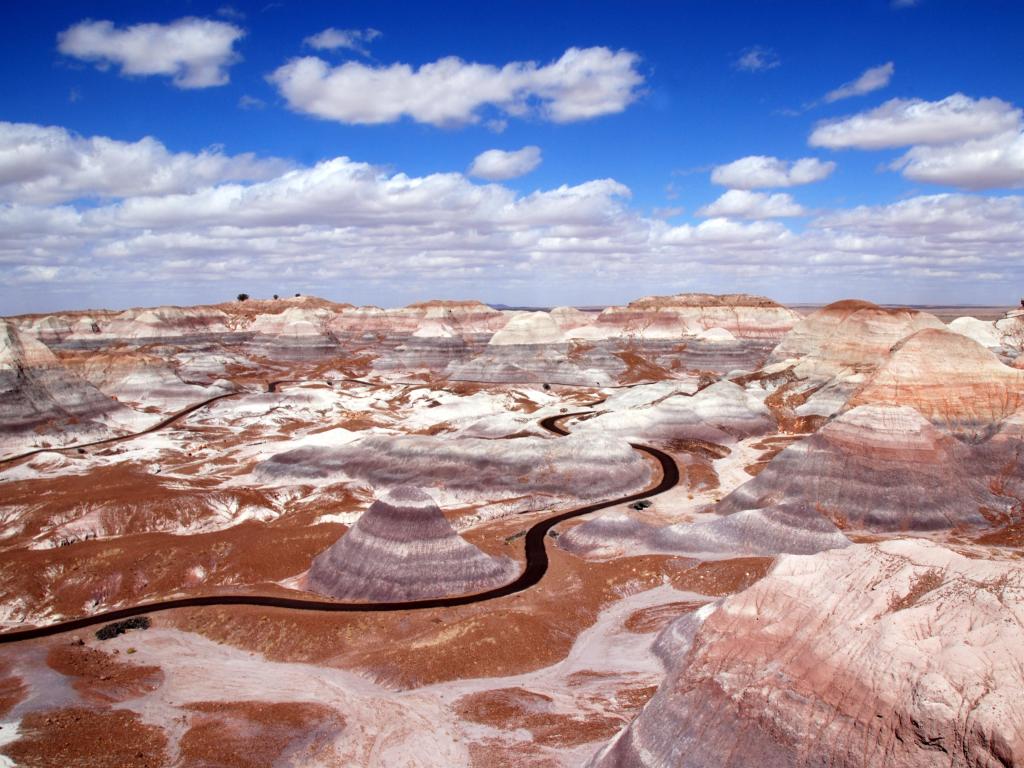 Best places to stop between Austin and Grand Canyon
As you might expect, there are plenty of amazing hotels to be found during the road trip from Austin to Grand Canyon. Here are some of the finest hotels you can expect to find on the way:
Enjoy the starry sky above Albuquerque
Albuquerque's architecture and city planning make it unique among the sea of American metropolises, so you'll definitely want to book a stay here. If you want to soak in the best swimming pool in the entire state, Isleta Resort & Casino is the place for you.
Aside from amazing rooms and a beautiful exterior, this resort is home to the incredible Embers Steakhouse, whose diverse cuisine is guaranteed to leave a lasting impression.
There's plenty of exploring to be done in Albuquerque, so there's nothing like ending off the day in the fabulous swimming pool, which boasts a panoramic view of the hotel's premises. If you still have energy left over, you can even hit the incredible on-site gym for a workout.
On top of all that, this affordable resort is only a short drive away from all the wonders of downtown Albuquerque, making it the ideal hub for those looking to explore the city in detail.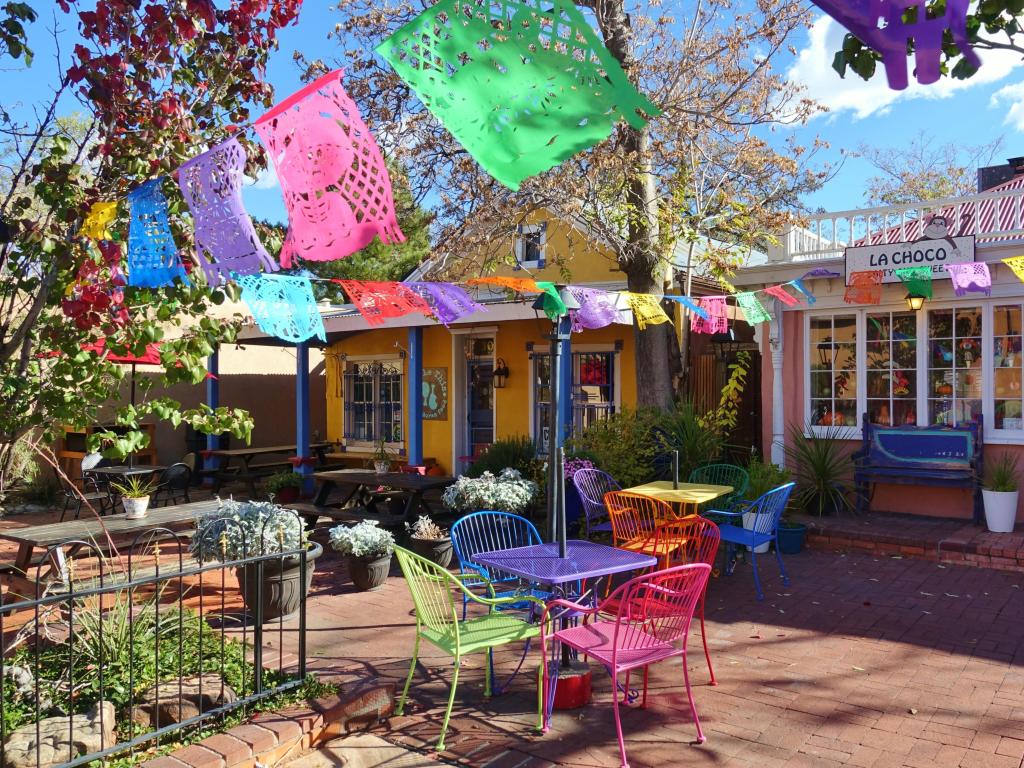 Marvel at the red rocks of Sedona
One of Arizona's most iconic tourist magnets, Sedona and its rock formations are staples of any good South American road trip. For an unprecedented view of the surrounding red rocks, consider booking a room at the fabulous Sunset Chateau.
The incredible, rustic rooms let you wake up to a glorious sunset, courtesy of the amazing balconies, and the rest of the hotel is just as amazing - for instance, the swimming pool area is one of the most beautiful spots in all of Sedona.
Whether you're looking to try your hand at tennis or admire a gorgeous on-site waterfall, Sunset Chateau has you covered. Add to that the incredible restaurants nearby, and you have yourself an experience that can't be beat.
The resort is definitely on the expensive side, but considering it has every amenity you could think of, this is more than justified. Not to mention, all of Sedona's biggest draws are right at your doorstep!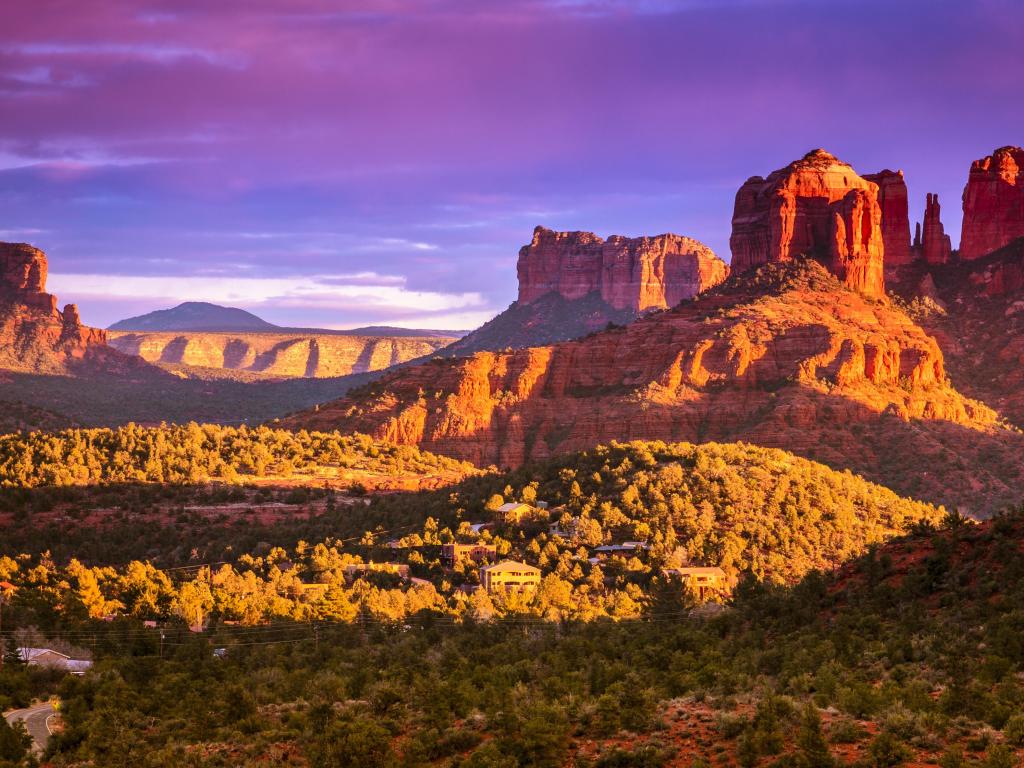 Things to see on a road trip from Austin to Grand Canyon
The road trip from Austin to Grand Canyon has a lot more to see than the average road trip. It's impossible to list all the attractions it has to offer, but these are ones you'll want to keep an eye out for:
Inks Lake State Park - This park combines the beautiful Inks Lake, the Colorado River, and some beautiful local greenery to create the ultimate outdoor experience.
Longhorn Cavern State Park - An iconic park that houses a beautiful system of limestone caves.
Brownwood State Park - One of the quintessential spots for water-based activities along the Albuquerque route.
Albuquerque - The prettiest city in New Mexico is known for its pueblo architecture and delicious cuisine.
Carson National Forest - A unique stretch of greenery in the largely desert-themed New Mexico, this is one of the most beautiful forests in the entire state.
Apache-Sitgreaves National Forest - A hike through this forest is one of the best ways to experience The White Mountains in all their splendor.
Sedona - Arizona's ultimate tourist town is known for the beautiful red rock formations that flank the city premises.
Coconino National Forest - An expanse of green that beautifully breaks up the desert atmosphere of Arizona.
Horseshoe Bend - This bend in the Colorado River is one of the most iconic vistas along Grand Canyon's East Rim.
Pedernales Falls State Park - Combining limestone formations and the gorgeous Pedernales River, this is one of the region's most distinguished state parks.
San Antonio - This historic Texas city houses The Alamo, Six Flags Fiesta Texas, and the iconic SA River Walk.
Texas Hill Country - A beautiful network of hills and urban communities, this is one of the most scenic regions in all of Texas
Caverns of Sonora - A cave system renowned for its beautiful crystal formations and scenic passages.
Big Bend National Park - This iconic national park is features the unforgettable Chisos mountain range.
El Paso - A gorgeous city by the Texas-Mexico border that merges two distinct cultures to create one of America's most unique urban areas.
White Sands National Park - The gorgeous white sand that covers this park almost looks like snow under the right conditions.
Lincoln National Forest - One of several beautiful forests in New Mexico, this is one of the state's most famous sporting and hiking areas.
Gila National Forest - Being one of the largest national forests in North America, Gila National Forest lets you enjoy every outdoor recreational activity you can think of.
Petrified Forest National Park - The rainbow-colored petrified forests make this park one of the most beautiful in this entire country.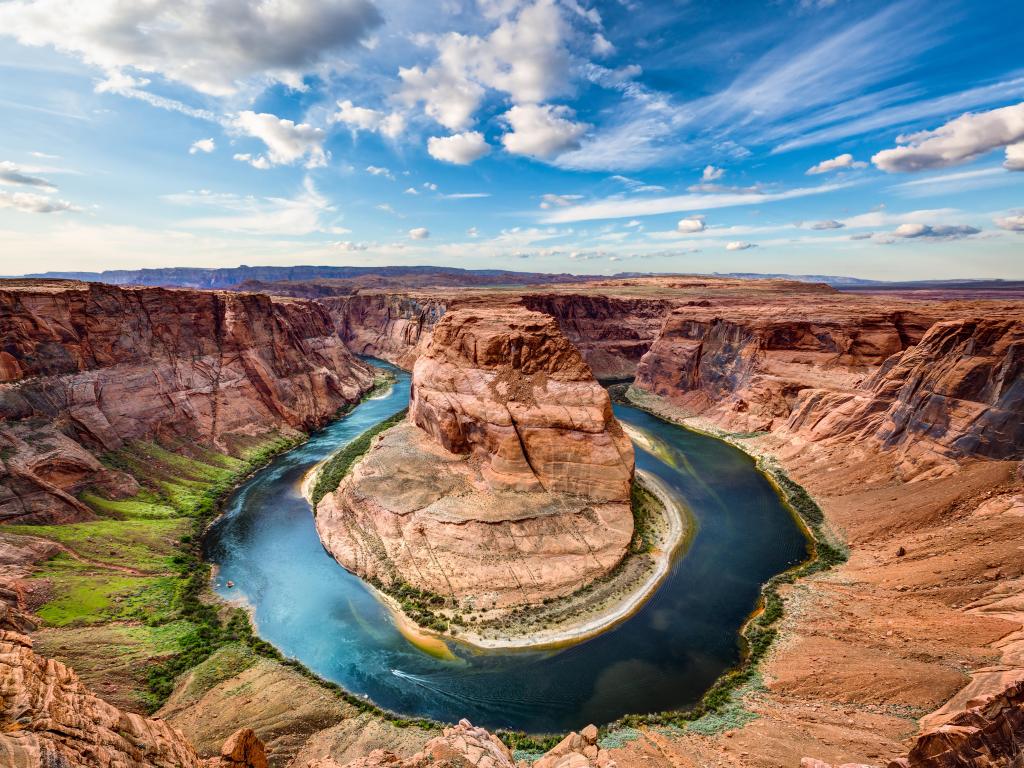 Best time to go on a road trip from Austin to Grand Canyon
The best time to do the road trip from Austin to Grand Canyon depends on what you want to get out of it, although there's plenty to be seen and done all throughout the year.
One thing to keep in mind is that driving through Texas, New Mexico, and Arizona in the summer is guaranteed to be tough due to the heat. If you do decide to travel this time of year, dress lightly and be sure to pack plenty of cold water.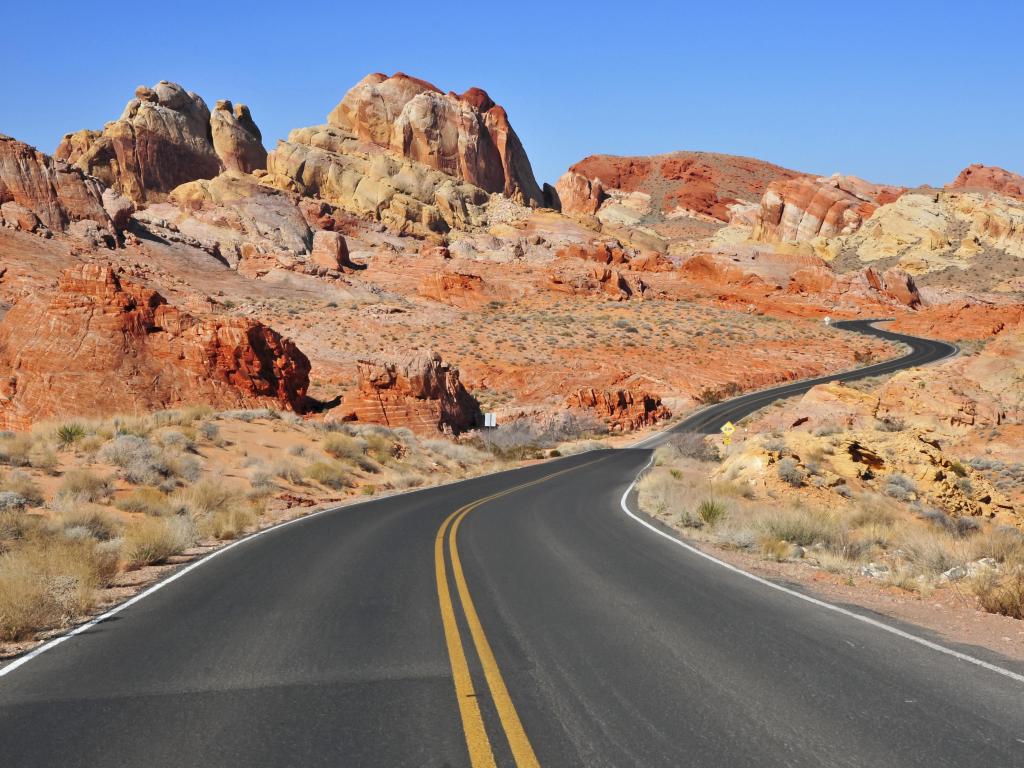 Other than that, Grand Canyon itself is interesting in the summer - June to September marks the park's peak season, but you can expect lots of crowds and massive temperature fluctuations at different altitudes.
If you don't mind the cold and rainfall, winter can be an interesting time to visit for a more private experience. If you're interested in detouring to the North Rim, though, it tends to close in mid-to-late fall along with various other scenic sections of the park.
Spring and fall are the perfect in-betweens if you want the ideal mix of good weather, nice scenery, and crowd sizes. Out of the two, spring is probably the safer option, as it's not unheard of for snow to cover parts of the park around November.