Road Trip From Houston To Big Bend National Park
Texas houses some of the States' most spectacular flatlands and mountains alike, so if you're looking to go on an unforgettable adventure, consider doing a road trip from Houston to Big Bend National Park – you might be surprised at just how much The Lone Star State has to offer.
The 10-hour, 600-mile road trip from Houston to Big Bend National Park passes through San Antonio, Austin, and Fredericksburg, as well as stopovers like Castroville Regional Park, Enchanted Rock State Natural Area, and Pedernales Falls State Park.
The list of things you can expect to see on the way is rich and exciting, so continue reading to learn the ins and outs of the route.
How far is Big Bend National Park from Houston and how long will the road trip take?
| Route | Distance | Driving Time |
| --- | --- | --- |
| The San Antonio route | 600 miles | 10 hours |
| The Austin Route | 600 miles | 10 hours 30 minutes |
The road trip from Houston to Big Bend National Park covers 600 miles and takes 10 hours to drive. You could easily do the drive in a day if you take off early in the morning, but a better course of action would be to split the trip up into at least a week if you can.
Although there are a few variations of this scenic route, the shortest road trip from Houston to Big Bend National Park is done by driving through San Antonio as you make your way westward.
Cutting through the mostly-flat southern parts of Texas, the first half of the itinerary is both scenic and easy to drive. As you approach the Trans-Pecos region, you begin to encounter the rugged Chisos Mountains, giving you a nice change of terrain and scenery.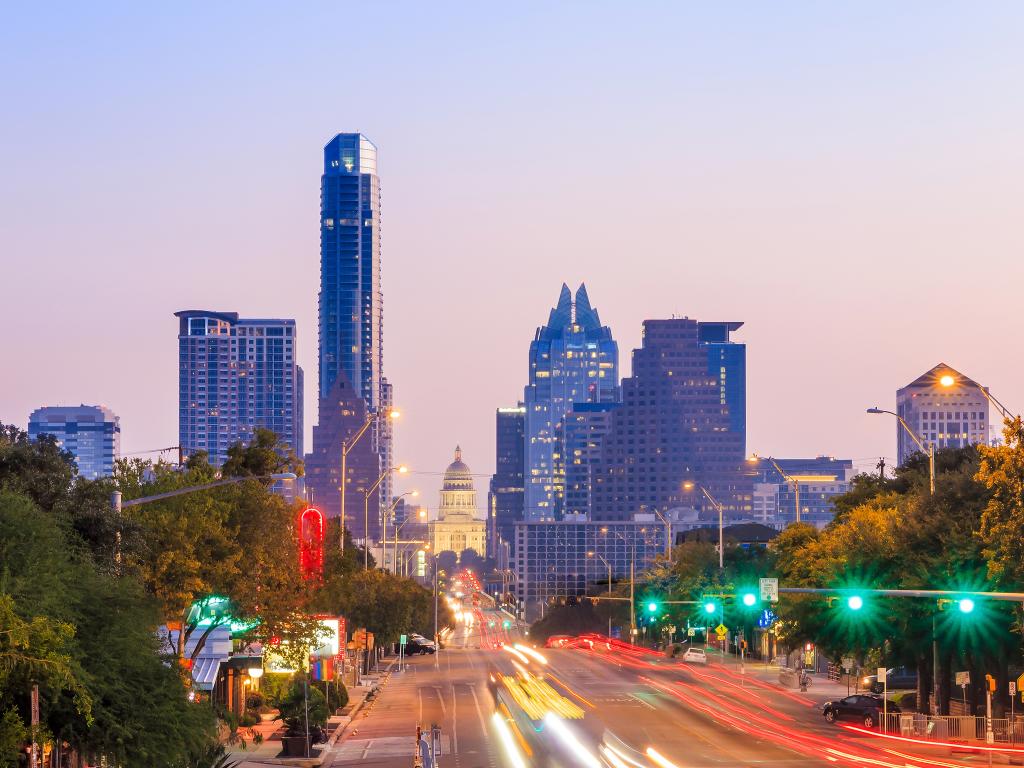 One thing that's great about this itinerary is that if you stick to the quick route, you won't have to deal with much traffic – San Antonio, the route's largest city besides Houston itself, is surprisingly tame in the congestion department.
However, if you decide to detour to Austin (and you should!), you may be in for some trouble since the city is known for having some of the nastiest traffic in all of the States. Be sure to keep close tabs on the traffic situation via an app if you choose to visit.
If you don't mind passing through Austin, another option is to drive through there instead of San Antonio, then follow Interstate 10 for much of the drive. This route is pretty similar in terms of distance, but it gives you the option of detouring to see some landmarks further north.
Best road trip route from Houston to Big Bend National Park
The best road trip route from Houston to Big Bend National Park depends on what you're after – the San Antonio route is quicker, while the Austin route is a little more consistent in terms of landmarks and attractions.
How to drive from Houston to Big Bend National Park
The map above shows our suggestions for the best road trip routes between Houston and Big Bend National Park. Keep reading for detailed descriptions of both routes, where to stay on either, and the best things to do on the way.
The San Antonio Route
Take Interstate 10 out of Houston, passing Cullen Park and crossing the Brazos River. Visit Stephen F. Austin State Park and Hatari Wildlife Park, then drive through the chain of smaller towns before reaching San Antonio.
From here, you can jump onto Interstate 35 and detour to Austin or take Route 90 west out of San Antonio. Be sure to stop at Castroville Regional Park, and take a northward detour to Medina Lake.
Take a break at Uvalde, then follow Highway 83 north for a visit to Garner State Park. Back on the main route, drive through Brackettville and, passing Del Rio, cross Armistad Reservoir via Governor's Landing Bridge.
After passing Seminole Canyon State Park & Historic Site, cross the Pecos River and hug the border all the way to Langtry. Get your bearings here, then continue along Route 90 all the way to Marathon. Once you're there, take Route 385 south and follow it to Big Bend National Park.
The Austin Route
After leaving Houston via Interstate 10, take State Highway 71 out of Columbus and follow it to Bastrop State Park. From there, briefly get onto Highway 21 and pass McKinney Roughs Nature Park, then get back to Highway 71 and follow it to Austin.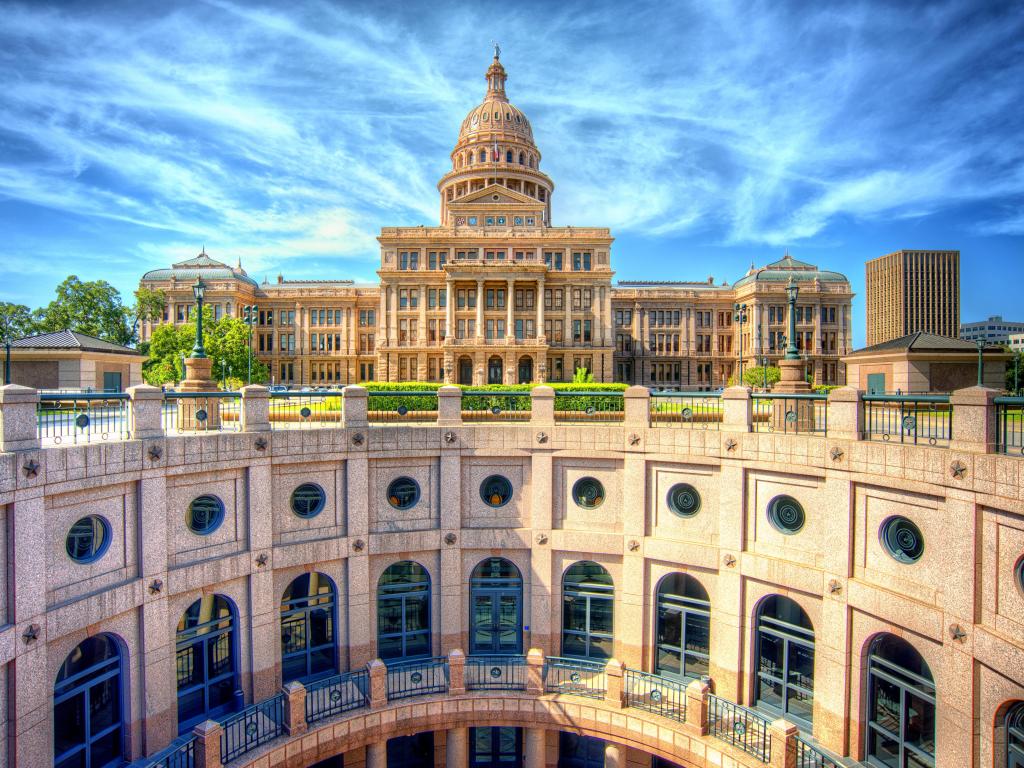 Take Route 290 and follow it through Dripping Springs and past Pedernales Falls State Park. Continuing west, stop by the Lyndon B. Johnson State Park & Historic Site, and rest up at Fredericksburg – from here, detour to Enchanted Rock State Natural Area up north.
Still sticking to Route 290, leave Fredericksburg and drive through Harper before jumping onto Interstate 10. Visit South Llano River State Park after stopping at Junction, and continue through a chain of towns and communities until you've reached Fort Stockton.
If you have time, consider detouring north from here to see the city of Odessa. Alternatively, stick to the main route and take Route 385 the rest of the way to Big Bend National Park.
Best places to stop between Houston and Big Bend National Park
The road trip from Houston to Big Bend National Park is best enjoyed over the course of a week, so it would be in your best interest to make a few overnight stops on the way. These are some of the hotels you should consider booking:
Enjoy an unforgettable night out in San Antonio
You'll often locals refer to San Antonio as the state's crowning urban attraction, and it's not hard to see why. You'll have your pick of lots of great hotels here, but the clear winner is Omni La Mansion del Rio, courtesy of its chic interior and location by the beautiful River Walk.
San Antonio is a beautiful city, but given how stunning this hotel is, you might choose to spend more time indoors than out and about. The luxury property's top features are a tropical courtyard, an urban oasis right in the heart of the city, with an outdoor pool and an upscale restaurant.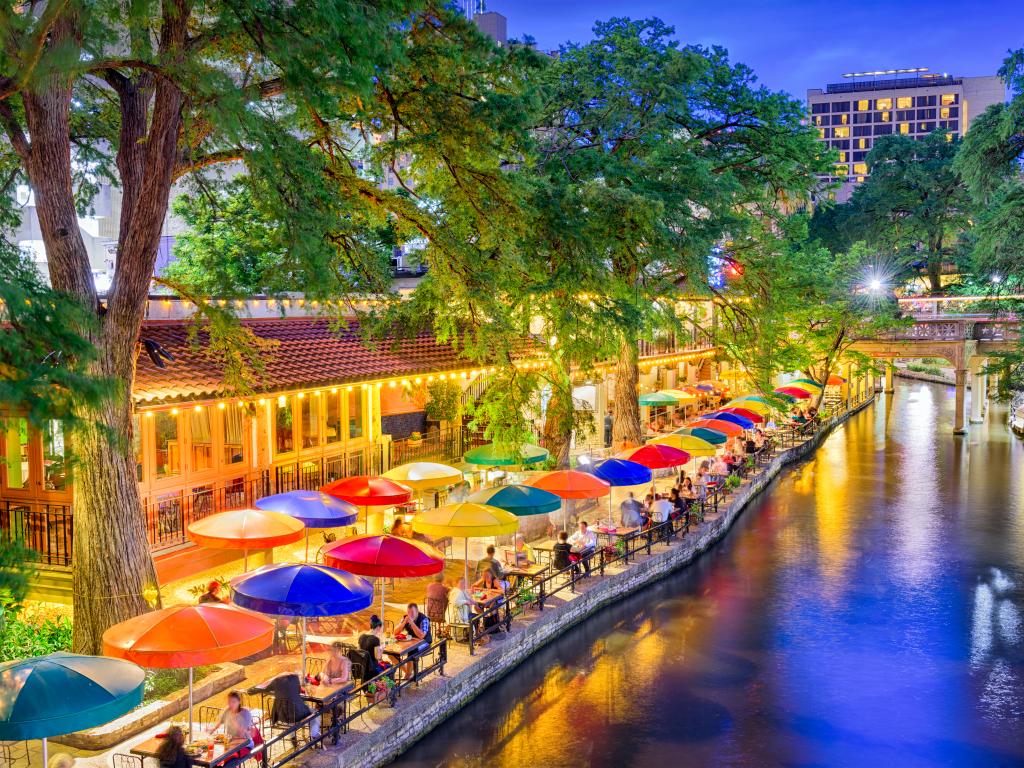 If that interior doesn't win you over, a cold drink at the stylishly decorated bar might, especially after a nice workout at the fitness center. If you decide to stay for a meal, you will get to enjoy stunning views of the River Walk from your seat as you enjoy delicious Southwest cuisine.
Situated right by the iconic River Walk and right around the corner from every major central attraction in San Antonio, this one-of-a-kind hotel more than justifies its relatively high prices.
Soak in the incredible nature at Big Bend National Park
Big Bend is the perfect respite from the clamor of the big city, and as you might expect, one of Texas' most beautiful parks has some spectacular resorts. If you want to stay someplace old-school and enjoy a world-class spa, Lajitas Golf Resort is the place for you.
The rustic rooms at this resort work extremely well with the park's rugged aesthetic, but if you want to feel fancy, you can always step out onto the swimming pool area and take in your surroundings.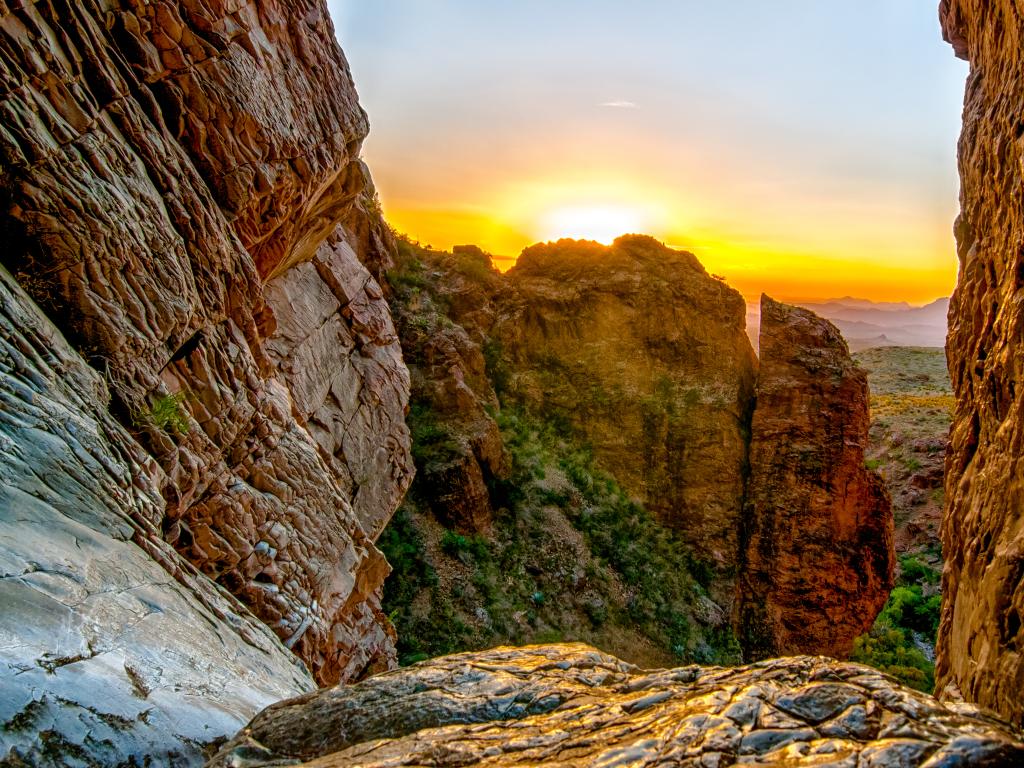 This place offers a wide variety of interesting activities, from golf and horseback riding to learning about the local fossils, all while enjoying the beautiful Chisos Mountains backdrop.
Although the prices here are a little steep by Big Bend standards, it's definitely worth every penny, as you'll be staying in the best resort within a 200-mile radius.
Things to see on a road trip from Houston to Big Bend National Park
The road trip from Houston to Big Bend National Park will take you to some amazing places between its two routes. For the best possible experience, you should take one route on the way to Big Bend and the other on the return trip. These are the places you'll want to look out for:
San Antonio – arguably the nicest city in all of Texas and home to The Alamo and the SA River Walk
Castroville State Park – a scenic hiking area with a pool and a camping section
Seminole Canyon State Park & Historic Site – one of the most beautiful parks in Texas' repertoire and an amazing bird-watching spot
Marfa – an important artistic hub and home to the inexplicable Marfa lights phenomenon
Alpine – a gorgeous community with an amazing view of the Davis and Chisos Mountains
Fort Davis – this charming city shares its name with the neighboring Davis Mountains
Austin – a road trip across Southern Texas wouldn't be complete without its beautiful capital city
Pedernales Falls State Park – a swim in the Pedernales River will leave you rejuvenated and ready to tackle the rest of the route
Texas Hill Country - this area's limestone hills make it one of the most beautiful stretches of nature in all of Texas
Fredericksburg – this city's German history is preserved through its iconic Pioneer Museum
Enchanted Rock State Natural Area – the area's famous Summit Trail is one of the road trip's definitive nature vistas
South Llano River State Park – second only to Big Bend itself, Llano River is one of the best places for paddling in all of Texas
Odessa – although it's a bit of a detour, Odessa's a must-see thanks to its Meteor Crater and realistic replica of Stonehenge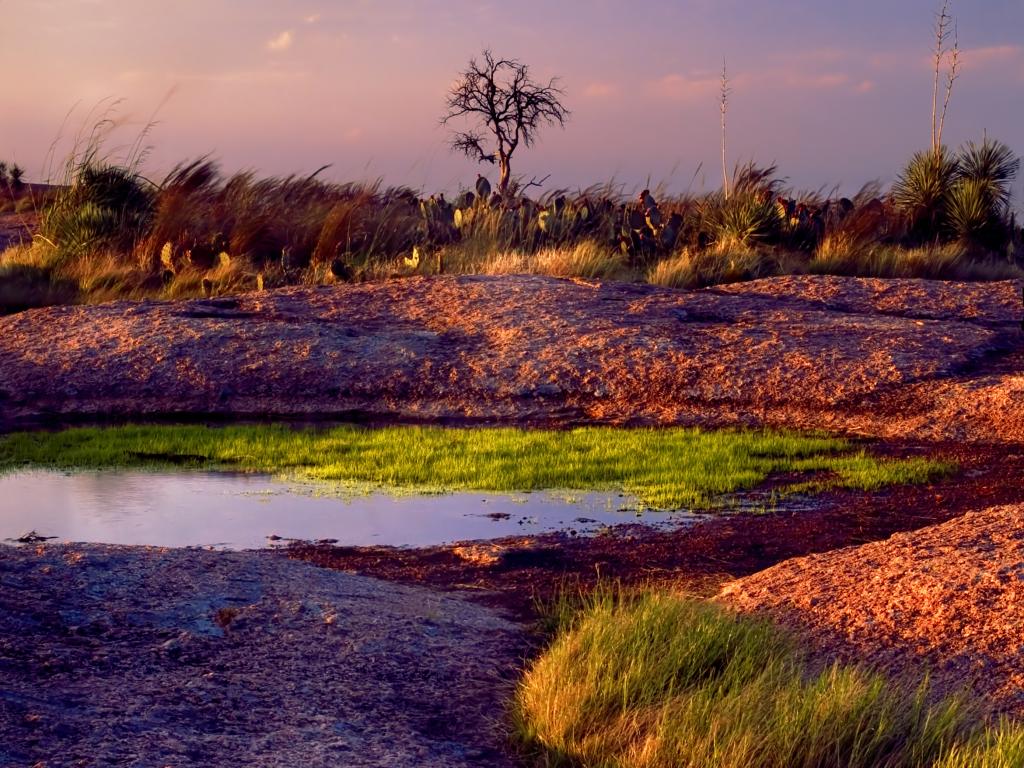 Best time to go on a road trip from Houston to Big Bend National Park
The road trip from Houston to Big Bend National Park is one you could do throughout most of the year, although different seasons have their own unique sets of benefits.
One thing to keep in mind is that this park is never as congested as many of its northern counterparts, both because of its non-central location in the States and its terrain, which is vastly different from that of the average forested state park.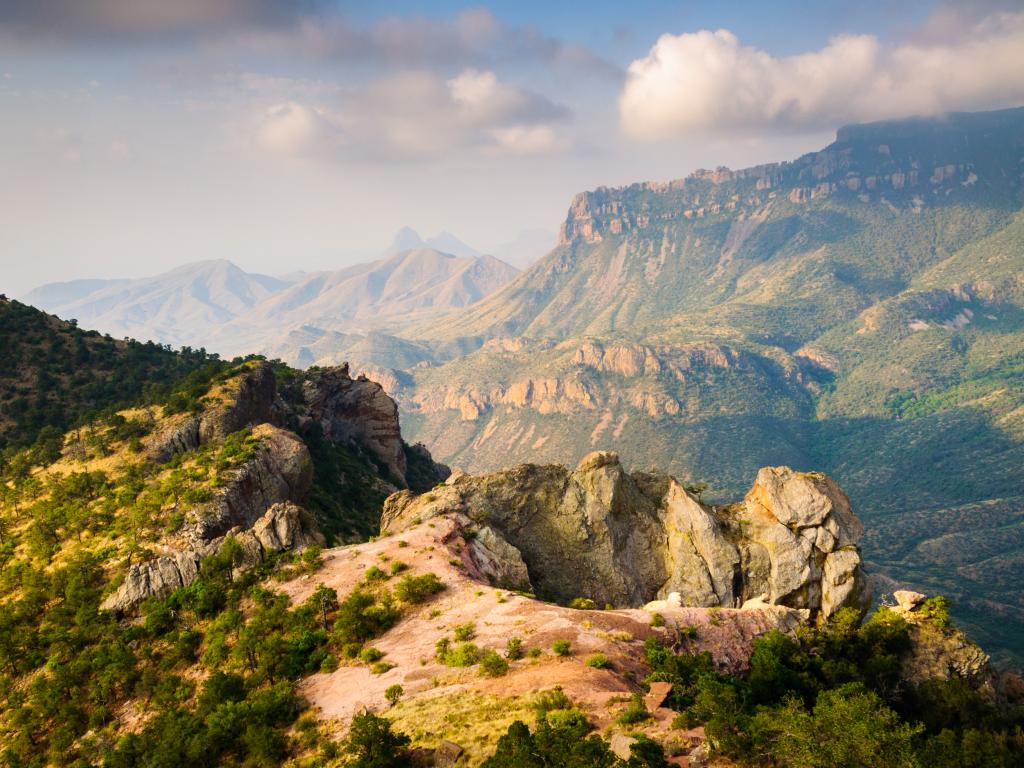 It's important to remember that you'll be dealing with a desert, so while the days are quite warm in the winter, the nights can get unbearably cold. For this reason, the December-February period is probably the only Big Bend season that's hard to recommend.
Summers at Big Bend will often exceed 100 degrees, and while that's far from ideal, you can spend your time by the river and keep cool. Better yet, going up the Chisos Mountains will give you a temperature drop of 10 to 15 degrees if things get too hot.
That leaves you with spring and fall, arguably the two best seasons to do the trip – temperatures max out at the low-to-mid 80s, and the park's colors are at their most beautiful.