Can you Drive through Redwood National Park?
The west coast of the United States is the only place in the world that you'll find huge and ancient Redwood trees. One of the best places to come and admire these gentle giants is Redwood National Park, which is known for its vast woodlands, immense prairies, wild rivers and rocky coastline - as well as the tall Redwood trees of course.
You can drive through Redwood National Park in 1 hour 15 minutes on the Newton B. Drury Scenic Parkway for 45 miles past Berry Glenn, Atlas Grove and Wilson Creek Beach, or wind slowly through the park to explore its small roads and stunning trailheads.
Some of the trees have been standing here in what's now California for over 2,000 years, and it's an unforgettable experience to take a drive through the national park. Pack your tent to stay in the serenity of the national park, or drive it as a day trip as you travel along the amazing Pacific Coast.
Can you drive through Redwood National Park?
Redwood National Park hugs almost 50 miles of the Northern California coastline near the state border of Oregon. It's a 6-hour, 325-mile drive from San Francisco.
You can drive through Redwood National and State Parks in just 1 hour 15 minutes, following Highway 101 between Trinidad and Crescent City. The northern tip of this groups of parks starts at Crescent City, then runs south past Orick.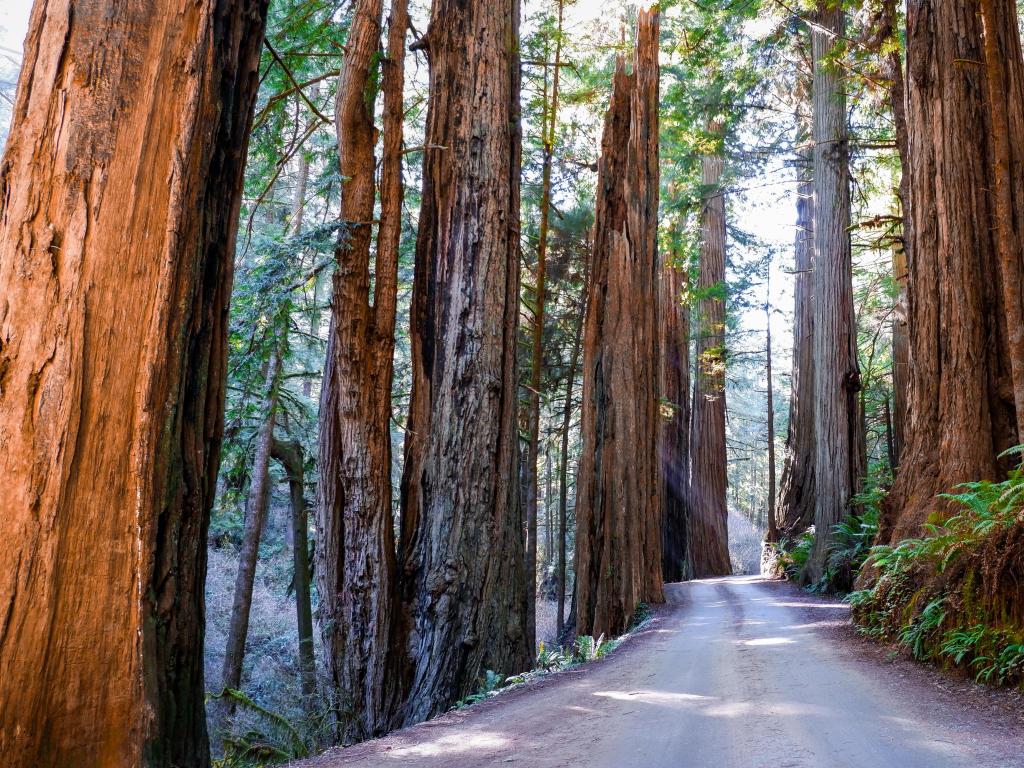 If you take a road trip to Redwood National Park, you'll actually have the chance to visit three state parks as well. Redwood National Park makes up the southernmost part of the complex, which continues on through Prairie Creek Redwoods State Park, Del Norte Coast Redwoods State Park and Jedediah Smith Redwoods State Park.
The most common method to enter the park is on US 101 Highway which runs through the heart of the park from Crescent City to Orick and beyond. This is also the main route through the park.
If you have a little more vacation time and want to explore even more of Redwood National Park's open prairies, vibrant woodlands, mossy streams and rocky coastline, you can follow our longer alternative route which winds through some of the park's smaller roads for a more intimate scenic experience.
In case you don't fancy driving yourself through Redwood National Park, you can also take a guided tour from Crescent City or even just take the Route 20 bus between Orick and Crescent.
The main ways to drive through Redwood National Park

| Route | Starting point | Ending point | Seasonal availability |
| --- | --- | --- | --- |
| Main Route | Orick Beach Front | Crescent City | Open year-round |
| Small Road Detours | Weitchpec | Crescent City | Open year-round |
How to drive through Redwood National Park on the Main Route
The Main Route is suitable for vehicles of all sizes (other than commercial trucks). Starting out at Orick Beach, you'll drive along Newton B. Drury Scenic Parkway. The trees tower above you as this scenic route takes you right through the heart of the giant redwood forests.
Along the way you'll find plenty of pullovers and trailheads where you can stop to hike or simply enjoy the view.
You'll start your trip with a drive along the coast, with stunning views of where the forest meets the ocean. From Orick Beach Front you can stop at Thomas H. Kuchel Visitor Center to find out more about the landscapes that await you before carrying on to scenic Berry Glenn.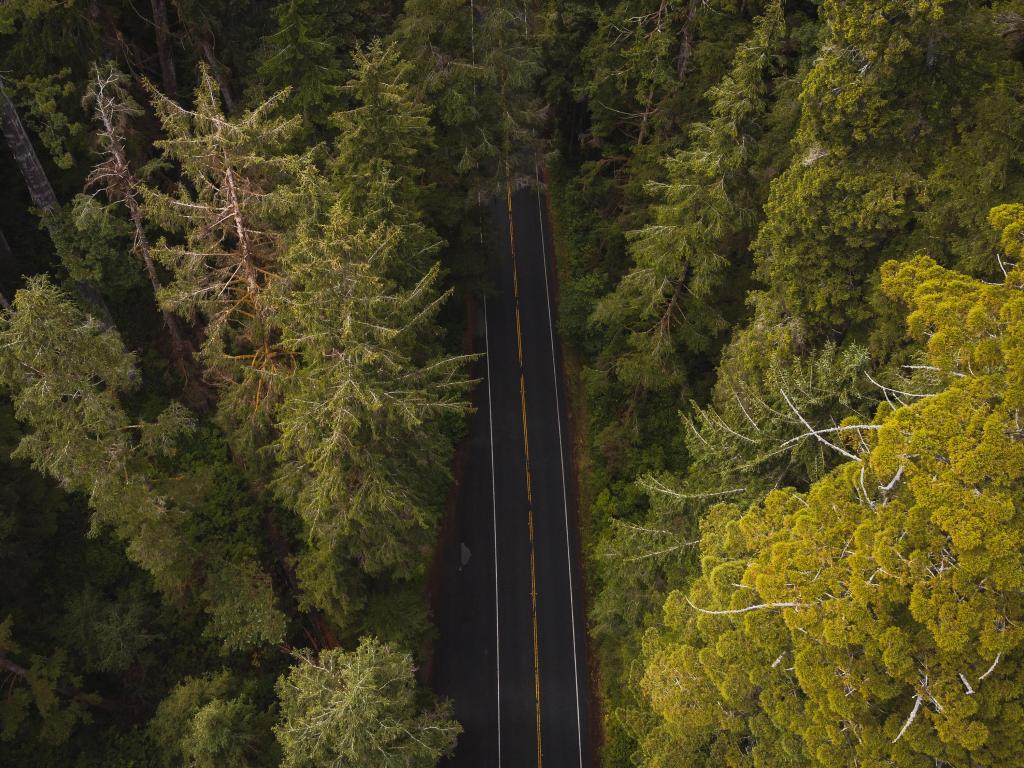 Stop and follow the fern-lined Berry Glenn Trail for up-close views of the mighty redwoods.
Continuing on the Newton B. Drury Scenic Parkway, where it splits off from the Redwood Highway, Prairie Creek Visitor Center is next along the route.
After just a few more minutes you can stop and soak in the atmosphere at Atlas Grove or take photos in front of the huge, 1,500-year-old Big Tree Wayside and nearby Corkscrew Tree.
Stop for refreshments at Klamath then continue on to the Trees of Mystery before dipping your toes in the Pacific at Wilson Creek Beach.
You'll end your drive through Redwood National Park with a visit to Del Norte Coast Redwoods State Park, which marks the end of the National and State Parks complex.
How to drive through Redwood National Park on the Small Road Detours
Before going any further, it's important to point out that this is definitely not a route to try with motorhomes, RVs or trailers. These detours require a smaller vehicle - your average-sized car should be just fine, but if you're in doubt just look out for local information.
By going off the beaten track, you'll be rewarded with views of open prairies glittering with spring wildflowers and serene beach-side overlooks, as well as spending some time on the famed Newton B. Drury Scenic Parkway.
You'll start your drive by entering the park on Balds Hill Road from Weitchpec, you'll cross the Klamath River via Martin's Ferry Bridge before winding up narrow roads and stopping at Redwood Creek Overlook a little further along Balds Hill Road.
A short stretch on Route 101 as far as Berry Glenn will take you to the turn-off for the beautiful sands of Gold Bluffs Beach. Then, returning to the scenic parkway, you'll pass Prairie Creek Visitor Center and Atlas Grove before turning right to creep up Cal-Barrel Road.
At the end of this tiny, paved road you can park up and follow the Rhododendron Trail.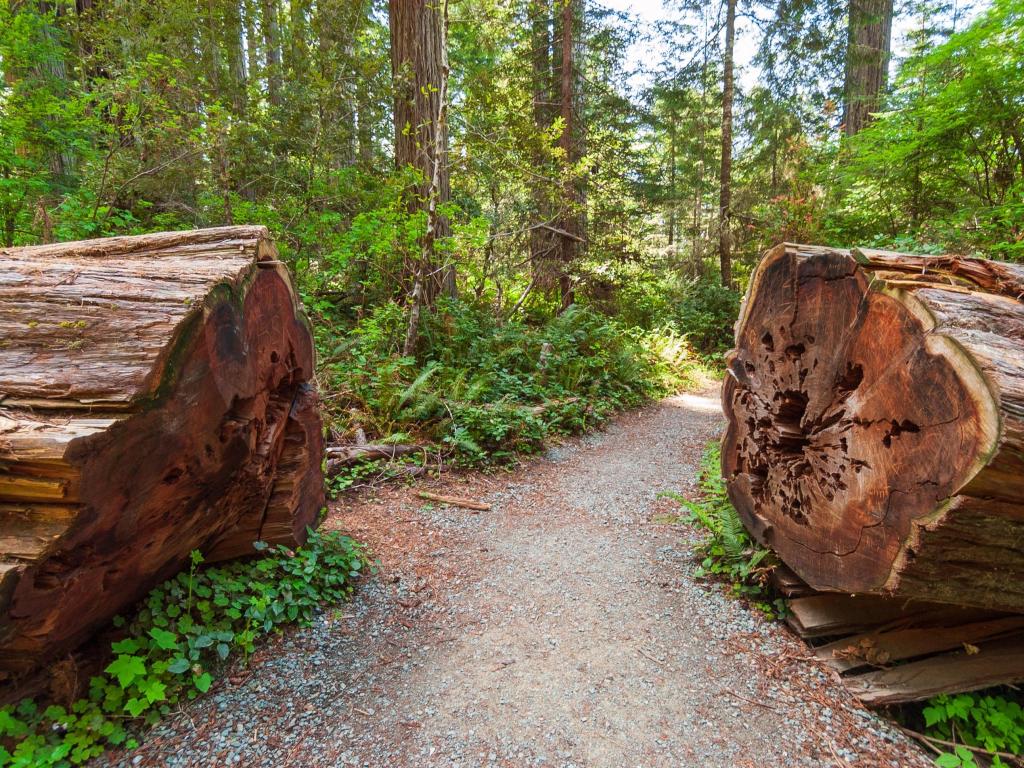 Make your way carefully back down to the scenic parkway and you'll be able to pick up speed again on the way past Big Tree Wayside, Corkscrew Tree and Klamath River Overlook. Just past Klamath, you can explore the forest from a high vantage point at the popular Trees of Mystery walkways.
Then, after a relatively long stretch on Route 101 which passes Wilson Creek Beach, take a tight left turn to follow the road down to beautiful Crescent Beach Overlook. You'll get an amazing view along the coast here, with waves breaking at the foot of forested cliffs.
Instead of heading straight into Crescent City, turn off onto Humboldt Road then pick up Howland Hill Road which will take you through Jedediah Smith State Park.
After passing Grove of Titans Trailhead, you'll reach Myrtle Beach - dip your toes in the river here or paddle along the crystal-clear water in a small boat.
Then, the Redwoods Highway takes you back into Crescent City to complete your trip.
How long does it take to drive through Redwood National Park?
It should come as no surprise that winding back and forth along the Small Road Detours is going to take you a lot longer than driving directly through Redwood National Park on the scenic highway.
The 45-mile Direct Route will take around 1 hour 15 minutes to complete if you drive straight through Redwood National Park without stopping. We'd always suggest leaving a lot longer than this - at least half a day but ideally more - since there are so many stunning views to enjoy en route.
If you're following the Small Road Detours then you're going to be covering around 125 miles. Many of these roads meet dead ends, so you'll have to double back on yourself to complete the drive.
This adds up to around 4 hours 40 minutes of unforgettable driving. Plan to camp overnight so that you can spend a few days immersed in the stunning natural landscape of Redwood State and National Parks.
Which entrance should you arrive at in Redwood National Park?
There are no entrance fees to Redwood National Park, so there aren't entrance stations here as such. Your choice of starting point will probably depend on whether you're traveling north or south towards Redwood National Park.
To help you plan your amazing road trip, we've put together a list of travel times from major cities to the most convenient entrance to Redwood National Park.
Comparison of travel times from major US cities to Redwood National Park

| Origin City | Recommended entrance | Distance | Total Time |
| --- | --- | --- | --- |
| Portland | Highway 101 (Crescent City) | 310 miles | 5 hours 20 minutes |
| San Francisco | Highway 101 (Orick Beach Front) | 330 miles | 5 hours 30 minutes |
| Seattle | Highway 101 (Crescent City) | 500 miles | 8 hours |
| Los Angeles | Highway 101 (Orick Beach Front) | 690 miles | 11 hours |
| Las Vegas | Highway 101 (Orick Beach Front) | 800 miles | 13 hours 20 minutes |
Things you need to know about driving through Redwood National Park
The Main Route through Redwood National Park is an extremely straightforward drive, making it the perfect scenic road trip for less confident drivers. There are no hairpin turns or scary cliffside drives and you can take the whole route at a manageable 35 MPH.
The Small Road Detours are a different type of drive entirely. These roads are narrow, winding and in places, unpaved. And just to emphasize, they're not suitable for motorhomes, RVs and trailers.
Unlike most other national parks, you don't need a ticket to enter Redwood National Park. However, there are some places where you'll have to pay a fee to access the California State Parks.
This includes the road to Gold Bluffs Beach or Fern Canyon, which come with a $12 fee. You'll also have to reserve a day ticket in advance to access these beautiful spots between May and September.
If you already have the America the Beautiful Pass, California's State Parks Poppy Pass or a current camping reservation, you won't have to pay additional fees as you travel through the state parks on this route.
Both routes are a year-round drive. Not only is the park open all year but the weather means you can make the journey throughout the year. The temperature difference in seasons is minimal so you can truly explore the park year-round. That said, there are a few things that you should know.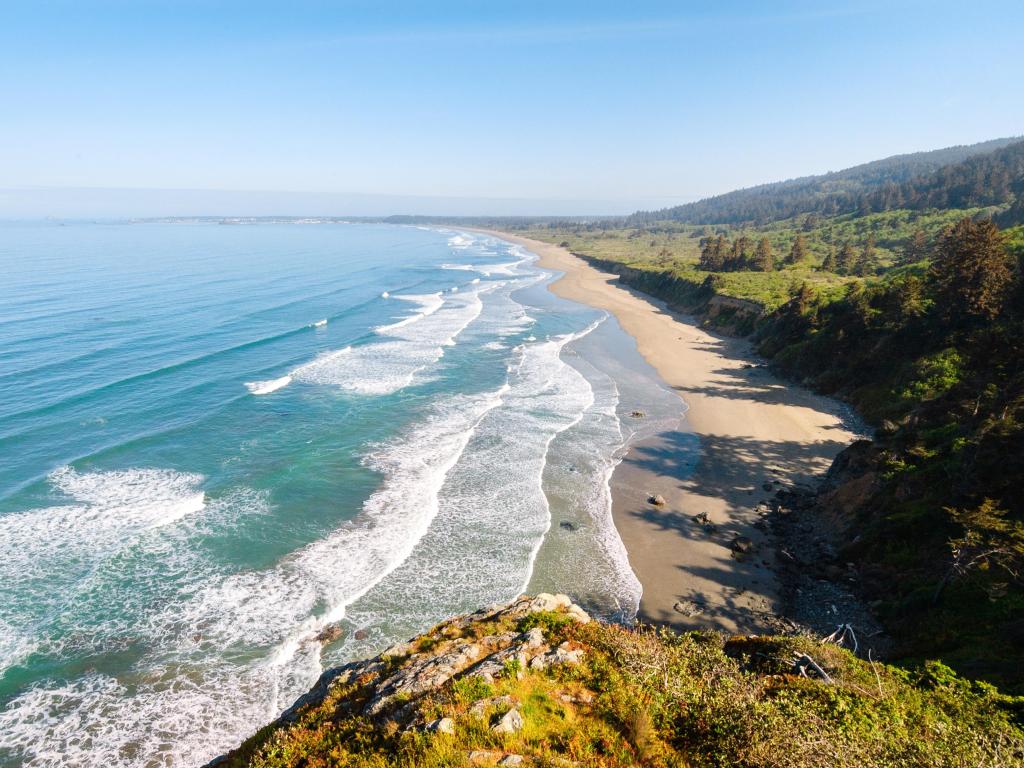 Summer is the busiest time to visit Redwood National Park, especially when schools are out on vacation. You won't face the same kind of extreme crowds that other national parks like Yosemite sometimes struggle with. That said, you're recommended to arrive early in the day if you're visiting during the summer.
Summer is also a great time to hike since the park is very dry with fewer slip hazards and reasonable temperatures, which sit around 60 degrees. If you get lucky, you might even spot one of the majestic native elk that roam the park.
At the other end of the year, Redwood National Park is cool in winter but with average lows above 40 degrees, the temperature shouldn't hamper your visit. Be prepared for colder nights though, with temperatures often dipping below freezing.
There's a higher chance of rain in winter, but the park stays open all through the season, and you're more likely to get a serene spot at a campground if you visit at this quiet time of year.
If you're flying into California or taking a longer road trip, winter is also a great time to grab bargains on your airline tickets and accommodation.
Spring is when the park is at its greenest, with wildflowers blooming to add even more color. You'll be able to find a quiet spot on one of the many trails since it's still a relatively quiet time to visit, and temperatures in the low 50s Fahrenheit make for a comfortable trip.
On the flip side, October is still mild but this is when the clouds start to move into Redwood National Park. It makes for some atmospheric photo opportunities, but you might not get that classic shot of a vivid blue sky behind the brightly lit redwood trees.
As an added bonus, fall is the best time of year to spot migrating whales. You can see them without leaving the comfort of dry land from coastal viewpoints like the Klamath River Overlook.
Here are our other top tips when it comes to preparing for a drive through Redwood National Park:
In summer, especially weekends and holidays, parking spaces at popular trails like Fern Canyon can fill come early morning.
Aim to get to the state parks around the opening time of 6 AM if you want to make sure to see some of the most popular stops.
Download the app created by Redwood Park Rangers before you visit. It's called the National Park Service Mobile App. It's more reliable than most map services.
Check ahead for any road closures that might affect the route you've planned.
Keep an eye out for elk crossing the scenic parkway.
Things to see on a drive through Redwood National Park
Here's a reminder of the amazing things you can see and do when you take a drive through Redwood National Park:
Scenic Drive - Driving the roads is one of the most popular ways to see the park. You should try to incorporate Newton B. Drury Scenic Parkway into your visit as the road is surrounded by redwoods with plenty of viewpoints.
Coastal Overlooks - Try Klamath River Overlook with a high vantage point, offering breathtaking views of the flowing hills and coastline. Not only that, but you can spot migrating whales, with September and October being the best time.
Hike the trails - You'll be spoiled for choice! Fern Canyon Trail, Tall Trees Grove, and Lady Bird Johnson Grove are popular hiking trails where you can find lush redwood forests, fern-filled canyons, and coastal views.
Camping - Staying the night can be both immersive and serene. Come night, most visitors have gone and you'll wake up amid towering redwoods.
Wildlife spotting - Home to elk, black bears, foxes and more be on the lookout.
Ranger-led guided tours - Join a guided tour to learn more about the Redwood National Park. Drop into the visitor centers too to get maps and find out more info from the knowledgeable staff.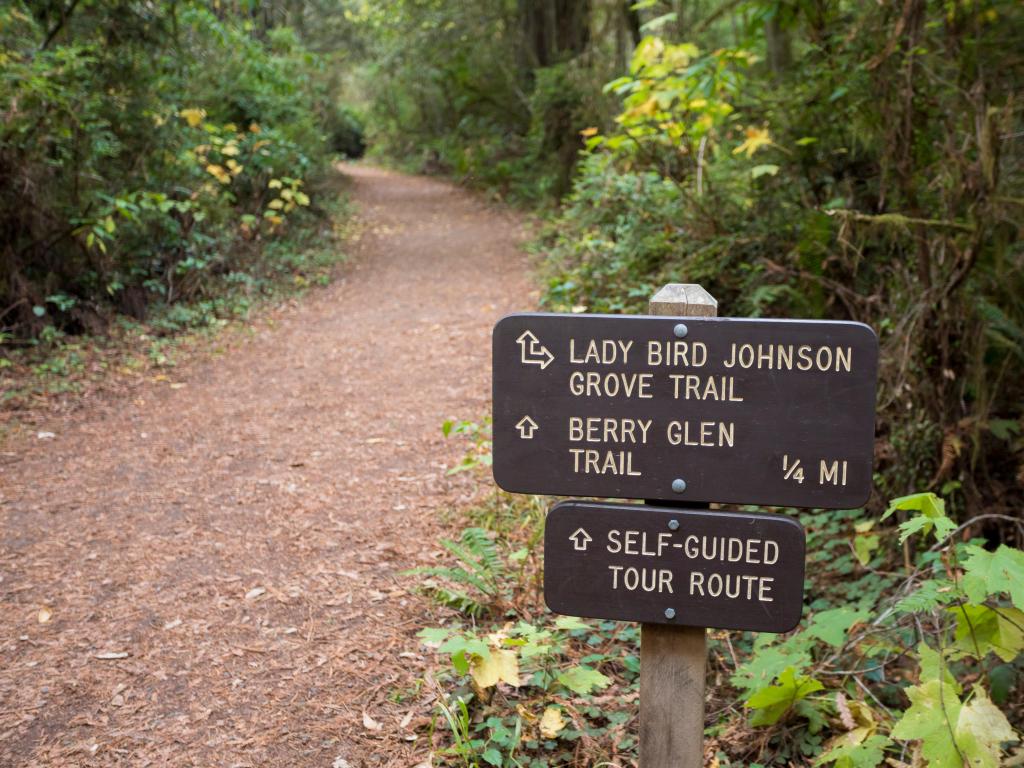 Whether you're looking for a scenic road trip, some impressive hikes, to commune with nature or to breathe in the salty sea air, a drive through Redwood National Park will surely deliver on all these levels!