Road Trip from Portland to Redwood National Park
The road trip from Portland to Redwood National Park offers stunning scenery all year round, from famous Oregon national forests to charming small towns and historic Pacific Northwest cities. You will also have the opportunity to admire the sunny Pacific coasts on the way.
The 350-mile trip from Portland to Redwood National Park takes 6 hours and 30 minutes to drive. On the coast, you will see Pacific City, Newport and Gold Beach while Salem, Eugene and Oregon Caves National Monument are the notable stops inland.
With so many different things to see and awe-inspiring sights to admire on the way whether you follow the coast or dip inland for a scenic drive, below are the best routes to follow, our suggested places to stop, amazing things to see and the best time to visit.
How far is Redwood National Park from Portland, Oregon and how long will the road trip take?
Comparison of road trip routes between Portland, Oregon to Redwood National Park

| Route | Distance | Driving Time |
| --- | --- | --- |
| The Direct Route | 350 miles | 6 hours 30 minutes |
| The Coastal Route | 430 miles | 9 hours |
The Direct Route is the most direct at 6 hours and 30 minutes, and 350 miles. This route takes you down the Columbia River Highway and allows for an overnight stop just an hour north of Salem in quaint McMinnville and then passing through Salem, Eugene and Grants Pass.
The Coastal Route offers a more laid-back drive with great scenery and stops, and takes a little over 9 hours to drive the 430-mile trip. Stops on this option include Rockaway Beach, Pacific City, Charleston and Klamath and it is a great option if you have a little more time to complete the trip.
No matter what route you choose to travel, this will be a road trip that will be unforgettable. We recommend putting aside at least three days to enjoy all the attractions and landmarks on the way.
Best road trip route from Portland to Redwood National Park
There are two great options for the drive from Portland to the Redwood National Drive, depending on your interests and timing. Which route is the best will depend on whether you would like to enjoy coastal or forested scenery and the time on your hands.
Depending on your timing and travel style, both routes offer beautiful views and places to explore along the way. If you are looking to maximize time, the Direct Route will take almost 3 hours less than the coastal route, but still offer some interesting towns to visit en route to Redwood National Park.
The Coastal Route, on the other hand, will take you to the incredibly beautiful Pacific coasts and you will drive through some of the most scenic Oregon towns and beaches as you make your way to the giant redwood trees in California.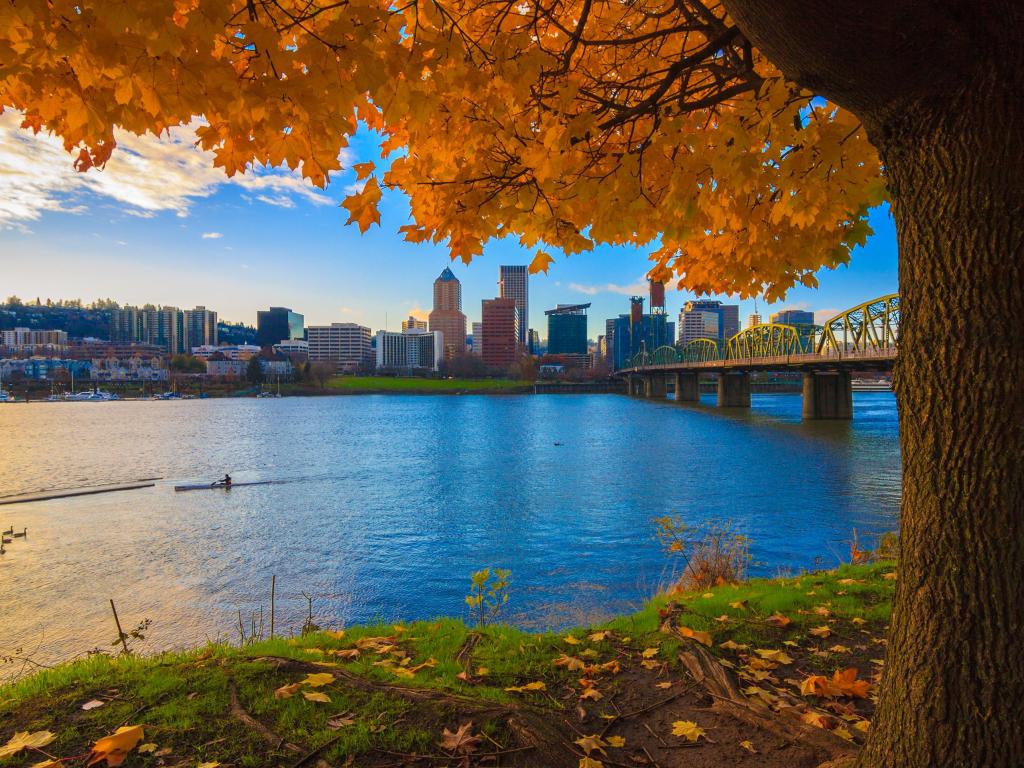 The Direct Route
Leave Portland along Interstate 5 (I-5) South with the option of heading onto OR-99E towards McMinnville and stopping for the night and exploring the town's breweries, wineries and coffee shops.
From McMinnville head back towards interstate and head towards Salem, Oregon, where you can stop in the city and walk along the river or for a bite to eat before continuing along to Eugene.
Here, you will have the option to make detours to Willamette National Forest. Head down south on the interstate towards Cottage Grove and Roseburgh, where you can visit Umpqua National Forest, if you aren't pressed for time.
Drive through Wolf Creek Park and past Rogue River-Siskiyou National Forest to cross into California and reach your destination in Redwood National Park.
The Coastal Route
To take the Coastal Route, leave Portland and head West on US-26W to OR-6W and then hit the coastal US-101. You will soon reach Rockaway Beach where you can stop for the first Pacific northwest beach views and explore the town.
Continue down the highway with the option of stopping at Tillamook Creamery and then spending the night in Pacific City where you can discover the beach and Kiwanda State Park.
Following the coast, head south to Charleston, a quaint small town with lots of maritime activities and food options, making it a great place to break up the trip before the final 3-hour stretch along US-101 to Klamath and then Redwood National Forest.
Best places to stop between Portland, Oregon and Redwood National Park
Both routes offer plenty of options for an overnight stay to break up the drive and explore a new Pacific Northwest town. Below are some of our recommendations.
Enjoy a scenic and relaxed stay at McMinnville
The Direct Route offers the opportunity to spend the night in the charming town of McMinnville, about an hour into the journey. After enjoying the Columbia Rivers viewpoints and waterfalls along your direct route, this is a great place to stop yet only 5 hours on to the destination.
McMinnville is famed for the wine produced in the area and it has a wonderful, relaxed feel with plenty of coffee shops and parks, which means this is a fabulous place to stop and relax on your way.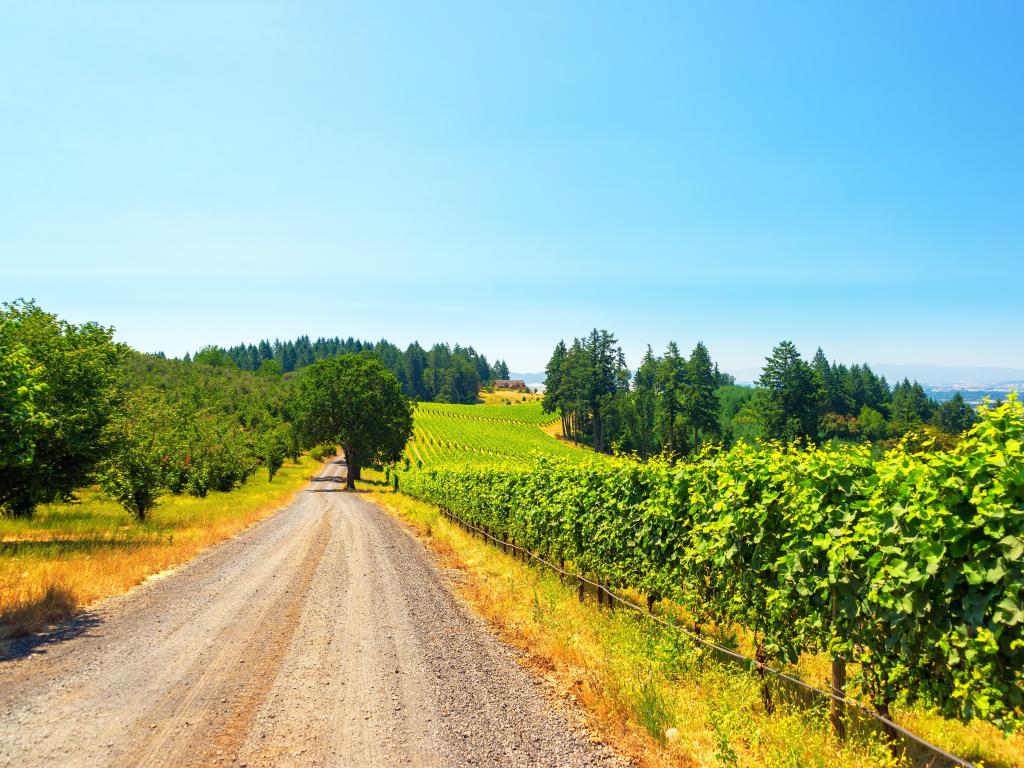 While staying in McMinnville, we recommend staying at the stylish Atticus Hotel. This beautiful hotel proudly boasts a fireplace in every room giving it that luxurious feel you may crave after a day of waterfall-chasing. Some of the rooms even offer balconies to take in the views.
The hotel offers amazing amenities such as locally crafted items such as bath products, furnishings and art. With an upscale restaurant and a fantastic bar to enjoy your favorite cocktail at, you won't be needing anything else during your stay.
If you'd like to visit the charming sights of McMinnville, the hotel offers free bikes to take a spin around this lovely town, and you can pick up a picnic to take with you from the Hotels 'grab-n-go' section to enjoy your day to the fullest.
Stopover in coastal delight Pacific City
The scenic Coastal Route offers an abundance of small ocean towns to stop along your drive. About 2 hours into the journey is the charming town of Pacific City, a beautiful, chilled, white-sand beach town with a laid-back vibe that is a great place to recharge after a day of exploring.
There are beautiful sea views, yet the town - like much of this area of the Pacific coast - is surrounded by cliffs and woodland scenery, a breathtaking combination. You might even want to stay here for a couple of days and explore the beautiful area, using Pacific City as your base.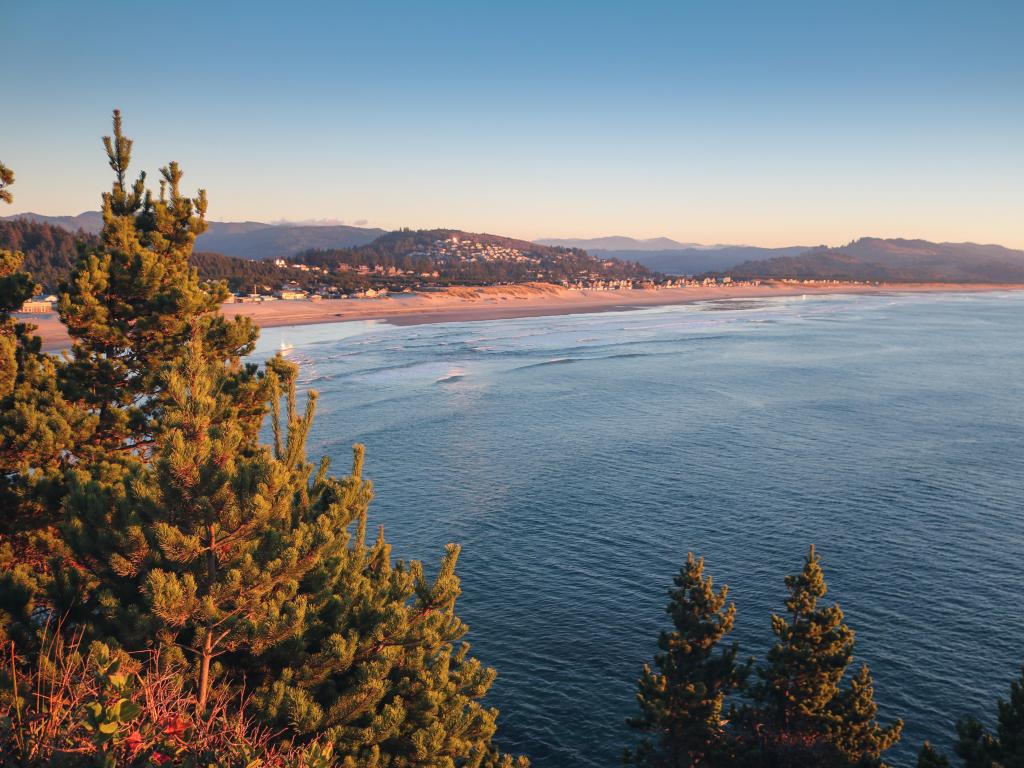 While in Pacific City we recommend staying at Headlands Coastal Lodge & Spa. The hotel's spa and wellness center includes an outdoor saltwater hot tub with amazing views you won't experience elsewhere.
When you are done admiring the scenery and pampering yourself, you can enjoy a meal in the hotel's exquisite restaurant where the food comes right from the ocean and local farms.
On winter evenings, you may get to enjoy the wonderful sight of the Semidi Islands Aleutian Cackling Geese that make the long trip from Alaska to the Pacific Coast each year, flying over the hotel to roost out on Haystack Rock - which guests can see out in the ocean from their rooms.
Where to stay when you reach Redwood National Park
On your final stretch to Redwood National Park, we have a couple of options. Our first recommendation would be to stay at the Ashland Hills Hotel.
While a visit to this beautiful, 1970's inspired hotel adds two hours extra driving time to your journey, however on this relatively short journey it is worth it for the luxury and relaxation on offer as the Redwood area doesn't have many hotels of such standard. Travelers may want to head straight here from Pacific City, then rise early for a full day of exploring Redwood National Park.
However, if you are just looking for somewhere to rest your head closer to the Redwood, then the Holiday Inn in Klamath is a great option - it is modern in style, has a pool, and is only 10 minutes or so from the North point of Redwood.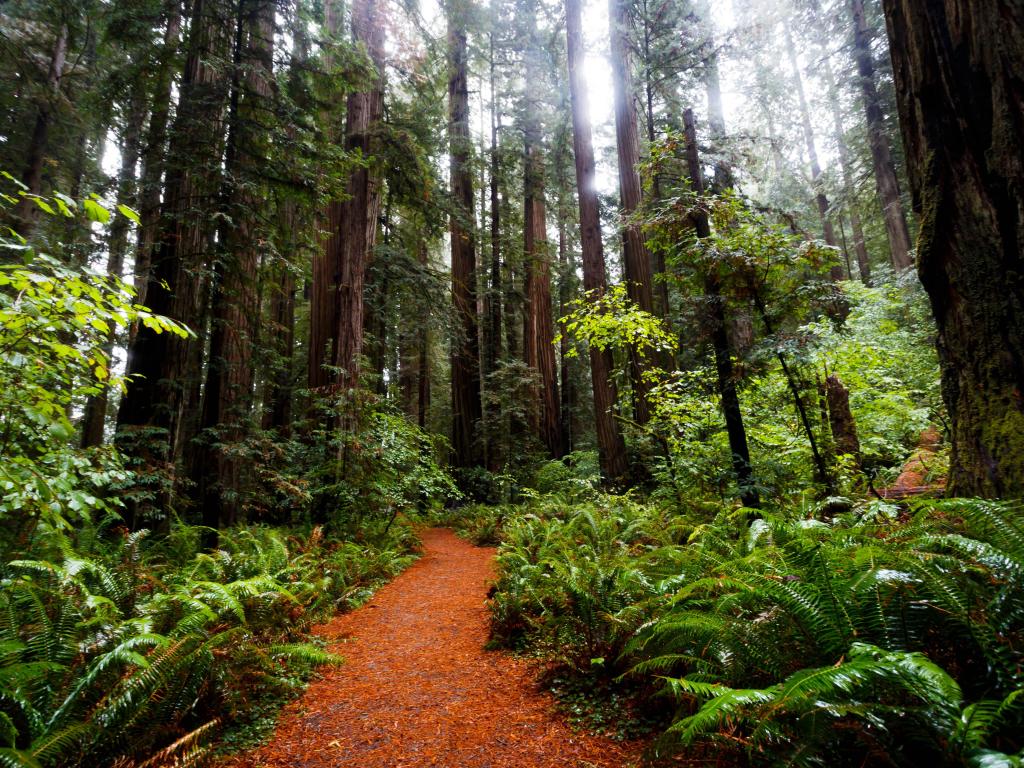 Things to see on a road trip from Portland to Redwood National Park
There is no shortage of options for places to stop, activities to try and beautiful scenery along each route of this drive. Below we list some recommendations along the way.
The Direct Route
Columbia River Highway - A jaw-dropping stretch along the Columbia River, whether you just want to soak up the scenery as you drive along, or search out every waterfall you can find, you won't be disappointed.
Evergreen Aviation and Space Museum - A vast museum dedicated to all things related to air and space, in which you can while away a whole day. If time is sparse, you can pre-book a one-hour tour. Includes a 3D theatre.
The Eyrie Vineyards - Start your overnight stay in McMinnville with a tour and tasting at this Pinot Gris/Noir family-run Vineyard.
Wings and Waves Water Park - Release your inner child at this epic water park including a wave pool, interactive areas, slides, with great families and plenty of food and beverage options.
River Front City Park - This beautiful park sits on the Willamette River and boats a glorious old-fashioned carousel. A short walk south through the park leads you to the Peter Courtney Minto Island Bridge, and the park's "Giant Globe" sculpture.
Cascades Raptor Center - View over 40 different birds of prey who are caringly looked after in this wonderful rehabilitation center and animal hospital *Strictly no animals on site or left in cars.
Mount Pisgah Arboretum - A great place to stretch your legs on your trip, and if feeling adventurous you can take 2-3 hours 4.5-mile hike for amazing views.
Oregon Caves National Monument - Take a tour through these fascinating natural caves in the Siskiyou mountains; over the years, acid mixing with water on the marble rocks has created the most wonderful sight. Book ahead and bring a coat.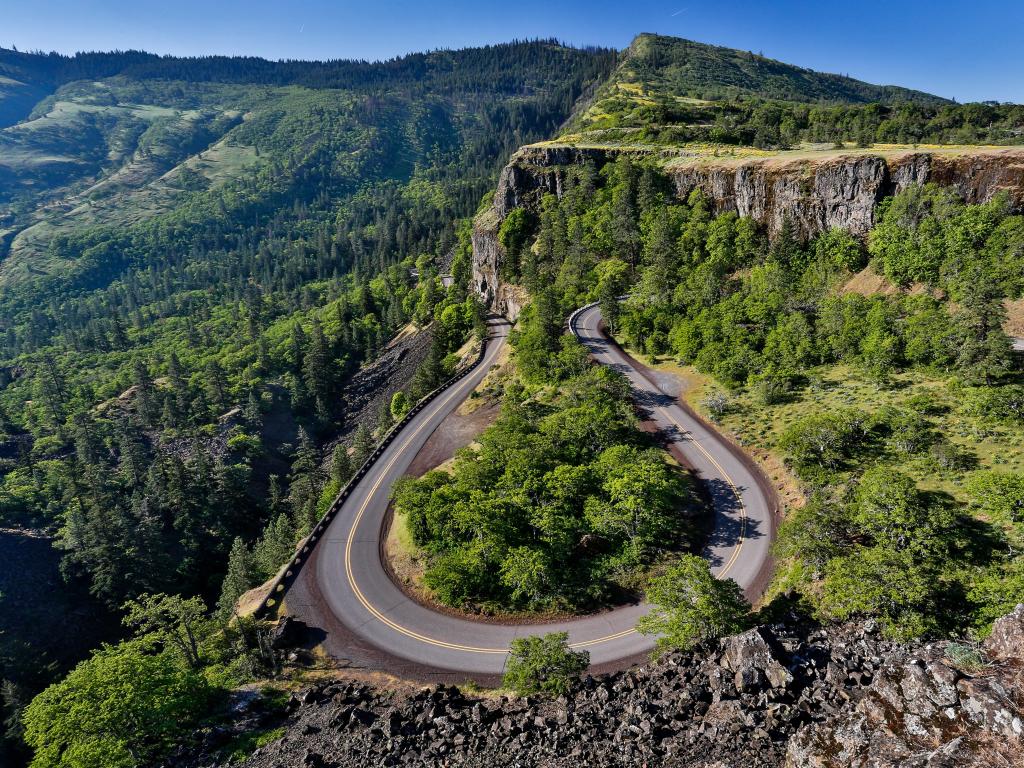 The Coastal Route
Oregon Coast Scenic Railway - Enjoy a trip on an old-fashioned steam train and take in the sights of Rockaway as you go.
Rockaway Big Tree Trailhead - A Jurassic-style park with colossal size trees. Be sure to take it slowly to take it in, there is so much to see.
Tillamook Creamery - If cheese is your thing, a stop here should be on the list, a self-guided tour allows you to learn about the heritage of the factory, whilst stopping to enjoy the delights. Top tip - a midweek visit allows you to see the factory in action.
Cape Kiwanda State Natural Area - A stunning sea-facing state park with vast sand dunes, climb to the top for the most incredible views. Reviews suggest visiting at low tide to discover some incredible sea life on the shore.
Neskowin Ghost Forest -This majestic patch of the Oregon coast is a sight to behold. Remnant stubs of the Sitka Spruce Forest eerily lie near the famous Proposal Rock. A visit at low tide is highly recommended.
Devil's Punch Bowl - This natural rock formation at Otter Rock is an incredible sight, try your luck at entering the bowl but only when the tide is at its very lowest, or just enjoy the incredible scenery of the waves thundering dramatically through the natural wonder.
Umpqua River Lighthouse - Winchester Bay's 19th Century Lighthouse offers a museum, sea views, tours and a great gift shop. Reviewers praise the tour guides' knowledge. Visitors can enter right inside the lighthouse lens, giving a unique experience.
Charleston - A beautiful small town which offers a host of maritime activities from crabbing to surfing, and Marine Life Center. Plenty of local food outlets so a great place to break the journey.
Hummingbird Winery -A decadent winery set deep in Oregon's picturesque countryside not far from your destination hotel. Taste the fruits of their labor whilst enjoying a tasting board and enjoying the views.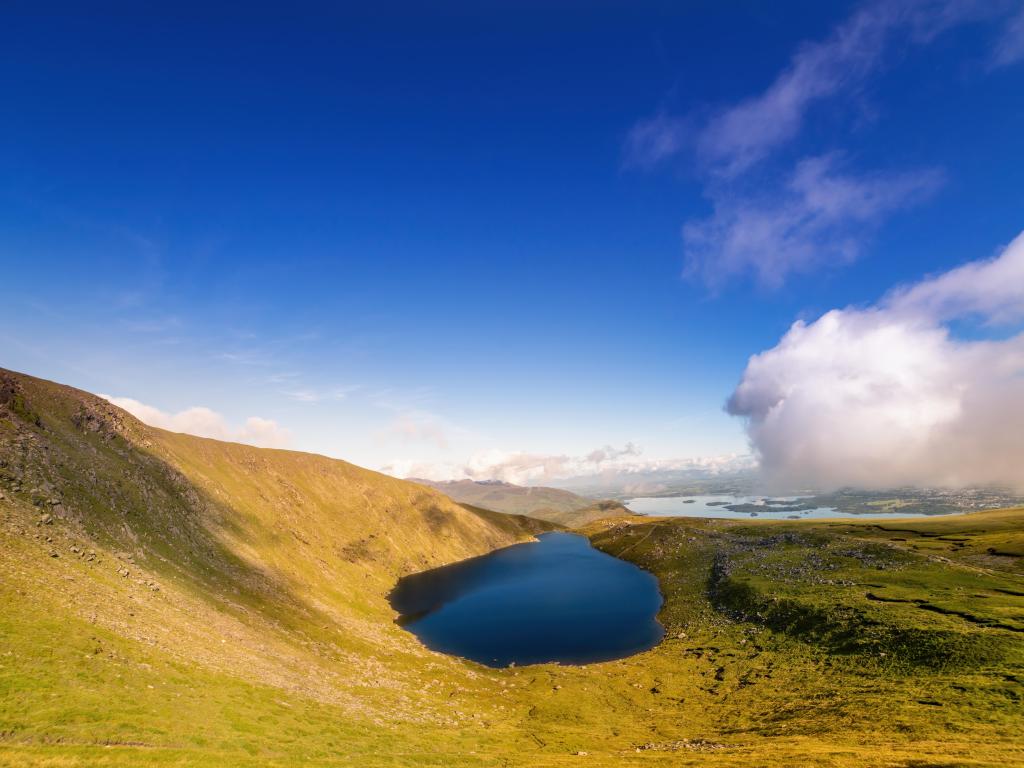 Best time to go on a road trip from Portland, Oregon to Redwood National Park
Due to its coastal location, Redwood National Park is a popular year-round destination. What may determine the time of year you plan your trip is whether you prefer to hike in warmer climates or cooler weather.
The actual temperature doesn't have a vast range, average summer highs of 66 degrees Fahrenheit and winter lows are 45 degrees Fahrenheit. Regardless of when you travel, dress in layers and pack for all eventualities.
Summers are mild with temperatures around 63 degrees Fahrenheit, and you can expect to see the odd foggy day due to the cold North Pacific Ocean waters merging with the sun-warmed land, but this precipitation allows for the forest to flourish in the way that it does.
Events in the summer include Redwood Coast Music Festival - a four-day music festival in late summer in the Eureka area.
Winters are cooler but still mild with temperatures ranging between mid-40 and 50 degrees Fahrenheit and rain is likely, but that doesn't put visitors off, as winter can be a beautiful time to visit Redwood.
You will see beautiful fall foliage and spring blossoms on the way, even though Redwood National Park itself homes evergreen species. This is especially true if you follow the Direct Route and make detours to the stunning national forests of Oregon.