Road Trip from Seattle to Redwood National Park
Perfect for avid hikers and nature lovers, the road trip from Seattle to Redwood National Park will take you through mountain ranges, dormant volcanoes, riverside towns and cities, plus awe-inspiring national forests with stunning optional coastal detours along the way.
The 500-mile road trip from Seattle to Redwood National Park takes 9 hours to drive. Key stops include Olympia, Portland, Salem, Eugene, Castle Rock and Coos Bay plus Mt Hood National Park, Oregon Caves, Wolf Creek Park and Crater Lake National Park.
To help you make the most of the trip, we've set out the best routes and places to stop overnight, as well as our favorite things to do along the way and the best time of year to make the drive from Seattle to Redwood National Park.
How far is Redwood National Park from Seattle, and how long will the road trip take?
Comparison of road trip routes between Seattle and Redwood National Park

| Route | Distance | Driving Time |
| --- | --- | --- |
| The Direct Route | 500 miles | 9 hours |
| The Coastal Detour (on the Direct Route) | 550 miles | 10 hours 40 minutes |
| The Volcano Detour | 630 miles | 11 hours 50 minutes |
There are some great routes you can follow between Seattle and the stunning Redwood National Park. The most direct of our recommended route covers a distance of 500 miles and will take you 9 hours to drive without stopping.
You could add an optional coastal detour to this Direct Route which would take you along the beautiful Oregon coast. This optional detour will add around 50 miles to your overall journey and 1 hour and 40 minutes to the drive time.
A further inland route which takes you past more mountainous terrain is slightly longer and spans a distance of 630 miles. This route will take a minimum of 11 hours and 50 minutes to drive without stopping.
Given the sheer number of stunning views, attractions, cities and landscapes that you'll pass between the state of Washington and California, you are going to need to put aside a few days to visit as many as you can along the way.
We'd recommend spending a minimum of four to five days on this road trip. By spreading out the driving into manageable chunks and including a couple of overnight stops along the way, you'll really get a chance to immerse yourself in the stunning landscape.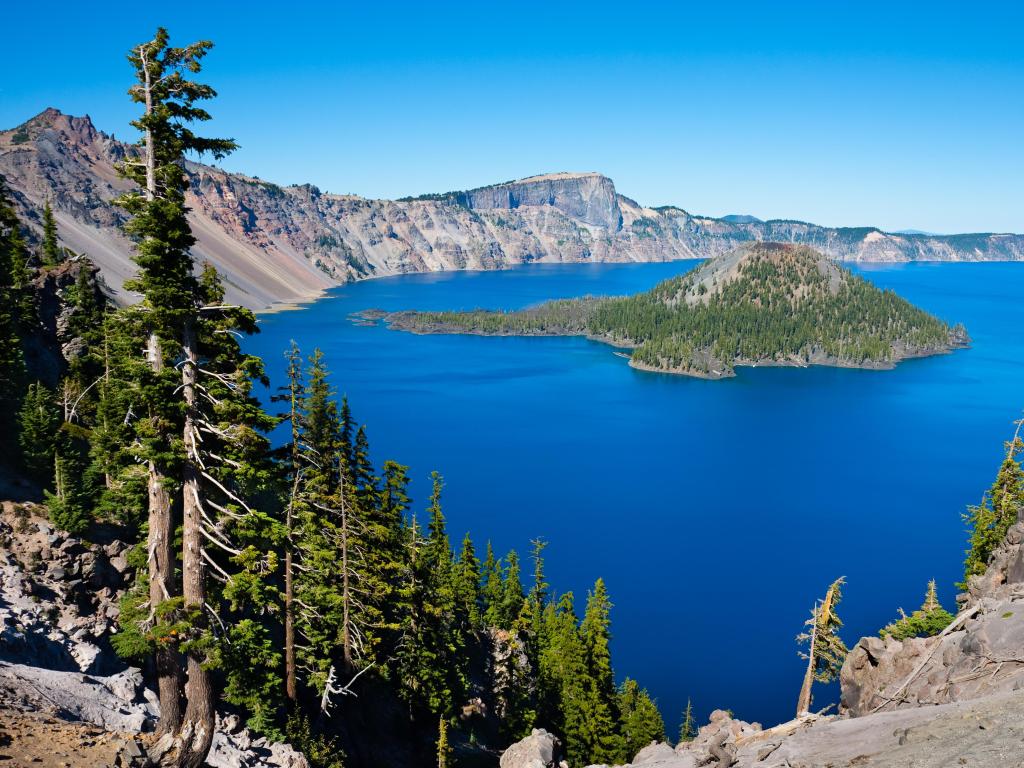 Best road trip route from Seattle to Redwood National Park
The best route from Seattle to Redwood National Park will really depend on what you're looking to get out of this trip. If you're limited on time, then our direct option is a solid choice.
Passing through Portland, Salem and the beautiful scenery of multiple national parks, you'll still get a great mix of bustling cities, quaint towns and natural landscapes, including Wolf Creek Park and Grants Pass.
If you'd like to add a beach vibe to your road trip, then the Direct Route gives you the added bonus of being able to include a coastal detour. Instead of heading to Salem after Portland, the detour route takes you Coos Bay via Tillamook and along the stunning coast.
For the avid hiker looking to leave the bustling city behind and get lost in nature, our Volcano Route option is perfect for you. This longer route takes you via mountains, lakes and plenty of stunning national parks. There are hiking trails and natural beauty galore on this awe-inspiring option.
As well as passing Mt Hood National Park and Crater Lake National Park, you'll also get a city fix at Olympia, Portland and Castle Rock. This option isn't ideal if you're hoping to catch a view of the coast and you may experience some road closures around Crater Lake during winter.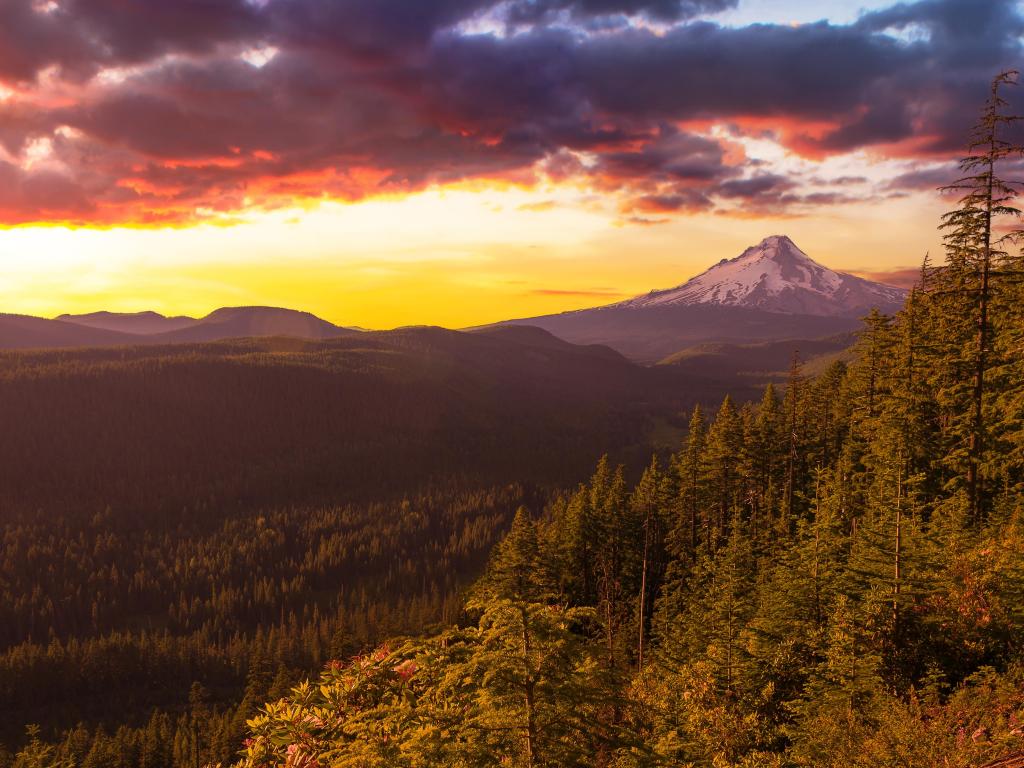 The Direct Route
To follow the Direct Route, you'll need to leave Seattle on Interstate 5 (I-5) and head south towards Tacoma, a beautiful port city with stunning views. Continue on the interstate as you pass Olympia and Capital State Forest.
Follow I-5 through several more towns, including Castle Rock, which sits at the foot of Mt St Helens. Follow the Columbia River and follow signs for Vancouver before reaching Portland, Oregon, an ideal spot for your first overnight stop.
From Portland you can detour to follow our optional coastal route. Take OR-6 West to the town of Tillamook on the Oregon Coast. Continue to follow OR-6 past Siuslaw National Forest to Coos Bay where you'll join US-101 South past Gold Beach, Brookings and to Redwood National Forest.
If you'd rather avoid the coastal path or have less time, you can continue on I-5 South out of Portland and pass Salem, another fantastic city to explore.
Continue south through several more towns before reaching Eugene, a city full of interesting museums and art collections. Afterwards, continue south on the interstate through several towns to Roseburg. Stop here for a detour to Umpqua National Forest if you'd like to stretch your legs.
A little down you'll pass Myrtle Creek, Canyonville and drive through Wolf Creek Park, an ideal location for a hike, picnic or just to enjoy the natural surroundings.
Take Exit 58 just before Grants Pass and join US-199 South on the outskirts of the Rogue River-Siskiyou National Forest and into the state of California. Continue on US-199 to Jedediah Smith Redwoods State Park and your final destination of Redwoods National Park.
The Volcano Route
Our inland Volcano Route takes you the same direction out of Seattle as the Direct Route. Follow I-5 South through Tacoma, Olympia and Castle Rock. Continue south to Vancouver and stop at Portland for an early overnight rest.
From here your route will divert from the one above. You'll need to leave the city of Portland on I-84 East to Exit 16, where you'll join US-26 East through Sandy and to Mount Hood Village, an ideal base for exploring Mt Hood and Mt Hood National Forest.
Continue east on US-26 through the mountains and to Warm Springs, and Madras. Here you'll join US-97 South through several towns including Bend, another ideal overnight stop to explore the many nearby volcanoes on foot.
Still on US-97, continue south past Paulina Peak and Beaver Marsh. You can take a short detour here to visit Klamath Marsh National Wildlife Refuge or turn right onto OR-138 West.
Stop here for a visit to Crater Lake, a simply stunning spot with pristine waters surrounded by a rugged landscape. Afterwards, take OR-230 South before joining OR-62.
Next turn right at OR-234 before switching to OR-99 to Exit 55. Continue on US-99 to Grants Pass before continuing on SW 6th St which will take you through Rogue River-Siskiyou National Forest and Pacific Coast Ranges and to your final destination.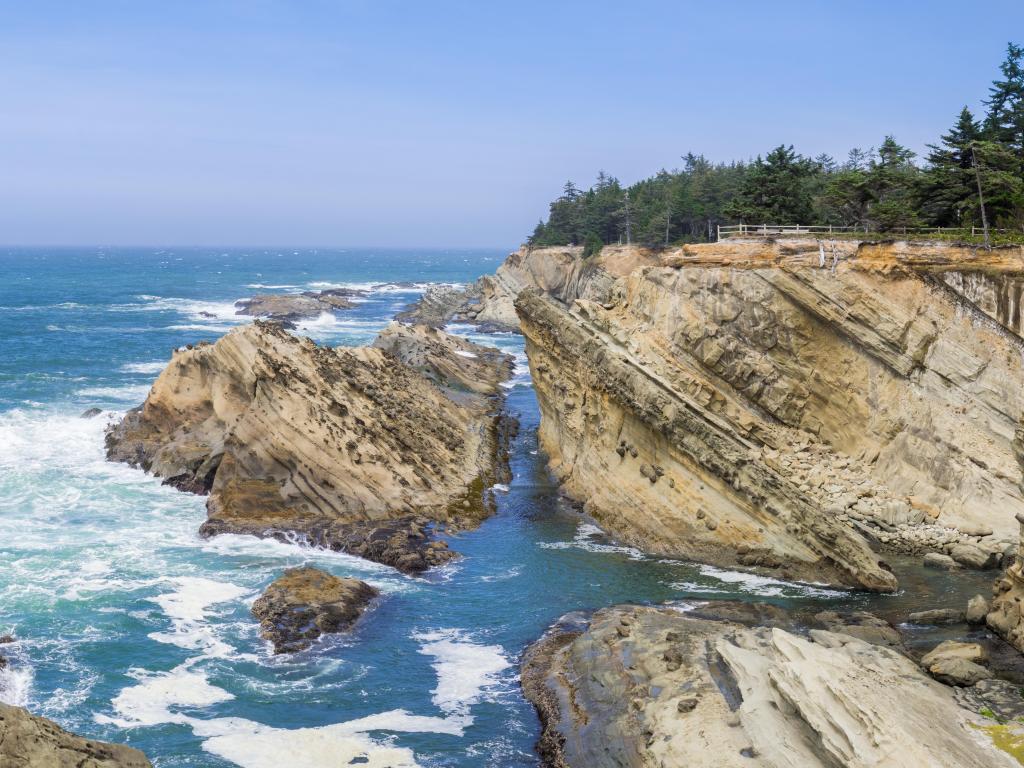 Best places to stop between Seattle and Redwood National Park
You'll be spoilt for fantastic locations and hotels between Seattle and Redwood National Park that will make memorable stops on this epic road trip.
Of all the fantastic hotels you'll pass, these are the ones we think you should keep an eye out for:
Enjoy the greenery in Portland
An ideal stopping location on both our Direct and Volcano Route is Portland, Oregon. Located just 4 hours into the drive from Seattle, as both routes pass through the city, it's both convenient and a super city in its own right to explore.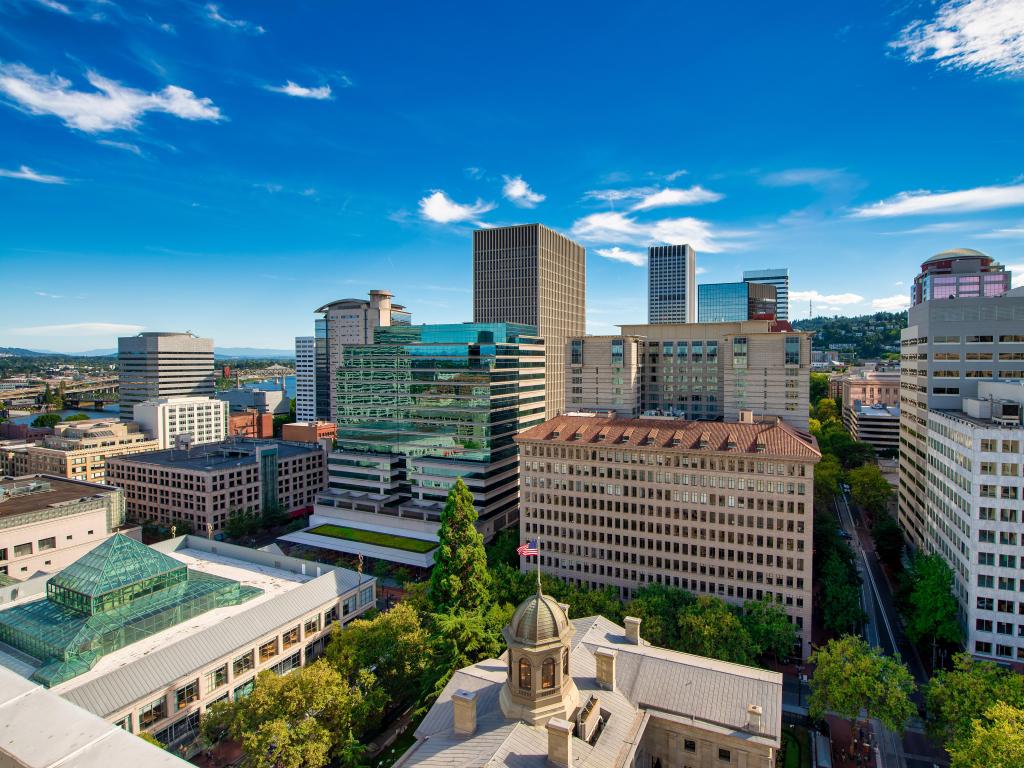 Just an hour from Castle Rock, staying in Portland will give your legs a chance to recover from the Castle Rock hike, whilst giving you the opportunity to enjoy the city's nightlife and culture.
Known for its fantastic food and coffee culture, Portland also has breathtaking views. While here, make sure you pay a visit to Washington Park which features a Japanese Garden and Oregon Zoo. There's also a fantastic Art Museum if you are looking to spend some time indoors.
An ideal hotel for making the most of the city's great attractions is the Hotel Lucia, a Provenance Hotel. This central hotel is the perfect place to unwind and enjoy Portland's incredible food and drink scene.
Enjoy the Pulitzer-prize winning photography that adorns the common spaces of this hotel, stretch your road-tripping legs in a complimentary fitness class or join the hotel for the nightly Craft Beer Hour.
As an added bonus you're just a short walk from Pioneer Place shopping center, Portland Art Museum and two miles from Washington Park. With secure parking, modern rooms and an ideal location, this hotel ticks every box.
Sleep among the volcanos in Bend
Just under six hours from Redwood National Park on our Volcano Route, Bend is a lesser-known small city in Oregon. Don't let that put you off however, its stunning location and ideal position on this route make Bend a super final stop.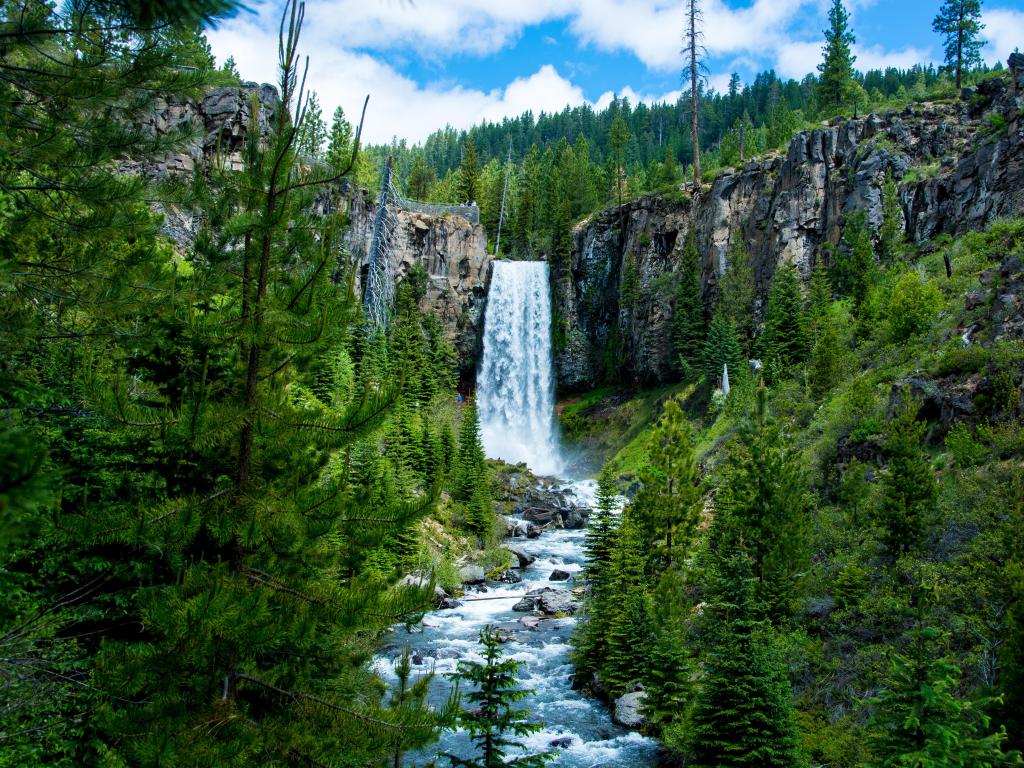 Surrounded by extinct volcanoes, lakes, forest walks and out of this world natural scenery, this small city is a great stop for hikers and nature lovers. From Bend, you can explore Pilot Butte, a 500-foot volcano ideal for hikers or enjoy the Bend Ale Trail, a famous bar crawl.
For something more adventurous, you can take to the waters on a canoe and see if you can spot local wildlife such as otters and eagles. There is also excellent entertainment in the Old Mill District where you can find great shops and restaurants at the heart of bustling Bend.
One of the best hotels in this part of Oregon has to be Waypoint Hotel. Here you can take a refreshing dip in the swimming pool following your volcano hike, relax in the outdoor hot tub, before enjoying a delicious meal at the onsite restaurant - the Black Bear Diner.
This modern and stylish hotel is just a short trek to the National Volcanic Monument, plus many of Bend's restaurants and shops are within a three-block radius, making it a perfect base for exploring the riverside town.
Stay at the edge of Redwood National Park
When you reach Redwood National Park you will be ready for a great resort to stop at, before exploring this stunning woodland. This Californian national park is home to the world's tallest trees, many of which are over 300 feet tall and 2,000 years old.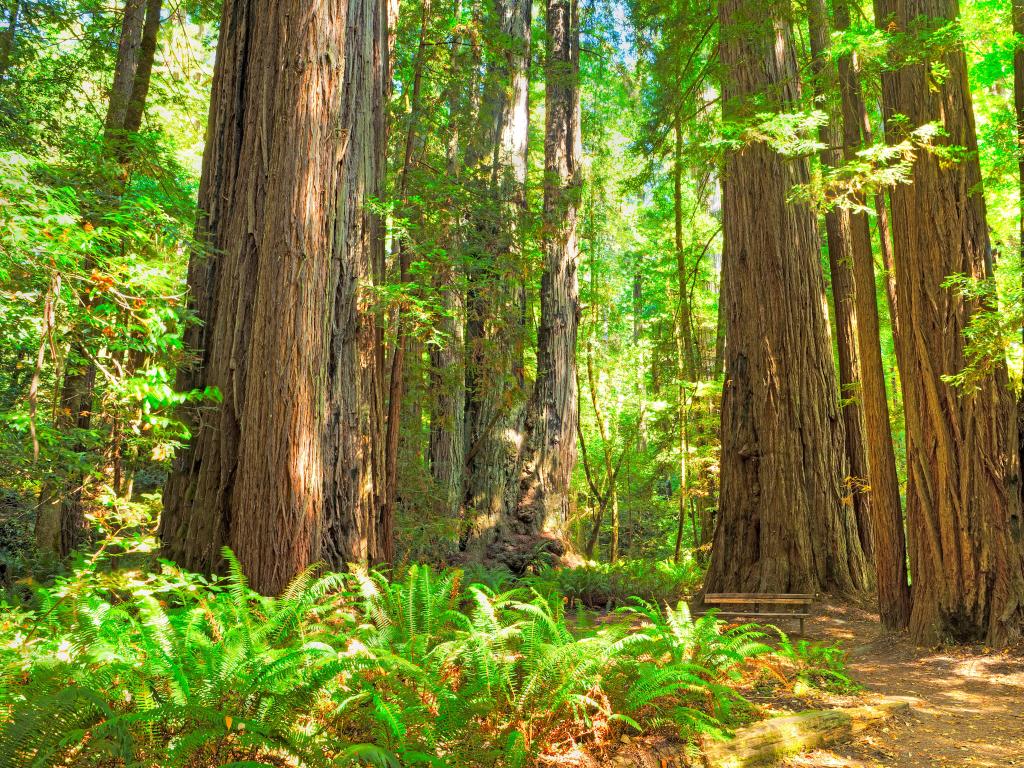 The incredible redwood trees are a huge tourist draw in their own right, but the park offers so much more besides. Just some of the things you can do while visiting include hiking trails, scenic drives, stunning beaches and incredible wildlife sightings.
To make the most of your visit, check out its visitor center to learn more about this fantastic park.
After visiting Redwood National Park, a stop at the Holiday Inn Express Redwood National Park, an IHG Hotel is a convenient and comfortable option. With plenty of rooms available and a beautiful indoor pool, you'll get plenty of rest at this hotel before another day of exploring.
It's really the location of this hotel that makes it really stand out from the crowd. Uniquely situated on the edge of Redwood National Park and a short drive from the Pacific Coastline, you can be in the heart of nature within minutes of leaving your room.
Things to see on a road trip from Seattle to Redwood National Park
There's so much to see on the road trip from Seattle to Redwood National Park, including bustling cities, quaint towns, stunning parks and coastal roads, as well as mountains and volcanoes to explore.
If you are limited on time, here are a few of our favorite things to see along the way to help you plan your trip: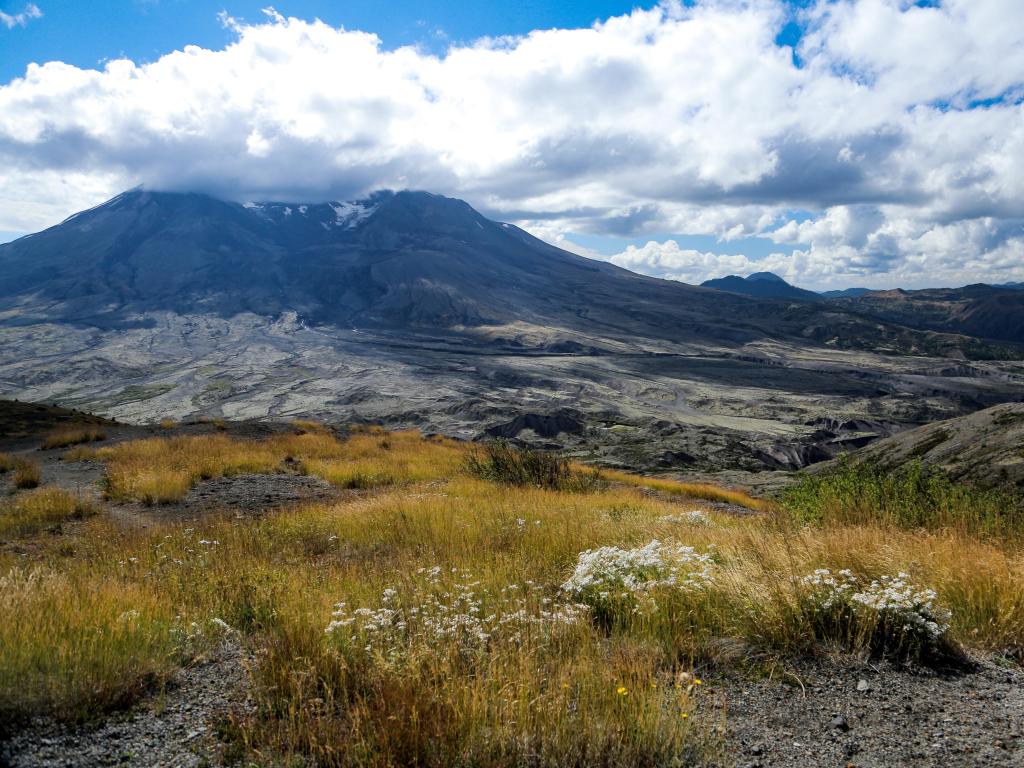 Both routes
Tacoma - A port city with beautiful views of Mt Rainer, Tacoma is famous for its Museum of Glass which features works from the well-known Dale Chihuly.
Washington State Capitol Building - Completed in 1928, this historic landmark rises brilliantly above the city skyline. Free tours of the lavish interior are available daily and visitors can stroll the grounds taking in the Botanic Gardens and Governor's Mansion.
Castle Rock - Sitting at the foot of Mount St. Helens, this small city is home to the Spirit Lake Memorial Highway and the Mount St Helens National Monument. The Memorial Highway memorialises the 1980 eruption of the volcano and allows magnificent views of the hole left by the eruption.
Portland Japanese Garden - The Japanese Garden is thought to be one of the most authentic gardens outside of Japan and includes a Japanese Tea House and unrivalled views of Mt Hood.
Voodoo Doughnut, Portland - Get ready to forget everything you thought you knew about doughnuts! Open 24 hours a day, 7 days a week, this sugary store services all your doughnut needs, featuring some unusual combinations and solid fan favourites.
White Water Rafting on the Rogue River - With Class I and II rapids, people come from far and wide to experience this wild river. Take advantage of one of the many tour companies and book yourself onto a rafting session for an experience you'll never forget.
Wildlife Images Rehabilitation and Education Center, Grants Pass - Get up close and personal with Oregon's wildlife and find out about the work being done to care for the area's sick and injured animals.
Oregon Caves - Take a detour at Cave Junction, known as the gateway to the Oregon Caves to go underground on a cave walk tour. See stalagmites and stalactites on this 2-hour-long tour.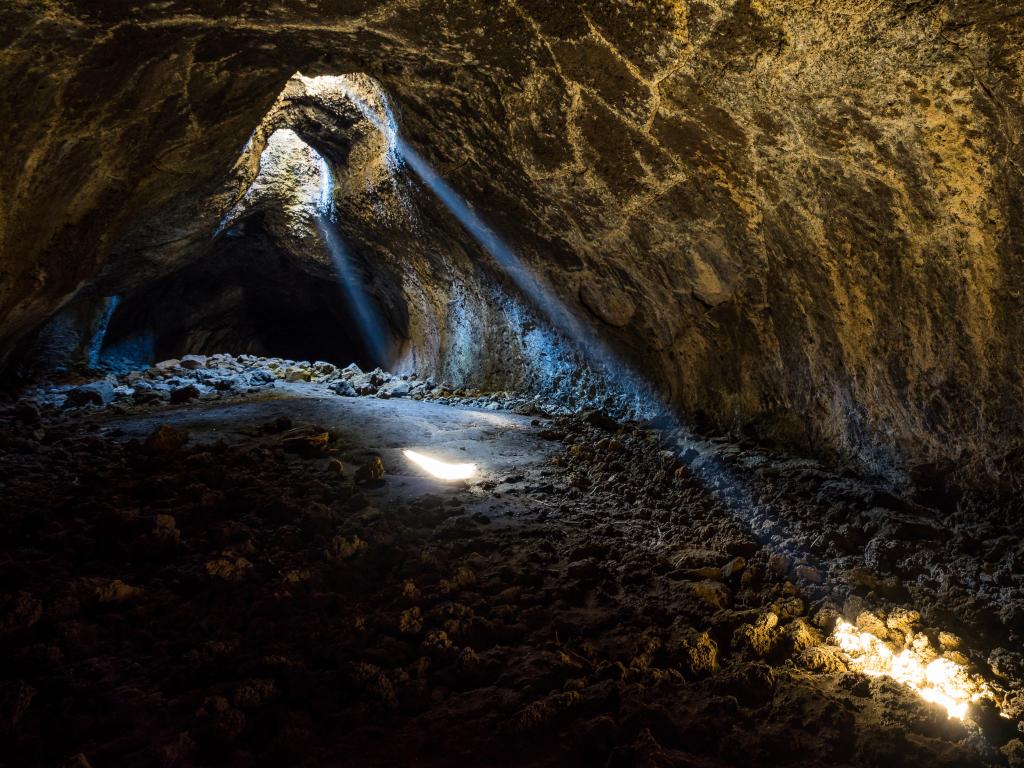 The Direct Route / Coastal Detour
Hallie Ford Museum of Art, Salem - Embrace creativity and visit the only Liberal Art Museum in the Northwest. The museum's collections range from Classical to modern masters and is significant for its diverse collection of Pacific Northwestern and Native American artists.
Willamette River Bike Trail, Eugene - Enjoy the beautiful riverside town of Eugene and take in superb natural scenery. Rent bikes to cycle the six-mile bike trail along the Willamette River.
Wolf Creek Park - Perfect for a quick picnic break, this park is hidden away in the mountains of southern Oregon. Stretch your legs on a hike or refresh with some wild swimming.
Siuslaw National Forest (Coastal Detour only) - This stunning forest sits along the Oregon coast and runs from Coos Bay to Tillamook. You'll discover rivers ideal for fishing and great trails with stunning views along the way.
Coos Bay (Coastal Detour only) - This Oregon city is located where the Coos River enters the Pacific Ocean. It has an artistic vibe while the historic buildings, theaters and shops make it a great place to visit.
Umpqua National Forest - Found on the western slopes of the Cascade Mountains, this national forest borders Crater Lake National Park. Discover its many waterfalls, variety of picnic areas and great opportunities for hiking.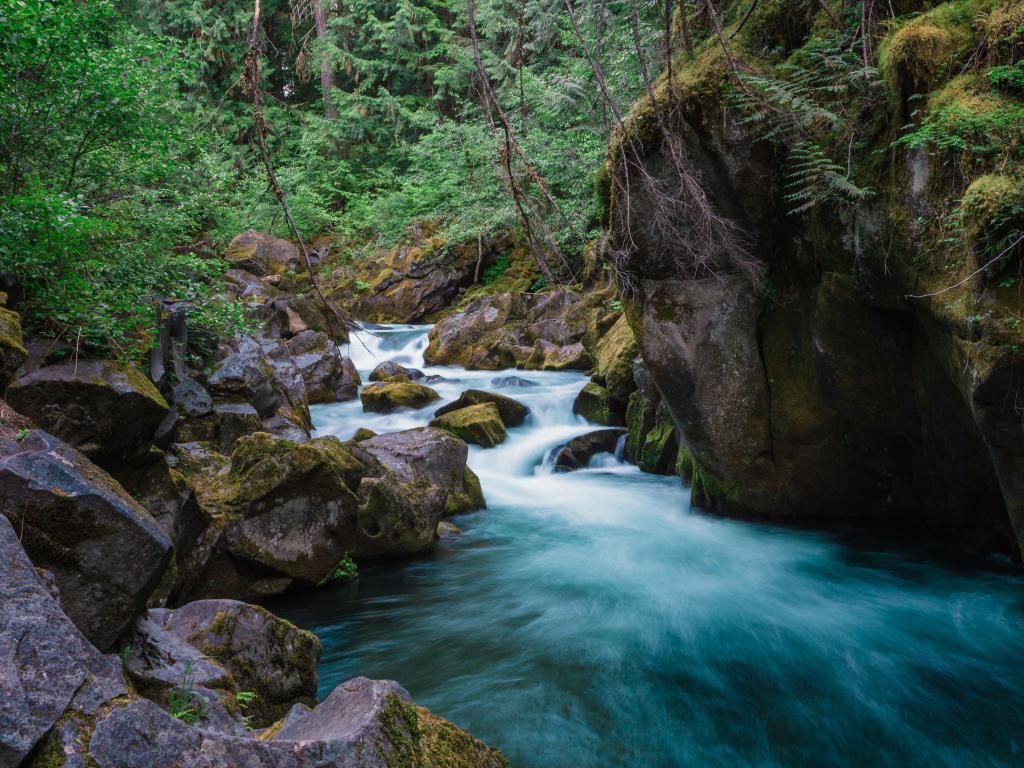 The Volcano Route
Mt. Hood National Park - Marvel at the state's highest peak and hike through lush fruit fields and thick fir forests. You'll get fantastic views that make the hike worthwhile.
Newberry National Volcano Monument - Hike up an extinct Volcano, explore vast plains of lava flows and lakes and brush up on geological knowledge. Located in Bend, OR this day out offers a range of hikes, nature viewings, biking and fishing.
Crater Lake National Park - Experience the deepest lake in the USA, formed in the crater of an extinct volcano. Pristine blue water awaits atop the Cascade Mountain Ridge. Enjoy epic drives around this national park or take a boat out on the water to get a different view of staggering rock formations.
Pearsony Falls - Located just outside Prospect along Oregon Route 6, here you can explore the peaceful cascading falls on this short hike.
Peyton Bridge - Stop to enjoy this historic bridge which is nearby Tie Creek and Needle Rock in Oregon. It offers stunning views of the tranquil landscape.
Alpacas at Lone Ranch - For a more unusual stop, meet some friendly Alpacas at this family-friendly ranch. Ensure to book ahead for tours.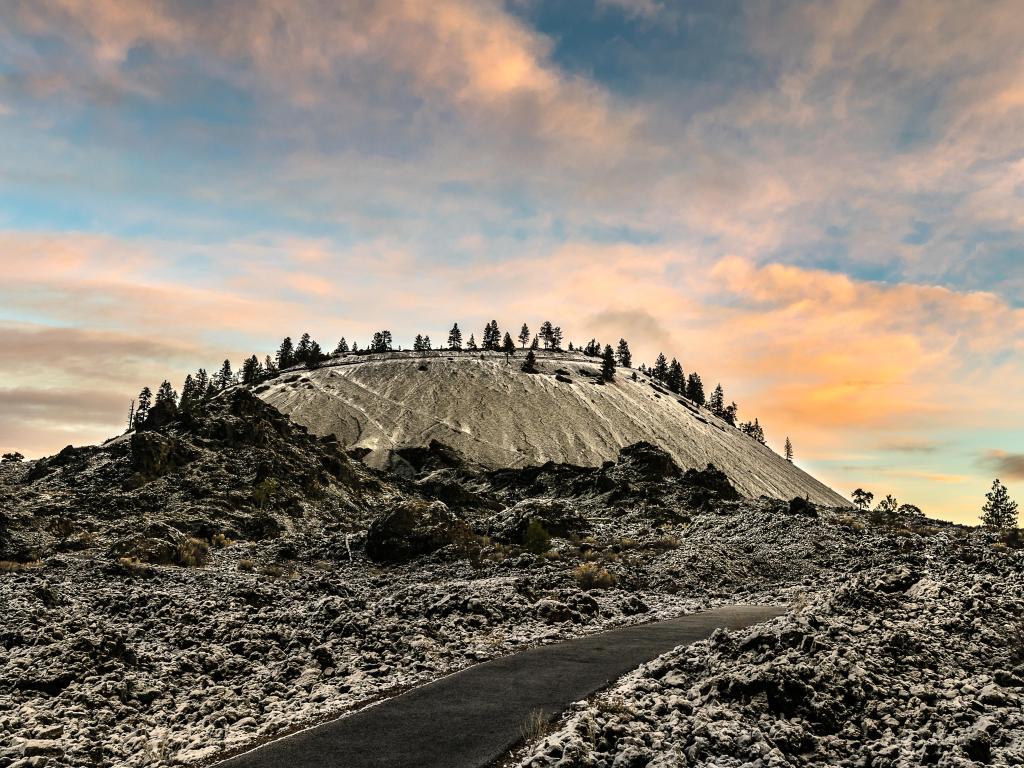 Best time to go on a road trip from Seattle to Redwood National Park
Thanks to its temperate Pacific climate, Redwood National Park is accessible all year round, although the winter months can suffer from being too wet to hike. Temperatures range from 40 to 60 degrees Fahrenheit all year round.
Summer is the most popular time to go, and so locations and roads are likely to be very busy. For the least chance of rain plan to go in July and August, while the best hiking can be had in May through to September. Temperatures will still be a pleasant average of 63 degrees.
In contrast, Oregon is a wet winter state. You can expect a lot of snowfall in the mountains, meaning that some of the Volcanic Route will be difficult to plan in the coldest months. That said, Redwood National Park in the winter can be a fantastic destination as it experiences milder winters than the rest of the country.
Maple and Alder trees in the Pacific Northwest will make a fall road trip spectacular, meanwhile, Redwood National Park itself will come alive with the orange, red and yellow hues of autumn.
Meanwhile, spring is another excellent option for this road trip. Expect pretty wildflowers, and warm temperatures (averaging between 56 and 60 degrees) ideal for hiking, the shoulder months also mean quieter cities and tourist hot spots and better hotel rates.
There are lots of great festivals held around Redwood National Park, if you're looking to combine your trip with a memorable event or two, including the Redwood Coast Music Festival held between September and October.