Road Trip from California to Alaska
If you're looking for a real adventure that takes you along a road less travelled, why not make the epic road trip from Los Angeles to Alaska, the largest US state. With stunning mountain and tundra landscapes and rugged icy coastline, Alaska is a unique part of the country.
It takes 86 hours to drive the 4,660 miles from California to Alaska via Big Sur, San Francisco, Redwood National Park, Portland, Seattle and Vancouver en route to the Alaska Highway to visit Fairbanks, Denali National Park, Anchorage and Seward.
This is a road trip full of contrasts, from the sunny Californian coast to the harsh winters and midnight sun of Alaska. Along the way you'll experience hundreds of miles of the stunning Pacific coast, the forest-covered mountains of British Columbia, and some of the west coast's most vibrant cities.
How far is Alaska from California, and how long will the road trip take?
There's no hiding the fact that Alaska is a long way from Los Angeles. It's around 3,530 miles from California to Tok, the first major settlement after crossing the border, and it will take around 67 hours to get there.
That's assuming you want to see some of the California and Oregon Coast along the way, taking the scenic Highway 1 through Big Sur and Redwood National Park. It's possible to skip this scenic option though and join the interstate north of Napa to reduce the journey time to Vancouver by 7 hours.
Once you've arrived in Alaska, a circuit from Tok through some of the state's main attractions will take just under 20 hours to drive as it's a 1,130-mile loop. See the table below for the distances from California to some of the major destinations in Alaska.
Distances and driving time from Los Angeles, California to popular destinations in Alaska

| Destination City/Landmark | Distance | Driving Time |
| --- | --- | --- |
| Tok | 3,525 miles | 67 hours |
| Fairbanks | 3,725 miles | 70 hours 20 minutes |
| Denali National Park | 3,850 miles | 72 hours 30 minutes |
| Anchorage | 4,085 miles | 76 hours 30 minutes |
| Seward | 4,210 miles | 79 hours |
| Glenallen | 4,515 miles | 84 hours |
| Mentasta Lake | 4,610 miles | 86 hours |
There's a limit to how far roads will take you in Alaska – if you want to see the further reaches of this huge state, you'll need to take a sightseeing plane to get out towards the more remote national parks and preserves.
In theory you could complete this trip in a fortnight – drive for 10 hours a day to reach the Canada/Alaska border then you have another week to visit Fairbanks, Denali National Park, Anchorage and Seward.
Seeing as this is probably a once-in-a-lifetime trip though, you'll probably want to take more time to enjoy the places along the way.
We'd suggest at least a week to enjoy the California and Oregon coast and spend time in the cities en route to Seattle. Then, crossing into Canada there's plenty to explore as you head through Vancouver and British Columbia, followed by a long drive to reach the border near Tetlin National Wildlife Refuges.
You'll need at least two weeks to complete the circuit around Alaska when you finally arrive in the state. The weather in Alaska can be unpredictable even in summer, so this gives you some flexibility during your trip to avoid missing out on some of the big attractions.
If you're tied down to a rigid schedule you might find that cloud cover hides much of Denali National Park, strong winds ground your sightseeing plane and rough seas dominate your whale watching trip. Build in some extra days and use that time to relax and appreciate the vast and peaceful landscapes around you.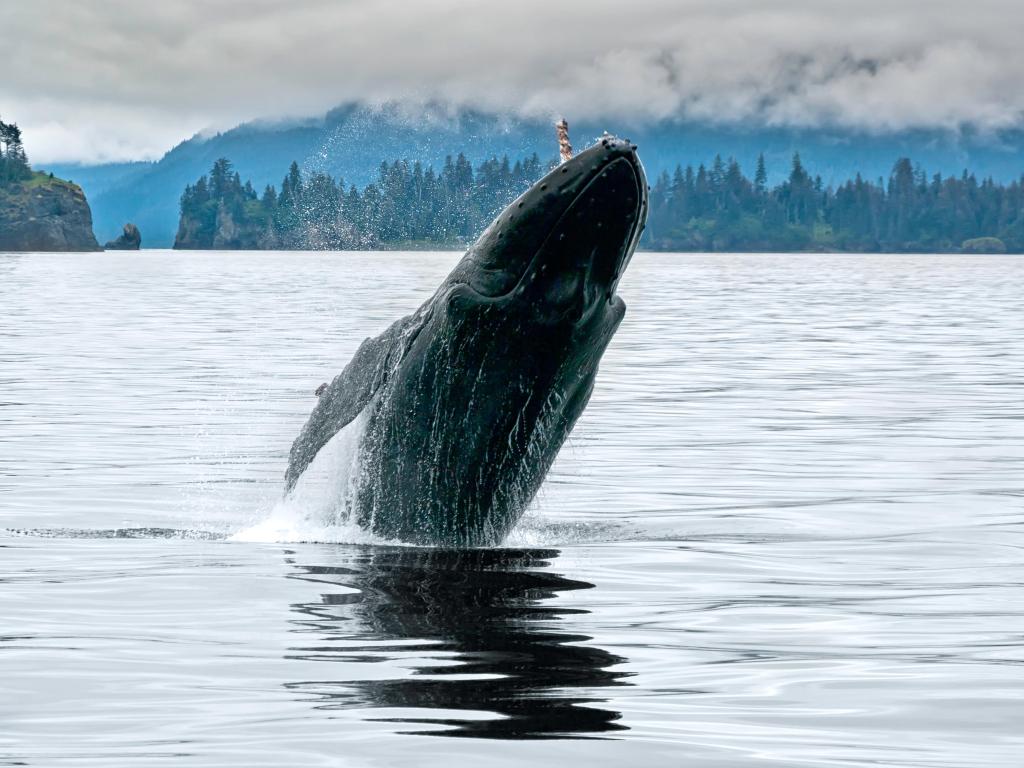 Best trip route from California to Alaska
There are very few roads to Alaska - if you're travelling from the south the Alaska Highway is the main route into the state, so the road trip route from California to Alaska first has to get you there.
Travelling via the coast through California, Oregon and Washington lets you appreciate the changing landscape - you'll really feel the contrast by the time you arrive in Alaska.
Our suggested route goes via beautiful Big Sur then, after the Napa wine country, heads back out toward the coast at Redwood National Park. From here it follows the Oregon coast, where the weather and the landscape can start to feel a little wilder.
Crossing into Canada between Seattle and Vancouver, you'll have the chance to enjoy these two buzzing cities before you travel through the rugged landscape of the Fraser Valley.
From here the route starts to feel much more remote as you travel through Yukon and on to the Canada/Alaska border on the Alaska Highway.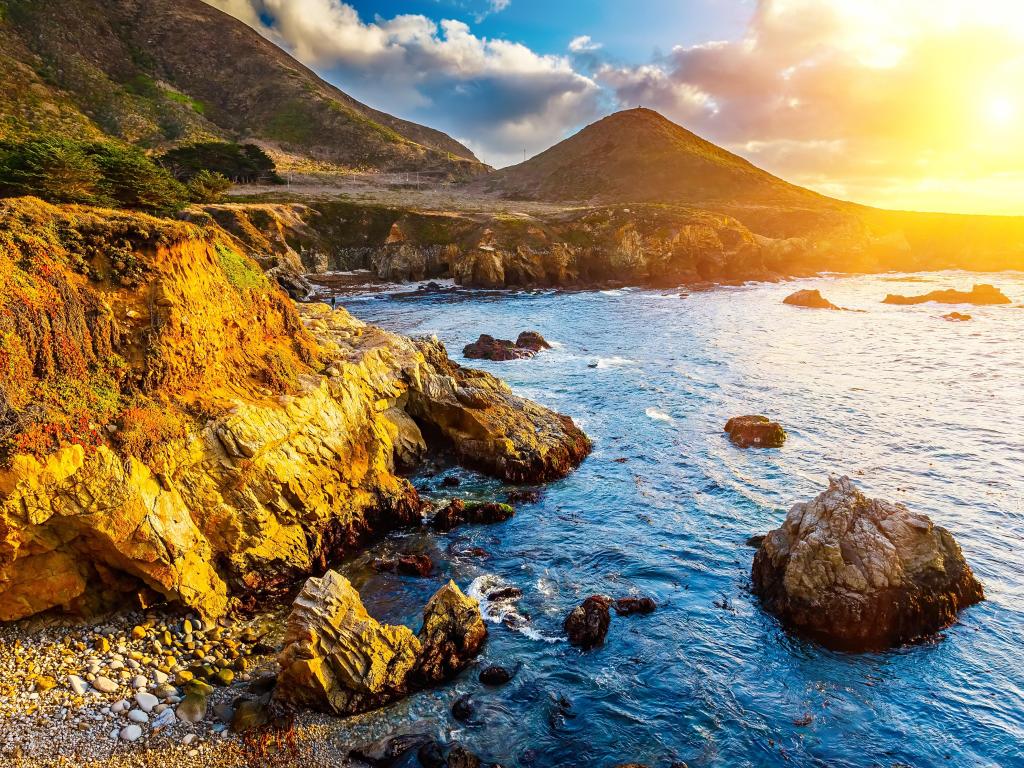 Note that, although you can turn off the Alaska Highway and head south towards Haines in Alaska, the limited roads in the southern part of state mean that we don't recommend this route – after Haines you'd have to take a boat to travel to state capital Juneau, which isn't connected by road to any part of the state.
Soon after crossing the border you'll pass Tetlin National Wildlife Refuge, one of the main landmarks on this part of the route.
From here, you'll find yourself immersed in long stretches of wide-open landscapes then wind through tree lined roads as you make your way between Alaska's major towns and landmarks.
You'll have some long-ish hops between landmarks so take the chance to fill up on food and gas when you can, but unlike some wilderness drives you'll never be too many miles from a gas station or small town.
Round road trip route from California to Alaska
Leave Los Angeles on Route 101, turning off onto Route 1 to travel the stunning stretch of coast through Pfeiffer Big Sur National Park, Monterey Bay and Santa Cruz.
Continuing north you'll reach San Francisco. Join the interstate to leave the city through Oakland and Napa before merging onto the I-5 near Zamora.
Turn off the interstate to follow CA-299 as it winds its way between hills and rivers to take you to Redwood National and State Parks.
From here you'll join back up with US-101 and follow it along the coast all the way through Oregon as far as Cannon Beach before turning inland towards Portland.
Crossing the Columbia River, you'll find yourself in Washington, following I-5 again past Tacoma and Seattle all the way to the Canadian border.
After spending some time in Vancouver, pick up Trans-Canada Highway 1 which follows the stunning Fraser and Thompson Rivers - an unforgettable stretch of highway driving.
At Cache Creek the road divides and you'll continue north on the Cariboo Highway. Skirt around Lac La Hache and McLeese Lake and eventually you'll meet the Fraser River again. Follow it north through Dragon and Woodpecker until you reach Prince George and turn off onto Trans-Canada Highway 16.
From Kitwanga, take the Stewart-Cassiar Highway through the remote north of British Columbia. Shortly after you cross into Yukon, you'll meet the Alaska Highway - simply follow it west until you reach the border.
Road trip route around Alaska
Continue along the Alaska Highway once you've crossed the international border. You'll pass Tetlin National Wildlife Refuge and Northway Junction before arriving in Tok.
From here, continue straight ahead towards Delta Junction, where the road picks up the Tanana River and follows it all the way to Fairbanks, the most northerly waypoint on your road trip.
When you're ready to move on, head west out of the city to join the Parks Highway which swings round towards Healy, from where you can visit Denali National Park.
As you continue south from the national park take the opportunity to stop at some of the stunning viewpoints you'll pass as you make your way towards Anchorage. Turn onto AK-1 when you reach the northern tip of Knik Arm and follow this all the way to the city.
From Anchorage, the Seward Highway runs right beside the water for several miles before turning inland to cross the Kenai Peninsula on the way to Seward. You can also take a look at our detailed guide on the drive from Anchorage to Seward and learn whether this drive is dangerous.
Retrace the route past Anchorage then continue north on the Glenn Highway and follow the Matanuska River all the way to Glacier View.
Once you reach Glennallen your epic road trip is nearly at an end. Heading north out of the town you'll meet the Tok Highway and complete your 1,300-mile road trip around the state.
Best places to stop between California and Alaska
This is a really popular trip for RV-drivers, especially given how many nights you'll be on the road, but we've picked out a few highlights for road trippers who'll be staying in hotels along the way.
Admire the Seattle Skyline
Just south of the Canadian border, Seattle is a 30-hour drive from Los Angeles if you follow highway 1 along the coast – just under half way to Alaska.
You can't fail to be impressed by its iconic skyline, with snow-topped Mount Rainier providing a stunning background to the Space Needle and the city's skyscrapers.
The birthplace of grunge music and Starbucks is a buzzing waterfront city and one of the last places to stop and enjoy the urban vibes before you embark on the wilder half of this route.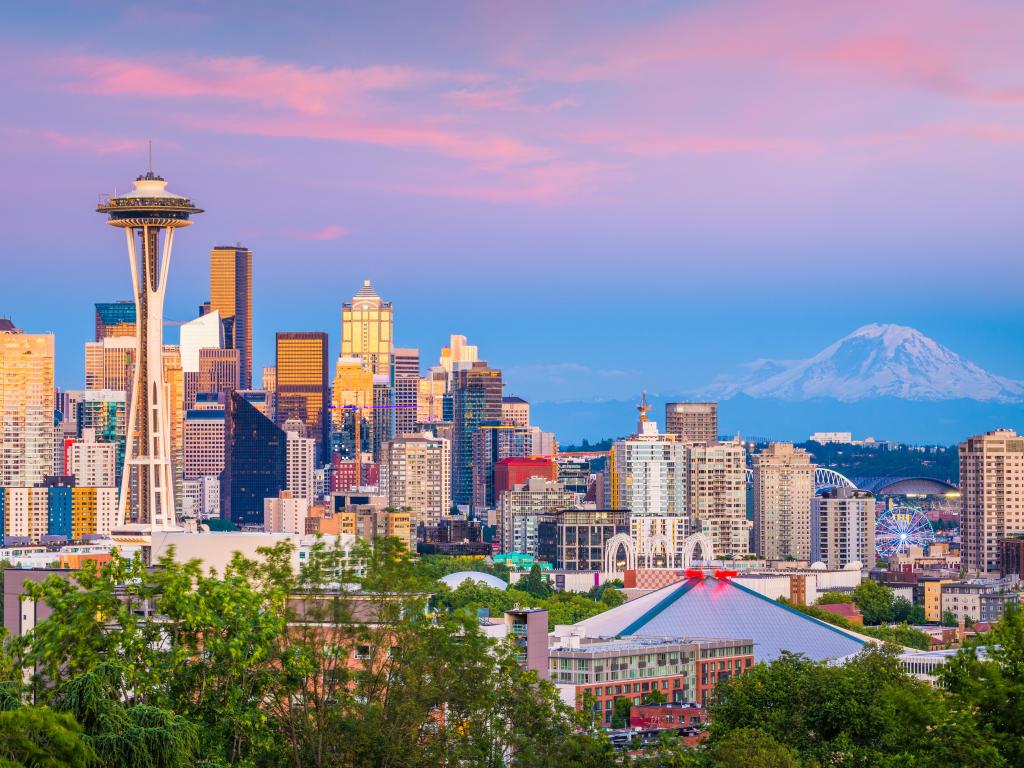 As you approach the city center, you'll pass the Museum of Flight. The extensive airborne collection here doesn't limit itself to just vintage planes and a retired Air Force One, you can try your hand on a simulator and see relics of space flight too.
Now nearing its 100th birthday, the huge collection at Seattle Museum of Art ranges from traditional masterpieces to stunning artefacts from the Pacific Northwest cultures.
If you're ready to take a break from more traditional galleries, check out the Museum of Pop Culture to enjoy exhibits dedicated to 20th century music, cult TV classics, sport, gaming and a whole lot more.
A true local institution, you can shop for food and more at buzzing Pike Place Market, where you can also enjoy live music and fabulous views.
With spacious and comfortable rooms, Crowne Plaza Seattle is a great place to stay while you're in town. It's easily accessed from I-5 so you won't have to find your way across the city – take the exit for Madison Street and then it's just a block away
Private parking is available so park up then use local transport to explore the city - you can walk to Seattle Art Museum, Frye Art Museum and Pier 57, while the Space Needle is just over a mile away.
There's also a fitness center on site in case you're missing your regular workouts on this long trip.
Explore Denali National Park
The town of Healy is 5 hours 30 minutes from Tok. It's one of the closest towns to Denali National Park so it's a great place to stay while you're spending time in the park. It's an easy 2-hour drive if you've spent the previous night in Fairbanks.
Denali National Park is the main attraction here. Its 6 million acres offer a true wilderness experience through tundra and forests with stunning mountain views (weather permitting). There's only one road through the park but there are many trails to stop and explore.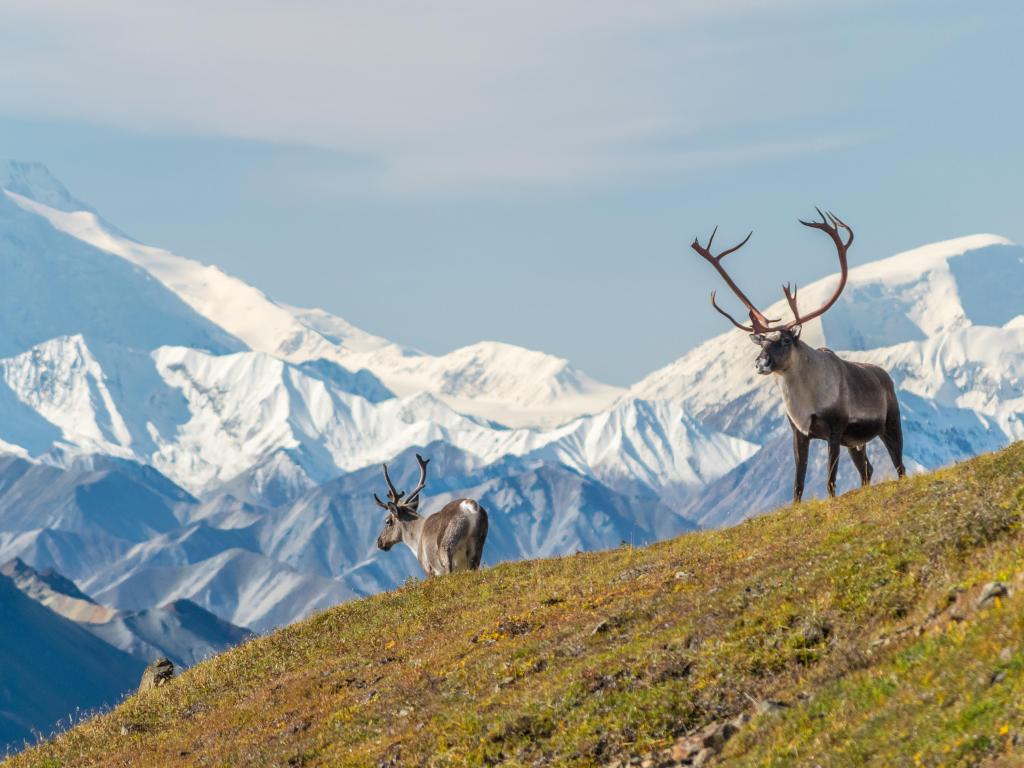 Denali National Park Visitor Center is a short drive along the Parks Highway from Healy and is the best place to start your adventure through the park. You can also visit the Sled Dog Kennels for a tour and free demonstration.
Private vehicles can only drive as far as Savage River Trailhead at Mile 15. Check ahead for local advisories as landslide damage means it's not currently possible to travel all the way to Wonder Lake at the end of the road through park.
From May to September, buses take visitors further through the park – book in advance unless you're very flexible with your plans. Several tour buses travel through the park each day, with an expert guide to learn more about the national park as you follow the 93-mile road out and back.
Alternatively, take a transit bus to different trailheads – Triple Lakes Trail is recommended, or take a Discovery Hike with a park ranger.
It's best to stay at least a couple of nights near Denali National Park so that you have a chance of waiting out any bad weather. Also, the distances here are huge and just the bus ride through the park will take at least half a day.
You'll be welcomed by friendly staff when you check in to Aurora Denali Lodge, which is in a quiet location a short distance from the highway.
The lodge has spacious and comfortable en suite rooms and an on-site restaurant, which makes a stay here particularly convenient although it's also within walking distance of other cafes, restaurants and bars.
Alternatively, you might prefer to stay at Denali Tri-Valley Cabins. These comfortable cabins let you connect with nature - sit out on the porch after a day's hiking on nearby trails and listen to the sounds of the forest.
Cabins have private bathrooms and some have kitchen facilities, plus there's free parking for guests and it's close to the highway so no need to detour to get here.
Feel the urban vibe in Anchorage
Anchorage is the halfway point of your circuit around the state, around 9 hours 30 minutes from Tok. It's Alaska's largest city - though not its state capital - so you'll get a chance to enjoy culture and cuisine before heading back out into the Alaskan wilderness again.
Alaska has a unique history which brings together native culture and more recent pioneers. The vast Anchorage Museum tells the story of the state and looks further north into the Arctic too.
Follow this up with a trip to Alaska Native Heritage Center, where you'll learn about Alaska's different native cultures and traditions through immersive and informative displays and installations.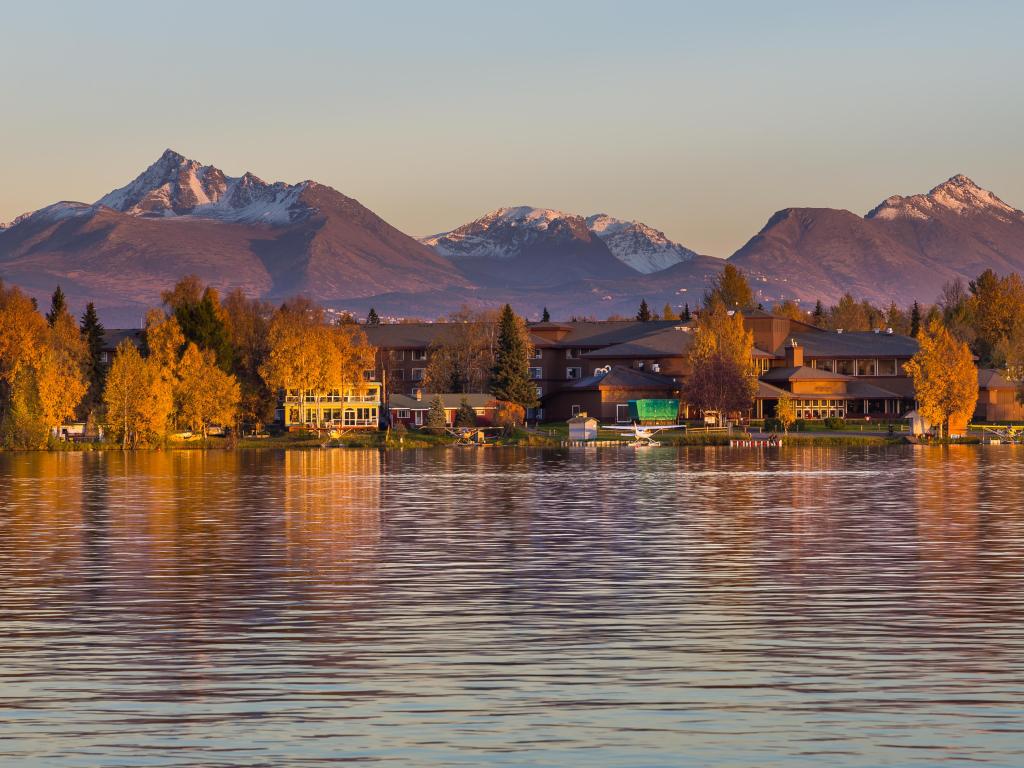 If you're itching to spend more time in the great outdoors, you can explore the glaciers around the city – take a boat trip or hop on a small plane to get up close. Or take the Alyeska Tramway up Mount Alyeska for fabulous views.
In walking distance to city attractions including the waterfront and the Anchorage Museum, The Hotel Captain Cook, Anchorage is our top pick for accommodation here.
The spacious rooms have either a mountain or water view, and there's a choice of on-site restaurants including The Pantry which offers local cuisine. Then at the end of the day, relax in the indoor pool or work out in the fitness center.
Things to see on a road trip from California to Alaska
With so many miles to cover, you can take your pick of which coastal gems and urban centers you visit along the way. Here are some of our favorites to get you started in your planning.
Things to see on the way to Alaska
Big Sur - Feel like you're part of a movie as you follow this iconic coastal drive which rides a series of bridges and turns past the dazzling blue Pacific.
San Francisco - See some of the iconic sights of this city on the bay – the Golden Gate Bridge, Take a boat trip out to Alcatraz if you're spending a little longer in town.
Napa - Enjoy wine tasting and local cuisine in the beautiful Californian sunshine - take a guided tour and book a hotel in the area to avoid the disappointment of being your group's designated driver.
Redwood National and State Park - Walk through California's iconic sequoia forests and marvel at the scale of these ancient giants.
Cannon Beach - See the stunning rock formations which run along the shore here, which include the iconic Haystack Rock, then hike through nearby Ecola State Park.
Portland - You'll probably be ready to relax with a locally brewed beer by the time you reach Portland. To carry on that calming vibe head to Portland's Japanese Garden or Lan Su Chinese Garden too.
Seattle - Head up the Space Needle to take in the view across Pike Place Market, the Seattle Art Museum and out over the water.
Vancouver - Stroll around historic Gastown and beautiful Stanley Park before riding the cable car up Grouse Mountain to enjoy views out across the city and ocean.
Hells Gate - Ride the cable car across the Fraser river in this spectacular gorge – watch for salmon swimming below you if you're there in season.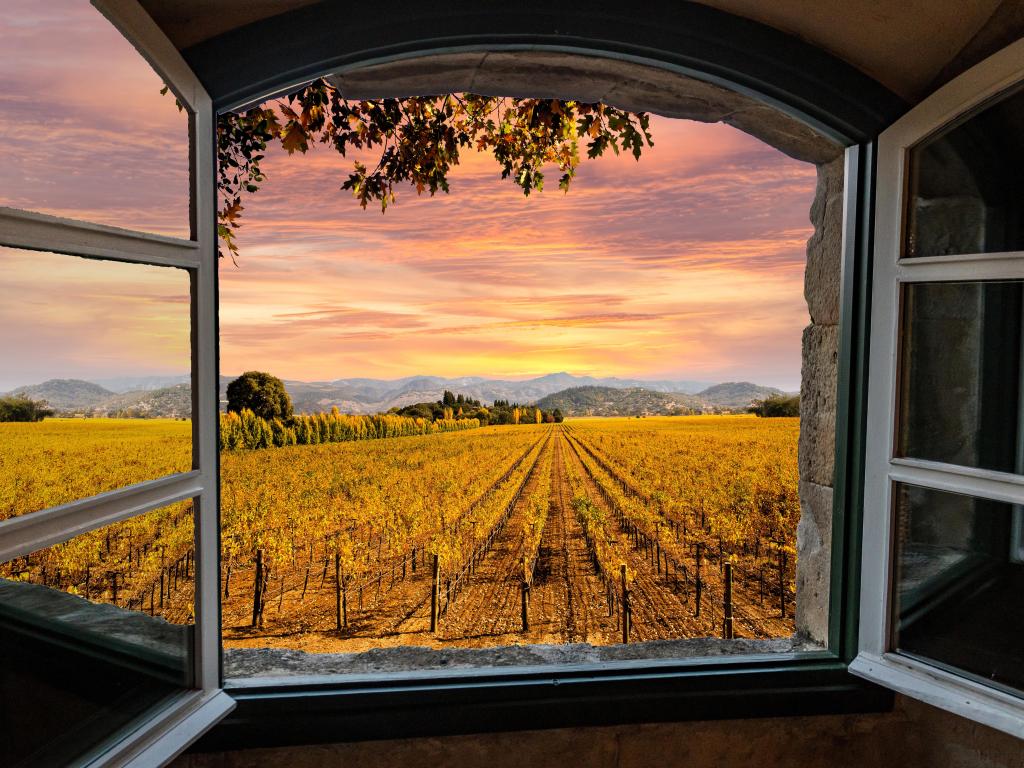 Things to see around Alaska
Tetlin National Wildlife Refuge - This wetland landscape is a great place for bird watching and makes a great introduction to the natural scenery of Alaska.
Tok - As the first major town you'll pass in Alaska, most travellers will probably spend a night in Tok and you'll find a good choice of accommodation in town. Take a flightseeing trip to nearby Wrangell-St. Elias National Park – the largest in America.
Fairbanks - In the stunning buildings of University of Alaska Museum of the North you can learn more about the places and people of Alaska, then look to the skies to spot the Aurora Borealis which can often be seen from August to April. From May to July the sun doesn't set in this northern city.
The Arctic Circle - Admittedly this is a bit of a detour and not one you can take by road, but while you're in Fairbanks why not take a "flightseeing" trip past the Yukon River and Finger Mountain and on into the Arctic Circle where your small plane will touch down to let you walk through the tundra landscape.
Denali National Park - Follow the 90-mile road through this ever-changing landscape to enjoy hikes, views and more.
Anchorage - From mid-summer onwards head to Ship Creek to fish for salmon – you can rent equipment in town if you haven't packed your own.
Moose Pass - Hike through Chugach National Forest or the Johnson Pass Trail from this tiny lakeside town.
Seward - Looking out across Resurrection Bay, take the coastal paths leading out from town to spot eagles and sea lions or take a wildlife cruise – orca inhabit these waters year-round and in spring and summer grey and humpback whales visit too.
Homer - Take a detour across the Kenai peninsula from Seward to spend a peaceful few hours fishing or walking along the coast.
Kenai Fjords National Park - Hop on a boat tour from Seward and enjoy a super-scenic full day trip where you'll admire the stunning landscape of glaciers and snowy peaks from the water.
Glenallen - Take a fishing trip to the renowned Copper River which runs nearby, or use the town as a base to explore the southern side of Wrangell-St. Elias National Park.
Best time to go on a road trip from California to Alaska
Alaska is definitely not a year-round destination for most travellers. Its harsh winters mean that, even if the highway is passable, you won't be able to spend much time enjoying its many outdoor attractions.
Anchorage is considered one of the more temperate parts of Alaska, and even here temperatures rarely rise above freezing from November to March. From December to February you can expect temperatures as low 11 degrees Fahrenheit.
There's heavy snow throughout Alaska in winter and the further north you travel, the shorter the days will be. By the time you reach Fairbanks you won't see much daylight at all in the middle of winter. Some travellers do make the trip in winter though, with events such as the long-distance Copper Basin 300 Dog Sled Race bringing big crowds.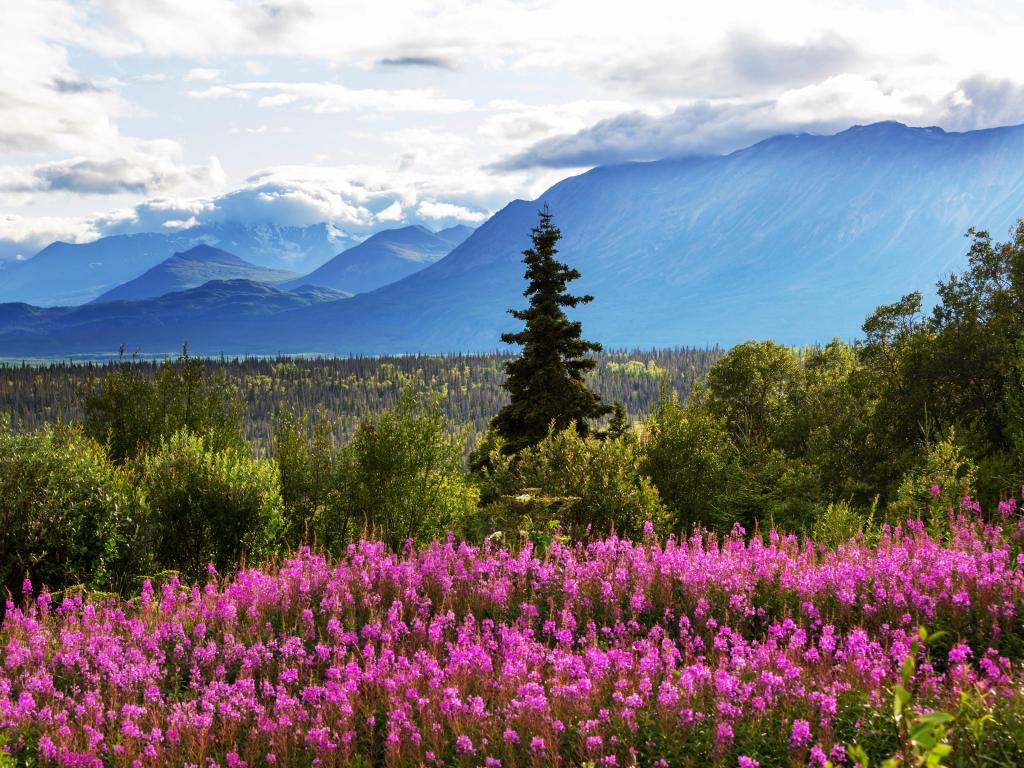 Summer is the best time to visit as the snow will have melted and temperatures can reach the high 60s Fahrenheit on a warm day. This season is best for wildlife spotting, spending time in the national parks, and taking trips out along the coast.
As you make your way north along the Pacific coast there are several places where you can go whale watching during the summer months, including Oregon, Vancouver and Anchorage itself.
You can enjoy the long hours of daylight too, and if you're visiting around midsummer you can even catch the Midnight Sun Festival in Fairbanks. One of the biggest events in Alaska, locals and visitors celebrate the longest day with live music and traditional street stalls.
There are just a couple of downsides to visiting in summer. August and September see Alaska's heaviest rainfall. May to September is also the cruising season so the cities and national parks will be (relatively) busy during these months.
Unlike many other destinations, Alaska doesn't have a significant shoulder season. In fact, there's only a short gap between winter and summer in Alaska and many businesses remain shut until the visitor season starts in May.
With sub-zero temperatures and frozen landscapes still very much a possibility in March and April, we'd suggest waiting until a little later in the year to visit.