Road Trip from Vancouver to San Diego
The epic road trip from Vancouver to San Diego takes you along the entire west coast of the US, showcasing some of the best scenery all the way to America's southern border. This is an incredible adventure with fantastic attractions en route.
The 2,250km road trip from Vancouver to San Diego takes 22 hours to drive. Key stops include Portland, Los Angeles, Seattle, and San Francisco, as well as Redwood National Park, Crater Lake National Park, Olympic National Park and Cascade Mountains.
This is an action-packed road trip with so much to see, so be sure to read on for our advice on the perfect route, the best places to stay along the way, and the ideal time of year to travel.
How far is San Diego from Vancouver and how long will the road trip take?
Comparison of road trip routes between Vancouver and San Diego

| Route | Distance | Driving Time |
| --- | --- | --- |
| The Inland Route | 2,250km (1,400 miles) | 22 hours |
| The PCH Route | 2,615km (1,625 miles) | 32 hours |
The road trip from Vancouver to San Diego covers a distance of 2,250km (1,400 miles) and takes 22 hours of non-stop driving.
This direct option is an incredibly simple route, using just two roads, and can be completed in a couple of days with one to two overnight stops along the way. That said, with so many great attractions en route, a better option would be to split it over four to five days.
An alternative route, taking you along the beautiful Pacific Coast Highway, adds additional distance and time to your journey, however it offers fantastic scenery as well as the opportunity to visit some of the beautiful coastal towns and cities of this part of the US.
Regardless of which route you decide to take, you will cross the Canadian border into America. Therefore, it's important you check ahead of travelling that you have the correct forms and documents to enable a quick and smooth journey.
Best road trip route from Vancouver to San Diego
There are several different options to drive from Vancouver to San Diego. The Inland Route takes you through the fantastic cities of Seattle, Portland and Sacramento, as well as passing great forests and parks such as Fremont-Winema National Forest.
However, if coastal views and towns are your preference, then The PCH (Pacific Coast Highway) Route would be ideal. Taking 2,615km (1,625 miles) and 32 hours to drive, it is slightly longer, however you'll pass the stunning Coos Bay, visit Malibu and Los Angeles en route - so you will be spoilt for great attractions.
Both routes offer incredible scenery, towns and cities so it really does depend on your timescale and preference for views, as to which route to take. If you have plenty of time to complete the trip, you could always follow one route to San Diego and the other back to Vancouver.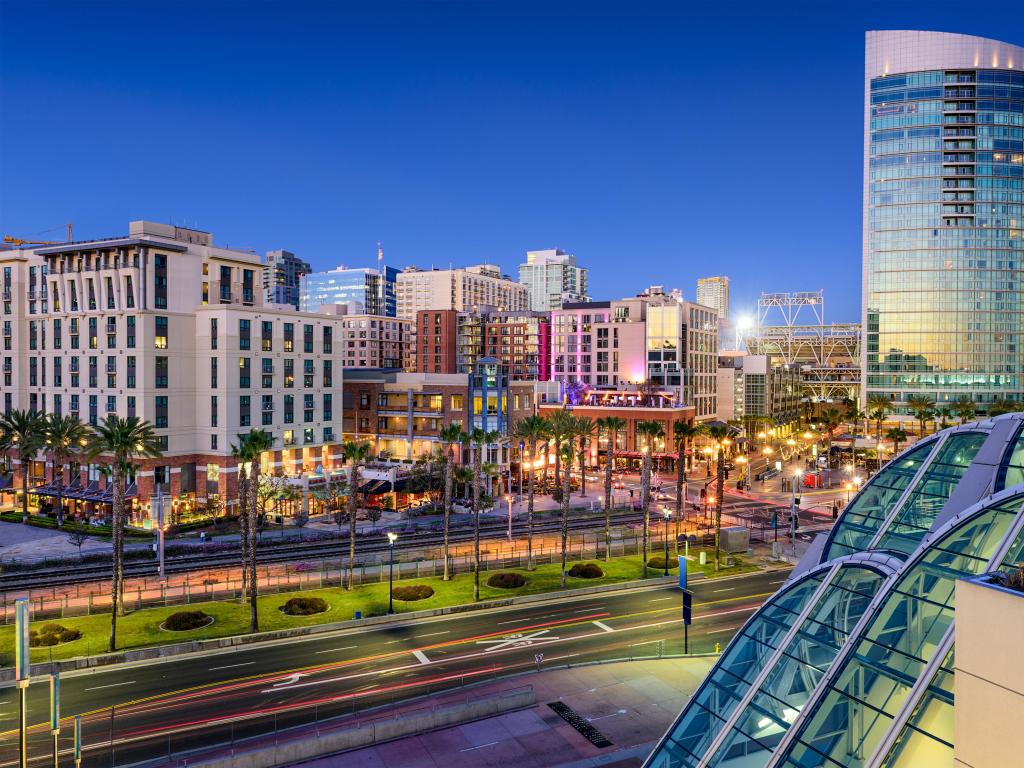 The Inland Route
Set out south on British Columbia Highway 99 as you leave Vancouver and head to Peace Arch Park, on the American border. Once you've crossed into the US, the road becomes Interstate 5.
Follow I-5 south, alongside North Cascades National Park before arriving in Seattle. After spending time exploring this great city, continue south through Tacoma and Olympia.
An ideal overnight stop would be in Portland, whereby you can explore nearby Mt. Hood National Forest, before passing through Salem and Eugene and alongside two more great forests.
This next stretch on I-5 past Rosebug is incredibly scenic and takes you alongside some great forests including Umpqua, Klamath and Lassen. Continue south to Sacramento, another great city worthy of a pitstop or overnight rest.
From here you could take a detour to the beautiful Santa Rosa or continue on I-5 to the bright lights of Los Angeles, a final great city to enjoy before you arrive at San Diego.
The PCH Route
The slightly longer PCH Route begins the same way as before, leaving Vancouver and following BC-99 and I-5 south to Seattle and past Tacoma and Olympia. Continue on this road until you pass Castle Rock and take US-101 to Rockaway Beach.
Continue heading south on PCH through Tillamook, Pacific City and Waldport and alongside the coast. Passing Siuslaw National Forest, as you continue hugging the coast to Coos Bay - a great place to stop should time allow.
Next continue south, passing Port Orford, Gold Beach and alongside Rogue River-Siskiyou National Forest, as well as the town of Klamath and Six Rivers National Forest.
The route will then pass the port city of Eureka, before taking you slightly inland and past Humboldt Redwoods State Park and the towns of Piercy and Leggett, before taking the PCH to Rockport and continue back along the scenic coastal road.
Pass Jackson Demonstration State Forest before arriving at Mendocino, a great California town with trails and beaches. Continue through Little River and Albion Whitesboro, before taking CA-128 west to just before Cloverdale, where you'll rejoin US-101 south all the way to Santa Rosa.
Continue south on US-101, passing some fantastic attractions including the Golden Gate National Recreation Area, before crossing the famous Golden Gate Bridge to San Fransisco.
You will then follow the PCH, passing the beautiful Bean Hollow State Beach, Pfeiffer Big Sur State Park and Ragged Point until you reach San Luis Obispo whereby you will follow US-101 through to Malibu and Los Angeles.
From LA, you'll join the Inland Route on I-5 south all the way to your destination of San Diego.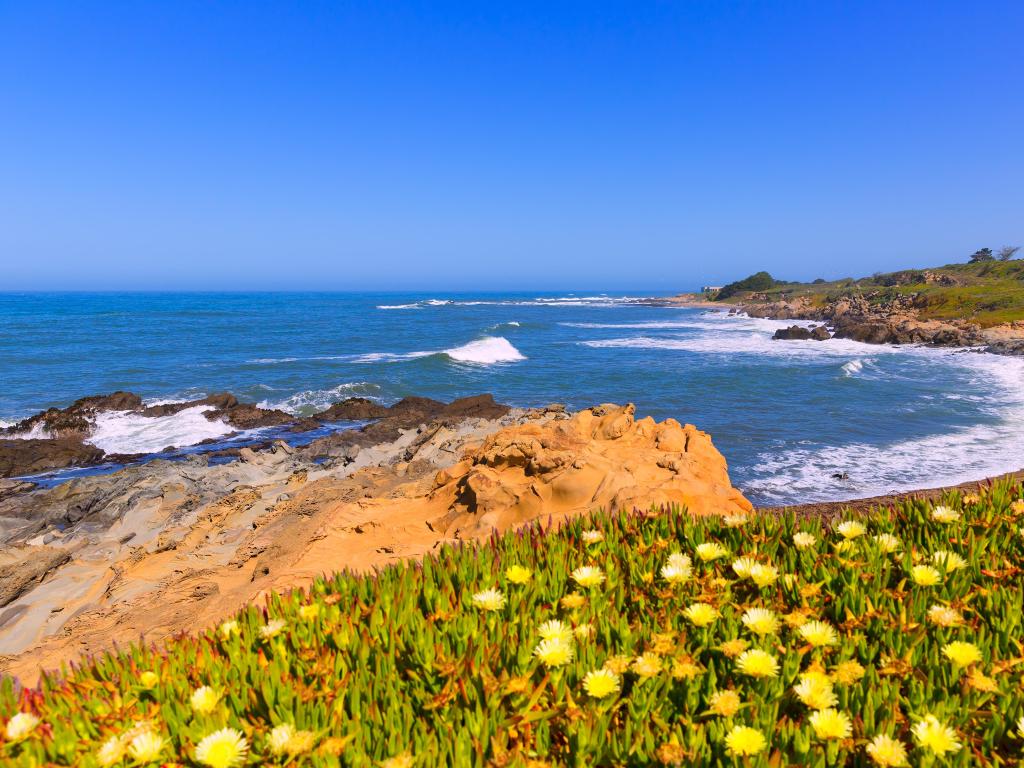 Best places to stop between Vancouver and San Diego
Regardless of the route you opt for, the road trip from Vancouver to San Diego will require a couple of overnight stops to ensure you have the best opportunity of making the most of the great scenery and cities.
There are lots of great places to recommend en route, but these are some of the very best that you'll want to look out for:
Unwind and explore in Portland
At 510km (315 miles) from Vancouver, an ideal first stop on The Inland Route is Oregon's largest city, Portland. Sitting on the Columbia and Willamette rivers and in the shadow of Mount Hood, it's known for its parks, bridges and walkways and is a great base on this trip.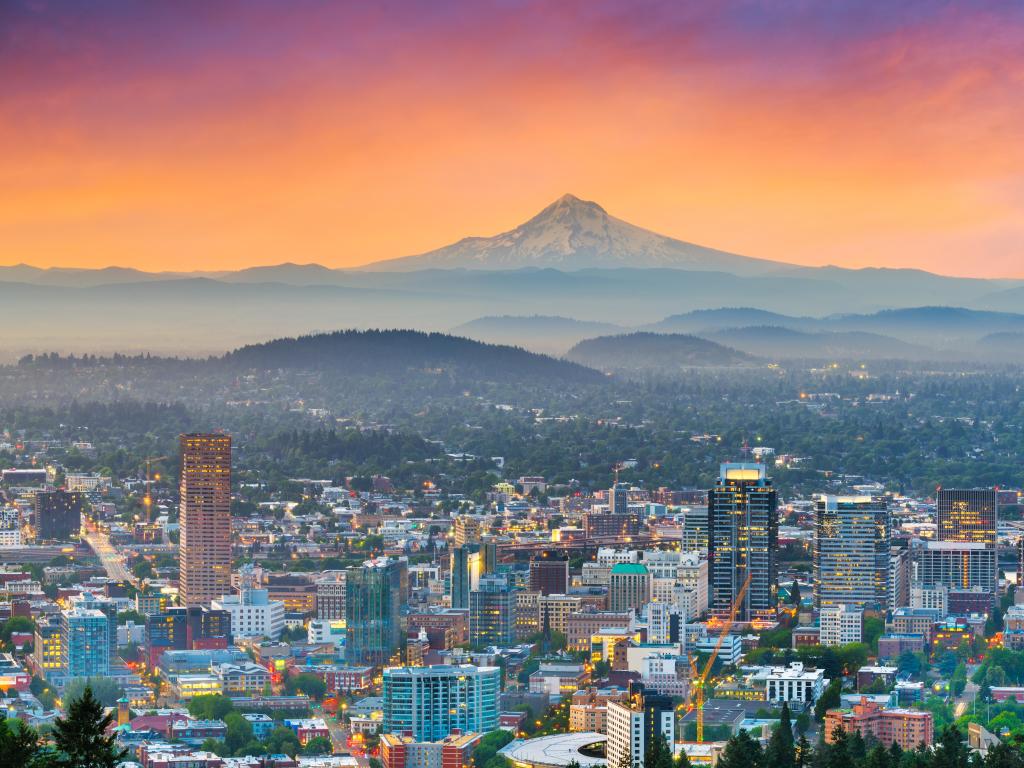 Explore the iconic Washington Park or visit its museums, Japanese Garden or Oregon Zoo, Portland also has great restaurants, shops and bars. Make the most of its setting and take a short drive to explore stunning Mount Hood or Cannon Beach, which is just a short detour away.
For stop in Portland, a great option is the The Duniway Portland. This Hilton hotel is a luxurious option, featuring stylish and modern rooms, a stunning outdoor rooftop patio area and a fantastic heated indoor swimming pool.
Set within walking distance of the best shops, bars and the MAX Light Rail, this hotel combines fantastic location with luxurious boutique-style rooms and superb views of the city. There's also the added convince of an onsite restaurant and a great drinks menu - this hotel certainly earns its 5-star status.
An unforgettable coastal stay in Big Sur
If you've chosen to follow our PCH Route, then there are several great options for an overnight stop. At just under 8 hours from San Diego, Big Sur is a rugged stretch of California's central coast between Carmel and San Simeon.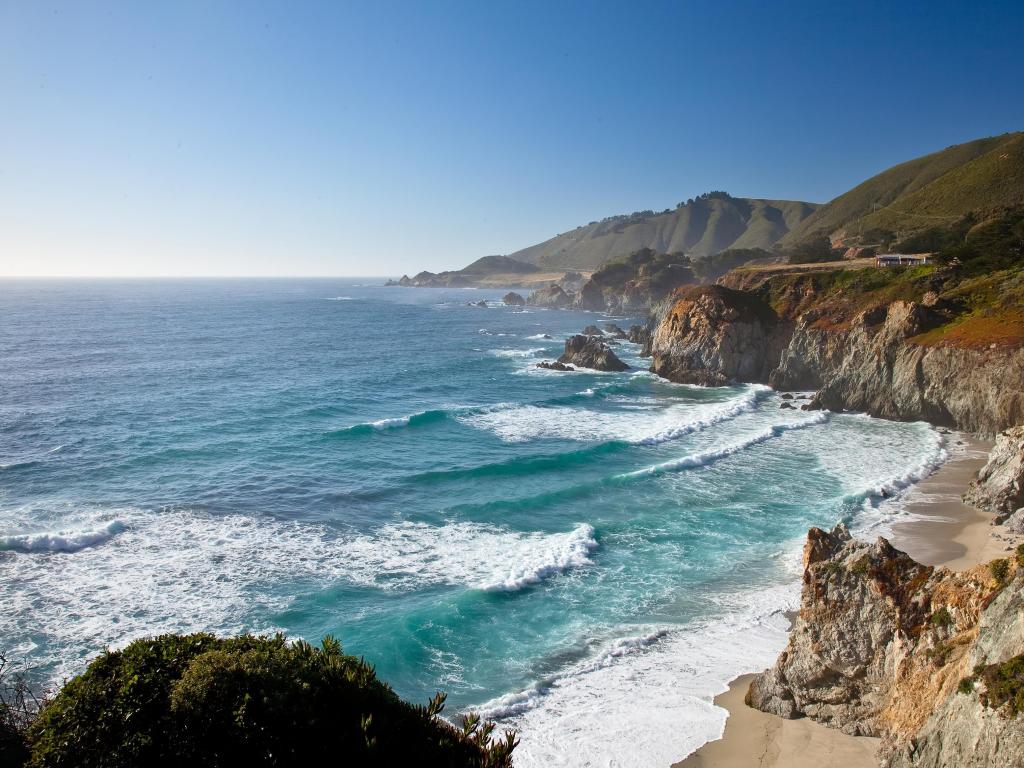 Ideally positioned to explore both the stunning coast and the nearby Santa Lucia Mountains, this region of California offers seaside cliffs and views of the often-misty coastline. The sparsely populated region has numerous state parks for hiking, camping and beachcombing.
Take a detour to Pfeiffer Big Sur State Park, or visit the town of Carmel-By-The-Sea, a stop at Big Sur will guarantee an unforgettable stay. While there aren't many options for accommodation in this part of the coast, Alila Ventana Big Sur is an impressive option.
This adult only hotel is situated on a hillside overlooking Big Sur's beautiful Pacific coastline, and is surrounded by 160 acres of land. Featuring two heated pools adjoined by a Japanese hot bath, the hotel is as impressive outside as it is inside.
Guests can enjoy back-to-nature themed rooms, with incredible views from its rooms, dining and pool areas. Rooms feature private balconies and the hotel has a great onsite restaurant and there's even free parking.
Be warned - you probably won't want to ever leave this piece of paradise however!
An overnight stay in Los Angeles
With both route options passing Los Angeles, this fantastic city is a great option for an explore. At just over two hours to San Diego, an overnight stop here would make a great opportunity to take a rest before embarking on the final stretch of your road trip.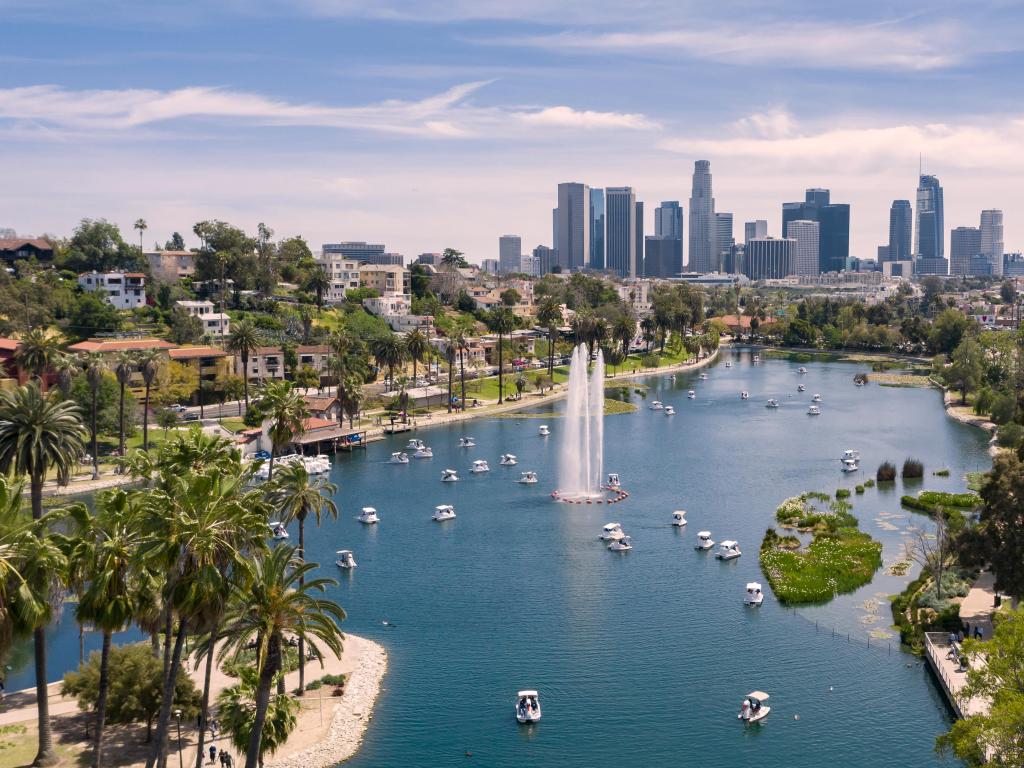 Los Angeles is one of the most well-known cities in the world. Popular for its famous locations, attractions and celebrities, you're sure to be in awe of your surroundings the first time you visit.
Whether you want a fancy day out in Beverly Hills, a touristy day of sightseeing in Hollywood, a historical trip to the La Brea Tar Pits or a relaxing day on Santa Monica Beach, Los Angeles is a city that has you covered.
With a resume like that, it's no wonder it's the second most populous city in America. As for where to stay while you're in town, there's no better way to make you feel like a true part of Tinseltown than with a stay at the W Hollywood.
Located in downtown Hollywood, directly on the walk of fame, this stunning hotel really has it all. From superb interiors and a fitness centre, to a fabulous restaurant and a rooftop pool, the W Hollywood will make you feel like a true celebrity throughout your stay.
Things to see on a road trip from Vancouver to San Diego
With at least of 22 hours driving on a road trip from Vancouver to San Diego, there is a huge amount of attractions, stunning places to visit and great cities to explore.
You could easily spend a month visiting everything on this great adventure, but if you are pressed for time, here are some of the best things you'll not want to miss en route: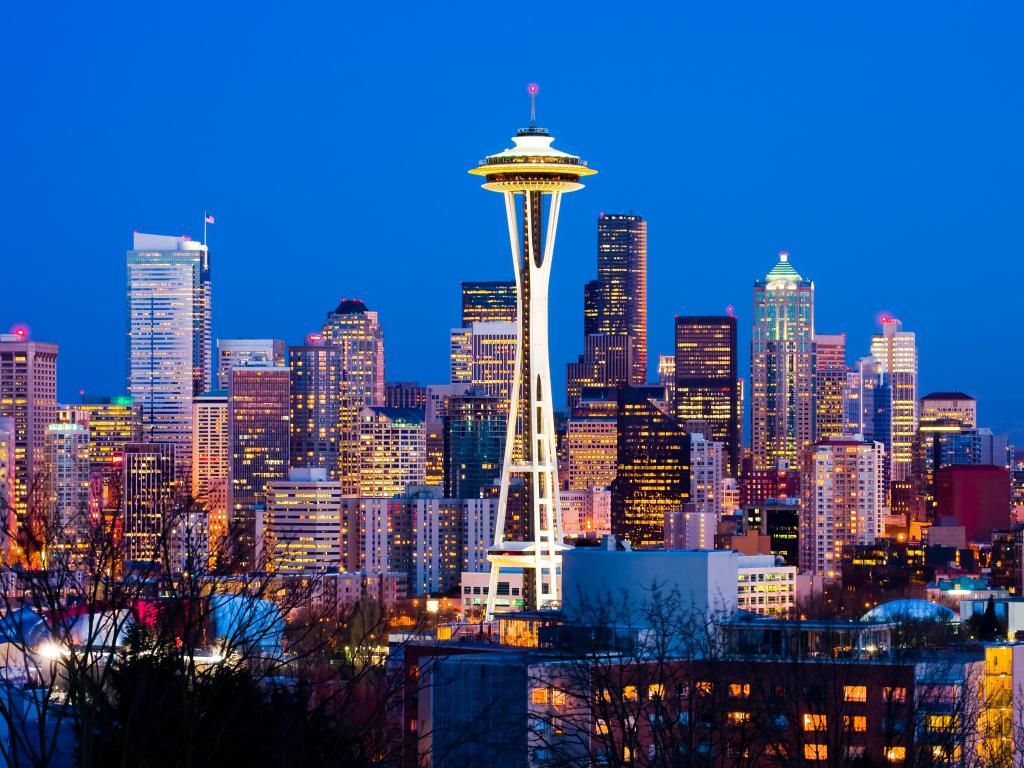 Both routes
Peace Arch Park - Located on the border between Canada and US, it contains the Peace Arch itself, a stunning piece of architecture, created to honour the long-standing peace between the countries.
Seattle, Washington - The largest, most populous city in the state of Washington. It has numerous claims to fame in popular culture, including being the birthplace for grunge music and Starbucks coffee, as well as being the setting for movies and shows such as Frasier and Sleepless in Seattle. It is also the home of the iconic Space Needle.
Tacoma, Washington - The second most populous city in the state of Washington. In the late 19th century it was selected as the terminus for the Northern Pacific Railroad, which earned it the nickname of the "City Of Destiny".
Olympia, Washington - The capital of the state of Washington.
Los Angeles -The second most populous city in America, it's often considered the entertainment capital of the world, due to being the home of Hollywood, as well as numerous music, tv and theatre production companies.
The Inland Route
Portland, Oregon - The largest and most populated city in the state of Oregon, Portland is surrounded by rivers and Mount Hood. Explore its many attractions including parks, a zoo and museums.
Salem, Oregon - The capital of Oregon and second most populous city in the state, this city is known for its history and arts, there's also great parks to explore.
Cascade Mountains - A stunning mountain range, running from southern Canada to northern California. It is covered by numerous national parks and forests, as well as containing part of the famous Pacific Crest Trail, a hiking trail connecting the Sierra Nevada ranges.
Crater Lake National Park - The only national park in the state of Oregon, it centres around Crater Lake, a stunning, deep blue body of water, located inside a caldera of the destroyed Mount Mazama.
Cascade-Siskiyou National Monument - A protected area where the Cascade and Siskiyou mountain ranges meet, it features ruggedly beautiful formations. The area also still contains mining shacks constructed when the area was first settled, over 100 years ago.
Shasta-Trinity National Forest - Covering almost 9,000 square km (5,600 miles), these two forests combine to make the largest national forest in the state of California.
Lassen Volcanic National Park - Covering 430 square km (267 miles), it is home to the largest plug dome volcano in the world. It is also one of the only places on Earth to feature all four types of Volcano: Cinder Cone, Plug Dome, Shield and Stratovolcano.
Sacramento, California - The capital city of California, Sacramento features old districts that hark back to the city's Gold Rush era. Discover several museums, a great zoo and beautiful parks.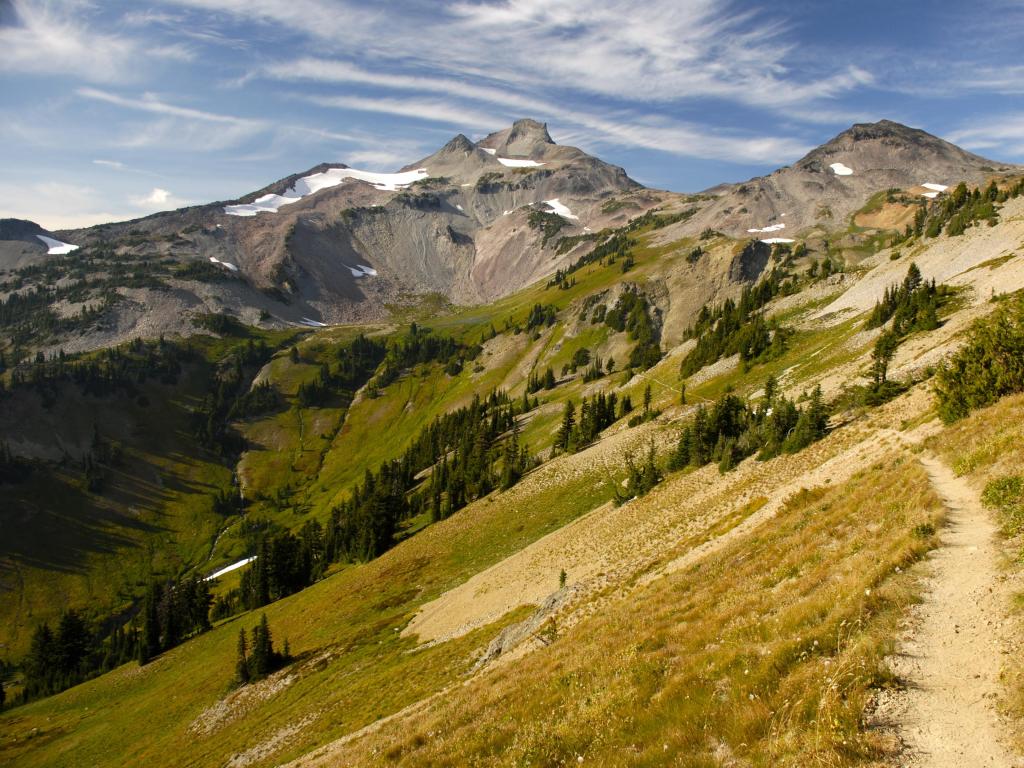 The PCH Route
Olympic National Park - Originally designated as a national monument named Mount Olympus in 1909 by President Theodore Roosevelt, it was re-designated as a national park almost 30 years later, this time by President Franklin Roosevelt.
Coos Bay, Oregon - Located in Coos County, the city borders the city of North Bend, and together they are often referred to as one entity called either Coos Bay-North Bend or Oregon's Bay Area. Explore the Oregon Dunes National Recreation Area or just relax on the beach.
Six Rivers National Forest - Visit this forest with a million acres of wild rivers and mountain wilderness, perfect for camping, fishing or just hiking in the great outdoors.
Pfeiffer Big Sur State Park - This stunning 1,000-acre state park offers a wide variety of hiking trails, wildlife and campgrounds, plus a guest lodge.
San Francisco, California - A beautiful city in the bay area, visited by millions of tourists a year, thanks to attractions such as Alcatraz, Golden Gate Bridge and Pier 39.
Channel Islands National Park - A collection of 5 islands, just off the coast of California, they are home to stunning views, landscapes and a wide variety of aquatic life.
Redwood National Park - One of the most famous forests in the world, located just off of the pacific highway. It has been used for years to represent iconic locations in movies, such as the planet of Endor in Star Wars, due to its distinctive, towering trees.
Malibu, California - Known for its celebrity homes and beaches, including wide and sandy Zuma Beach. Explore nearby Malibu Lagoon State Beach, known as Surfrider Beach or head inland and explore canyons, waterfalls and grasslands in the Santa Monica Mountains.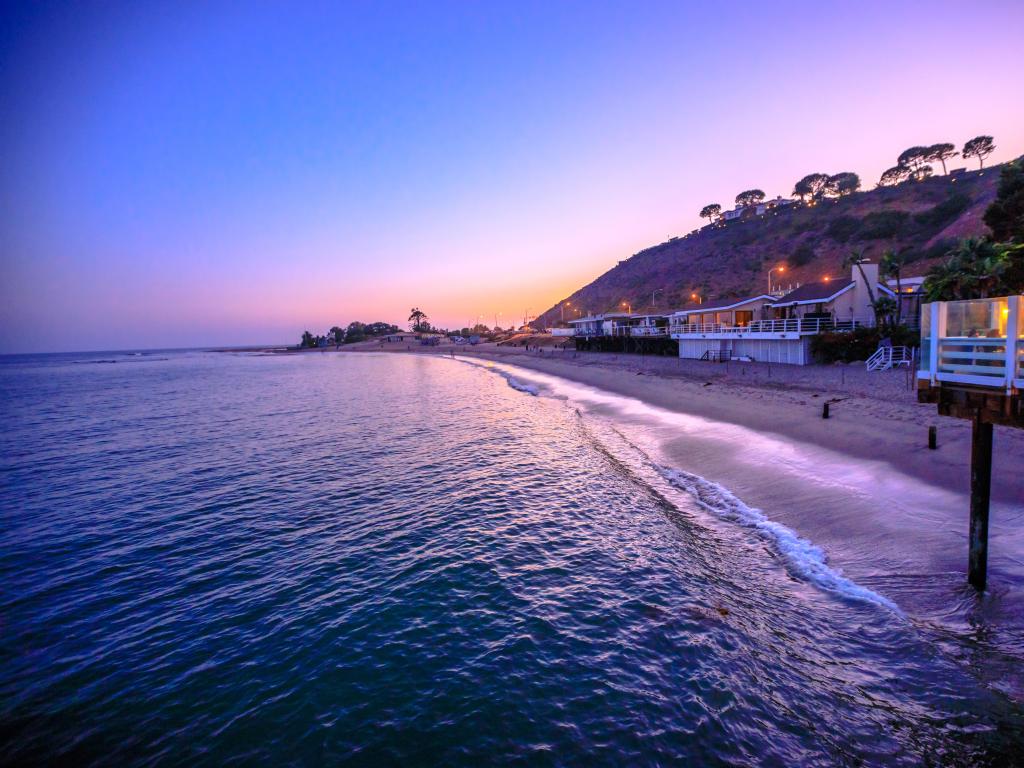 Best time to go on a road trip from Vancouver to San Diego
With a road trip from Vancouver to San Diego taking you to a location that experiences hot weather year-round, there isn't necessarily a bad time to make your trip. That said, there are still a few things worth noting.
For starters, while your destination is hot year-round, many of the locations on route to it are not. Considering most of the attractions to stop at along the way are outdoors, the majority will want to make the trip when the weather is warm.
Summer in San Diego is fairly pleasant with highs in August averaging between 68 and 77 degrees Fahrenheit. That said, this time of year is peak season and you will find the cities and beaches en route busy and crowded.
A better time to travel would be between March through May, and September through November. Travelling outside of winter is ideal as you will avoid the rainy season and cold weather at the start of your trip in Canada.
With spring weather in this part of the US averaging 66 to 69 degrees and plenty of festivities to enjoy, including the San Diego Country Fair between May and June, it's a great time to embark on this road trip.
Alternatively fall is a popular time to not only visit San Diego, but also enjoy the outdoor attractions, parks and forests which are simply stunning in their golden hues. You can even time your visit with the San Diego International Film Festival in October. Though you may want to book your hotels in advance if you do decide to travel during this time.