Can you Drive to Shell Island?
Shell Island is an untouched stretch of white sandy beach that extends for miles off the northwest coast of Florida. White sands and emerald sea waters populated with turtles surround this uninhabited island, where - true to its name - you can find some beautiful shells as you stroll along the shore.
It is not possible to drive directly to Shell Island, which is only accessible by boat. There is no bridge or car ferry. Instead, you can drive to Panama City and either hire a self-driven private boat or use the Shell Island Shuttle ferry service.
Read on to discover all of the available travel options for exploring this island's natural beauty, with tips on when to go, what to see, and how to make the most of your trip.
Can you drive to Shell Island?
Shell Island is a barrier island, meaning that it's a long narrow stretch of land formed by sand with sea on either side. It's situated in St. Andrew's State Park in the northwest of Florida, and the nearest city is Panama City. The island extends for 7 miles, and at its widest point is only 0.75 miles in diameter, and is bordered on each side by the Gulf of Mexico and St. Andrews Bay.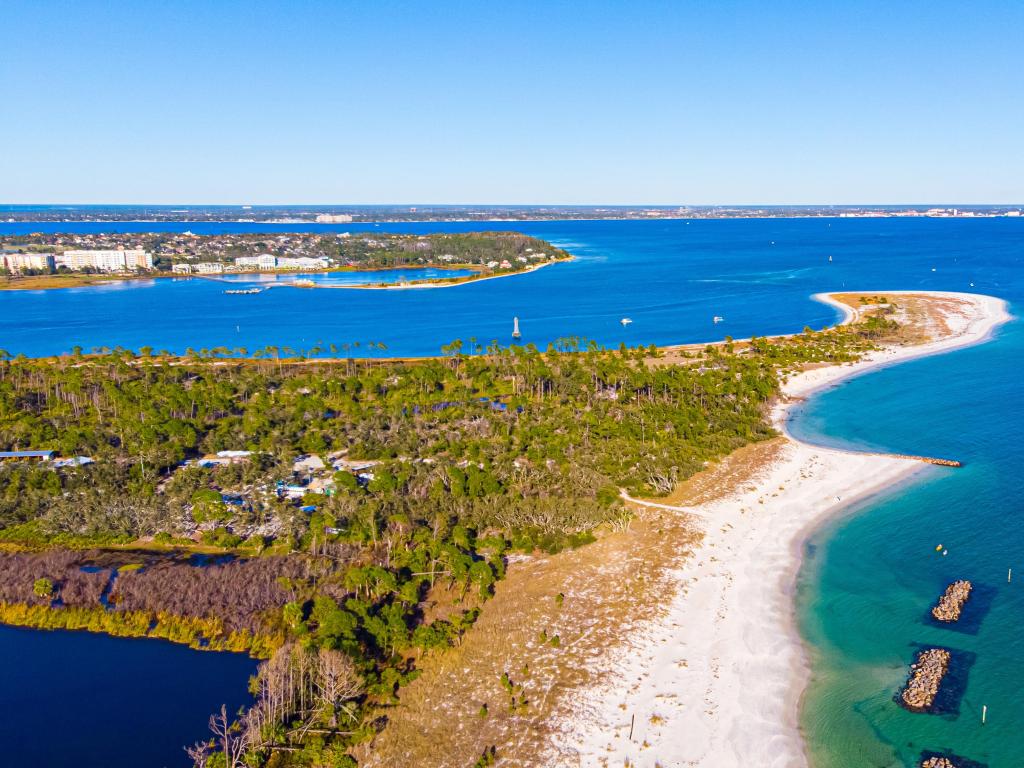 Shell Island is a completely undeveloped area surrounded by seawater, making it a rugged destination to see marine life and clean sands. The lack of roads on the island makes it a fully immersive nature experience, meaning you have to leave your car behind.
You can park at the St. Andrews State Park Pier Store for $8 and get a free shuttle bus to the Marina where the Shell Island Shuttle departs from. This passenger ferry is the fastest and easiest method of reaching the island and takes 15 minutes.
How to drive to Shell Island from mainland USA
The main route from mainland USA to Shell Island

| Departure Port | Arrival Port | Mode | Distance | Crossing Time | Fare |
| --- | --- | --- | --- | --- | --- |
| Lagoon Drive | Spanish Ante Point Docks and Boardwalk | Passenger ferry | 4 miles | 15 minutes | $26 |
*Price calculated at the time of writing, for 1 adult, based on a round trip
The recommended route is to take the passenger ferry from Lagoon Drive to Shell Island. This is the fastest and most reliable way of traveling to Shell Island and offers the opportunity to relax and enjoy the incredible views from the comfort of the ferry. Otherwise, there are options to bring your own boat or to hire a self-drive pontoon.
The Shell Island Shuttle Passenger Boat departs from Adventures at Sea Boat Hire on the mainland, which is a boat rental service on Lagoon Drive. The journey is 4 miles long and takes approximately 15 minutes.
On the passenger boat, you'll arrive at Spanish Ante Point Docks and Boardwalk, which is the only landing point on the island and a great jumping off point for exploring. It's the cheapest way to travel, at just under $26 for a round-trip ticket.
Frequency varies depending on the season, with more boats departing per hour during the summer. During the summer boats run from 9am to 5pm, while in spring and fall they run from 10am to 4pm. The shuttle does not run between 29th October and 13th February during the winter months.
It is also possible to hire a pontoon from Shell Island Pontoon Boats, which holds up to 10 people. These boats are self-driven, so you'll need to be confident enough to navigate the waters solo and journey time will vary depending on how fast you drive. Hire is subject to availability from 8:30am or 1:30pm.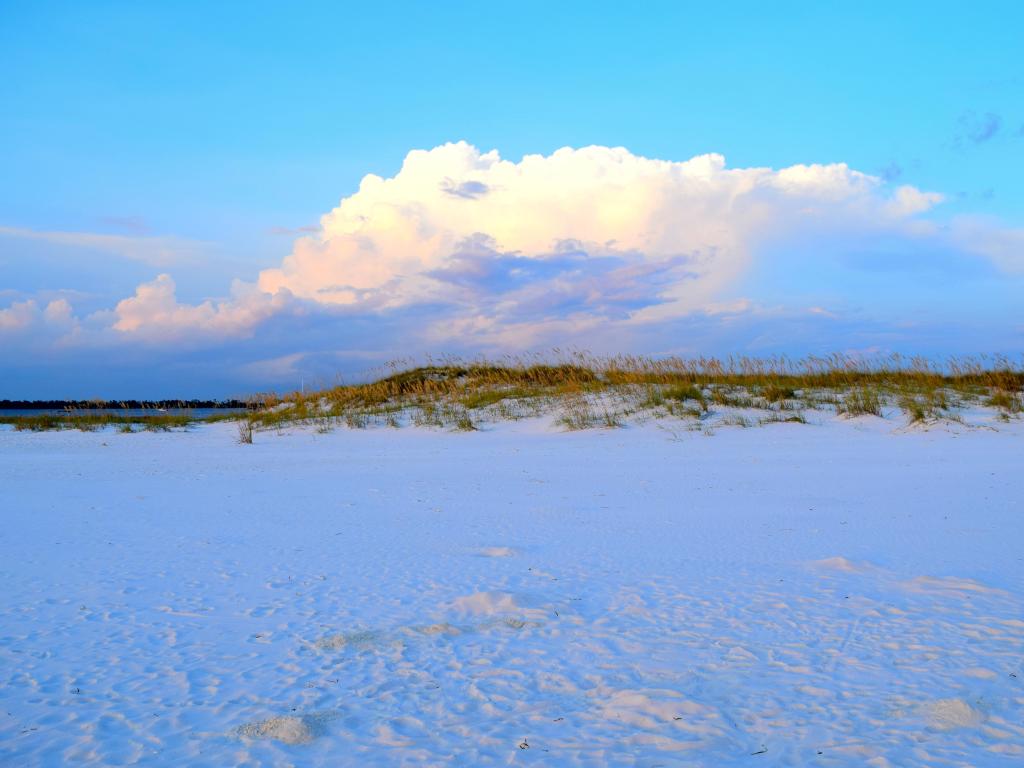 There are single and double-decker pontoons for hire, depending on your preference. This option is much more expensive than the ferry - prices start from $199 for a single-decker and vary depending on the length of the rental and the season. There are no boats for hire during the winter between 28th November and 13th February.
If you're lucky enough to have your own boat, you can take this directly to Shell Island without going via Adventures at Sea Boat Hire. There are various boat launch points along Lagoon Drive, though be aware that these can get crowded in peak times. There is a small fee for launching your own boat, ranging from $12-$16 depending on its size and capacity.
While you can explore all over the 7 miles of Shell Island, there is an air force base at the southern tip of the area called Tyndall Beach that requires a permit, which is usually reserved for military personnel.
How long does it take to drive to Shell Island?
A trip to Shell Island includes a boat trip, which can vary depending on the weather and your method of travel. Consequently, door-to-door journey times may vary depending on the availability of ferry tickets or boat rentals, but the table below gives an indication of how long the initial drive takes from major cities in Florida and further afield.
Each distance estimates the drive to the departure point for taking the Shell Island Shuttle. The closest city to Shell Island is Panama City, FL, which takes just 25 minutes across the Tyndal-DuPont Bridge and then by boat.
The second closest city is Destin, FL, which is a pleasant journey cruising eastwards through Point Washington State Forest.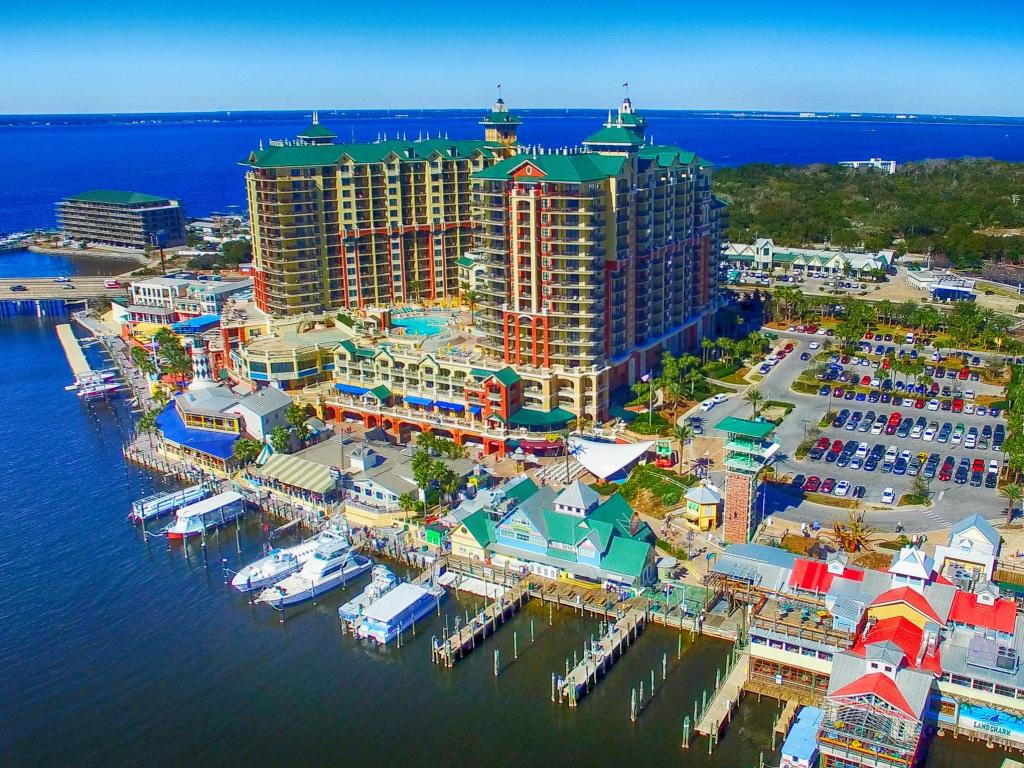 From Tallahassee, FL, head west on FL-20 to reach Panama City, while from Pensacola, FL you can either drive inland via I-10 or take the coastal route via US-98.
To cross from East Coast Jacksonville to the opposite coast takes over 4 hours and 30 minutes via I-10, while if you're coming from Atlanta, GA you'll need to head south and cross into Alabama before reaching the coast.
If you're coming from New Orleans, you can drive hugging the island-heavy coast, crossing plenty of bays and inlets as you go. Orlando is 370 miles away from Shell Island, and you'll pass through Gainesville and Tallahassee en route.
It's worth noting that Atlanta, Jacksonville and Orlando are in different time zones to Shell Island, so it's worth factoring in time differences when you're considering the ferry timings.
Travel times to Shell Island from major cities in the US

| Starting Point | Distance | Travel Time |
| --- | --- | --- |
| Panama City | 10 miles | 20 minutes |
| Destin | 70 miles | 1 hour 40 mins |
| Tallahassee | 110 miles | 2 hours 10 minutes |
| Jacksonville | 270 miles | 4 hours 20 minutes |
| Atlanta | 300 miles | 5 hours 10 minutes |
| New Orleans | 340 miles | 5 hours 30 minutes |
| Orlando | 360 miles | 5 hours 40 minutes |
Which port should you arrive at in Shell Island?
There is only one port to arrive at on Shell Island. The ferry takes you straight to Spanish Ante Point Docks and Boardwalk, which is near the northern tip of the beach. From there you can head north or south to stroll along the white sands of Shell Island and find a spot to park your towel.
The short journey from Adventure Sea Boat Tours (where you can pick up the Shuttle) to Spanish Ante Point Docks and Boardwalk takes 15 minutes and takes you across Saint Andrew Bay.
Things you need to know about driving to Shell Island
Driving to Shell Island should be relatively straightforward as the area is well-served by major roads. Once you reach the passenger boat departure point, the ferry is fast and reliable.
The departure point is near St. Andrews State Park, so it's easiest to park at the Pier Store and make use of the free bus to the Marina. Because the store is in the state park, you'll have to pay an entry fee of $8 to leave your car. The tarmac roads leading to the state park are suitable for all vehicles.
It's advisable to book ferry tickets in advance for peace of mind, especially during school and summer holidays. However, ferries depart frequently so they can often accommodate demand from walk-in passengers as well. If you are booking a pontoon, it's also best to reserve ahead online to avoid disappointment.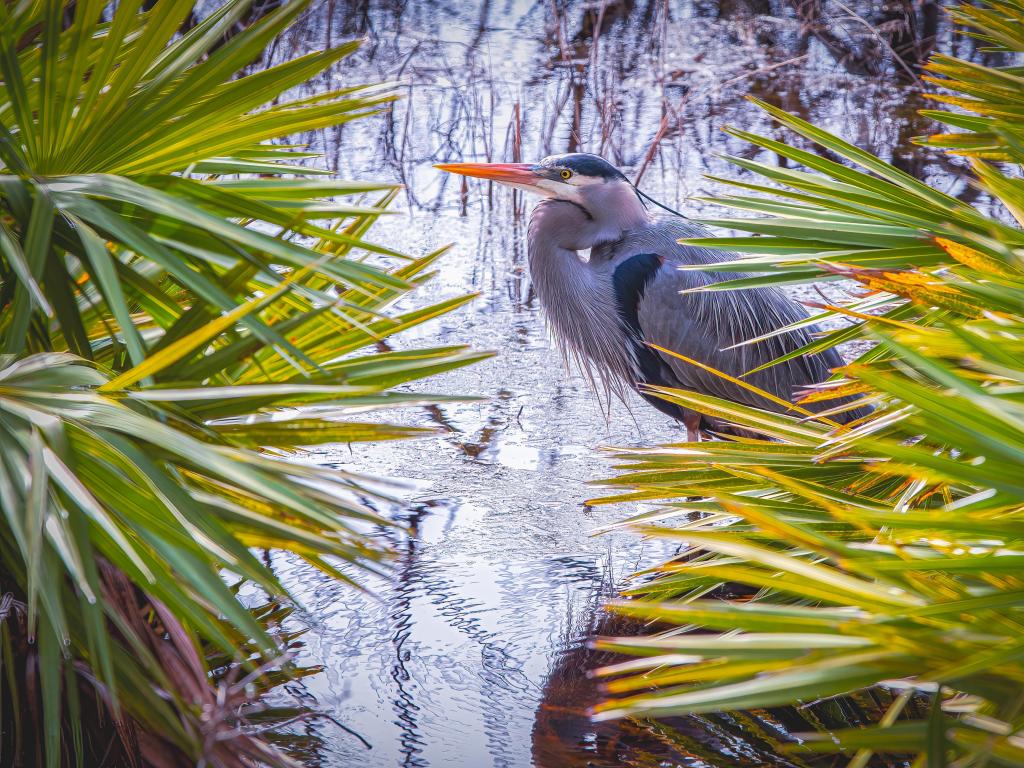 Here are our top tips when it comes to preparing for a drive to Shell Island:
Remember, Shell Island is an underdeveloped place to visit. That means there are no hotels or places to stay, so keep that in mind and note the last shuttle back. There is also no camping, though you can camp at St Andrews State Park upon your return to the mainland.
The pickup point is at State Park docks, which is 2.2 miles along the island. This will be explained on the day, but keep it in mind if you're hoping to board the last shuttle.
There are no restrooms on Shell Island, though there are facilities at the boarding point.
There are no concession stands, picnic tables or shaded areas, so plan ahead and bring sun umbrellas and beach chairs. Cool boxes are allowed.
Dogs aren't allowed on the shuttle.
There are no lifeguards on the beach, so show precaution when out at sea.
You can bring shells back with you. That said, you can't remove shells containing living organisms. Disturbing sea turtle nesting areas is also very much prohibited.
If you want to go fishing, you'll need a license which can be obtained online.
Bring your trash back with you. There are no trash receptacles on the island, so make sure you have the means to clear up after yourself.
Things to see once you reach Shell Island
Shell Island is truly a bucket-list destination for experiencing untouched natural beauty, and a place you'll remember forever. These are our recommendations for how to spend your time on the island:
Relax on the sandy beaches - The number one thing to do on Shell Island is to stretch out on the sandy beach and relax. It will feel like a deserted island, and you can find your own secluded spot to soak up the sun.
Snorkeling - You can rent snorkeling equipment before you leave for Shell Island. It's a popular activity on the island because of the wealth of fish and creatures, including dolphins and sea turtles. There are shallow waters near the jetty that are perfect for beginners.
Hiking - The spotless landscape makes for memorable hiking. It's a great way to explore the island to find unique shells and wildlife among the dunes.
Rent a pontoon - If you're traveling in a group, pontoon hire is a fun way to spend a day on the water with friends. You can go at your own pace and make as much noise as you want!
Kayaking - Before boarding the Shell Island Shuttle, ask about kayak hire. Upon arrival, a kayak can be waiting for you so that you can paddle around the island and find undiscovered coves.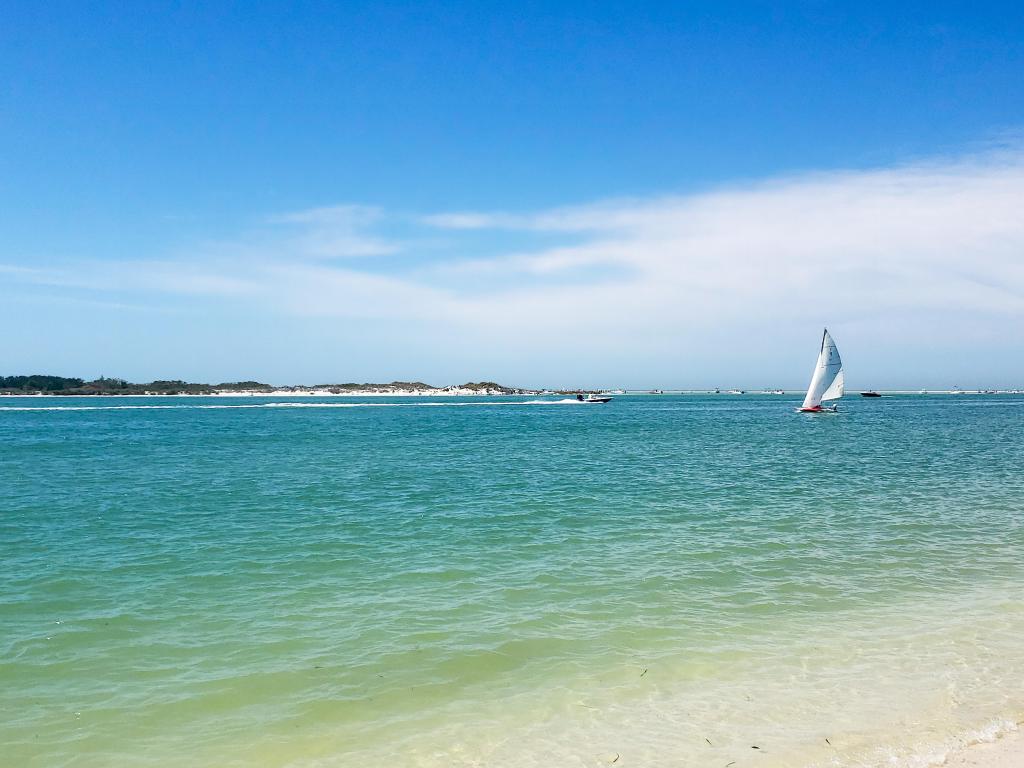 A trip to Shell Island offers a slice of island life that is truly unique, and is an incredible chance to experience nature at its most untamed. Now you've seen what the island has to offer, dust off your snorkel and start planning your trip!