Can You Drive To Shelter Island?
Nestled between the north and south forks of Long Island, Shelter Island has been described as an emerald jewel in a bracelet of turquoise. This holiday idyll is just 100 miles away from New York City and you may wonder if you can actually drive to Shelter Island.
You can drive to Shelter Island from Long Island, New York by taking a ferry from one of two equidistant ports. You can drive the 100 miles to Greenpoint or Sag Harbor in a little over 2 hours and no booking is needed for the 10-minute ferry across.
Keep reading to find out all the details you need to know about getting to Shelter Island, things to know about crossing over and top tips.
Is it possible to drive to Shelter Island?
Shelter Island is a tiny island off the coast of Long Island that is situated between Long Island's wine-growing North Fork and the Hamptons along the South Fork.
Shelter Island inhabitants will be quick to point out the huge difference between the celebrity strewn Hamptons and their own quiet, peaceful and calmer way of life. Shelter Island may be the peanut butter and jelly in the Hamptons sandwich, but that is where the similarities end.
Known as the 'Unhamptons' for its tranquil lifestyle, down to earth feel and lack of Hamptons crowds and its glitz and glam. Shelter Island is a peaceful calming getaway just a 10 minute crossing from the Hamptons.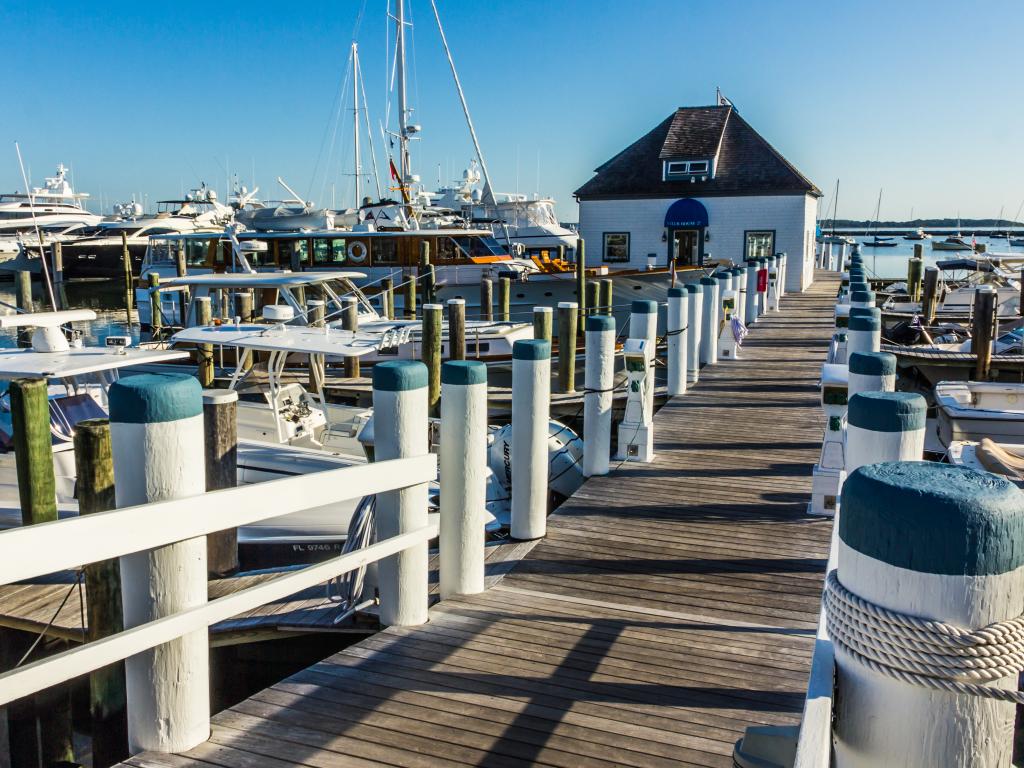 There are no bridges or causeways from Long Island to Shelter Island so your only option for driving is to take a car ferry. There are two options and both are equidistant if you are traveling from New York City or further afield.
Take the I-495 out of NYC and head to the North Fork for Greenport or South Fork for Sag Harbor. The time from Brooklyn Bridge to each port is similar and the ferry crossing from both takes the same 10 minutes, so it's entirely up to you which port you choose.
From Greenport take the North Ferry Co. ferries run every 15 - 30 minutes from 6 am to midnight. The Greenport ferry is slightly cheaper at $9 for driver and car to go one way and $2 for foot passengers.
From Sag Harbor, the South Ferry runs every 10 – 12 minutes from 5:40 am to 11:45 pm and the tickets cost $12 per car and driver one way and $1 for walk-ons.
How to get to Shelter Island from New York City?
There is no way onto Shelter Island except by boat or plane. No bridges or tunnels connect the island to Long Island despite it being relatively close.
Although more expensive airborne options do exist, the best way to get to Shelter Island is to catch one of the ferries across after driving the length of Long Island to the ferry ports.
The drive to Shelter Island from New York City via the South Fork port of Sag Harbor is a 101-mile journey which will take you around 2 hours 15 minutes from Brooklyn Bridge. Take the I-495 across Long Island until you reach exit 70 at Manorville. Continue on to Eastport and merge onto NY-27 E, then it's down Scuttle Hole Road to Sag Harbor.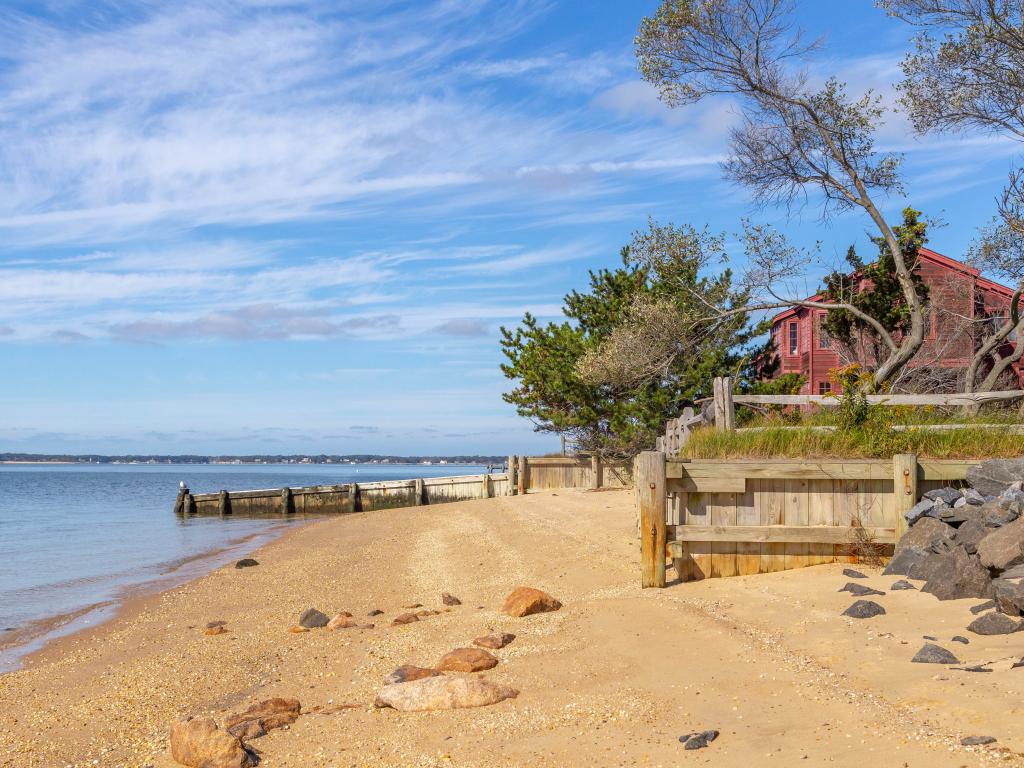 Driving to Shelter Island from New York City via the North Fork port of Greenport is an almost identical 100-mile journey which will take the same 2 and a quarter hours from Brooklyn Bridge. Take the I-495 across Long Island until you reach exit 73 (Old Country Road) at Calverton.
Continue on Old Country Road until you reach your destination at Greenport.
From both ports, the ferry companies run very frequently and the journey to Shelter Island is just 10 minutes long from either port to Shelter Island.
How long does it take to get to Shelter Island?
The time to get to Shelter Island from both ports on Long Island is similar. The journey from Brooklyn bridge to the North and South Forks on Long Island is just over two hours.
The ferry journey from either departure point to Shelter Island is 10 minutes. When choosing a driving route to Shelter Island look at the traffic and choose the way that seems less busy. Traffic aside, timings, distance and costs are the same.
As I mentioned earlier, the drive to Shelter Island from Brooklyn Bridge in New York City is about 100 miles and will take about 2 hours 15 minutes whichever of the two ports you pick for getting across.
As the island is very small, it won't really matter which option you take as you'll be able to get around to your destination on Shelter Island in a few minutes from either terminal.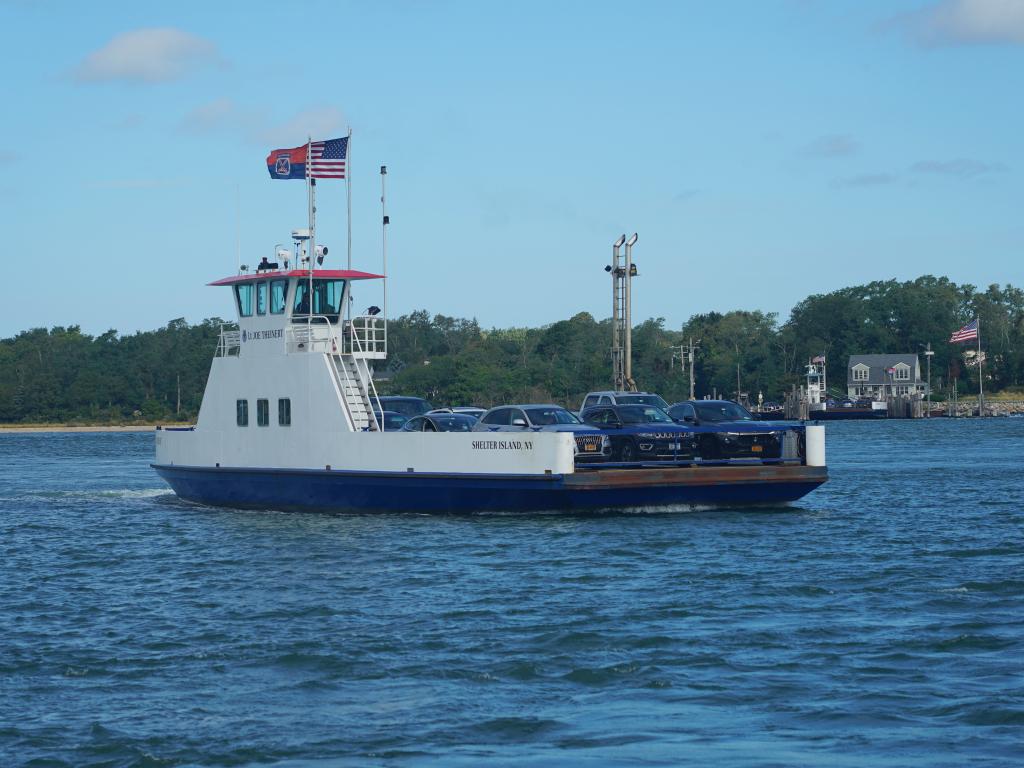 A note should be made of traffic to Shelter Island during weekends and holiday times. The island is a very popular destination in the summer months. Traffic out to Long Island and across it during holidays can be maddening and journey times can easily double. If you can visit Shelter Island during the week then your journey, as well as your experience on the island, will be improved.
Remember that although ferries do go frequently, you may have to wait around 30 minutes to queue and board the next ferry or longer if you're driving in peak season.
The ferries depart between every 10 minutes and every 30 minutes depending on which port you head to (Sag Harbor ferries are slightly more frequent). No booking is required for either ferry.
Distances and driving time to Shelter Island (Greenport and Sag Harbor) from other locations
Boston, MA: 133 miles (3 hours 15 minutes)
Buzzards Bay, MA: 133 miles (3 hours 15 minutes)
Hartford, CT: 77 miles (2 hours 20 minutes)
New Haven, CT: 74 miles (2 hours 20 minutes)
Providence, RI: 83 miles (2 hours 30 minutes)
Things you need to know about driving to Shelter Island
It is possible to drive to Shelter Island from mainland USA via Long Island but you will need to transport your car to the island by ferry from Sag Harbor or Greenport.
The ferry company from Greenport is the North Ferry Co and it'll cost $12 to go one-way for the car and driver plus an extra $2 per extra passenger. You get a $6 discount for buying a return ticket coming back on the same day.
The ferry company from Sag Harbor is the (you guessed it!) South Ferry. Tickets cost $15 per car and driver with extra passengers also costing $2. Doing a return trip on the same day will only cost an extra $5 for the car and $1 per extra passenger.
No booking for cars or passengers is required on either ferry.
The car ferry service is offered daily, all year. However, the weather should be a consideration when travelling to Shelter Island. New York winters are famously cold and the sea can be rough which means the ferries may be subject to cancellation.