Road Trip From Boston To Niagara Falls
If you're thinking about taking a road trip from Boston to Niagara Falls, you'll get to enjoy the beauty of northeast USA, spending a little time in New England before reaching the US-Canadian border once you reach the Falls.
It's definitely possible to fly out of Boston to Niagara Falls, but by doing that you'll be missing out on exploring the forests and cities you'll be driving past. So why not make a road trip out of it?
The 467-mile drive from Boston to Niagara Falls will take you just over 7 hours if you're not planning on stopping anywhere. But breaking it up into 2 or 3 days means you'll be able to stop and experience the cultures of the cities you'll be passing along the way.
If you're thinking of making this road trip, read on for the best route, and some awesome places to stop and check out on your journey.
How Far Is Niagara Falls from Boston and How Long Will the Road Trip Take?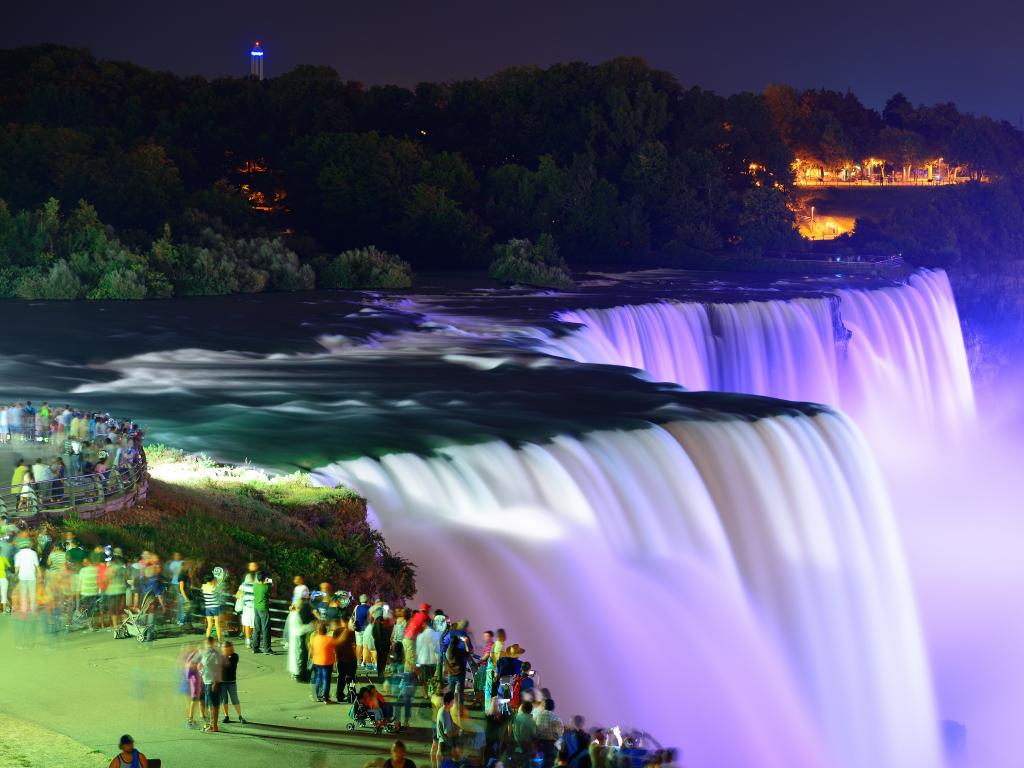 There are a few different routes you can take to reach Niagara Falls from Boston, but the best route is 467 miles, which will take you just over 7 hours. This doesn't take into account any bathroom, meal, or gas breaks, so you'll want to add on a few hours for those stops.
You should also consider that depending on the day and time you head out of Boston, you might need to add more time to your route. Leaving during rush hour or on a Friday or Saturday means you'll be joining the millions of other drivers heading out of Boston.
Even adding this extra time onto your route, you could still most likely do the entire drive in a day. But what's the point of taking a road trip if you're not going to stop along the way?
It's best to break your drive up into 2 or 3 separate days. That way, you can check out some of the cities you're going to pass on your way to Niagara Falls.
Best Road Trip Route from Boston to Niagara Falls
The best route to get to Niagara Falls from Boston will follow the I-90. If you're interested in visiting a national park on your way and don't mind tacking on an extra hour, you can go via the MA-2 before hitting the I-90.
But don't worry, the faster route won't have a shortage of places to stop in. This route will be better if you're more interested in cultural and historical sights and prefer staying in cities over national parks.
Road Trip Route from Boston to Niagara Falls
The route you'll be taking is very straightforward. Start by heading out of Boston on the I-93. Once you reach the I-90, you'll follow it until you hit US-62 N, or Niagara Falls Boulevard until you reach the Falls.
Best Places to Stop Between Boston and Niagara Falls
This route will lead you through several cities as you drive towards Niagara Falls. Here are a few places where you might want to stop, along with some recommendations for places to stay.
Visit Springfield, Massachusetts
Whether you're interested in sports, literature, or history, Springfield will have something for you to explore. Visit the Springfield Museums, which is a collection of museums located downtown.
You'll get to check out the science museum, the museum of fine arts, and the Springfield History Museum. Not only that, but you can relive an element of your childhood when you visit the Amazing World of Dr. Seuss Museum and Memorial Sculpture Gardens.
When looking for somewhere to stay, consider booking a room at Naomi's Inn Bed & Breakfast. You'll enjoy this quaint, Victorian-style Inn. The Basketball Hall of Fame is only 3.6 miles away, and if theme parks are your thing, it's just a 12-minute drive to Six Flags New England.
Do museum-hopping at Syracuse, New York
Visiting Syracuse will allow you to check out historical sites, museums, nature walks, and Destiny USA, a huge mall where you can get some shopping done.
Consider staying at the Historic Jefferson Clinton Suites, where you'll have access to an on-site fitness center if you want to make sure you're getting your exercise in during this trip. The mall is nearby, as is the Landmark Theater, which was added to the National Register of Historic Places in 1976.
Be sure to also stop at one of the several museums in Syracuse, like the Everson Museum of Art, the Salt Museum, or the Erie Canal Museum to get a taste of the past.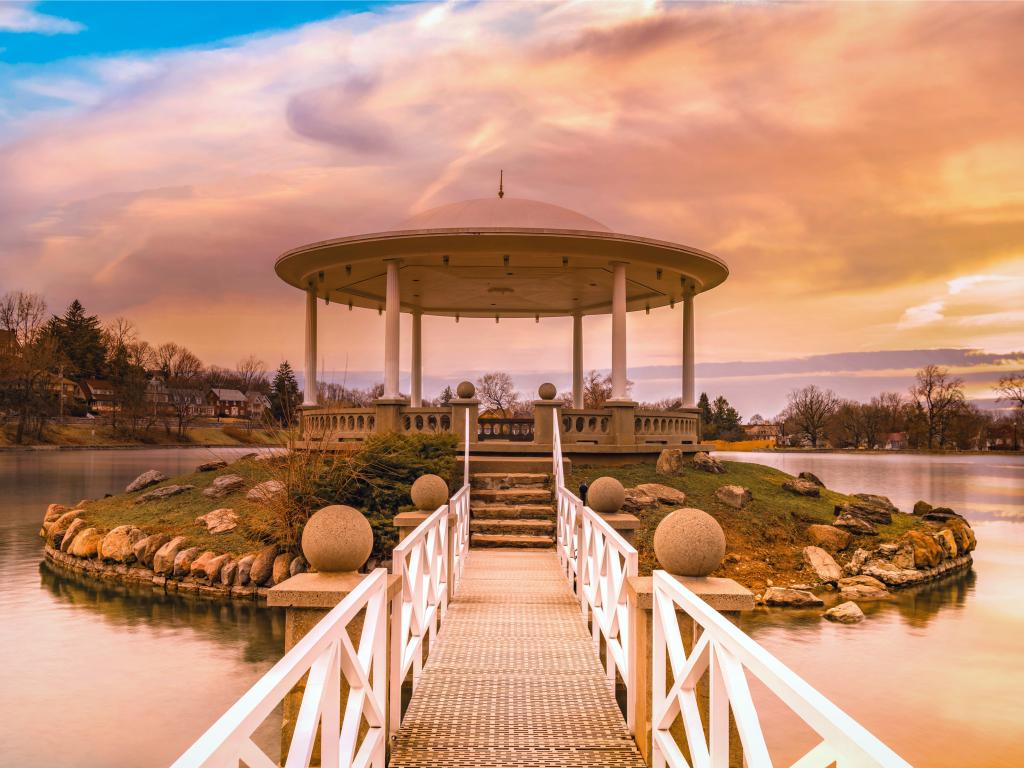 Explore Buffalo, New York
Buffalo is the second-largest city in New York and has plenty of things to do and see. Visit the Buffalo Zoo, take a Canalside stroll, or check out Frank Lloyd Wright's Martin House and take a tour.
If you're looking to stay in a beautiful, historic building in Buffalo, book a room at the Hotel Henry Urban Resort Conference Center. This classy resort is a short drive away from the Buffalo Zoo and Frank Lloyd Wright's Martin House. There is also a terrace and a garden where you can sit and relax for a while.
While you're in Buffalo, there's no shortage of historical and cultural sites to visit. Make sure to visit the Buffalo and Erie County Botanical Gardens, the Naval Park, and the Albright-Knox Art Gallery.
Things to See on a Road Trip from Boston to Niagara Falls
Let's get into the reason you've opted for a road trip over flying to Niagara Falls! There are lots of places you might want to consider stopping at as you drive from Boston to the Falls. Here is a list of some of the things you might want to consider checking out.
Green Mountain National Forest:If you don't mind adding an extra hour onto your drive, you can leave Boston via the MA-2 and stop at Green Mountain National Forest. You'll have the opportunity to see plenty of wildlife as you enjoy hiking, fishing, and cycling through the park.
Chester-Blandford State Forest:You might be on your way to see one of the most well-known waterfalls on the planet, but why not stop in at Chester-Blandford State Forest and visit the 60-foot Sanderson Brook Falls in preparation? This state forest also features several hiking trails you'll be able to enjoy, as well as an old mine.
October Mountain State Forest: This is the largest state forest in Massachusetts, covering 16,500 acres of land. Check out one of the hiking trails leading through the forest, and visit Shermerhorn Gorge.
Albany, New York: The capital city of New York State, Albany features many tourist attractions, including their performing arts center The Egg.
Howe Caverns:Visiting Howe Caverns will take you on a bit of a detour towards the south, but visiting these caves will be worth it. Howe Caverns is a popular tourist attraction offering visitors the experience of spelunking without needing any expensive equipment. Sign up for one of their many tours available, and get ready to travel over 150 feet under the earth's surface as you explore the caves.
Mariaville Lake: If you're interested in some leisurely fishing as you travel to Niagara Falls, stop at Mariaville Lake. This lake boasts a great panfish population, and you'll also find pickerel and bass.
Ontario Beach Park: If you're taking this trip during the summer and want to stop for a dip, check out Ontario Beach Park. You can reach this beach by driving through Rochester, New York, and spend the day lounging in the sun by the water.
Lake Erie Beach Park: If you decide to stop in Buffalo, remember to stop by Lake Erie Beach Park for a swim.
Niagara Falls: Last but certainly not least, it certainly bears mentioning the reason you went on this road trip in the first place! The Niagara Falls is right along the US/Canadian border and is a group of 3 striking waterfalls.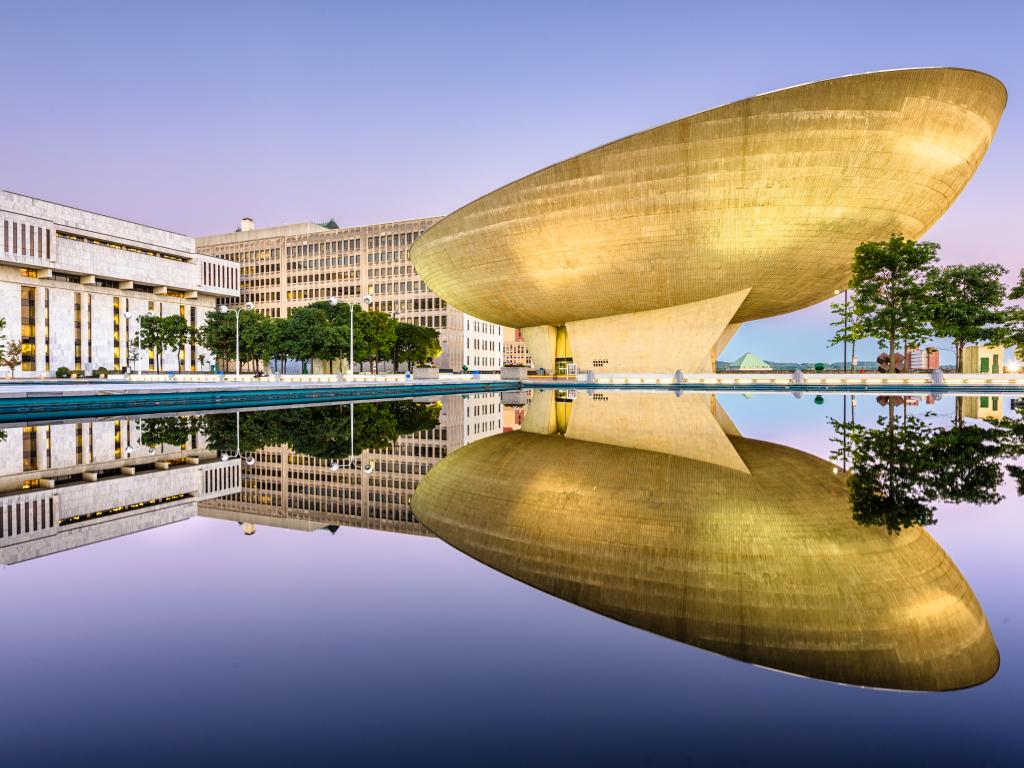 Best Time to Go on a Road Trip from Boston to Niagara Falls
If you're looking to visit Niagara Falls during the time of year when the weather will be best, you'll want to go during the summer. June to August will offer the warmest weather, with the temperature averaging in the low 80s.
If you go during the summer, all the attractions around Niagara Falls will be open, including the Discover Niagara Shuttle which will tour you around the area. You can also book a seat on the Maid of the Mist, which has brought tourists and visitors to the base of these incredible falls since the 1840s.
Keep in mind that if you do go during the summer, you'll have to deal with a lot of other tourists visiting the area. The nice weather will bring in large crowds, so if that's something you'd rather avoid, you might want to go during one of the slower seasons.
If you go during winter, expect temperatures to dip down below 0. Most of the attractions in the area will be closed, too. Fall and spring, however, do still offer some opportunities. Although the weather will be cooler than if you go in the summer, the crowds will be smaller, and the prices for the attractions will go down.
Going during the spring will allow you to check out the new, beautiful blooms at the botanical gardens in Niagara Falls, and if you decide to visit during the fall, local wineries will be harvesting their grapes.
No matter what time of year you decide to visit Niagara Falls, remember to bring your passport so you can check things out on the other side of the border.