How long does it take to drive Route 50?
Nicknamed "The Loneliest Road in America," US Route 50 is one of the most famous roads in America's West. As its name might suggest, this drive is remote yet full of epic landscapes, making it a great journey for any curious or adventurous travelers.
This incredible drive through 410 miles of the iconic American West on famous Route 50 will take you 7 hours without stopping. You can make stops along the way including Fallon, Sand Mountain, Austin, Eureka, Ely, and Great Basin National Park.
Although people do live in this region, many of the stops are considered ghost towns and you'll be sure to be the only car on the road for much of the way. Continue reading below to learn more about the best time to drive Route 50, how long it takes, and top tips so you can make the most out of this lonely yet wonderful stretch of road.
Time to drive Route 50
Route 50 takes you through the deep heart of the American West. The route is driven from either west to east or east to west.
The key places are Fernley, Nevada as the starting point and Delta, Utah as the endpoint. The time it takes to drive from point A to point B really depends on where you join this road from but traveling it in its entirety will take 7 hours of nonstop driving, and cover 410 miles.
Where is Route 50, or "America's Loneliest Road"?
US Route 50 is nicknamed 'The Loneliest Road in America' maybe unsurprisingly due to its remoteness. The road starts at Fernley, Nevada, in the state's west, near the California border.
Traveling east, it cuts through the center of Nevada before crossing into Utah, where the road ends at Delta near the central region of the state. It covers the Great Basin Region which is full of monumental landscapes and rugged history.
You'll pass endless desert landscapes, towering mountains, ghost towns, and mines. If you want an adventure through the American West, then this route is the perfect journey for you.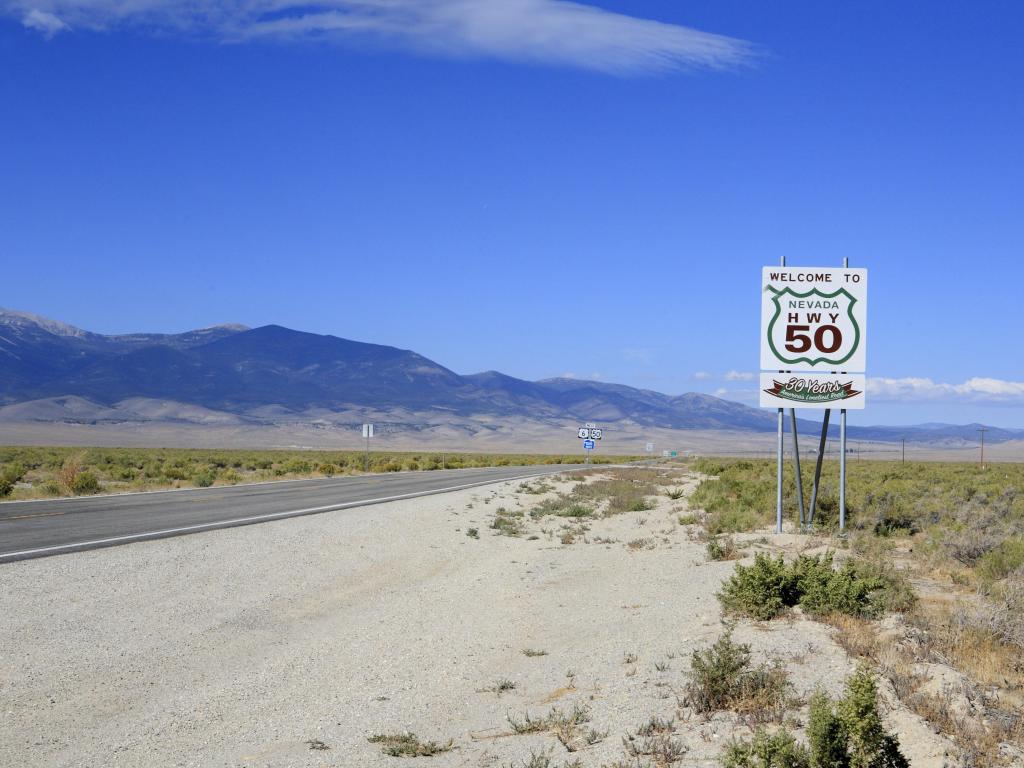 How long does it take to drive Route 50?
As mentioned above, it takes roughly 7 hours without stopping to drive the entire Route 50. This would be difficult to do because of all the beautiful yet remote stops and scenic areas along the way.
If you make our 6 recommended stops, at 30 minutes each plus travel time, your total driving time will be around 10 hours and 30 minutes.
Because of the distance, we recommend splitting this drive into two sections. By taking 2 days, you'll not only be able to relax but have plenty of time to see the sights along the way.
We recommend staying in Ely, Nevada. This town is 290 miles into the 410-mile road trip. There are limited hotel options along the route yet, Ely has a selection of hotels such as a Holiday Inn, La Quinta and various independent casinos.
Driving the entire length of Route 50
Leaving from Fernley, Nevada, you'll begin your drive through the Great Basin region. You'll soon come to Fallon. This is the last chance of civilization for close to 100 miles so make sure to load up on snacks and supplies before venturing on.
Continuing east, you'll encounter the Sand Mountain Recreation Area. This area is beautiful so you'll want to take plenty of photos.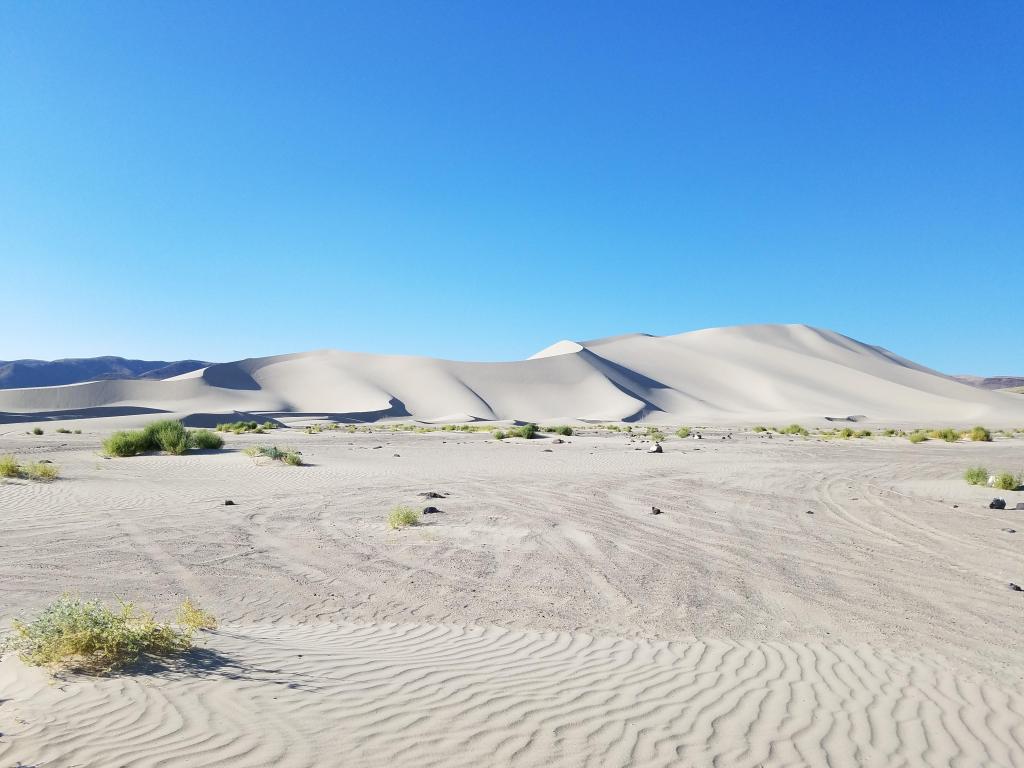 You'll be deep in the wilderness until Austin. But even so, Austin is a small town with nothing more than a few charming cafes.
From here you'll get to Eureka. This is your chance to fill up with gas. Eventually, after 290 miles, you'll enter Ely. This is your best place to stop for the night as there are hotel options here.
Around 60 miles from Ely, you can stop at the Great Basin National Park. Leaving the Great Basin National Park you'll be on your last stretch. After crossing into Utah and passing Sevier Lake, you'll reach the end of the road at Delta, Utah.
Driving to Route 50 from major cities
Time to drive to Route 50 from major cities

| Route | Entry Point | Distance/travel time to entry point | Total distance/travel time |
| --- | --- | --- | --- |
| Salt Lake City | Delta | 135 miles/2 hours | 570 miles/9 hours |
| Sacramento | Fernley | 160 miles/3 hours | 600 miles/9 hours 40 minutes |
| San Francisco | Fernley | 250 miles/5 hours 20 minutes | 670 miles/11 hours |
| San Jose | Fernley | 285 miles/5 hours 40 minutes | 720 miles/11 hours 30 minutes |
| Las Vegas | Delta | 300 miles/4 hours 40 minutes | 750 miles/11 hours 30 minutes |
| Denver | Delta | 515 miles/8 hours 10 minutes | 960 miles/15 hours |
Denver 8 hours 10 minutes 960 miles 515 miles (Entry to US Route 50) 960 miles 15 hours
Las Vegas 4 hours 40 minutes 750 miles 300 miles (Entry to US Route 50) 750 miles 11 hours 30 minutes
Route 50 is accessible from many US cities. Depending on where you're coming from, getting to either side of Route 50 can be very easy and convenient.
From California, you can drive 3 hours from Sacramento, 5 hours and 20 minutes from San Francisco, and 5 hours 40 minutes from San Jose. This will take you to the route's western end.
Other destinations in the west are even closer. Salt Lake City is only 2 hours away and Las Vegas is 4 hours and 40 minutes.
Things to know that can impact your driving time
It'll be very unlikely you'll meet heavy traffic along US Route 50. However, you may have to slow down for the occasional cattle guards, it is a good idea to keep an eye our for these.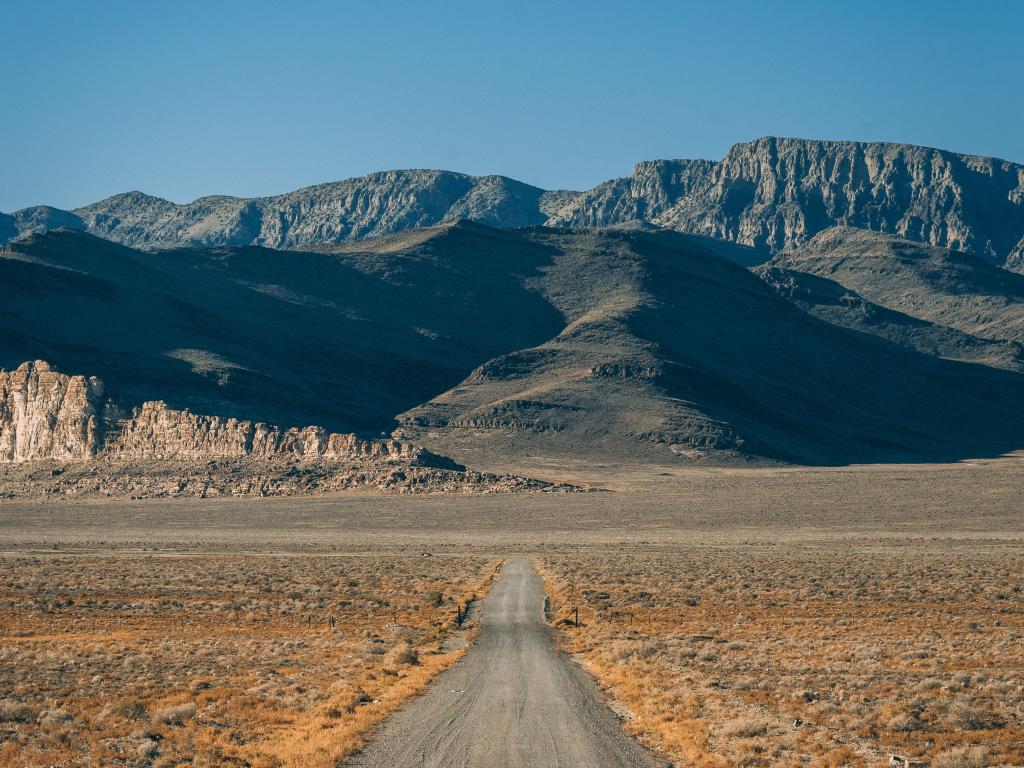 Also, depending on the time of year you make the trip, there's bad weather in high-elevation areas. Snow will be your biggest hindrance in and around Ely, Nevada.
The snowy season lasts for 7 months from October to May. The Nevada Department of Transportation is efficient at snow removal, but you should be wary of ice.
As always, check the weather before departing. This will give you the peace of mind that you need to make this journey safe and stress-free.
Tips to drive Route 50 in the shortest possible time
Although this drive is very straightforward, there are a few things to keep in mind to make the drive shorter and more convenient. First, have two drivers available so you can alternate and stay fresh.
It is a good idea to choose an economical car if you have the option to do so, in order to minimize refueling stops. Also, stock up on delicious snacks and in-car entertainment, to reduce the need for stops and detours.
Due to the stretches of wilderness along Route 50, check that your car is in good condition before setting off. Bring food and drinks as you'll have long drives of the road without shops.
Fill up on gas when you can. Use Ely as a stop but make sure you start your journey on a full tank. If your vehicle isn't efficient, then bring a jerry can full of gas just in case.
Things to see on Route 50
Although the route is considered lonely, the sometimes desolate route is full of unique places to see and visit. Below are our top highlights along the way.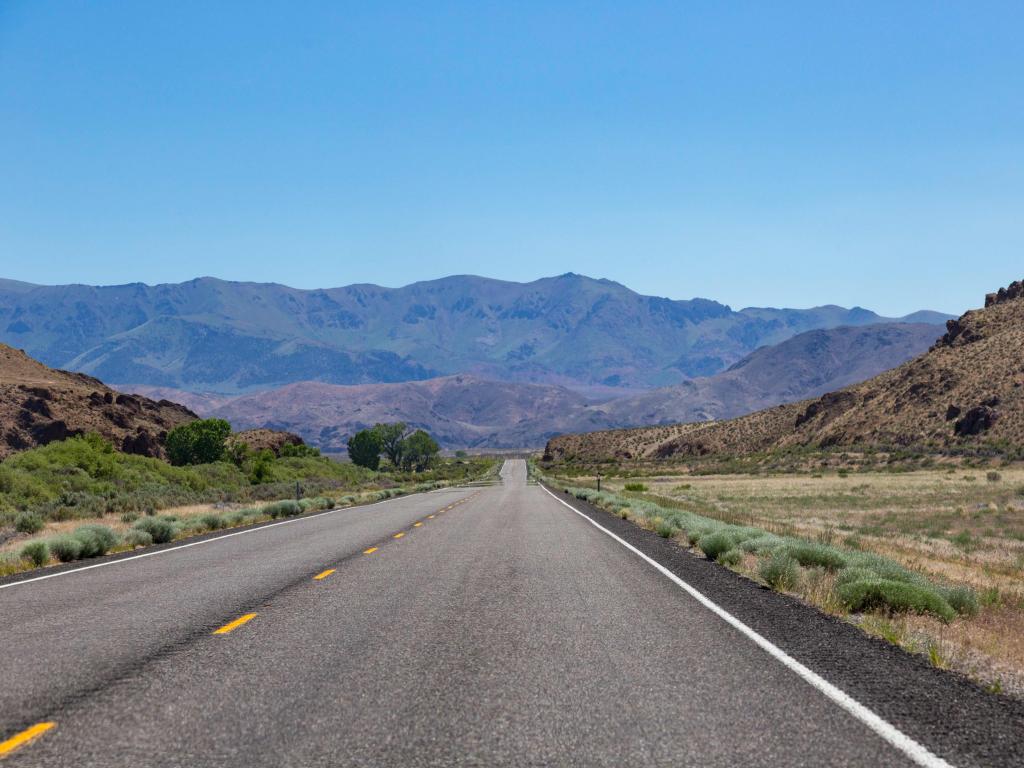 The Topaz Museum - The Topaz Museum tells the story of Americans of Japanese ancestry who were interned during World War II. The museum is on the site of the camps.
Great Basin Museum - Learn the area's history. The museum displays artifacts of original settlers and natives of the region.
Little Sahara Sand Dunes - Picnic, camp or hike over sand dunes. Climbing the 700-foot-tall Sand Mountain is a popular challenge for local hikers.
Gunnison Bend Reservoir - Water ski and boat on the reservoir. With shaded picnic tables and restrooms, it's a brilliant spot to spend the day by the water.