Road Trip from Las Vegas to Pyramid Lake
This amazing road trip from Las Vegas to Pyramid Lake will take you through Nevada's gold rush history, its unique ghost towns or past Southern California's beautiful national parks and mountain ranges. This adventure has something for everyone!
A 450-mile road trip from Las Vegas to Pyramid Lake will take about 7 hours to drive. You can see Death Valley National Park, Mammoth Lakes, Yosemite National Park, Inyo National Forest, Palisade Glacier, Reno, Fallon, Tonopah and South Lake Tahoe.
Keep reading to find out the best route options and our suggested activities on each, as well as great places to stay along the way and the best time to visit.
How far are Pyramid Lake from Las Vegas, and how long will the road trip take?
Comparison of road trip routes from Las Vegas to Pyramid Lake

| Route | Distance | Driving Time |
| --- | --- | --- |
| Direct Route | 450 miles | 7 hours 10 minutes |
| Scenic Route | 550 miles | 10 hours |
The Direct Route is our shorter route at 450 miles and it will take you 7 hours and 10 minutes to drive. You will pass through well-known Nevada towns brimming with history on the way.
At just 3 hours longer, The Scenic Route offers a unique opportunity to discover California's famous national parks, covering 550 miles. This road trip misses out on the full Nevada experience that our other route offers, and is a less direct route so those pressed for time should check out the other route option,
While these routes could be completed in one long day, we recommend taking 2 days to fully experience this road trip. You could even stretch this out to 3-4 days and add in as many activities as you can.
Best road trip route from Las Vegas to Pyramid Lake
With so much to discover, and so many route options, it can be hard to choose the best route! We've curated two amazing routes for you, that take in the best this famous area has to offer.
A great Nevada road trip, The Direct Route takes you through the dry heat of Death Valley, the ghost towns of Nevada, and the towering peaks that sit above the dry expanse of the desert. However, you will miss out on the picture-perfect Californian scenery on this route.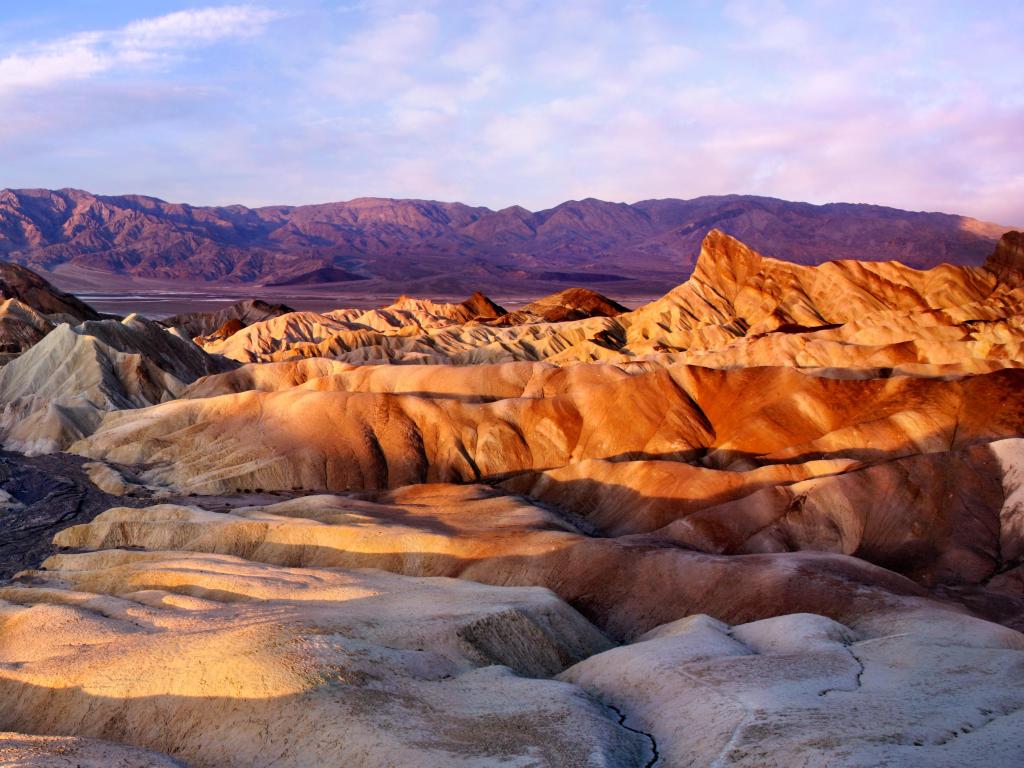 Venture into some of Southern California's magnificent national parks on The Scenic Route. You'll get to see the huge diversity of the state, from the blistering heat of Death Valley to the mountain glaciers of Palisades and from the towering peaks of California's mountain ranges to serene alpine lakes, this road trip is one for the adventurous among us.
The Direct Route
Leave Las Vegas in a northerly direction on US-95. Immediately after you leave the city, you'll have Red Rock Canyon National Conservation Area on your left and Desert National Wildlife Refuge on your right.
You'll continue towards Beatty where you can make a detour to visit the rugged, arid landscape of Death Valley National Park before reaching Tonopah.
Continue on US-95 out of Tonopah and you'll reach Walker Lake in Nevada, with the impressive Mount Grand providing a beautiful backdrop. This is a great spot for a dip after a long, potentially hot, drive. You'll then drive through the Walker River Reservation, heading north to Fallon.
Upon reaching Fallon, you'll take US-50 west through Wadsworth into Pyramid Lake Paiute Reservation. The mystic Virginia Peak will be on your left and is a great place for a hike. Keep an eye out for some wild horses! Continue northwest until you reach Pyramid Lake.
The Scenic Route
Follow the same directions as the Direct Route on US-95 until you spot Stonewall Mountain on your right. Here, turn west and start heading towards Big Pine in California.
Drive through Inyo National Forest and towards the beautiful scenery of Mammoth Lakes on US-395 before you reach Walker Lake (different than its namesake in Nevada!) in California. This is the perfect gateway to make a deserving detour to the famous Yosemite National Park.
After your visit, keep following the highway and cross from California once again into Nevada past Topaz Lake. Take a break at the stunning Lake Tahoe before continuing on to Reno and your destination on the shores of Pyramid Lake.
Best places to stop between Las Vegas and Pyramid Lake
This road trip is jam-packed with activities and attractions, so it seems only right to suggest an overnight stop or two to allow you to really enjoy your time here. Keep on reading to find out about our top recommendations for overnight stops.
Taking a journey through the stars in Tonopah
Tonopah is conveniently located halfway through The Direct Route, just under 4 hours away from Pyramid Lake. Known for its mining history and quirky attractions, Tonopah is a truly unique place to stop.
Discover the heart of the silver rush with more than 100 preserved acres, restored buildings and artifacts to explore in Tonopah Historic Mining Park. If you fancy something spookier, why not bravely explore Manhattan Ghost Town? This area is home to several ghost towns.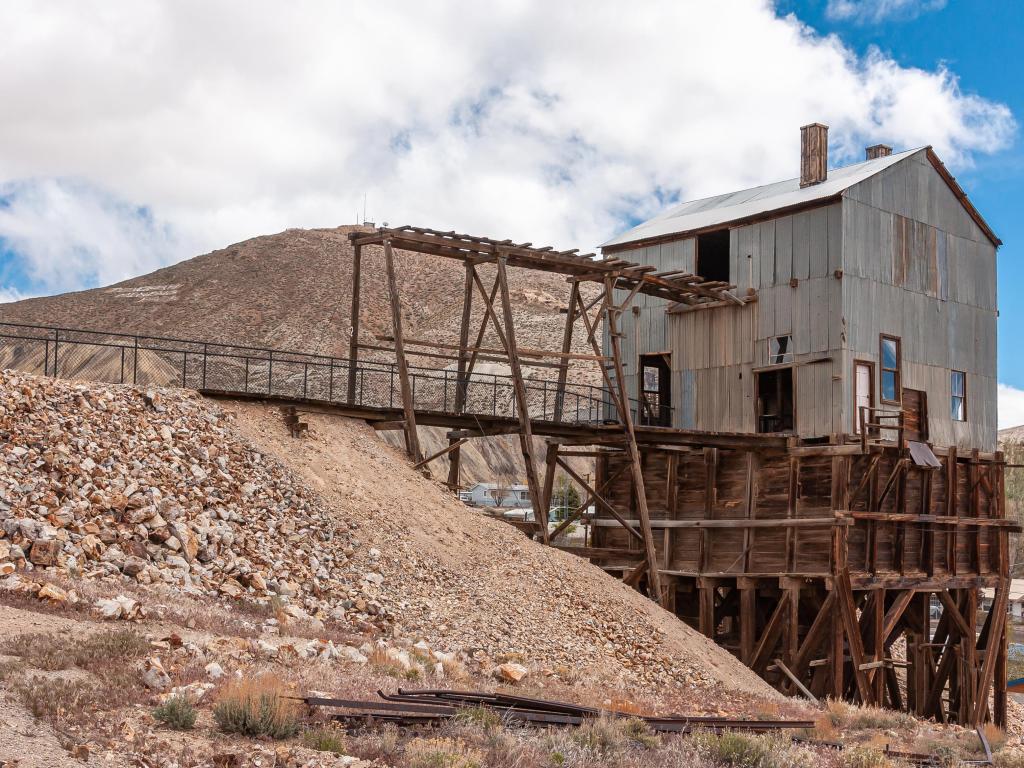 Located next to the infamous Clown Motel (which is also worth a visit), the Old Tonopah Cemetery is the resting place of close to 300 people, mostly victims of rowdy Wild West lifestyles.
The stylish Belvada Hotel offers guests comfortable three-star lodging in the heart of Tonopah. It is decorated in a quirky style which suits the atmosphere of its surroundings. There is a coffee maker in every room, perfect for that morning pick-me-up before you start your adventures in Tonopah.
Conveniently located in the city center, the hotel is a short walk away from Tonopah Historic Mining Park, and only a drive away from Old Tonopah Cemetery.
Make sure to visit the Tonopah Stargazing Park is just around the corner from the hotel as the incredible Milky Way is visible with the naked eye in Tonopah, and the vast Nevada desert skies are prime for stargazing.
Luxury on the shores of Lake Tahoe
Lake Tahoe is one of the deepest lakes in America and is known as a hub of outdoor adventure activities, from skiing to canoeing, hiking, and paddle boarding. At just 1 hour 30 minutes from your destination on the Scenic Route, you won't have long to go the following morning.
Take a boat cruise out on the water to experience a different side of the lake and learn about the history of the communities that live here. If you'd prefer something more leisurely, you can take a gondola ride from Heavenly Village to the top of Heavenly Mountain and bask in the glorious views below.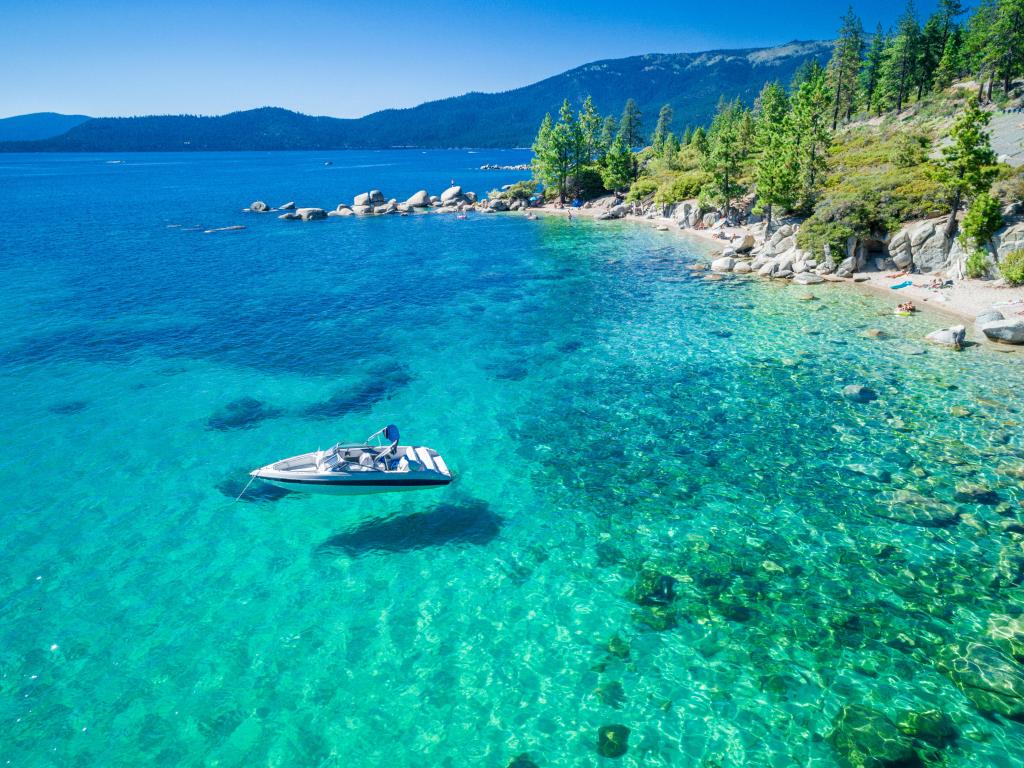 If fun on the lake doesn't float your boat, experience the scenic beauty of Lake Tahoe on the 28-mile-long Lake Tahoe Scenic Byway, promising stellar views of the deep blue alpine lake.
To spend time out of the car, head to Emerald Bay State Park, to experience the dramatic scenery formed by mountain glaciers. The park includes the impressive Eagle Falls, and Vikingsholm, an incredible example of Scandinavian architecture.
The luxurious Hotel Azure offers an elegant stay in a lakeside resort. Guests can relax and unwind in the outdoor pool, complete with lake views. Some rooms also offer lake views from private balconies or patios. You can even lap up the lake views over a meal at the on-site restaurant.
This hotel is located 100 yards from the beautiful El Dorado Beach, and less than 3 miles from a huge number of other beaches. The Heavenly Village gondola is 1.8 miles away and boat tours are available from a number of tour operators. Emerald Bay State Park is 7 miles away from the hotel.
Where to stay when you reach Reno
While Pyramid Lake might be the last place to stop on this road trip, we suggest staying overnight in nearby Reno and using this colorful city as your base. The Renaissance Reno Downtown Hotel and Spa is a great option to fully relax and rejuvenate after your road trip.
Each room in this beautiful hotel features a fabulous on-site bar and restaurant, which means you can just head there and start your stay in style without having to worry about making reservations and venturing out.
Relax in the hotel pool after a long day of driving and sightseeing and enjoy stunning river and mountain views from the comfort of your own room. Get the full luxury experience with the range of spa treatments offered in the beautiful hotel spa facilities.
Pyramid Lake is around a 50-minute drive from the hotel making it a fantastic day trip from the delights of Reno.
Things to see on a road trip from Las Vegas to Pyramid Lake
Our lists of things to see on each route really make the most of the outdoors. As this area has so much to offer in terms of hiking and quirky attractions, these activities dominate our recommendations.
The Direct Route
Goldfield - Stop in the living Ghost town of Goldfield, home to just 300 residents. A boomtown during the gold rush in the 20th century, this town is dedicated to sharing its industrial heritage with visitors.
Tonopah - A destination for the adventurous, explore the weirdness of the clown motel, brave spooky graveyards and ghost towns, and marvel at the wonder of the Milky Way which can be seen with the naked eye here.
Walker Lake (Nevada) - A stunning desert lake in Nevada with sandy beaches and a steep rocky shore. This lake is popular for swimming and boating, and camping is also available.
Fallon - Described as the Oasis of Nevada, this city is surrounded by lush agricultural countryside, a stark contrast to the vast Nevada desert that envelops the state. Visit wildlife-rich wetlands and neighboring mountains.
Virginia Peak - The highest mountain in the Pah Rah Range, hike 8,370 ft to the summit of this prominent peak for stunning views that stretch across the Nevada desert.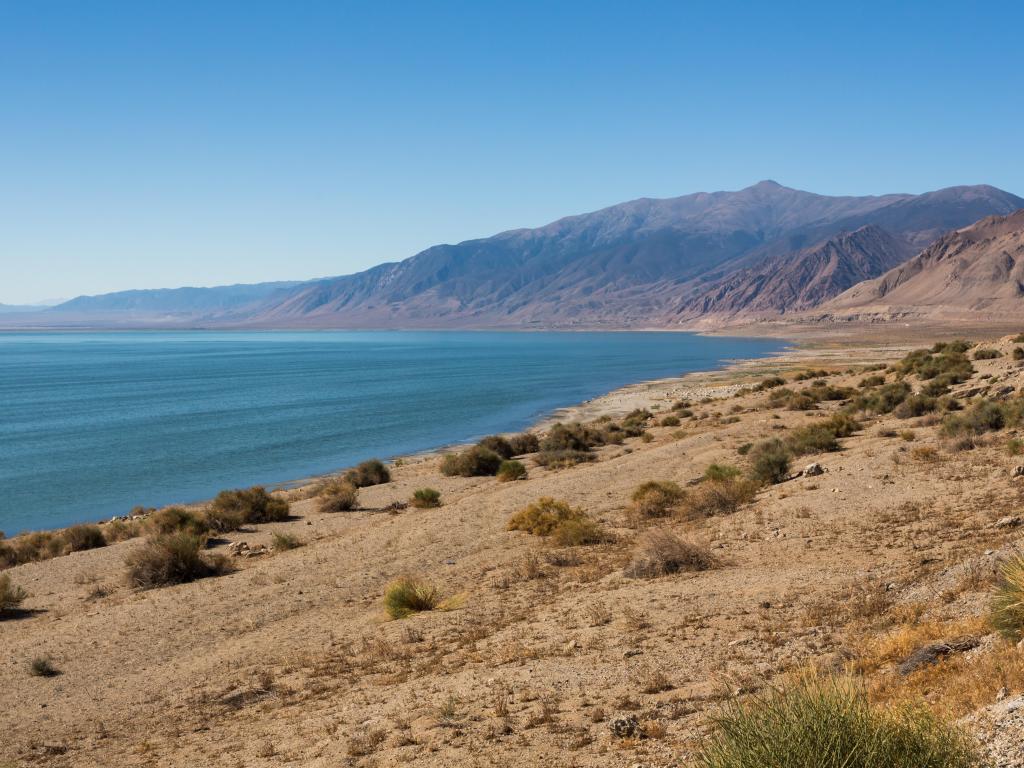 The Scenic Route
Inyo National Forest - Straddling the California/Nevada border, this beautiful natural park promises picturesque views of Mono Lake surrounded by towering mountains and ancient trees.
Palisade Glacier - Take a short detour to see California's glacier in the central Sierra Nevada. Offering a huge range of hiking trails to explore the stunning natural surroundings of huge mountains and blue water lakes, as well as the icy glacier itself.
Bishop - World famous for breathtaking scenery, world-class hiking and fishing, and even for its Mules, Bishop is well worth a stop, even just for a freshly baked treat from one of the town's many bakeries.
Crowley Lake - A reservoir located on the upper Owens River, this is notable for its unusual columns, thought to be created by cold water trickling down and hot steam rising out of hot volcanic ash from a cataclysmic explosion.
Mammoth Lakes - Home to two popular ski resorts in the winter and pristine alpine hikes in the summer, this area promises exceptional scenery year-round.
Walker Lake (California) - Different to the Nevada Walker Lake, this lake is a popular hiking destination, offering easy walking trails around the shore. More beautiful mountain and lakeside views are waiting for you here.
Yosemite National Park - Take a detour to visit the incredible Yosemite National Park. Famed for its ancient Sequoia trees, the iconic view of Bridalveil fall, and the towering granite cliffs of El Capitan and Half Dome. Dramatic landscapes and otherworldly views characterize this national park.
Mount Patterson - Challenge yourself by climbing the 11,654 ft to the summit of Mount Patterson, the highest peak in the Sweetwater Mountain Range.
South Lake Tahoe - Make sure you save time to enjoy the beautiful resort city of South Lake Tahoe. Nestled in the mountains, this city is famed for its ski resorts and lakeside beaches.
Reno - Missing the casinos and nightlife of Las Vegas? Here is your chance to reminisce. This city is where the mountains and desert regions of Nevada meet, resulting in dramatically stunning scenery.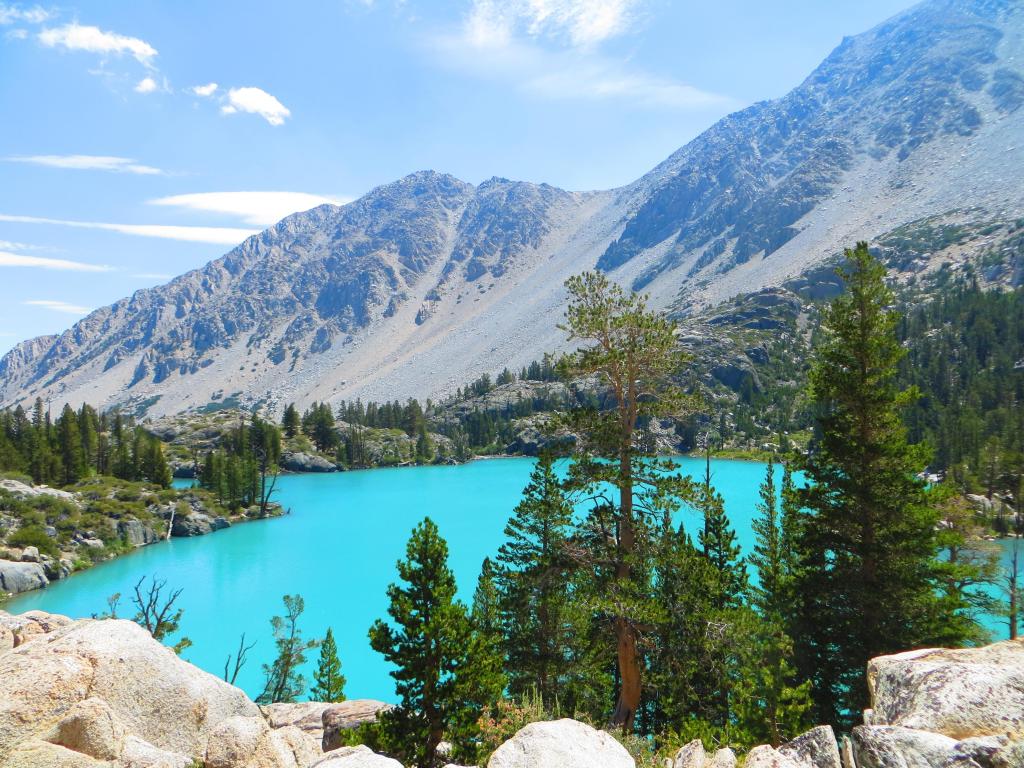 Both Routes
Red Rock Canyon National Conservation Area - Lying in Nevada's Mojave Desert, this national conservation area is known for its impressive geological features, from towering red sandstone peaks to canyons made rich with seasonal waterfalls.
Death Valley National Park - Discover the hottest, driest, and lowest national park in the States, famed for its otherworldly rock formations, intense heat, salt flats, and North America's lowest point. Death Valley is an incredible experience with a huge number of hikes and tours ranging in difficulty.
Best time to go on a road trip from Las Vegas to Pyramid Lake
Pyramid Lake is open to visitors all year round, and each season brings fresh beauty to the lake, from the change of colors of fall, to the blossoming of life that comes with spring. This is certainly an outdoor destination, so it is a good idea to time your road trip with some good weather.
Summer at Pyramid Lake sees average water temperatures of around 75 degrees Fahrenheit, and average air temperatures of around 80 degrees Fahrenheit with minimal rainfall. The weather in summer is perfect for swimming, kayaking and stand-up paddle boarding.
Pyramid Lake offers a range of outdoor winter activities such as ice skating, snowshoeing, and even horse-drawn sleigh rides! Temperatures can fall as low as 28 degrees Fahrenheit but can also reach highs in the mid-40s, so make sure to pack warm.
Spring is the best time of year to visit Pyramid Lake if you are looking to fish, as the fish come into the shallows. This is also the busiest time of year at the lake so hotels and beaches may be crowded. Temperatures range from 41 to 62 degrees Fahrenheit in the springtime.
Fall temperatures are very similar, a few degrees warmer on average, reaching highs of 71 and lows of 52 degrees Fahrenheit at night.
Pyramid Lake hosts several events throughout the year, from fly fishing tournaments to beach picnics, and solar eclipse gatherings.