Road Trip From Houston To San Antonio
If you're on a tight schedule but would like to go on a fun adventure with an easy drive, you should consider a road trip from Houston to San Antonio. Despite the low mileage, the trip is full of beautiful landscapes and vistas for you to check out.
The 200-mile road trip from Houston to San Antonio takes around 3 hours. Key stops include Palmetto, Bastrop, and McKinney Falls State Parks, the cities of Austin and San Marcos, and the Natural Bridge Caverns and Animal World & Snake Farm Zoo.
The length of the trip makes it relatively easy to explore every point of interest on the way, so keep reading and learn everything there is to know about your itinerary.
How far is San Antonio from Houston and how long will the road trip take?
| Route | Distance | Driving Time |
| --- | --- | --- |
| The Fast route | 200 miles | 3 hours |
| The Austin route | 235 miles | 3 hours 30 minutes |
The road trip from Houston to San Antonio takes 3 hours and covers around 200 miles. This means you can take off later in the day and still arrive in time for a night out in San Antonio.
The route never strays from Interstate 10, practically guaranteeing you a smooth ride all the way to San Antonio. The lack of larger cities along the route is an added bonus, as you won't be encountering heavy traffic that might slow down your drive.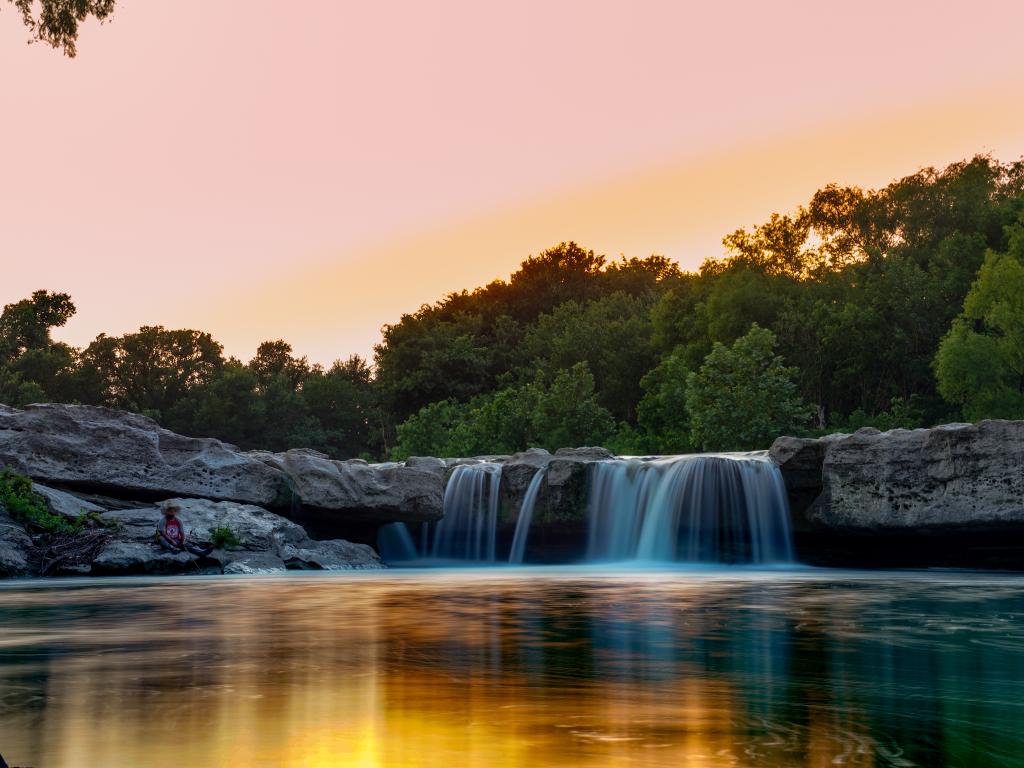 An alternate route will have you straying from the interstate a third into the trip, driving northwest to Austin before making your way down to San Antonio. This route will take you through a different set of beautiful parks, many of them along State Highway 71 and within Austin itself.
Driving this route takes roughly 3 hours and 45 minutes - although the highway makes for an easy drive in and of itself, the added mileage combined with the addition of bigger cities like San Marcos and New Braunfels can extend your travel time.
Best road trip route from Houston to San Antonio
Both of the outlined routes are perfectly viable for the road trip from Houston to San Antonio. The Austin route is more consistently scenic, but you should consider taking one on the way to San Antonio and the other on the way back since they have very few landmarks in common.
How to drive from Houston to San Antonio
The map above shows our suggestions for the best road trip routes between Houston and San Antonio. Keep reading for detailed descriptions of both routes, where to stay on either, and the best things to do on the way.
The Fast Route
Take Interstate 10 out of Houston, passing Memorial Park and Bear Creek Pioneers Park. Cross the Brazos River and pass Stephen F. Austin State Park, then go over the Colorado River in Columbus.
After passing through a chain of smaller towns, detour south of Waelder along Route 97 to visit Independence Ranch, or stay on the interstate and continue past Palmetto State Park.
Make a stop at Luling or Kingsbury, then visit ZDT Amusement Park and Son's Island in Seguin. Past the San Antonio Raceway and Converse City Park, take Interstates 410 and 35 to get to the heart of San Antonio.
The Austin Route
Once again, take Interstate 10 and follow it all the way to Columbus. From there, take Texas State Highway 71. Pass by Fayette County Reservoir and Lake Fayette Oak Thicket Park, followed by the Kreische Brewery & Monument Hill State Park in La Grange.
Next up is a sequence of scenic parks – Buescher and Bastrop State Parks, as well as McKinney Roughs Nature Park, all come in quick succession before you reach Austin.
Take your time to explore the city's innumerable parks and landmarks, then leave south via Interstate 35, with McKinney Falls State Park to the east and Lady Bird Johnson Wildflower Center to the west.
Past Mary Moore Searight Metropolitan Park, visit the parks in San Marcos, as well as the Natural Bridge Caverns and Landa Park in New Braunfels.
Just out of town is Animal World & Snake Farm Zoo, and you'll see McAlister Park as you enter Uptown Austin. From here, follow interstates 410 and 35 to reach the center.
Best places to stop between Houston and San Antonio
The trip from Houston to San Antonio might not be the longest in the world, but the decent selection of parks and cities along the way means you should take a few days to explore the routes in their entirety.
You'll want the best hotels to go along with that, and these are some of your top choices:
Live it up in the city of Austin
If you're traveling the longer route, you have to spend at least one night in the capital of Texas. Out of all the amazing hotels in town, The Driskill is by far the comfiest and best-looking resort in the entire region, thanks to its rustic yet modern design.
The stunning architecture and decorations of this hotel will win you over the second you step into the lobby. The amazing stylistic choices carry over into the rooms, as well – the incredible attention to detail and stunning window views will make it hard to even leave your room.
Once you do, however, the hotel offers plenty to do. The on-site Driskill Grill is several notches above most on-site restaurants in Austin, and you can expect to see some familiar-looking faces performing at the bar every night of the week.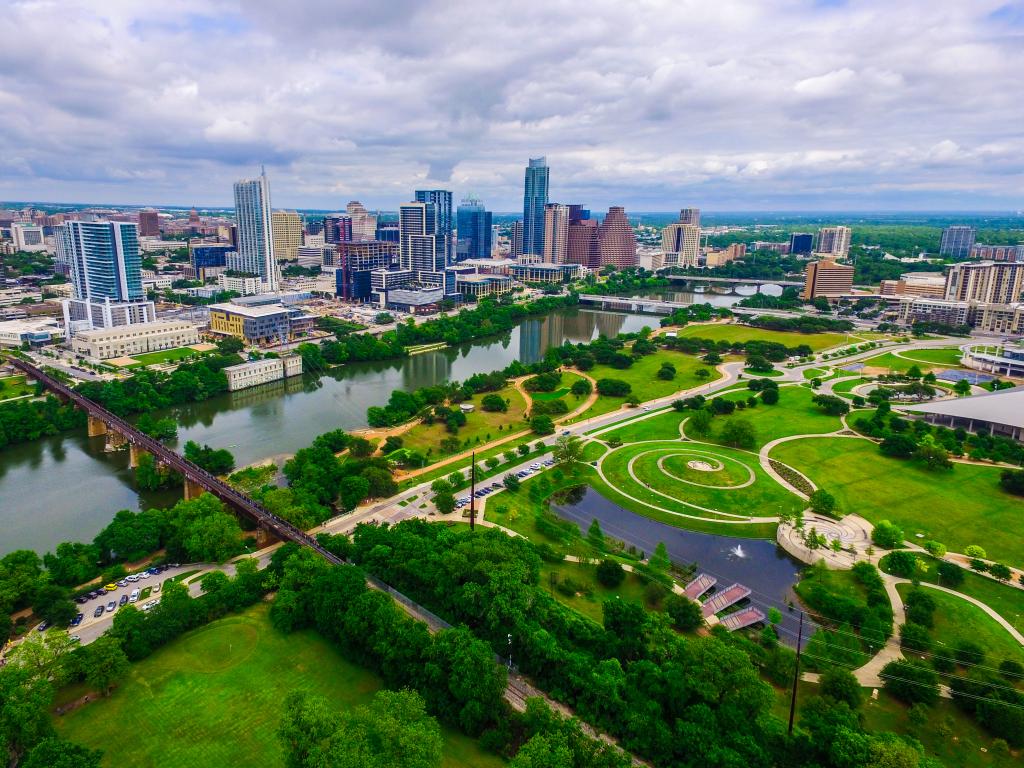 In addition, guests will have access to a fitness center, as well as a café that organizes a monthly "beer dinner" with locally brewed products.
All of these amazing amenities can be yours for a weekend, and for a staggeringly affordable price. In addition, the hotel is within walking distance of the State Capitol, Paramount Museum, and every other spot in town worth checking out.
Experience the best of the River Walk in San Antonio
Depending on what time of year you do this trip, it can be a little difficult to find an available room in a good hotel. If you plan for the trip in a timely manner, however, you may just snag a room with an insane view at the incredible Hyatt Regency San Antonio Riverwalk.
The setup of the rooms is simple but incredibly effective – they're built for comfort, have plenty of open space, and boast amazing views of the city.
It's not uncommon for hotels to feature swimming pools, but Hyatt Regency San Antonio Riverwalk takes things to the next level with a rooftop pool, complete with views of soaring buildings and a poolside lounge.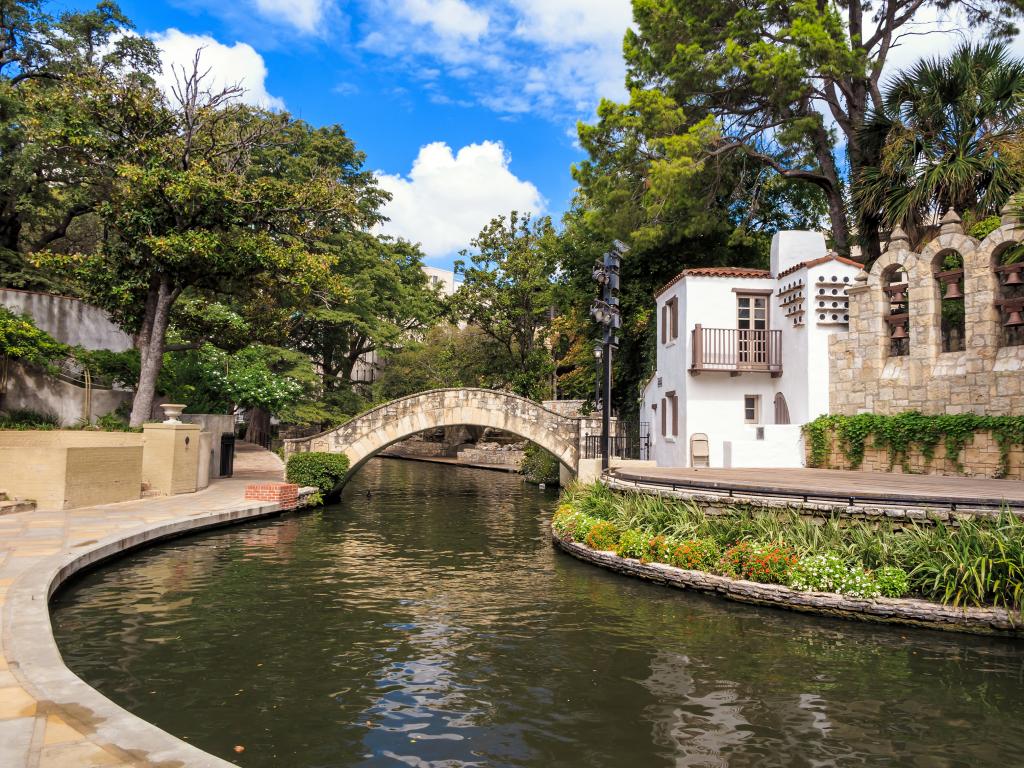 Guests will have access to the Q Restaurant and Q Bar for all their dining and beverage needs, and if you're not out and about exploring for whatever reason, you can hit the on-site fitness area instead.
The River Walk is arguably the crowning jewel of San Antonio, and this hotel puts you in the center of all the action – you'll be within walking distance of the Alamo, Travis Park, and Rivercenter Mall.
If you visit the city during its less congested seasons (read on to learn about those), your stay at this hotel will be very affordable, bordering on outright cheap.
Things to see on a road trip from Houston to San Antonio
Although the drive isn't particularly long, there's actually a lot to see between Houston and San Antonio. You'll definitely want to take a few days to check everything out, and maybe even take a full week if you're going through Austin. These are some of the places worth checking out:
Stephen F. Austin State Park –a great stopover for anyone looking to camp between Houston and San Antonio
Palmetto State Park –the impossibly green terrain and the San Marcos River make this park a haven for a variety of animal species
Kingsbury – one of the larger cities along the quicker route, the outskirts of Kingsbury feature some beautiful campsites
Kreische Brewery & Monument Hill State Park –a historical monument to the Miler Expedition and Dawson Massacre
Buescher and Bastrop State Parks –on top of being great fishing spots, these parks feature a total of 20 miles of scenic hiking trails
McKinney Roughs Nature Park – a beautiful park along the Colorado River featuring hiking/biking trails and a zip line with an epic view
The Dinosaur Park –a must-see if you're traveling with children, this park features beautiful picnic areas and life-size dinosaur statues
McKinney Falls State Park –besides the titular McKinney Falls, this gorgeous park is perhaps best known for Onion Creek and the trails that run alongside it
Austin –the capital of Texas and the undisputed urban highlight of the state, courtesy of its rich cultural roots and amazing landmarks
San Marcos – this city houses TSU, making it an important cultural hub for youths, and it features an array of scenic parks
Santa's Ranch –in early winter, this ranch doubles as a charming, Christmas-themed amusement park
Animal World & Snake Farm Zoo –over the past 50 years, this "farm" has evolved from a haven for a variety of reptile species to a fully-fledged zoo featuring hundreds of animal species
Natural Bridge Caverns –these breathtaking limestone caverns feature a natural amphitheater and a 60-foot limestone bridge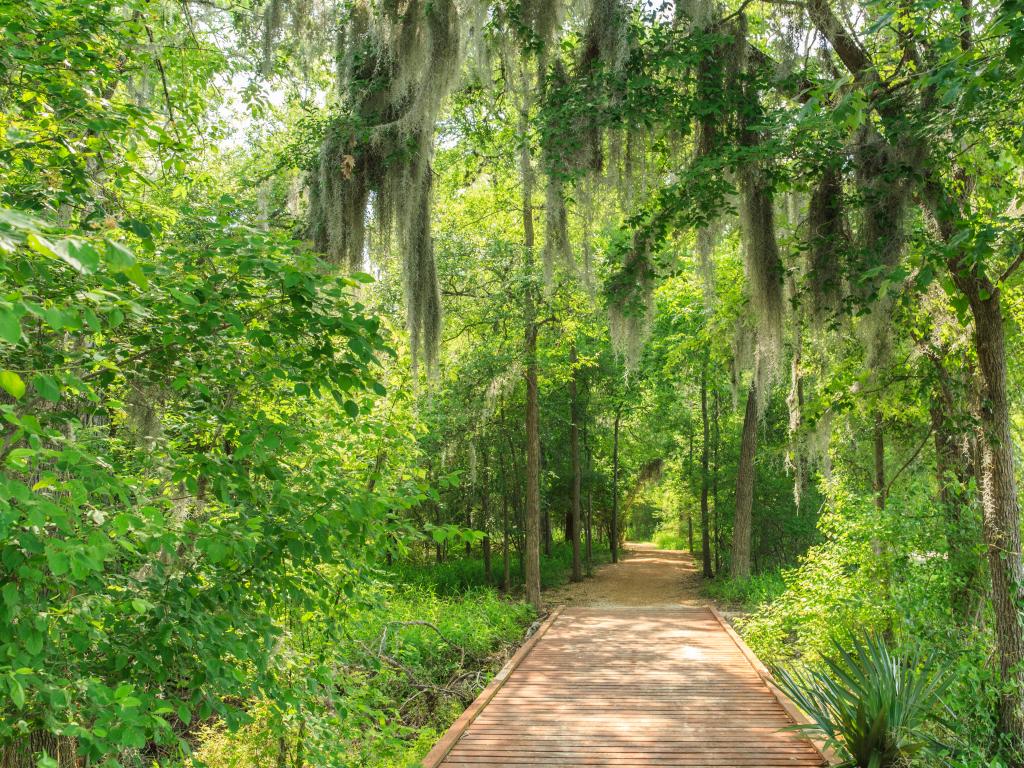 Best time to go on a road trip from Houston to San Antonio
The best time to do a road trip from Houston to San Antonio depends on what you're looking to get out of it – the city has plenty to offer no matter the season.
If you're well-accustomed to Houston's climate, San Antonio offers much of the same – summertime temperatures often approach (and sometimes even reach) 100 degrees, whereas winters are generally mild at around 60 degrees.
San Antonio is a family getaway in many respects – because the city features so many theme parks, you can expect it to be full of tourists during summer break. This, together with the amped-up hotel rates, can make visiting in the summer hard to recommend for some.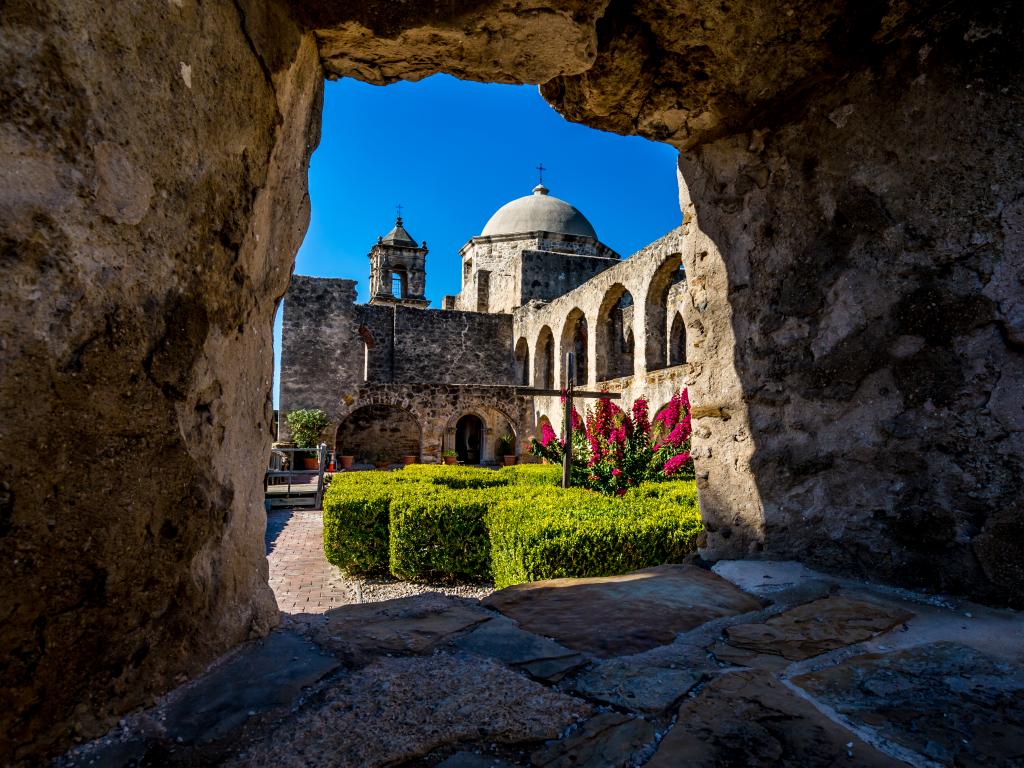 Winter is generally a safer time to visit in terms of crowds, but you still need to plan around a few major events around this time, most notably the inevitable crowds during the Alamo Bowl in January.
Ultimately, March might just be the best time to do this road trip – temperatures hover at around 70 to 75 degrees, much like in fall, but while you can expect lingering tourists in November, late winter and early spring are on the quieter and cheaper side.