Is There A Ferry From Boston To Nantucket?
Nantucket is a charming island off the coast of Massachusetts in Nantucket Sound, with destinations to see year-round. It's about 30 miles off the coast of Cape Cod and 100 miles south of Boston. Being an island, the only way to get there is by boat, which begs the question - is there a ferry?
Although there isn't a direct ferry from Boston to Nantucket, you can drive south from the city to the port of Hyannis, MA to board a vehicle or a passenger ferry. Alternatively, head for Harwich, MA to take a passenger-only ferry to Nantucket.
If you're looking to venture to Nantucket, Massachusetts, with dune-covered beaches, seafaring history, and architecture virtually untouched since the 19th century, read on to find about how to take a ferry there and what the other travel alternatives are.
Is there a ferry from Boston to Nantucket?
There is no direct ferry from Boston to Nantucket, whose meaning is "faraway island", as it lies quite far from the mainland. There are ferries depart from the ports of Hyannis and Harwich, both terminating at Nantucket. It is about a 30-mile sail from the mainland to the island.
Hyannis is about 70 miles south of Boston, while Harwich is 85 miles away from Boston, and both are easily reachable by car.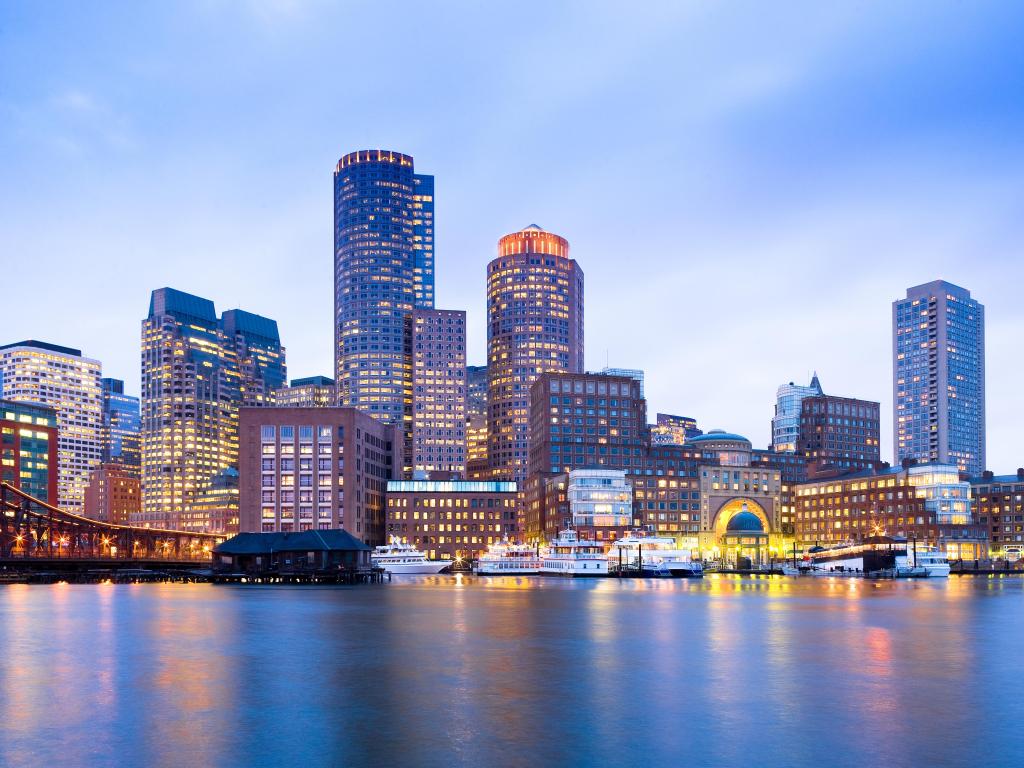 Only one of the two companies sailing from Hyannis is a vehicle ferry (Steamship Authority), meaning you can take your car onboard. This ferry takes 2 hours and 15 minutes to make the journey to Nantucket. Steamship Authority also runs a passenger ferry which takes about 1 hour.
Similarly, Hy-Line Cruises operates a high-speed ferry from Hyannis to Nantucket. This ferry crossing takes 1 hour and does not allow vehicles on board.
The ferry departing from Harwich, operated by Freedom Cruise Line, does not carry vehicles but gives you a choice of overnight parking. This boat takes about 1 hour and 20 minutes to reach Nantucket. This line does not operate in winter.
Hyannis crossings operate year-round, but with different daily schedules, depending on the season. On average, there are four crossings daily with the vehicle ferry.
How to reach Nantucket from Boston
As mentioned earlier, there isn't a direct ferry route from Boston to Nantucket, but it's not more than a day's trip to get to the island via a combination of car and ferry.
The shortest option is to go to Hyannis, and then hop on a ferry from there. The drive itself is about 70 miles and 1 hour and 30 minutes if you choose to depart for Nantucket here, not including the ferry crossing time.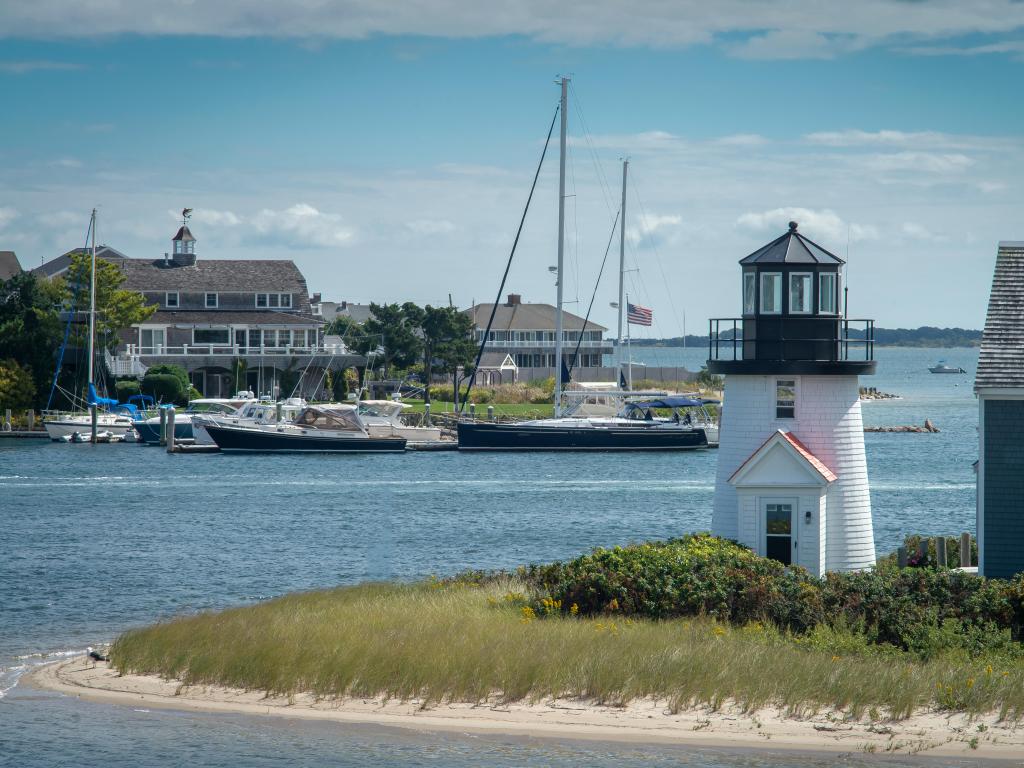 Alternatively, if you go a little further - about 15 miles - you'll reach Harwich, another port. Below, we'll go into more detail about the two options.
If ferry isn't your thing, you can fly on a commercial plane (JetBlue and Cape Air) from Boston to Nantucket. You can alternatively take chartered flights with Nantucket Air and Cape Air, flying from Hyannis and New Bedford respectively to Nantucket Memorial Airport.
How to drive from Boston to Hyannis
Starting from Boston, onto Interstate 93 (I-93) south. You'll take an interchange after about 10 miles to get onto MA-3. After about 40 miles, you'll take an exit to get onto US-6 E and shortly after switching to MA-132.
Despite the road changes, this route will be consistently in the southeast direction.
Traffic might be heavy during weekends when many tourists like to visit Providence, Martha's Vineyard, and Nantucket. You can also expect this with major holidays and the summer season.
Driving to Harwich from Boston
The route from Boston to Harwich is close to the one from Boston to Hyannis. To get to Harwich from Boston, simply continue following US-6 instead of switching to MA-132.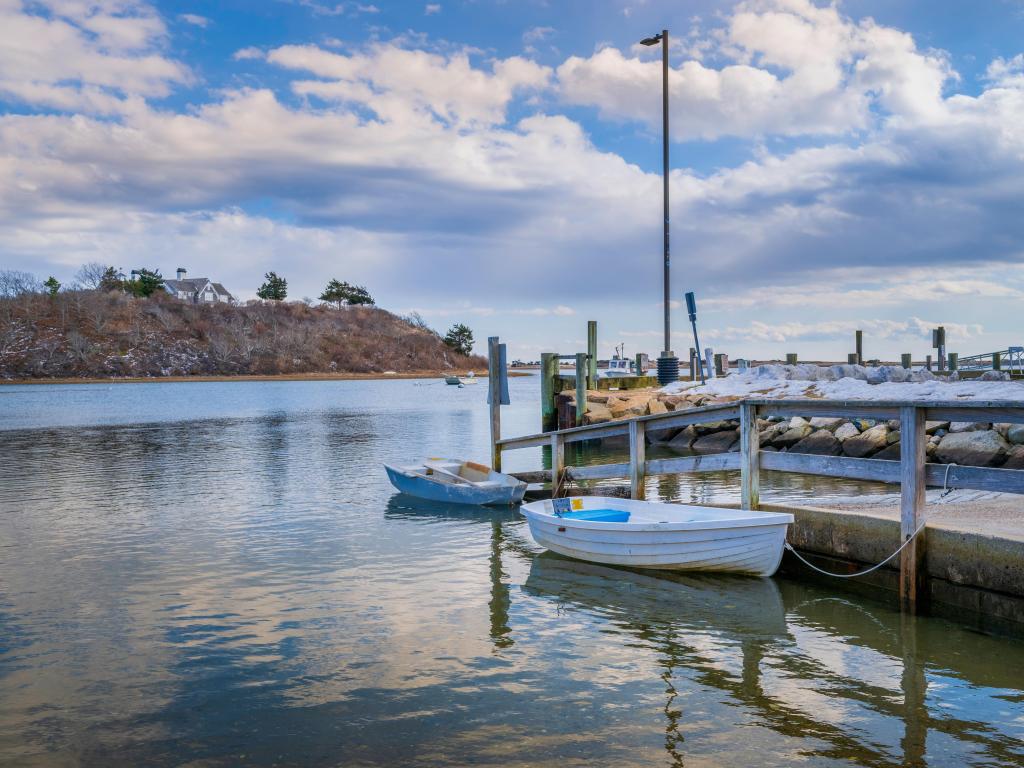 This route passes through the popular coastal areas of Rhode Island towards Chatham, so you can expect a bit of congestion, especially during the weekends.
How long does it take to reach Nantucket from Boston by ferry?
Comparison of travel times from Boston to Nantucket

| Ferry Route | Operator | Drive Time | Ferry Duration | Total Travel Time |
| --- | --- | --- | --- | --- |
| Hyannis-Nantucket | Steamship Authority | 1 hour 30 minutes | 1 hour | 2 hours 30 minutes |
| Hyannis-Nantucket | Hy-Line Cruises | 1 hour 30 minutes | 1 hour | 2 hours 30 minutes |
| Harwich-Nantucket | Freedom Cruise Line | 1 hour 40 minutes | 1 hour | 2 hours 40 minutes |
| Hyannis-Nantucket | Steamship Authority | 1 hour 30 minutes | 2 hours 15 minutes | 3 hours 45 minutes |
Once you factor in the drive to your port of choice, you're looking at an approximate total of 2 hours and 30 minutes of traveling time if you opt for one of the passenger ferries from Hyannis, operated either by Steamship Authority or Hy-Line Cruises.
The vehicle ferry from Hyannis to Nantucket takes about 2 hours and 15 minutes of that time. Once you factor in check-in times, it will be closer to 3 hours and 45 minutes.
If you choose to take the passenger ferry from Harwich, the drive from Boston will take 1 hour and 30 minutes, covering 85 miles. The ferry itself will take 1 hour and 20 minutes, so your total travel time will be about 3 hours.
How much does it cost to take the ferry to Nantucket?
Comparison of ferry prices to Nantucket
Departure Point
Mode
Operator
Adult Fare
Hyannis
Passenger Ferry
Steamship Authority
$39.50
Hyannis
Vehicle Ferry
Steamship Authority
$19.50


plus $166.00+ per vehicle

Hyannis
Passenger Ferry
Hy-Line Cruises
$50
Harwich
Passenger Ferry
Freedom Cruise Line
$55
* All prices are based on a single journey including 1 adult ticket
Which ferry port should you choose as your destination in Nantucket?
There's really only one port destination in Nantucket, which is located almost in the middle of the island's shores to Nantucket Sound. All of the island's attractions are within easy reach of the port (see our list at the bottom for our top choices for what to see and where to visit).
Things you need to know about taking a ferry to Nantucket
There are a few things to keep in mind as you plan your trip by ferry to Nantucket, including weather, costs, and timing.
Here are our top tips when it comes to preparing for a ferry ride to Nantucket:
Be sure to arrive at the port at least one hour before departure time.
During weekends and high season, it is necessary to reserve your place on the ferry. In any case, it is preferable to book your ferry well in advance.
Usually the ferry takes 2 h 15 minutes. But often factors such as weather can impact this transit time – in case of storms, high seas, and gales, the ferry might be cancelled or delayed. If sudden stormy weather occurs while you sail, the ferry would arrive with 30 min delay on average.
During the weekends, you can choose to sail from Harwich port, which is some 15 miles east from Hyannis, as It offers less crowded boarding. However, it is a passenger ferry, just as is another, more luxurious and faster ferry from Hyannis.
You can fly from Hyannis or New Bedford with chartered flights.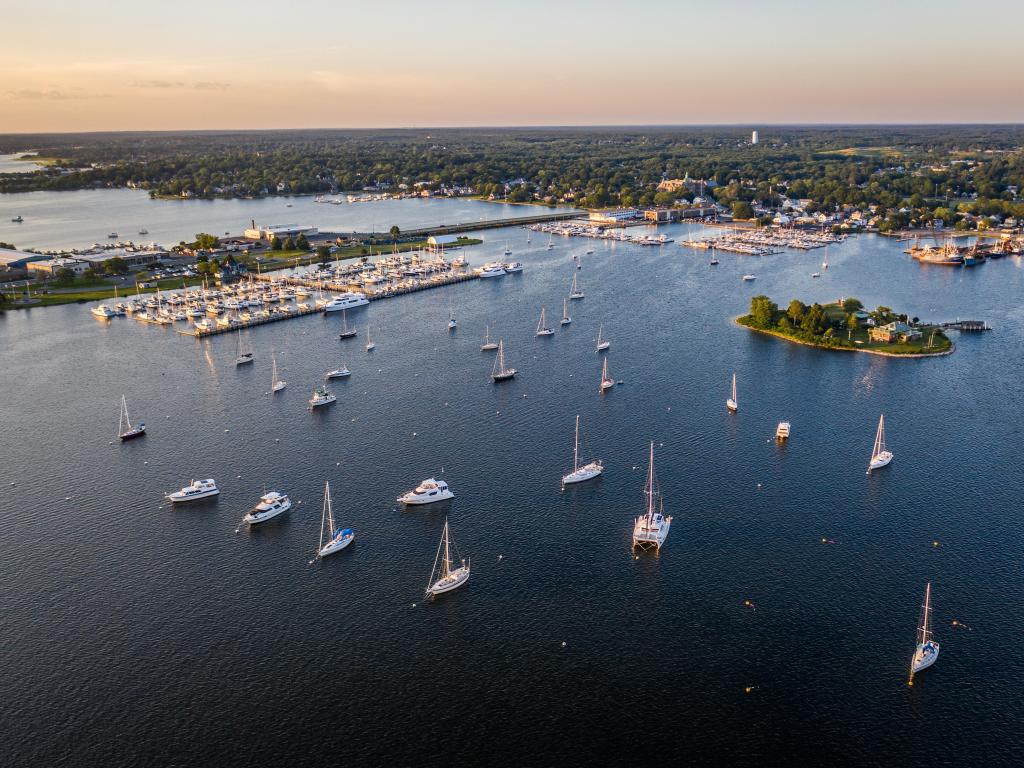 Best time to visit Nantucket
There are a few things to consider when visiting, but the most impactful will be the weather. Weather impacts the rates and the experience.
As most of the ferries operate year-round (except for Freedom Line Cruise from Harwich) you will be able to visit the island any time you wish. However, the best time to visit are the shoulder months in March, April, September and October.
You will find the island free of tourists and the weather will be mild at around 55-60 degrees Fahrenheit, which will allow you to enjoy both indoor and outdoor attractions.
If you would like to do some whale-watching, best time to visit Nantucket is between April and October, although it is possible to spot whales around the island during other months, albeit less frequently.
Does the ferry to Nantucket run all year round?
Although most of the ferry runs all year round, as mentioned earlier, the weather will affect the travel time. The cheapest time to travel will be November through March.
When is the best time to travel to Nantucket?
Nantucket offers beautiful scenery all year round, but if you want to experience the most in terms of events, good weather, and activities, summer is the time to go.
The temperature in summer stays around 65-70 degrees Fahrenheit and you can enjoy the beautiful beaches and the sunny weather during these warmer months.
Summer also sees Nantucket Oyster Festival, Nantucket Comedy Festival and Nantucket Film Festival, among other annual events, so you will have your hands full with many activities to do if you visit during this time.
However, if you wish to avoid the crowds, you can choose to visit in spring and fall will avoid the peak seasons and you will get to admire the beautiful Massachusetts scenery changing colors on your way to the island.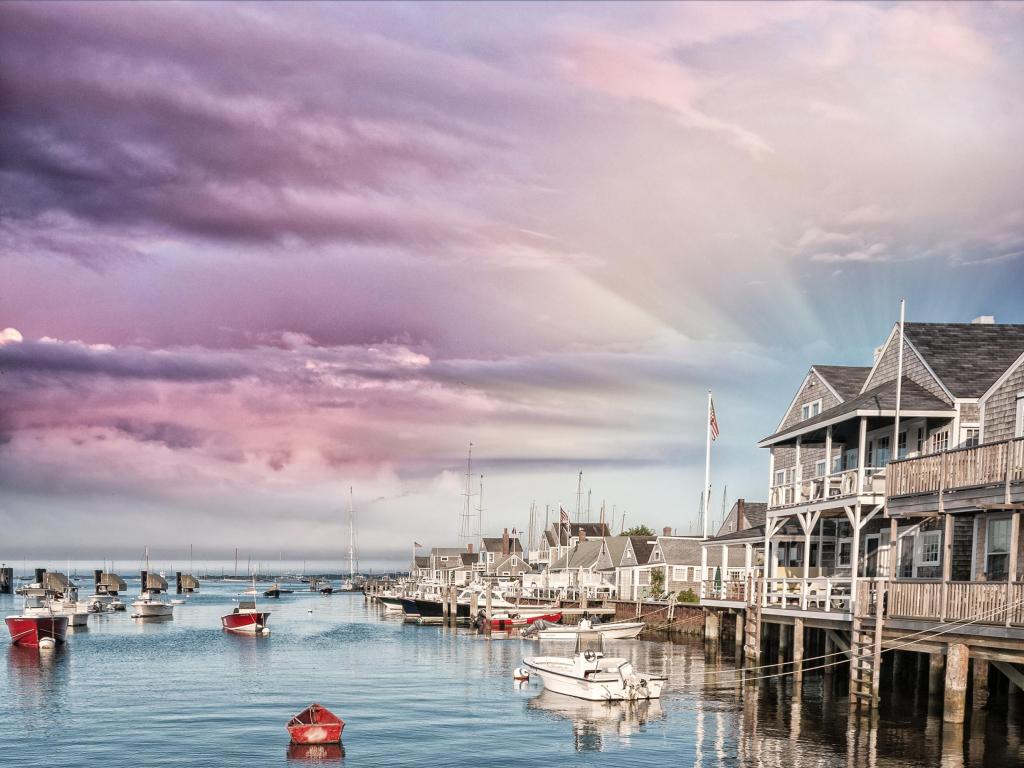 Things to see once you reach Nantucket
Nantucket is an island that is not short of things to see and adventures to explore. Here are some of our top picks as to what you can do and where you can visit during your time on the island.
Whaling Museum - Nantucket is a popular destination for whale-watching and you can learn so much about the island's history as a whaling capital in this museum.
Madaket Beach - This beach had to be moved due to unfortunate erosion damage, but you can still see gorgeous sunsets and visit some of the island's most popular dining spots, such as Millie's.
Brant Point Lighthouse - Who doesn't like a scenic, postcard-perfect lighthouse? Try to catch this beautiful lighthouse (America's second oldest lighthouse!) during sunset, which has been in service for more than 250 years.
Cisco Brewers - Visit this brewery, which is also a distillery and a winery, after a long day of sightseeing to unwind and enjoy a glass of your favorite drink.
Jetties Beach - Ideal for families with kids, Jetties Beach is a short walking distance from the town.