Is there a Ferry from Cape May to Delaware?
Delaware, nicknamed the First State, is steeped in history and a trip to the least populated state in the USA is an excellent way to learn about the part it played and its importance in the US Constitution. Delaware has borders with Pennsylvania to the North, Maryland to the West and South, and the Atlantic Ocean to the east.
There is a ferry from Cape May to Delaware and the vehicle and passenger ferry takes 1 hour and 25 minutes to make the 17-mile crossing. There is only one route in operation and the alternative is to drive the route via Delaware Memorial Bridge.
Keep on reading to discover the options for reaching Delaware, our top tips when traveling, and some of the best attractions to enjoy on arrival.
Is there a ferry from Cape May to Delaware?
Comparison of travel times and modes from Cape May to Delaware

| Route | Mode | Operator | Travel time |
| --- | --- | --- | --- |
| Cape May to Lewes | Vehicle ferry | Cape May Lewes Ferry | 1 hour and 25 minutes |
| Cape May to Lewes | Car | N/A | 3 hours and 20 minutes |
As you will already know, there is a ferry from Cape May to Delaware, and it is the quickest way to arrive in Lewes. There are no direct flights available between New Jersey and Delaware, and no direct Amtrak trains.
Catching a Greyhound bus is only possible from Newark, 150 miles away from Cape May, traveling to Wilmington, which is 89 miles from Lewes. So the only real alternative to catching the ferry is to drive.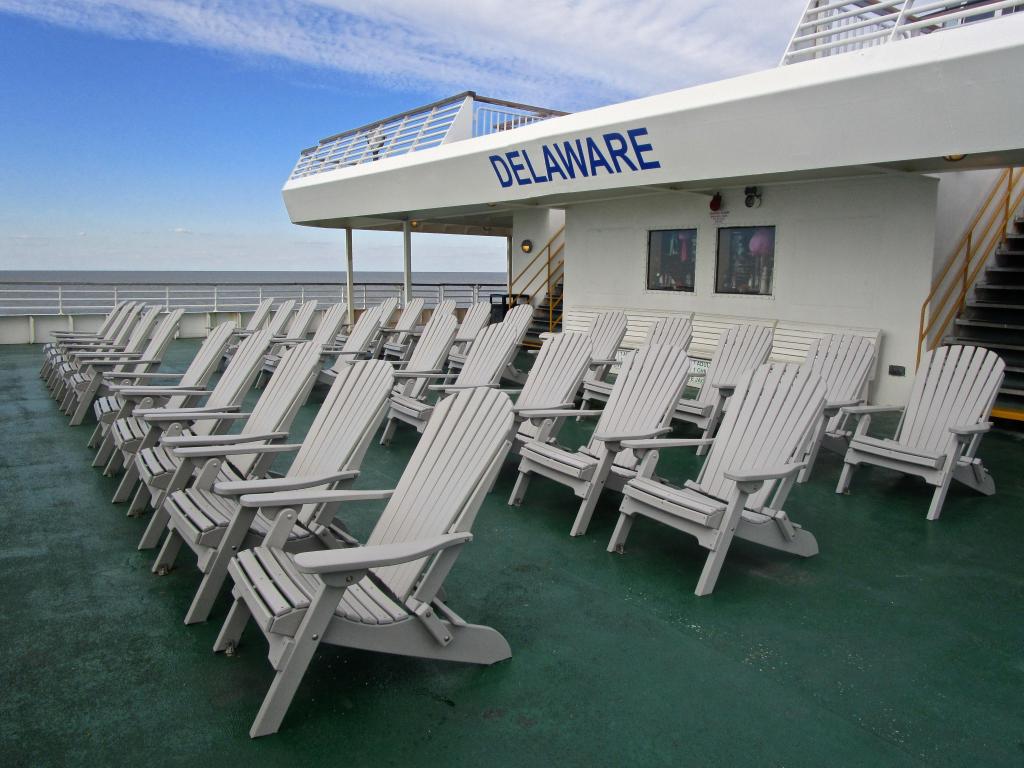 Taking the ferry from Cape May to Lewes
A ferry ride from Cape May to Lewes is a leisurely way to travel across Delaware Bay and enjoy uninterrupted views across the Atlantic Ocean. The ferry departs from the Cape May ferry terminal, 5 miles from the famous Washington Street Mall, taking you across Delaware Bay to Lewes ferry terminal.
The ferry does take vehicles if you want to explore Delaware in your own car once you've arrived, or you may wish to travel as a foot passenger, or even on 2 wheels. There is a shuttle service available from the Cape May Welcome Center to the ferry terminal on Memorial Day, and then from the 17th of June until the 9th of October.
Whilst the ferry runs daily all year round, the number of crossings does vary with the seasons. In the peak summer season, there are 10 crossings a day between 7 AM and 6 PM on Saturdays, whereas there are only 4 crossings a day during less busy times of the year.
Driving to Delaware from Cape May
Taking to the road and heading to Delaware is a straightforward and scenic journey that will not disappoint. Starting in the coastal town of Cape May on the southern tip of New Jersey, the route begins heading north along Garden State Parkway before exit 10 leads you past Beaver Swamp Fish and Wildlife to Dennis, where you'll join NJ-347.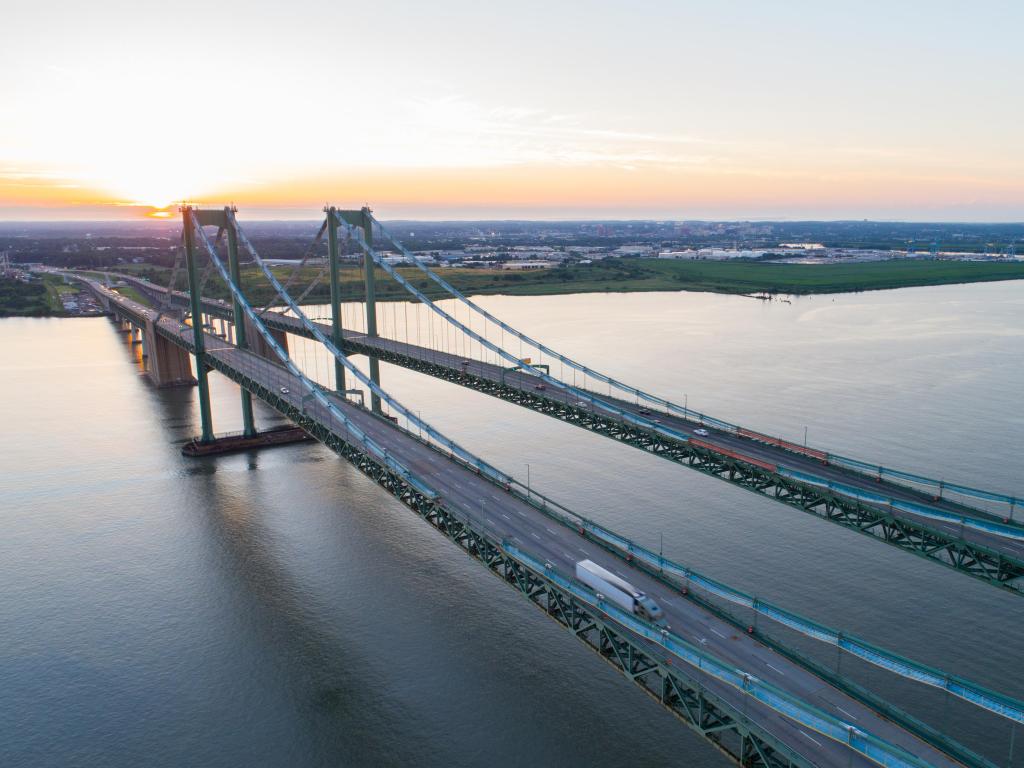 After passing Port Elizabeth, follow NJ-55N, passing the Union Lake Wildlife Management Area before joining US-40 W at Franklin. The route heads west towards the Delaware River, and you'll get excellent views of the water as you cross the Delaware Memorial Bridge, and at the same time cross the state border into Delaware.
The route merges into the I-295 and passes through Wilmington before heading south, where you'll join DE-1, past Odessa as you follow the Delaware River past Bombay Hook National Wildlife Refuge and Silver Lake Park before reaching Delaware.
Continuing a further 31 miles along the Coastal Highway leads you to Lewes.
How long does it take to reach Delaware from Cape May?
The ferry crossing takes around 1 hour and 25 minutes, although this could be longer in adverse weather conditions. You should always allow yourself time to check in and board, and it's advisable to arrive at the terminal at least 30 minutes before the departure time.
Always check with the ferry operator before traveling to confirm sailing times on the day.
If you like the idea of a road trip to Delaware, then the route from Cape May to Delaware circumnavigates Delaware Bay and takes around 3 hours and 30 minutes, not accounting for any traffic issues. So the ferry is the quickest option available for the trip.
How much does it cost to travel to Delaware?
Comparison of travel prices to Delaware from Cape May

| Route | Mode | Adult fare | Vehicle fare |
| --- | --- | --- | --- |
| Cape May to Lewes | Vehicle ferry | $10 | $27 |
| Cape May to Lewes | Car | N/A | $5 |
*Prices are calculated at the time of writing and are for a single journey
Things you need to know about traveling to Delaware from Cape May
While driving the route is an alternative option, catching the ferry from Delaware to Cape May is the quickest and most relaxing way to make the trip, and with that in mind, here are our top tips when it comes to preparing for a ferry ride to Delaware:
Always remember to check Ferry Schedules in advance, as they run more frequently at certain times of the year, and make reservations in peak season.
Check the weather forecast - the ferry service could be delayed or canceled in extreme weather conditions.
Arrive at the terminal early, at least 30 minutes before your departure time to allow time for boarding, and buying tickets if needed.
Traveling on the ferry is cheaper outside of peak season, and on weekdays, which will also mean less queueing and less crowds.
Dress accordingly and make the most of the ferry crossing and the spectacular views it offers.
Best time to visit Delaware
With the Ferry from Cape May running all year round, it is possible to make the trip and enjoy all that Delaware has to offer in your favorite season.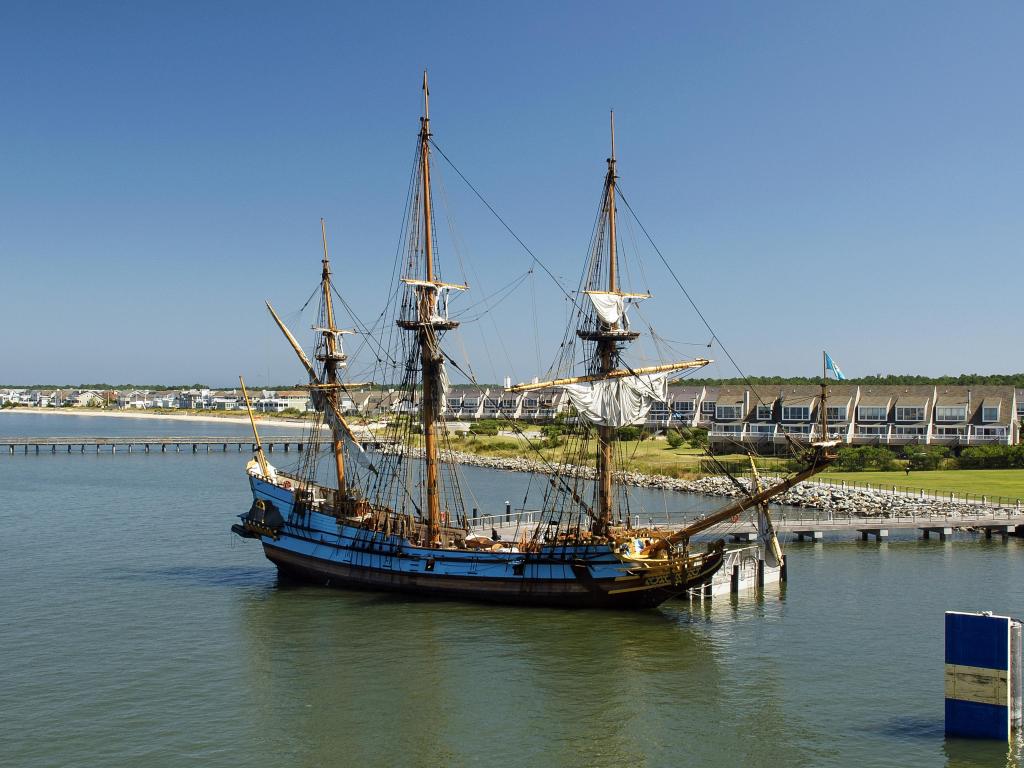 Summer is the busiest season in Lewes, and likewise, Cape May is at its busiest between June and August. Visiting on Independence Day, the 4th of July is extremely popular. Where better to join in the celebrations commemorating the Declaration of Independence than in the first state to sign the US Constitution?
Old-fashioned children's games kick off the celebrations early in the day, with egg-tossing and barrel-rolling particular favorites, followed by a boat parade at Fishermans Wharf and a spectacular firework display on the beach that goes on till dusk.
If you choose to visit in winter, the fares are cheaper and you can enjoy the Christmas decorations that light up the streets and enjoy the winter wonderland on the Delaware Discoveries Trail.
Things to see once you reach Delaware
With its historical past and glorious beaches, there is always plenty to see and do when visiting Delaware, and as well as its many museums and cultural attractions, you can appreciate its scenic beauty from its many outdoor trails. Here are some of our favorite suggestions to keep you entertained:
Cape Henlopen State Park - Discover the natural beauty in the State Park. It's home to Lewes Beach with 6 miles of sandy shoreline. There are hiking trails amid wildflowers and famed fishing spots off the jetty.
Zwaanendael Museum - Visit to discover Delaware's Dutch heritage. Learn of the area's maritime and military history through the museum's exhibits.
Lewes Historical Society Complex - After visiting the Zwaanendael Museum, stay in the area to explore the Lewes Historical Society Complex. You'll find historic buildings, Lewes History Museum, and the Life Saving Station Boathouse.
Historic Lewes Farmers Market - From May to October, you can buy local fresh foods. It's a gathering place to enjoy delicious treats from Delaware vendors.
2nd Street - A great place to stroll downtown. Here you'll experience charming boutiques, art galleries, the notable 2nd Street Tavern, and restaurants.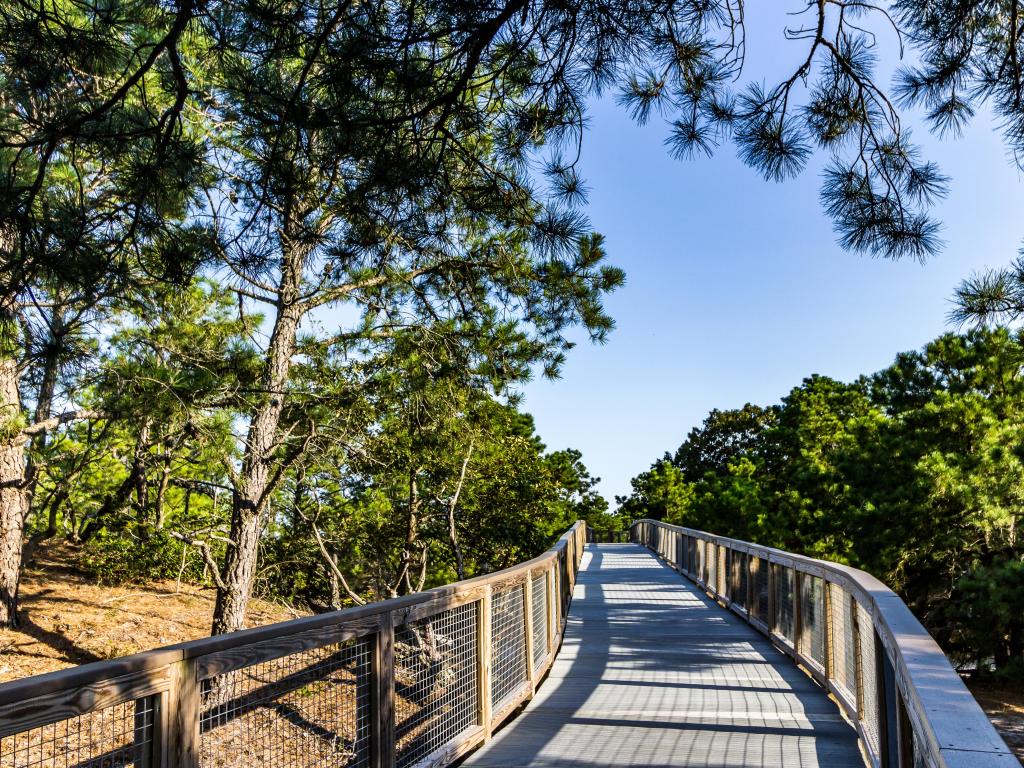 A trip to Delaware is a wonderful experience offering a perfect blend of history, culture, and natural beauty and an ideal destination for relaxation. So if you're a history lover or an outdoor enthusiast, start packing and get your ferry tickets booked today.