Road Trip from Newark, NJ to Charleston, SC
The road trip from Newark, NJ to Charleston, SC is replete with history and Southern charm. This road trip is chock full of quintessential East Coast summer hot spots. From laidback beachy vibes and white sand beaches to rich historical sites, this trip has it all.
The 810-mile road trip from Newark, NJ to Charleston, SC takes about 17 hours and 30 minutes. You'll visit Seaside Heights, Atlantic City, Ocean City, Cape May, Rehoboth Beach, Virginia Beach, Wilmington, Myrtle Beach and Broadway at the Beach.
This journey will take you from one stunning sight to another as you explore the historic and inspiring geography of the East Coast states. Keep reading to learn about our favorite routes, the best places to stay and unforgettable things to see as well as the best time to visit.
How far is Charleston, SC from Newark, NJ, and how long will the road trip take?
Comparison of road trip routes between Newark, NJ and Charleston, SC

| Route | Distance | Driving Time |
| --- | --- | --- |
| The Cities and Parkways Route | 880 miles | 16 hours 50 minutes |
| The Coastal Route | 810 miles | 17 hours 30 minutes |
The Coastal Route will take you to the Atlantic Coast, and covering 810 miles, this route will take you 17 hours and 30 minutes without accounting for any stops or detours.
The Cities and Parkways, even though 880 miles-long, will take you less than our other option to drive, clocking in 16 hours and 50 minutes.
No matter what route you choose, we recommend taking at least five days for the trip so that you can soak in some sights and sounds along the way.
Best road trip route from Newark, NJ to Charleston, SC
Both routes take about the same amount of time, so choose according to the kind of trip you're looking for.
Do you want to keep your toes in the sand the whole time? Then the Coastal Route is the one for you! You will drive through some of the most popular beaches and coastal cities such as Virginia Beach and Myrtle Beach on the Atlantic Coast on this route.
Prefer big cities, history, and forest views? Then the Cities and Parkways Route has you covered. You will get to visit the iconic cities of Philadelphia, Baltimore, Washington DC and Charlotte on this route, as well as drive on the legendary Blue Ridge Parkway and Skyline Drive.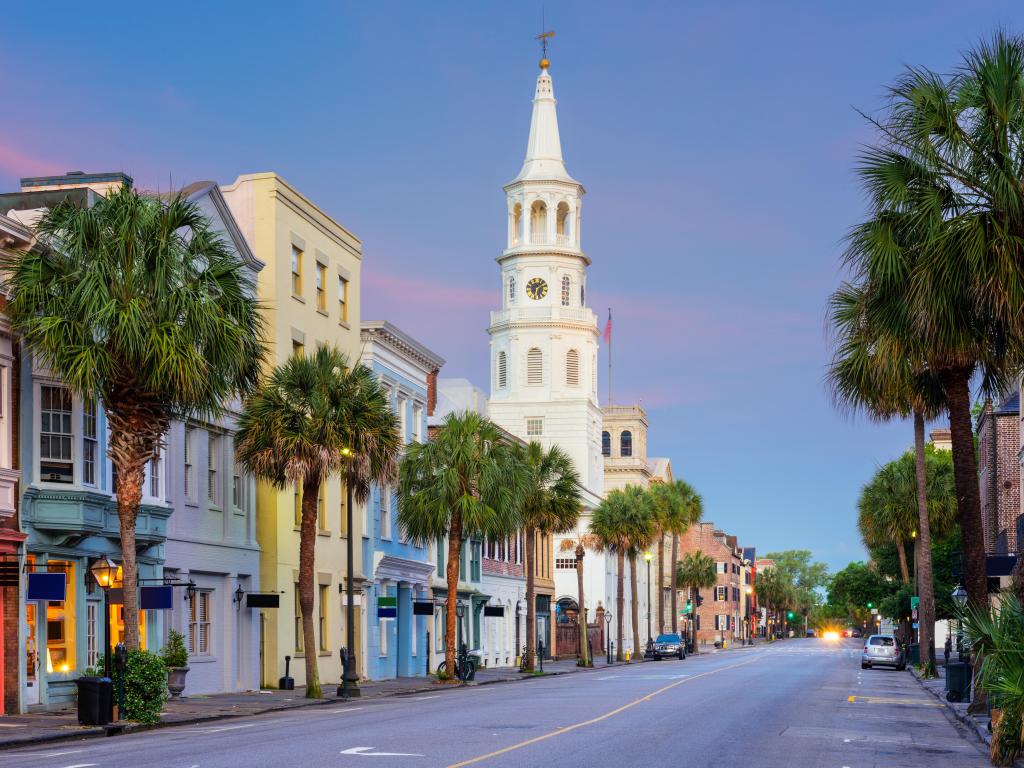 The Coastal Route
Break out the sunscreen and head south on Interstate 95 (I-95) before heading down south on the New Jersey shore to Seaside Heights. Hug the coast to the glitz and glam of Atlantic City before continuing on to the (relative) calm of Ocean City and Victorian-era Cape May.
Drive onto the Cape May Ferry and sail across the bay into Delaware where you will enjoy seagulls and saltwater taffy in Rehoboth Beach. Trace Delaware's shoreline and take the impressive Chesapeake Bay Bridge Tunnel under the water before emerging in Virginia Beach.
If you've got time and want to really round out your driving tour of the East Coast's coast, follow the coast south of Virginia Beach on US-168 South until you reach North Carolina's Outer Banks. With huge sand dunes and a laid-back vibe, it's easy to see why this is a prime summer destination.
For a break from beach lounging, visit the site where the Wright Brothers took flight in Kill Devil Hills, complete with an excellent museum. The detour through the Outer Banks will add about five hours to your journey.
Otherwise, head inland from Virginia Beach into North Carolina and drive south on 13 to Wilmington to follow the palm tree lined coast on 17 South through Myrtle Beach and on to Charleston.
The Cities and Parkways Route
History buffs and nature lovers will love this trek through some of the United States' most notable cities, including Philadelphia, the country's first capital city, and Washington,DC, the vibrant nation's capital.
Head South on I-95 from Newark, NJ to Philadelphia and continue on 95 to Baltimore and on to Washington, D.C. Take US-66 West out of Washington and start winding your way South.
Leave the urban sprawl behind you and commune with nature as you sail down Skyline Drive in the Shenandoah National Forest. Continue on US-29 South to fall in love with the wineries around Charlottesville, VA and learn all about Thomas Jefferson at his home in Monticello.
Leaving Charlottesville, coast through the George Washington & Jefferson National Forest and down the Blue Ridge Parkway. Hop onto US-77 South to experience the laid-back Southern charm of Charlotte, NC, and Columbia before reaching the historic coastal city of Charleston.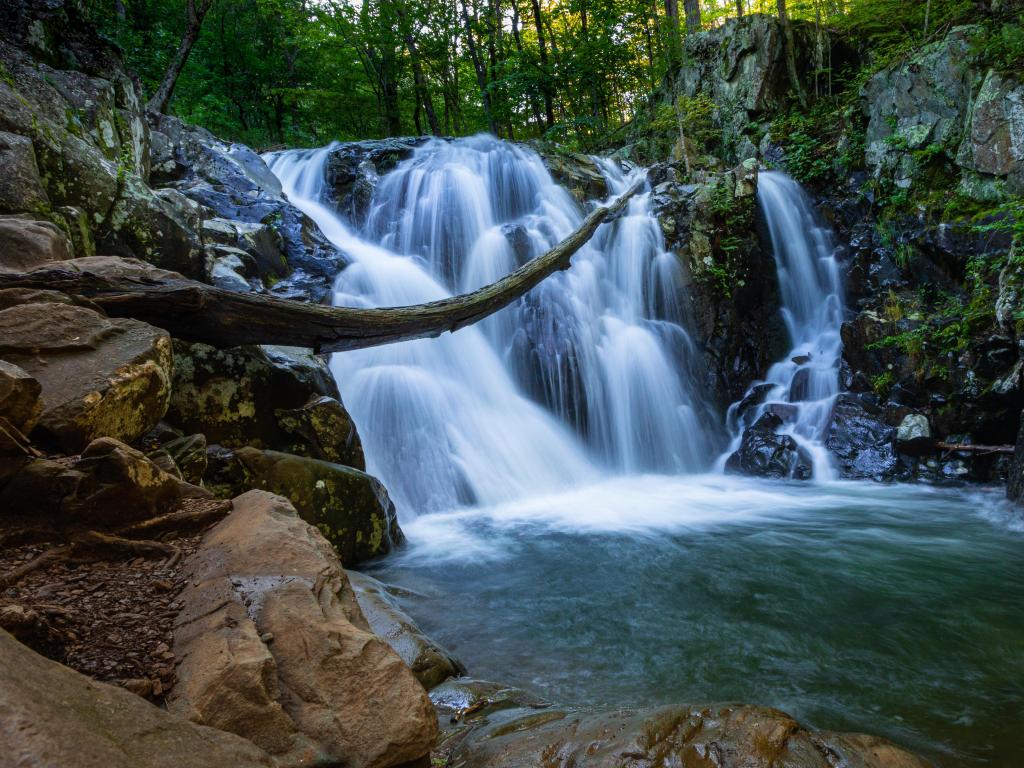 Best places to stop between Newark, NJ to Charleston, SC
Beach bum or history buff, you'll want to give yourself time to enjoy the journey and check out everything each route has to offer. Below are some of our favorite stops along each route.
Let it Ride in Atlantic City
Atlantic City is sometimes described as the East Coast version of Las Vegas – and for good reason! A little less than a quarter of the way to Charleston, SC, it will take you about 15 hours to get to Charleston from Atlantic City.
There is just so much to do in Atlantic City. Try your luck at one of its nine casinos, take in a show, test out one of the championship golf courses, try some world-class dining, relax at a spa, stroll along its famous boardwalk, and of course, dig your toes in the sand and lounge on the beach.
Stay at the Borgata Hotel Casino and Spa, which exudes elegance and fun. Amenities abound at this glitzy resort-style hotel. Enjoy an on-site casino, indoor pool, seasonal outdoor swimming pool, beautiful garden, amazing full-service spa, and excellent onsite dining and bar options.
Rooms are stylish and large, and the hotel's suites will make you feel like a high roller while their small price tag will leave you flush. You won't feel like you are missing out on the Las Vegas experience with so many luxury amenities available at hand.
The Borgata is a 10-minute taxi ride to the boardwalk, making it an immersive destination experience but giving you easy access to the hustle and bustle of downtown Atlantic City.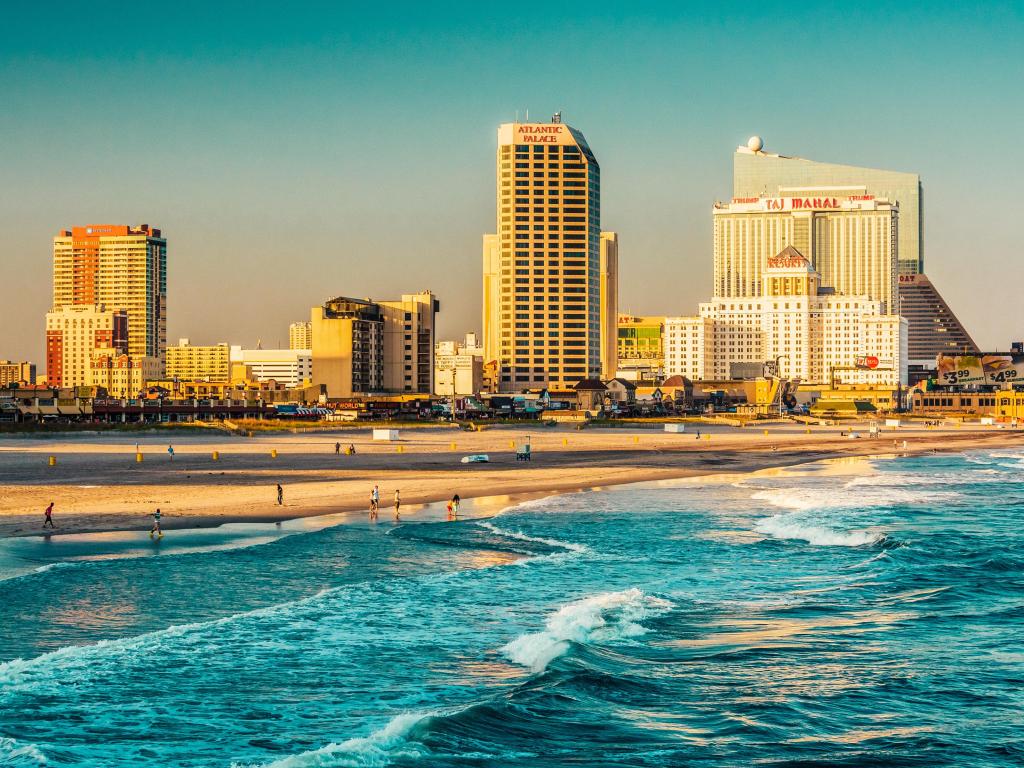 Conjure Up the Founding Fathers in Charlottesville
Halfway to your destination in Charleston, Charlottesville is a charming and historic city with beautiful surroundings It will take you 8 hours and 45 minutes to drive to Charleston from this city.
Home to the University of Virginia, Charleston is a bustling southern town that was once also home to three of America's founding fathers. While you're here, visit the grand homes of Monroe, Jefferson, and Madison.
You can also stroll through the University's sprawling campus, experience fine dining, and try unique local wines at nearby wineries.
When you stay Omni Charlottesville Hotel, you can step out the front door to explore the town's excellent restaurants and bars or enjoy on-site dining and entertainment at the hotel's restaurant and bar. You really can't beat Omni's amazing location right in the heart of downtown Charlottesville.
Elegant, and relaxed, and with spacious rooms and ultra-comfortable beds, the Omni is the perfect place to take a load off during your road trip. Relax in one of the hotel's two pools (one indoor and one outdoor) and hot tub before setting off on the last leg of your journey.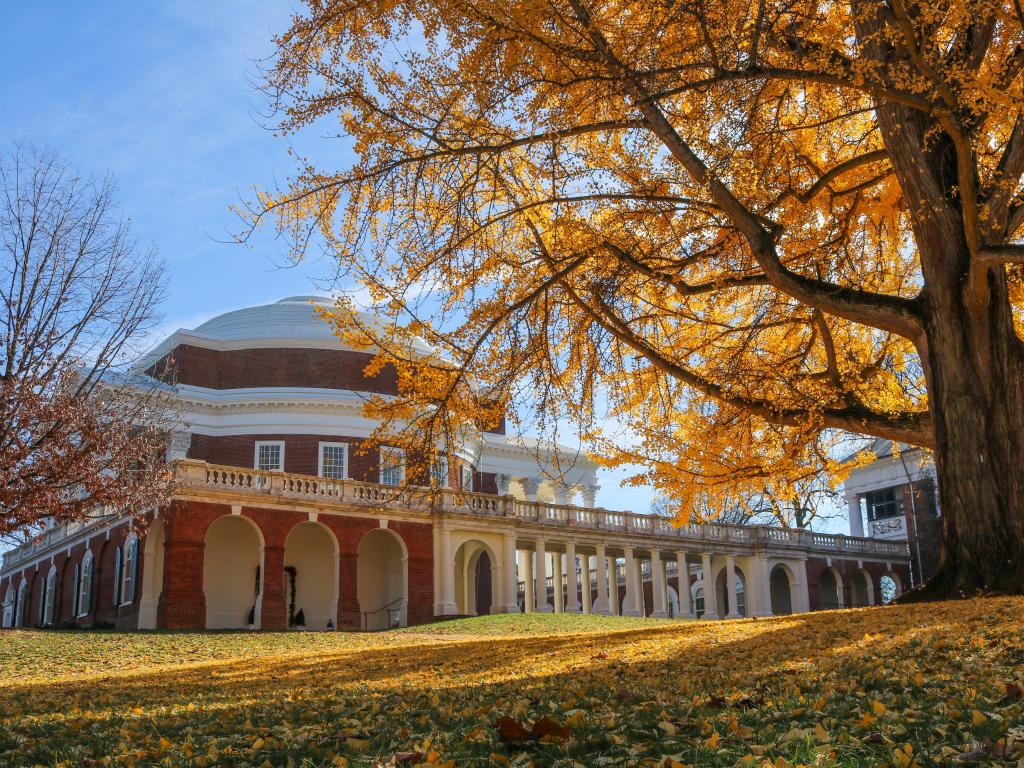 Where to stay when you reach Charleston, SC
The Hotel Bennett Charleston has everything you need for an amazing vacation. Located in the heart of Charleston's historical downtown, this beautiful hotel oozes coastal chic charm.
Soak in the heated rooftop pool (which is open year-round), relax at the on-site spa, knock out some reps at the gym, and dine in one of the hotel's four restaurants. Guests rave about the wonderful Southern hospitality of the hotel's staff. Parking is also available on-site.
Charleston is historic and beautiful, replete with gardens and ornate architecture. You'll love its Southern charm and easy-going vibe. For some quirky fun, check out a ghost tour where history collides with the supernatural or an unforgettable experience.
Things to see on a road trip from Newark, NJ to Charleston, SC
Buckle up for fun! You will be spoilt for choice when it comes to what to do and the amazing things to see and visit on your road trip. Here are some of our favorite things to see and do along the way:
The Coastal Route
Seaside Heights, NJ – Perhaps no other NJ beach town is as well known in pop culture as Seaside Heights, which is where reality show "Jersey Shore" was filmed. The Seaside Heights Boardwalk offers tons of eateries, arcades, and amusement rides.
The Atlantic City Boardwalk – Dating back to 1870, this famous boardwalk is six miles long and offers a huge assortment of shopping, dining, and entertainment.
The Borgata Casino – This beautiful, modern casino stands in stark contrast to the fading glory of some of the casinos on the Boardwalk. It offers a range of table games and slot machines with a ticket system, so you don't have to carry around bags of coins.
The Quarter at Tropicana – Vegas lovers will feel right at home in this indoor shopping area. Built to feel like you're walking outside, you'll love how the "sky" changes from day to night and the unique architecture of the building facades that line the "streets."
Ocean City Boardwalk – Stroll these two miles of the attraction-packed boardwalk in family-friendly Ocean City, NJ.
Gillian's Wonderland Pier – An Ocean City institution since 1929, visitors of all ages will be delighted with the rides at this iconic beach-side attraction.
Cape May Lighthouse – Perhaps about as far from the typical Jersey Shore stereotype as you can get, Cape May is a laid-back historic town replete with Victorian charm. Its 1859 lighthouse is fully restored, and you can climb its 199 steps for sweeping ocean views.
World War II Lookout Tower – Climb to the top of NJ's last remaining restorable World War II tower. Built in 1942, Fire Control Tower No. 23 was once part of the Delaware harbor defence system known as Fort Miles.
Rehoboth Beach, DE – One of Delaware's most popular resort towns, Rehoboth swells during the summer with beach lovers from all over the East Coast. Eat saltwater taffy on the boardwalk and take a whirl on the rides at Funland, which has been in operation since 1962.
Virginia Beach, VA – Dazzling white sand beaches and amazing seafood make this a top beach destination.
Back Bay National Wildlife Refuge – Hike, bike, fish, canoe, and kayak in a pristine natural environment at this hidden gem. It's also a great place to enjoy a quiet day at the beach, away from the hustle and bustle of the Virginia Beach boardwalk.
Virginia Aquarium & Marine Science Center – See hundreds of species at this interactive aquarium, which also offers boat and behind-the-scenes tours.
Wilmington, NC – This bustling riverfront city attracts crowds year-round and hosts annual festivals like Riverfest and the North Carolina Azalea festival.
Battleship North Carolina – Tour the nine decks of this WWII-era battleship, which served in the South Pacific. If you're visiting in the summer, go early as it gets hot inside.
Myrtle Beach, SC – Unwind on the white sand beaches and stroll its winding boardwalk. Ramp up the fun at one of the local theme parks and top it all off with some mouthwatering Carolina BBQ.
Broadway at the Beach – The largest entertainment venue of its kind in North Carolina, Broadway at the Beach features amazing dining, attractions, and lodging surrounding Lake Broadway. It's a destination in itself!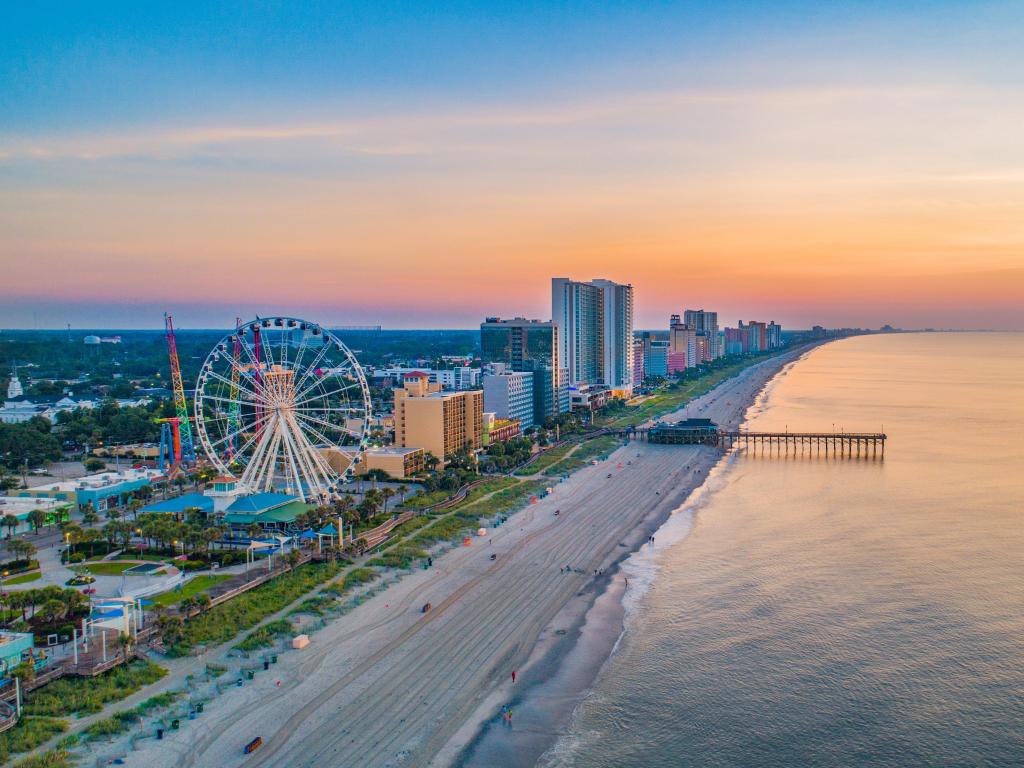 The Cities and Parkways Route
Philadelphia, PA – The "City of Brotherly Love" has tons to offer visitors. When you're done soaking in history, science, and art, check out its food scene, including the world-famous Philly Cheesesteak sandwich.
Independence Hall and Liberty Bell Center – Tour the building where the US Constitution was signed and imagine what it was like to be there at that time, creating a nation. See the actual Liberty Bell and learn about America's roots.
Baltimore, MD – "Charm City" lives up to its name with its abundance of historic attractions, unique museums, and harbor attractions. Walk the cobblestone streets in the city's oldest section, Fells Point. Be sure to try the famous Maryland crabs during your visit (and the crab dip too!).
National Aquarium – This place is huge! It's no wonder it's considered one of the world's best aquariums. Get up close with over 20,000 animals from more than 800 species. Don't miss the rainforest exhibit and the dolphin encounter.
Washington, DC – There is so much to do in the Nation's Capital that it's impossible to fit it all into one trip. Wander the National Mall, lined with Smithsonian Museums (all free). Climb to the top of the Washington Monument for breathtaking views of the city.
The US Capitol Building – Construction on this impressive building was started in 1793 and since then it has endured fire, rebuilding, expansions, and endless restorations. The U.S. Senate meets on the north side of the building and the U.S. Congress on the south side.
The White House – Home of the U.S. President, this building is one of the most recognizable on earth. To tour the East Wing, the building's ceremonial arm, you'll have to sign up for tickets way in advance.
Charlottesville, VA – Home to the University of Virginia, Charleston is a bustling southern town that was once also home to three of America's founding fathers. You can visit the grand homes of Monroe, Jefferson, and Madison here.
University of Virginia – Designed by Thomas Jefferson, this university's rotunda is a must-see. The historic campus is beautiful and lush and worth exploring.
Jefferson Vineyards – The site of Thomas Jefferson's first commercial wine company and vineyard in 1774, today the winery offers some of Virginia's best Viognier and was the first in the state to bottle Petit Verdot.
Skyline Drive – Experience breathtaking views on this peaceful 105-mile stretch of highway. Build in the 1930s, the road stretched the entire length of Shenandoah National Park. This drive is especially impressive in the fall when the leaves take on a veritable painter's palette of colors.
Blue Ridge Parkway – This 469-mile drive connects Shenandoah and Great Smokey Mountains National Parks, passing through Virginia and across North Carolina right up to the Tennessee border.
Charlotte, NC – Charlotte houses a patchwork of unique neighborhoods along the Catawba River, offering a little something for everyone. Enjoy its lively arts scene or sample local beers at one of its many breweries.
NASCAR Hall of Fame – This interactive museum will leave you dreaming of hitting the track, or at least joining a pit crew. Don't miss the simulator rides, where you can catch a (virtual) piece of the action. Pro Tip: Get unlimited simulator tickets. Your future self will thank you.
Columbia, SC – South Carolina's capital city and home to the University of South Carolina is full of history, art, music, and shopping opportunities. Situated on three rivers, a lake, canal, national park and several city parks, there are also lots of outdoor adventures to be had.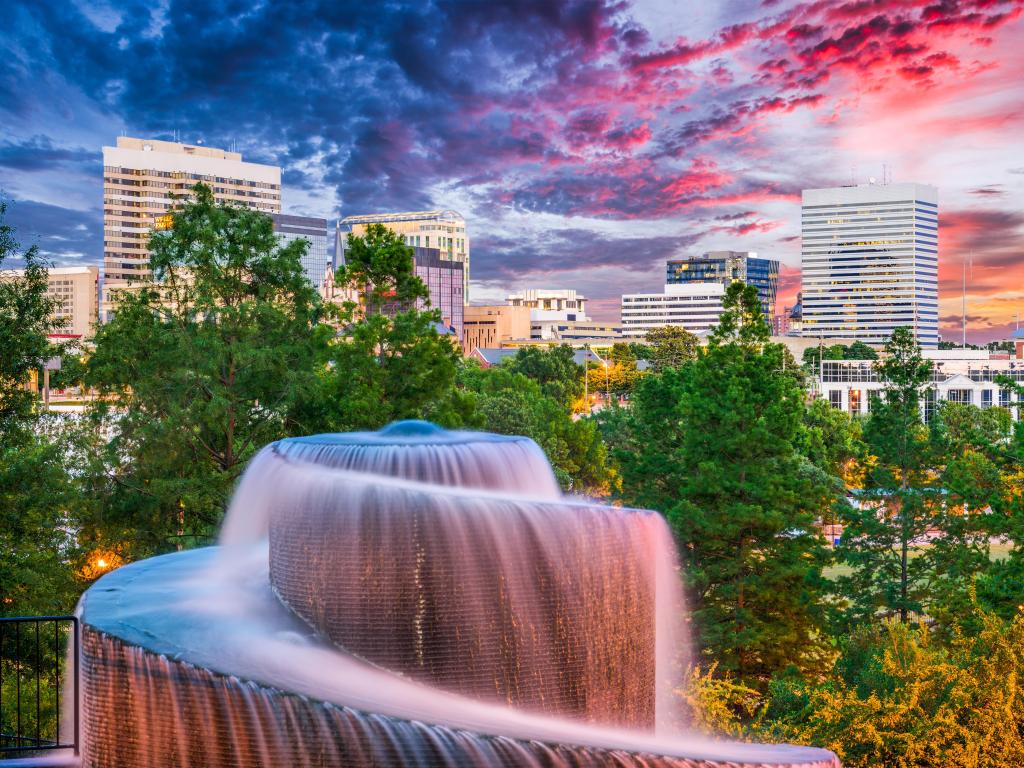 Best time to go on a road trip from Newark, NJ to Charleston, SC
With its mild winters and sunny summers, Charleston is a year-round destination. Summer is a very popular time to visit Charleston. Average temperatures range between 78 and 82 degrees Fahrenheit, making it comfortable for a host of outdoor activities.
While it's too cold to hit the beach or go boating, winter is still a great time to visit since the city offers so much to do. Winter temperatures range from 47 to 52 degrees, with a chance of snow in late December and early January.
Christmas in Charleston is not to be missed. The beautifully adorned city comes alive with dazzling lights displays, themed culinary attractions, knock-out performances, and seasonal charm.
Spring and fall are great times to check out Charleston since temperatures are still fairly warm, ranging between 58 and 76 degrees. For 17 days between late May and early June, the Spoleto Festival is one of the United States' premier performing arts festivals.
Held in late September through early October, the MOJA Arts Festival is one of Charleston's top attractions. The theme of this multi-disciplinary festival changes each year but always focuses on the unique people, culture, and history of Charleston and the surrounding region.