Is there a ferry from Chicago to Michigan?
Many people consider the coastlines of the Great Lakes to be some of the most beautiful coastlines in the world. You can experience the brilliant sunsets, tranquil waters, and charming lakeside communities of the Great Lakes easily by traveling from Chicago to the great state of Michigan.
Although there is no direct ferry from Chicago to Michigan, you still have plenty of options. There are two car ferries that cross Lake Michigan from Wisconsin. You also have plenty of flights and two routes to drive, depending on which peninsula you want to visit.
Chicago is perfectly at the southern tip of Lake Michigan, just a short drive or flight from the state of Michigan. Continue on to learn more about the best ways to get to Michigan from Chicago and what to do when you arrive.
Is there a ferry from Chicago to Michigan?
There is no direct ferry from Chicago to Michigan. However, you can easily drive north to Wisconsin to take a car ferry to two different cities on the Michigan coast.
The Lake Express Ferry (a vehicle ferry) departs from the city of Milwaukee and arrives on the other side of the lake in Muskegon, Michigan. The journey will take 2 hours and 30 minutes, crossing the great inland sea known as Lake Michigan.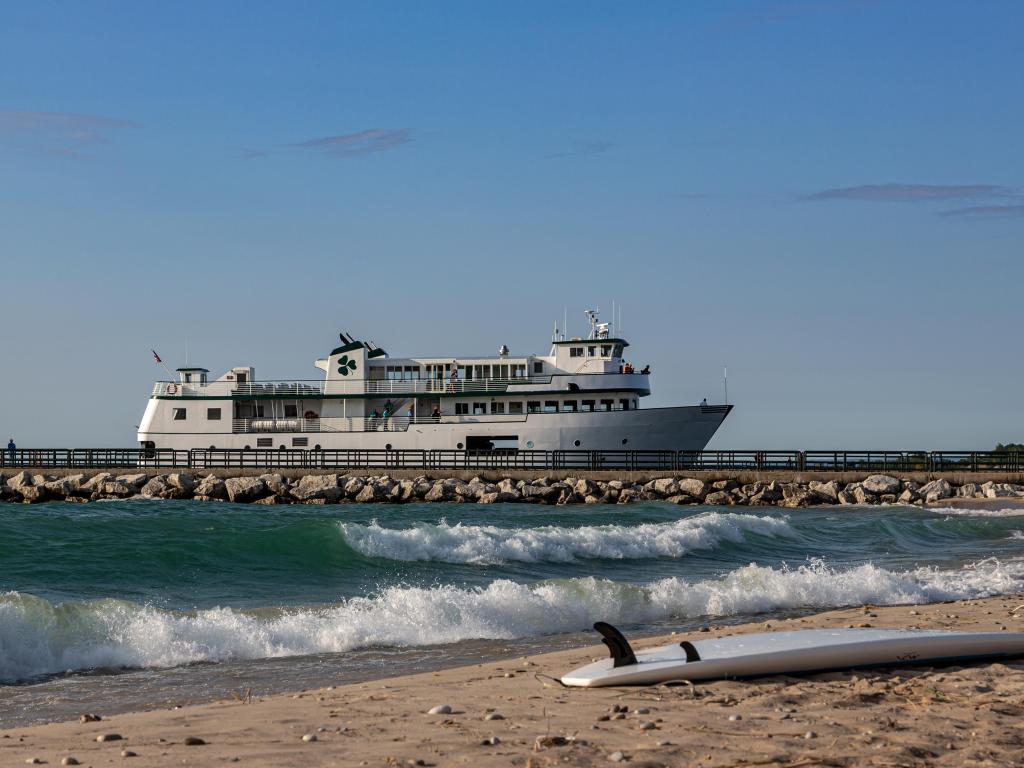 You can drive on and off the ferry with your car so you can easily begin your Michigan road trip right after arriving in Muskegon.
There are 4 trips daily during the spring and summer, starting in early May, and 6 trips daily during the peak of the summer months. In winter, the lake often freezes over, so the ferries only last until October.
There is also the SS Badger Car Ferry (vehicle ferry) which departs Manitowoc to Ludington. Manitowoc Dock is about 2 hours and 45 minutes north of Chicago.
This journey will also take about 2 hours and 30 minutes. You can easily drive your car on and off the ferry and continue your road trip once you reach the shores of Ludington.
Just like the Lake Express Ferry, the SS Badger Car Ferry operates from May to October only.
How to reach Chicago from Milwaukee
The ferries from Wisconsin to Michigan are fun options if you're driving from Chicago. However, because of the area's severe winters, they only run from late spring to early fall. If you want to explore the state of Michigan in the winter months and get there quicker, it's preferable to drive or fly from Chicago.
You can easily drive south from Chicago around the southern shores of Lake Michigan to reach Michigan. Depending on your desired destination this could be starting from I-90 E to I-94 E and would take at least 1 hour 45 mins to get to Benton Harbor, the first larger city you would come to, or up to 3 hours to reach Grand Rapids.
Alternatively, you can drive north through Wisconsin and into the great wilderness of Michigan's Upper Peninsula. This lesser-explored part of the state has plenty of natural wonders and gorgeous beaches. Plus, it shares a shoreline with Lake Michigan and the largest of the Great Lakes, Lake Superior.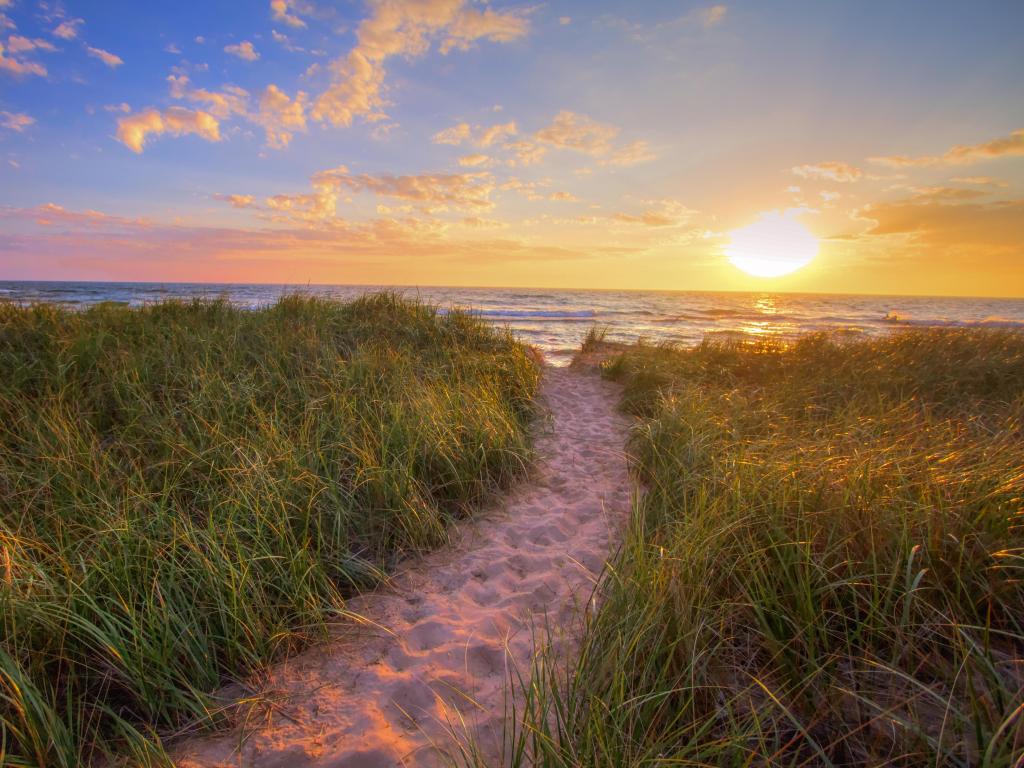 It's also possible to fly from Chicago to Michigan, with several flights daily to many cities within the state, like Detroit, Grand Rapids, Traverse City, and more. This is the more direct route and if you rent a car at the airport, you can continue exploring the state by road.
How to drive from Chicago to Milwaukee
Driving from Chicago to Milwaukee, Wisconsin, is very easy and direct. It usually takes 1 hour and 30 minutes. Depending on the weather, traffic and delays may impact on the driving time.
To get to the ferry terminal in Milwaukee, take I90 W and I94 W north. Follow I-94 W to S 4th St in Milwaukee. Take exit 312A-312B from I-43 N. Then, take W Becher St, E Bay St and Access Rd to E Lincoln Ave which will bring you to the ferry.
Driving to Manitowoc from Chicago
It's very easy to get to Manitowoc from Chicago. First, drive north on I-94 W and continue north through Milwaukee.
From Milwaukee, hop on I-43 N and continue along the shoreline of Lake Michigan. Drive north until you reach US-10 via exit 144. Continue on US-10 into Manitowoc. The S.S Badger Car Ferry Service is located right downtown, off US-10.
Driving directly from Chicago to Michigan
From Chicago, get on I-90 to Gary, Indiana. After you reach Gary, take the exit onto I-94 east, towards Detroit. Continue northeast and into the state of Michigan.
To get to Grand Rapids, continue on I-94. Take the exit to I-196 which follows the beautiful shoreline of Lake Michigan and curves inland and into Grand Rapids.
To get to the Upper Peninsula, start in Chicago and head north on I-94 through Wisconsin. Continue on I-43 and drive through Green Bay. Continue north on M-35 into Escanaba. From here, you can easily reach other towns and cities in the Upper Peninsula.
How long does it take to reach Michigan from Chicago by ferry?
Boarding the car ferry to Michigan begins 90 mins before departure. Arrive at least 45 mins before departure so you can have a stress-free time getting on board.
Always double-check the exact check-in and departure times with the ferry operator or booking agent. Once on board, the ferry usually takes 2 hours and 30 minutes.
The journey is usually smooth and pleasant. However, Lake Michigan occasionally experiences storms and large waves. If you get seasick easily, check the weather before taking the ferry.
How much does it cost to take the ferry to Michigan?
Price comparison of different options for traveling from Chicago to Michigan
Route
Mode
Provider
Approx. Cost
Milwaukee-Muskegon
Vehicle ferry
Lake Express Ferry
$105
Ludington-Manitowoc
Vehicle ferry
S. S. Badger Ferry
$85
* All prices are calculated at the time of writing and are based on a single journey including 1 adult ticket
The Lake Express Ferry, traveling between Milwaukee, Wisconsin and Muskegon, Michigan, costs $105 per person one way. You can save money by purchasing a round-trip ticket for $181 per person. Prices don't vary by time of year.
The S. S. Badger Ferry service between Manitowoc, Wisconsin and Ludington, Michigan, costs $85 one way and $155 round trip. From May 18th to June 8th and September 5th to October 9th the prices are even cheaper at $74 one-way and $135 round-trip.
Which ferry port should you choose as your destination in Michigan?
If you're taking the Lake Express, you'll arrive at the Muskegon Terminal. This ferry terminal is located right downtown and close to major routes to continue on your drive through Michigan.
The S.S. Badger Car Ferry arrives at Ludington Dock, in the small city of Ludington. Again, the ferry terminal is located downtown and close to the main roads that will take you throughout northwest Michigan.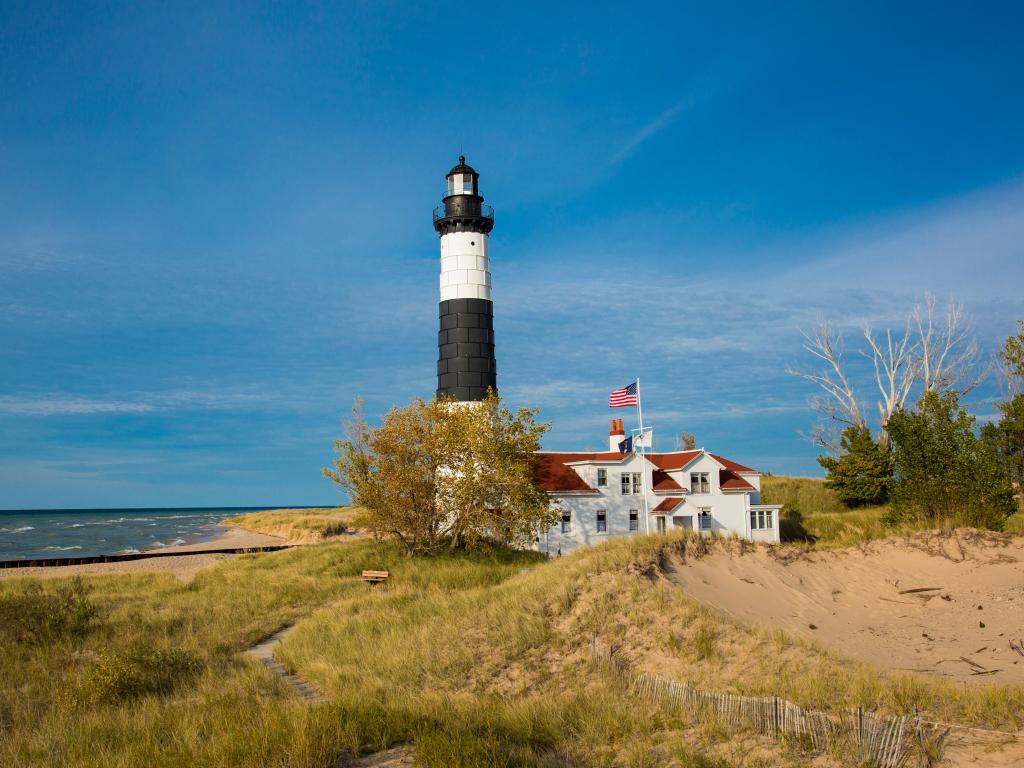 Things you need to know about traveling to Michigan from Chicago
Michigan is a beautiful state to visit but like anywhere else in the north, you need to be prepared for cold weather and empty spaces.
Always check the weather before departing. Michigan can experience heavy snowfall in the winter because of the lake effect snowfall.
Any time of year, you should be prepared for driving long distances with few amenities, especially in the Upper Peninsula.
Michigan has some big cities, but much of the state remains rural. It's best to plan ahead by stocking your snacks, fueling up when you can, and making a great playlist for long drives.
Best time to visit Michigan
The best time to visit Michigan is in the spring, summer, and fall seasons. Winter is beautiful, but often difficult for a road trip because of the heavy snowfall and occasionally icy roads.
Summer has the best temperatures and mildest weather. However, this is also the prime tourist season and some places like the Sleeping Bear Dunes National Lakeshore and Traverse City get busy.
Fall is a pleasant time to visit as the weather remains nice and temperatures are mild. There are also plenty of exceptional roads where you can enjoy the fall colors.
Keep in mind that both ferries operate between May to October, so if you are traveling during the colder months, you will need to drive directly from Chicago to Michigan instead.
Things to see once you reach Michigan
Michigan is a beautiful state where you can find a bit of everything, from parks with infinite hiking, magnificent coastal views and beaches, quiet towns with charming boutique shops, or big cities full of excitement. Below are some highlights of this wonderful destination.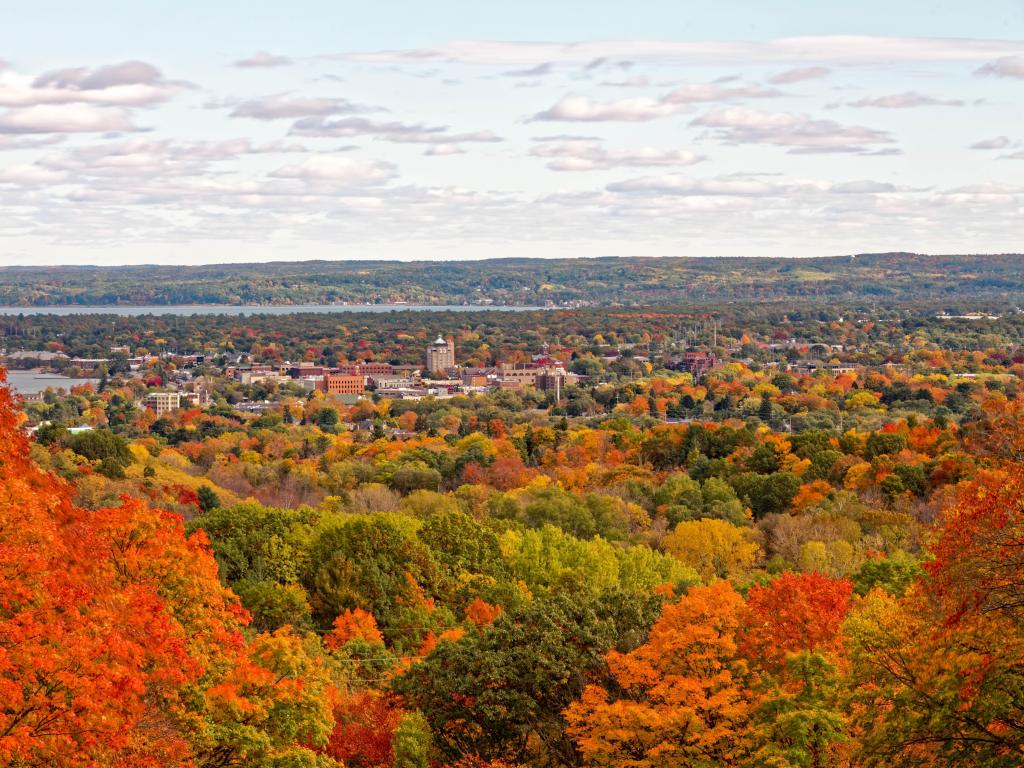 Muskegon - See the USS Silversides Submarine Museum, walk around Pere Marquette Park for beaches and water sports or hiking. Muskegon State Park also has beaches and trails.
Lakeshore Drive - Stroll or shop along Lakeshore Drive in Muskegon for dining, breweries, distilleries, restaurants, and local boutique shopping.
Huron-Manistee National Forests - If you take the north ferry option to Ludington, drive to the Huron-Manistee Forest where you can find countless hiking trails, scenic lake and river views, small towns with charm and quaint back roads to find dining and camping spots.
Detroit - Do a bit of sightseeing in Michigan's largest city. The Detroit Masonic Temple is the largest Gothic archetype in the US and hosts concerts and events. The Detroit Antique Mall is one of the best spots in the country to find antiques, as well as the Eastern Market.
Belle Isle State Park – This little island in the Detroit River is a beautiful park with great places to hike, walk, kayak, and have a picnic on the beach with views of the river and tree-lined reflection pond. Take a look at the conservatory and museum to learn about the cultural history and significance of the island.
Henry Ford Museum and Greenfield Village – Learn all about the history of the automobile and industry in Detroit and visit the living history village for a blast back to the turn of the 19th century in Detroit. Also, see the Automobile Hall of Fame in Dearborn.
Lansing - Lansing is a great stopover point where you can see the Michigan capitol building or visit the Michigan History Center.
Traverse City - Located in northwest Michigan, this city is a vacation destination like non-other. From wineries to the Sleeping Bear Dunes National Lakeshore, you will surely find plenty to see and explore.