Is Utah Highway 12 Scenic Byway Dangerous?
A drive along Utah Highway 12 Scenic Byway takes you through the spectacular landscape that makes this area in the south of the US so popular. The route can be challenging as it takes you through national parks, skirting canyons and offering amazing views of the striking southern Utah terrain.
A drive along Utah Highway 12 Scenic Byway will take you on a 123-mile journey through some of the most incredible scenery in the US. The 2-hour and 40-minute journey along the high-altitude mountain road is one of the most breathtaking drives around.
With steep ascents, exposure, and towering cliffs and drop-offs, it is easy to see why Utah Highway 12 Scenic Byway has a reputation for being dangerous. Keep on reading to discover more about the route, how to make the trip safely, and some handy tips to help you along the way.
Where is Utah Highway 12 Scenic Byway located, and why might this drive be challenging?
Utah Highway 12 Scenic Byway is situated in southern Utah and begins near the town of Torrey, the gateway to Capitol Reef National Park. The route heads through the Grand Staircase-Escalante National Monument, with its towering cliffs and deep canyons.
It is a scenic drive through alpine mountain plateaus and red rock canyons and is less crowded than other famous scenic US drives.
At its highest point, the route tops 9,200 feet near Boulder Mountain, and driving at altitude here can be challenging for even the most experienced drivers.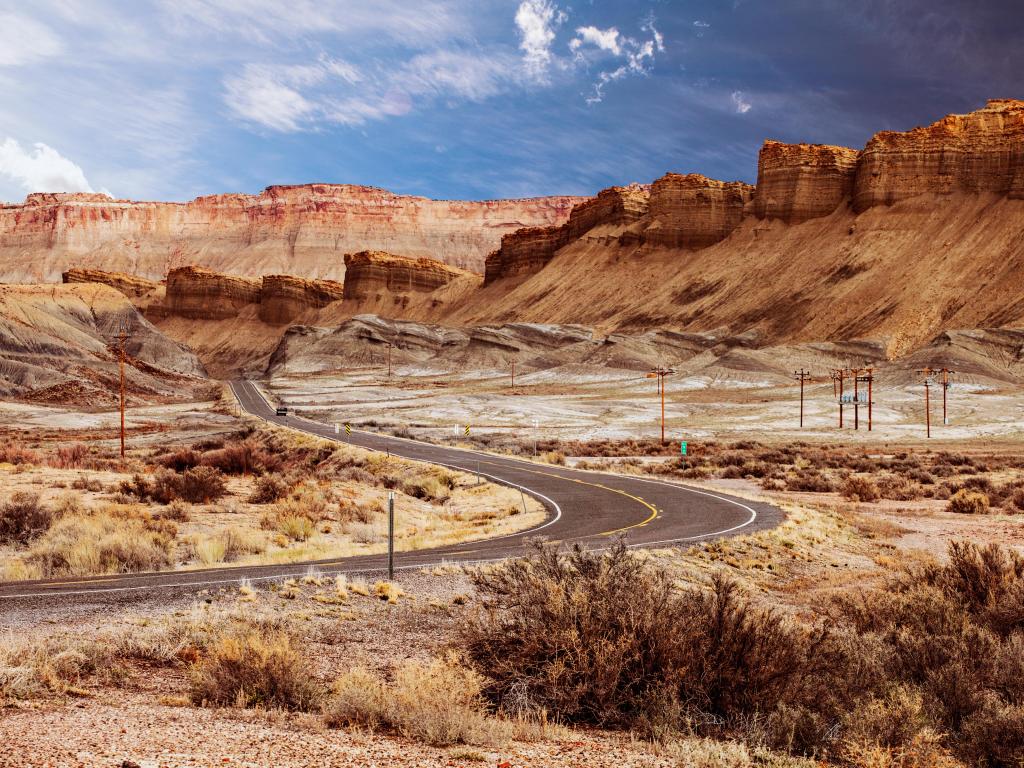 The drive is particularly steep in places, and not for the faint-hearted as there are sections where the road skirts along high cliffs with drops on both sides and no guardrails.
As with steep ascents, there are also steep descents and the altitude ranges from around 4,000 to 9,200 feet, and such a dramatic altitude change can be off-putting for nervous drivers, and passengers.
Some sections of the road become winding and narrow which can be intimidating when you are close to steep dropoffs and the weather in this region of Utah can be extreme making driving conditions more challenging. The intense heat in summer can be draining, and snow and ice on the road in winter can be a major concern.
Weather conditions on the route can make driving especially challenging at any time of year. Sudden thunderstorms in summer can cause flash-flooding, making the narrow mountain descents particularly tricky.
In winter, at over 9,000 feet, snow and ice can be a significant problem, and if conditions are too dangerous or snow blocks the road, then closures will be enforced.
Deer, Elk, and Bighorn sheep roam the route and may decide to cross the road unexpectedly, so be extra vigilant for wildlife on the road, especially at dusk and dawn when the animals are most active. Wildlife spotting along the route is part of the fun and you may also see mountain lions, eagles, and falcons - but do keep your eyes on the road as well.
Another challenge is the remoteness of some of the routes. Driving through such a spectacular wilderness is a fantastic experience, but keep essential items in your vehicle in case of a breakdown as it could be a while before a recovery vehicle locates you.
Small towns along the route like Escalante and Cannonville, will have accommodation options available if you decide to spend a night.
Driving on Utah Highway 12 Scenic Byway
A road trip along the Utah Highway 12 Scenic Byway is an experience you will not forget in a hurry. With its dramatic drop-offs and panoramic vistas of the spectacular Utah landscape, it is one of the most scenic drives in the US and a unique and rewarding adventure.
The route begins near the town of Torrey and joins UT-12 W heading south. You'll soon reach the town of Grover with views across to Bluebell Knoll, before passing Lion Mountain before reaching Larb Hollow Overlook.
The views from here are stunning and set the tone as the road winds past Pleasant Creek and Oak Creek Campgrounds before reaching Steep Creek Overlook. Its name says it all and it's one of the most beautiful viewpoints along the route.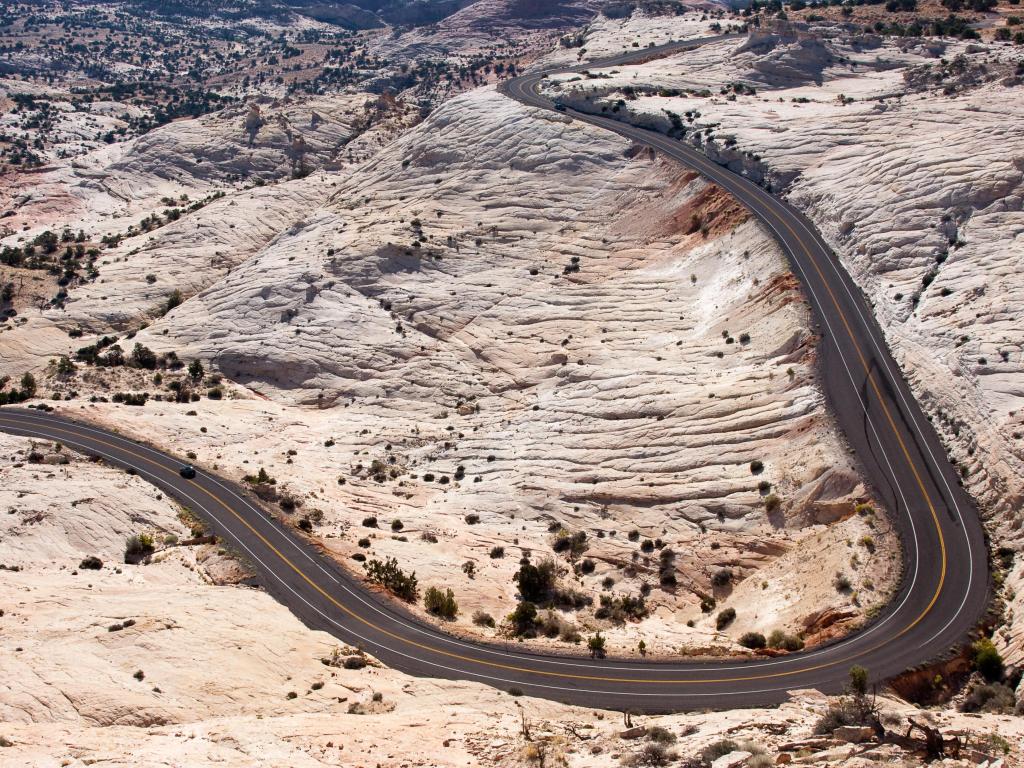 Continue ascending through the forests of Capitol Reef National Park towards Boulder. Boulder Mountain Pass is the highest point on Highway 12, and the road to the summit is steep.
A stop off at Heads of the Rocks Overlook gives the most amazing view across Grand Staircase-Escalante National Monument, and as you continue, you'll soon arrive at Slot Canyons Inn, the perfect spot for refreshments after such an exhilarating drive.
The route then heads southwest passing Horizon Arch and Canaan Peak, passing Cannonville before passing through Bryce Canyon National Park. This is a great place to stretch your legs and take one of the trails to get a close-up view of the incredible rock spires the park is famous for.
Back on the road, you'll pass Dixie National Forest and Wilson Peak before arriving at the final destination, Panquitch. The 123-mile trip can be completed in around 2 hours and 40 minutes but with so many viewpoints and incredible natural wonders to see, you can easily spend a whole day soaking in the beauty of this stunning natural landscape.
Alternative Route to taking the Utah Highway 12 Scenic Byway
Our alternative route also begins in the town of Torrey and begins by joining UT-12 W heading south. After around 5 miles, take a right and head towards Teasdale, with views over Black Ridge Mountain in the distance, before taking UT-24 and heading west.
After around 30 miles, you'll pass Fish Lake before joining UT-62 W heading towards Greenwich. While the route isn't as adventurous as the main route, it is surrounded by the towering mountains of Monument Peak, Monroe Peak, and Langdon Mountain.
Heading past the town of Angle, you'll soon arrive at Otter Creek State Park.
This is the perfect stop off for a picnic by the reservoir, bird and wildlife spotting and even popping in for a refreshing swim before continuing your journey.
Continue past Table Mountain before taking US-89 S and heading south past Circleville, with views across to Mount Dutton, before continuing past Spry for the final leg of the journey to Panguitch.
The 123-mile alternative route can be done in 2 hours and 15 minutes and is a safer alternative for those not wishing to tackle the high-altitude challenge of Highway 12.
However, while the alternative route along major roads is a safer option, it doesn't offer the impressive views the Scenic Byway 12 offers.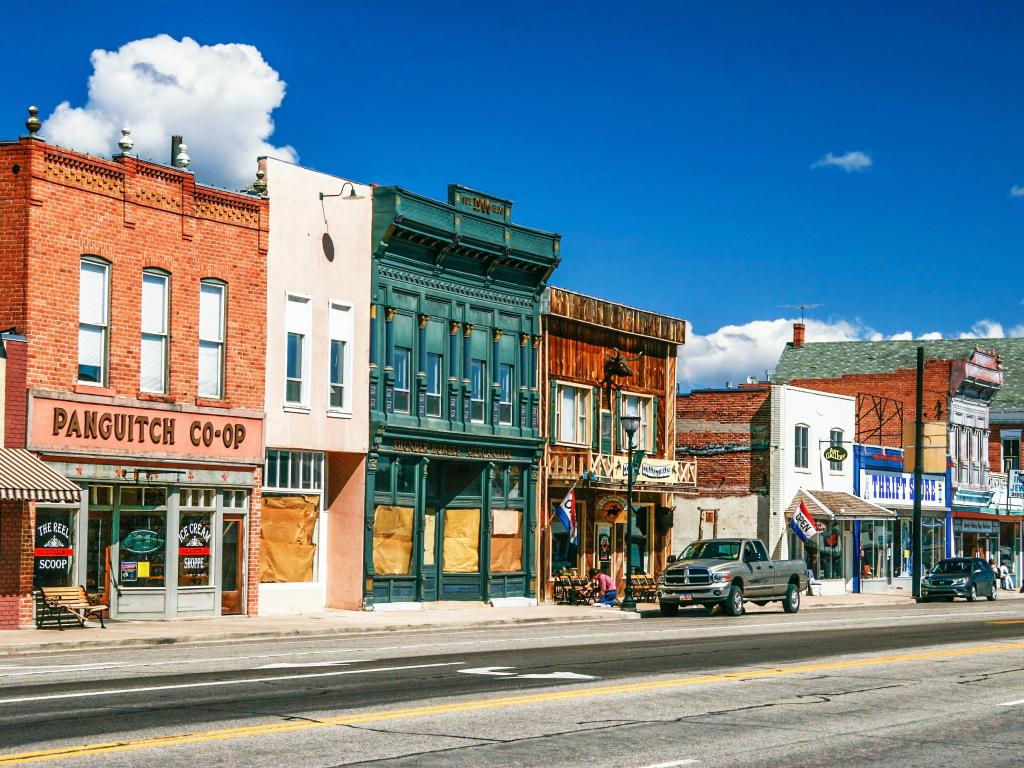 Things to know that can impact the drive on Utah Highway 12 Scenic Byway
The route along Utah Highway 12 Scenic Byway is relatively straightforward in that you stay on the same road from start to finish. This means you won't have any problems getting lost, as navigation is easy, but there are a few things to bear in mind when making the trip.
The route is mostly two lanes, one in each direction, and these can be narrow and windy in places. Overtaking should be avoided unless the road ahead is clear, and it is best to wait for the strategic passing zones.
Miscalculating speed and distance at altitude can be very costly and there are stretches where passing is not permitted.
Speed limits vary along the route, with some 40 mph sections, slowing down to 30 mph around towns, and even slower around some of the sharp bends.
The road surface along much of the route is well-paved and in good condition but it's difficult to keep the whole route well-maintained all of the time so be aware of the road conditions. The harsh mountain weather at certain times of the year can call for repairs to the surface.
Highway 12 is known for its twists and turns and driving through Grand Staircase-Escalante National Monument is a traffic hotspot.
Throughout the route, the numerous switchbacks and hairpin turns, both ascending and descending, offer drivers amazing panoramic views, which can cause them to take their eyes off the road, or slow down suddenly.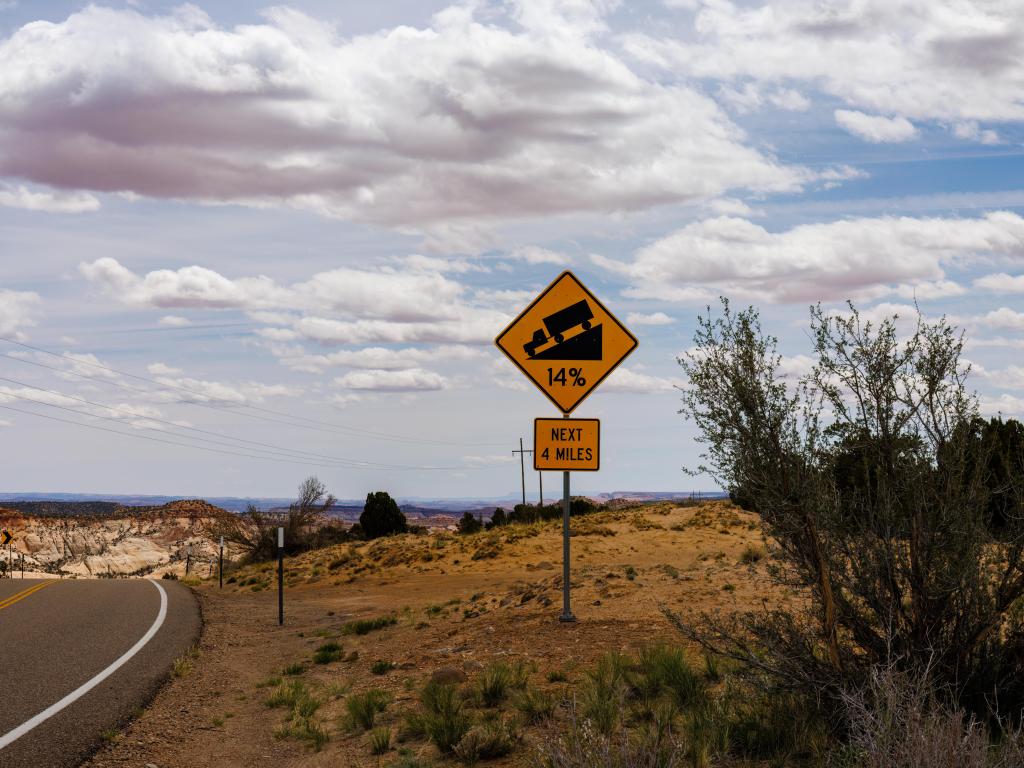 Tips to drive on Utah Highway 12 Scenic Byways in the safest way
A drive along the Scenic Byway is an experience to savor. Driven sensibly, it is a safe but challenging drive, and here are a few more of our tips to help the journey go as smoothly as possible:
Start the drive early in the morning for lighter traffic, and avoid traveling on weekends and busy holiday periods when traffic will be at its busiest.
Make sure your vehicle is fitted with appropriate tires for the time of year.
If you're hiring a car, make sure you get a 4WD to make light work of the elevation changes.
Begin your journey with a full tank of gas, and make sure you know the gas stations along the route. They can be found in Boulder, Escalante, Tropic, and Bryce Canyon City. There are also EV charging points at Boulder, Escalante, and Tropic.
Keep up-to-date with weather conditions, using the Utah Department of Transportation for more information.
Do a "virtual drive" using Google Street View, preparing yourself by learning about the intersections and landmarks beforehand.
Plan rest stops along the route.
Allow extra time, there are many overlooks where you'll want to pull over and savor the incredible views.
Use GPS, but as a backup carry a paper map or written directions as cell phone coverage can be unreliable in remote areas, especially at Grand Staircase-Escalante National Monument.
Some local services and visitor centers may have different opening hours during winter.
Bring snow chains if traveling in winter to get better traction on snow and ice. It's a legal requirement in Utah law to use chains or snow tires during severe winter weather.
Alternatives to driving yourself on Utah Highway 12 Scenic Byway
If you fancy a trip along Utah Highway 12 Scenic Byway but are concerned about the exposure at altitude, then there are a few alternatives available to ensure you can still experience this incredible route.
Taking a guided tour will allow you to sit back and enjoy the views, with a local experienced guide doing the driving. This is a good way to learn about the area and its history and famous landmarks, on an informative and relaxed journey.
You can also take a bus tour with several services between Bryce Canyon National Park and Capitol Reef National Park. Check the timetables as you will be able to hop off at your earmarked attractions along the way and continue your journey on the next bus.
If you are feeling adventurous, and particularly energetic, you could take to two wheels and cycle the route, or even walk it, but attempting this option in the summer months could be dangerous being exposed to the extreme heat throughout the day.
Best time to drive on Utah Highway 12 Scenic Byway
Summer is the busiest time of year to travel along Utah's Highway 12. It is peak tourist season from June to August, so expect higher traffic levels and book accommodation in advance to avoid disappointment.
The intense summer heat can be uncomfortable, so having air-conditioning is a must, and make sure you bring sun protection and stay hydrated. Take extra care if you are exploring the area on foot and try and avoid the direct heat from midday to late afternoon.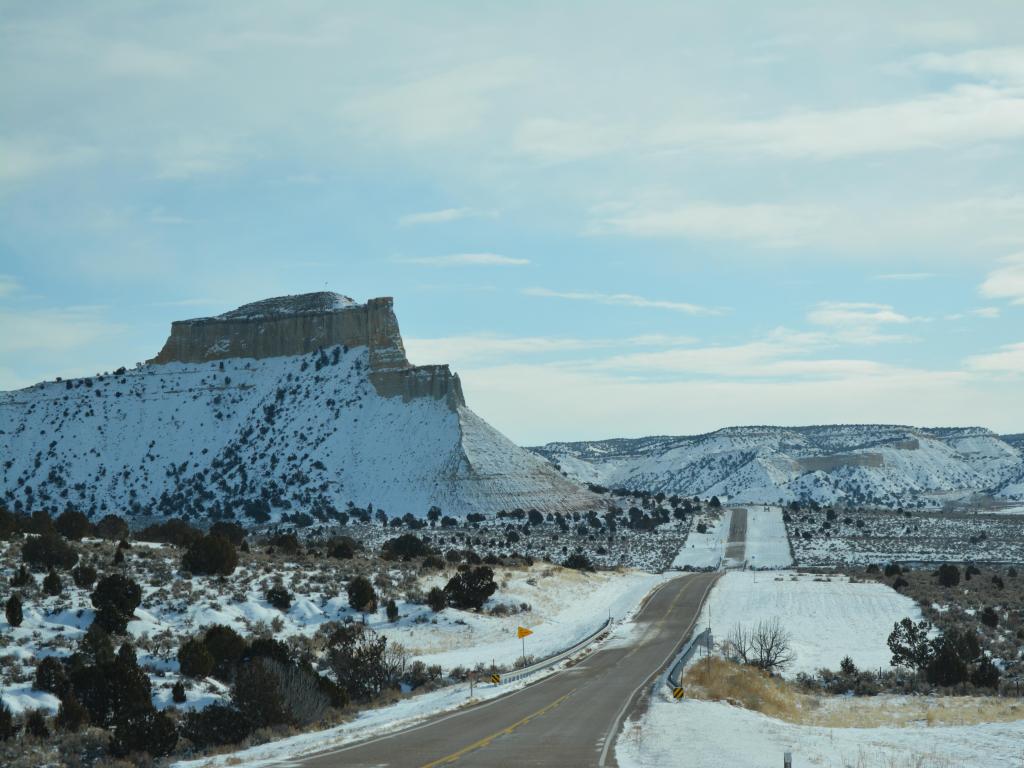 Thunderstorms are common during hot summer afternoons. Keep an eye on the forecast as you don't want to be caught outdoors during lightning, and sudden heavy rain can make driving treacherous on the narrow mountain roads.
Summer is also wildfire season, with the hot and dry conditions the perfect conditions. If a wildfire breaks out, follow park service instructions and get away from danger as quickly and safely as possible.
Winter can be especially challenging, especially in the highest mountain sections. Snow and ice on the road are especially dangerous at altitude, and visibility can be drastically reduced in a snowstorm.
High winds can also cause problems with the route open to such extreme exposure in some places. If making the trip at this time of year, prepare accordingly and travel with warm clothing, supplies, and snow chains in the trunk.
Road closures are common in the most adverse winter weather and you should consider there are fewer daylight hours to enjoy the panoramic views, and you might not want to tackle the most challenging sections in the dark.