What is the safest route from California to Texas?
This trip takes you from California in the southwest corner of the United States, to Texas, the largest state after Alaska. With its big cities, long coastline, rolling hill country and stunning desert landscapes it's packed full of places to explore.
The 1,350-mile drive from California to Texas takes you across stunning desert landscapes for much of your 19 hours 45 minutes you'll be on the road, but you'll have to pay attention to high temperatures, heavy snowfall and busy roads to stay safe en route.
The route has plenty on offer, whether you're traveling past Mojave National Preserve and on through Coconino National Forest or sticking to I-10 through Phoenix and Tucson. So keep on reading to find out how to make the drive as safely as possible.
Which route should I take from California to Texas?
Comparison of road trip routes between California and Texas
Route
Distance
Time
The I-10 Route


LA to San Antonio via Phoenix and El Paso

1,350 miles
19 hours 45 minutes
The I-40 Route


San Francisco to Dallas via Albuquerque

1,735 miles
26 hours
A road trip from California to Texas takes you from the Pacific coast in the far southwest of the United States, through Arizona and New Mexico then on towards Texas, the largest of the contiguous states which sits in South Central USA looking out over the Gulf of Mexico. Both states have a land border with Mexico.
With so many miles to cover, most travelers heading from California to Texas will follow the interstate through Arizona and New Mexico. It's the quickest route across the country and it's easy to navigate too. Depending on your starting point and destination, you'll probably look at using either I-10 or I-40.
I-10 is the most southerly option so it's a popular route for travelers starting in Los Angeles. You can follow it all the way from Los Angeles to El Paso and San Antonio, or even on to Houston if you're going that far. Along the way you'll travel through Phoenix and Tucson in Arizona's Sun Corridor.
I-40 runs further north, so it's a slightly quicker route if you're starting out in San Francisco on our way to Dallas or Houston. It's also a popular choice for travelers who want to detour to Las Vegas or the Grand Canyon en route.
If you're traveling from San Francisco to San Antonio or Austin you'll save an hour or so by linking up with the I-10 route outside LA, but the drive will feel quite different. Keep on reading to find out more about the two routes to decide which way to travel if you have a choice.
Driving on the safest route from California to Texas
A road trip from California to Texas can involve long stretches of desert driving and passes through busy urban areas, so there are some important safety factors you need to take into consideration when you're planning your route.
Whether you travel on I-10 or I-40 you can meet with extreme weather conditions as you travel between California and Texas. On I-40 the road travels at higher altitudes too, which brings more challenges for drivers.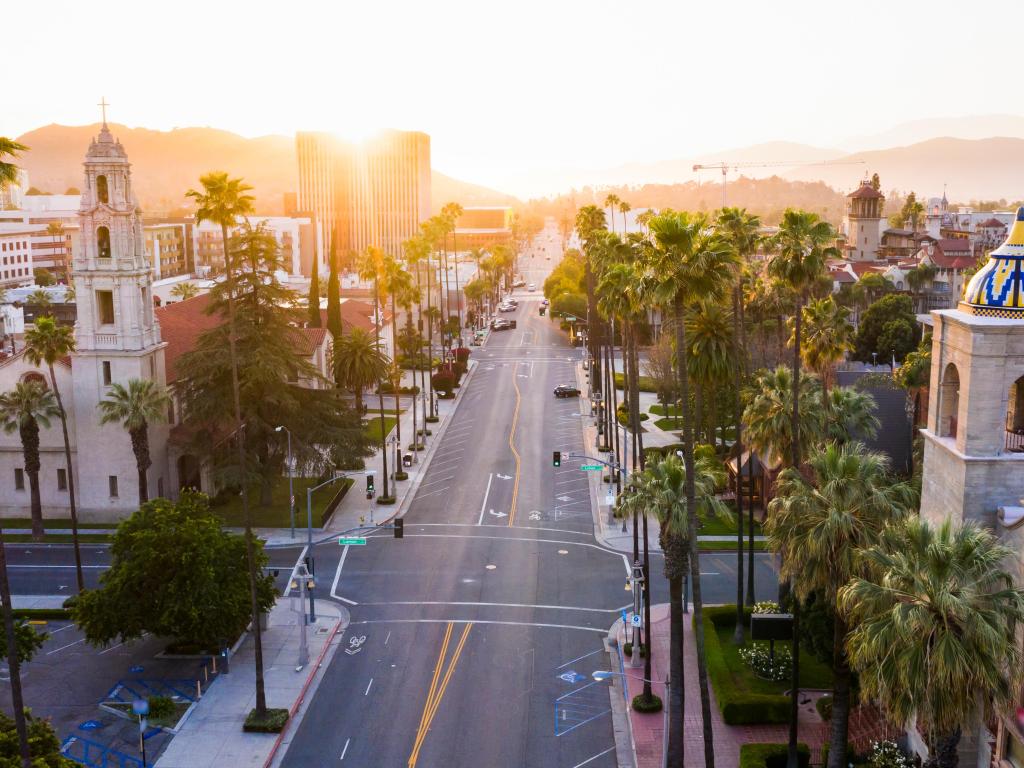 You'll need to negotiate heavy traffic at times as these cross-continental routes are used by commercial traffic as well as tourists and locals. With such long distances to cover, accidents due to driver error are common on both routes, and you'll need to make sure your vehicle can stand up to the drive too.
Along the way the roads pass through busy urban areas too, where congestion and frequent on and off ramps can make driving a challenge if you're not familiar with the road.
While these are all valid concerns on the route from California to Texas, good planning and alert driving can alleviate many of them.
Stay alert to the actions of other drivers and be prepared to react to driver error. Avoid traveling in winter if possible, or have some flexibility around your travel date so that you can wait out poor road conditions.
There are some other factors specific to each of the routes, so keep on reading to help decide which is the best route for your trip, and how to drive from California to Texas safely.
Driving on Interstate 10
I-10 has been described as the most dangerous highway in America, and it's one of the country's most dangerous roads based on the number of fatalities. That's not surprising seeing as it's a long and busy road, but there are a few factors to be aware of to help you take the road as safely as possible.
The weather is probably the first thing that comes to mind when you're thinking about traveling this route safely. This road through the desert sees temperatures soar in summer - Phoenix regularly hits 105 degrees Fahrenheit and the surrounding desert can be even hotter.
Carry plenty of water and check that your vehicle is in good condition before setting out – you don't want to get stuck by the side of the road in the August heat.
The desert landscape can also contribute to accidents in other ways. It's a spectacular drive, but it can be hard to maintain concentration on some of the long, straight stretches of the road.
With long distances to cover, speed limits are often ignored. Excess speed is a major cause of accidents on this route, so it pays to be attention to other drivers at all time and to try to think ahead.
Sections of the highway are unlit and there may not be barriers separating the carriageways. Add to this the fact that a high rate of drink driving has been recorded on I-10 and you might want to avoid traveling on this route late at night.
Maybe because it runs close to the international border and links up some of the southwest's largest cities, I-10 also has a reputation for harbouring some pretty lawless characters.
Border Patrol officers may be evident along the highway and in rare cases you might be pulled over for an inspection. There have also been gun crime incidents on or near the highway – these tend to involve law enforcement and known suspects but even so, it pays to stay alert to your surroundings.
Driving on Interstate 40
If you're starting out in San Francisco, take I-5 south towards Bakersfield to connect with I-40, which you can then follow east all the way to Amarillo. From here you'll need to hop onto Route 287 to travel on to Dallas, with I-35 and I-45 taking you on to other major cities if you're traveling further.
The rate of accidents is lower on I-40 than I-10 but they are still a common occurrence, so stay alert to the conditions around you and be prepared to respond quickly to other drivers. As a major route, the road is usually kept in a good state of repair but occasional issues such as potholes can arise.
This route is also affected by winter weather, and heavy snowfall can see the interstate closed on occasion. Even if the route looks clear, pay attention for patches of ice which can make the road slippery in cold weather.
The section between Kingman and Flagstaff rises to 7,000 feet and while you'll be treated to some amazing mountain views you'll also have a barrier and plenty of shoulder space between the road and any drop offs.
There are some steeper sections of road here but as long as your vehicle is in good condition you shouldn't find the climbs challenging. Always pay attention to signage in break check areas.
Things to know that can impact the drive on the safest route from California to Texas
As we've already mentioned, the weather and other road users can both make the drive from California to Texas unpredictable. Temperatures in the desert often drop below freezing at night so ice can cause problems even in apparently fine weather.
The section around Flagstaff and the High Desert is subject to winter closures so check state traffic advisories if you're traveling in winter.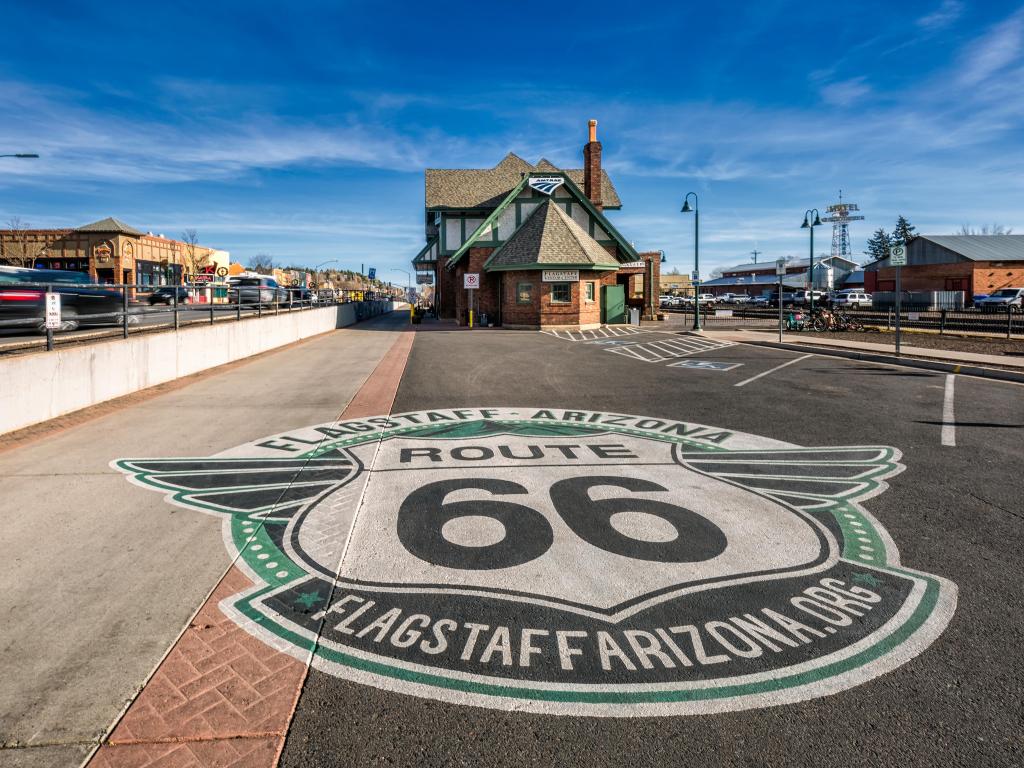 Traffic can be heavy on this route as it's popular for truckers and tourists alike. On the I-10 route you'll have to negotiate some stretches of particularly congested urban freeway.
The speed limit will change as you move between states and where the interstate passes through urban areas. Out of town the limit is usually 70 in California, 75 in Arizona and New Mexico, and a massive 85 mph in Texas.
It's not uncommon to see drivers exceeding the speed limit – don't be tempted to follow suit as many accidents on this route are caused by driver error and speed. Take it easy if you're not used to driving at 85mph too.
Both I-10 and I-40 are used heavily by commercial trucks, and you'll need to switch lanes to pass them. However with 2 to 4 lanes in each direction, it's possible to pass all along the highway unless you hit significant congestion. Speed can be a factor on long, straight stretches of road though, so be aware of drivers coming up fast behind you as you prepare to pass.
Rest stops are available all along the route but there are significant distances between them. Don't leave it too late to fill up with gas in case you find the next rest stop is unexpectedly closed. There are also small towns just off the interstate where you'll usually find a café/fast food restaurant and gas station.
In theory there is cell phone coverage along most of this route, but as this often relies on partner networks, you might hit areas of weaker coverage.
Tips to drive from California to Texas in the safest way
Our recommendation is to take the I-40 between California and Texas for the safest possible drive, but whichever route you take there are things you can do to reduce some of the risks of taking this trip.
Whichever route you take, plan ahead for an overnight stay – this trip is too long to safely drive in one go. If possible, have two designated drivers to share the load so you can stay fresh. If not, be sure to take regular rest breaks.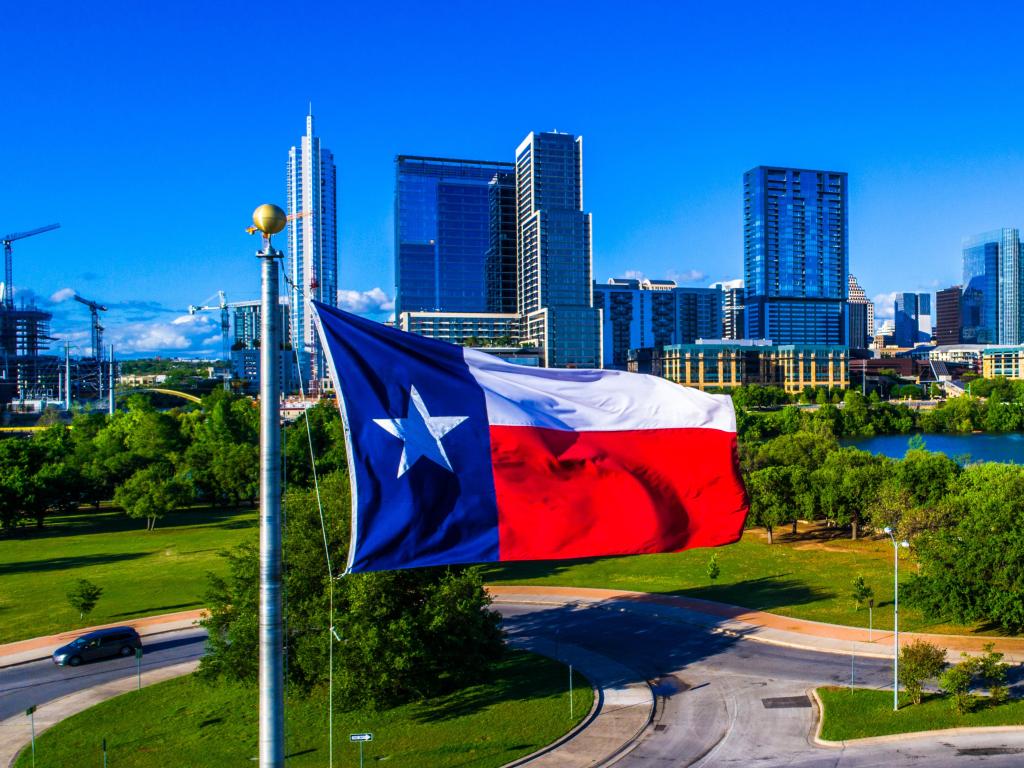 If you're hiring a car, a vehicle with air conditioning can make the trip more comfortable in summer, especially if you decide to take the I-10 route. You're advised to turn it off on long sections of uphill driving though, to avoid overloading your vehicle as you travel up the steeper road towards Flagstaff.
Make sure you carry plenty of water if you're taking this trip in summer. You might be waiting a while to be picked up if you break down so we'd recommend taking more than you think you'll need for each stretch of driving.
Local advice is that in heavy snow you're better off waiting for the road to be cleared than trying to make the trip with snow chains. Consider detouring onto the I-10 route if you're traveling in winter to avoid the risk of snow-related delays. Do not drive in heavy snowfall. Stay in a hotel in Flagstaff or Kingman instead.
You'll be traveling a long way so make sure you have adequate fuel for your journey. There are gas stations along the interstate but aim to fuel up when you hit 25% full to avoid running too low.
It's a good idea to check weather and traffic advisories before setting out. Conditions can vary from state to state so start out by checking California Highway Information. Switch to advisories from the Departments of Transport in Arizona and New Mexico as you make your way cross-country then, when you arrive in Texas, DriveTexas will fill you in on important information.
Be mindful of HGVs and their limitations. Look ahead for heavy trucks crawling along the slow lane. Anticipate this and merge into the fast lane, ahead of them
Alternatives to driving yourself from California to Texas
You might not fancy driving yourself from California to Texas once you've read all this. Luckily there are some great alternatives available on this road.
Although you'll lose out on the feeling of adventure that a road trip brings, there are also regular flights from Los Angeles and San Francisco to Texas. Prices start at around $80 but can increase significantly at popular travel times. There are more connections from LA than San Francisco, and prices are a little lower.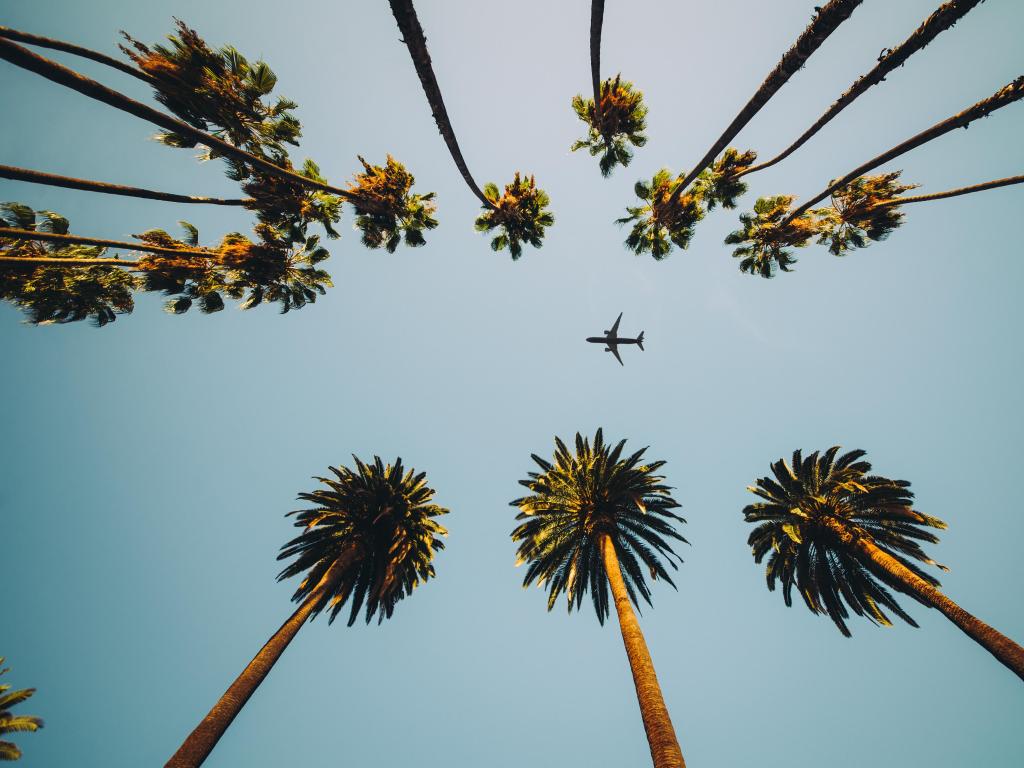 If you still want to travel overland, Greyhound offer bus tickets from California to Texas but you'll need to change at least once along the way. The quickest journey time from LA to San Antonio is 29 hours including a change of bus in Phoenix.
There's also direct train from LA to Houston which takes around 36 hours. This train doesn't run every day so check the current schedule for departure dates.
Best time to drive from California to Texas
As you've already seen, there are some stretches of hot desert driving on both routes. Even though I-40 isn't as extreme as the I-10 through Arizona it's still prudent to carry water and make sure your vehicle is in good condition.
Also be aware that desert temperatures can drop significantly so carry enough clothes to keep you warm at night too.
Heavy snow can close parts of I-40 in winter, especially where it travels at higher altitude through Flagstaff and the Kingman Pass. The road will usually be cleared quickly, but you might have to wait out the snowstorm.
Ice can pose problems in winter – the road should be kept clear but drive cautiously in freezing temperatures. This also applies to I-10.