Best Time To Visit San Diego, California
If you're visiting San Diego or stopping there on your way through Southern California, you may wonder when the best time to visit San Diego is.
The best time to visit San Diego is from mid-July through to late October when the weather is warm and dry. With its unique microclimate, San Diego is great to visit all year round with t-shirt weather 12 months a year and only moderate rainfall in the winter.
We've got the full details about when you should come to San Diego for the weather, events and festivals, best prices and a whole lot more below so keep reading to choose your travel dates.
When should you go to San Diego?
When to visit San Diego - Summary
Best Time for Good Weather: Go from mid-July to October to get the warmest months of the year with the least rain. May Gray and June Gloom can make the days foggy and cloudy earlier on in the summer and the wetter and colder season starts from November.
Best Time for Sightseeing: Late February and March are good for sightseeing and visiting various attractions around the city. It is a quiet time in San Diego with the tourist season still being low, the San Diego Museum Month is on during February offering 50% off admissions and the weather slowly turns for the better. Although it's still the winter season, temperatures remain warm and it doesn't rain a great deal even though this is the wet time of the year.
Best Time for Saving Money: January and February tend to be the cheapest months for coming to San Diego. It is the slowest time for hotels as it's the lowest season for tourism and there isn't too much going on in the city. The Museum Month and Restaurant Week are on to try and get the locals going out to make up the numbers so this is by far the cheapest time to visit San Diego.
Best Time for the beaches: September is the best month for hitting the beach in San Diego closely followed by October. The weather in September is almost exactly the same as August, but there's a lot less people on the beach giving you more space to enjoy yourself. The first half of October is still good with the water remaining warm and the dry warm summer weather holding up.
Best time to visit San Diego
Best Time for Museums and Activities: If your objective is to see all the art, explore every museum and see all the culture there is in San Diego, then February is the month to come. It's San Diego Museum Month and 40 museums offer half price admissions with a pass that you can pick up for free from libraries all over the city. It's also the lowest part of the tourist season which means there's no queues to get in and fewer people getting in the way as you load up your art appreciation batteries.
Best Time for Restaurants: The San Diego Restaurant Week takes place in January with a repeat in September - you can try amazing specially created set menus for a knockdown price while the city is least popular with tourists. Get your reservations in!
Best Time for Concerts and Music: San Diego's great weather means there are events all year round, but November is particularly great with the San Diego Jazz Fest and the Wonderfront Festival both on. With the Wine & Food Festival and the Beer Week on at the same time, you're guaranteed a good time!
Best Time for Families and Kids: October is the perfect month to come to San Diego as a family. The weather is still very warm and dry and you can enjoy the outdoors and the beaches where the water hasn't cooled down yet. October is also the Kids Free Month in San Diego - many museums, attractions and restaurants will give kids free entry, discounts and other perks all over the city.
Best time to Avoid Crowds: Due to its mild weather at the peak of the summer, San Diego gets most busy in July and August. Tourists and visitors from California, Nevada and Arizona flock to the city to enjoy the mild summer evenings and some residents from hot cities like Phoenix drive across to San Diego to escape the heat, spending several weeks on the coast.
San Diego travel seasons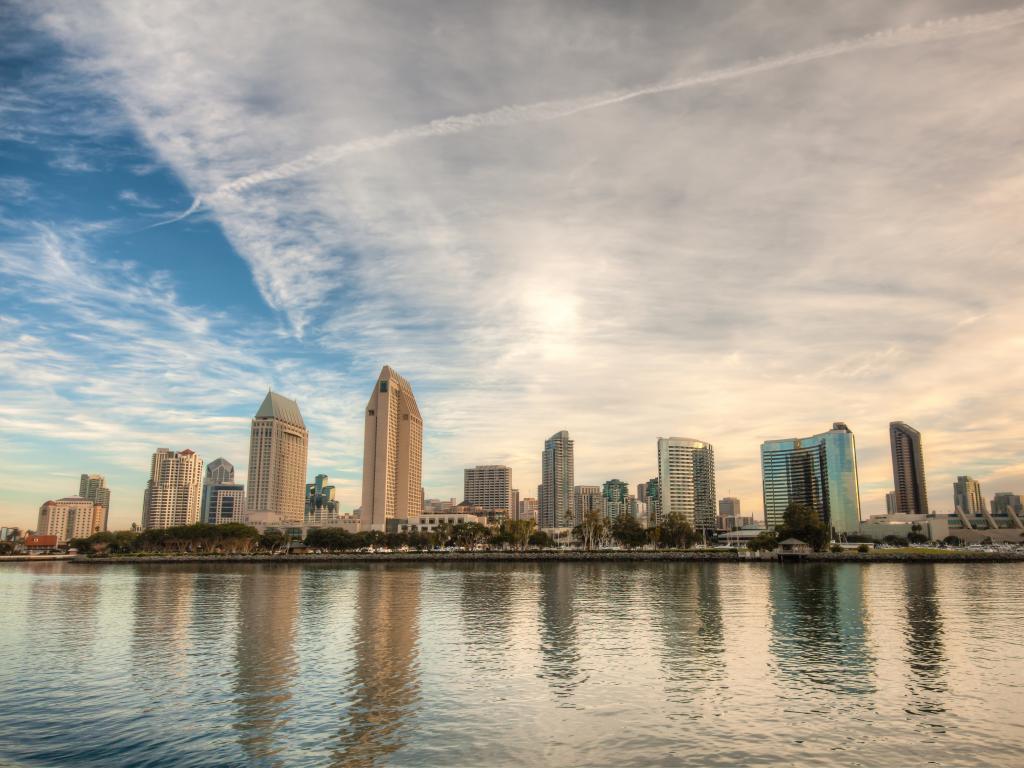 High Season for Tourists (July to August)
The summer season is the most popular for tourists coming to San Diego. Although the summer fog and clouds can still hang around in July, the summer season brings people on vacation and the busy season lasts until Labor Day weekend when the crowds return to school and work.
The summer period also attracts a number of people who live in the desert states to seek an escape from the heat with some Phoenix and Las Vegas residents having second homes in the area. They might not be tourists, but they'll be competing for the same restaurant tables so plan ahead and book early.
Shoulder Seasons (March to June and September to November)
Spring through early Summer and fall are the shoulder seasons. Tourist numbers are lower than the summer with work and school dictating people's calendars but San Diego is still popular due to its mild climate and relaxed oceanfront vibe.
The tourist season picks up as the weather turns dry and warm at the end of March, but the May and June fog tempers tourist numbers until later on in the summer. The tourist numbers dip again from Labor Day, but do not drop off until it turns more wet and cooler towards the end of November.
Low Season (December to February)
The winter is the slowest travel season in San Diego. As the nighttime temperatures dip into the "wear a jacket" territory and the rainy part of the year arrives, the tourist season grinds to a halt.
Amazingly, the daily highs in January and February are still over 63 °F (17 °C) and there's only rainfall one to two days a week so if you're wanting to make the most of the low season, avoid the crowds and get a great deal on hotels and flights, this can be a great time to come to San Diego.
Best time to visit San Diego for roaming around the neighborhoods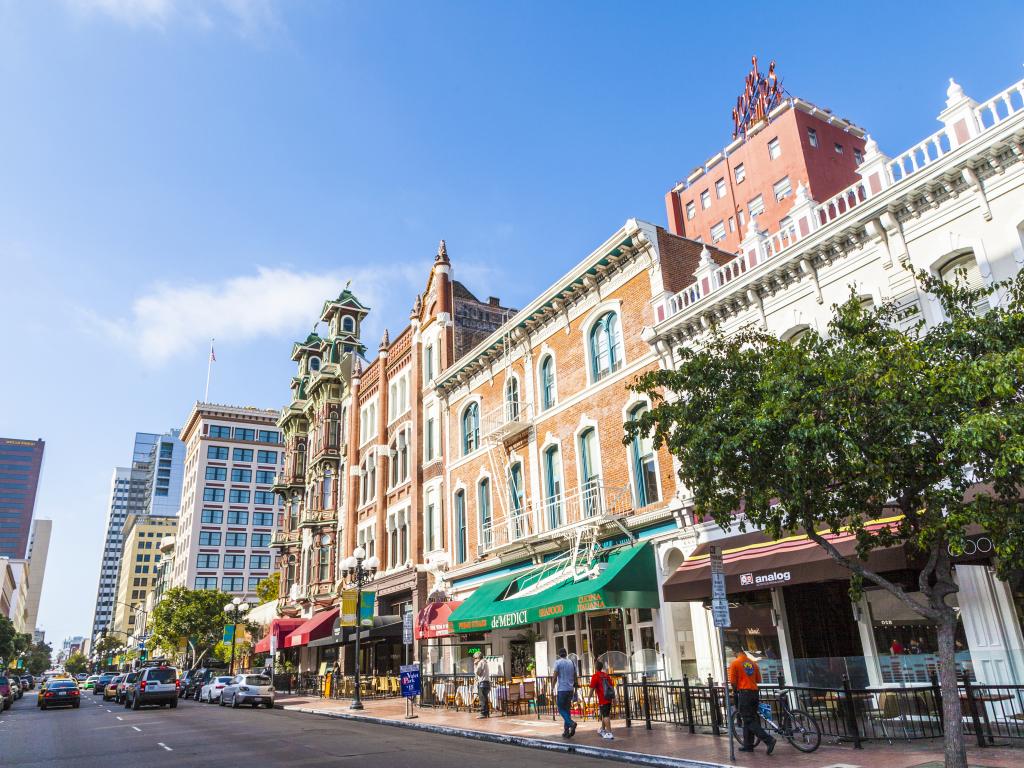 San Diego is not known as America's Finest City for nothing. Its endless pristine sand beaches and amazing neighborhoods are perfect for days of strolling around without a busy agenda.
You can come to San Diego every single month and love exploring the different parts. There's the Gaslamp Quarter, La Jolla, Ocean Beach, Little Italy and so much more to see.
The absolute best time to visit San Diego for walking around and finding the hidden gems is in September and October. The weather is great - it's warm, dry and the summer clouds have long gone. The tourists also largely disappear after the busy summer so there's less people about as you make your way around town.
Weather in San Diego across the year
San Diego has one of the most stable climates in the United States with pleasantly warm temperatures all year round and not much rainfall.
The range for daily highs from the coolest winter months to the peak of the summer is less than ten degrees Fahrenheit with December averaging 62.9 °F (17.2 °C) and August reaching 72.8 °F (22.7 °C).
As the ocean currents make a big contribution to San Diego's climate, there is a lot of variation as you venture inland and up to higher ground. Even the San Diego International Airport about 5 miles from the coast averages around 2 degrees higher with 20% less rainfall than the city.
Average monthly temperature and rainfall for San Diego
Average temperature highs and precipitation
Data sourced from U.S. NOAA Climate Data
Month
Temperature
Rainfall
January
63.0 °F / 17.2 °C

---

2.53 in / 64 mm

---

February
63.9 °F / 17.7 °C

---

2.54 in / 65 mm

---

March
63.2 °F / 17.3 °C

---

2.27 in / 58 mm

---

April
66.9 °F / 19.4 °C

---

0.82 in / 21 mm

---

May
66.9 °F / 19.4 °C

---

0.19 in / 5 mm

---

June
68.8 °F / 20.4 °C

---

0.09 in / 2 mm

---

July
71.6 °F / 22.0 °C

---

0.07 in / 2 mm

---

August
72.8 °F / 22.7 °C

---

0.05 in / 1 mm

---

September
72.2 °F / 22.3 °C

---

0.22 in / 6 mm

---

October
69.4 °F / 20.8 °C

---

0.75 in / 19 mm

---

November
66.2 °F / 19.0 °C

---

1.13 in / 29 mm

---

December
62.9 °F / 17.2 °C

---

1.68 in / 43 mm

---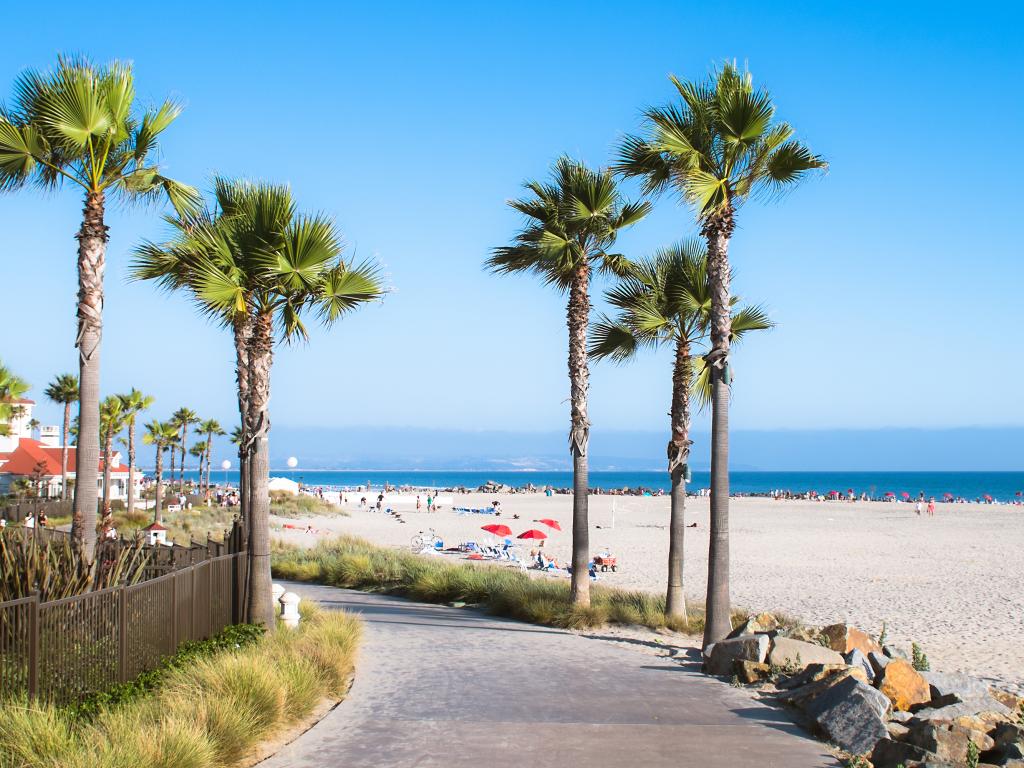 San Diego weather by month
San Diego weather in January: January is the coolest period in San Diego with daily highs averaging almost as low as December at 63.0 °F (17.2 °C). Nighttime lows can feel cold at 47.0 °F (8.3 °C), especially with an ocean breeze adding to the chill factor. Although January along with February are the wettest months of the year, rain only falls 1 to 2 days per week with any substantial rainfall happening less than once per week. Average temperature: 55.0 °F / 12.8 °C. Average precipitation: 2.53 in / 64 mm.
San Diego weather in February: February continues the January weather trends with cool nights and the highest rainfall of the year with some rain a couple times a week. The temperatures stay relatively low but fluctuate with coastal areas getting warm spells while a few miles further inland it gets cooler. Average temperature: 56.4 °F / 13.6 °C. Average precipitation: 2.54 in / 65 mm.
San Diego weather in March: March is the last of the cooler and wetter winter months. Although it will feel noticeably warmer towards the end of the month, early March can feel pretty chilly and the winter rains continue through most of the month. As places further north in California begin their warm spring season, you'll still need your jacket and umbrella down in San Diego. While nighttime lows and daily averages grow slightly, the daily highs stay low in March. Average temperature: 57.2 °F / 14.0 °C. Average precipitation: 2.27 in / 58 mm.
San Diego weather in April: Spring arrives in earnest in April as the weather gets warmer and the rains ease up in the first week of the month. Daily highs reach a pleasant 66.9 °F (19.4 °C) and the rainfall almost disappears as the month progresses. Expect warmer nights and a nice breeze coming off the ocean as the warm season appears on the horizon. Average temperature: 60.5 °F / 15.8 °C. Average precipitation: 0.82 in / 21 mm.
San Diego weather in May: The rainfall is almost completely gone by the time May arrives in San Diego. Expect one day when there'll be a wet hour or two, but the summer will take over as the temperatures climb. Nighttime lows average 58.4 °F (14.7 °C). Towards the middle of May you'll notice the effect of May Gray - weather can be cloudy and foggy in the morning until the sun burns through later on in the afternoon. Average temperature: 62.7 °F / 17.1 °C. Average precipitation: 0.19 in / 5 mm.
San Diego weather in June: June in San Diego is a two-sided coin - the temperatures become properly warm reaching 68.8 °F (20.4 °C) on average and it will be completely dry for the whole month. June Gloom that affects much of the California coast will be here too. Expect clouds and fog to cover the city most days and although it usually clears up towards the evening, some days may stay gloomy all the way through. Average temperature: 64.5 °F / 18.1 °C. Average precipitation: 0.09 in / 2 mm.
San Diego weather in July While June Gloom can linger on into the first couple of weeks of July, the weather gets much better as the month progresses and this is the start of the best time to visit San Diego. Daily highs are at a balmy 71.6 °F (22.0 °C) and even the nighttime lows of 64.0 °F (17.8 °C) are warmer than the warmest time of day from December to March. It is completely dry with an average of one rain of any significant rainfall once every 10 years.Average temperature: 67.8 °F / 19.9 °C. Average precipitation: 0.07 in / 2 mm.
San Diego weather in August August has the best weather of the year in San Diego with the warmest temperatures and the least amount of rainfall. Although the hottest months are often not great for visiting in other places in California or neighbor states, daily highs are a very comfortable 72.8 °F (22.7 °C) - perfect for strolling along the beach and exploring the city. Expect the weather to feel hotter if you head inland. The airport averages over 76 °F (24 °C) while the Serra Mesa neighborhood a few miles east reaches 81 °F (27 °C) Average temperature: 69.0 °F / 20.6 °C. Average precipitation: 0.05 in / 1 mm.
San Diego weather in September September stays very warm and dry making it more of a summer than a fall month in San Diego. With the ocean waters at the warmest and daily highs averaging 72.2 °F (22.3 °C), this is a great time to visit when the summer crowds die down after Labor Day. Evenings may begin feeling a little cooler later on in the month as some nighttime lows begin dipping below 60 °F (16 °C) but it will remain very dry. Average temperature: 67.4 °F / 19.7 °C. Average precipitation: 0.22 in / 6 mm.
San Diego weather in October October marks the start of the fall season in San Diego that lasts through to November. A few days of rainfall will happen in the middle and towards the end of the month as temperatures begin to decrease. Early October can still feel very summery with warm and dry days and the daily highs average at 69.4 °F (20.8 °C). Average temperature: 64.1 °F / 17.8 °C. Average precipitation: 0.75 in / 19 mm.
San Diego weather in November November marks a sharp cooling as the winter season looms. While daily highs dip a bit, nighttime lows drop considerably to an average of 52.0 °F (11.1 °C) which will make the evenings and mornings feel noticeably cooler. Rainfall will come later in November and make sure you pack a sweater for the cooler periods. Average temperature: 59.1 °F / 15.1 °C. Average precipitation: 1.13 in / 29 mm.
San Diego weather in December December is the coldest month of the year in San Diego. Although it's still warm compared to many other places in the United States, daily highs average 62.9 °F (17.2 °C) and the rain becomes more common with a rainy day happening once a week. Nighttime temperatures go down to 46.8 °F (8.2 °C) so bring a jacket for strolling in the evenings. Average temperature: 54.9 °F / 12.7 °C. Average precipitation: 1.68 in / 43 mm.
San Diego events and things to do by month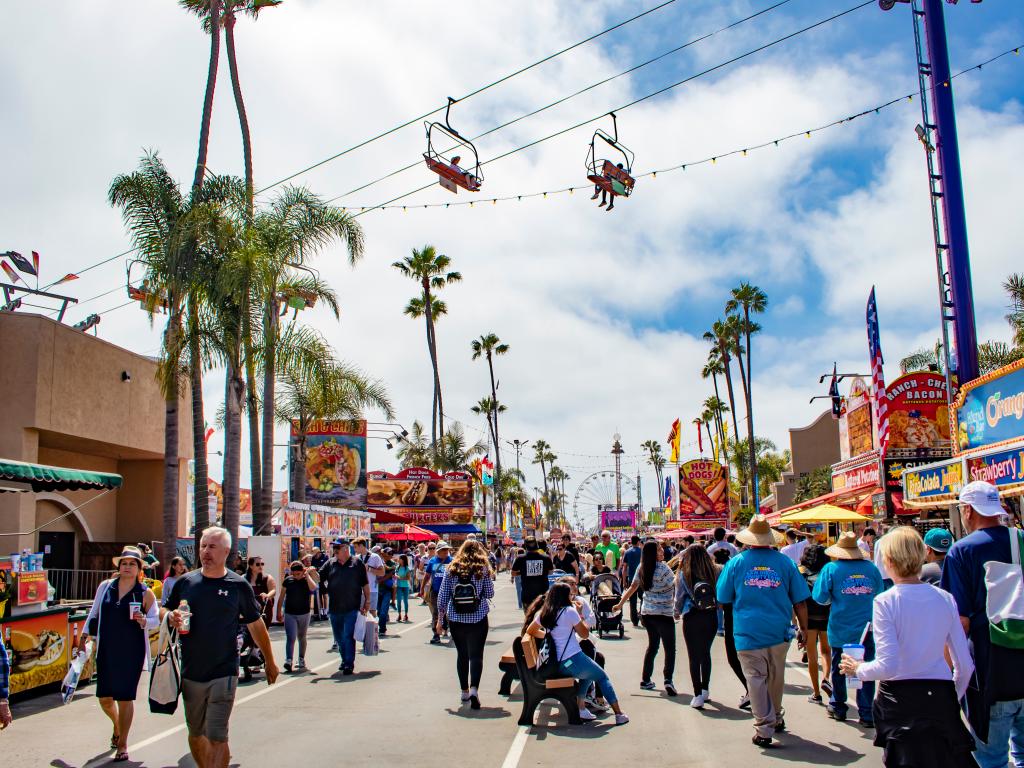 January in San Diego
San Diego Brew Festival - An afternoon of beer from 70 breweries and more food trucks than you can count. Tickets are pricey at $45 per person, but they include unlimited beer once you get in.
BIG Salsa Festival San Diego - 4 days of latin music and latin dance - there's shows and workshops as well as salsa dancing for all in ballrooms that keeps going all night!
San Diego Restaurant Week - 180 restaurants around San Diego put up one-off events and special prix fixe menus. Make sure you book ahead to guarantee a table.
February in San Diego
Chinese New Year Festival - A two-day festival following Chinese New Year in San Diego's Downtown. This is the oldest event in San Diego and comes with music, Chinese food stalls and the traditional dragons.
San Diego Museum Month - Over 40 museums in San Diego offer half price admissions for the whole of February. You'll need to get the free discount pass at one of 75 library locations in the city.
March in San Diego
April in San Diego
San Diego Crew Classic - A classic rowing regatta that officially opens the rowing season in San Diego's Mission Bay that has become the largest on the West Coast having run since 1973.
Mission Federal ArtWalk - 16 blocks of San Diego's Little Italy neighborhood get filled with hundreds of artists specializing in fine arts and there is music on 4 stages during daytime throughout the weekend.
May in San Diego
Fiesta Old Town Cinco de Mayo - A real Mexican festival where you will find lowriders, lucha libre wrestling and classic Mexican guitars everywhere. It's the biggest Cinco de Mayo in the United States and they promise it will be Muy Caliente!
Gator by the Bay - An epic 4-day festival that transports you to Louisiana which coincides with Mothers' Day weekend. Expect the finest New Orleans-style music and amazing Southern food including 10,000 pounds of Louisiana's tasty crawfish.
SoCal Taco Fest - 32 local restaurants combine to put on live music on the big stage, local breweries show up with kegs of every kind of beer you like and there's even Mexican wrestling while the visitors eat over 50,000 tacos.
June in San Diego
San Diego County Fair - Runs for a full month starting in early June (except Mondays) at the Del Mar Fairgrounds with 80 fairground rides, hundreds of concerts, events and enough food stalls to feed the world for a few years.
Rock 'n' Roll Marathon - A popular race taking place in late May or early June that gave birth to the Rock 'n' Roll marathon series across the country combines running with a music festival because why not?
July in San Diego
Big Bay Boom Fourth of July - A spectacular fireworks event staged off 4 barges in the San Diego Bay - get a lounge chair and enjoy the view!
San Diego Comic-Con - If you love comics, this one is for you. The Comic-Con has been going for over 50 years but the packed 4-day event sells out many months in advance so book early.
August in San Diego
San Diego Symphony Summer Pops Season - The San Diego Symphony organizes a number of events throughout the summer - there's Bayside Summer Nights in June and the Summer Pops Season in August where you can listen to some great music outdoors.
Latin Food Fest - An annual event where you can try the best Hispanic food and drink and watch chefs cook live to the backdrop of Latin music.
September in San Diego
MCAS Miramar Air Show - The largest military show in the U.S. has 3 days of displays ranging from firefighting planes to parachute jumps to aerobatics and even U.S. Navy fighter planes.
KAABOO San Diego - A different kind of music festival that has moved to San Diego's Petco Park with a laid back atmosphere and 3 days of non-stop partying.
October in San Diego
San Diego International Film Festival - A great celebration of the film industry with 100+ films being screened and a number of events around the city that are open to the public.
La Jolla Art & Wine Festival - A 2-day art show that includes wine, music, local craft breweries and the profits are used to fund programs teaching art to children!
November in San Diego
December in San Diego
San Diego County Credit Union Holiday Bowl - The Chargers may have moved back to L.A., but the big College Football game is still here at the SDCCU Stadium.
San Diego Parade of Lights - Get into the festive spirit as 80 boats full of Christmas cheer and decorations show off their bright lights in mid-December.
December Nights in Balboa Park - Another reason to get out in San Diego at Christmas - there's free entry to museums, spectacular shows and plenty of seasonal food and drink stalls.