Venice Beach, California Travel Guide
There is something for everyone at the exciting shores of Venice Beach, whether you plan to surf the waves, relax on the golden sands, explore the vibrant boardwalk or flex your muscles at Muscle Beach! This popular beach is also close to other unique sites like Venice Canals, promising a unique and memorable visit.
A quick overview of Venice Beach, California
Street Address
📍2700-3100 Ocean Front Walk Venice, CA 90291
Facilities at this beach

🕒 Opening hours (6am to 10pm)

🚗 Parking (From $3 per hour)

🛟 Lifeguard station

🚻 Public restrooms
Where can I find the Venice Beach along the Pacific Coast Highway?
Venice Beach is a short 7 minute drive from the center of Santa Monica. Arriving from Los Angeles? Then the center of LA is only 25 minutes away, and a straightforward drive before arriving at Temple Street and along the beachfront.
As you arrive you should see large overhead signs welcoming you to Venice Beach. There are 3 parking lots dotted along the length of the beach with over 1200 spaces, and accessible parking spaces close to the beach and boardwalk.
Make the most of a winter visit, where between November and February street parking is free during weekdays (except holidays).
Why we love visiting Venice Beach
There are plenty of reasons why a visit to Venice Beach should be added to your list of stop offs as you head along the Pacific Coast Highway.
Venice Beach has 1.5 miles of golden sands running along the Pacific Ocean, ideal for sunbathing and beach volleyball, or more energetic water sports and surfing during the warmer months. Looking for something lively? Then head to the iconic boardwalk, or unusual attractions like historic Venice Canals and Muscle Beach.
How we rate the different aspects of Venice Beach
Feature
Our rating
Natural beauty and scenery
⭐⭐⭐
Cleanliness and water quality
⭐⭐⭐
Peace and quiet
⭐⭐
Activities on offer
⭐⭐⭐⭐
Accessibility
⭐⭐⭐⭐
Venice Beach Boardwalk is a mix of street performers, vendors, and muscle beach gym goers. The boardwalk is colorful and busy and showcases Venice Beaches unique charm.
You can visit Muscle Beach, birthplace of the US fitness boom. Bodybuilders and fitness enthusiasts show off their talents here.
Inspired by Venice, Italy, there are man-made canals offering pretty walkways to enjoy. These waterways are lined with charming homes and gardens, making you feel like you are in a European-like setting along the Californian coast.
The Venice Skatepark on the beach is a nod towards to areas skate culture. With its impressive ramps and ocean views, it attracts both local and international skaters.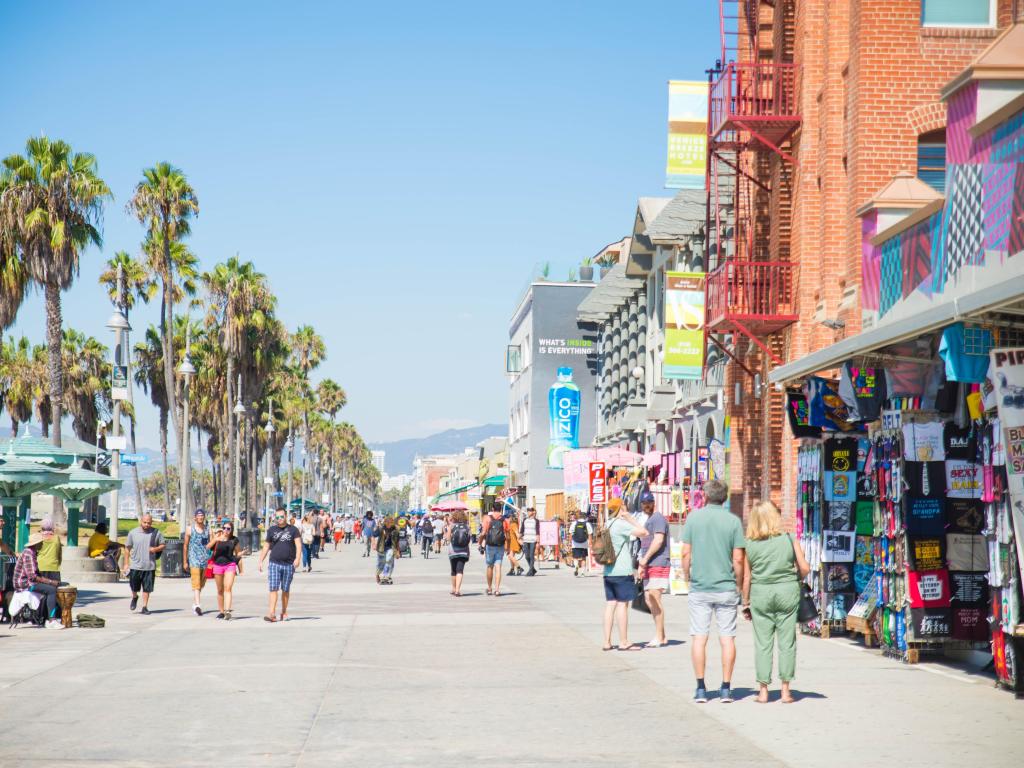 What else is there to do near Venice Beach?
You can be sure of a fun-packed day when you visit Venice Beach, with a buzzing boardwalk and beachfront to keep you entertained for hours. If you fancy a change of scenery, then why not head to one of these local sites.
Venice Boardwalk (Ocean Front Walk) - A pretty promenade known for its street performers, vendors and muscle beach gym
Venice Canals - Inspired by Venice, Italy, these man-made canals feature beautiful homes, bridges, and peaceful walking paths.
Abbot Kinney Boulevard - A trendy boulevard filled with boutique shops, art galleries, and popular restaurants and cafes.
Muscle Beach Venice - An iconic outdoor gym known for its bodybuilders and as the birthplace of the physical fitness boom in the U.S.
Marina del Rey - South of Venice Beach, it's one of the largest man-made harbors in the U.S., known for boat rentals, waterfront dining, and beautiful views.
With all the incredible sites close to Venice Beach, it makes it one of the most interesting and memorable beaches to take a photo or two. Take a look at our dedicated list of all the amazing places to take insta-worthy pictures along Pacific Coast Highway.
Common questions about visiting Venice Beach
Venice Beach is an iconic beach, with around 28,000 to 30,000 people visiting each summer. This popular beachfront has plenty going on, so keep reading to see all the important information you need to know before you go.
Is Venice Beach accessible and open year-round?
⭕ Yes, Venice Beach is accessible year-round
⭕ The Venice Boardwalk, also known as the Ocean Front Walk, is paved and flat, and accessible for wheelchairs, walkers, and others with mobility challenges throughout the year
Can I enjoy water sports at Venice Beach?
⭕ Yes, at Venice Beach swimming, bodyboarding, paddleboarding and surfing are popular
Is Venice Beach easily accessible for those using wheelchairs or strollers?
⭕ Yes, at Venice Beach there are ramped pathways from the boardwalk down to the sand, making it easier for those with lower mobility.
⭕ Venice Beach has public restrooms that are wheelchair accessible.
Is there anywhere to buy refreshments at Venice Beach?
⭕ Yes, there are plenty of cafes and restaurants along Venice Beach
Are dogs allowed on Venice Beach?
⭕ Yes, dogs are allowed at Venice Beach Dog Park only, where dogs can play off-leash
Are there any changing facilities at Venice Beach?
⭕ Yes, there are changing facilities and outdoor showers at Venice Beach
Are there any beach chairs or umbrellas to hire at Venice Beach?
⭕ Yes, there are beach chairs and umbrellas for rental at Venice Beach
Is there anything else to watch out for when I visit Venice Beach?
Venice Beach can get crowded, especially during peak times, so make sure to arrive early for a good spot and always keep an eye on your belongings