Road Trip from Arkansas to Orlando, Florida
Uncover the thrilling fun of theme parks, alligators, and unique museums on this road trip from Arkansas to Orlando, Florida while exploring the Southeastern parts of the United States with coastal views, rich history, and world-famous musical venues.
This 970-mile road trip from Arkansas to Orlando, Florida takes 16 hours to drive, weaving through Jackson, Bienville National Forest, Mobile, Apalachee Bay, Pensacola, Destin, Panama City, and Tallahassee, with detours to Gainesville and Tampa.
Meandering your way through nature, history, and music before winding up at the thrilling, sunny capital of Florida, you won't be forgetting this trip anytime soon. Read on for the best routes, hotels to stay overnight, things to see along the way, and the best time to embark on your road trip from Arkansas to Florida.
How far is Orlando, Florida from Arkansas, and how long will the road trip take?
Comparison of road trip routes between Arkansas and Orlando, Florida

| Route | Distance | Driving Time |
| --- | --- | --- |
| The Gulf of Mexico Route | 970 miles | 16 hours 30 minutes |
| The Musical Heritage Route | 990 miles | 15 hours |
The Gulf of Mexico Route take 16 hours and 30 minutes to drive from Arkansas to Orlando, Florida and covers 970 miles. This slightly longer route makes you wander and admire nature and its beauty.
Getting to Orlando via The Musical Heritage Route takes you 15 hours and covers 990 miles. This one is shorter and gives you an opportunity to explore the musical capitals of Memphis and Atlanta.
On such an adventurous and fun-filled journey, we would suggest you take at least 3 days (add one if you decide to detour to Tampa) to catch the complete experience of the route as well as the destination.
Best road trip route from Arkansas to Orlando, Florida
Both the routes from Arkansas to Orlando, Florida take almost the same time to drive but the experiences they give are drastically poles apart! So, your choice of route will depend solely on your taste, either coastal or musical.
Perfect for nature-lovers, The Gulf of Mexico Route is a lovely scenic one taking you along the Gulf through white sand beaches such as in Destin, Pensacola, and Panama City. On this more quaint route, you will have a chance to visit Mississippi, Alabama, Florida, as well as a couple of National Forests.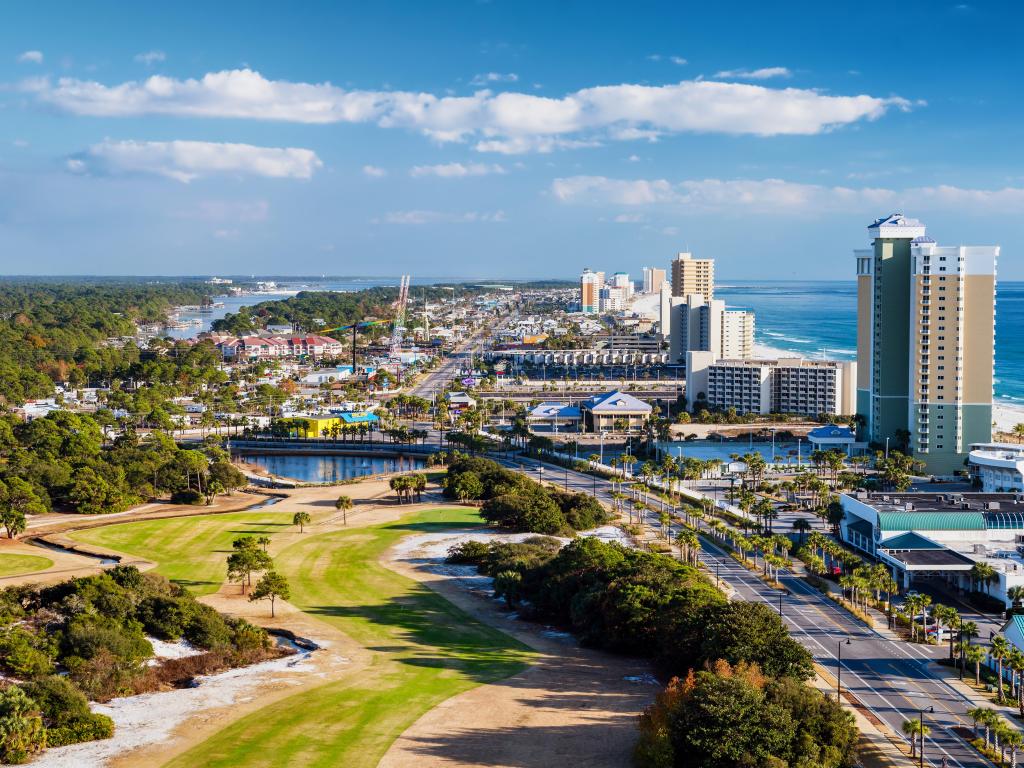 If you'd rather reach Orlando directly with minimal stops whiling relishing rich musical history, take the Musical Heritage Route. This route goes inland, taking you through some major musical cities like Memphis and Atlanta. You can also visit the states of Tennessee, Alabama and Georgia on this route.
On this route, you will miss out on the beaches and the scenic drive along the Gulf of Mexico. If you are not short on time and are feeling venturesome, take a detour to Tampa Theatre or Devil's Millhopper Geological State Park which are accessible from both routes.
How to drive from Arkansas to Orlando, Florida
The map above shows our suggestions for the best road trip routes between Arkansas and Orlando, Florida. Keep reading for detailed descriptions of both routes, where to stay on either, and the best things to do on the way.
The Gulf of Mexico Route
For a scenic drive, get on I-630 E from Little Rock. Follow I-530 S and US-65 to Washington County. Then take MS-438 E and continue on US-49W S. Take US 49 S to Access Rd in Jackson. From there, get on I-55 S from E Pascagoula St. Then take US 49 S to N Water St in Mobile.
Head south and follow I-10 E to N Hayne St in Pensacola. Head east on E Cervantes St toward N Hayne St. Continue onto E Gregory St and you will reach the beachy city of Destin. Stop here overnight and explore the coast before resuming your road trip from Arkansas to Orlando, Florida.
Head south on Benning Dr toward Harbor Blvd. Turn onto Frankford Ave which will take you to Panama City. From there, follow US-231 N and drive to US-27 S/N Monroe St in Tallahassee. Next, get on I-10 E from Thomasville Rd and follow Florida's Turnpike to S Lucerne Cir E in Orlando.
The Musical Heritage Route
From Little Rock, Arkansas, get on I-630 E and follow I-40 E to N Front St in the birthplace of Rock n Roll, Memphis. Head east on Poplar Ave and take US-72 E to State St in Muscle Shoals, another city musical magic.
From there, follow AL-157 S and I-65 S to 17th St N in Birmingham. Get on I-20 E from Reverend Abraham Woods Jr Boulevard. Follow I-20 E to Atlanta. At this point, you will have covered about half of the road trip from Arkansas to Orlando, Florida.
Stop at Atlanta to regain your energy and explore the hometown of the Civil Rights Movement. Once you are ready to head out again, get on I-75 S from Washington St SW and Pulliam St SW. Continue on I-75 S to your thrilling destination of Orlando.
Best places to stop between Arkansas and Orlando, Florida
On this road trip from Arkansas to Orlando, Florida, you will find yourself immersed in fun activities from historic tours to relaxing nature strolls. With more than half a day of driving and exploring, you would need to stop and relax. Read on to discover our favorite places to stay overnight on this trip.
Indulge in seafood delicacies at Destin
Ideally located about halfway on this road trip from Arkansas to Orlando, Florida from the Gulf of Mexico Route, is the city of Destin. This city provides incredible views of the Gulf and pristine beaches that are worth visiting and is easily accessible from the Gulf of Mexico.
Destin is known for its fishing industry and numerous seafood restaurants offering the freshest of food. You will have plenty of opportunities to practice your fishing skills here surrounded by scenic views of the white beaches and emerald green waters.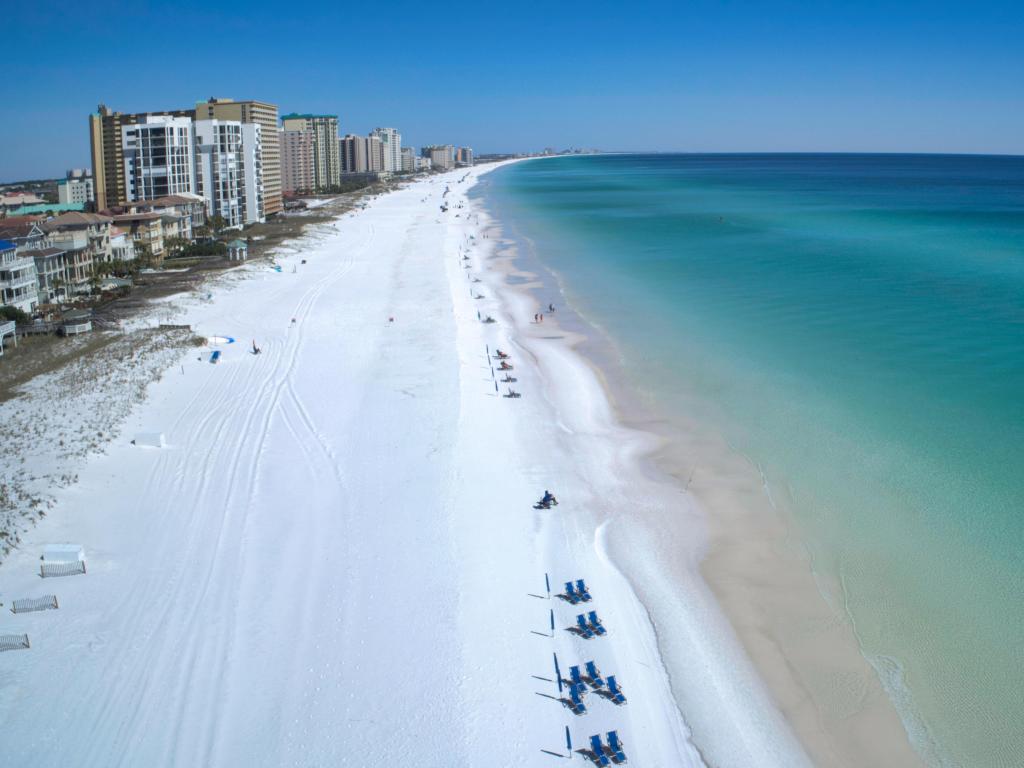 Start exploring Destin by visiting the beautiful Henderson Beach State Park. This beach sanctuary runs along the ocean coastline where you can explore boardwalks that fill the park. To experience the thrill of being close to danger, visit Gator Beach, one of the largest Alligator Parks. But be safe!
Our vote for hotel goes to Henderson Beach Resort. This is a luxurious resort with the Southern charm. Private beach and outdoor swimming pool add to the scenic experience of this route. It has a full-service spa, on-site fitness center, kayaking and biking activities to keep you relaxed and refreshed.
Your dining will be properly taken care of, with options ranging from café, rooftop bar serving signature cocktails and fresh seafood dishes. Add an extra day to your trip and you can make this beachfront resort an attraction in itself to relax and enjoy the beach surroundings.
Pay tribute to the Civil Rights Movement in Atlanta
After covering about half of the road trip from Arkansas to Orlando, Florida from the Musical Heritage Route, you will reach the city of Atlanta, Georgia. Perfect for history buffs, this city has influenced the country we see today. Atlanta is known as "the cradle of the Civil Rights Movement" for good reason, and is a pivotal part of the history of USA.
During your stay in Atlanta, visit the World of Coca-Cola, museum which showcases the history of the popular beverage and the Coca-Cola company. Atlanta Botanical Gardens are another must-see attraction. Discover 30 acres of plant collections in this gorgeous outdoor display and relax in the fresh air.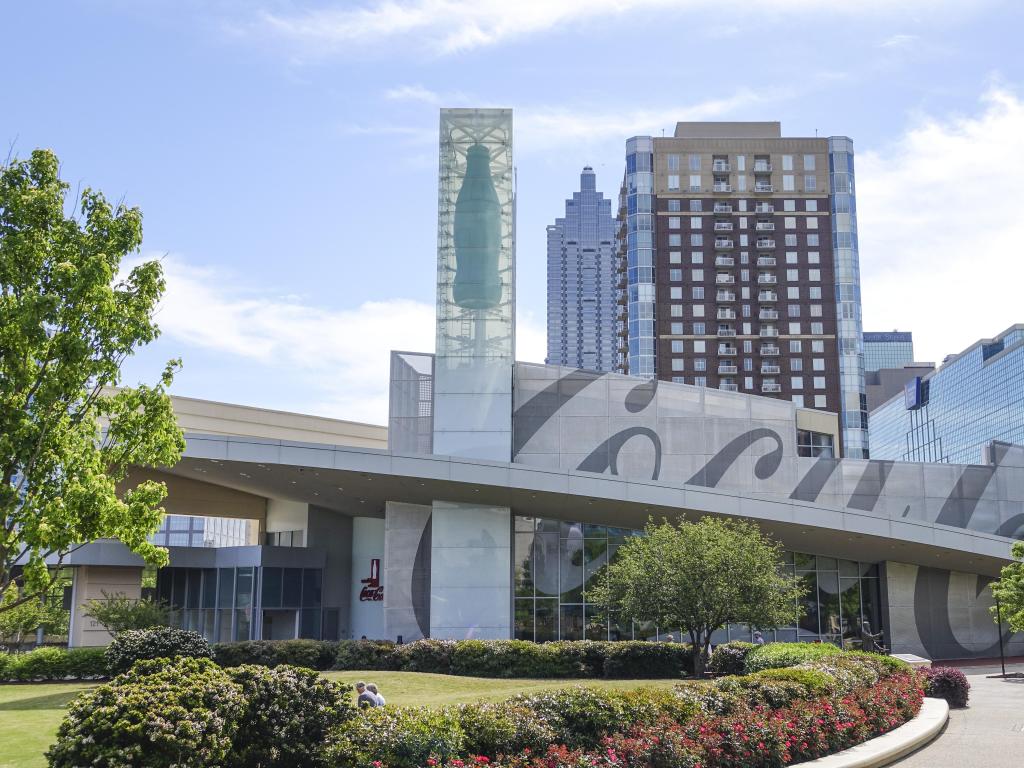 Before heading out on the road again, don't miss out on Martin Luther King Jr. National Park. This site pays tribute to the Martin Luther King family. You can find the family church here and the tomb of this historical figure. This place offers an opportunity to learn about the history of the Civil Rights Movement.
We recommend staying at the Wylie Hotel and it is easy to see why. With the Southern charm, it is a modern boutique hotel offering luxurious room amenities and artisan pantry. It also has a fitness center, outdoor terrace, an on-site restaurant, and private parking.
Also known as "the friendly hotel", it has lounge offering southern eats and innovative drinks with an option to add continental breakfast to your stay. It boasts a central location, right outside of the downtown core with the Martin Luther King Historic Site and Piedmont Park in close proximity.
Where to stay when you reach Orlando, Florida
Lined with exciting theme parks and water parks, Orlando demands all of your attention. So, once you reach your destination you will need to book a hotel to rest and stretch your legs before you head out to have the time of your life.
We recommend staying at Universal's Loews Sapphire Falls Resort. Located inside Universal Studios Orlando, it allows you to ease right into the middle of all the action. You'll find plenty of fun opportunities for adults and kids with an on-site water park, and Caribbean-inspired rooms offer beautiful views of the lagoon or the pool.
Staying at this hotel, you can have early admission to the fascinating Wizarding World of Harry Potter, and Universal's Volcano Bay 1 hour before the theme parks open. Dining would be the least of your problems thanks to the 4 (yes, you read that right!), 4 on-site restaurants!
SeaWorld Orlando and Walt Disney World Resort are in close proximity meaning you can visit them in a short drive. In a nutshell, this hotel gives you easy access to the complete Orlando experience.
Things to see on a road trip from Arkansas to Orlando, Florida
With totally contrasting scenes on both the routes, you will find fun and excitement around every corner on this road trip from Arkansas to Orlando, Florida. Read on for our favorite things to see on both the routes.
On the Gulf of Mexico Route
Mississippi Civil Rights Museum, Jackson – Pay tribute to the heroes of the American Civil Rights Movement in this museum which educates visitors about this monumental time.
Bienville National Forest – Enjoy various recreational opportunities like horseback riding, hiking, or biking along the many trails in this forest open to the public.
Mobile Carnival Museum– Visit this unique museum dedicated to the 300 years of Mardi Gras festival that takes place every year.
Pensacola Lighthouse & Maritime Museum – Learn about the history of this panhandle town and climb up the staircase for an incredible view, looking across the Gulf.
Blackwater River State Forest – Enjoy the beauty of nature in the largest state forest in the state of Florida, recognized by its diverse landscape.
Ripley's Believe It or Not! - Panama City – Immerse yourself in the exhibits that are incredibly hard to believe, but completely true in this fun for adults and families spot on Panama Beach.
Apalachicola National Forest – Take a relaxed stroll around this national forest tucked in along the Gulf of Mexico and Apalachee Bay.
Tallahassee Automobile Museum, Tallahassee – Admire the 160 different automobiles and three Batmobiles in this museum.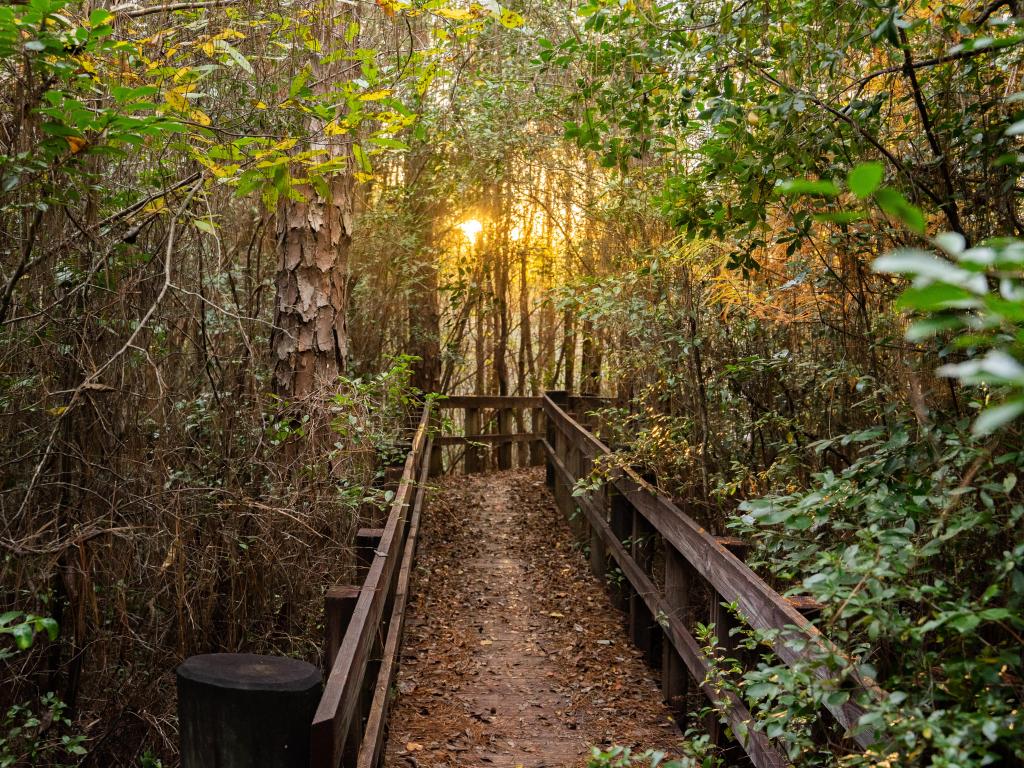 On the Musical Heritage Route
Beale Street, Memphis – Enjoy the incredible nightlife and music drifting from every bar window in this street that runs through downtown Memphis and attracts large crowds.
Helen Keller Birthplace, Muscle Shoals – Explore the inspirational story of Helen Keller, and how she navigated her deaf-blind world, in this home designated as a National Historic Landmark.
Birmingham Botanical Gardens, Birmingham – Stroll around 67 acres of these stunning and unique gardens and over 12,000 different types of plants.
Talladega National Forest – Relax around in this forest with diverse eco-system and home to Cheaha Mountain, Alabama's highest point.
Ponce City Market, Atlanta – Explore this local market within a historic site with plenty of food halls and shops.
Pexcho's American Dime Museum, Augusta – Tour this unique museum filled with 601 weird yet interesting artifacts with a twist to America's original museums.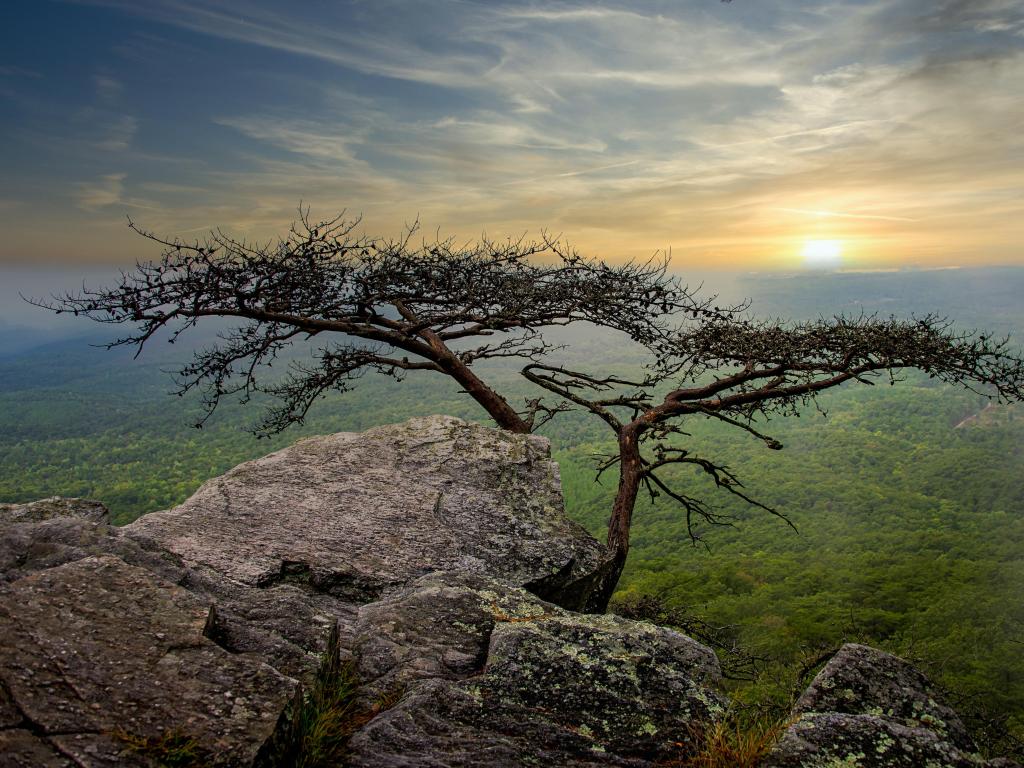 On both routes
Devil's Millhopper Geological State Park, Gainesville – Answer nature's call in this magnificent rainforest surrounded by small waterfalls and mini sinkholes.
Tampa Theatre, Tampa – Take a detour to Tampa and visit the landmark theatre that is home to a large Wurlitzer organ or visit one of the other sites in the city.
Best time to go on a road trip from Arkansas to Orlando, Florida
With a sunny, temperate climate throughout the year, Florida truly an all-season destination. The area is generally characterized by weather that is pleasant and enjoyable regardless of the time of year. With a subtropical climate, you won't find any drastic weather shifts here.
Summers in Florida are hot, humid, and long. The scene is mostly bright and sunny in the entire region. The average temperature ranges from 75 degrees Fahrenheit to 95 degrees Fahrenheit but be aware of the monsoon season from May 15 to October 15 that can be a little less desirable due to the rains.
Winter is a great time to visit Florida as it is mild and you can avoid the monsoon season. But you may find snow in Arkansas, Alabama, and Mississippi before you reach the Florida peninsula. Temperatures in winter are from 45 degrees Fahrenheit to 65 degrees Fahrenheit during this time.
Spring and Fall are the best times to visit Florida as you will find the best routes, average crowds, and pleasant weather. Late spring and early fall sometimes have monsoon rains and March sees a large crowd of students. Average temperatures 60 degrees Fahrenheit to 80 degrees Fahrenheit.
Being a destination city itself, Orlando will be busy even if there is no event due to the large number of theme parks in the area. Walt Disney World also hosts themed days during holidays like Christmas and Halloween, so you'll encounter plenty of tourists at this time - as well as your favorite characters!