Road Trip from Arkansas to Grand Canyon
For travelers who want to immerse themselves in epic landscapes, the road trip from Arkansas to the Grand Canyon is a feast for the senses. If you'd like to get properly acquainted with the scenery and cities of the central United States, this is the adventure for you.
The 1,390-mile road trip from Arkansas to the Grand Canyon takes 21 hours to drive. You can stop in Tulsa, Santa Fe and Albuquerque along the famous Route 66, or loop to the south and visit Dallas, El Paso, Phoenix and the Coronado National Forest.
Whichever route you take through this awe-inspiring terrain, there are some lively cities to be discovered along the way. Keep reading for more information to help you plan your adventure.
How far is Grand Canyon from Arkansas, and how long will the road trip take?
Comparison of road trip routes between Arkansas and Grand Canyon

| Route | Distance | Driving Time |
| --- | --- | --- |
| The Northern Route | 1,390 miles | 21 hours |
| The Southern Route | 1,610 miles | 24 hours |
The shorter Northern Route is 1,390 miles long and will take around 21 hours of driving, not accounting for any stopovers.
The more leisurely Southern Route spans a distance of 1,610 miles and takes 24 hours to drive without counting in the detours and stops you might want to make.
Both routes take you through major cities, so you might encounter traffic along the way, depending on where you stop.
While you could complete this trip in four days, there is so much to see along both routes that you might miss out on appreciating the incredible landscapes you're passing through. We'd recommend giving yourself a week or longer if you can, to spread out the drive and soak up the atmosphere.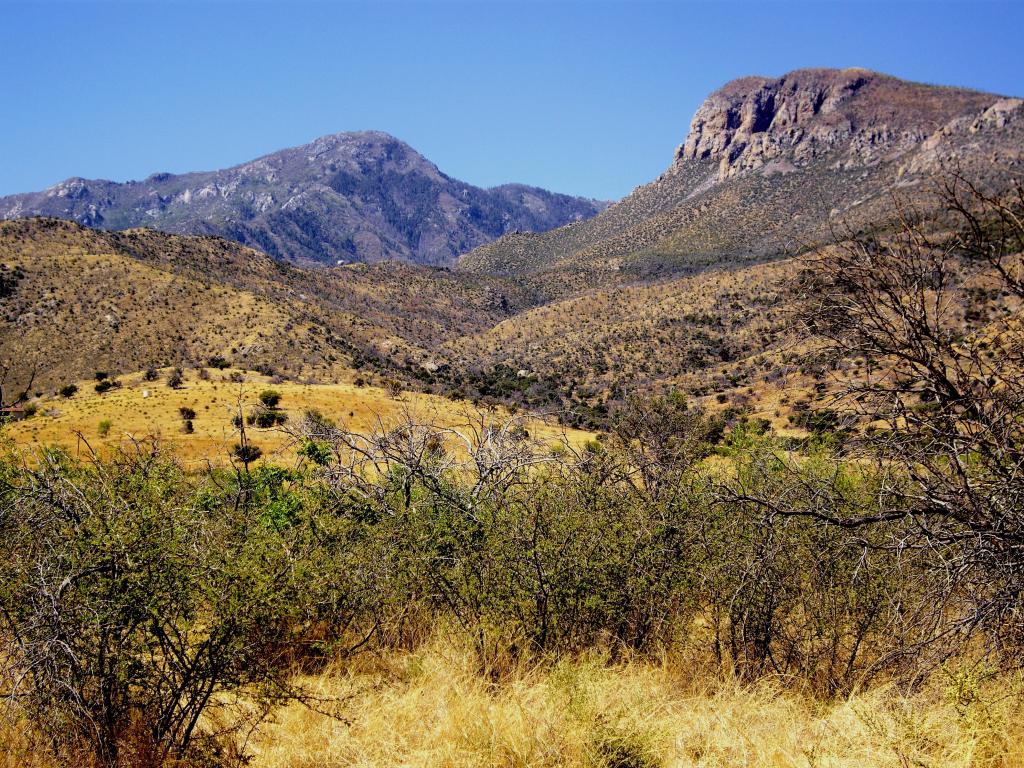 Best road trip route from Arkansas to Grand Canyon
Both routes offer a combination of incredible scenery and buzzing cities, so your choice should depend on how much time you have and which states and natural environments you're most interested in getting to know better.
The Northern Route takes you through Oklahoma, Texas, New Mexico and Arizona, with stops in major cities including Tulsa, Santa Fe and Albuquerque. It includes beautiful passages through the Ozark-St Francis National Forest along the Arkansas River. An added bonus - you get to drive along historic Route 66.
The Southern Route gets you well-acquainted with Texas, with the chance to drive along a stretch of the US-Mexican border and through El Paso. You'll drive through some stunning desert landscapes and get to visit Dallas and Phoenix.
Northern Route
Take Interstate 630 (I-630) east from Little Rock until you can merge onto the I-30 to cross the Arkansas River. Take the exit to head west alongside the Ozark-St. Francis National Forest until you enter the state of Oklahoma.
Take the exit for Tulsa and follow OK-351/51 until you arrive. Take the interstate out of Tulsa and head toward Amarillo.
Stay on I-40 as you pass through Texas and enter New Mexico. Take the exit for Santa Fe and follow signs for the historic Route 66 to arrive in this historic and colorful city.
Head to Albuquerque after your visit to Santa Fe. From there, join I-40 going west, and follow Route 66 through the desert and past Flagstaff, with the option to stop and take a hike in the Petrified Forest National Park.
Once you reach Williams, take the exit to arrive at your destination, the natural wonders of the Grand Canyon.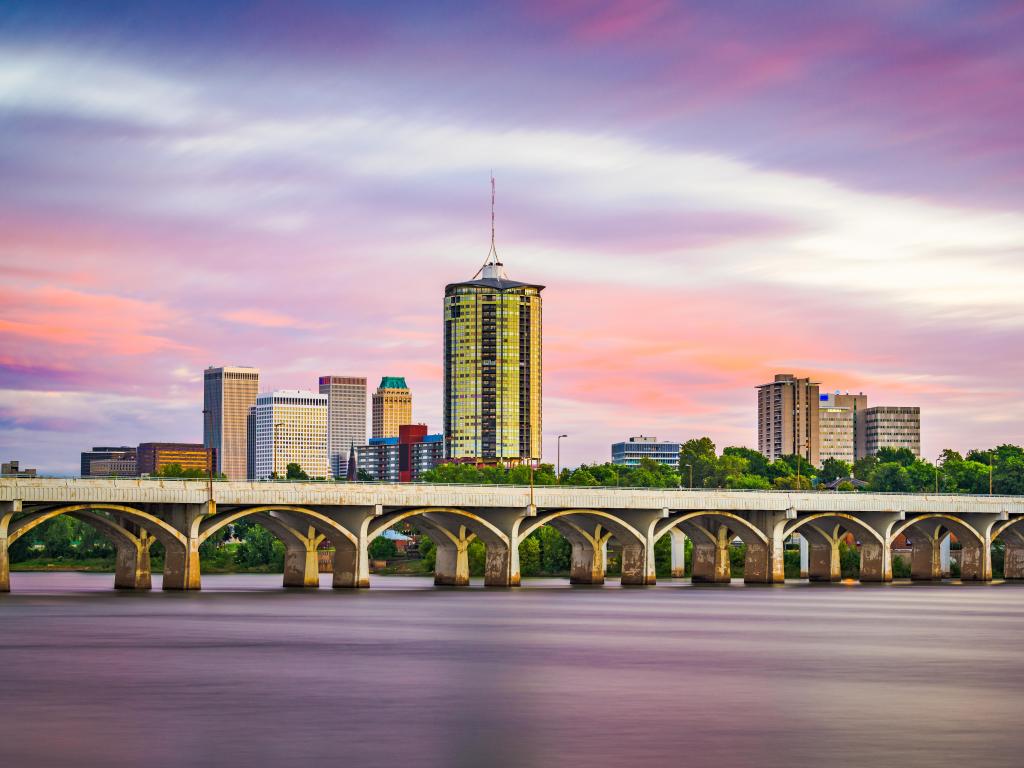 Southern Route
Take I-630 west out of Little Rock and head towards Texas. Follow this road across state lines to arrive in Dallas. From there follow the I-30 west, where you can stop at Fort Worth for a taste of the Old West.
Continue west to El Paso, passing along a stretch of the border with Mexico. Once you've had your fill of delicious Mexican food, you'll enter Arizona by following I-10 west to Phoenix, with a chance to stretch your legs in the Coronado National Forest.
From Phoenix, head north through the desert landscapes of Arizona and continue to follow signs for Route 66 as you pass through Flagstaff. Follow US-180 until it merges with AZ-64, which will take you straight to the Grand Canyon.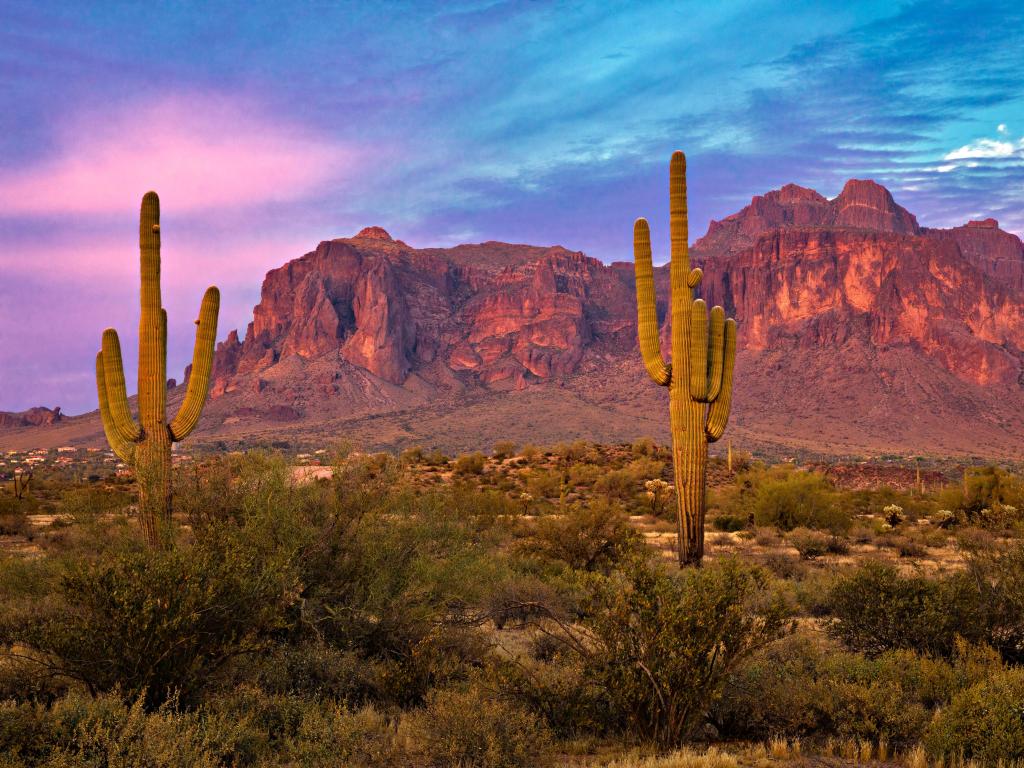 Best places to stop between Arkansas and Grand Canyon
Along your trip you'll pass through a handful of culturally and historically significant cities, abundant with brilliant food, museums and nightlife.
We've picked out some of our favorite places to make a stop and let yourself be won over by the famous Southern hospitality.
Soak up culture in Santa Fe
Located about two-thirds of the way along the Northern Route, Santa Fe is a lively and artistic town offering tons of nightlife and attractions that are perfect for an overnight stop.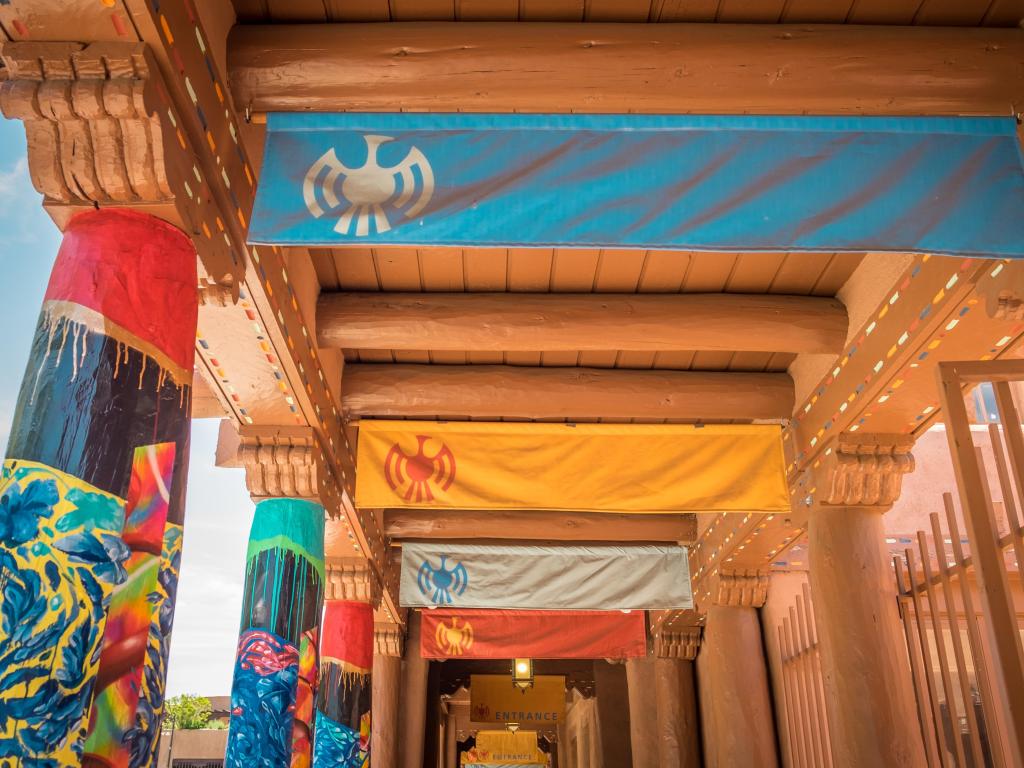 The oldest capital city in the US, Santa Fe is celebrated for its historic Spanish colonial architecture, its rich Native American culture, and its booming arts and classical music scene.
Must-see attractions include the San Miguel Chapel, which is the oldest church in the United States, and the Georgia O'Keeffe Museum, where you can see the surrounding New Mexico sunsets from your trip captured in paint.
You'll want to stay at a convenient location to easily access the city's cultural offerings, and the La Posada De Santa Fe Resort & Spa is a fantastic choice. It's a ten-minute walk from a raft of downtown attractions but is designed to feel private and secluded.
The full-service spa, hot tub and outdoor pool are perfect for unwinding after a day of driving. There are also four restaurants offering a range of delicious dining options, and plenty of trendy food spots to discover in nearby downtown.
Once you've had your fill of Santa Fe's lively arts scene, the hotel's location is super convenient for hopping back onto the highway when you're ready to continue the trip.
Get a taste of Mexico in El Paso
Just over halfway through the Southern Route, El Paso rises out of the desert in the distance. Due to its position on the border, this city in the Sangre de Cristo foothills makes for a unique overnight stop.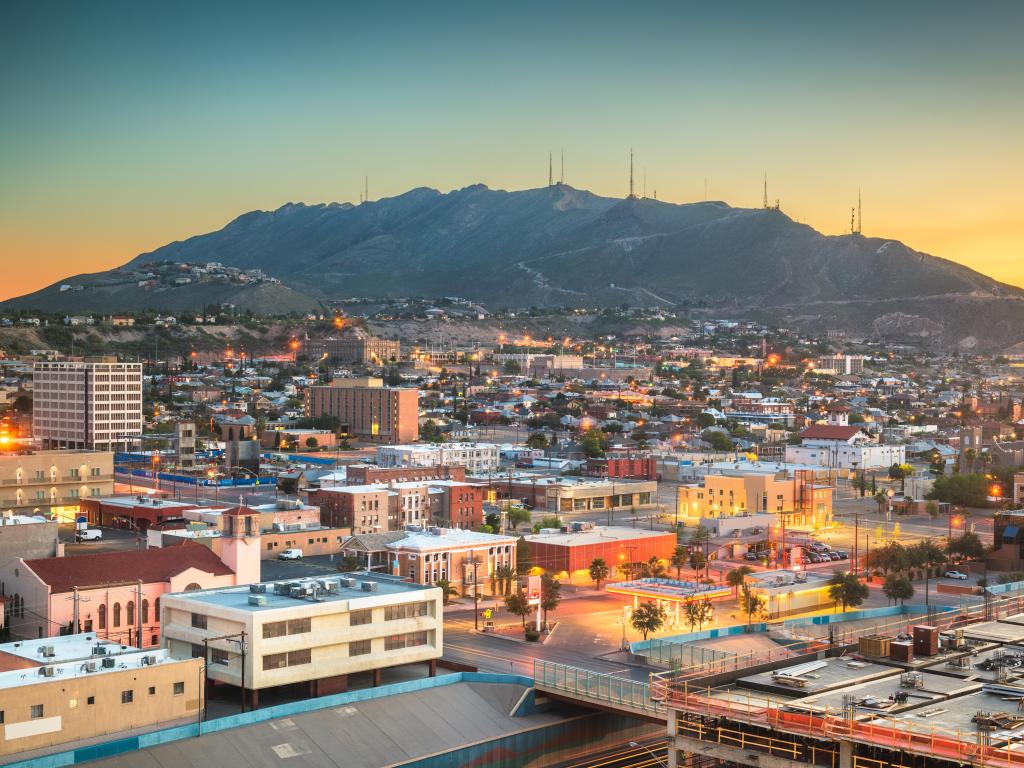 Nicknamed 'Sun City', El Paso receives 302 days of sun on average per year. It houses a unique blend of American and Mexican cultures, with tons of cultural attractions exploring Indigenous and Mexican art.
While you're there, it's definitely worth visiting the El Paso Museum of Art, which spans the city's American, Mexican, and European roots and offers free admission year-round.
Nature lovers shouldn't miss El Paso Zoo and Botanical Gardens where they can meet over 220 animal species. It's only a short drive or hike up to the El Paso Scenic Overlook for the best viewpoint over the city and views of Mexico.
For a hotel that's centrally located for the sites, we recommend the Hotel Paso Del Norte. Guests can step back in time with a drink in the historic lounge, under a beautiful stained glass ceiling dome.
The views continue at the outdoor pool and fitness center overlooking the city, and guests can also sip a cocktail and enjoy live entertainment at the rooftop bar El Mirador.
Where to stay when you reach Grand Canyon
Once you reach the Grand Canyon there are hundreds of miles of hiking trails, adventure activities and breathtaking views to discover. You'll want to spend at least one or two nights here to take it all in.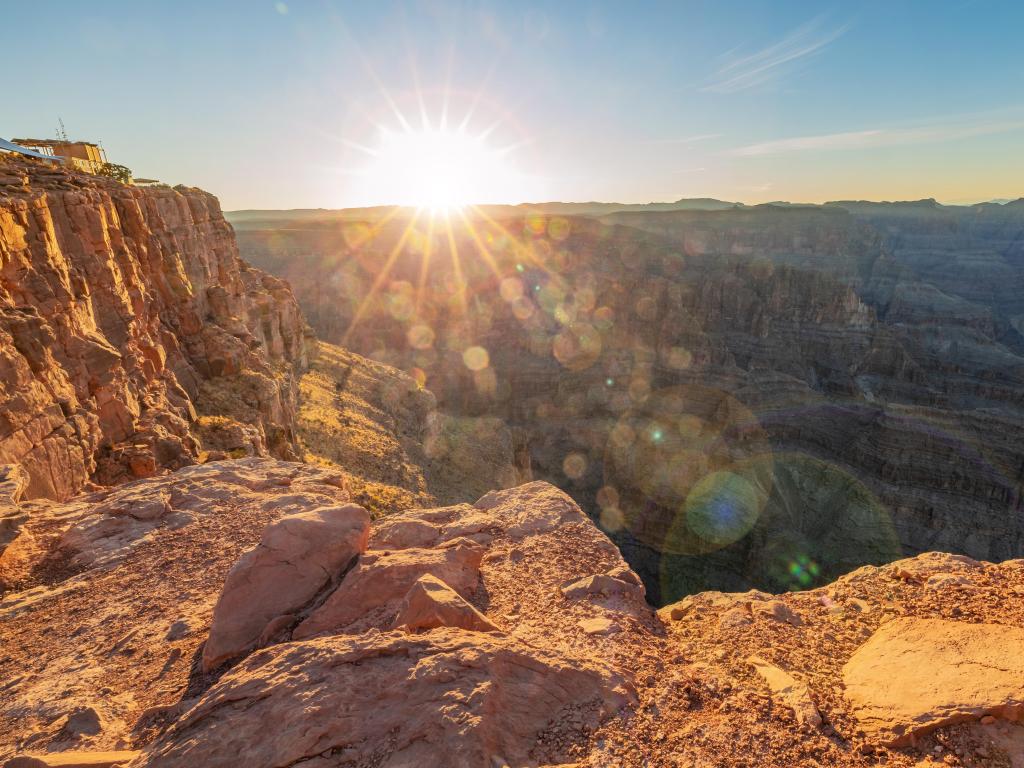 Located just 5 minutes by car from Grand Canyon Village, The Grand Hotel at the Grand Canyon is a luxurious 5-star base from which to see all that the national park has to offer.
With an indoor lagoon pool, private hot tubs and evening entertainment, the on-site bar and restaurant serve up all-American food and drinks.
The hotel offers free parking, ideal for longer stays so that you can leave your car and go exploring on foot.
Things to see on a road trip from Arkansas to Grand Canyon
This classic desert drive along parts of the historic Route 66 passes through countless natural wonders, cultural attractions and outdoor activities.
Over the 1,500 or so miles of the trip, we've picked our highlights that are well worth a stop along each route.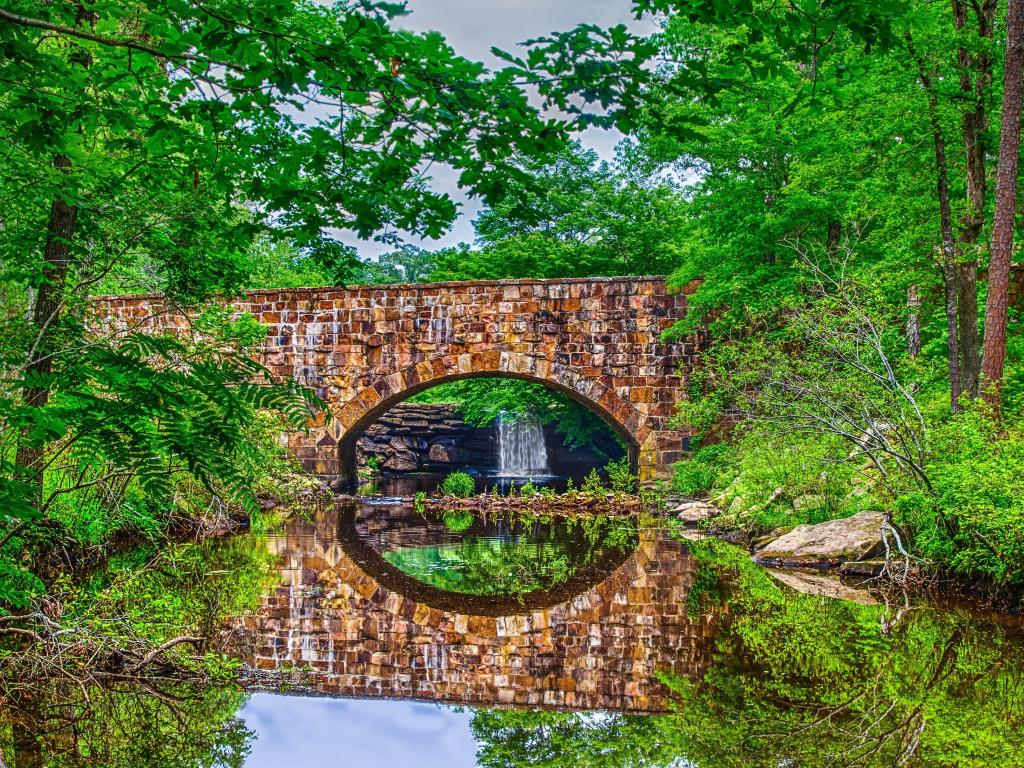 Northern Route
Petit Jean State Park - This stunning state park boasts tons of hiking trails, a historic lodge with a pool, and a 100-acre lake perfect for fishing, kayaking and pedal boating.
Fort Smith National Historic Site - Located right on the border between Arkansas and Oklahoma, Fort Smith is a massive 19th-century fortress that explores indigenous history in the Old West.
Blue Whale of Catoosa - Along the iconic Route 66, you'll find this large whale sculpture built on a small pond. Great for a picture or snack break!
Center of the Universe, Tulsa - Be sure to visit this unique attraction, where visitors can stand on a circle and hear their own strangely amplified voices echoed back to them.
Oklahoma City Zoo and Botanic Garden - Over a century old, this zoo and garden is host to over 500 animals as well as thousands of native and imported plants.
Cadillac Ranch - Just outside of Amarillo, Texas, you'll find this unique public art installation made up of half-buried and graffitied vintage Cadillacs.
Stafford Air & Space Museum - Located along Route 66 and featuring over 3,500 aerospace artifacts, this indoor and outdoor museum offers tours and interactive exhibits.
National Museum of Nuclear Science & History - Near Albuquerque, this museum is entirely dedicated to chronicling the development of nuclear science.
Petrified Forest National Park - This arresting natural attraction features tons of petrified tree trunks and fossils – grab a tour or explore this park solo!
Montezuma Castle National Monument - Once the dwelling area of the historic Sinagua people, Montezuma Castle is carved directly into the limestone cliffs amidst Arizona's desert landscape. This attraction adds about 90 minutes to the total route!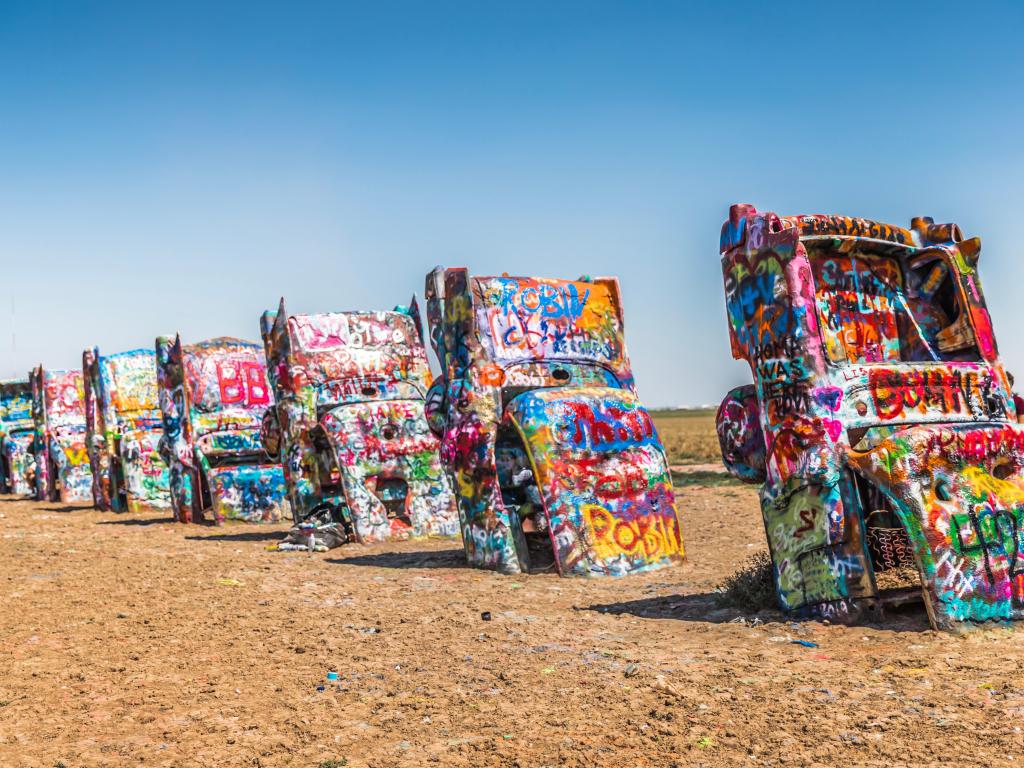 Southern Route
Hot Springs, Arkansas - Surrounded by the Ouachita Mountains, this city is celebrated for its natural hot springs and bathhouses.
Gators and Friends - About 90 minutes off-route, Gators and Friends is a wildlife amusement park where guests can view alligators and other native animals in their natural habitat.
Log Cabin Village - This historical site is dedicated to exploring and illustrating life in mid-19th-century Texas through interactive exhibits and performances.
Dallas Zoo - Housing over 2000 animals on a 106-acre property, this iconic zoo is the oldest and largest in Texas.
National WASP WWII Museum - This museum is dedicated to honoring the life and legacy of the Women Airforce Service Pilots, most of whom served during the Second World War.
Fort Davis National Historic Site - Complete with a visitor center and over 4 miles of hiking trails, this historic site is a surviving example of an Indian Wars frontier military post.
White Sands National Park - About an hour outside of El Paso, you'll find this stunning park filled with picturesque rolling white sand dunes.
Chiricahua National Monument - Spanning nearly 12,000 acres, this national park features majestic rock formations that you can either hike or drive through.
Skyline Regional Park - Add an hour to your route and enjoy a walk or drive through Skyline Regional Park, which boasts 8,700 acres of mountains, campsites, and hiking trails.
Phoenix Art Museum - The largest museum for visual arts in the southwest United States, this 285,000 sq foot museum boasts over 18,000 artworks from all over the world.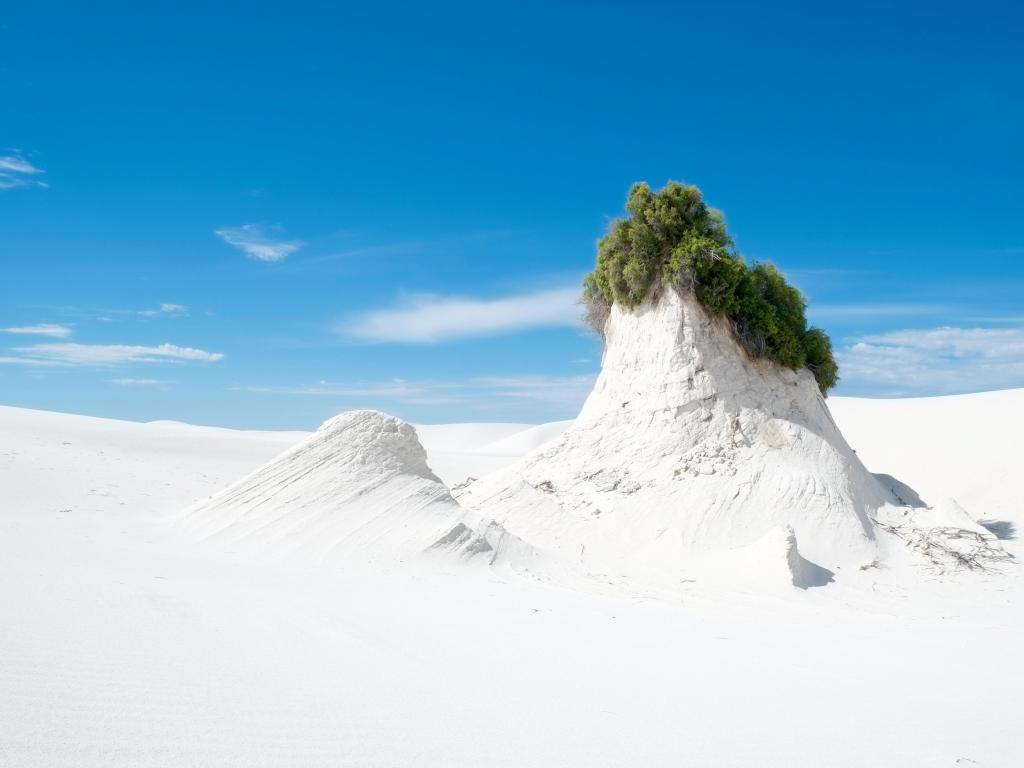 Both routes
Fort Washita Historic Site - Located halfway between Dallas and Oklahoma City, the Fort Washita Historic Site offers tours and Civil War reenactments at this historic military post built in 1842.
Butterfly Wonderland - Just outside of Phoenix, you'll find this interactive indoor rainforest habitat that houses thousands of butterflies, as well as a gift shop and café. It's en route for the Southern Route, and an hour's detour for the Northern Route.
Museum of Northern Arizona - Explore Arizona's rich history here, where you'll find tons of exhibits with artifacts dating back to 15,000 B.C.
Lava River Cave - About an hour from the Grand Canyon, you'll find this mile-long underground tunnel created by a river of lava over 700,000 years ago.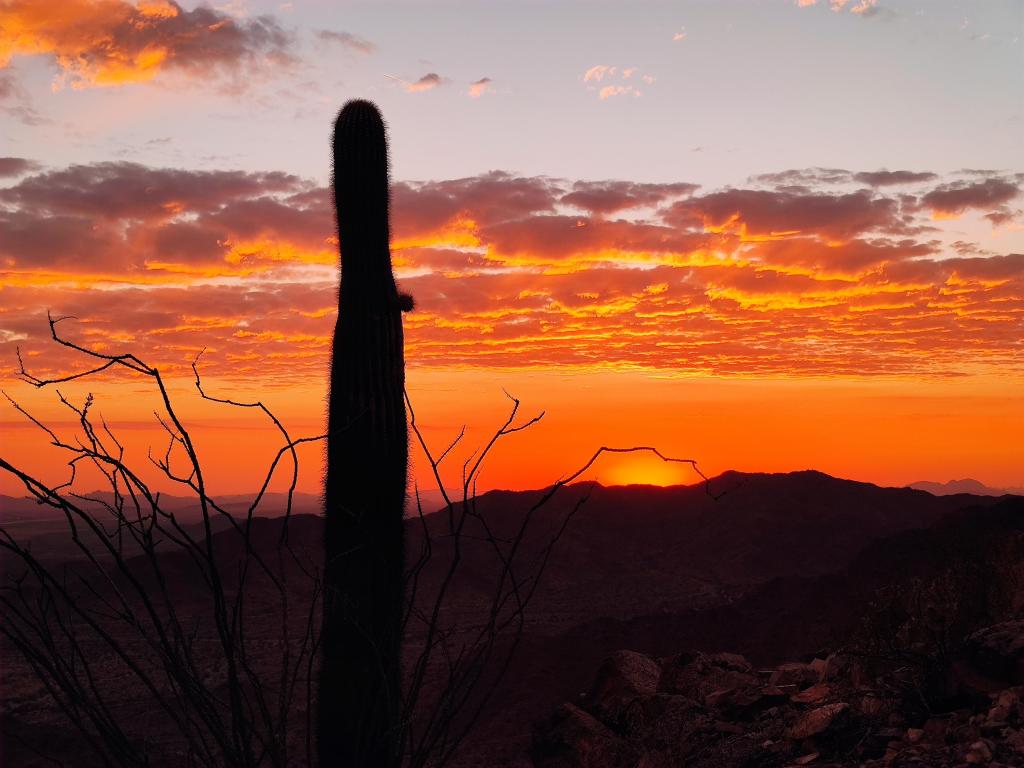 Best time to go on a road trip from Arkansas to Grand Canyon
When thinking about the best time to take this trip, we recommend the spring, summer and fall seasons, as some businesses and facilities in Grand Canyon Village will close during the winter months.
There are two rims at the Grand Canyon where visitors will find lodging and restaurants; the South Rim is open year-long, with some business closures, while the North Rim is open exclusively between May 15 and October 15.
Summer is Grand Canyon National Park's peak season, so travelers should be prepared to book accommodations and activities in advance. Temperatures during this season typically range between 42-84 degrees Fahrenheit, with occasional showers during July and August.
Winter temperatures will drop down to as low as 17 degrees Fahrenheit, so ensure to bundle up if traveling during this season. Avoid winter if you're looking to get the full Grand Canyon experience, including access to the North Rim.
Late-spring and fall are great times to visit this natural wonder, namely because there are fewer tourists, so visitors can enjoy most if not all the amenities offered in the summer but with slightly lower rates for accommodation and fewer crowds. Spring and fall temperatures range between the low-20s and low-70s.
For seasonal festivities, the busiest time of the year is summer and fall, when visitors can enjoy events such as the Grand Canyon Music Festival, the Grand Canyon Star Party and Echoes from the Canyon, a program that sees park rangers reenact stories relating to the Canyon.