Road Trip from Dallas to Lake Ouachita and Hot Springs, Arkansas
The road trip from Dallas to Hot Springs and Lake Ouachita will feed curious minds and quench the explorers' thirst for adventure with endless activities and spaces. Anyone with the itch to escape the city will enjoy this nature-centric and delightfully educational road trip.
The 290-mile road trip from Dallas to Hot Springs and Lake Ouachita will take 4 hours 30 minutes to drive. You'll pass through Greenville, Sulphur Springs, Texarkana, Mount Vernon, Paris, Cooper, Hugo, Bringle Lake Park, Mt Ida and Hopkins County.
We've developed two of the best routes to complete this road trip, taking advantage of all the stunning scenery and outdoor activities they have to offer. Read on to discover the two best ways to get from Dallas to Hot Springs and Lake Ouachita.
How far are Hot Springs and Lake Ouachita from Dallas and how long will the road trip take?
Comparison of road trip routes between Dallas, Lake Ouachita and Hot Springs

| Route | Distance | Driving Time |
| --- | --- | --- |
| Texarkana Route | 290 miles | 4 hours 30 minutes |
| Paris Route | 350 miles | 6 hours 30 minutes |
The Texarkana Route is the shorter one of our two options and will take you 4 hours and 30 minutes to drive while covering 290 miles without accounting for any detours.
The slightly longer 350-mile Paris Route will take 6 hours and 30 minutes to drive. Theoretically you can complete this entire drive in one day, without making any stops along the way.
Seeing as the stops and overnights are some of the best parts of a road trip, it would be a shame to cut these out! Therefore, we recommend you take 2 to 3 days to really enjoy either of these routes and experience as much as you can along the way.
Best road trip route from Dallas to Hot Springs and Lake Ouachita
This trip is a laid back, go-at-your-own-pace vibe with an equally fitting destination comprising tranquil thermal springs to end your journey. It is also incredibly family friendly with facilities and activities targeted specifically for children, such as children's museums and water parks.
Our Texarkana Route is the most direct route if you're looking to get to Lake Ouachita and Hot Springs as quickly as possible. You can also use this shorter route to maximize your activities by allowing for more stops along the way.
You will pass through the cities of Sulphur Springs, Mt Pleasant, Texarkana and Arkadelphia which have plenty of museums, outdoor pursuits, and family friendly activities along the way.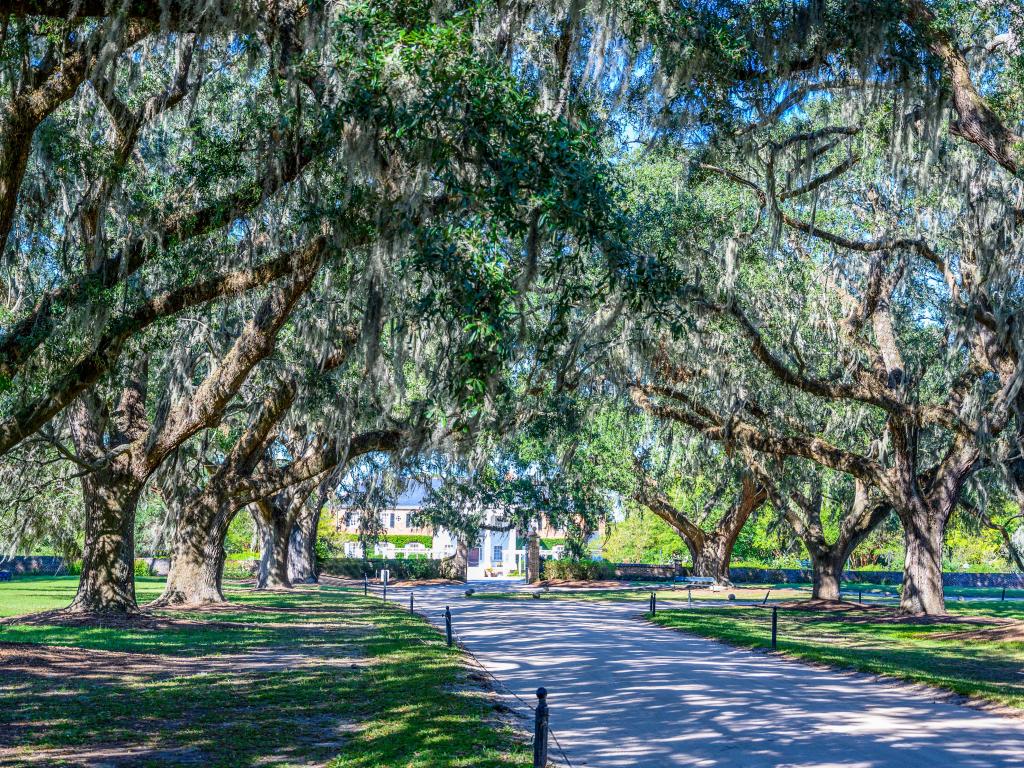 Taking The Paris Route will add about 2 hours to your trip, compared to the Texarkana Route. You'll take a spin through state parks and Ouachita mountains before arriving at your final destination.
Once you are through Paris, you start the scenic portion of your journey full of small towns like Hugo, Idabel, Mena and Mt Ida. Although there are fewer urban centers along this route, it is not lacking in parks and outdoor attractions such as wooden mazes, walking trails and even crystal mining in a real quartz mine!
The Texarkana Route
Take Interstate 30 (I-30) E out of Dallas towards Caddo Valley / Hot Springs. The interstate heads northeast until you reach Greenville. Then you will take a more direct easterly route, traveling through Sulphur Springs. Continuing east, you'll pass through Mt Vernon and Mt Pleasant before going north.
Continue along I-30, northeast through Texarkana and you'll pass Arkadelphia on your right. Turn off I-30 onto AR-7 and you'll see DeGray lake on your left. Keep going through Lake Hamilton and on to Hot Springs.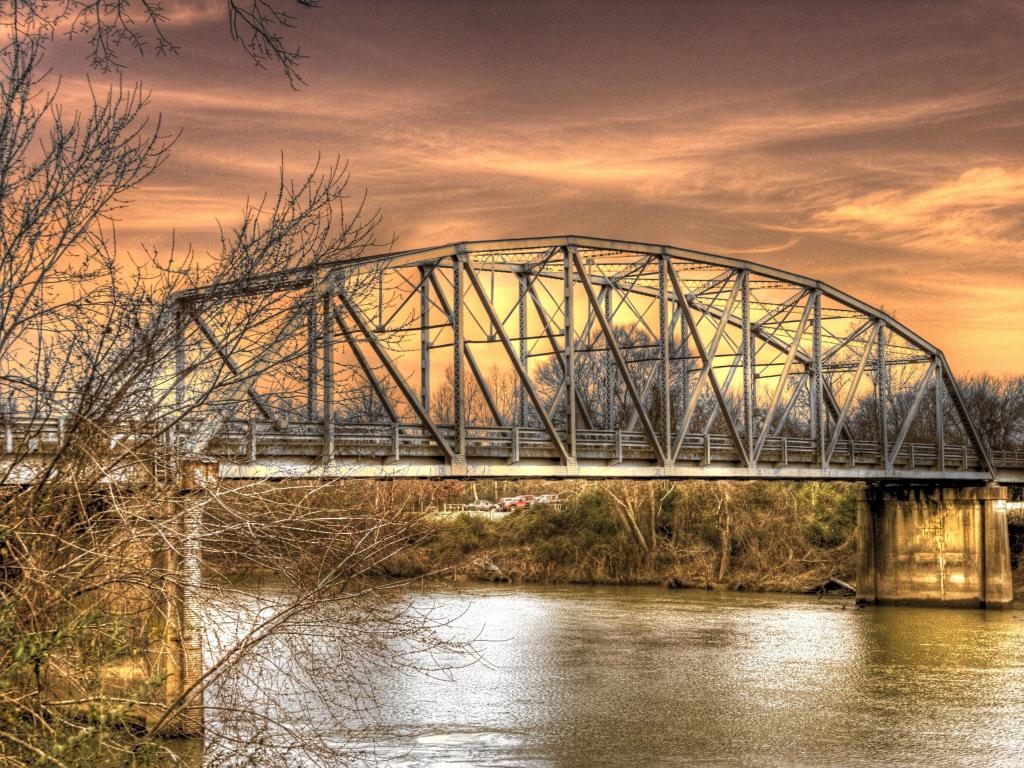 Before you get to Hot Springs, there's a Kayak and Tube rental spot in Caddo Valley, about 45 min outside of your final destination. If you're feeling adventurous and want to enjoy some paddling before arriving at Hot Springs, this is definitely worth a visit.
The Paris Route
Take I-30 E out of Dallas towards Caddo Valley / Hot Springs. The interstate heads northeast until you reach Greenville. Head north into Commerce, passing Jim Chapman Lake on your right. Follow TX - 24 to Paris and then on to Hugo.
The next part of your journey takes you east into Idabel. You'll head north again through Little River National Wildlife Area and then pass McCurtain County Game Reserve on your right.
Before you get to Hot Springs, you'll make your way through Ouachita National Forest and Mt. Ida. Continuing east after this, you'll get to your final destination of Hot Springs.
Best places to stop between Dallas and Hot Springs and Lake Ouachita
While it might be tempting to power through and get to Hot Springs in one day, remember, it's about the journey as much as it is about the destination. With some stellar stopovers along each route, we've picked our top two to whet your appetite.
Take it easy in Texarkana
Texarkana is about 2 hours from both Hot Springs and Lake Ouachita on the namesake route. This is the biggest city on this route and has the greatest number of attractions ranging from museums, historical sites to outdoor activities and family-friendly spaces.
Hosting concerts and plays, The Perot Theatre is an elegant and historical 20th-century theater with stunning architecture. Shaped like a club from a deck of cards, The Ace of Clubs House is a historical house museum and is worth a visit.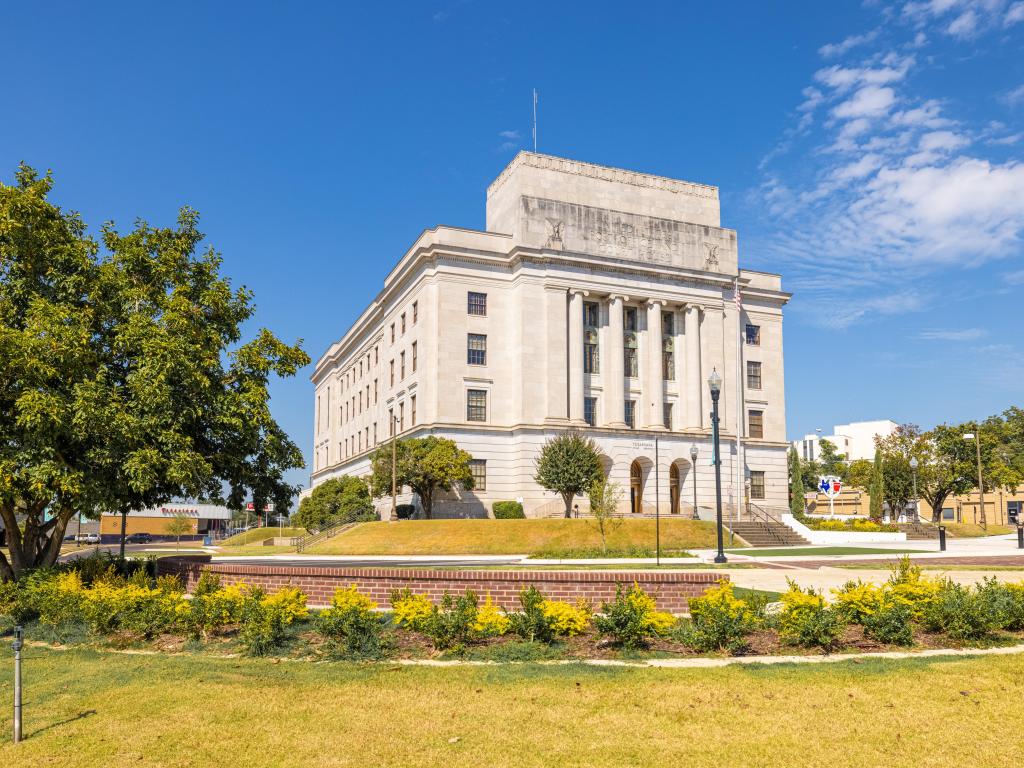 Craft beer enthusiasts who want to sample some of the offerings and catch some live music can pop by the charming Redbone Magic Brewing which offers a great selection of both.
For something for the children, Discovery Place Children's Museum is a great place to let them burn some energy after a lengthy car ride.
Just off the highway yet still centrally located, Hilton Garden Inn Texarkana is a great choice for accommodation. Stylishly decorated with colorful accents throughout, this hotel has a warm and welcoming feel.
The onsite restaurant and shop take care of all meals and snacks and the outdoor pool is ideal for a refreshing dip after a day in the car. It is within walking distance of Spring Lake Park and just steps from iJump Texarkana. Four States Auto Museum, Perot Theater.
Admire an American take on the Eiffel Tower in Paris
Paris is about one-third of the way through your drive to Hot Springs and is the largest town on the Paris Route with some amazing attractions that will make you think you have found yourself in Europe.
A small-scale replica of the actual Eiffel Tower is located in this town, but this one reflects its roots and culture by sporting a cowboy hat at the tip of the spindle.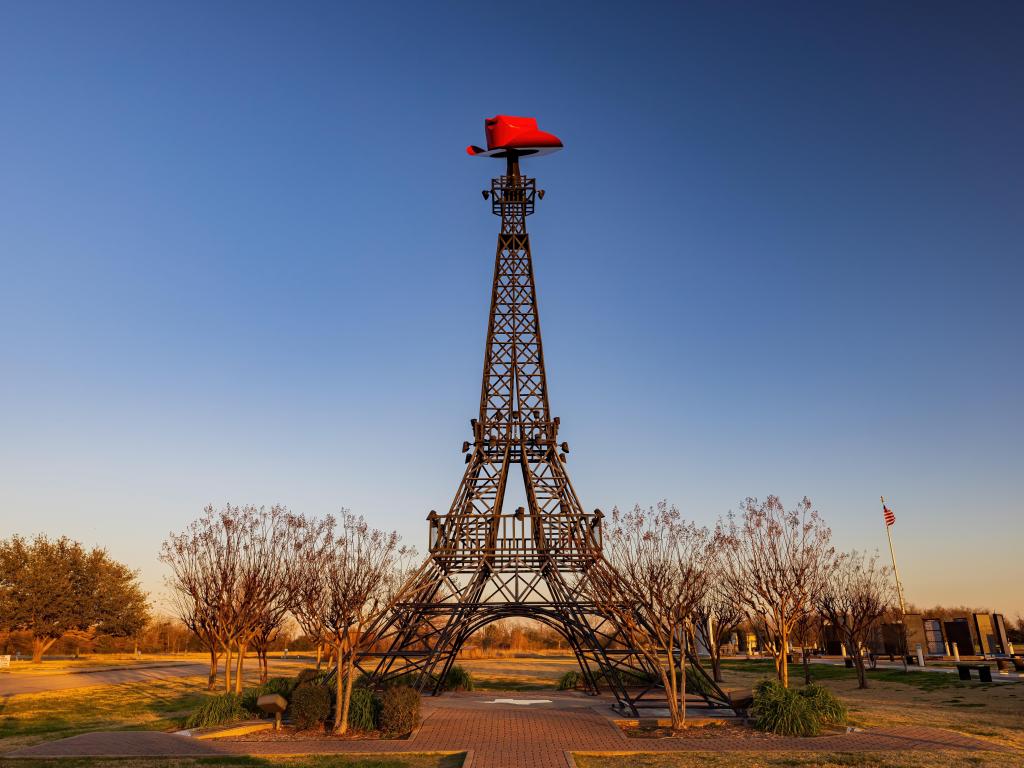 Collectors may enjoy the Lamar County Historical Museum and its postcard display – including over 200 postcards, and entire rooms dedicated to the county's African American heritage.
Art aficionados may want to stroll over to the Paris Community Theatre, a charismatic edifice hosting theatrical performances since 1976. A highlight of the beautiful Paris Town Square is the Plaza Art Gallery, where you can find work by local artists in the surrounding areas.
Located just off the city center and the highway, Holiday Inn Express & Suites Paris offers space and a break from the hustle and bustle of a city. It offers a heated pool and hot tub if you want to indulge in a relaxing dip during your stay for the ultimate relaxation.
Just a short drive from downtown, Major attractions such as the Eiffel Tower, Town Square and Art Gallery, as well as the Lamar County Museum and Paris Community Theater are all within easy reach.
Where to stay when you reach Hot Springs
When you arrive at The Waters Hot Springs, you are greeted by a cool, historic building with a modern interior. Located right on Bathhouse Row, a historic district home to eight bathhouse buildings built between 1892-1923 along the Grand Promenade, it is in the heart of the history and culture of Hot Springs.
Resting on the cusp of the Hot Springs National Park and the city center, you only steps away from scenic walking trails and minutes from a host of restaurants and bars.
This luxurious hotel offers a variety of great amenities such as valet parking, fitness center with gym, on-site restaurant, bar/lounge, and even massages and a rooftop bar. Each room is well equipped with minimalist furniture to keep it bright and airy.
Things to see on a road trip from Dallas to Hot Springs and Lake Ouachita
There literally is something for everyone on either of our recommended routes. Water parks and children's museums for the young and breweries and courthouses for those young at heart!
The Texarkana Route
Hopkins County Courthouse -This striking piece of late 19th-century architecture is a tourist attraction in its own right. The aesthetic alone is enough reason to visit. An operational courthouse doubling as a war memorial—this stop will make your trip worthwhile
Sulphur Springs, TX - Explore the Sulphur Springs town square for a one-of-a-kind experience and try out their one-way mirrored glass restrooms if you are feeling brave. These are sure to be an Instagram-worthy adventure
Mount Vernon, TX — the Cake Lady Bakery Café is a wholesome family-owned café that is well deserving of all the praise it is getting. If you are looking for homemade grub or a fix for your sweet tooth during your road trip, be sure to stop here
Holiday Springs Water Park - Looking for a foolproof way to have fun? Dive into this lively water park and enjoy an afternoon of belly flops and cannon balls to relieve those cramped driving legs
Bringle Lake Park - This 7-acre park offers something for everyone—from mountain bike trails, fishing, covered children's playground, even exercise equipment and sand volleyball courts—it covers all bases
Perot Theater - This 20th-century architectural stunner is Texarkana's cultural icon. It was named the most beautifully designed theater in the state of Texas in 2018. You do not want to skip this
Ace of Clubs House - Gamblers and poker fanatics, unite! This remarkable house museum is shaped like a club from a deck of playing cards. Take a gamble and tour this unique structure
Redbone Magic Brewing - Beer and Pizza. A dynamic duo that will live on forever. Grab a pint and a slice and catch an afternoon acoustic set at a locally owned brewery
Hope, AR - This modest town is home to the National Historic Site of President William Jefferson Clinton's Birthplace Home. All you political junkies out there—this is the place to be
Caddo River Rats Kayak & Tube Rental - Nearing the end of your road trip and want one last adventurous hoorah? Rent a kayak and paddle the Caddo River—or leisurely lounge in a tube—before arriving at your final destination.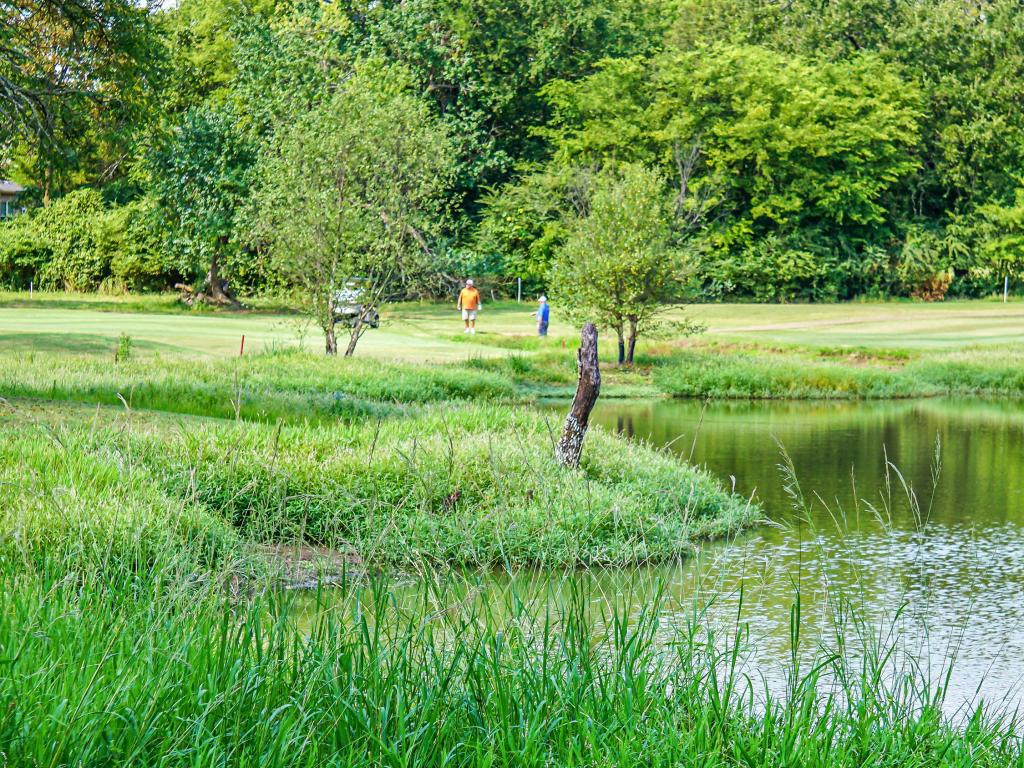 The Paris Route
Northeast Texas Children's Museum - This educational museum is targeted for younger kids between 2 and 8 with interactive games and puzzles. It's a great way to break up the trip for those restless youngsters and learn something new!
Cooper, TX - Located near the Cooper Lake State Park on Canon Creek is a small town, home to walking trails, wildlife observation, beaches, picnic areas, and even a campground. It is a great spot to take a break from your travels and take in the outdoors
Paris Community Theater – A prominent feature of Paris, this theater hosts a collection of shows to appease all. If you are looking for quality entertainment, drop in at the venerable and cherished theater where you will still see the original 1926 wrought iron "Plaza" sign light up the town's streets
Lamar County Historical Museum - Calling all history buffs: Sneak a peek at rare historical collections of postcards and shoes, and get a glimpse of what life in Paris looked like before the fire of 1916
Eiffel Tower replica - It may only be one-tenth of the size of the actual Eiffel tower, but short of traveling to Europe—this is as close as it gets. Even better though, this tower dons a bright red cowboy hat!
Plaza Art Gallery - This local art gallery in the heart of the town plaza is dedicated to highlighting regional artwork. Stop by and pick up a souvenir while supporting artists
Hugo, OK - Hugo will tick off all the boxes. From The Endangered Ark Foundation where you will get to see elephants to Hugo Lake State Park where you will find spectacular walking trails bursting with wildlife, or the Frisco Depot Museum—originally built in 1914 and now serves as a railroad museum with a multitude of displays from a miniature circus to an antique whiskey still
Idabel, OK - Home to the Oklahoma State Dinosaur—the Acrocanthosaurus atokensis—this museum displays a stunning exhibit of art and archaeology from around the world
Broken Bow, OK - If 29,000 square feet of wooden mazes sound appealing to you—the Maze of Hochatown should be your next stop. Challenge yourself as you attempt to navigate numerous twists and turns through passageways, stairways and towers
Mena, AR - From February to October, you can get your hands dirty as you dig up your own crystals in a real quartz mine at Board Camp Crystal Mine while enjoying the views of the Ouachita mountains.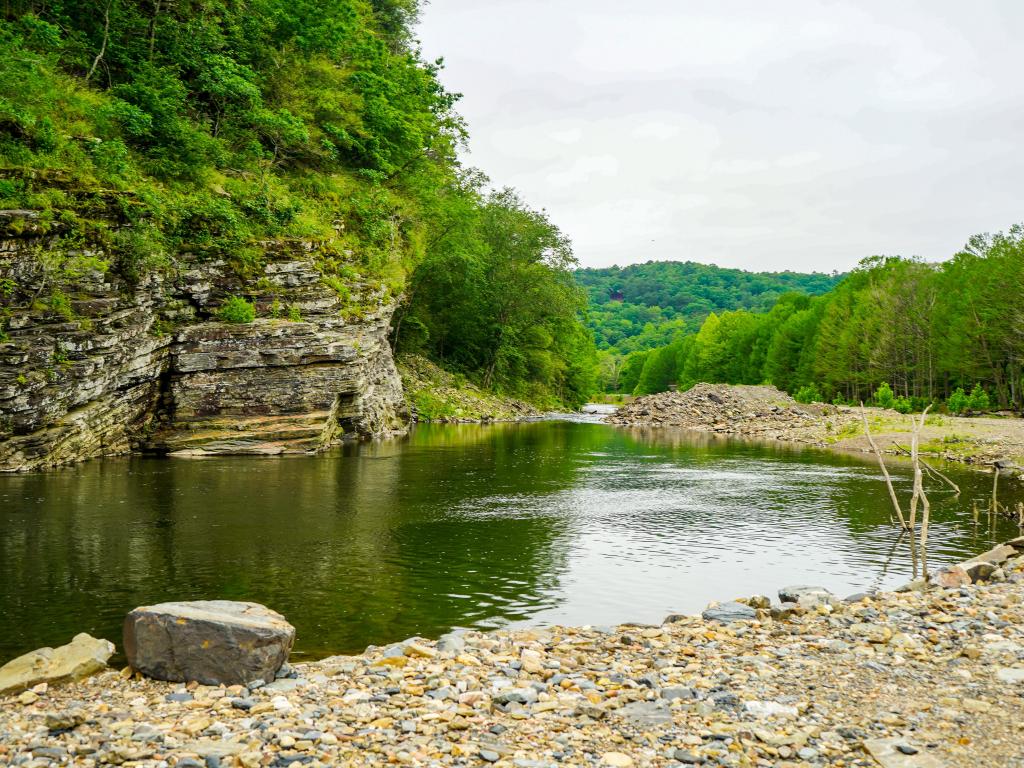 Best time to go on a road trip from Dallas to Hot Springs and Lake Ouachita
If you enjoy hiking and the outdoors in the winter and want to experience the thermal springs during the colder months—then this could definitely be a year-round destination.
However, many of the activities in Hot Springs are water-based, so if that will be the focus of your trip – it's best to plan your trip during the summer months.
With highs in the low 90 degrees Fahrenheit, and lows in the upper 60s—Hot Springs' climate in the summer is quite hot, with crowds flowing in during the busiest time of year from May to July.
There are many benefits to visiting in the winter, mainly the thermal springs. The warm water, mild weather and cheaper lodging rates make this place a prime destination for winter travel. Weather-wise, the temperature reaches highs of around 50 degrees Fahrenheit and dips to around 30 Fahrenheit.
Some of the best times of the year to visit are from August to October when the warm weather tapers but it remains warm enough to enjoy outdoor activities.
Following that is February to April where the opposite occurs and the weather begins to warm, not to mention—you also beat the tourist season, which means smaller crowds.
Hot Springs hosts two notable music festivals—the Hot Springs Music Festival in June, and the Hot Water Hills Music & Festival at the end of September/beginning of October.
Their festival line-up also includes the Pagan Pride Festival, Spa Running Festival, Raising Hot Springs Renaissance Festival, among many other festivals throughout the year.