Road Trip from Cincinnati, Ohio to Grand Canyon
An epic road trip from Cincinnati, Ohio to the Grand Canyon is the perfect adventure if you are looking for a great way to admire the Midwestern deserts and national parks on your way to one of the world's most famous UNESCO World Heritage sites. This will surely be the journey of a lifetime!
The 1,990-mile road trip from Cincinnati, Ohio to The Grand Canyon will take about 30 hours to drive nonstop. Make key stops in Tennessee, Arkansas, Oklahoma, Texas, and New Mexico, and visit the Hot Springs National Park and the Petrified Forest.
Whether this is your first, second or tenth visit to the Grand Canyon, this natural wonder is always a stunning and awe-inspiring sight to see. We've got the best advice on traveling from Ohio to Arizona, so read on to find out more about this amazing road trip.
How far is Grand Canyon from Cincinnati, Ohio, and how long will the road trip take?
Comparison of road trip routes between Cincinnati, Ohio to Grand Canyon

| Route | Distance | Driving Time |
| --- | --- | --- |
| Colorado Route | 1,870 miles | 29 hours |
| New Mexico Route | 1,990 miles | 30 hours |
Below are our two suggested routes for this road trip from Cincinnati to the Grand Canyon. The New Mexico Route is the most direct, and the Colorado Route will take you through major central states.
The New Mexico Route covers 1,990 miles, which will take you about 30 hours to drive without accounting for any stops, detours or traffic congestion you might encounter near the bigger cities on this route.
The Colorado Route is the shorter option and spans about 1,870 miles, and the drive will be roughly 29 hours long.
You will drive through so many amazing cities, charming towns and beautiful landscapes that we suggest putting aside at least five days to fully enjoy this trip.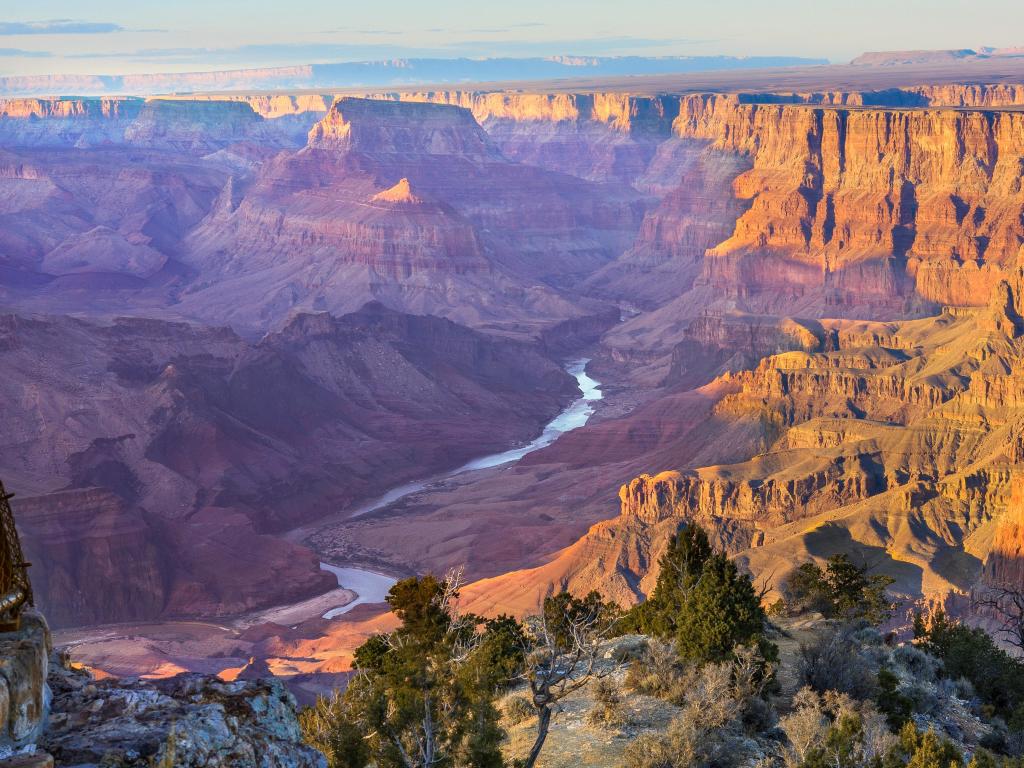 Best road trip route from Cincinnati, Ohio to Grand Canyon
From east to west, Cincinnati is a perfect start to this road trip to Arizona. Explore some of America's cultural hotspots and natural gems before reaching the main prize: the Grand Canyon. You can't go wrong, no matter which route you follow on this epic journey.
You will drive through Kentucky and Tennessee on the New Mexico Route. Along with New Mexico itself, these three states have tons of history and cultural sights to explore, and the route takes you through a beautiful mix of natural forest and desert landscapes.
The Colorado Route is the shorter option, but it can be extended depending on whether you visit the Arches and Canyonlands National Parks. We recommend you do, as the parks are great for mini hikes.
You can also make a detour to the stunning Monument Valley if you are following the mountainous Colorado Route.
The Southern states have plenty to offer visitors. When thinking about a route, it's a good idea to consider the cities you would like to see. Both paths pass through states worth visiting, especially if it is your first time.
The New Mexico Route
Get on the ramp to Interstate 75 (I-75) S and head towards Louisville, Kentucky, where you can stop downtown and explore the home of the famous Kentucky Derby.
To get to Nashville, Tennessee from Louisville, take I-65 S. Country music is just one of many charming attractions about this vibrant city.
Nashville and Memphis are only a few hours and a relatively short drive apart, with beautiful scenery along the route. Memphis is the home of Rock 'n Roll legend Elvis Presley.
From Memphis, head to Little Rock on the interstate and make a detour to the Hot Springs National Park. Here, you can walk around the campgrounds for views of the gorgeous waterfalls and thermal pools.
Driving on I-40 will take you through Oklahoma City and Amarillo. From here, head to Santa Fe in New Mexico. Take a break in this vibrant city and learn more about its Pueblo-Spanish history.
When you're ready, head towards the Grand Canyon, driving through Albuquerque, Petrified Forest National Park and Flagstaff as you make your way to Arizona.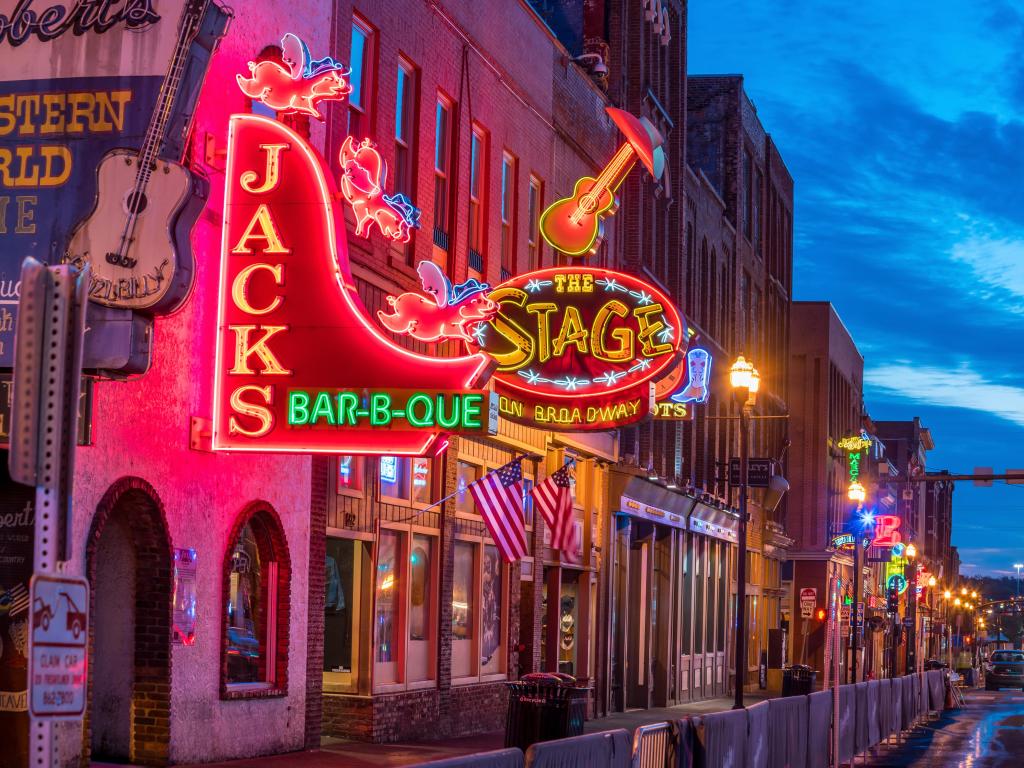 The Colorado Route
From Cincinnati, the Colorado Route goes northwest towards the outskirts of Indianapolis. If you have extra time on your hands, make a short detour into the city.
Continue following I-70 to St Louis and make sure to stop and enjoy the spectacular views of this city. Then, drive from St Louis to Kansas City. You'll get a glimpse of the beautiful and historic Missouri River along this road.
In Kansas City, stop for a breather and enjoy the jazz clubs and BBQ joints and head to Denver on the interstate when you're ready. Enjoy stunning views of the grasslands and desert as you travel west. From Denver, you can make detours to the fantastic ski resorts of Breckenridge and Vail.
Otherwise, head into Utah and drive towards Moab, a fantastic base to visit the Arches and Canyonlands National Parks. Another detour option is visiting Monument Valley past Bluff.
If you want to go straight to the Grand Canyon, head southwest as you enter Arizona to arrive at the Grand Canyon Village.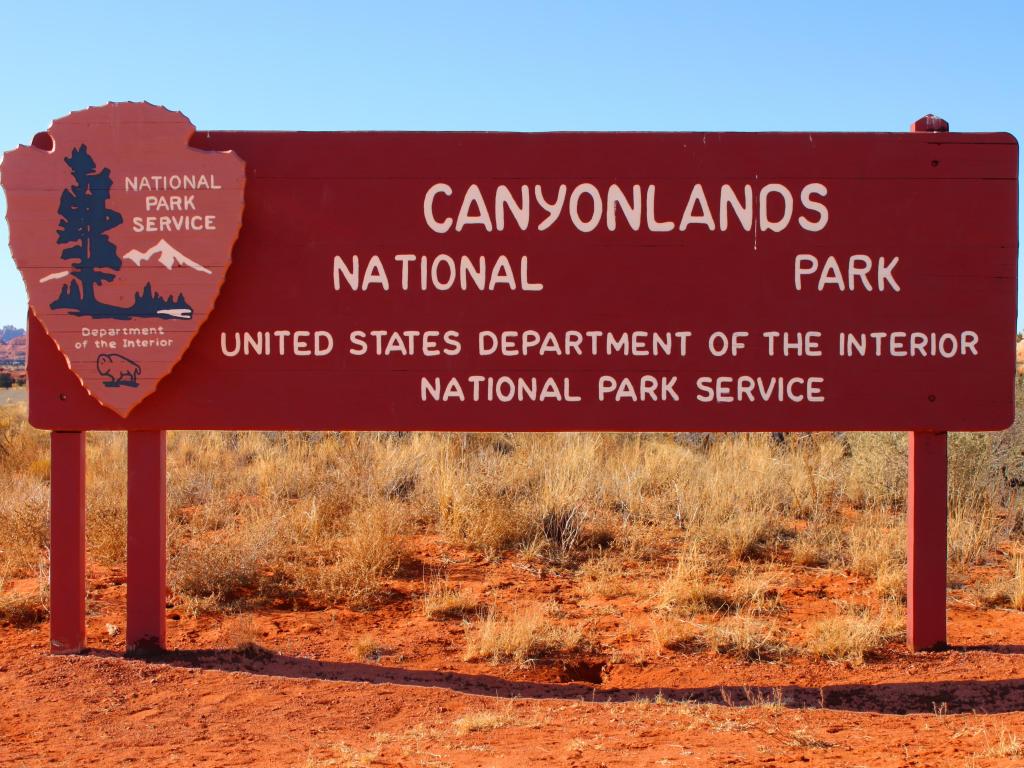 Best places to stop between Cincinnati, Ohio and Grand Canyon
You will need to make overnight stops and rest up before tackling the road again on this exciting road trip from Cincinnati, Ohio to Grand Canyon. We've put together a list of cities on each route to help you plan your stops and make the most of your trip.
Visit historic and cultural Santa Fe
On the New Mexico Route, one of the best places to stop is beautiful Santa Fe, which is about 10 hours away from the Grand Canyon. New Mexico is known for its gorgeous landscapes and rich Native American culture.
You will also find hints of old Spanish culture here – especially in the cuisine of Santa Fe. From enchiladas to tamales, the city is known for its spicy, flavorful dishes. Popular options often include red and green chile, which is unique to this region.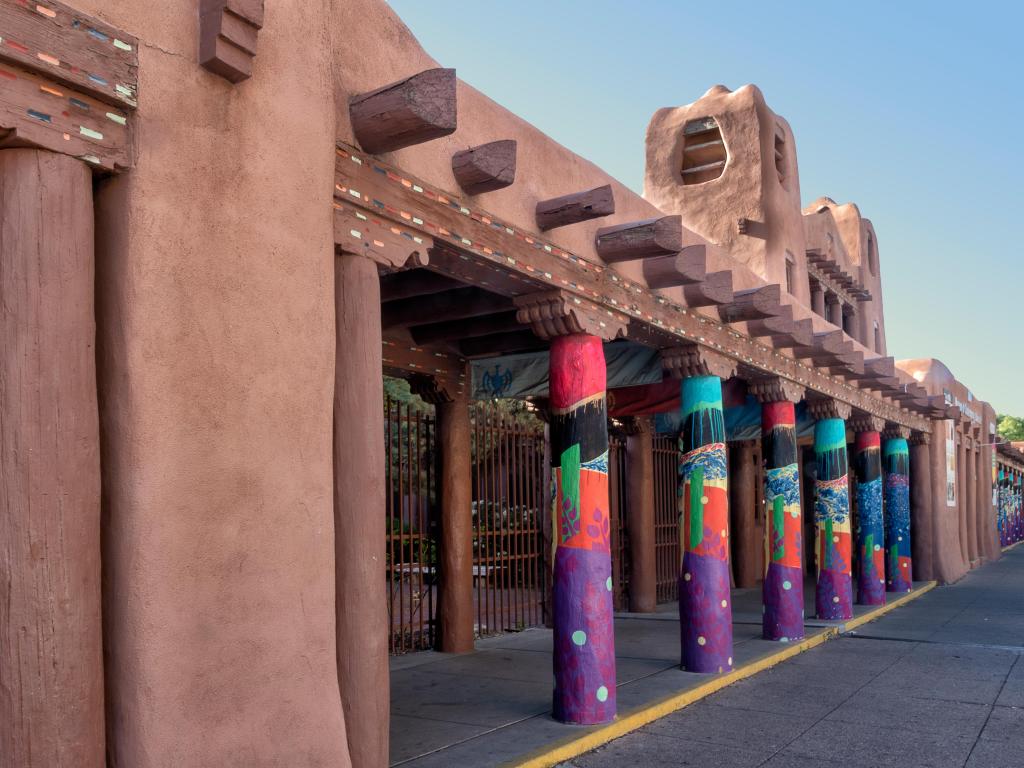 After a delicious meal, you can take a walk to the Cross of the Martyrs, a monument on a hilltop with stunning city views. History buffs should check out the New Mexico History Museum. Another amazing place to visit is the Georgia O'Keeffe Museum if you have the time and energy.
Santa Fe isn't short of great lodging options, and we couldn't recommend the beautiful Rosewood Inn enough. Much like the vibrant city, this hotel has Spanish-Puebloan influences with a mix of modern design.
You will find the suites to be just as stylish as the reception downstairs. Get a room with a terrace to really enjoy the city view. The hotel bar has tasty seasonal cocktails and excellent Southwestern cuisine. There is private parking available on site.
The Rosewood Inn is about five minutes from Cathedral Park, which is located next to the Cathedral of St. Francis of Assisi, and is within walking distance of the Georgia O Keefe Museum, the Santa Fe Opera, and the Cross of the Martyrs.
BBQ, jazz and nightlife in Kansas City
There are a lot of major cities on the Colorado Route, but we recommend stopping in Kansas City. It's about one-third of the way into your trip. The city has a rich jazz influence with scores of clubs around town. There are some trendy bars and restaurants here, and the nightlife is as colorful as the city lights.
Kansas City is a mix of work and play – but mostly play. There is a buzzing art scene with galleries all around the city. Visit the Crossroads Arts District, an eclectic block of boutique shops, restaurants, studios, and art galleries.
This buzzing city is also known for BBQ, with some delicious restaurants all over the city. You will find plenty of historical landmarks dotted around as well, such as the National WW1 Museum and Memorial, Union Station, and the Negro Leagues Baseball Museum to learn more about this region's history.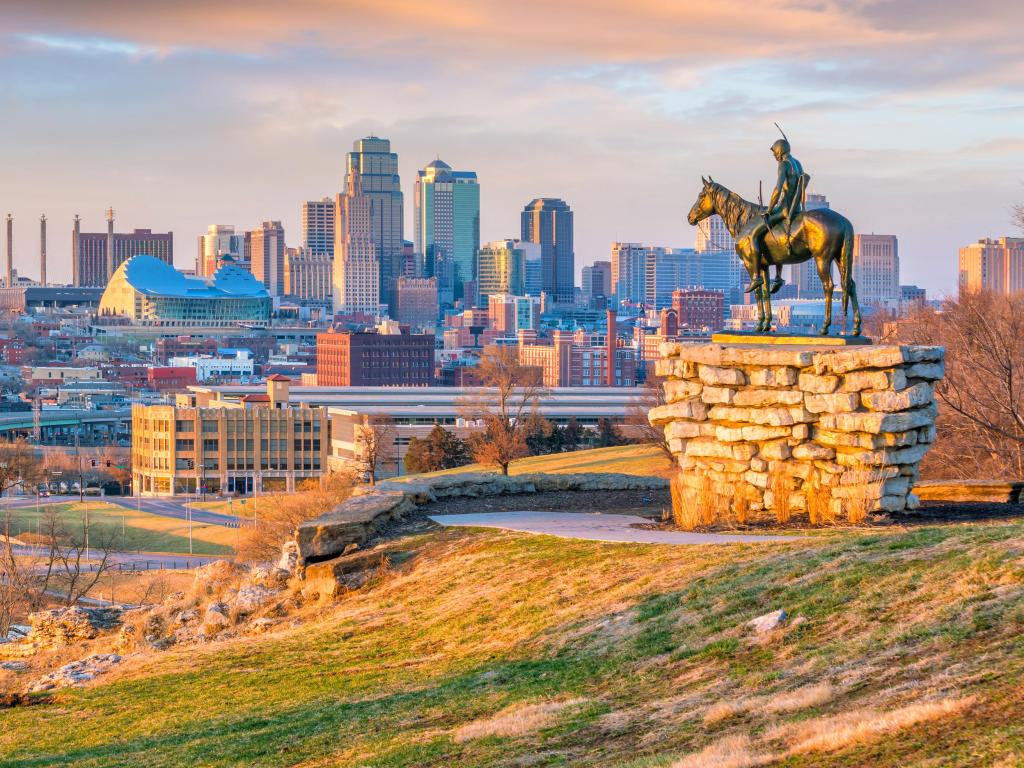 Make your visit to Kansas City a trip to remember by staying at The Truitt. Located in the heart of the city, this boutique hotel is a convenient stay for visitors. There is free private parking available.
The interior combines modern, retro, and eclectic design with a mansion-like vibe. The area around the hotel is pleasantly peaceful, with a lovely garden and terrace.
There are many dining options around the hotel to try out Kansas City cuisine at every opportunity. The Truitt is close to many popular attractions, including the National WW1 Museum, the Kansas City Zoo, and beautiful parks and riverfronts.
Where to stay when you reach Grand Canyon
A natural phenomenon in America's backyard, views at the Grand Canyon are so magical that people return to the UNESCO World Heritage site again and again. You can explore it via the South Rim or the North Rim (closed in winter) or make your way in from the East or West Rims.
The canyon has opportunities for stargazing, where you will experience nothing but silence and crystal skies. Try river rafting and go on a water tour while you're here. Helicopter tours are also available, but if you'd prefer to remain grounded, take a mule ride. There are hiking and biking trails, so pick a route and explore as much as possible.
The Grand Canyon has a variety of accommodations for visitors. Want the camp experience without the wild experience associated with it? Clear Sky Resorts is the perfect lodging option for you. There is free parking available, so you won't have to worry about your car after your drive.
The domed rooms are surprisingly spacious, with some cute themes. All rooms have a patio, so you can stay outdoors as long as you like. There are private bathrooms with amenities, and all rooms come with bedding. It's a refreshing luxury in the middle of the desert, great for groups and families.
Clear Sky Resorts is in Valle, which is a short drive from Grand Canyon Village. Road trippers can enjoy hiking, camping, and water activities around the resort.
Things to see on a road trip from Cincinnati, Ohio to Grand Canyon
The Road trip from Cincinnati to The Grand Canyon is an exciting adventure. Every city along the New Mexico and Colorado Routes has attractions to visit, food to devour, and desert to admire.
We've listed some top attractions along each route to help you enjoy your great American road trip.
The New Mexico Route
Kentucky Derby Museum, Louisville – Home of the famous Kentucky Derby Horse Race, this museum is a great place to learn about the history of this iconic event.
The Parthenon, Nashville – A beautiful replica of the original Parthenon in Athens, Greece, this lovely attraction is a centerpiece in a public park.
Graceland, Memphis – The former home of Rock 'n Roll legend Elvis Presley is a must-stop for fans. It's now a museum dedicated to the life of the star.
Hot Springs National Park – The park has breathtaking views, and visitors can relax in the natural hot springs and historic bathhouses.
Cadillac Ranch, Amarillo – This unique art installation features ten Cadillacs buried nose-first in the ground. It's an unusual but cool detour!
New Mexico History Museum, Santa Fe – Learn more about Native American culture at this museum, which houses historical New Mexican artifacts.
Sandia Peak Tramway, Albuquerque – Take a ride up to 10,378 feet and stand at the top of the gorgeous mountains, where the views are postcard perfect.
Petrified Forest National Park – A popular attraction, this park has one of the world's largest collections of petrified wood and is the location of the Painted Dessert.
Coconino National Forest – A diverse forest with beautiful views, visitors can explore the mountains and canyons around this area.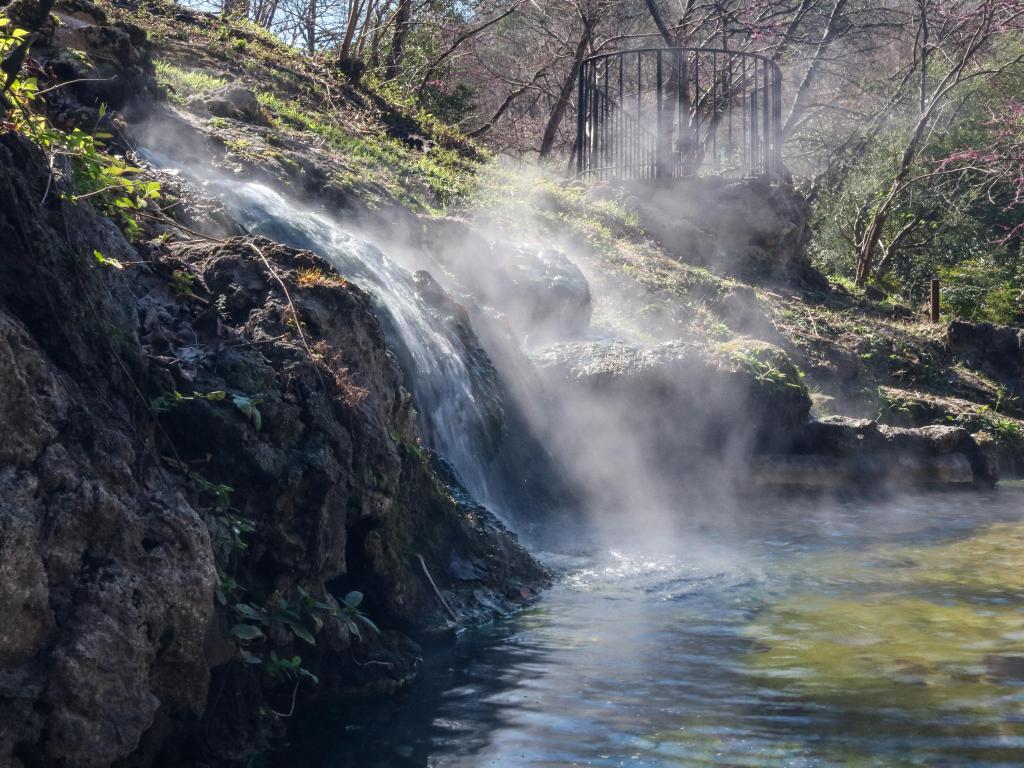 The Colorado Route
Indiana War Memorial & Museum, Indianapolis – A 5-block plaza filled with history, visitors will find tributes to the veterans of World War I here.
The Gateway Arch, St Louis – The iconic Arch is lovingly nicknamed "The Gateway to the West" and offers spectacular views of St. Louis.
Country Club Plaza, Kansas City – Do some open-air shopping and dine in style in this vibrant area.
Evel Knievel Museum, Topeka - Dedicated to daredevil Evel Knievel, this museum has a collection of memorabilia for eager fans to browse through.
Red Rocks Park, Denver –The park offers some incredible views of stunning rock formations. It's also the site of a gorgeous outdoor Amphitheatre.
White River National Forest – A popular campground and ski area, this forest is a wonderland no matter the season.
Arches National Park – Take a detour from Denver to visit this incredible park with over 2,000 natural stone arches.
Canyonlands National Park – Enjoy countless canyons that stretch for miles through the gorgeous desert landscape at this historic park.
Both Routes
Kaibab National Forest – A peaceful prairie near Arizona, this forest is a gateway to The Grand Canyon and is a great place to pause and enjoy the view.
Best time to go on a road trip from Cincinnati, Ohio to Grand Canyon
A road trip from Cincinnati to the Grand Canyon is doable year-round. The New Mexico Route takes you through a subtropical climate, while the Colorado Route goes through a continental climate.
Generally, spring and fall are the best seasons to travel with more consistent weather from state to state. Spring comes with some rain but there aren't extreme weather conditions during these seasons, and temperatures range between 50 to 77 degrees Fahrenheit across both routes.
The further south you go, the hotter it is. The New Mexico Route has higher temperatures in summer. Expect an average temperature of 65 to 113 degrees Fahrenheit across both routes.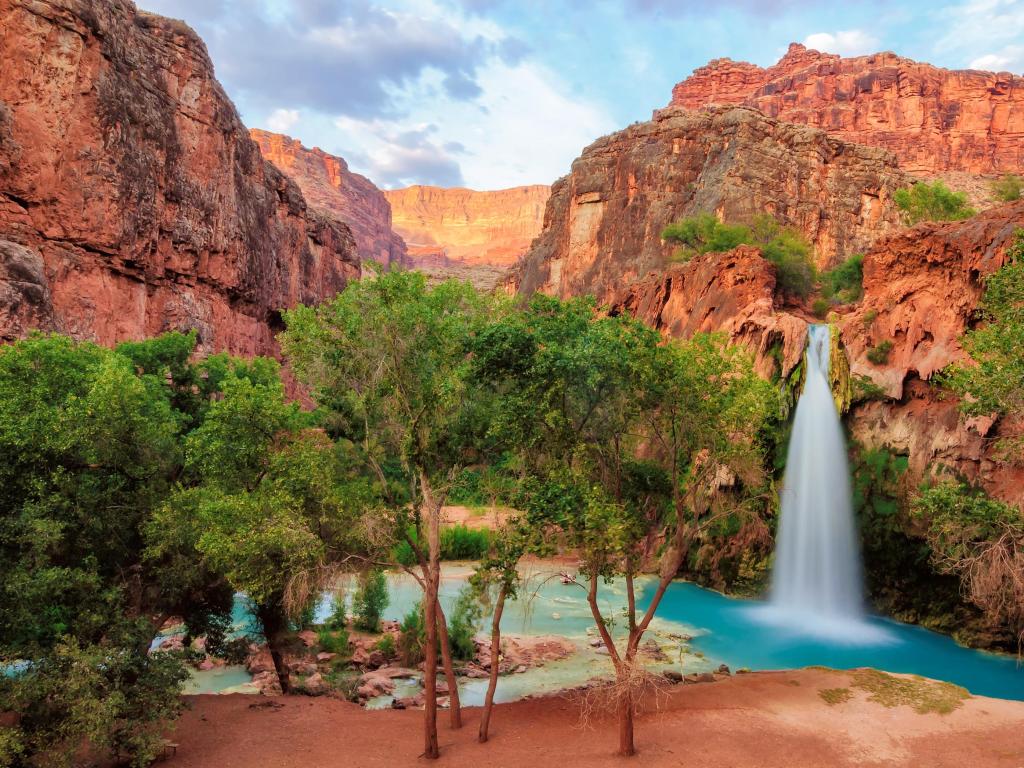 The Grand Canyon is quite hot in summer, so be cautious. Temperatures range between 90 to 120 degrees Fahrenheit. Despite the heat, the visitor numbers to the Grand Canyon peak in summer, with higher rates for hotels and activities.
Winters in states like Missouri, Colorado, and Kansas are cold and snowy, with temperatures between 15 to 40 degrees Fahrenheit. Winters are drier and milder in the Southern states, with temperatures between 50 to 70 degrees Fahrenheit.
During winter, expect temperatures between 60 to 70 degrees Fahrenheit at the Grand Canyon. Keep in mind that the North Rim remains closed between October and May.
Check local city listings for events, concerts, and shows. The Grand Canyon has a range of activities available, no matter when you choose to visit. One of these is the Grand Canyon Music Festival during August and September.