The Ultimate Thelma & Louise Road Trip (with map!)
Explore the open road through the rear-view mirror of Thelma and Louise's iconic '66 Thunderbird and follow the tire tracks of these two daring women across the American Southwest. Adventure and freedom await you on this world-famous Thelma & Louise road trip!
Replicating Thelma and Louise's 1,440-mile road trip will take 25 hours to drive nonstop. You will drive through Arkansas, Oklahoma, New Mexico and Arizona while avoiding Texas on your way to the Grand Canyon, just like Thelma and Louise did.
Are you ready for the ride of a lifetime? Read on to learn about the route from the movie, where to stay on your own adventure and the best things to do and see en route - including our favorite Thelma & Louise filming locations. Just make sure you stay on the right side of the law, unlike our mischievous duo!
Note: Spoilers ahead!
Where did Thelma and Louise travel in the movie, and how long would this road trip take?
Comparison of route options for a Thelma & Louise-inspired road trip

| Route | Distance | Driving Time |
| --- | --- | --- |
| The Movie Route | 1,440miles | 25 hours |
| The Shorter Route | 480 miles | 8 hours and 30 minutes |
Thelma and Louise are two friends from Arkansas (most likely Little Rock) who plan to set off on a fun-filled road trip. As with all grand plans in the movies, absolutely nothing could go wrong... right?
Everything goes topsy-turvy when Louise kills a man to protect Thelma, and the duo is soon chased by the police from one state to the other, until they reach their destination in Grand Canyon.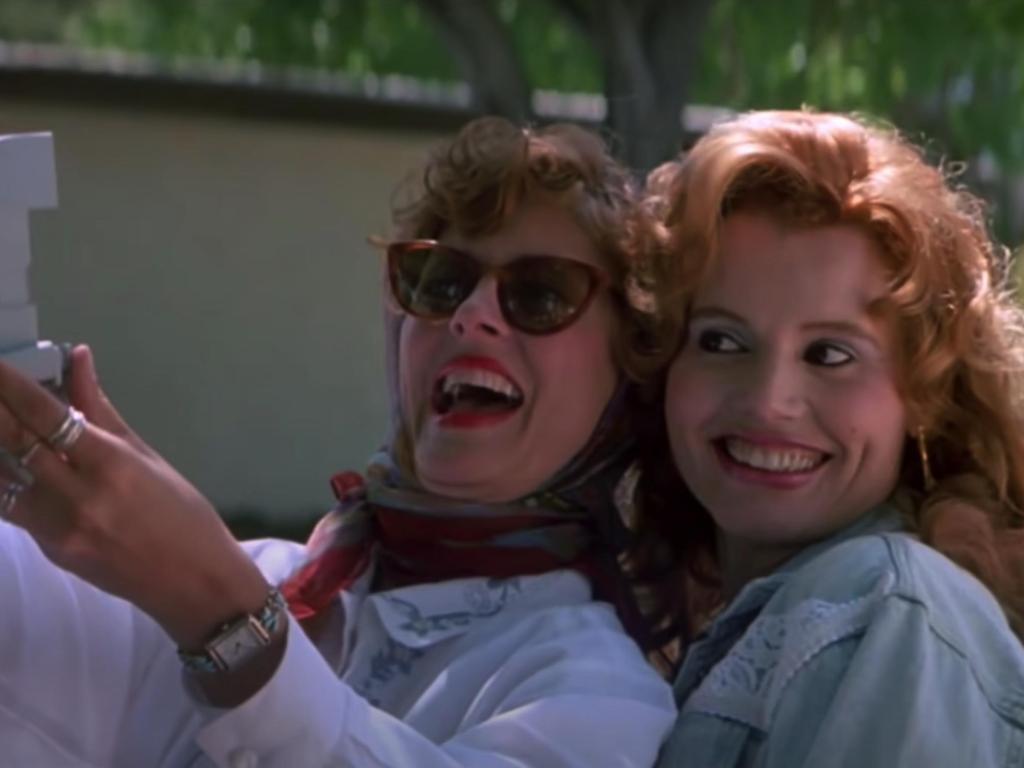 The route we have created is inspired by Thelma and Louise's journey, even though it might stray from their fictional route at times due to ambiguities in the movie itself. The Movie Route from Little Rock, Arkansas to Grand Canyon will take 25 hours to drive and will cover 1,440 miles.
By contrast, The Shorter Route is perfect if you don't have the time to dedicate to the Main Route. It will take you from Taos to Grand Canyon in 8 hours and 30 minutes, spanning 480 miles.
We suggest putting aside at least 5 days to complete this monumental Thelma & Louise road trip, so that you can explore some of the most famous landmarks in the United States, while making some life-long memories with your own best buds.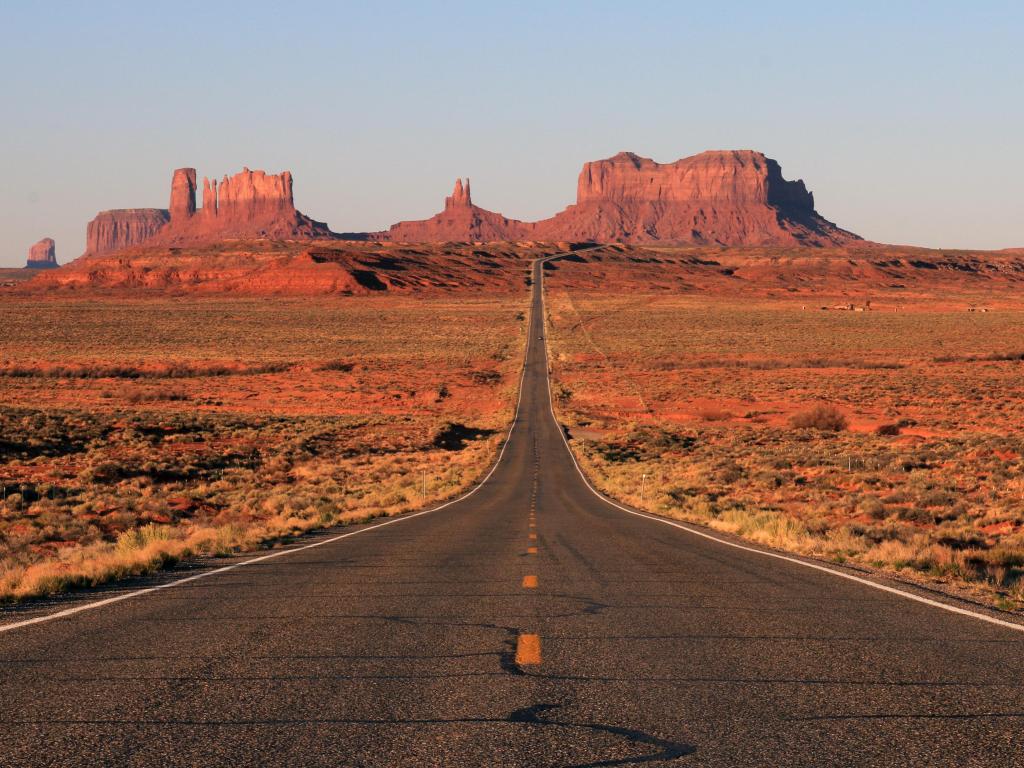 Planning the best route for a Thelma & Louise road trip
If you're planning your own "Thelma & Louise"-style adventure, you'll first need to decide whether you want to travel the entire length of the route (aka "The Movie Route" in this guide) from Little Rock, Arkansas to the Grand Canyon, or a shorter subsection of their journey.
The decision will most likely come down to how much time you have on your hands. As Louise might say, "you get what you settle for", but luckily, neither choice here will feel like settling at all, as you drive from one iconic landscape to another.
The Movie Route starts in Little Rock, Arkansas, and instantly hits the road running through Bellefonte, Tulsa, Oklahoma City, Woodward, and Boise City. Each town promises a slice of authentic Americana that will have you reaching for your camera faster than Thelma can grab a tequila.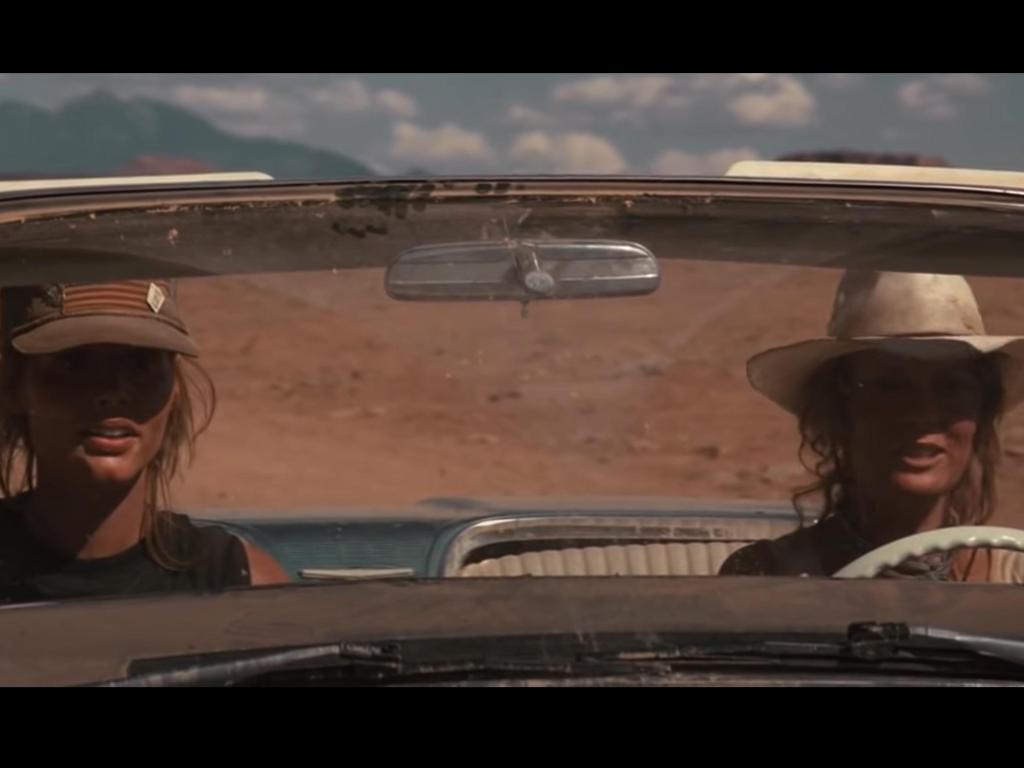 On the other hand, The Shorter Route might not feature as many pit-stops, but don't be fooled - this journey is just as exciting. This route follows the last leg of the Main Route, starting in the gorgeous and unique Taos.
The enchanting town of Taos, with its unique blend of Native American and Hispanic cultures, is an ideal start. Then it's a straight run to Tierra Amarilla and the Grand Canyon, offering a scenic tour of the Southwest's stunning desert landscapes.
Follow Thelma and Louise's road trip route
The map above shows our interpretation of the route taken by Thelma and Louise in the classic movie. The darker coloured section of the route corresponds with the The Shorter Route described in this road trip guide. Keep reading for detailed descriptions of both routes, where to stay on either, and the best things to do on the way.
The Movie Route - from Little Rock, Arkansas to The Grand Canyon
Embark on your journey in Little Rock along Interstate 40 (I-40) west, reaching Bellefonte, which could easily double for the backdrop of Thelma and Louise's first transformative encounter at the Silver Bullet bar.
Then set your sights on Tulsa and immerse yourself in the culture and history of the 'Oil Capital of the World'. Move on to Oklahoma City and explore the vibrancy of this city steeped in cowboy culture.
Continue on your journey to Boise City and then Springer, New Mexico. Enjoy the breathtaking Mexican landscape on this stretch of the journey.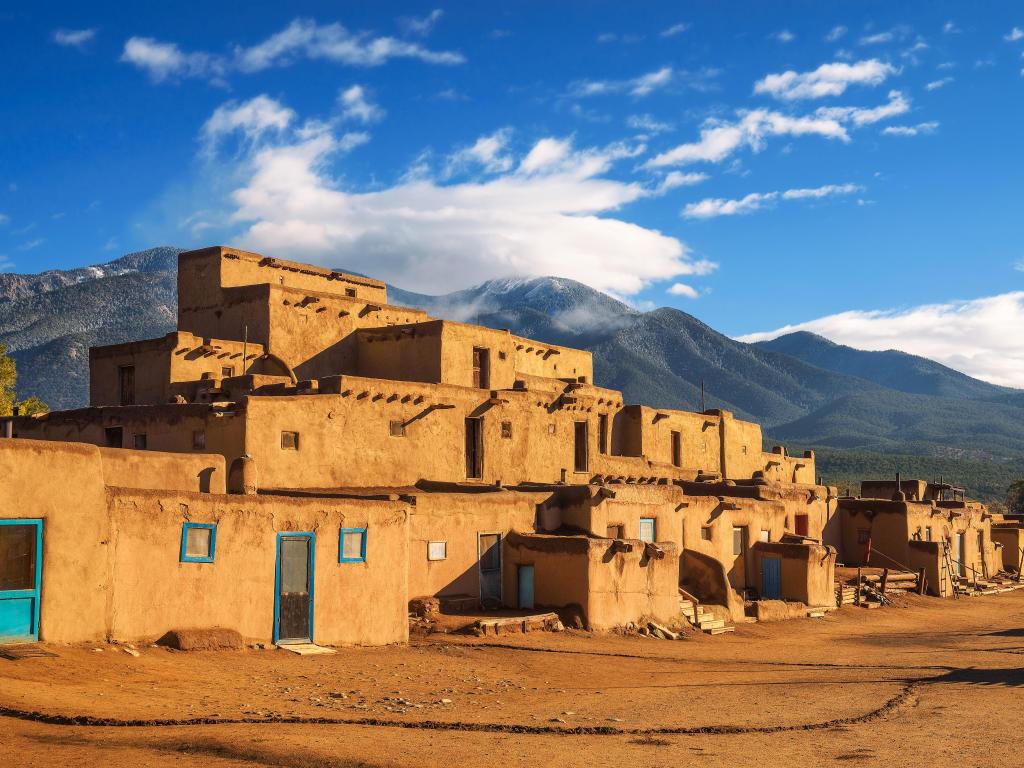 On the road again, take US-64 W to reach Tierra Amarilla, a beautiful area known for its unique topography and rich history. It's almost like a scene right out of the movie. The final stretch is on US-64 W once again, leading you to the grand finale - the Grand Canyon.
The Shorter Route - from Taos, New Mexico to The Grand Canyon
If you are flying into Santa Fe Airport, simply follow US-285 north until you reach Taos and start your road trip here. This historic town boasts unique architecture and is the perfect setting to channel your inner Thelma and Louise.
Keep cruising on the highway, heading towards Tierra Amarilla. This scenic drive is perfect for a windows-down, music-up type of road trip - just as Thelma and Louise would do it. Once you arrive, soak up the local history and experience the unique culture of this charming New Mexican town.
Now, let's set your compass to one of the most majestic destinations in the world, the Grand Canyon. Hop back on US-64 W, and you'll find yourself cruising along a route filled with awe-inspiring landscapes.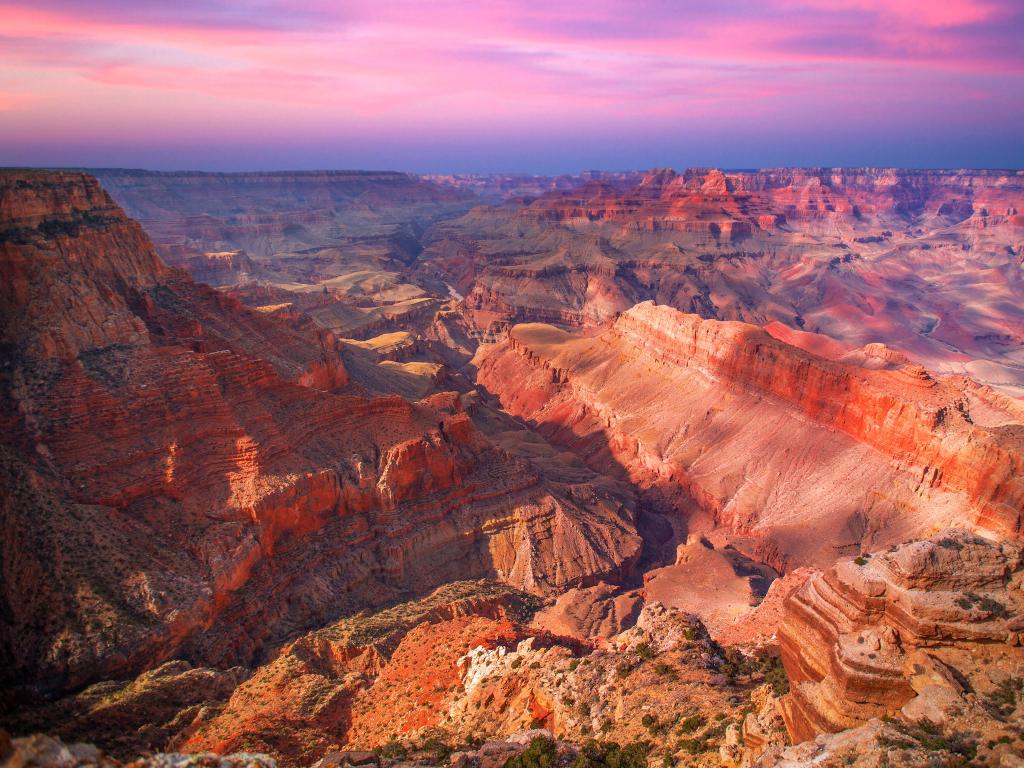 As you near your final destination, take a moment to appreciate the journey that has brought you here - a shorter route, perhaps, but one filled with experiences to cherish. The Grand Canyon's breathtaking vistas are the perfect ending to your Thelma and Louise-inspired road trip.
Best places to stop on a Thelma & Louise road trip
Whether you choose to follow the entire length of Thelma and Louise's journey or opt to drive the last leg of their adventure (or misadventure!) on the Shorter Route, you will need to split up your journey so that you can rest up and make the most of this unforgettable experience.
You can find our top suggestions for where to stop overnight below:
Kick back in style in Oklahoma City
While the Oklahoma motel visited by Thelma, Louise, and JD in the movie is actually located in California, and you can still visit it if you want to get a feel of its atmosphere (see below in our list of filming locations).
However, since California is not located on the route, and if you want a similar lodging option but with a little bit of color, we absolutely love Classen Inn in Oklahoma City. With such cheerful and quirky rooms, we are sure Thelma and Louise would approve!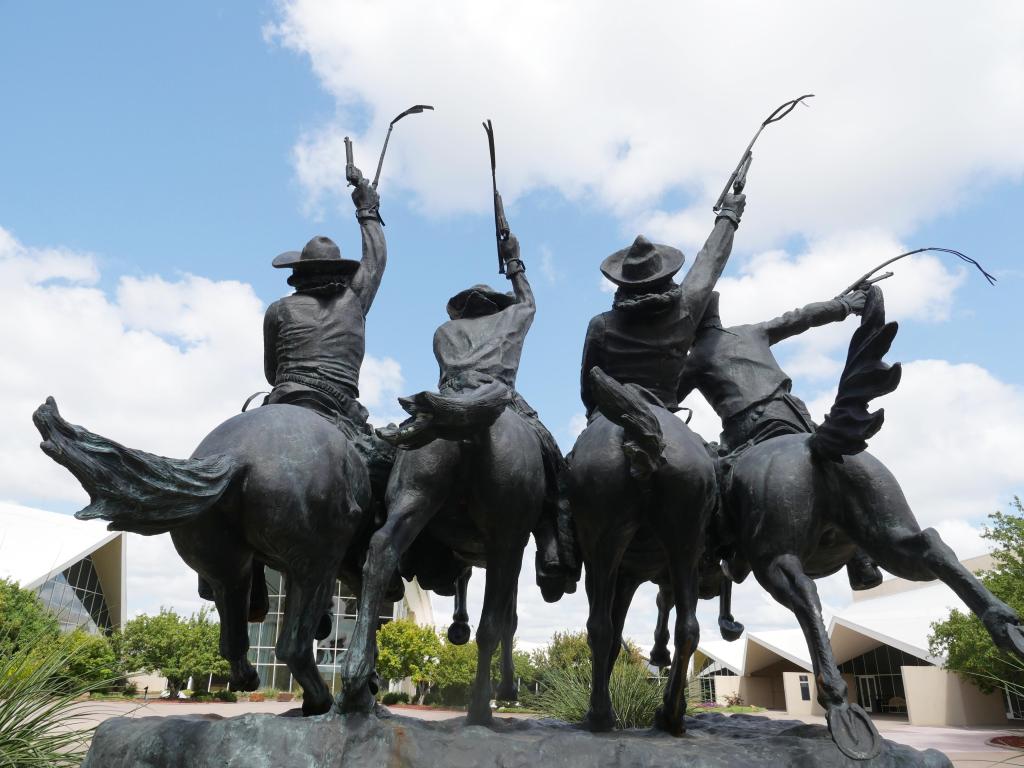 In addition to its vibrant decor and stylish interior, this inn also boasts a stellar location. You will be located within close proximity of the State Capitol, White Water Bay and the Oklahoma City Museum of Art.
While in Oklahoma City, we recommend visiting the National Cowboy & Western Heritage Museum to go with the free-spirited, cowboy vibes of the movie.
If you have a little more time on your hands, the Oklahoma City National Memorial & Museum, a symbol of strength and resilience, is also a must-visit before hopping back on the road.
Experience the beauty of the great outdoors in Chama
While parts of Thelma and Louise's journeys are vague, the route they follow is definitely inspirational. If you have chosen to follow the Shorter Route, you will drive through the beautiful scenery of Northern New Mexico and arrive at Chama in 2 hours, traveling from Taos.
Chama is best known as the northern starting point of the Cumbres & Toltec Scenic Railroad, a heritage railroad running between Chama and Antonito, Colorado. Here, you can admire vintage steam locomotives chugging through the beautiful landscapes of the southern Rocky Mountains.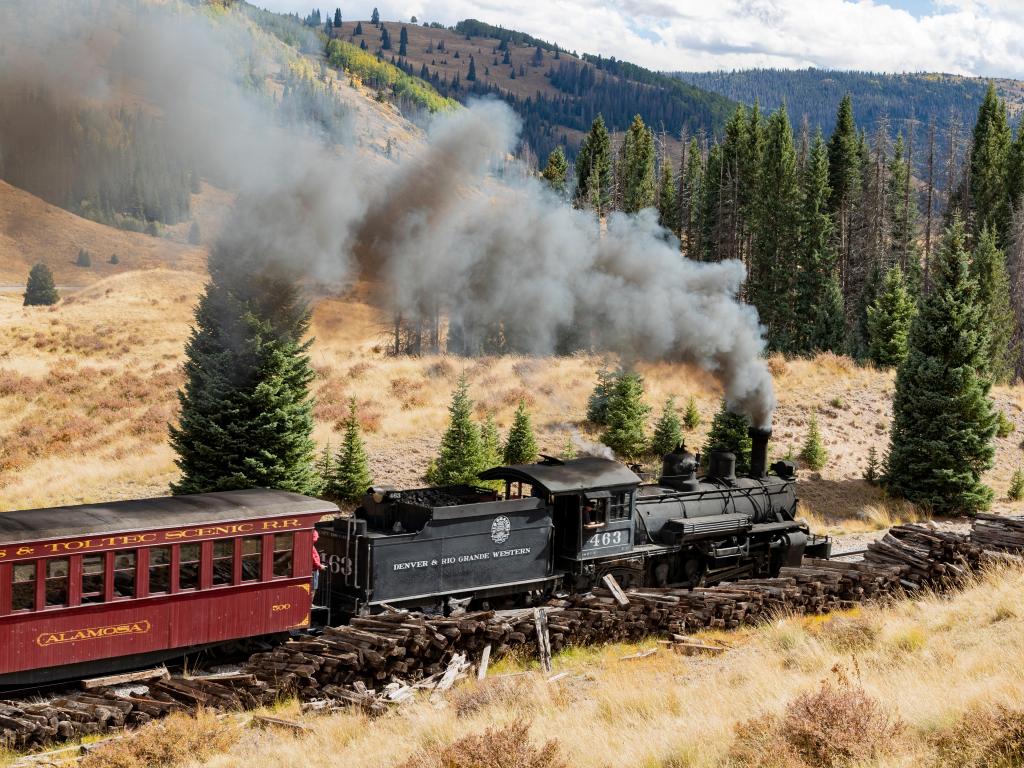 With access to the Carson National Forest and the Continental Divide Trail, Chama is also well known as a hiking, fishing and camping hub. for outdoor enthusiasts. The village's high elevation and clear skies also make it a great place for stargazing.
While in Chama, the rustic Corkins Lodge makes an excellent accommodation option. Situated on the foot of some scenic hills, this beautiful property has a sun terrace, where you can take in the views and bathe in their tranquility.
The lodge has an outdoor swimming pool, where you can take a dip after your drive. Or, if you cannot wait to explore, the Cumbres and Toltec Railroad is a short drive from the property.
Things to see on a Thelma & Louise road trip
With an impressive mileage to cover comes an impressive list of attractions to see as you follow the footsteps of Thelma and Louise.
We've compiled a list of some of the amazing must-see attractions that are located en route that we are sure Thelma and Louise would love!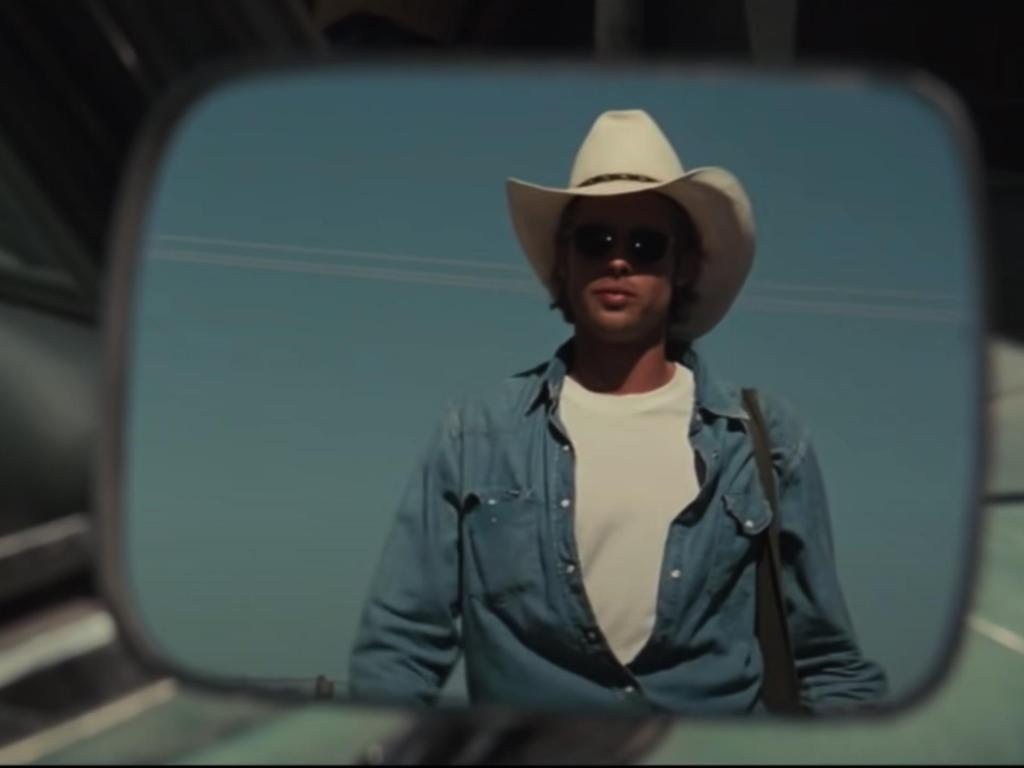 Best attractions on The Movie Route
Crystal Bridges Museum of American Art, Bentonville - Not just an art museum, but a cultural epicenter nestled in an architectural marvel surrounded by nature. The museum showcases a wide array of American art masterpieces and offers outdoor installations, walking trails, and educational programs for all ages.
Eureka Springs, Arkansas - This entire Victorian-era town is on the National Register of Historic Places. Famed for its unique architecture, steep winding streets, and natural springs, Eureka Springs offers a beautiful and unique experience with plenty of shops, spas, and art galleries to explore.
Ozark National Forest, Arkansas - Covering over one million acres, the Ozark National Forest is an outdoor lover's paradise. With scenic drives, hiking trails, waterfalls, and caves, there are plenty of natural wonders to enjoy.
Philbrook Museum of Art, Tulsa - Housed in a grand 1920s villa with expansive gardens, the Philbrook Museum presents a diverse collection of artworks. Apart from its art, visitors also enjoy beautiful garden strolls, workshops, film events, and culinary experiences.
Oklahoma City National Memorial & Museum, Oklahoma City - This memorial honors the victims, survivors, and heroes of the tragic Oklahoma City bombing in 1995. The serene yet somber Outdoor Symbolic Memorial and the informative Museum offer a powerful lesson about violence and healing.
Myriad Botanical Gardens, Oklahoma City - This urban park is a refreshing oasis in the heart of Oklahoma City. With a tropical conservatory, a large lake, and numerous gardens to explore, it's a great place for picnics, concerts, or just enjoying nature.
Oklahoma Route 66 Museum, Clinton - Step back in time and experience the history and legends of the iconic Route 66. With its vintage artifacts, interactive exhibits, and a fully stocked gift shop, the museum provides a nostalgic journey through the Mother Road.
Boiling Springs State Park, Woodward - Named for its naturally "boiling" spring, this state park is a picturesque oasis on the plains of Western Oklahoma. Hiking, fishing, and bird watching are just a few of the activities to enjoy in this tranquil setting.
Alabaster Caverns State Park, Freedom - This park boasts the largest natural gypsum cave in the world open to the public. With daily guided tours, visitors can marvel at the rare alabaster formations inside the caves and enjoy picnicking, hiking, and camping on the park grounds.
Cimarron Heritage Center, Boise City - A regional history museum dedicated to preserving the unique stories of the High Plains. Exhibits highlight the Dust Bowl, paleontology, ranching, and a World War II POW camp, offering an intriguing slice of local history.
Capulin Volcano National Monument, New Mexico - Visitors can drive up the side of this extinct volcano for panoramic views of surrounding states. The park also offers hiking trails that wrap around the rim and lead down into the mouth of the volcano itself.
Fort Union National Monument, New Mexico - Preserving the second Fort Union, visitors can explore the adobe ruins of what was once the largest military fort on the Southwestern frontier. It's an important historical site that also offers an opportunity to enjoy the wide-open New Mexico landscapes.
El Vado Lake State Park, Tierra Amarilla - Known as the "lake in the sky", this tranquil state park is a paradise for lovers of water sports. Visitors can go boating, fishing, or camping along the shores while enjoying the stunning New Mexican landscape.
Echo Amphitheater, Abiquiu - A natural sandstone echo chamber, this unique geologic feature is known for the echoes that rebound off its semicircular cliff. Near the home and studio of artist Georgia O'Keeffe, it offers an unusual acoustic experience combined with scenic beauty.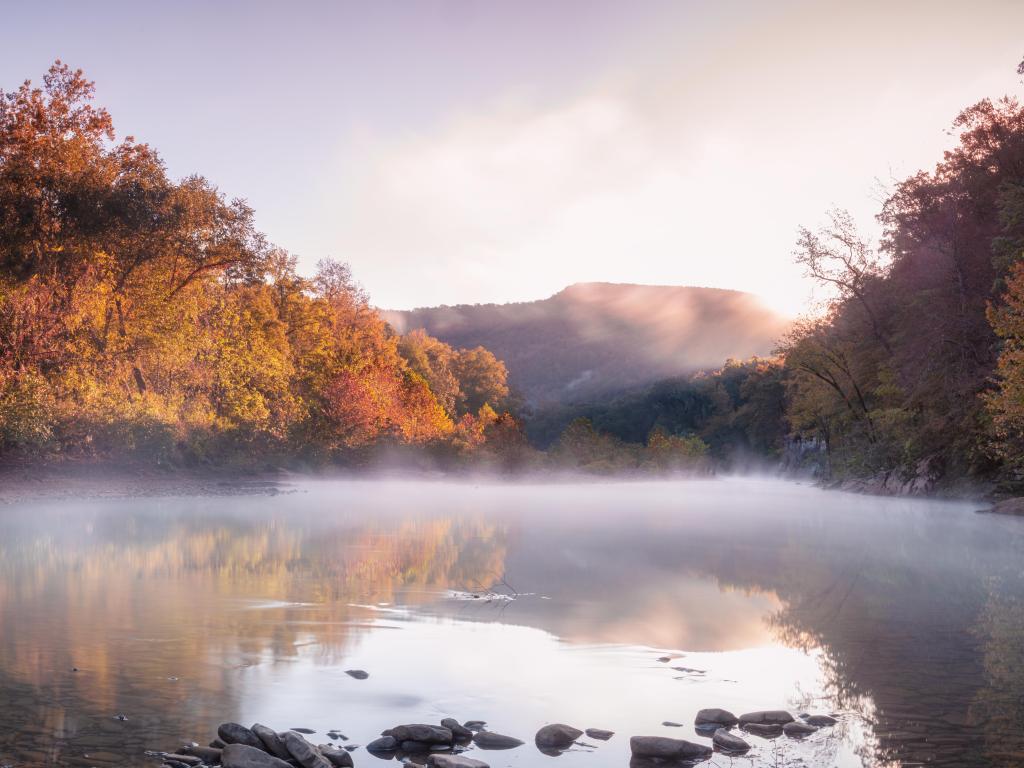 Filming locations and featured places from Thelma & Louise
We've also done our detective work to discover the real-life filming locations from Thelma & Louise. Please be aware, though, that these are not located on the road trip route, and will take some additional miles to reach!
The Silver Bullet - The 'mid-west' bar, where the important conflict scene that makes the duo's road trip plans go south was shot at the Silver Bullet, now called Cowboy Country, located at 3321 South Street, Long Beach, California.
Vagabond Inn, Los Angeles - The motel where Thelma and Louise encounter the charming JD, portrayed by Brad Pitt, isn't located in expansive open areas as depicted in the film. Instead, it's located near downtown Los Angeles and is called Vagabond Inn Los Angeles at USC.
Bakersfield, California - The scenes depicting the shift from the confined, rugged mountains of 'Arkansas' to the expansive plains of 'Oklahoma' are cleverly filmed during the gradual decline into California's central valley at Bakersfield.
Unaweep Canyon, Colorado - In a pivotal scene filmed at the Bedrock General Store in Unaweep Canyon, Louise phones the FBI agent who's tracking them.
Monument Valley, Utah-Arizona - Monument Valley serves as a stunning backdrop to the women's journey and was also featured in the movie's release poster.
Arches National Park, Utah - Even though not part of the storyline, many of the scenes were shot in Arches National Park, which is pretty recognizable with its rugged red rock landscapes.
Canyonlands National Park, Utah - Similar to Arches National Park, Canyonlands National Park's intricate canyons and other striking geological features were used as filming locations to add atmosphere to the duo's eventful escape.
Cisco, Utah - The deserted town of Cisco, Utah is used as the filming location for the intense police chase scene.
Dead Horse Point State Park, Utah - Even though the storyline ends in the Grand Canyon, the famous final scene of the movie was shot here place here.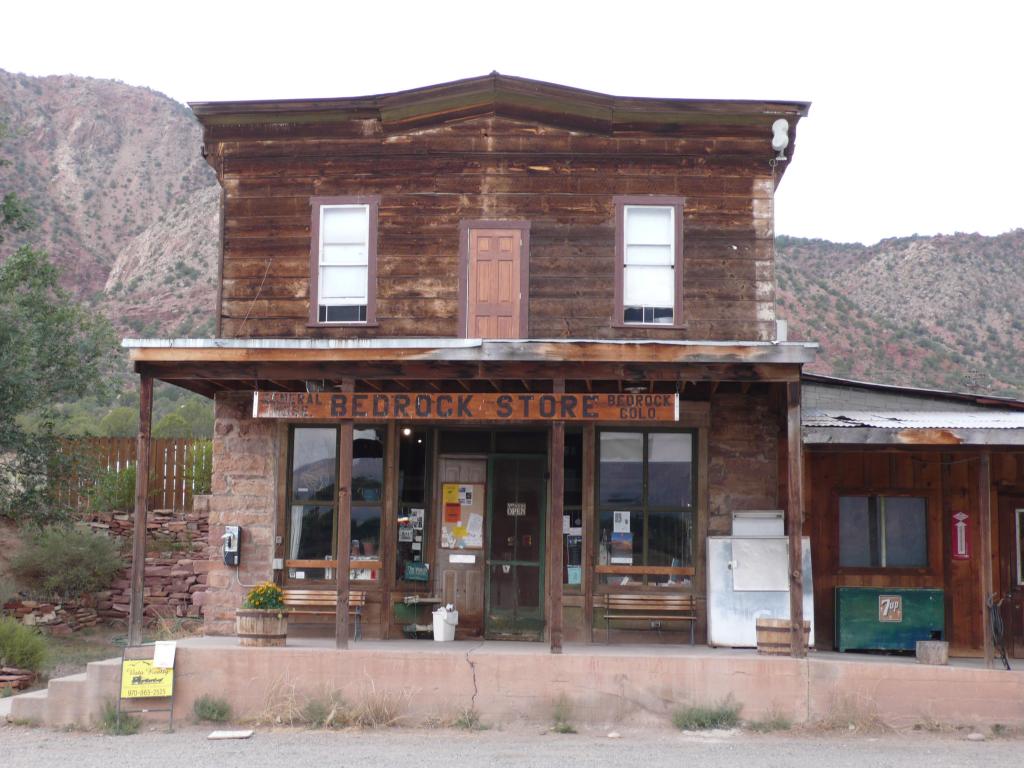 Best time to go on a Thelma & Louise road trip
The ideal time to embark on this Thelma and Louise road trip from Little Rock to the Grand Canyon is generally during the spring or fall. These periods offer a balance of moderate temperatures, limited rainfall, and lesser crowd sizes.
However, this trip is feasible year-round, with each season presenting its own unique charm and challenges. The Grand Canyon experiences a varied climate throughout the year due to its elevation.
In summer, temperatures at the rim range from 50 to 85 degrees Fahrenheit, while the canyon bottom can reach up to a scorching 120 degrees. It's worth noting that summer is also the most crowded period.
However, if you want to flaunt your summer wardrobe like Thelma and Louise, then the warmer months would be perfect for this road trip. You might not have a Thunderbird or a convertible, but even if not, what is stopping you from rolling your windows down and feeling the wind in your hair!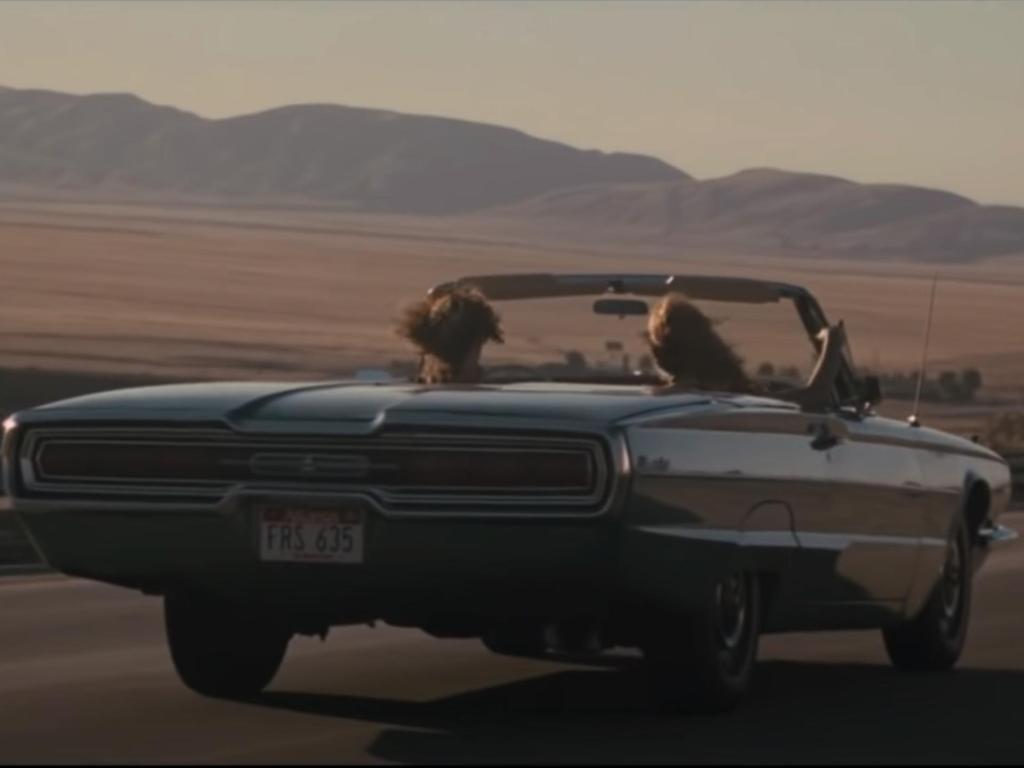 During the fall, temperatures at the rim range from 25 to 70 degrees Fahrenheit. The weather is cooler, the crowds thinner, and the changing foliage offers a beautiful display of colors.
In winter, temperatures at the rim can range from 20 to 45 degrees, and the inner canyon is usually 15 to 20 degrees warmer. Snowfall can occur, potentially leading to some road and trail closures, but also giving the canyon a stunning frosty appearance.
It is also good to keep in mind that the North Rim is closed in winter, so you might want to plan your road trip accordingly.
In spring, temperatures at the rim range from 30 to 60 degrees Fahrenheit, and the park starts to get busier as the weather warms. There may still be some residual snow from winter, but trails and roads are usually clear.
Remember that the weather can change rapidly in these regions, so it's always a good idea to check current conditions before setting out each day.