Road Trip from Arkansas to Denver, Colorado
Have you been fascinated by cowboy culture, exceptional landscapes, swingy jazz tunes? Then this adventurous and exciting road trip from Arkansas to Colorado, Denver is just what you need, dotted with one charming city and landscape after another for you to explore.
The 990-mile road trip from Arkansas to Denver, Colorado takes about 16 hours to drive, visiting Dodge City, Pueblo, Colorado Springs and Pinnacle Mountain State Park, or driving through Branson, Springfield, Kansas City, Oz Museum and Onyx Cave.
For an unforgettable, epic, hassle-free trip through the American West and its diverse nature, continue reading to find our top route recommendations, overnight stay suggestions, and an elaborate list of exciting things to see on the way.
How far is Denver, Colorado from Arkansas and how long will the road trip take?
Comparison of road trip routes between Arkansas and Denver, Colorado

| Route | Distance | Driving Time |
| --- | --- | --- |
| The Kansas City Route | 990 miles | 15 hours |
| The Colorado Springs Route | 990 miles | 16 hours |
The road trip to Denver, Colorado, from Arkansas via The Colorado Springs Route takes about 16 hours to complete and covers 990 miles without any stopovers.
Or you could opt for The Kansas City Route, which covers the same mileage of 990 miles over 15 hours of driving, not considering any gas and food breaks.
You can easily cover this distance within 2-3 days. But considering the many scenic locations encompassing lush mountains, massive plains, interesting prairies, and gorgeous red rock formations on the way, we suggest you split your trip over 5-7 days to make the most of this road trip.
Best road trip route from Arkansas to Denver, Colorado
Whichever way you choose, you'll experience some of the most scenic landscapes, exciting local culture, lively music, and intriguing modern cityscapes on this road trip.
The Colorado Springs Route to Denver, Colorado, will take you through beautiful Ouachita and Ozark St. Francis National Forests of Arkansas, followed by a cultural trip through Oklahoma en route the grasslands of Kansas before finally heading to the massive mountains of Colorado.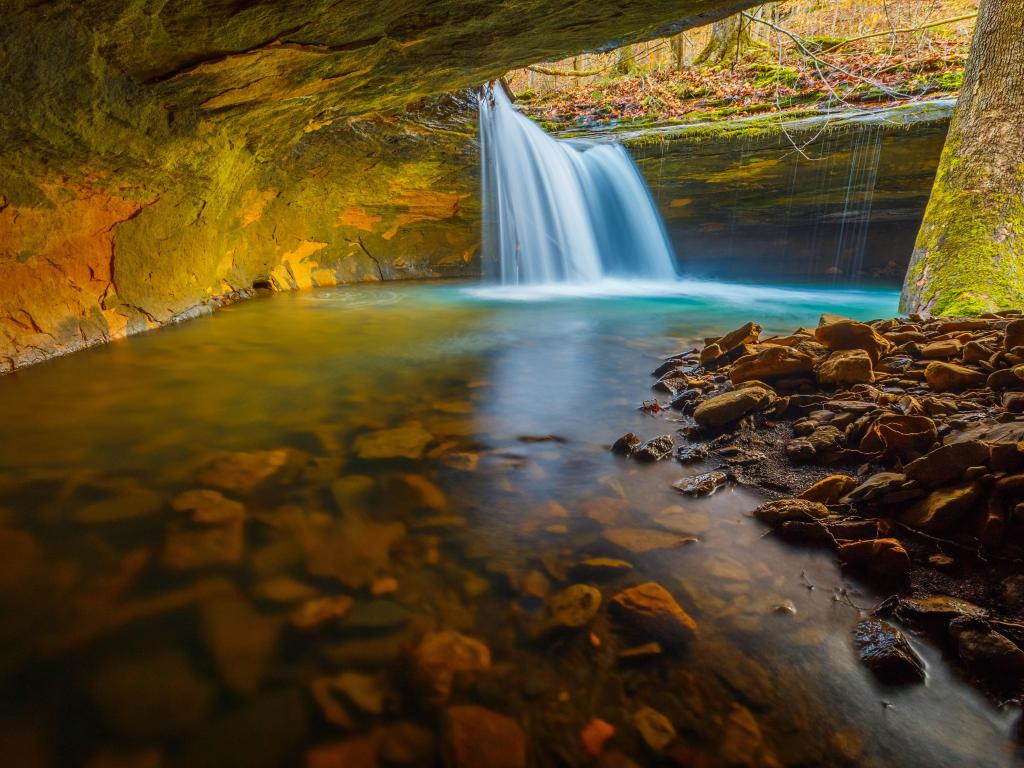 Starting at Little Rock, you'll visit the exciting cities of Oklahoma City, Dodge City, Garden City, Pueblo, and Colorado Springs on your way to Denver.
Alternatively, take the Kansas City Route to pass through the cities of Branson, Springfield, Kansas City, and Topeka, all the way spanning the breadth of Kansas to arrive in Denver.
You'll love the drive through the picturesque forests of Missouri with gorgeous water views and a musical journey through the jazz capital, Kansas City, and Branson, known for its vibrant music scene.
The Colorado Springs Route
Exit Little Rock by taking Interstate 430 (I-430) toward the North outside the city. Cross the Arkansas river and merge into I-40 to drive past many tiny ponds, creeks, and lakes. Drive alongside the Arkansas River and enjoy the rustic countryside.
Pass by the scenic Ouachita and Ozark St. Francis National Forests before entering Oklahoma. Admire the Muscogee Creek Nation to your right as you arrive at Oklahoma City.
At the Cherokee trading post, hop on to the US-281 toward Kansas. As the road merges into US-270/183, follow it through the plains to enter Kansas.
Head straight on KS-34 to Dodge City and follow it westward on US-50 to reach Garden City. As you skirt the Arkansas River, follow the route into Colorado, passing John Martin Reservoir State Park all the way to Pueblo.
Take a detour to Lake Pueblo State Park before heading on I-25 to Colorado Springs. Enjoy the glorious mountain view to your left and explore the outdoor activities on your way before finally arriving in Denver.
The Kansas City Route
Leave Little Rock by taking I-430 out of the city across the Arkansas River, and head North on I-40 passing the Grassy Lake and Lake Conway. After crossing Quality Inn Conway, merge onto US-65.
Pass the Beaver Fork, cross the East Fork Cadron Creek, and explore the outdoors of Buffalo National River as you continue driving North in Arkansas, crossing into Missouri.
Enjoy the scenic view and create some wonderful memories as you enter the city of Branson. After exploring the waterways, continue driving North through the lush greenery.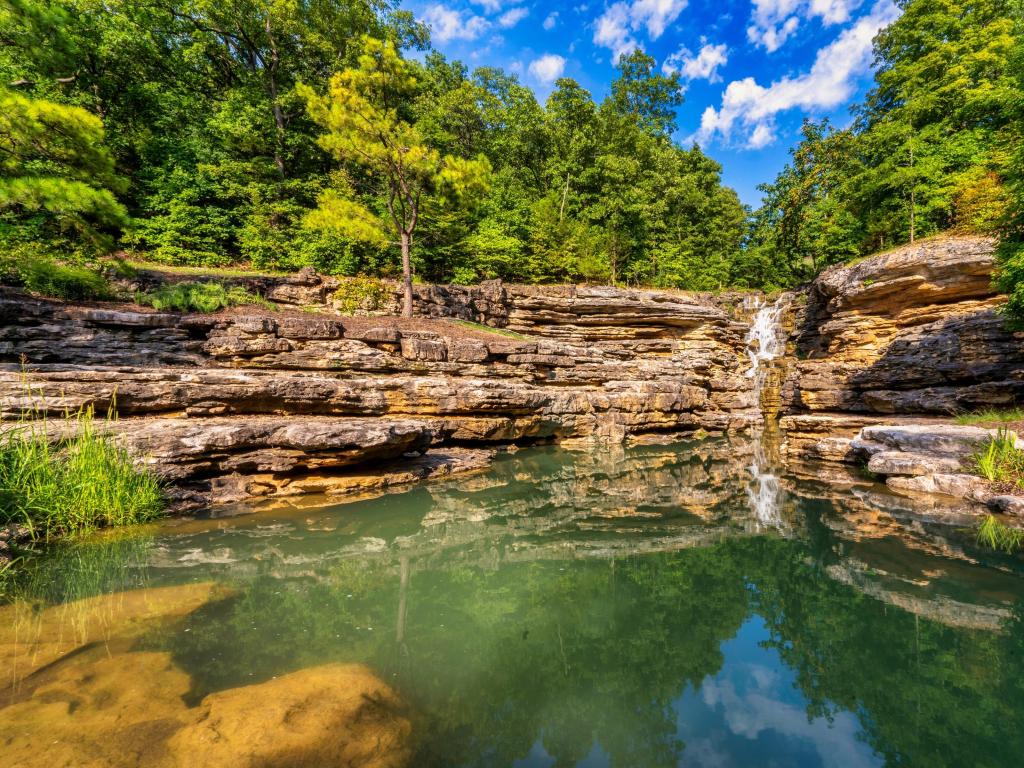 Admire Busiek State Forest and Wildlife Area en route to Springfield and exit on MO-13 toward Kansas City. Pass the towns of Bolivar, Deepwater, and Clinton before heading on to MO-7.
Following the route through Poague Conservation Area, arrive at Harrisonville, and continue I-49 as it merges into US-71 to reach Kansas City.
Follow I-70 out of Kansas City, passing Lawrence, Topeka, and the prairies, and head to Denver, Colorado.
Best places to stop between Arkansas to Denver, Colorado
The road trip from Arkansas to Denver, Colorado, is long and full of fantastic locations to enjoy many exciting indoor and outdoor activities. You'll need a few stopovers to rest and refresh to avoid exhaustion.
Scroll below to find some of our favorite hotels for convenient overnight stays on each route.
Enjoy the engaging museums in Oklahoma City
About halfway through this trip on the Colorado Springs Route, you'll arrive at Oklahoma City, where the scenery transitions are dramatic.
Known for its traditional cowboy culture, it is also called the horse show capital. If you are curious about the American West, its culture, and history, visit the National Cowboy & Western Heritage Museum.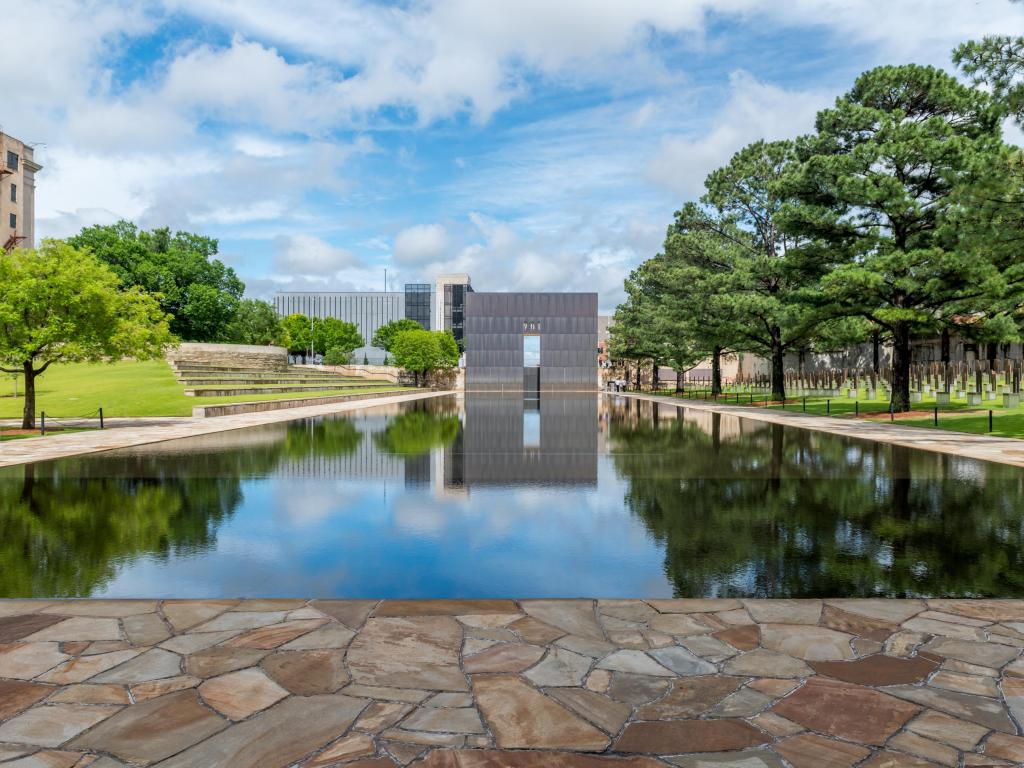 However, if you're somewhat of an art connoisseur, admire local and international art at the Oklahoma City Museum of Art. Or you could also check out the Oklahoma City National Memorial & Museum honoring the 1995 Oklahoma bombing victims.
Situated close to the central city attractions mentioned above, the main highway, and the lovely gardens, 21c Museum Hotel Oklahoma City is our top pick for your stay in Oklahoma. There is cheap parking nearby, a massive plus for any road trip traveler.
The hotel boasts excellent amenities like a fitness center and a spa to unwind after a driving excursion. You can enjoy authentic, delicious regional cuisine and cocktails at the on-site restaurant and bar. You'll especially love the spacious rooms, tall windows, and aesthetic décor.
Because this is a museum hotel, you'll spot some lovely art pieces in the lobby and common area; also, the gift shop and the museum on the property are worth checking out.
A lively night in Kansas City
If you travel along the Kansas City Route, you'll reach Kansas City about halfway through your trip. Because the westward trip to Denver from this point is pretty straight without any major cities, this is the best stopover point on the route.
Kansas City is renowned for its jazz music scene. With over 40 different jazz bars in the city, you have a wide range to choose from. You can also follow the journey of jazz music in The American Jazz Museum.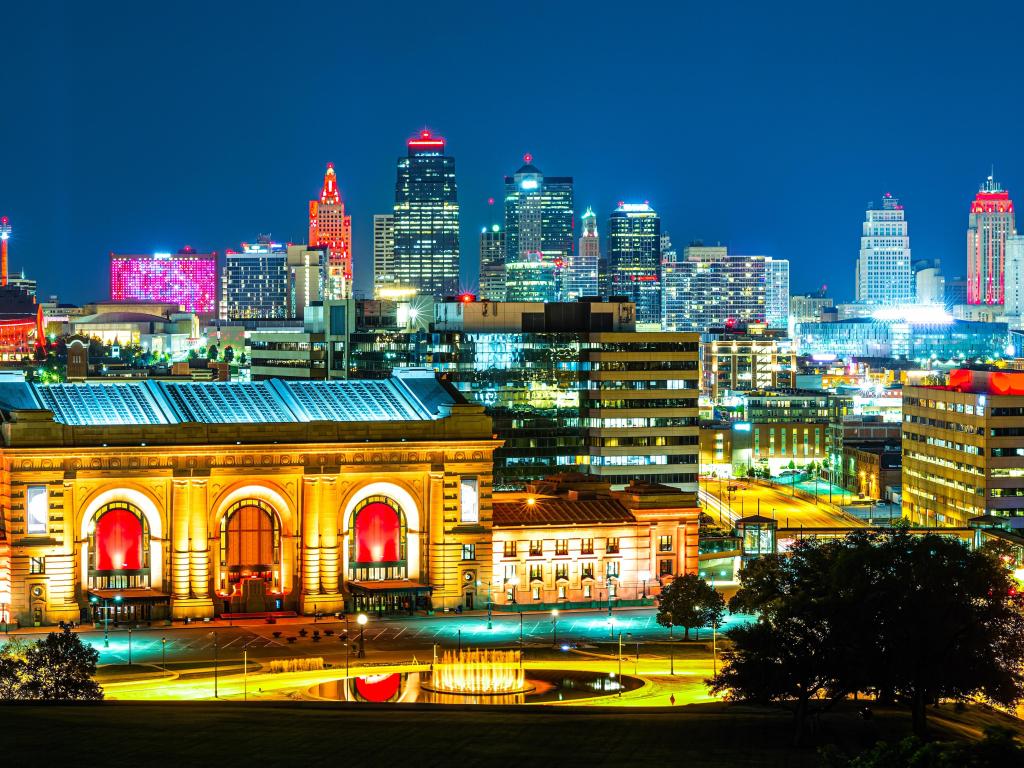 Also, there are notable indoor attractions like the Nelson-Atkins Museum of Art, where you can appreciate works of artists worldwide, and the National WWI Museum and Memorial dedicated to the artifacts from the first World War.
Look no further than the Hotel Indigo Kansas City - The Crossroads for a few nights. It is easily one of our favorites, with easy access to the highway and most touristic locations.
The food scene in Kansas is thriving, and you'll see a lot of up-and-coming fine dining restaurants to try out. So, walk outside to discover the buzzing restaurants and fantastic local bars surrounding the hotel.
The hotel boasts beautiful modern interiors decorated with local artwork and an on-site restaurant. After driving the entire day, loosen your muscles at their well-equipped fitness center and rest in their spacious rooms.
Where to stay when you reach Denver, Colorado
Denver is the capital of Colorado and is rife with many cultural attractions and natural diversity, including plains, rivers, and glorious mountains.
Once you arrive in Denver, you'll want a comfortable hotel for a slightly extended stay, and you'll see why The Oxford Hotel, Downtown Denver, is an ideal choice.
The hotel is in the downtown region, making it easy to go around the main tourist attractions like Larimer Square, Coors Field, and the central station.
The interior displays are a beautiful blend of modern and antique interior design, and the on-site restaurant and bar offer delicious dining options. You can also bring your pets to this pet-friendly property, making it a bonus.
Things to see on a road trip from Arkansas to Denver, Colorado
You can expect many fun and exciting things to see and do from Arkansas to Denver, Colorado. You'll see incredible scenery, including diverse landscapes, stunning mountains, endless prairies, incredible water bodies, and engaging museums.
Read till the end to find our suggestions for the best things to see on both routes during this road trip.
The Colorado Springs Route
Pinnacle Mountain State Park, Arkansas – This state park has a vast campus with many hiking trails and a beautiful botanical garden. You can also enjoy outdoor activities like canoeing and climbing.
Fort Smith National Historic Site, Arkansas – Soak in the Native American history and learn more about the old west in this 19th Century fortress museum.
Red Rock Canyon Adventure Park, Oklahoma – One of the many popular attractions in the region, enjoy rappelling on the red sandstone cliffs and hiking in the surrounding area.
Stafford Air and Space Museum, Oklahoma – Spend an afternoon engaging in exciting activities at this one-of-a-kind air and space museum. With over 3,500 artifacts and exhibits, it remains one of the largest museums in that niche.
Boot Hill Museum, Kansas – Travel back in time at this fantastic property created to give you an old-timey feel. Enjoy the recreated old buildings and the exceptional space developed for a novel experience.
Historic Arkansas Riverwalk, Colorado – Enjoy an evening stroll on the beautiful promenade with fun activities and events.
Lake Pueblo State Park, Colorado – Experience the stunning rock formations up close at this famous state park. Also, explore outdoor activities like hiking and fishing in the vast area.
National Museum of World War II Aviation, Colorado – Learn about aviation's role in establishing world supremacy of the USA during the Second World War.
Castlewood Canyon State Park, Colorado – Take this opportunity to stretch your legs and explore the area's indigenous wildlife.
Red Rocks Park and Amphitheater, Colorado – Try to catch a concert or get a relaxed vibe at this massive ancient amphitheater. You'll find yourself surrounded by red-rock formations and an area suitable for hiking.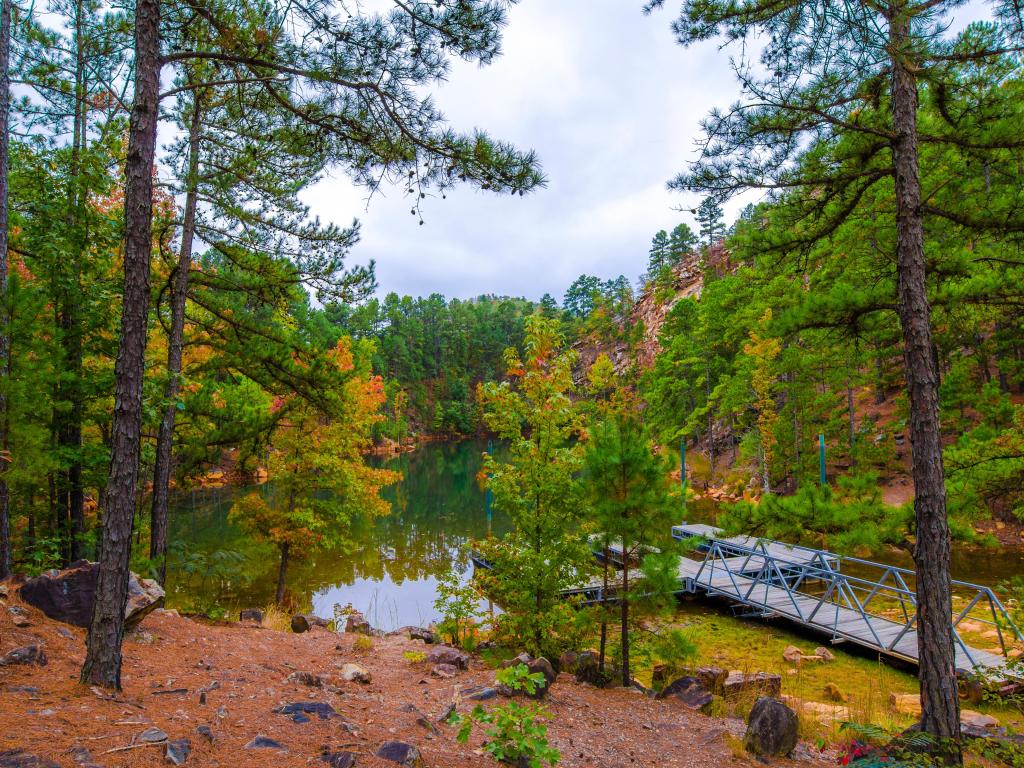 The Kansas City Route
Arkansas Grand Canyon, Arkansas – Get stunning views of the surrounding areas as you hike around this canyon.
Dogwood Canyon Nature Park, Missouri – Enjoy a quiet time with your family in this nature park. You can hike, fish, bike on the property, and even stay in the cabins.
Onyx Cave, Arkansas – Marvel at nature's beautiful creations of the stalactites and stalagmites in these amazing caves.
Wonders of Wildlife National Museum and Aquarium, Missouri – Learn about the local flora and fauna and get amazed by the fascinating aquatic life through interactive exhibits.
Amelia Earhart Birthplace Museum, Kansas – Visit the birthplace of the famous pilot, Amelia Earhart, and the museum dedicated to her life.
Oz Museum, Kansas – Wamego, Texas, is home to the famous Oz Museum. Dedicated to everything from the cult film Wizard of Oz, this museum is a must-visit.
Sternberg Museum of Natural History, Kansas – Get a novel experience at this recreated excavation site to view some fossils and how they were discovered.
Giant Reproduction of Three Sunflowers in a Vase, Kansas – The sight of the huge reproduction of the famous work of Van Gogh, just off the highway, is genuinely a hard-to-miss spectacle.
The Broadmoor Seven Falls, Colorado – Sitting on a historical gravesite, this beautiful area is adorned by gorgeous waterfalls and stunning hiking trails.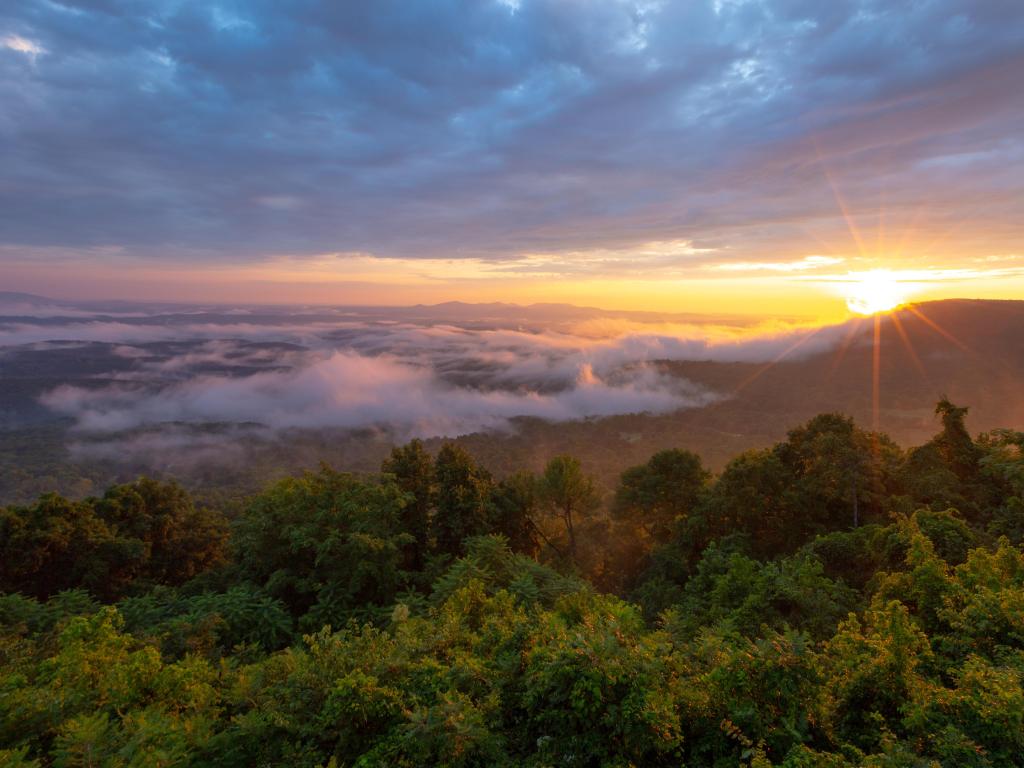 Best time to go on a road trip from Arkansas to Denver, Colorado
Denver is an all-year-round destination with many activities throughout the year. Explore the lovely outdoors during the pleasant seasons and enjoy the indoors on rainy days.
Because of the sunny weather and less humidity, Denver is a popular tourist destination during summer. June to August is the peak season when Denver experiences maximum footfall and the temperature averages around 84 degrees Fahrenheit. This also results in a hike in accommodation prices.
Skiing is one of the popular outdoor activities people enjoy in Denver and surrounding areas during winter. The temperature averages 45 degrees Fahrenheit but may reach 60 degrees in a few places. Enjoy the interesting and informative museums indoors if you don't fancy snow.
Spring and fall are excellent seasons to visit Denver. The temperature averages between 53-77 degrees Fahrenheit, and you'll experience many sunny days. Both seasons are pleasant for the drive, and there are quite a few events that you could enjoy during these seasons.
Speaking of festivals, many exciting events take place throughout the year. As the spring begins, you can participate in the Denver Restaurant Week in March, Cinco de Mayo Festival, and Denver Arts Fest in May.
June is busy with events like Denver Greek Fest, Denver BBQ Fest, Juneteenth Music Fest, Denver Pride, and the Five Points Jazz Festival. During fall, there is High Plain Comedy Fest, Denver Food + Wine fest and Great American Beer Festival.