Road Trip from Asheville, NC to Nashville, TN
Set out on the open road through some of the American South's most spectacular landscapes on this road trip from Asheville, NC to Nashville, TN. Take your time to explore gorgeous mountain passes and experience vibrant music, culture, and unbeatable cuisine on this road trip of a lifetime.
The 350-mile road trip from Asheville, NC to Nashville, TN will take 6 hours and 30 minutes to drive. You'll drive through many highlights including Asheville, Blue Ridge, Chattanooga, Gatlinburg, Pigeon Forge, Great Smoky Mountains and Knoxville.
This road trip is the perfect balance between beautiful green forests, epic mountains and rich history. Add in the incredible music scene of world-famous Nashville and you have yourself an unforgettable journey. Read on for our recommended routes, places to stop along the way, and highlights to help make your planning easier.
How far is Nashville, TN from Asheville, NC, and how long will the road trip take?
Comparison of road trip routes between Asheville, NC and Nashville, TN

| Route | Distance | Driving Time |
| --- | --- | --- |
| The Chattanooga Route | 350 miles | 6 hours 20 minutes |
| The Great Smoky Mountains Route | 350 miles | 7 hours 40 minutes |
There are two excellent routes that will take you from Asheville to Nashville. Both will take you through rolling mountains, lush forests, and exciting cities full of culture and fun around every corner.
The Chattanooga Route will take you through the mountains and stunning valleys of Tennessee to your destination of Nashville. This route will take 6 hours and 20 minutes of driving time and cover 350 miles.
Spanning the same distance, the Great Smoky Mountains Route will take you through the titular Great Smoky Mountains and the incredible city of Knoxville before taking you to your destination. This route will take 7 hours and 40 minutes to drive.
Because of all the unbelievable sights and stops along the way, we recommend taking two to three days to complete this road trip. Continue on below to discover the best stops, places to stay, and top things to do along the way.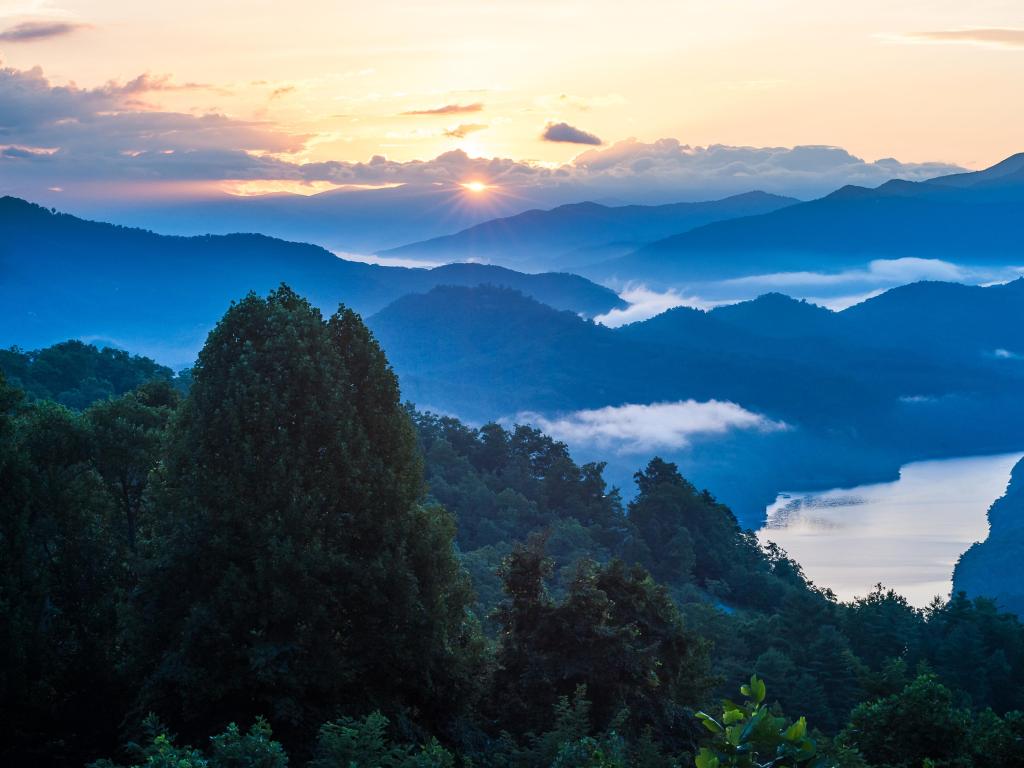 Best road trip route from Asheville, NC to Nashville, TN
Either route you choose, you're in for a journey through vibrant scenery and rich culture. On both routes, you'll drive through mountain passes, experience one of the most naturally diverse areas in the country and view historic railways that will make you feel like you're reading a travel magazine.
The Chattanooga Route is a slightly faster route that will take you through the foothills of the Appalachian Mountains as well as allow you to pass through incredible forests such as Nantahala National Forest and Chattahoochee-Oconee National Forest.
You'll visit mountain towns with rich artistic culture and railway history. You also have the option of driving a section of the famous Blue Ridge Parkway.
If you love mountains, then The Great Smoky Mountains Route is your perfect choice. This route takes you straight through the Great Smoky Mountains, known around the world for its diversity in flora and fauna.
You will pass by some beautiful natural scenery and some key cities such as Knoxville. You will also get to visit Dolly Parton's Dollywood in Pigeon Forge—an amazing theme park for everything Dolly-themed.
The Chattanooga Route
From the charming city of Asheville, head southwest through the Nantahala National Forest of North Carolina. Drive through the verdant countryside and rolling hills into Georgia.
Continue on through the town of Blue Ridge and take in the lush forests and mountains of northern Georgia. Drive on into Tennessee and into the town of Chattanooga.
From here, get on Interstate 24 (I-24) and drive through rural Tennessee. Continue on through until you reach your destination in the musical city of Nashville.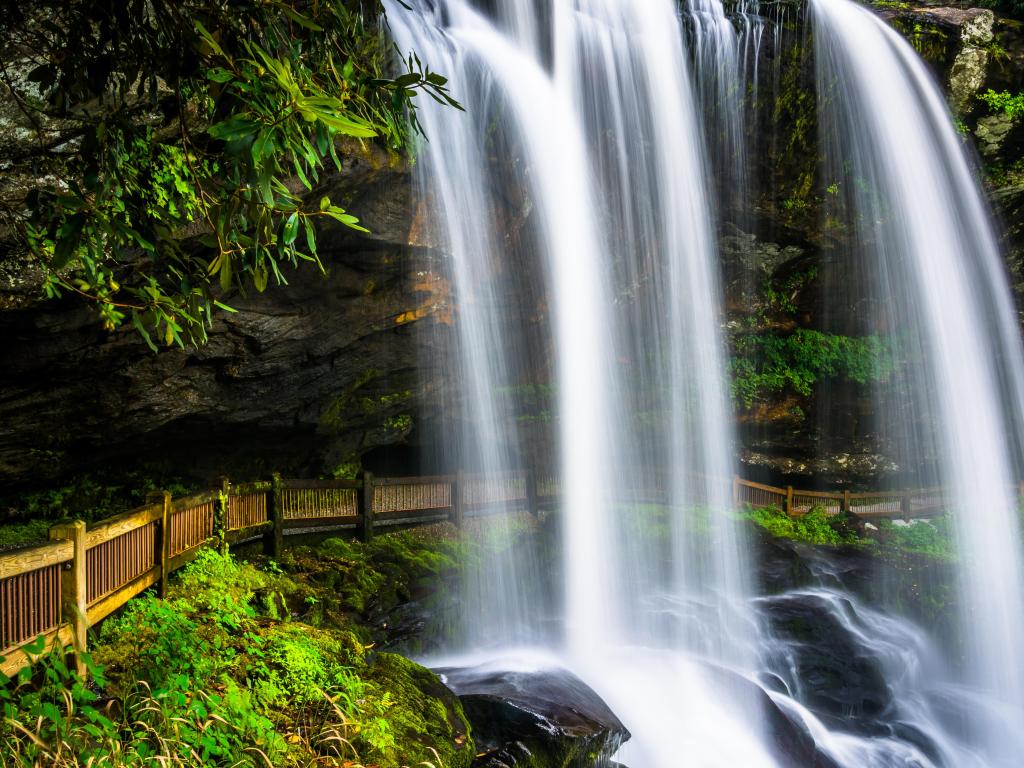 The Great Smoky Mountains Route
From Asheville, head west on I-40 through the rural towns of North Carolina and eastern Tennessee. Drive through Cherokee National Forest and experience the endless forests and mountain vistas along the way.
Continue on into Gatlinburg, TN. Soak up the history and culture of one of the state's most beloved cities before continuing on route.
Drive north through Pigeon Forge and into Knoxville. After checking out Knoxville, head west on I-75 through the rolling hills of Tennessee.
From here, take a detour to the Big South Fork National River and Recreation Area. After exploring the forests and rivers of this beautiful area, head back on the route to Nashville.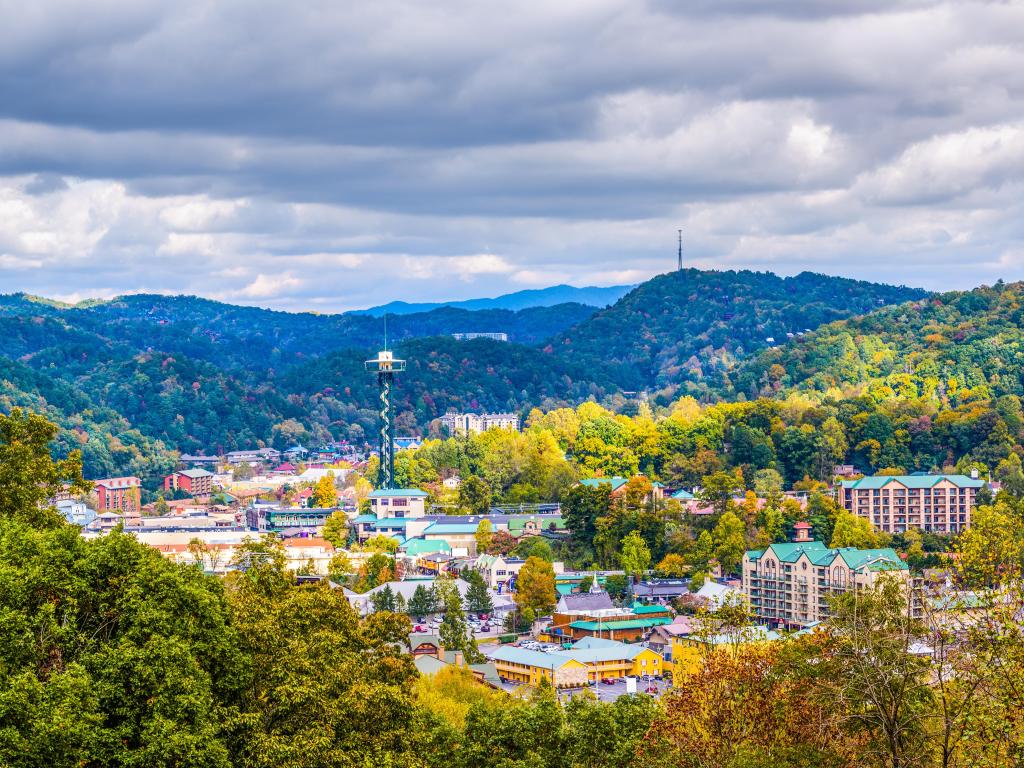 Best places to stop between Asheville, NC and Nashville, TN
With so much to see along the way, you'll want some nice places to rest in. Below, we've included our top stops for an overnight stay to help you plan your perfect itinerary.
Experience mountain charm in Chattanooga
About 4 hours into your journey is the city of Chattanooga. Located in the foothills of the Appalachian Mountains, Chattanooga is known for its outdoor activities like hang-gliding, fishing, climbing and caving.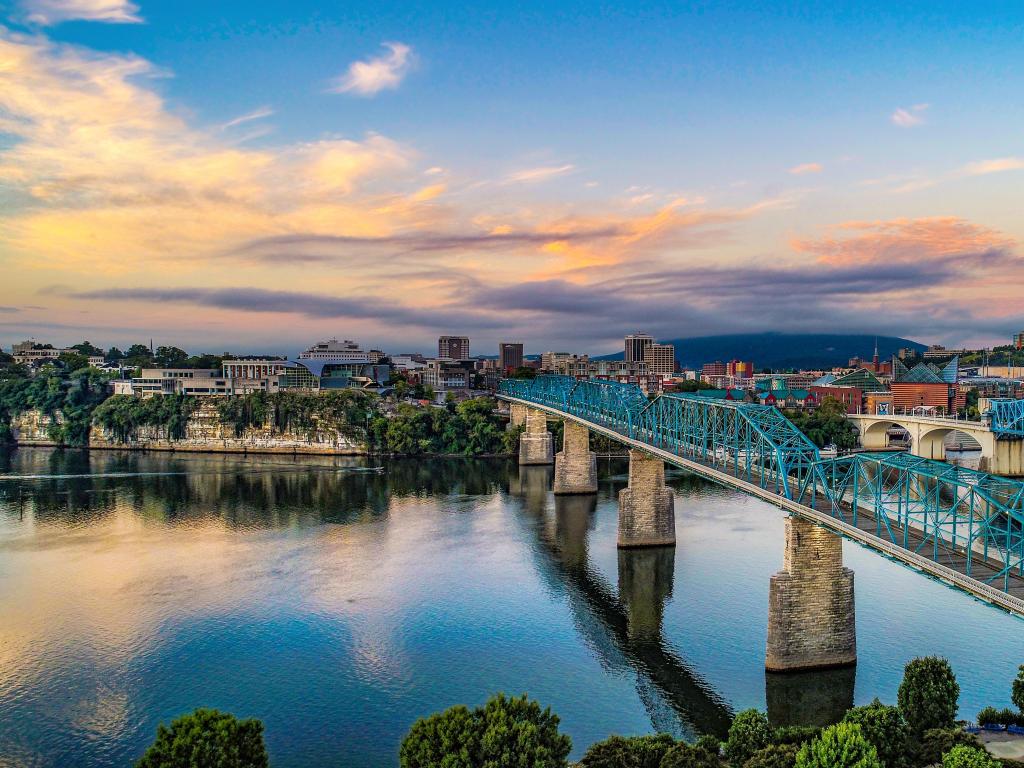 What's more, the city is close to the Smoky Mountains, Tennessee River, and some of the best hiking in the country. There are plenty of sights and experiences within a short drive from the city. From nature to history, Chattanooga is full of excitement.
If you love nature, check out the famous Tennessee Aquarium. This large aquarium features many beautiful exhibitions and aquatic-based learning opportunities. History buffs will love the Tennessee Valley Railroad Museum. Learn about the historic railway and how it aided the local society to grow.
After seeing the sights, head out to Lookout Mountain for the sunset. This is one of the best viewpoints in the area looking out over the mountains from far and wide.
Once you reach Chattanooga, there is no better place to unwind than at The Read House. This luxury hotel boasts beautiful rustic decor and on-site dining if you have worked up an appetite after your drive and a pool to relax and unwind.
On top of all the amenities is its fantastic location in the center of town and on-site parking (with a charge). The hotel is within walking distance of many attractions, like the Tennessee Aquarium and Southside Historic District, so you can just leave your car behind as you explore.
Lookout Mountain is a short distance away, and you can reach the Racoon Mountains Caverns and Creative Discovery Museum easily from the property as well. The hotel sits close to the major highway that you will be driving on, so when it's time to continue your journey, you'll have an easy time getting back on the route.
Explore the rich culture of Knoxville
About halfway on The Great Smoky Mountains Route is the city of Knoxville, which features many historical attractions and a small-town feel. The city is known as the Marble City for the rock quarries in the area that were used all over the country, including Grand Central Station in NY and the National Gallery of Art in Washington DC.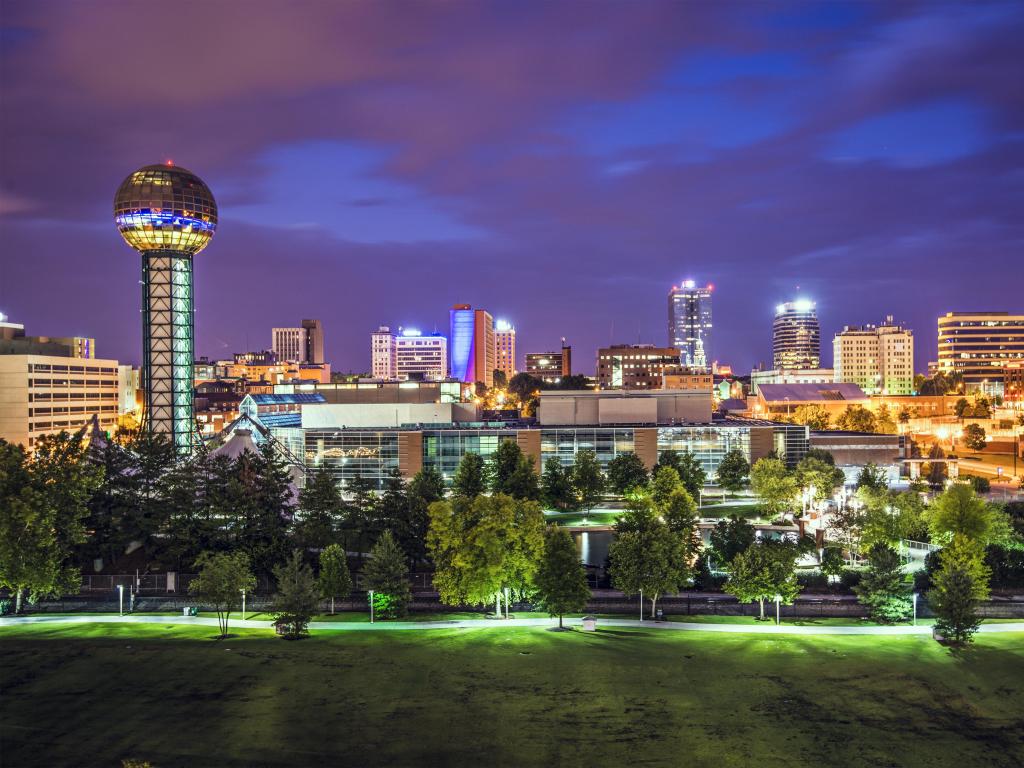 On top of its amazing restaurants and bars, there's plenty to see and do. First, check out World's Fair Park. This public park sits on a former fairground and hosts many local events and is where the locals go to enjoy the outdoors in summer.
If you love nature, check out the Ijams Nature Center. This space is a non-profit nature center hoping to aid people in learning how to care for the earth.
Art-lovers will enjoy the Knoxville Museum of Art. This wonderful museum hosts local and foreign artworks displayed in an educational and informative way.
Once you reach Knoxville, we recommend staying at The Tennessean Personal Luxury Hotel. There are plenty of amenities in this charming hotel, including a gym to help move the legs after a day's drive.
The hotel is Tennessee themed, with friendly staff to help you feel right at home and relaxed. There's also incredible farm-to-table food to taste local dishes at the on-site restaurant, European breakfast, and a bar to relax at during the evening.
Besides its comfort and amenities, the hotel is just walking distance of the river and parks, Market Square, the Knoxville Museum of Art, and World's Fair Park. You're also just a 2-minute drive from the major highway junction which will take you back on the route.
Where to stay when you reach Nashville, TN
Once you reach your destination in Nashville, TN, we recommend staying at the luxurious Graduate Nashville. This amazing luxury hotel features beautiful decorations with a 50s and 60s theme.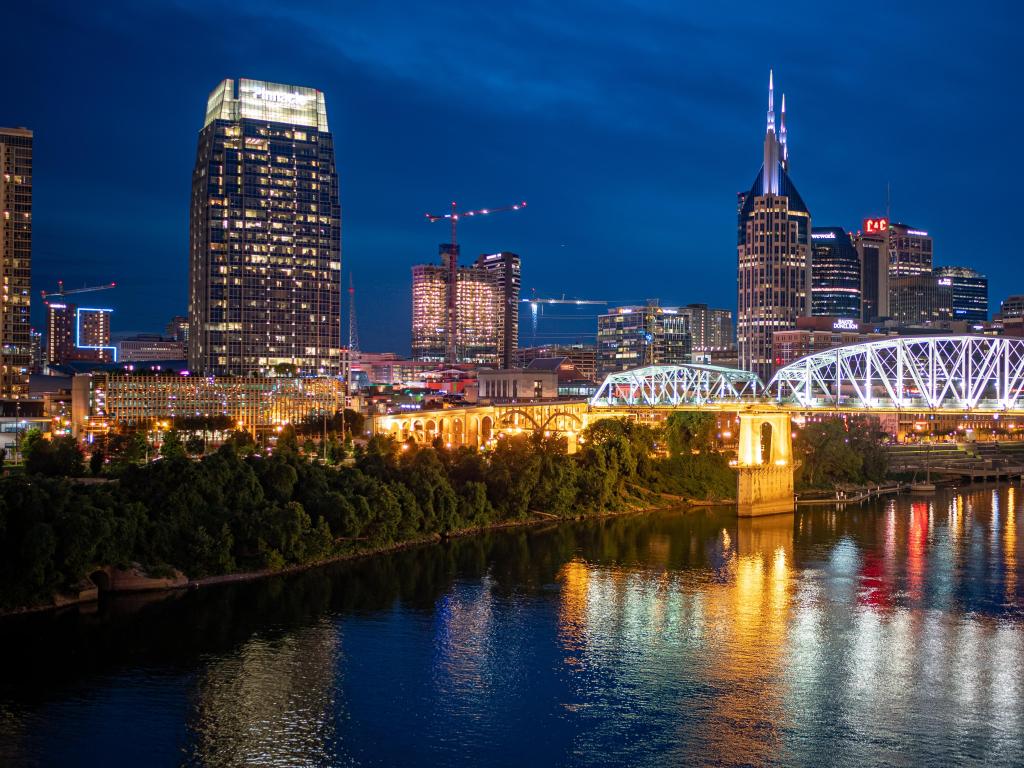 The hotel has a fabulous restaurant and even a karaoke bar. In the morning, an a-la-carte breakfast is available so you can fuel up before venturing out to sightsee. To help you unwind in the evening, there's a rooftop bar with live music and fantastic skyline views.
The hotel is close to Bridgestone Arena, the Parthenon, and many of Nashville's top sights. To make your stay even more comfortable is the friendly and engaging staff that are there to give you the best in southern hospitality.
Things to see on a road trip from Asheville, NC to Nashville, TN
It's hard to beat the amazing natural scenery and rich cultural destinations along these routes. Below is a list of our favorite highlights to help make your road trip planning easier.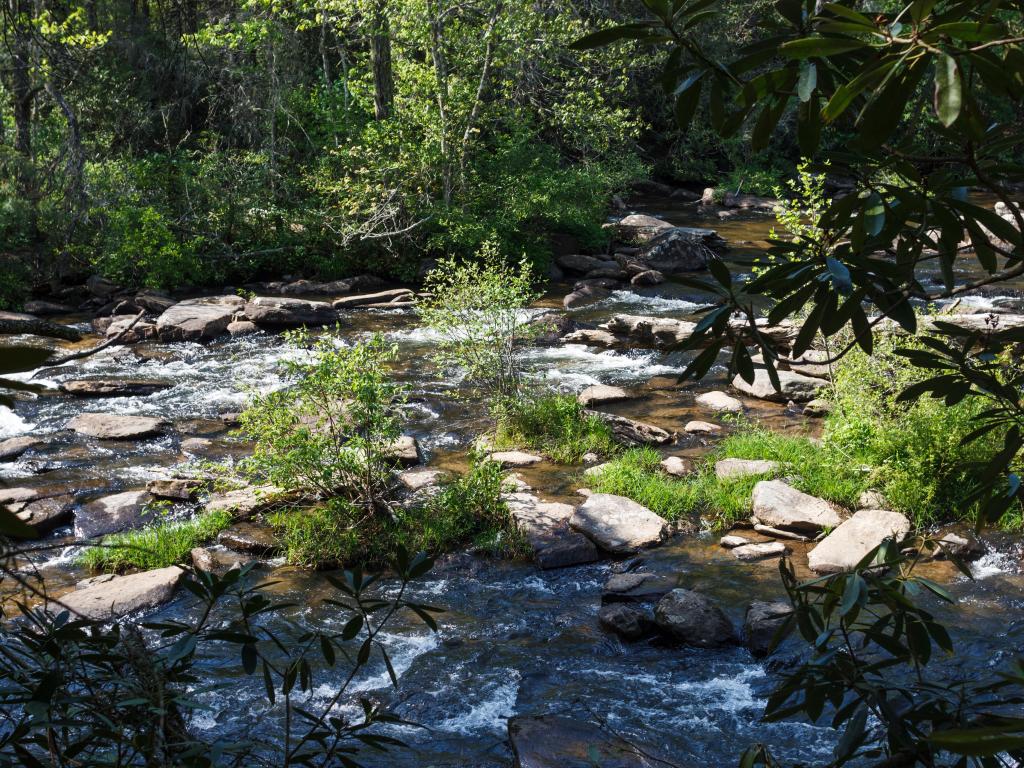 The Chattanooga Route
DuPont State Recreational Forest - Featuring mountains, waterfalls, hiking trails and many more outdoor activities. This vast nature reserve is a beautiful place to stop and enjoy the outdoors.
Wheels Through Time Motorcycle Museum - Large museum with over 300 motorcycles, most of which are rare or vintage. It also features various other exhibits, stories and memorabilia.
Harrah's Cherokee Casino Resort - Classic and exciting casino with the bonus of having stunning views of the Great Smoky Mountains
Museum of Cherokee Indian - Informative museum featuring Cherokee art and culture through various modern exhibits.
Great Smoky Mountain Railroad - A bit of a longer stop-off where you can board a vintage steam train that will take you through some stunning mountain passes.
Mason's Ruby and Sapphire Mine - Great for families! Here you can go mining for your own sapphires and rubies, as well as learn about the history of mining in the area!
Cherohala Skyway - A beautiful section of the drive which takes you through the rolling hills of the area. Be prepared to stop for many viewpoints and short walks to waterfalls and overlooks.
Blue Ridge Scenic Railway - A 4 hour round trip on a restored train takes you on a journey through this heritage railway.
Rolling Thunder River Company - Experience the epic adventure sport that is whitewater rafting through the beautiful landscape that is Blue Ridge
Lookout Mountain Incline Railway - Lookout Mountain is a must-see in Chattanooga. You can either hike or ride what is one of the steepest passenger railways in the world on a historic track dating back to over 100 years ago.
Ruby Falls - Huge underground waterfall half a mile into a cave and 620 feet underground.
Rock City Gardens - Beautiful ancient rock formations where you can look over the incredible landscapes and see up to 7 different states from one spot
Cannonsburgh Village - A working reproduction village featuring many replica buildings with authentic experiences.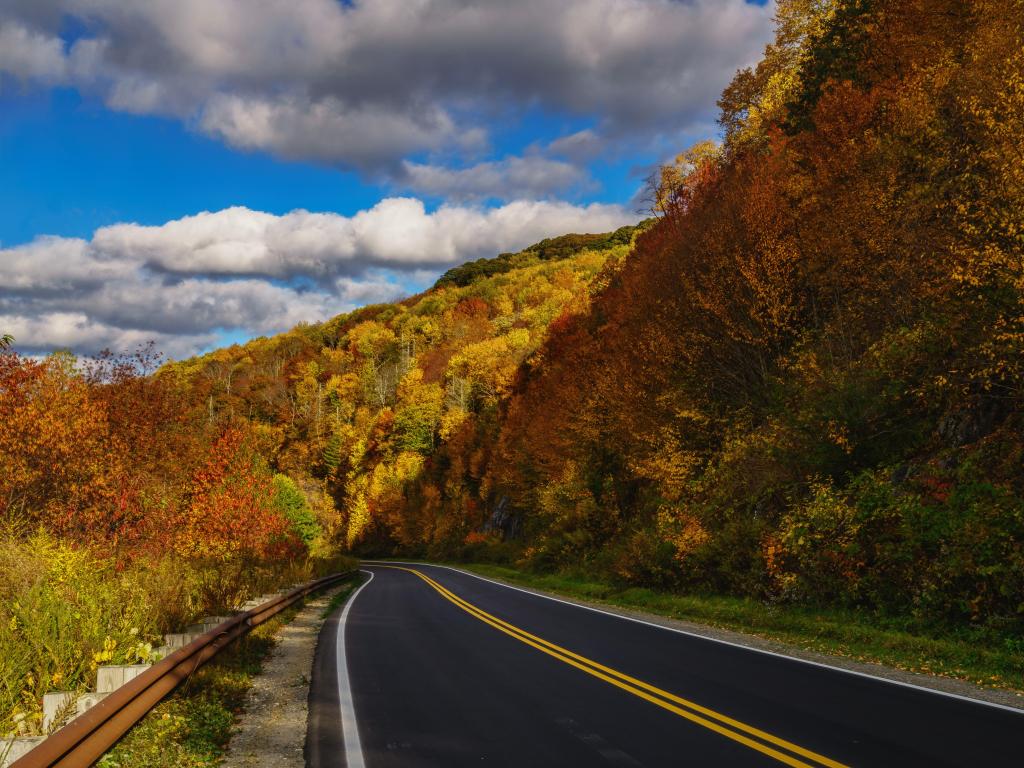 The Great Smoky Mountains Route
Raft Outdoors Adventure - White river raft in the heart of the mountains. Tubing and kayaking are also available and various routes are on offer to suit all abilities.
Oconaluftee Visitor Center - Learn about the history and culture of mountain life on the farms in these picturesque valleys
Forbidden Caverns - With around 8,000 caves this massive expanse features guided tours with great information, including a visit to an underground river.
Tennessee Legend Distillery - Local distillery with tasting rooms for craft spirits and souvenirs for the area.
Gatlinburg SkyLift Park - Large chairlift which will take you to the top of the surrounding mountains, offering stunning views of the range.
Ole Smoky Moonshine - Rustic and historic distillery brewing moonshine and corn whiskey and providing tours and information on the practice.
Ijams Nature Center - Large expanse of wetlands featuring rock formations, bike and hiking trails as well as canoe rentals.
American Museum of Science and Energy - Worthwhile museum focusing on nuclear energy but provides information on various types of energy and different areas of science too.
The Lost Sea Adventure - Large cave network accessible by boat offers trips to an underground lake with lots of interesting information.
Historic Rugby - Historic little town, perfect to stretch your legs and experience the beautiful styles of the buildings. Visit the visitor's center for more info.
Cumberland Mountain State Park - This incredible state park is full of amazing viewpoints, hiking trails and beautiful picnic spots. Also features a golf course.
Fall Creek Falls State Park - As the biggest recreational area in Tennessee, there are lots of outdoor activities to enjoy at this beautiful location, including the namesake fall creek falls.
Cedars of Lebanon State Park - This park hosts rock gardens, walking trails and rare plants over its 900 acres of land.
Nashville Shores Waterpark - Great water park just before you arrive in the city of Nashville, perfect for those traveling with children.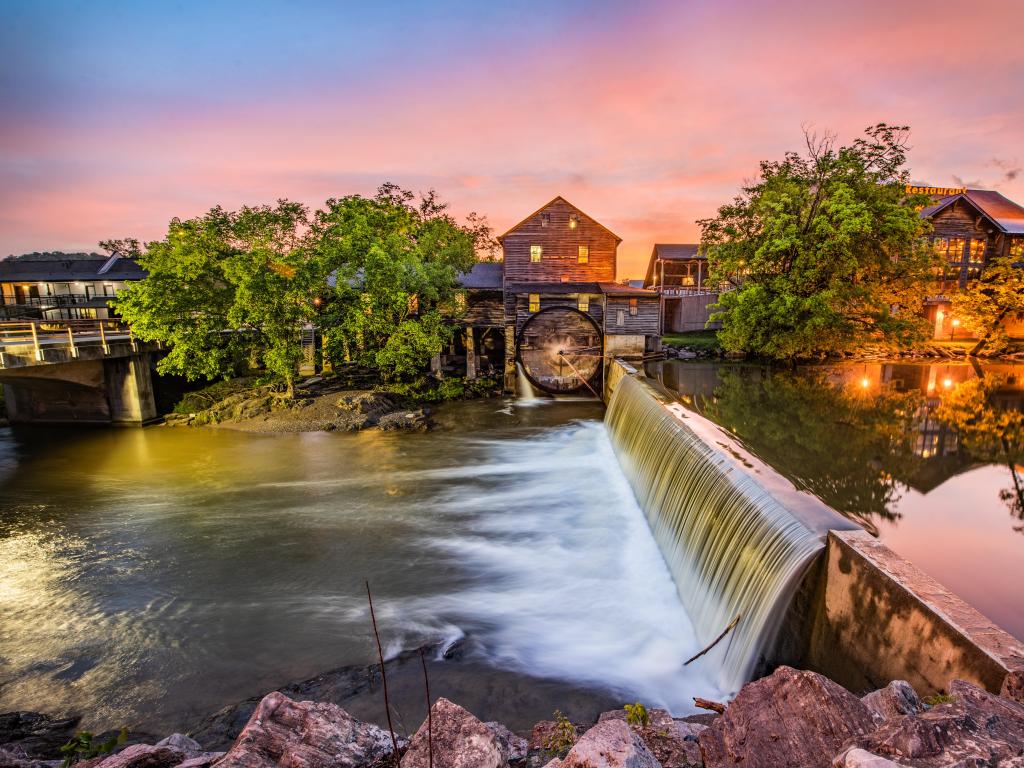 Best time to go on a road trip from Asheville, NC, to Nashville, TN
Like most places, Nashville is much busier during the holidays and in summer, but it is truly the perfect year-round destination. The winters are relatively mild and some of the major attractions are indoors, such as live music events and museums.
Nashville has beautiful summers with a ranging average from 71 to 90 degrees Fahrenheit. During the summer there are many events happening and some beautiful places to picnic and watch outdoor live music.
Although relatively mild, you can expect lots of rain in the winter months in Nashville, so make sure to wrap up warm! Temperatures will range from 30 to 50 degrees but there are still many wonderful things to enjoy in the city during this time.
Hotels will also be cheaper during this season as it is the 'off season' and there are fewer tourists.
Spring and Fall are known to be the best time to visit Nashville, with temperatures being mild and warm, as well as there being many activities and fewer tourists. Temperatures will range from 57 to 82 degrees.
There are endless activities and festivals throughout the year. Depending on the season, you can plan your visit according to what you want to see and experience the most.
In winter, you can experience the Nashville Boat Show in January. In February, take in the historical items at The Antiques and Garden Show of Nashville.
Springtime sees plenty of excitement. In March, you can visit the Tin Pan South, Nashville Fashion Week/Nashville Comedy Festival in April, and the Iroquois Steeplechase/Tennessee Craft Fair in May.
Summer sees the CMA Fest/ Bonnaroo Music and Arts Festival in June, Music City 4th July/Music City Brewers Festival in July, Tomato Art Fest/Tennessee State Fair in August, and Live on the Green/Cheekwood Harvest in September.
In October is the Artober Nashville/Southern Festival of Books and to end the Fall season is the CMA Music Awards in November.