Road Trip from Washington DC to Atlanta
This ultimate east coast road trip from Washington, DC to Atlanta offers a delicate blend of nature, history, and exciting urban destinations. You'll see cities brimming with history and the legendary Blue Ridge Parkway where you can take in some of the most scenic views of the Eastern part of the US.
The 630-mile road trip from Washington DC to Atlanta takes 10 hours 30 minutes to drive. Exciting stops along the way include Charlotte, Potomac River, Virginia Beach, Great Smoky Mountains, Greenville, Asheville, Nantahala National Forest and the Blue Ridge Parkway.
Whether you want to travel directly or take the longer scenic drive, you'll be in for an epic experience. Read on to find out the best routes, where to stay, and what to see and experience along the way.
How far is Atlanta from Washington DC, and how long will the road trip take?
Comparison of road trip routes between Washington, DC and Atlanta

| Route | Distance | Driving Time |
| --- | --- | --- |
| The Direct Route | 640 miles | 10 hours 30 minutes |
| The Blue Ridge Parkway Route | 760 miles | 15 hours 30 minutes |
The driving time for the Direct Route between Washington DC and Atlanta will be 10 hours and 32 minutes. This is the quickest and most direct of the mapped routes and offers the chance to pass through an array of historic landmarks en route to your destination.
The Blue Ridge Parkway Route is longer and more scenic, taking around 15 hours and 30 minutes without stopping. This route offers a mixture of fast-paced cities, quaint Appalachian towns combined with nature and wildlife.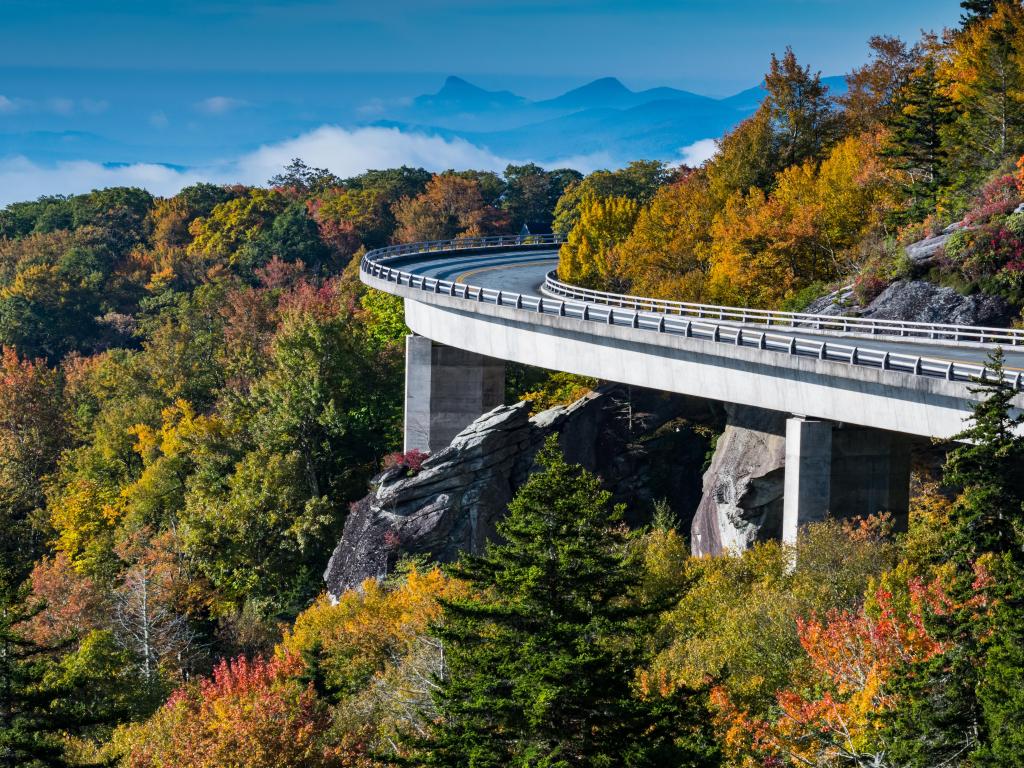 Because there are so many unforgettable destinations, views, hikes, and detours along these routes, we suggest taking six to seven days to complete this trip.
Best road trip route from Washington DC to Atlanta
No matter which route you choose, you'll be sure to enjoy yourself on these incredibly scenic routes. You'll drive through mountain vistas, historic towns, and some of America's most inspiring cities.
The Direct Route is perfect if you have limited time and still want to experience this unparalleled part of the US. You will pass through Charlotte and the historic city of Richmond. If you have the time, you can make a longer detour to Virginia Beach on this route.
On the Blue Ridge Parkway Route, you will drive on the scenic Blue Ridge Parkway and pass through the beautiful cities of Asheville and Blowing Rock. Along with plenty of scenic views and exciting stopovers, this route also has several impressive and memorable detours like Shenandoah National Forest and the Great Smoky Mountains National Park.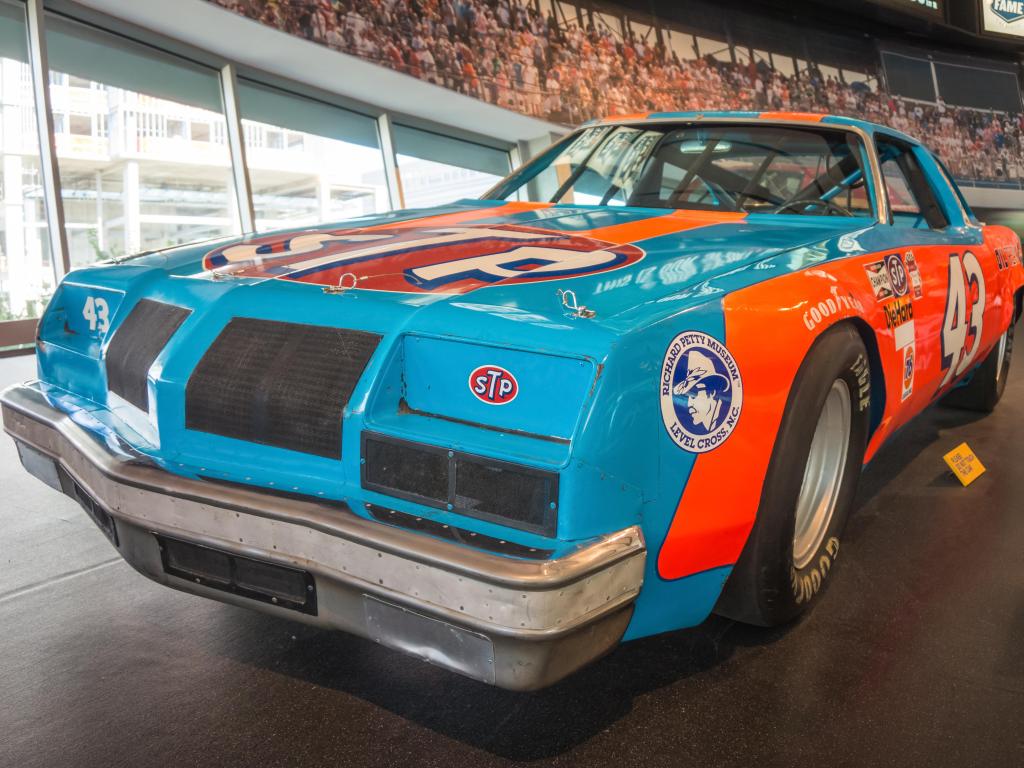 The Direct Route
On the Direct Route you'll follow I-95 to Richmond, Virginia. Here you can check out historical landmarks, museums, and plenty of sights before continuing south.
Drive south into Petersburg and head southwest on I-85. You'll pass charming towns and beautiful open scenery as you make your way into North Carolina.
Along the way, make a stop in Charlotte, North Carolina. Here you'll get to experience museums and the famous NASCAR Hall of Fame.
From the big city of Charlotte, head into South Carolina. Take a detour to visit beautiful Greenville and explore its fun-loving downtown before making your way into Atlanta.
The Blue Ridge Parkway Route
From Washington, DC, head west on I-66 and merge onto I-81 south. Here you'll pass the captivating scenery of Shenandoah National Park.
Head south into the mountains of Virginia and make a stop at the Otter Lake Waterfalls. After you get your fill of the forest and beautiful falls, continue south through the Blue Ridge Mountains.
Continue on through scenic towns like Blowing Rock and Poplar Township. Stop in the culture, art, and music hub of Asheville, South Carolina.
From Asheville, drive through the outdoor paradise of Nantahala National Forest. Continue into Georgia and arrive in beautiful Atlanta.
Best places to stop between Washington DC and Atlanta
To enjoy the incredible sights and popular destinations, you're going to want to make at least one stop along the way. We've chosen two of our favorites for each route to help you with your choice.
Explore History in Charlotte, North Carolina
For the Direct Route, we recommend stopping in Charlotte, North Carolina. Charlotte offers a lot in terms of history, heritage, and modernity. There are many attractions to unearth American history and culture.
Nicknamed the 'Queen City', Charlotte of Mecklenburg-Strelitz was the partner of the British King George III at the time of being founded. Today, Charlotte is known for the NASCAR Hall of Fame and the US Whitewater Center.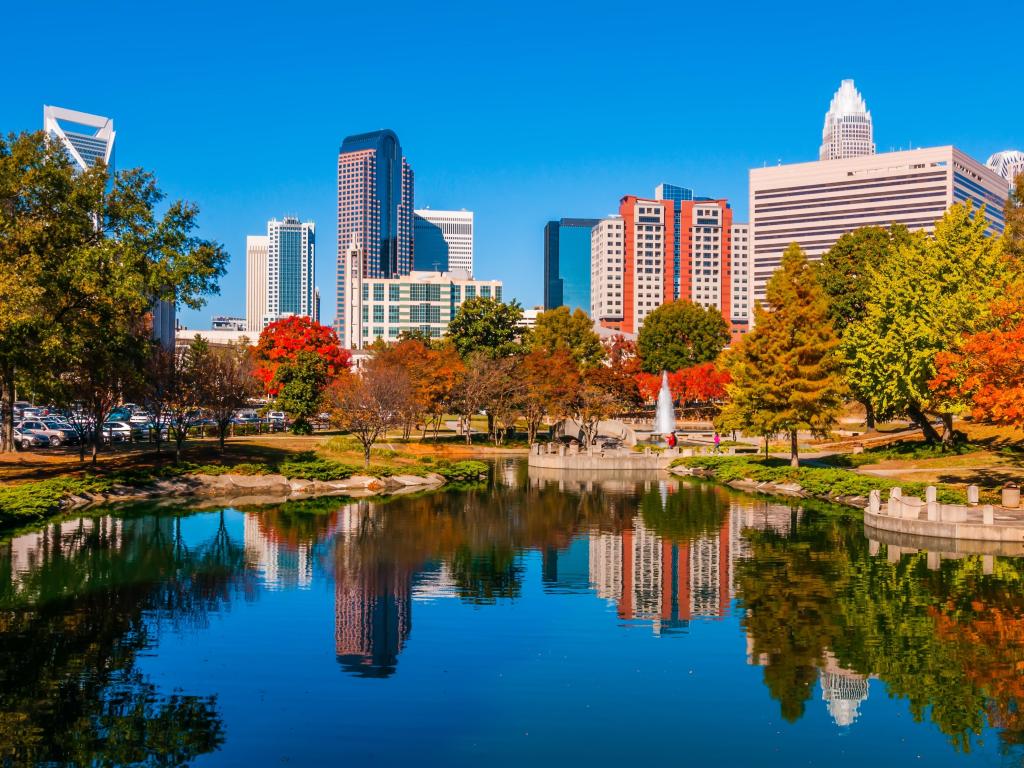 While staying in Charlotte, our top choice for a stopover is Sonesta Charlotte Executive Park. This four-star hotel is a superb choice because of its central location and competitive pricing.
The hotel has an outdoor deck with a firepit and an onsite bar, restaurant, fitness center, and two swimming pools to keep you entertained. The hotel's upscale restaurant serves delicious food that showcases delicious local produce.
Close by, there are plenty of sights to keep you busy. Make sure to check out the Bechtler Museum of Modern Art. This museum offers something for everyone and is only ten minutes away from the hotel.
Another close attraction is The Mint Museum. This one of a kind museum comprises two museums and offers a mixture of contemporary and African American arts.
Unbeatable Views and Historical Landmarks in Lynchburg, Virginia
About halfway into the Blue Ridge Parkway Route is Lynchburg, Virginia. This location offers lots of historical attractions and the chance to enjoy breathtaking landscapes.
This city is perfect for art and history buffs and nature lovers. Spectacular views of the Blue Ridge Mountains await anyone hiking, biking, or driving along the region's roads and trails.
Within the region are plenty of sights and excursions. Local favorites are the Otter Lake Waterfalls and the Blackwater Creek Trail. This beautiful waterside trail follows the James River and takes you into Lynchburg.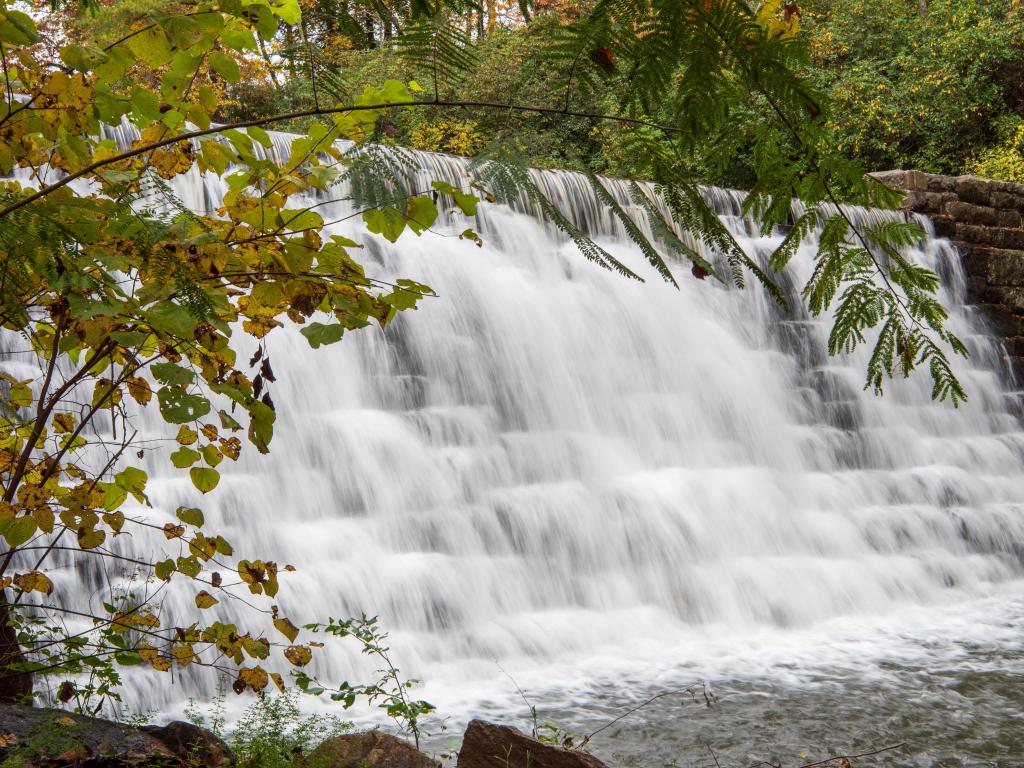 After a long day of driving, we recommend staying at the relaxing Acorn Hill Lodge and Spa. The hotel has an on-site bar, bistro, and spa treatments can be booked in advance. There is a fully equipped kitchen so you can enjoy a relaxing and comfortable meal in the comfort of your own room after spending your day outdoors.
The hotel is only 3 miles from the Lynchburg city center and there's easy access to the roads the following morning when you continue your road trip. The hotel is close to Liberty University, the Blackwater Creek Natural Area, and the award-winning children's museum Amazement Square.
Where to stay when you reach Atlanta
Once you reach Atlanta, spend the night at The Whitley. Located in Atlanta's upscale Buckhead neighborhood, this luxurious and stylish hotel is within the walking distance of Lenox Square Mall and Phipps Plaza.
Some of its suites feature incredible panoramic views of the famous Atlanta skyline. The property also boasts an upscale restaurant that serves Southern-inspired dishes.
The hotel is perfectly located if some retail therapy is on your priority list: The Whitley is close to Lenox Square Mall and Buckhead Village District. And what's more, you'll find yourself close to the highway for wherever you're headed next.
Things to see on a road trip from Washington DC to Atlanta
No matter which route you choose, you'll be able to visit some of the most historically significant landmarks in the US. What's more, you'll pass unbeatable views and exciting towns and cities that are full of culture and delicious cuisine.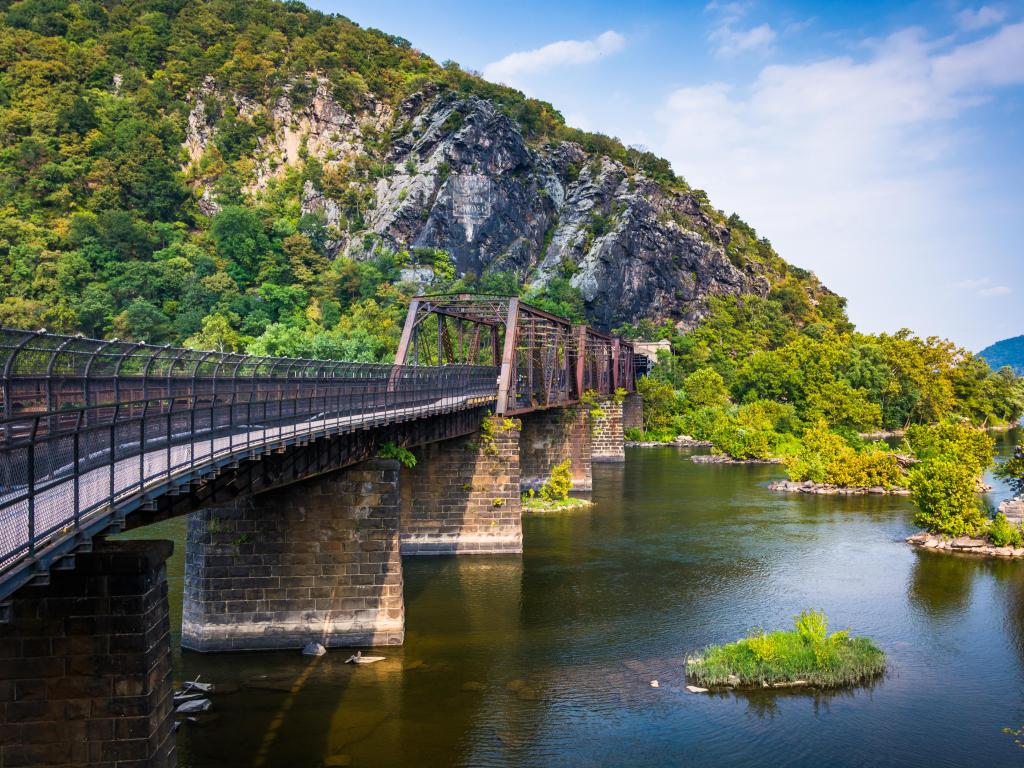 The Direct Route
Richmond - Known for its rich culture and once being the capital of the Confederacy during the Civil War, Richmond is home to Maymont, a stunning mansion, and Lewis Ginter Botanical Garden.
American Civil War Museum - The American Civil War Museum in the Greater Virginia region is a must visit en route to Atlanta. Visit the history and stories behind the intricacies of the American Civil War.
Virginia Museum of Fine Arts - Paying a visit to the Museum of Fine Arts is always on the top of many agendas. You will find a mixture of modern and classical art with regular ongoing exhibitions.
American Tobacco Campus - Once a busy industrial center with a booming tobacco industry, the campus has since been converted into an urban area with a plethora of bars, restaurants, and attractions.
NASCAR Hall of Fame - America's No.1 Motor Sport! Visiting the NASCAR Hall of Fame is an experience not to be missed. See the history and heritage of the sport under just one roof.
US National Whitewater Center - Guests can go running, climbing, paddling, kayaking, rafting, and so much more at the whitewater center.
Durham - Known as "the City of Medicine", this city is home to the famous Duke University as well as a bustling downtown and newly emerged vibrant food scene.
Carowinds - This amusement park caters to some of the best theme park rides on the planet. Book your tickets in advance to avoid disappointment.
Charlotte - This city is famous for its sports scene, beautiful parks, and US National Whitewater Center. A perfect destination for outdoor enthusiasts!
Georgia Museum of Art - If you're up for a slight diversion to Athens, then it might be worth visiting Georgia Museum of Art. It is both an art and academic museum and shares links with the University of Georgia.
The Blue Ridge Parkway Route
James Monroe Highland - Step back in time to visit James Monroe's former residence, the fifth President of the United States.
University of Virginia - The University of Virginia is a historic university that features unique architecture and expansive grounds. The core campus was designed by Thomas Jefferson, which includes the famous Rotunda.
Cascade Falls and Rough Ridge - The falls are along the all-American Blue Ridge Parkway. The parkways is America's longest linear park and notable sights include Cascade Falls and Rough Ridge.
Otter Lake Waterfalls - As you continue down the parkway, you will shortly arrive at Otter Lake Waterfalls where you can embrace stunning scenery and go hiking.
Appalachian Trail - The views here are simply astonishing! Visitors can go hiking and get a taste for farm life by spending time with the animals.
Lincoln Theater - This historic theater is in Marion, Virginia. Opened in 1929, the three-story theater offers a diverse schedule so be sure to snap up your tickets.
Blue Ridge Parkway - This is one of the most scenic drives in the US and is deservingly known as "America's favorite drive". Make sure you bring your cameras, because the scenery is breathtaking from its viewpoints.
Blowing Rock - You will encounter an abundance of art, music, bars, restaurants in this chic and historic village. There are extensive views of trails, peaks, forests to enjoy.
Reem's Creek Township - The area is famed for its unique housing and architecture. It is also considered to be one of the best places to live in North Carolina.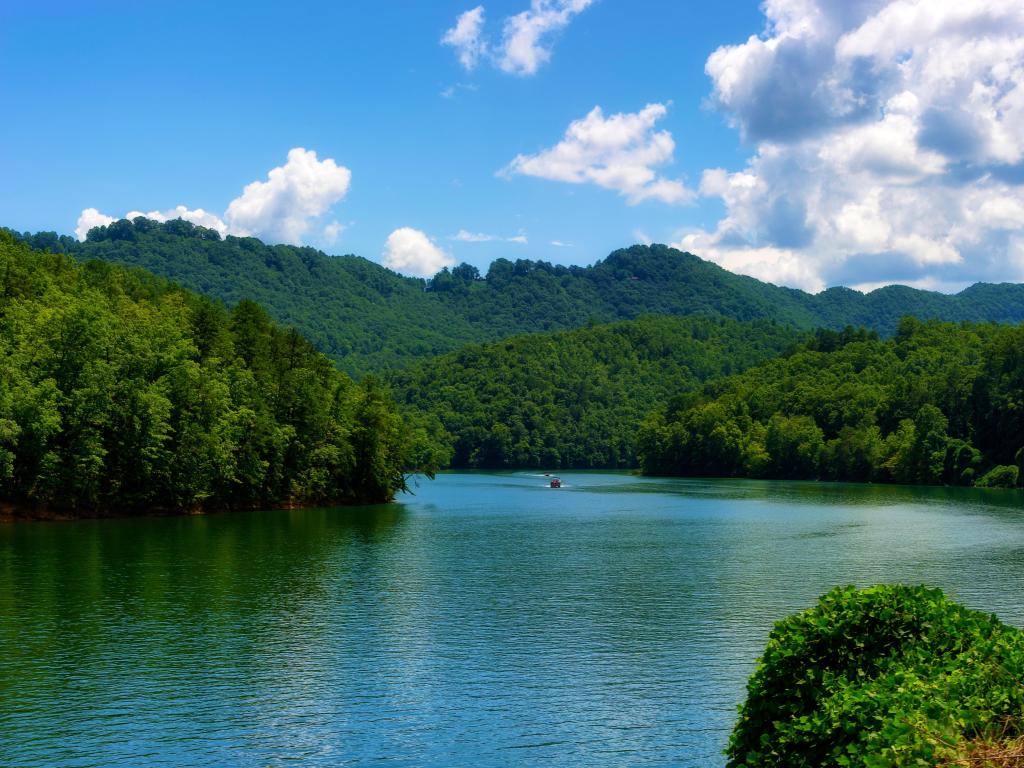 Best time to go on a road trip from Washington DC to Atlanta
You can visit Atlanta all year round, but visitors may have to adapt to the weather. Some outdoor activities such as rafting, paddling, and outdoor swimming may be off-limits in the colder months, but there are still plenty of activities to enjoy all year round, as the temperatures rarely plummet below freezing.
Atlanta can be very warm in the summer and longer lines are to be expected. Temperatures usually reach 90 degrees in the summer with high humidity.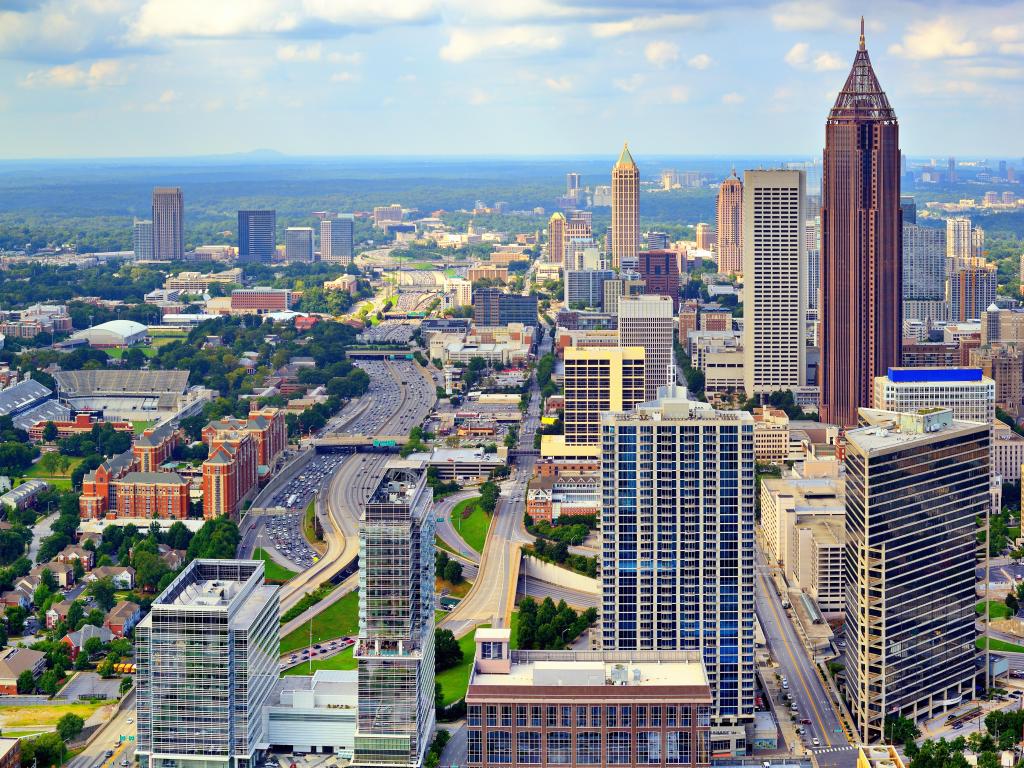 The weather remains relatively mild in the winter months, as they rarely drop below 50 degrees. Prices are likely to be lower and lines are usually shorter around this time.
Spring and fall are great months to visit Atlanta. Hotels are more affordable, and lines are more favorable for those who don't want to spend hours in line on a hot summer's day. Temperatures hover between 60 and 80 degrees, making these seasons comfortable options.
Festivals and events occur all year-round, so it is worth looking online to select which season is most favorable for you personally. In the fall, you will find Marrow's Food Truck Fun Days, Movies In The Park, R&B Wine, Food and Music Festival, and so much more. Atlanta has become a hub for culture, gastronomy, and internationalism.