Road Trip from Asheville to Washington DC
On this fabulous road trip you can immerse yourself in nature and hike to your heart's content as you make your way from the Appalachian Mountains to the country's center of government, Washington DC.
The 520-mile, 11-hour 15-minute road trip from Asheville to Washington DC heads through the Blue Ridge Parkway to Lynchburg, Roanoke and Charlottesville, or out past Greensboro to enjoy Atlantic views at Corolla, Knotts Island and Virginia Beach.
With only limited stretches on the interstate, this road trip is a real adventure through some of the most scenic parts of the region. Keep reading to find out what awaits you on this amazing adventure.
How far is Washington DC from Asheville, and how long will the road trip take?
Comparison of road trip routes between Asheville and Washington DC

| Route | Distance | Driving Time |
| --- | --- | --- |
| The Blue Ridge Parkway Route | 520 miles | 11 hours 15 minutes |
| Virginia Beach Route | 870 miles | 15 hours 50 minutes |
The quickest way from Asheville to Washington DC will take a little over 7 hours. However, there's not much to see on the interstate so we've suggested two routes packed full of things to see that will really make this road trip one to remember.
The shorter option covers 520 miles and will take around 11 hours and 15 minutes to drive. This route heads through the beautiful Appalachian Mountains and along the Blue Ridge Parkway, 'America's Favorite Drive'.
If you prefer the ocean to the mountains, you should definitely check out the Virginia Beach Route. With twists and turns to explore some beautiful Atlantic beaches, this route is longer, at 870 miles, and will take nearly 16 hours to drive.
You do have the option to bypass the coastal part of the trip by driving directly from Raleigh to Richmond. This saves 6 hours driving, but it does mean missing out on the fabulous Atlantic scenery.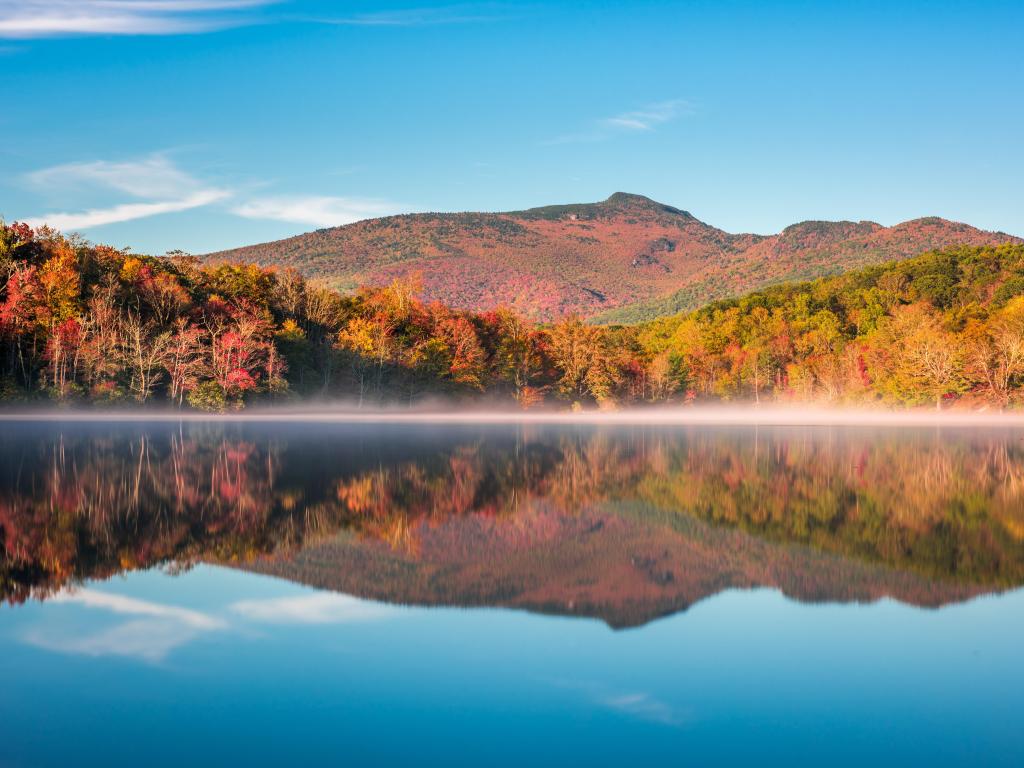 Best road trip route from Asheville to Washington DC
Our two suggested road trip routes are so different in character that you'll probably settle on one of the two pretty quickly.
The Blue Ridge Parkway Route is a truly iconic drive, offering impeccable views of the Appalachian Mountains, amazing geological features, and unique wild habitats.
In contrast, the Virginia Beach Route takes you across beautiful North Carolina so that you can get out to the East Coast for a totally different experience on this road trip.
You'll see some charming coastal cities in North Carolina and Virginia and get to enjoy the beachy vibes of the Atlantic Ocean's coast if you take this route.
Whichever route you choose, keep on reading to find out more about what's in store for you on this amazing scenic adventure.
The Blue Ridge Parkway Route
The stunning scenery that makes this route so special runs right from the beginning of your drive. One word of warning - although it's a pretty straightforward drive, GPS coverage can be patchy on the Blue Ridge Parkway so it's wise to have a physical map, or else download the Blue Ridge Parkway app before you travel.
Make your way onto the Blue Ridge Parkway right out of Asheville and follow it through Pisgah National Forest and on past Little Switzerland and Grandfather Mountain State Park until you reach Blowing Rock.
The Parkway continues from here past Elk Mountain, Mahogany Rock Overlook and the Blue Ridge Music Center, before you finally exit at Fancy Gap.
From here, continue north on the interstate then change onto Interstate 81 (I-81) which you'll follow up to Roanoke. Detour through the city then make your way cross-country, passing Thaxton and New London, to reach Lynchburg.
Carry on along US-29, which will take you most of the way to Washington DC from here. Along the way, you'll pass Lovingston, Charlotte and Culpepper, before joining the interstate near Manassas National Battlefield Park.
All that's left from here is to follow the interstate, heading through Arlington and then across the Potomac River via Theodore Roosevelt Bridge, to reach your destination, Washington DC.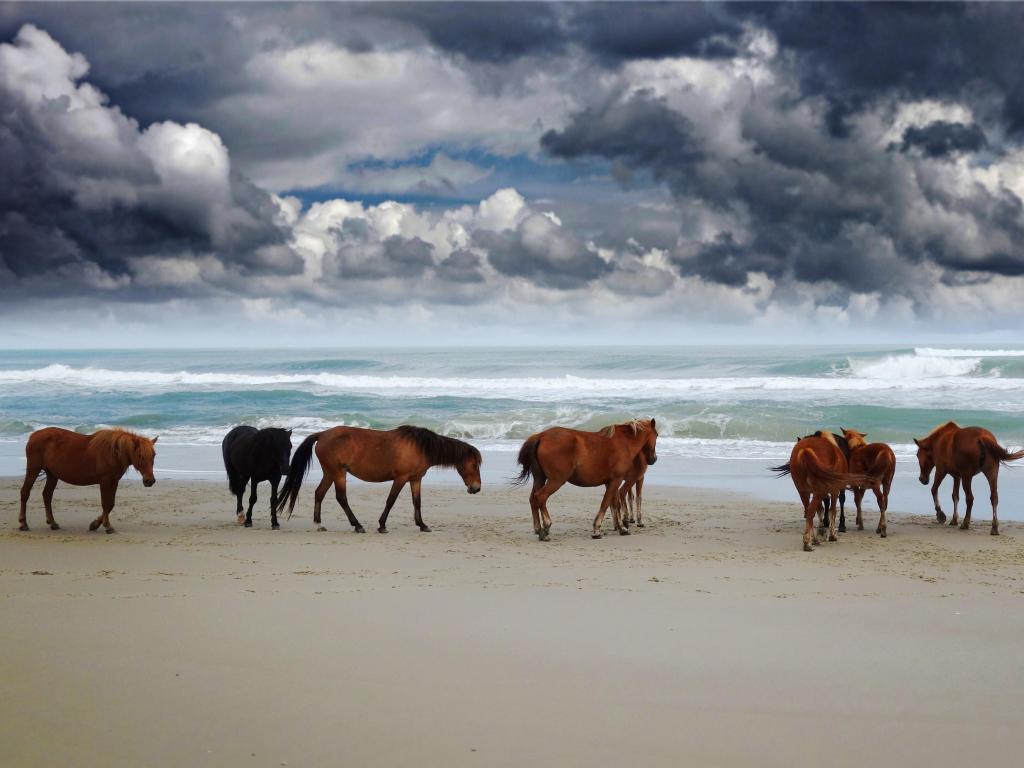 The Virginia Beach Route
Leave Asheville via the interstate, keeping Pisgah National Forest on your left and South Mountains State Park on your right. As you approach Hickory, you'll turn onto US-321 which takes you down to Gastonia to join the interstate again.
I-85 takes you through Charlotte and Greensboro, where you'll switch onto I-40 to visit Durham and Raleigh. Then, take the highway past Zebulon, Rocky Mount and Plymouth as you head east towards the ocean.
With Palmetto-Peartree Preserve on your left, you'll cross the Alligator River and drive through Alligator River National Wildlife Refuge before following Virginia Dare Memorial Bridge across to the Outer Banks.
Take your time to enjoy the stunning coastal views you'll get from this long barrier island, as you make your way towards Corolla, then retrace your route past Duck and Southern Shores and return to the mainland via Wright Memorial Bridge.
From here, the Caratoke Highway takes you north into Virginia, where you'll take a right turn and make your way through Northwest River Park and North Landing River Natural Area Preserve. Then follow Princess Anne Road back into North Carolina to visit Knotts Island.
Return along the same road and follow it all the way to Virginia Beach, where you can enjoy more time by the water before jumping onto the interstate and picking up the pace a little.
You'll pass Norfolk and Williamsburg before reaching Richmond, where you'll change on to I-95 to head north through Fredericksburg and on to Washington DC to complete your journey.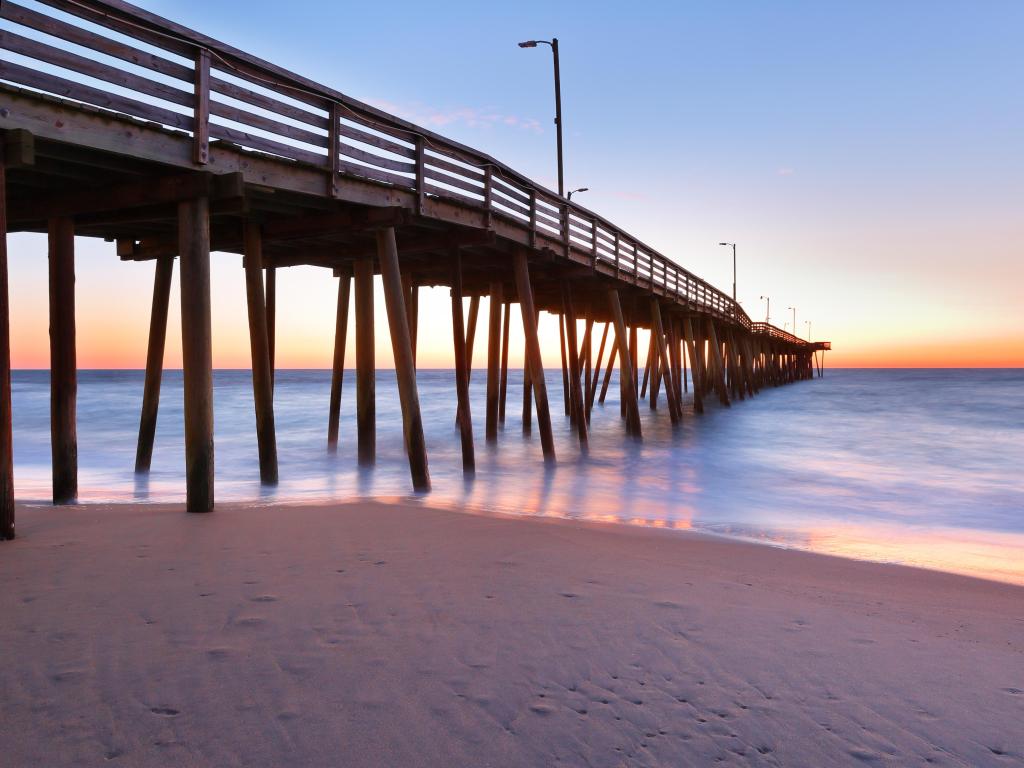 Best places to stop between Asheville and Washington DC
To enjoy this road trip to the full, we'd suggest making at least 3 or 4 overnight stops.
Here are some of our top picks to get you started in planning your route.
Enjoy the small-town charm of Lynchburg
A great place to stop on the Blue Ridge Parkway Route is Lynchburg, 3 hours and 30 minutes' drive from Washington DC. This charming city is known for its arboretum of antique roses, 100-year-old churches, and Thomas Jefferson's holiday retreat.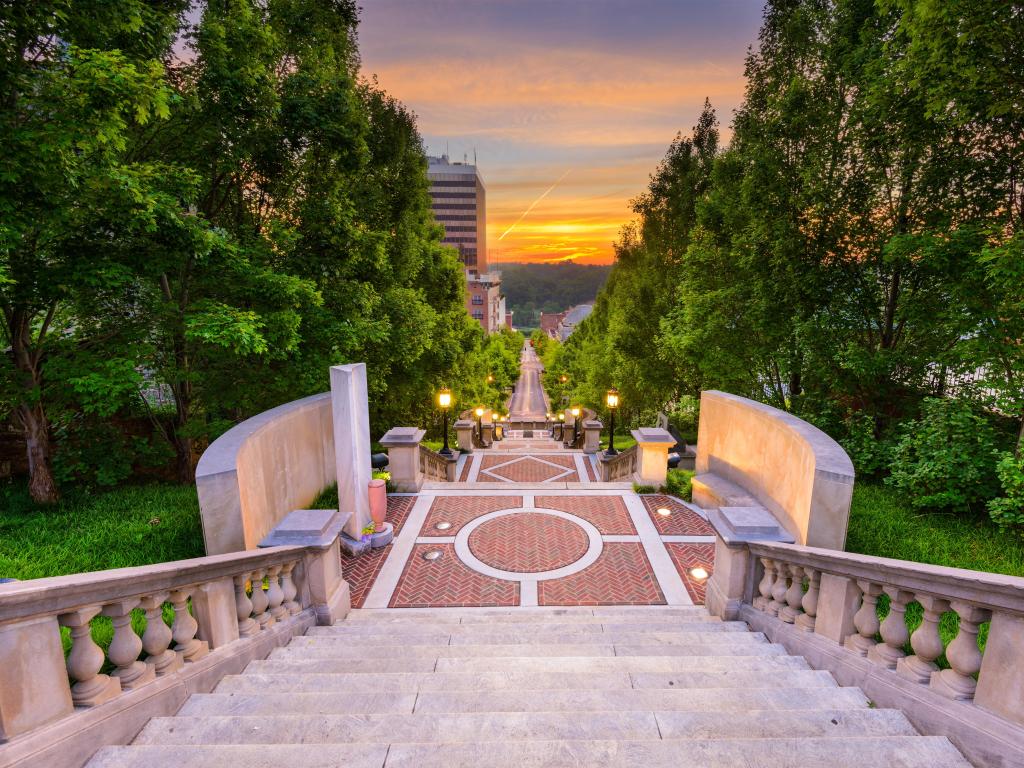 In fact, Thomas Jefferson's Poplar Forest, his summer home set in beautiful grounds, should be one of the first places you head when you arrive. Then check out atmospheric Old City Cemetery, which has over 2000 Civil War graves.
Also nearby is the beautiful Blackwater Creek Trail. Accessible for walkers of all abilities, this is a great place to stretch your legs or take a bike ride after a day in the car.
For a central location, Craddock Terry Hotel is a luxurious hotel in a restored shoe factory that's walking distance from Main Street where you'll find plenty of shops and restaurants.
This beautiful hotel overlooks the James River, and you can walk to many of the city's highlights from here. Jefferson Street Brewery is only a 5-minute walk away, and the Community Market is less than a kilometre from the hotel.
Explore Civil War history in Richmond, Virginia
Located 3 hours 30 minutes from Washington DC, Richmond is a great place to spend the final night of your drive if you're taking the Virginia Beach Route. Known for its American Revolution sites and Civil War memorabilia, the capital of Virginia has something to appeal to everyone.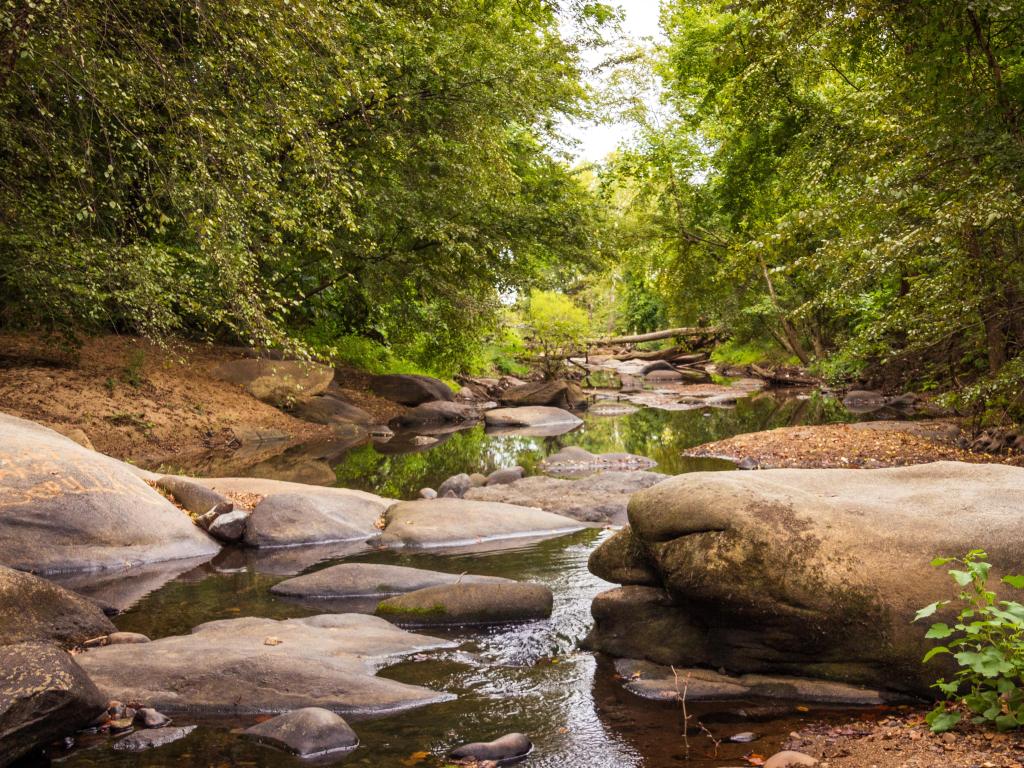 For a fantastic stay while visiting this historical yet quirky city, Embassy Suites Richmond is a great option where you can explore the city center easily. However, before you head out you might want to take a dip in the hotel's swimming pool to refresh after a long drive.
Maymont Estate is a great introduction to the city's history. You can wander through the beautiful pastoral estate, enjoying the perfectly kept grounds and manor house.
For one last hit of the great outdoors before you arrive in DC, head to Belle Isle, where you can sunbathe on the rocks or hike the remote island in the middle of James River. Now accessible via a pedestrian bridge, this island was used as a prisoner of war camp in the Civil War.
As your day in Richmond draws to a close, you might also like to think about tasting the wide range of craft beer Virginia has to offer. Richmond boasts more than 30 breweries, mostly located in the Scott Addition neighborhood.
Where to stay when you reach Washington DC
Close to major attractions like the White House, National Gallery of Art, Jefferson Memorial, and the National Mall, The Darcy Hotel is a great accommodation option in a fantastic location that means you can make the most of your time in the city.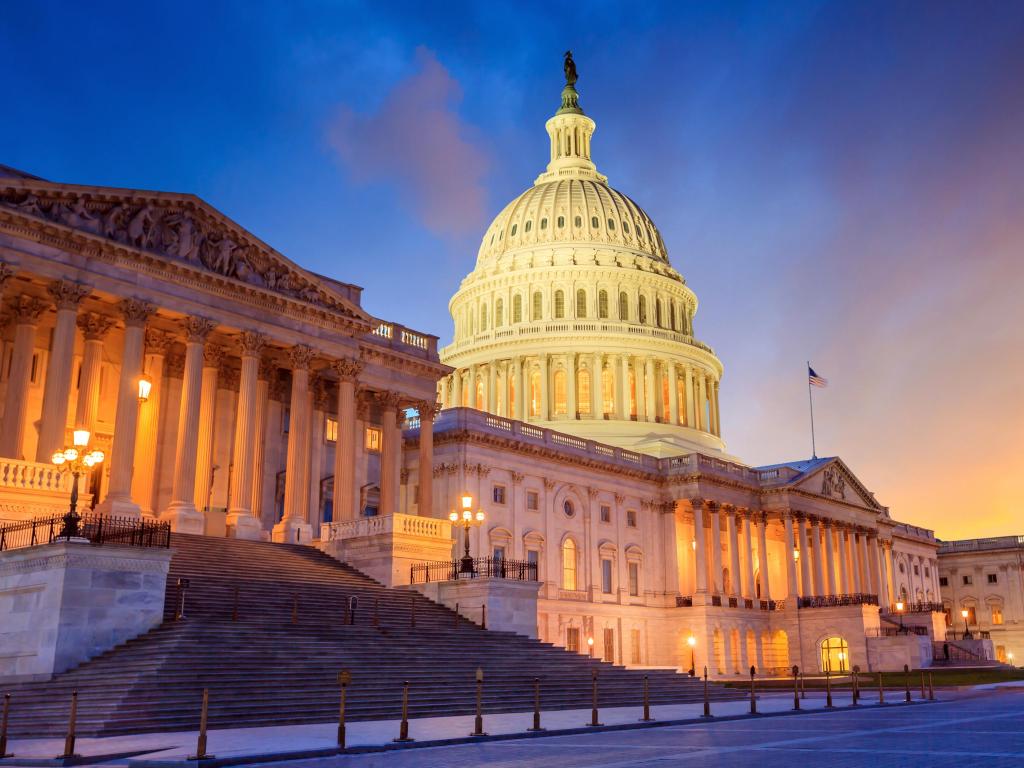 You'll enjoy comfortable, spacious rooms which really focus on attention to detail in their design and amenities.
In addition, this hotel offers 24-hour room service, a fitness center, bike rental, and daily Gin tasting.
Things to see on a road trip from Asheville to Washington DC
While this isn't the longest road trip, it certainly packs a punch when it comes to places to see along the way. Even better, since many of them aren't big-name sights that you'll find on any old tour, you'll head home really feeling like you've explored this fabulous part of the country.
Here are some of the highlights you'll pass along the way.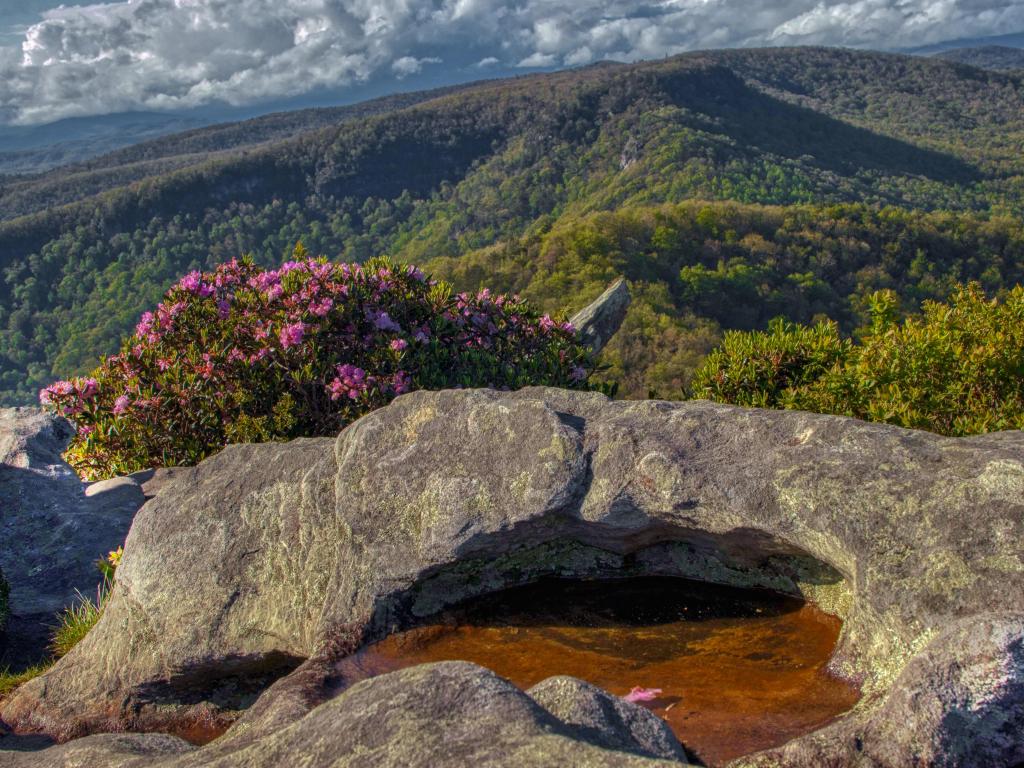 The Blue Ridge Parkway Route
Blue Ridge Parkway - This route will follow along the Blue Ridge Parkway for most of the journey - a beautiful drive offering gorgeous stops along the way.
Little Switzerland - Stop for coffee in quaint Little Switzerland, about an hour away from Asheville. Located just off Blue Ridge Parkway this is a picturesque afternoon stop.
Linville Gorge Wilderness - One of Eastern America's most rugged gorges, stop here for spectacular hiking trails.
Grandfather Mountain State Park - Climb mountains and take on challenging hiking trails to access scenic views. Grandfather Mountain is also home to a nature reserve of amazing biodiversity.
Blowing Rock - This village is located just off the Blue Ridge Parkway. Look out for panoramic views of mountains, forests, Johns River and waterfalls.
Fancy Gap - Hidden away in the Blue Ridge Parkway, stop here for a peaceful lunch, visit with Alpacas or go mountain biking.
Roanoke - A city in the Blue Ridge Mountains, hike up Mill Mountain to the Roanoke Star for views over the city and visit the Taubman Museum of Art.
Charlottesville - Explore the University of Virginia, designed by Thomas Jefferson. Visit the many wineries and breweries of Charlottesville as you enjoy the farm-to-table dining culture.
Shenandoah National Park - Bursting with cascading waterfalls, rocky peaks and wildlife including deer, eagles and bears. You will need an Old Rag Day-Use Ticket if you are planning to visit the Old Rag Mountain. Please check the national park's website for details.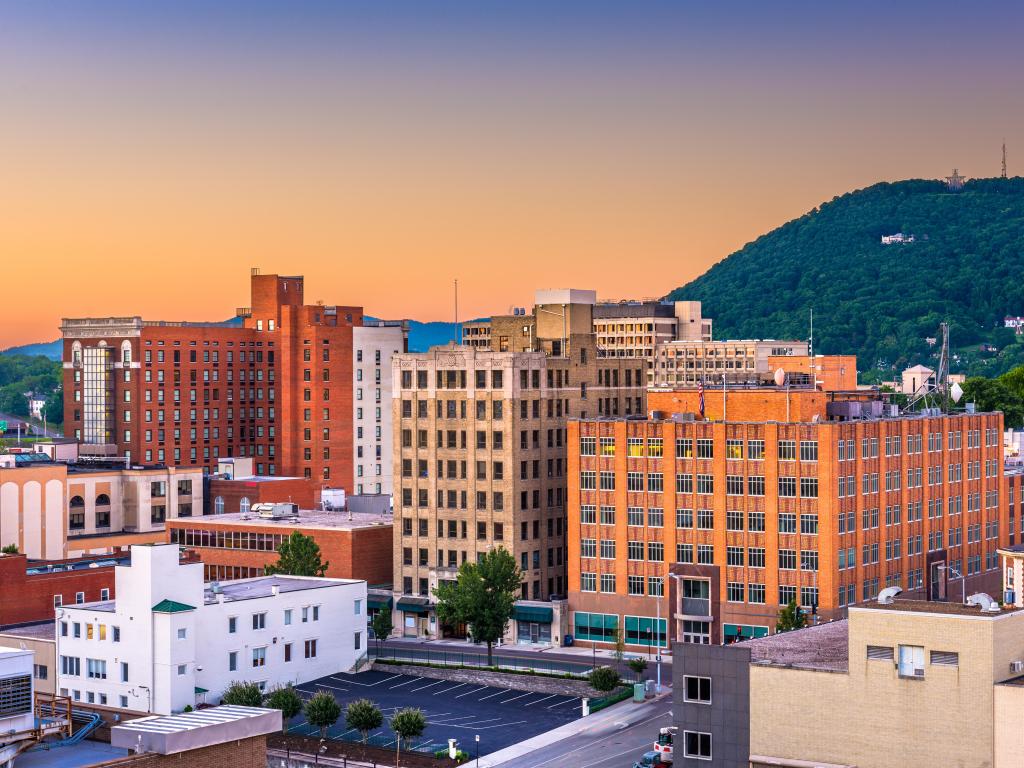 The Virginia Beach Route
South Mountain Game Lands - Challenging hiking trails and fishing opportunities await in this beautiful national park.
Greensboro - Meet face to face with Red Pandas and sharks in the Greensboro Science Center. Visit the many museums to learn about the American Revolution and the Civil Rights Movement.
North Carolina Museum of Art - Located just outside of Raleigh, this museum houses a collection ranging from the Renaissance to the 19th century.
Phelps Lake - Swim or hike around North Carolina's second-largest natural lake. This is a great kayaking spot, keep your eyes out for the huge variety of fish that live here.
Palmetto-Peartree Preserve - Go looking for endangered wildlife as you hike through this sprawling forest and wetland. Known for endangered Woodpeckers!
Nags Head - Relax on the beach of this quiet coastal town. Known for the towering sand dunes, walk one of the many trails or have a fire on the beach.
Corolla - Continue the beach-hopping and head for Corolla Beach. Keep your eyes out for the wild horses that sometimes hit the beach.
Knotts Island - Explore the marshy peninsula of Knotts Island and enjoy fresh peaches straight from the farm.
Virginia Beach - Once you're done with the sand and waves explore Virginia Beach's booming culinary scene.
Williamsburg - Immerse yourself in the history of the American Revolution. Find out about Colonial life in the living museum in the center of Colonial Williamsburg.
Richmond - Explore Virginia's capital city and make the most of the many breweries and quirky shops.
Both Routes
Pisgah National Forest - Explore this beautiful Appalachian Mountain national forest, climbing mile-high peaks, chasing waterfalls, and getting lost in forested slopes.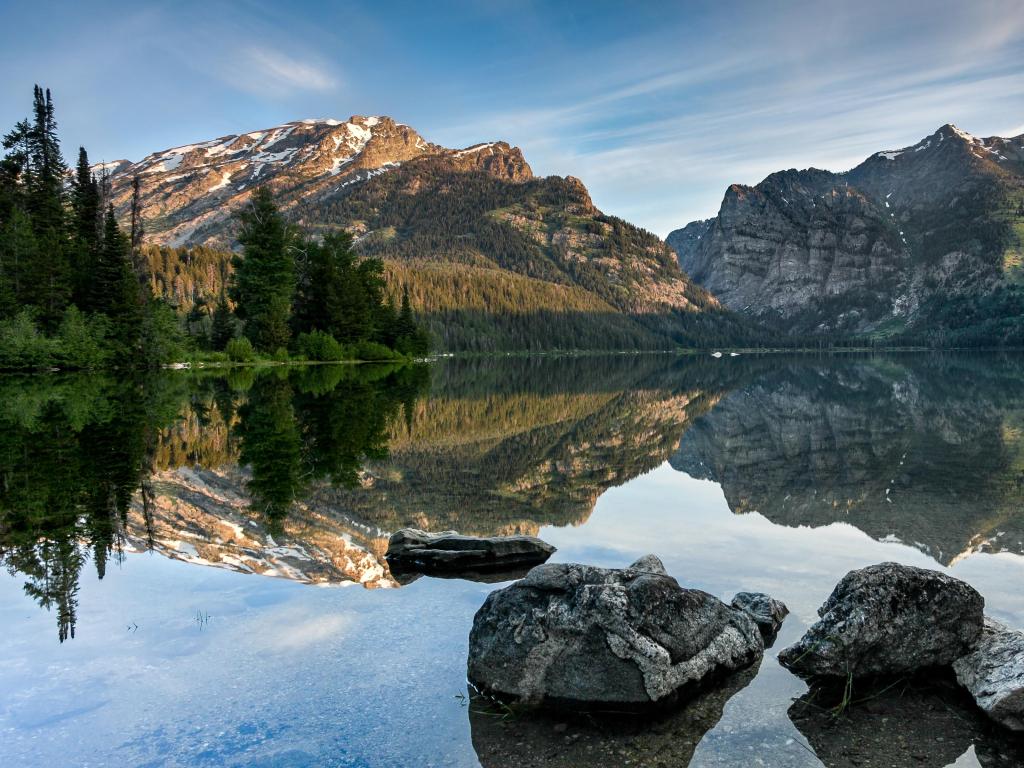 Best time to go on a road trip from Asheville to Washington DC
Since summers in Washington DC can get hot and the winters harsh, we'd suggest spring or fall as the best times of year to take this trip.
If you do choose to travel in summer, head for indoor attractions with air conditioning as temperatures regularly reach the upper 80 degrees Fahrenheit. Washington has an impressive variety of these such as the Smithsonian Museums.
One bonus of taking the trip in summer is that you can also enjoy live events as part of DC Jazz Fest.
Just like Washington DC, the Blue Ridge Parkway Route also experiences regular snowfalls during winter, and sections of the road are likely to be closed as a result. So, although it's a beautiful spectacle you'll need to be flexible in relation to local conditions if you're planning a winter trip.
In contrast, spring and fall both see mild weather and easy travel conditions. The weather hits 75 degrees in Washington DC by May and is just a little cooler on the Blue Ridge Parkway and the coast.
Over March and April more than 1.5 million visitors head to Washington DC for the famous National Cherry Blossom Festival, which celebrates both American and Japanese cultures.
In fall the colors on the trees are spectacular, especially along the Blue Ridge Parkway. In general, along the route the shoulder seasons tend to see fewer visitors and cheaper hotel rates, however, this isn't the case for the Parkway in fall, when visitors flock to see the vibrant foliage.