Road Trip from Atlanta to Yellowstone National Park
If you are looking to explore beautiful, ever-changing landscapes, dramatic scenery, and an impressive variety of flora and fauna, this epic road trip from Atlanta to Yellowstone National Park has it all! Weave through vibrant cities, go on hikes, explore caves and dive into the rich history of Native America.
The 2,040-mile road trip from Atlanta to Yellowstone National Park will take 31 hours to complete. You will explore Nashville, Memphis, Birmingham, St Louis, Kansas City, Santa Fe and Mount Rushmore as well as Canyonlands and Arches National Parks.
Read on to choose the best route for your taste, plan overnight stops based on our suggestions, select places to satisfy your inner, curious explorer and learn more about the best times to embark on this road trip.
How far is Yellowstone National Park from Atlanta and how long will the road trip take?
Comparison of road trip route options between Atlanta and Yellowstone National Park

| Route | Distance | Driving Time |
| --- | --- | --- |
| Mount Rushmore Route | 2,040 miles | 31 hours |
| The Salt Lake City Route | 2,580 miles | 39 hours |
Following awe-inspiring scenery changes, there are two different routes to get to Yellowstone National Park from Atlanta. The most direct route, going through Mount Rushmore, covers 2,040 miles and will take you about 31 hours to complete.
The other slightly longer route, going through Salt Lake City, will take you around 39 hours to complete and covers 2,580 miles.
Whether you are in the mood for a longer drive while enjoying scenic beauty or exploring classic cities while having a shorter drive, we recommend you set aside 8-10 days for this trip.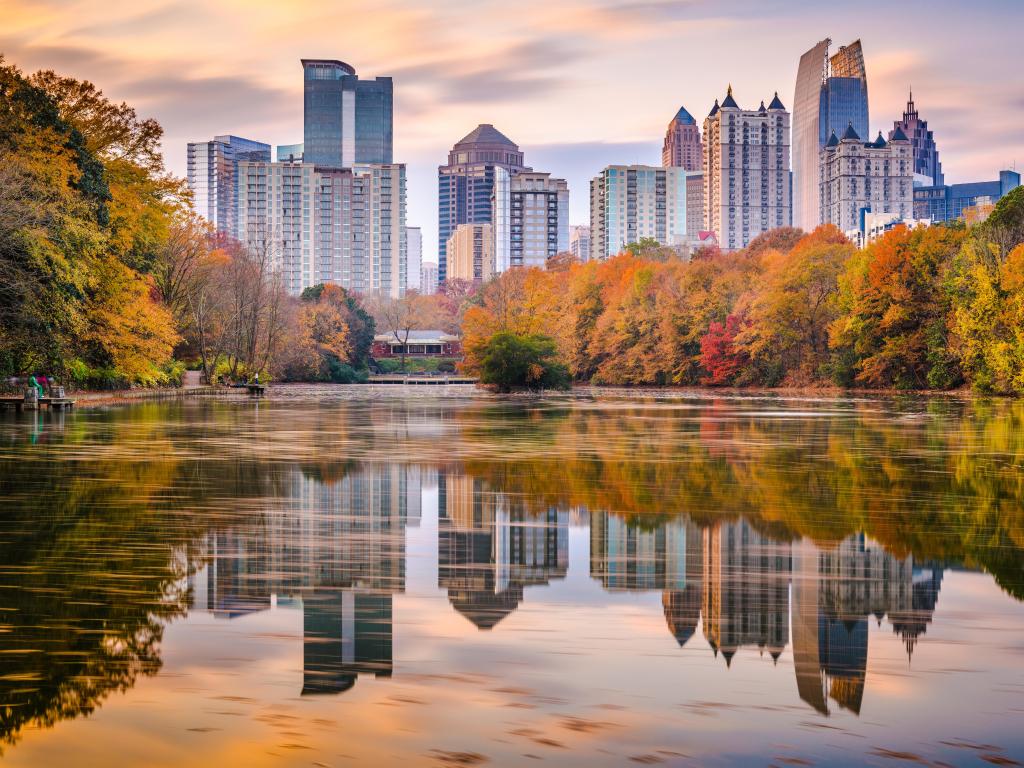 Best road trip route from Atlanta to Yellowstone National Park
Choosing the route to take for a road trip from Atlanta to Yellowstone National Park will depend on your preference for what landscapes and scenery you'd like to enjoy on the way.
The Mount Rushmore Route will take you through many historically rich cities such as the "Music City" of Nashville, the sports central of St Louis and jazzy Kansas City. You will also get to admire the iconic sight of Mount Rushmore.
With The Salt Lake City Route, you will get to see more of the lush landscapes that make you wish you were alone with your thoughts. From the mountainous terrain of Oklahoma to the rock 'n' roll of Memphis and the vibrant streets of Santa Fe, you will get to marvel at a variety of different cities and landscapes.
You will also be able to make detours to Canyonlands and Arches National Parks as you drive through Moab on the Salt Lake City Route.
The Mount Rushmore Route
Head north from Atlanta and get on Interstate 75/Interstate 85 (I-75 N/I-85) N. Follow I-75 N and I-24 toward Nashville, the city of musical history. From there, follow Clark Ave and S Tucker Blvd to reach the cultural city of St. Louis. Stop there overnight and enjoy the various activities that this place has to offer.
Resuming your journey, go north into Kansas City where you can explore the world of jazz music. Your next stop will be Mount Rushmore where you can spend some quality time enjoying the landscapes and rock formations of the four Presidents.
Follow I-90 in Park Country to get to your destination of Yellowstone National Park. Along this route, you can encounter various historic museums and art galleries, amusement parks and rugged rock formations.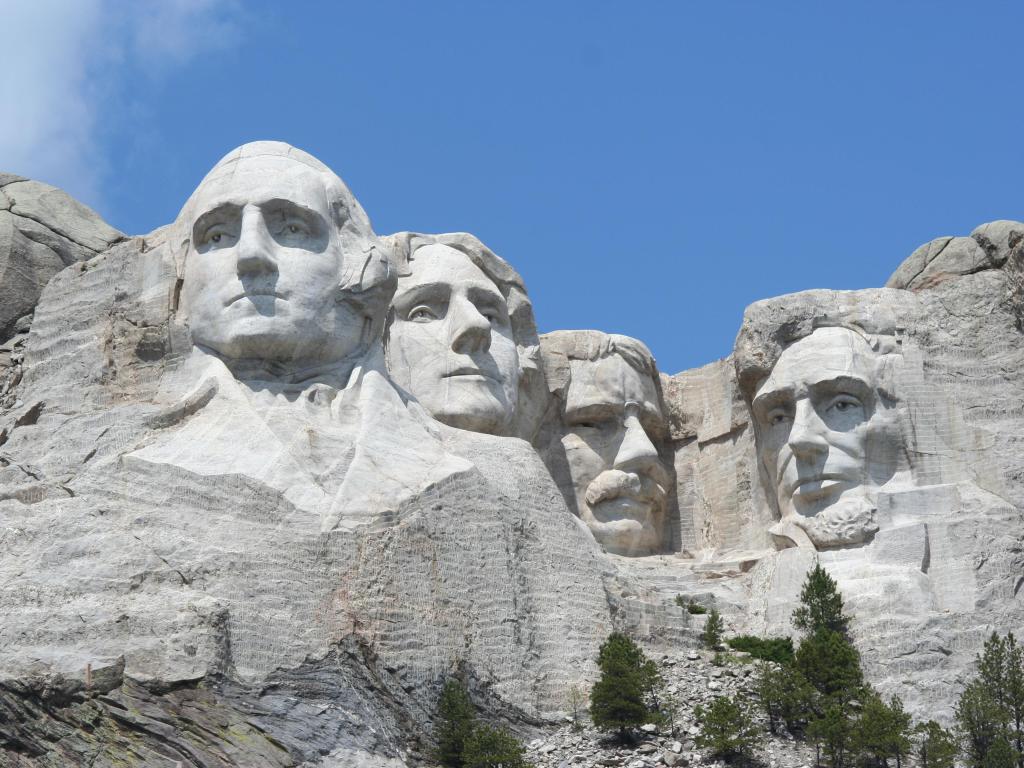 The Salt Lake City Route
From Washington, get on I-20 W and keep following it into Birmingham, "The Magic City" famous for having all three materials for making iron. From there, get on I-65 N before taking I-22 into Memphis.
Soon, you will reach Oklahoma with its breathtaking mountains and landscapes. Head northwest into Albuquerque with its vast deserts continuing towards Santa Fe. Pause your trip in the best city for museums and art galleries to relax and enjoy.
After resting, continue to the city of national parks and canyonlands, Moab. From there, head west to your destination of Yellowstone National Park.
Best places to stop between Atlanta and Yellowstone National Park
Since both routes are filled with such rich history and scenic beauty, you will need to make overnight stops to relax and thoroughly enjoy what the cities on each route have to offer.
To help you plan these stops, we have picked a few places that would help you rest and make the most out of this trip.
Dive into music in St Louis
About one-third of the way on the Mount Rushmore Route is the culturally rich city of St Louis. This city is not only a historic hub, but it is also where you can enjoy visiting museums, landmarks and dance your way into the night with music festivals.
While in St Louis, make sure to visit the Missouri Botanical Gardens where you can take a stroll right out of a fairytale, surrounded by beautiful plants in this urban oasis. Take iconic pictures here to cherish the moments forever.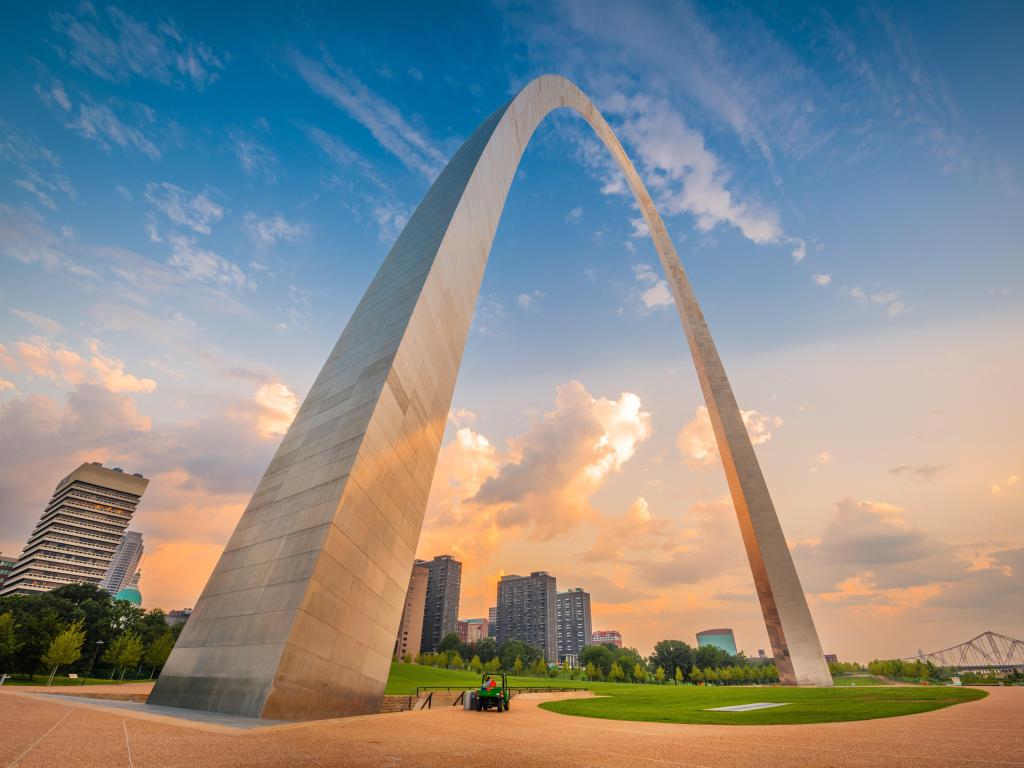 You can also visit the City Museum if you want to discover some architectural gems. If you'd like to delve further into the city's architecture, the Cathedral Basilica of St Louis is something you will thoroughly enjoy.
Our favorite hotel to stay at in the city is St Louis is Drury Plaza St Louis at the Arch. After a day-long, cultural journey, an indoor pool with a hot tub in this hotel will help you relax and prepare yourself for the rest of the journey.
This hotel is close to the interstate and offers free hot breakfast for a quick start to your adventurous day, nearby parking means that you can just leave your car safely behind and explore the city on foot.
The best thing about this hotel is that it provides easy access within walking distance to some of the most famous places in St Louis, such as the iconic Gateway Arch and Busch Stadium.
It is also quite close to local breweries and restaurants like Anheuser-Busch Brewery so you don't have to search for hours to quench your thirst. However, if you are looking to just relax and stay in, there is light meal options available on-site.
Admire the colorful art of Santa Fe
You will arrive at Santa Fe, a colorful cultural mosaic, just over halfway through the journey on the Salt Lake City Route. Known for its sunny weather, amazing cuisine and unique architecture, Santa Fe has something for everyone.
One of the first things to do in Santa Fe is to visit the popular street of Canyon Road with over 100 museums and art galleries. Then there is the beautiful cathedral, Cathedral Basilica of St Francis of Assisi from the 19th century.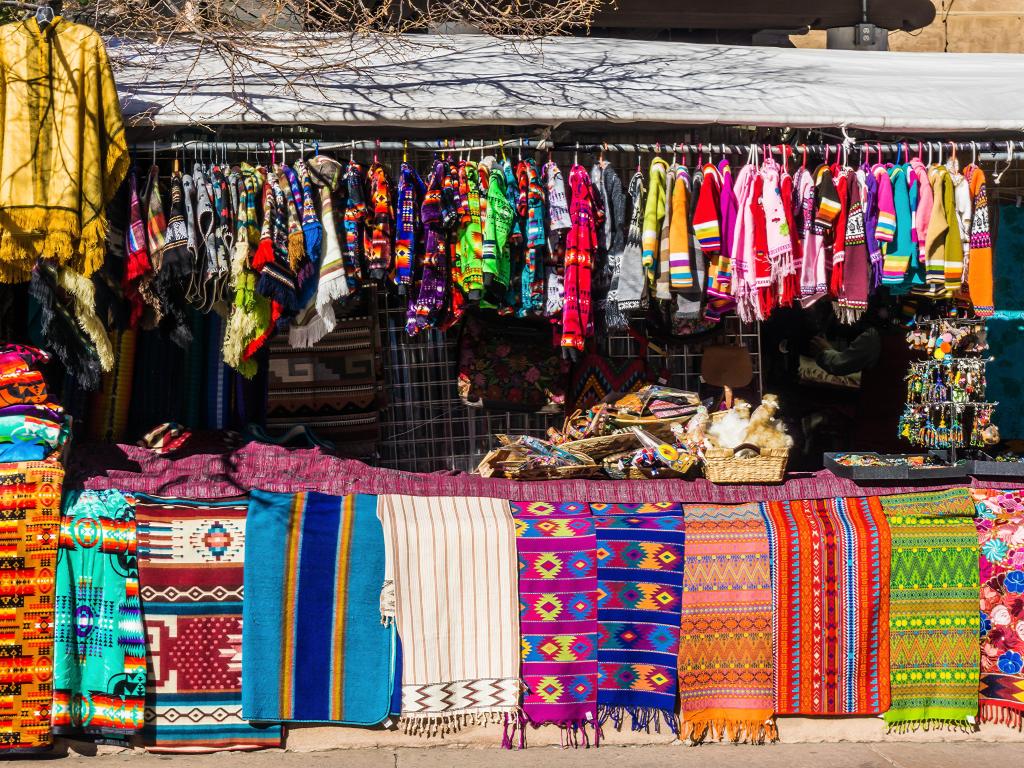 If you are a historophile, you are going to love Santa Fe because you can visit the Museum of New Mexico Complex here. It is a large complex of multiple museums that showcase the rich history of New Mexico.
If you still have more time and energy and want to explore further, you can visit the Santa Fe Opera House which is a beautifully designed building housing many shows and events. Make sure you check their program ahead of time and book yourself a ticket for some live entertainment.
Our hotel of choice for your stay in Santa Fe is the Inn on the Alameda. The best thing about this hotel are the luxurious rooms and facilities with indoor as well as outdoor common spaces to relax and unwind.
Decorated in the traditional Santa Fe-style, this hotel also boasts a stellar location, so that you can explore the city on foot. Canyon Road is only a stone's throw away from the property.
Where to stay when you reach Yellowstone National Park
After your long drive, Bentwood Inn is the perfect place to rest before exploring the volcanic site of Yellowstone National Park and its famous bison herds.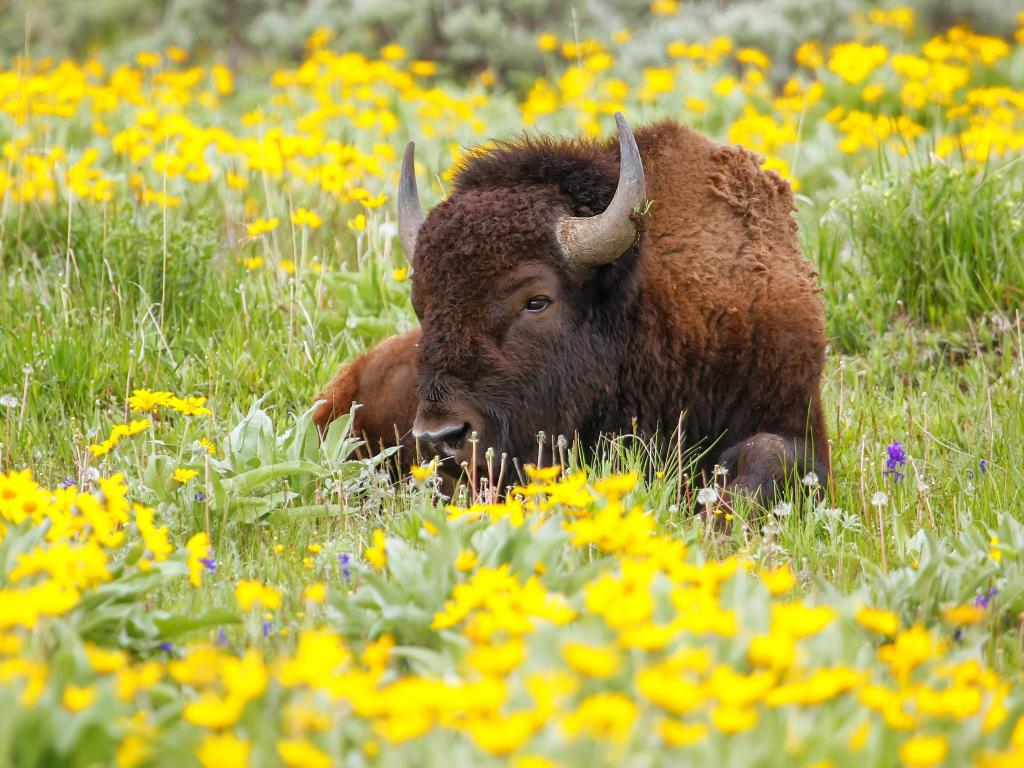 This hotel has an interesting interior with beautiful rustic decor and beautiful rooms with balconies set in an old log cabin. It provides wine and cheese every evening for you to enjoy leisure time inside the hotel when you're not in a very adventurous mood.
Breakfast on-site means you can start your day quickly and wander off on the many exciting hikes and walks that Yellowstone has to offer. But the fact that it is close to Yellowstone National Park's south entrance and en route to the west entrance is what makes this hotel our favorite choice.
Things to see on a road trip from Atlanta to Yellowstone National Park
Depending on the route you take, there are many amazing places on both routes to enjoy, explore or just stretch your legs during the long drive. So read below our list of things to see on both the routes to help you better decide the route you want to take.
The Mount Rushmore Route
Six Flags White Water – Part of the famous collective Six Flags with slides, tree houses, rides and attractions, this is a great spot for families to relax and cool down during the journey.
Kennesaw Mountain National Battlefield Park – Travel back to the times of the Civil War on this site which is mostly preserved and has a museum and information center with details of the event.
Amicalola Falls State Park – Take a break from history and engage in outdoor activities like hiking, camping and fishing whilst viewing waterfalls and beautiful scenery.
Booth Western Art Museum – Visit this Museum to get a feel of westernism and the cowboy lifestyle.
White River Rafting – Get outdoorsy and enjoy rafting with one of the many companies in the area.
Lookout Mountain – Another battle site of the Civil War filled with caves and walking trails to give you a glimpse of the remnants of the war.
Rock City Gardens – Ancient rock formations and gardens that temporarily take away your worries. You can also see the 7 states from here on a clear day.
Ruby Falls – Feed your explorer's soul in this beautiful and mysterious place with a 145-foot-tall waterfall and underground caves.
Superman Statue – Take quirky pictures with this fun roadside attraction of a 2-ton bronze statue of Superman.
World's Largest Catsup Bottle – Stretch your legs during the long ride with a pull-in on this fun roadside attraction with a water tank in the form of the largest bottle of ketchup.
Grant's Farm – Pull up with your family on this farm area located on the former Busch family estate and engage in fun, old-style farm practices with over 100 animals.
Six Flags St Louis – One of the largest and most famous theme parks with the most thrilling rollercoasters that you wouldn't want to miss.
Jesse James Birthplace – Vicious murderer or gallant Robin Hood, whatever you think of Jesse James, his birthplace is worth a visit to encounter the remnants of his life.
Amelia Earhart Birthplace Museum – Visit the still-standing childhood home of the famous aviator, Amelia Earhart, and learn about her life.
The World's Only Corn Palace – Visit this Moorish Revival building with corn-made murals and corn-based attractions to feel what Charlie might've felt in the chocolate factory.
Badlands National Park – Want to feel like you're on some other planet? Witness the bison and bighorn sheep in this absolutely stunning National Park with rugged and interesting rock formations.
Mount Rushmore – A symbol of freedom and hope, this is a world-famous mountain with the faces of four major Presidents and a very controversial history.
Deadwood – Dive into the history of the gold rush in this historic, western town.
Buffalo Bill Center of the West – Another chance to dive into history, culture and arts with family-friendly activities and interactive exhibits on the life and times of Buffalo Bill.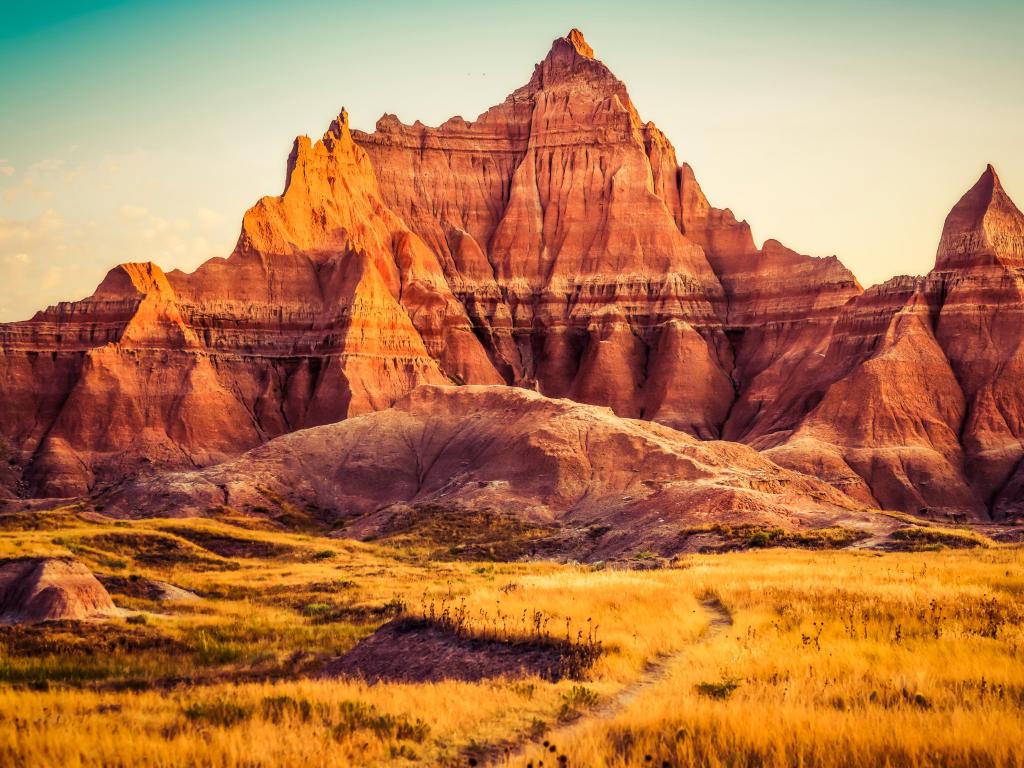 The Salt Lake City Route
The National Infantry Museum – Stop at this hard-hitting museum and wade into the stories of various wars and the soldiers who fought in them.
US Space and Rocket Center – A large space museum with various rockets, planes and attractions to satisfy your inner space traveler.
Vulcan Park and Museum – Enjoy breathtaking views of the city of Birmingham perched next to its well-known monument.
Natchez Trace Parkway Visitors Center – Detour or get information about the parkway filled with landscapes, historical landmarks, and walking trails that you can visit during the journey. Here is more information about this famous parkway.
Graceland – Take tours and learn more about the king of Rock and Roll, Elvis Presley on his famous estate.
Sun Studio – The recording studio of famous rock n roll singers like Elvis Presley, Johnny Cash and many more.
National Civil Rights Museum – Visit this racial equality museum present on the site of Martin Luther King Jr's assassination.
Titanic Museum – Hundreds of recovered artifacts and interactive exhibits recovered from the Titanic that you wouldn't want to miss.
Crater of Diamonds State Park – Go on a souvenir hunt in this smallish park for your own diamonds, rocks and minerals.
Thorncrown Chapel – Visit this wood and glass chapel hidden in the woods with 425 windows.
Oklahoma City National Memorial and Museum – Dedicate a bit of your time to the victims of the Murrah Building bombing in 1995 on this large area with a pool and sculptures from the incident.
Palo Duro Canyon State Park – A 60-mile stretch of a ravine with cliffs and fascinating rock formations.
Cadillac Ranch – Another epic art landmark with an interesting art installation featuring half-buried Cadillacs painted over in bright colors.
Taos Pueblo – Ancient pueblo belonging to the Native American Tribe of the Puebloan people, thought to be the oldest continuously inhabited community in the USA.
Royal Gorge Bridge and Park – A bridge that gives you a chance to enjoy nature at the large canyon it is located over or go adventuring into the huge amusement park it connects.
Red Rocks Park and Amphitheater – Hiking trails leading to breathtaking cliffs and an amphitheater with stunning views of the area.
Canyonlands National Park – Beautiful National Park with epic desert scenery, interesting formations and cliffs.
Arches National Park – Rock formations in the shape of archways with more than 2000 natural sandstone arches make up the Arches National Park. You might need to make a reservation for a timed-entry permit while visiting Arches National Park. Please check the national park's website for up-to-date information.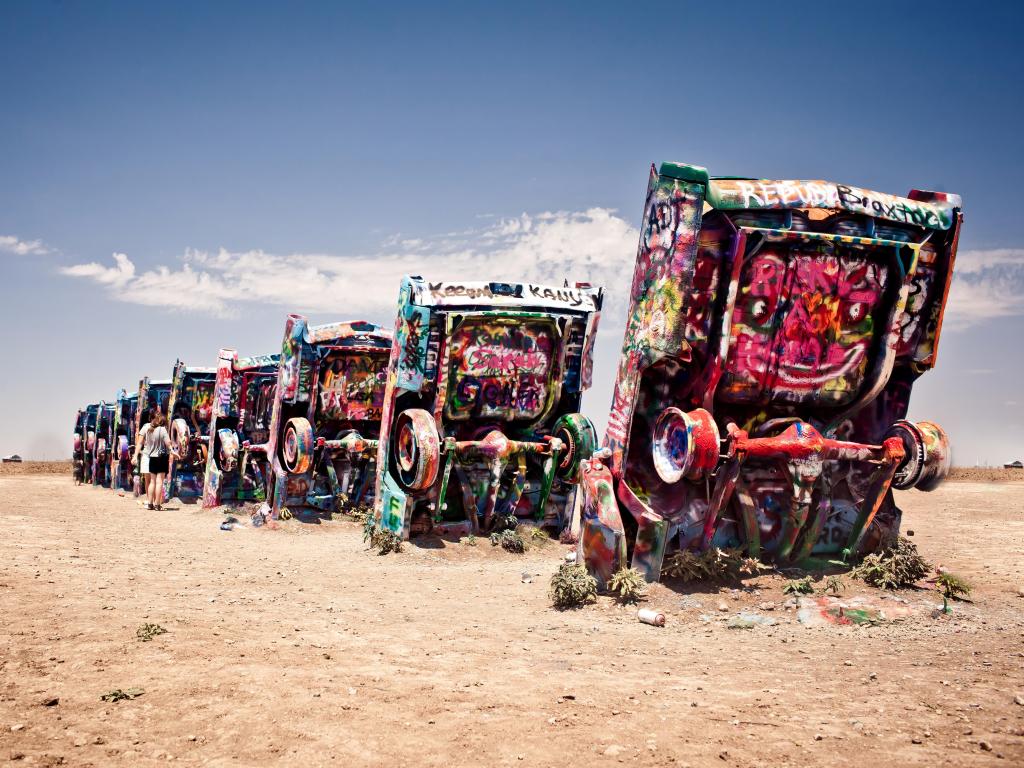 Best time to go on a road trip from Atlanta to Yellowstone National Park
Yellowstone can be fairly considered a year-round destination with late spring, summer and early fall being the best places to visit. Most of the roads are closed during winter but you can snowshoe the park to get a unique experience if you are feeling very adventurous.
During summer, the entire park and all its facilities, activities and centers will be open, so it is arguably the best time to visit Yellowstone. The temperature at this time ranges from 70 to 80 degrees Fahrenheit, dropping lower at higher elevations.
As the park is the busiest during summer, your chances of encountering the "bison traffic" – when people line up for miles due to cars having to stop for bison, are extremely high. You might also have difficulty finding a place to stop as many lodgings may be booked.
With average temperatures ranging from 0 to 20 degrees Fahrenheit, winters are cold and harsh in Yellowstone with an almost definite chance of snow. Most of the roads, lodgings, campsites and activities are closed during this time of the year.
You can travel by snowmobile and access the park by snowshoe to get a unique experience of stunning snowfall with no tourists around but you won't be able to get the full experience of the park. Read our detailed guide on how to travel through Yellowstone in winter here.
During spring and fall, you will have access to the full park with many things reopening in May and fewer crowds than in summer. The temperature at this time ranges from 34 to 60 degrees Fahrenheit, which makes this a great time to visit the national park.
The authorities are trying to preserve the areas so there are no large-scale festivals at Yellowstone, but you can experience many small-scale, local events happening throughout the year.
During summer, there is the annual Shoshone-Bannock Indian Festival held in August in the nearby city of Fort Hall, so make sure to visit if you are traveling during the summer season.