Can you Drive through Yellowstone National Park?
Yellowstone was the first national park in the USA and perhaps the most famous even today. Located mainly in Wyoming in the Western of the United States, it's a leading place for visitors to escape the hustle and bustle and connect with nature.
You can drive through Yellowstone National Park via the 7-hour Grand Loop in the summer months, taking in Old Faithful, Mammoth Hot Springs and Yellowstone Lake. In winter most roads close so you'll have to join a snow coach tour or hire a snowmobile.
What sets Yellowstone apart is its hydrothermal activity, which includes geysers that fire water into the air and hot springs with vibrant yellow, green, and orange colors. Read on to learn about the best ways to drive through Yellowstone National Park.
Can you drive through Yellowstone National Park?
The main ways to drive through Yellowstone National Park

| Route | Starting Point | Ending Point | Seasonal Availability | Time (Distance) |
| --- | --- | --- | --- | --- |
| Summer Route | Mammoth Springs | Mammoth Springs (loop) | Closed from early November to April/May | 7 hours (140 miles) |
| Winter route | Mammoth Springs | Cooke City | Open all year | 3 hours 40 minutes (180 miles) |
* With short closures in November and April
Yellowstone National Park is open to visitors all year round, but if you visit during the winter then you'll find it hard to drive through the park. The Grand Loop closes during winter so you can't see popular attractions such as the Old Faithful Geyser unless you use snow coaches or snowmobile tours.
In summer, when the roads are open for you to drive at your leisure, many visitors follow the 142-mile Grand Loop, which showcases some of the best landscapes that Yellowstone has to offer.
The park is a popular destination during the school holidays so expect it to be more crowded if you travel in July or August. Temperatures are also hotter at this time of year - they tend to average around 70 degrees Fahrenheit but can reach 80 degrees at times.
For smaller crowds, spring and fall are great times to visit. Between April and May all the roads open up so you can drive the Grand Loop. However, light snow is possible as late as June or starting in September.
By contrast, the only way to drive across Yellowstone National Park in winter is to follow the road from the North Entrance at Gardiner towards Cooke City, but this misses out on the chance to visit many of the park's most well-known attractions.
During the winter Yellowstone experiences heavy snowfalls, and with most roads closed to public vehicles the only method to drive through the main sights of Yellowstone National Park is to take a tour in a snow coach or snowmobile.
Keep on reading to find out how to drive through Yellowstone whatever time of year you travel, including where you can pick up your choice of winter tour.
How to drive through Yellowstone National Park on the Summer Route
The Grand Loop through Yellowstone National Park is widely considered one of the best scenic drives in the USA, taking you right to the heart of this beautiful wilderness.
You can make your way to this figure of eight drive from any of the park's entrances - simply adjust the route description to factor in where you'll meet the Grand Loop from the entrance road.
From Mammoth, follow the route clockwise to Calcite Springs and Canyon Junction before joining up with the lower loop which you'll follow past Yellowstone Lake, West Thumb and Shoshone Lake.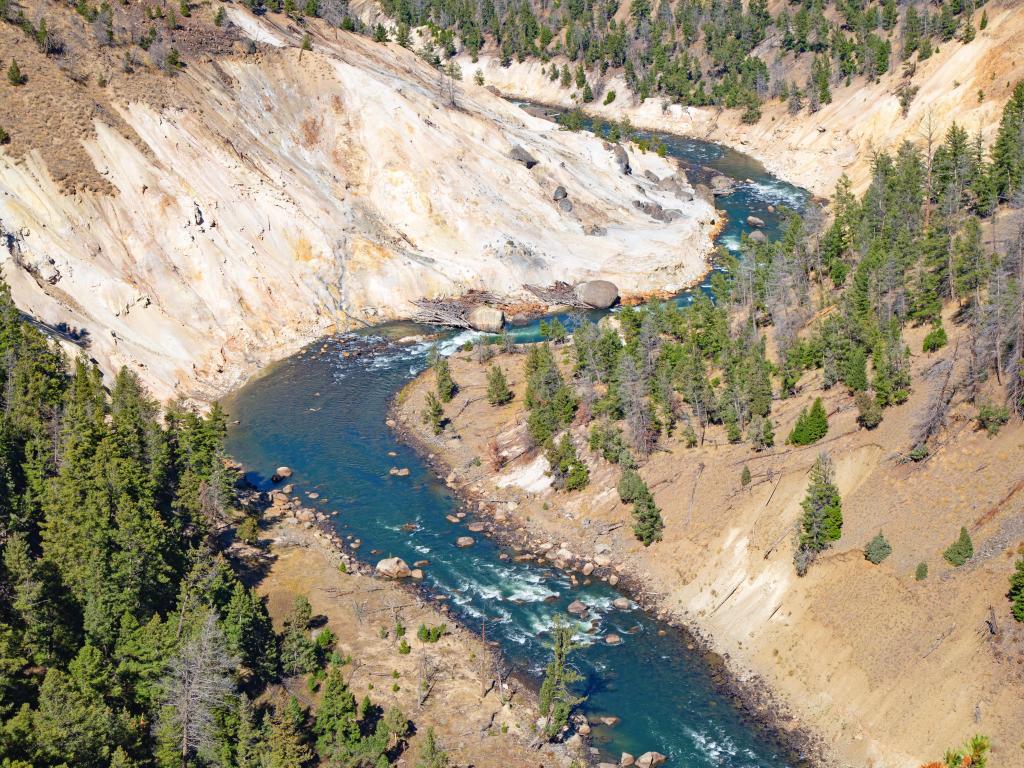 Next you have a visit to Old Faithful to look forward to, as well as views of Gibbon Falls and Roaring Mountain. Then continue up towards the West Entrance from where you'll pass Madison, then Norris, before heading north back to Mammoth Hot Springs.
Of course, you can also do this route in reverse. Or if you're short on time you could also consider doing either the upper or lower loop. The two routes meet in the middle of the park so it's easy to drive just one section
As we've mentioned, this road is closed from November onwards, and reopens again between April and May. Check for local information to confirm exact opening dates each year, as these vary depending on which park entrance you're using.
How to drive through Yellowstone National Park on the Winter Route
Only a short stretch of the Grand Loop is open during the Winter Route due to the heavy snowfalls that the park experiences. However, this is still a scenic drive that gives you a taste of Yellowstone National Park in its winter finery.
If you take this route from the North Entrance at Gardiner you'll first head down to Mammoth, then travel east across the park towards Tower and Cooke City.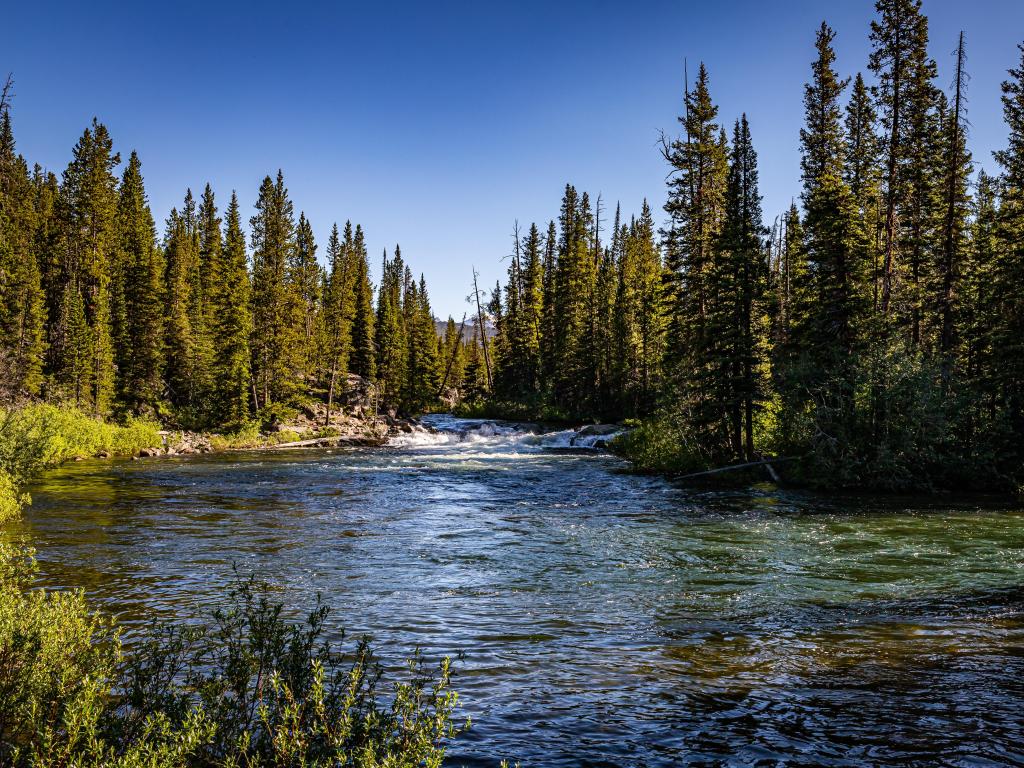 Along the way, you'll pass Missouri Headwaters State Park, the Museum of the Rockies, Mammoth Hot Springs, Undine Falls, Forces of the Northern Range Trailhead, Hellroaring Trailhead, Lamar Valley and Soda Butte.
As we've mentioned, weather conditions limit your access to Yellowstone National Park in winter, so another great way to explore the park during these months is to take a snow coach or snowmobile. These operate from the other park entrances and will still take you to the star attractions like Old Faith Geyser.
A number of snow coach tours are authorized by Yellowstone National Park, including Backcountry Adventures, Yellowstone Alpen Guides, Yellowstone Expeditions and Yellowstone Vacation Tours.
If you're looking for a more active trip, check out the authorized snowmobile tours which are bookable through Gary Fales Outfitting, Old Faithful Snowmobile Tours, Scenic Safaris, Teton Valley Adventures and Two Top Snowmobile Rental.
How long does it take to drive through Yellowstone National Park?
It takes at least 7 hours to complete the Grand Loop, which is 140 miles long if you travel the entire distance. Whether you choose to take one day or one week to make the drive is entirely down to personal preference.
The Winter Route from Mammoth Hot Springs to Cooke City is a 180-mile drive which takes 3 hours and 50 minutes. This includes the time required to return to the North Entrance, as this is the only place private vehicles can enter and exit the park in winter.
Route times are given without stops, so factor that you'll have plenty of stops to admire the scenery which will add to your journey time. You might also encounter queues on the roads surrounding the entrances, which get busy during vacation periods.
Which entrance should you arrive at in Yellowstone National Park?
Although remote, driving to Yellowstone is straightforward, with well-serviced roads approaching the park from several directions. If you're traveling during the summer months, simply head for the entrance which is most easily accessible from wherever you're starting out.
The nearest airports are Bozeman Montana Airport and West Yellowstone Airport, so the availability of flights might also influence the entrance you end up using to start your drive through the national park.
There are 5 entrances to Yellowstone, but the North Entrance near Gardiner, Montana, is the only one that's open to vehicles all year round. Even so, it may close due to weather conditions, so check ahead before setting out.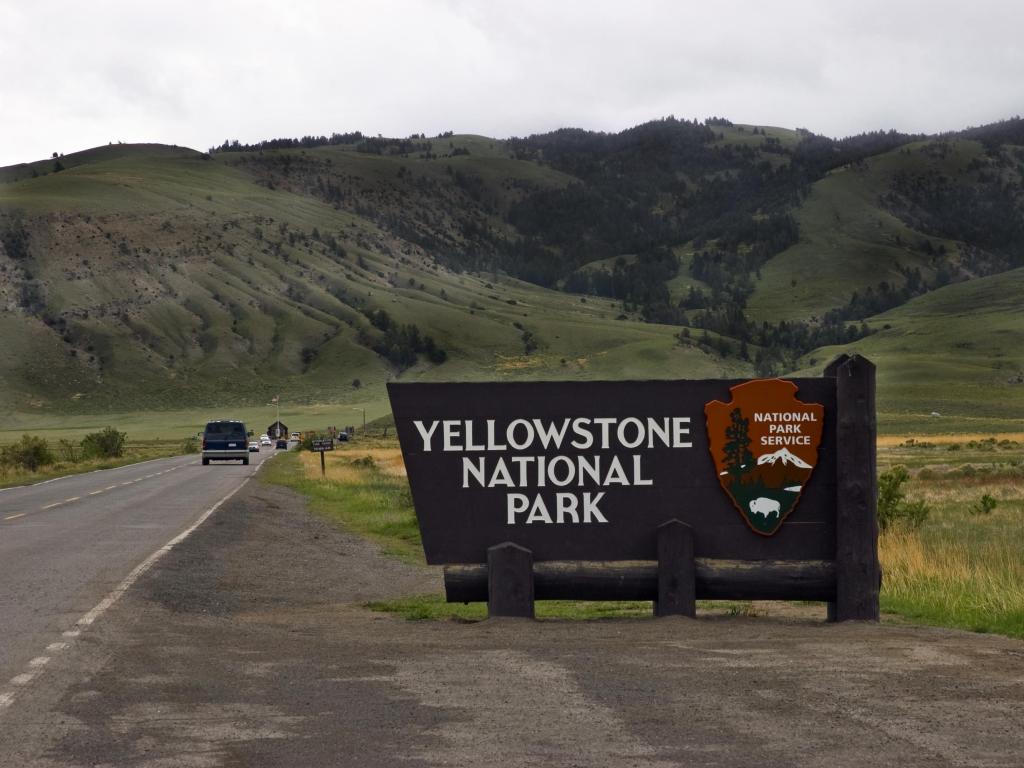 Technically, the Northeast Entrance at Silvergate, Montana, can also be used in the winter. However, you can only travel as far east as Cooke City, so it's more of an exit and re-entry point than a true entrance to the park in the winter.
If you're here in the summer, the entrance is close to Beartooth Pass, so it's a good choice for wildlife spotting.
During the summer you have the option of starting your road trip at any of the park's five entrances.
The East Entrance in Cody, Wyoming, takes you to Yellowstone Lake, whereas if you drive up to the South Entrance in Jackson, Wyoming, you can also experience Grand Teton National Park on your trip.
Most of the geysers are near the West Entrance in West Yellowstone, Montana, so this is a popular entrance to the park if you don't have time to drive the full loop.
These gates are all closed from November to April or May so can't be used in winter unless you're traveling via a snow coach trip or snowmobile tour. Note that there is a complete closure in November and in spring to allow for the transition from summer to winter opening.
Because Yellowstone covers such a large area, your choice of entrance will depend in part on where you start your trip. We've outlined the best entry points for some of the most popular road trips, along with the distance and driving time from the origin city.
Comparison of travel times from major US cities to Yellowstone

| Origin city | Recommended entrance | Distance | Time |
| --- | --- | --- | --- |
| Salt Lake City | West | 320 miles | 4 hours 50 minutes |
| Seattle | North | 760 miles | 11 hours 40 minutes |
| San Francisco | West | 940 miles | 14 hours |
| Phoenix | South | 970 miles | 16 hours |
| Los Angeles | West | 1,000 miles | 16 hours |
| St Louis | East | 1,300 miles | 20 hours 20 minutes |
| Dallas | South | 1,300 miles | 20 hours 20 minutes |
| Chicago | East | 1,360 miles | 21 hours |
| Orlando | South | 2,300 miles | 34 hours |
* Please use the links above to access our ultimate guides on the respective road trips.
Best places to stop on a drive through Yellowstone National Park
While it's technically possible to drive the whole of the Grand Loop in a day, most visitors to Yellowstone allow a little longer to explore the vast national park.
Whether you're planning on sleeping under canvas inside the national park or looking for the more luxurious surroundings of a hotel, keep on reading to find out where to stay when you drive through Yellowstone National Park.
Admire mountain views in West Yellowstone
If you're following the Grand Loop, the small town of West Yellowstone is a great place to stay overnight. As it's only 1 mile from the west entrance to the park, it works for travelers starting their Yellowstone adventure here, or as a way to break up the drive if you're starting elsewhere.
In the town itself, the National Geographic IMAX Theatre broadcasts films documenting the history of Yellowstone, so you can learn about the area by viewing vivid video footage before exploring.
The AZA-accredited Grizzly & Wolf Discovery Center allows you to get up close with Yellowstone's native animals too. It's a great place to learn more about grizzly bears.
Once you've driven into the park, you can get to the Old Faithful geyser in around 45 minutes if you need to, although with the road taking you past some beautiful scenery you probably won't want to rush.
With its log cabins and mountain views, a night at The Bucking Moose will get you in the mood for exploring the rugged national park. Its King Rooms are well kept, spacious and homely, plus it's only a 5-minute drive to get to the Yellowstone entrance.
If you're spending a little time in West Yellowstone, you can comfortably walk to both the National Geographic IMAX Theatre and the Grizzly & Wolf Discovery Center in around 10 minutes. Plus, there's a BBQ and chile restaurant nearby to refuel after a day of hiking and scenic views.
Unleash your inner adventurer in Gardiner
Gardiner, Montana, is near to Yellowstone's north entrance so as well as being accessible from Mammoth Springs on the Grand Loop in summer, it's also at the end of the route to Cooke City if you're traveling in winter.
The town is famous as the home of the first entrance to Yellowstone National Park, where you'll find the Roosevelt Arch built in 1903.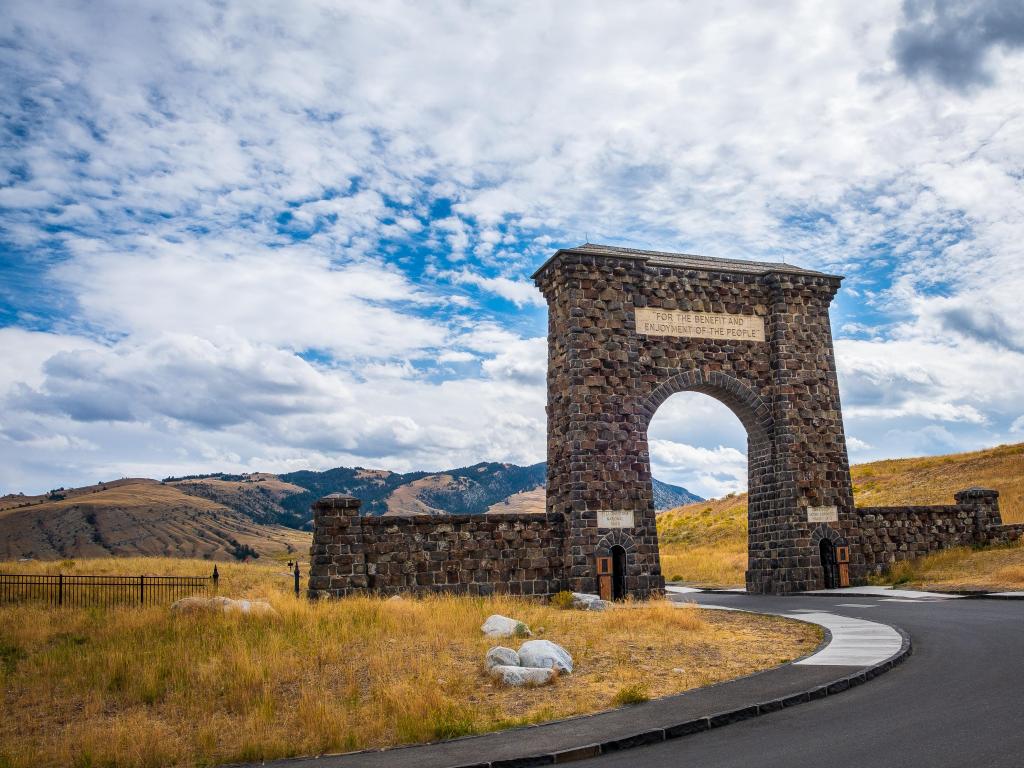 The Yellowstone Heritage and Research Center is open to the public. It's packed with information on the national park to learn about its cultural and natural past.
Alternatively, if you're looking for more outdoor thrills, you can use Gardiner as a base to raft down the Yellowstone river. The Montana Whitewater Rafting & Zipline offer guided white-knuckle rides along the river.
With free parking and an indoor pool, Yellowstone Village Inn and Suites is a great place for an overnight stay in Gardiner. It has an outdoor dining area and seating where you can relax at the end of the day before getting a great night's sleep in your extra-large bed.
A short drive from the Heritage and Research Centre or Montana Whitewater Rafting, the park entrance is also just 1.5 miles from Yellowstone Village Inn and Suites. Then it's less than half an hour's drive to Mammoth Hot Springs.
Where to camp in Yellowstone National Park
If you don't mind giving up some creature comforts, there are many amazing places to camp in Yellowstone National Park, including Norris, Mammoth, Grant Village, Canyon and Bridge Bay Campgrounds.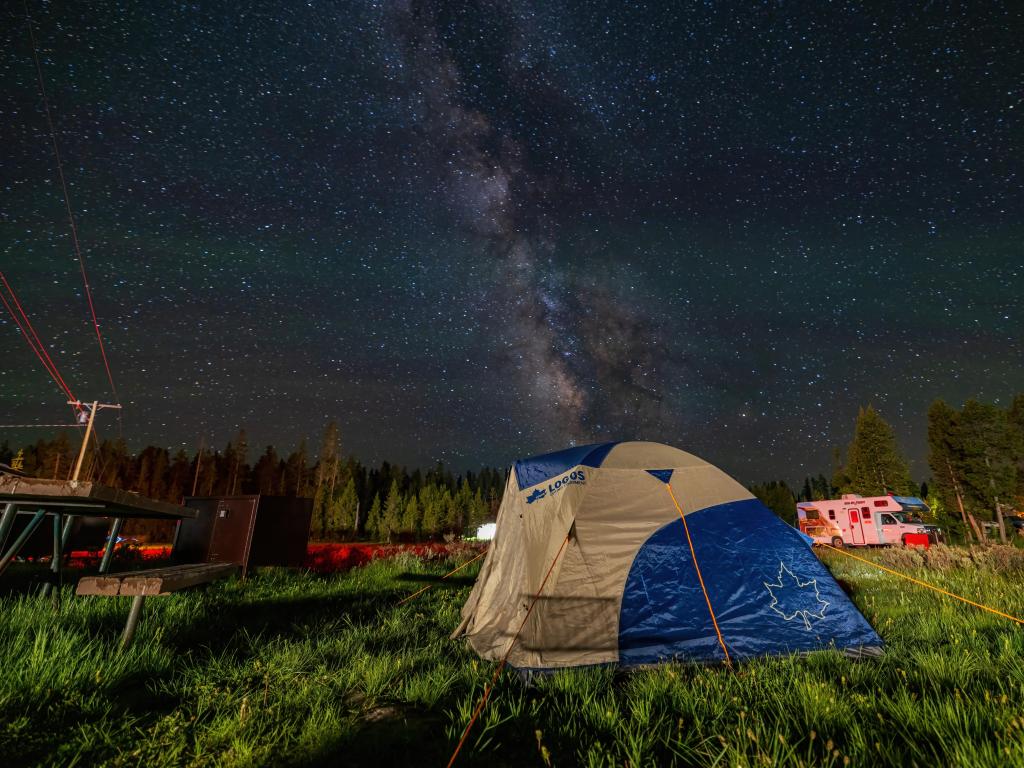 Just 30 minutes into the park from the south entrance you'll find Grant Village Campground, one of the more expansive campgrounds with 430 spaces. It has fabulous facilities including flush restrooms and showers, and generators are permitted here too.
It's a great place to pitch your tent if you're planning on following the West Thumb Geyser Basin Trail. This awesome hike takes you to the Thumb Geyser, considered a hidden gem of Yellowstone National Park, and you can follow trails for lake views, springs and even more geysers.
If you're staying here, pop into the Grant Visitor Center to get information to plan your adventure.
Elsewhere in the park, Mammoth Campground near the north entrance is the only one that's open year-round. It also has flush restrooms and wood or charcoal fires are allowed - and probably necessary to help warm up after a day out in the snow.
As the campground's name suggests it's close to Mammoth Hot Springs, and there are hiking trails nearby with ample wildlife spotting opportunities.
Things you need to know about driving through Yellowstone National Park
The drive through Yellowstone National Park is relatively straightforward, with no precarious cliff edges to worry about in the park itself. That said, the two-lane roads can be narrow and windy in places and there aren't any passing lanes.
The speed limit through the National Park is 45 mph so don't expect to cover the ground quickly.
There are plenty of pullouts where you can stop and take in the views or watch for wildlife - that's if you haven't already encountered a 'Bison Jam' as wildlife obstructs the road.
An entry fee is payable when you visit Yellowstone National Park, but the good news is that the one-week pass will cover you for re-entry if you're exiting the park to access accommodation or nearby towns and landmarks.
NPS entry fees to Yellowstone National Park

| Ticket type | Car fare |
| --- | --- |
| Week pass | $35 |
| Annual pass | $70 |
*Week pass price includes 15 people per vehicle and the annual pass price includes 4 adults at the time of writing.
There are also a number of days each year when you can enter for free, including the first day of National Park, Martin Luther King's Birthday and Veterans Day. Expect the park to be extra busy on these dates.
Here are our top tips when it comes to preparing for a drive through Yellowstone National Park:
Book hotels and campgrounds well in advance.
Buy the park tickets beforehand and join the pre-pay lane for speedy parking entrance.
Download the Yellowstone app before arriving, then use the visitor's centers to plan your visit once you reach the park.
Pack a picnic, there are many places to stop for lunch in the park.
Don't rely on cell phone coverage.
Things to see on a drive through Yellowstone National Park
In total there are over 10,000 hydrothermal features throughout Yellowstone National Park. Located in the Rocky Mountains, it also offers stunning landscapes with hundreds of waterfalls and canyons to explore.
So, needless to say, Yellowstone is packed full of unforgettable natural attractions. Here are some of the highlights to look forward to:
Grand Canyon of Yellowstone - Carved by the Yellowstone River, the Grand Canyon of Yellowstone is up to 1,200 feet deep and is famous for its 308-foot drop waterfall. Hike the Brink of the Lower Falls Trail or, for an easier walk to the overlook, use the Brink of the Lower Falls parking lot.
Yellowstone Lake - The biggest alpine lake in North America. The stunning waters here attract anglers, boaters or visitors simply wanting to enjoy the views.
Old Faithful Geyser - The Old Faithful Geyser has reliable eruptions, hence the name. It erupts every 90 minutes and visitors can watch water and steam spurt into the air.
Grand Prismatic - The third largest hot spring in the world, Grand Prismatic is a Yellowstone must-see. It's famous for its vibrant coloration created by bacteria.
Mammoth Hot Springs - Hike to the Upper and Lower Terrace boardwalk to see the Mammoth Springs. The geological wonder is often described as an inside-out cave with its distinct formations.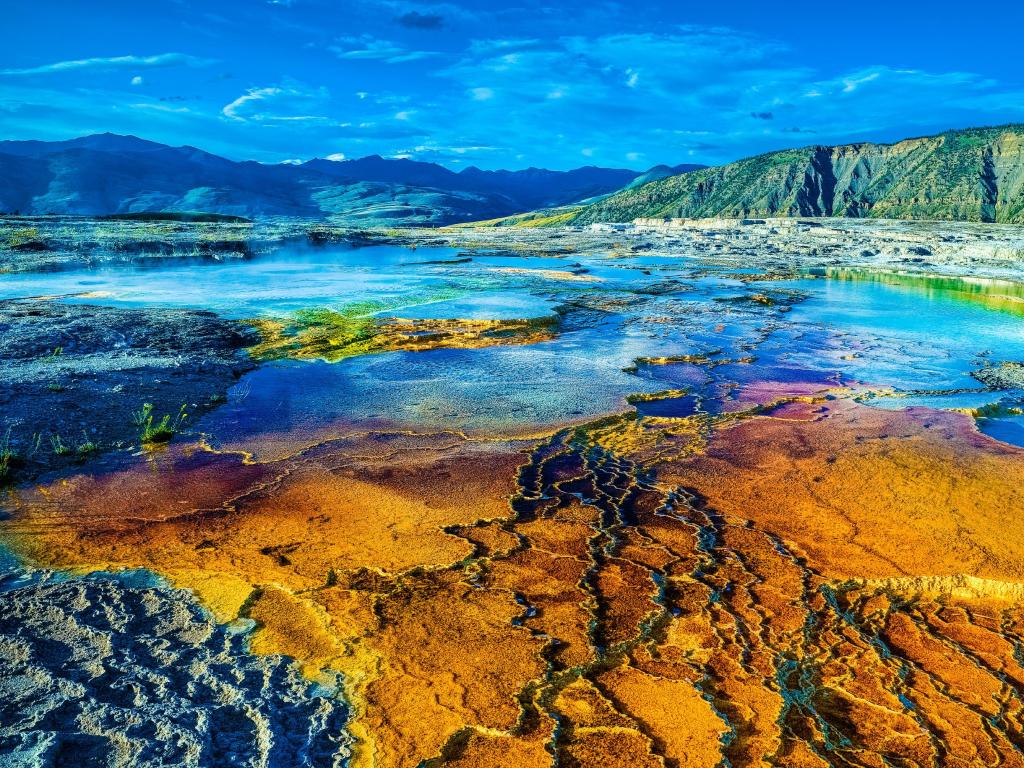 Whether you're setting out in search of Bison on a blue-sky summer drive or packing your snow boots for a winter adventure, there are so many ways to experience Yellowstone.
The one thing you can be certain of is that your drive through Yellowstone National Park is sure to be filled with memories that will last a lifetime.