Road Trip from Austin to Houston
A road trip from Austin to Houston gives you the opportunity to explore the many delights of Texas. These cities and attractions might be quite close in distance, but as there is so much to see in The Lone Star State, you will be in for a real treat.
The 165-mile road trip from Austin to Houston takes about 2 hours and 30 minutes to drive. But stop offs can include San Marcos, San Antonio, Corpus Christi, Rockport Beach, Matagorda Bay, Mustang Island and Galveston.
There are a number of other places to visit - as well as things to see and do along the way - so be sure to keep reading until the end to plan the ideal itinerary that captures the richness that Texas has to offer.
How far is Austin to Houston and how long will the road trip take?
Comparison of road trip route options between Austin and Houston
Route
Distance
Driving Time
Highway 71/Interstate 10


Recommended route

165 miles
2 hours 45 minutes
Route 90
165 miles
2 hours 40 minutes
Austin and Houston are only 165 miles apart in terms of distance. If you were to drive between the two places non-stop, the journey should take about 2 hours and 30 minutes to complete.
It is a pretty easy drive and, if you fancy, you could easily do a return journey between the two in a day - especially if you start the journey before 8am.
But with so many fantastic places to visit, and captivating sights to see, we highly recommend you take your time to explore some of them, over a period of at least 2 or 3 days.
Best road trip route from Austin to Houston
Whilst there are a number of interconnected highways and byways that can transport you between the two destinations, there are two main routes you can take: one of them involves a drive along US Route 290.
This route is about 165 miles in distance and will take you about 2 hours and 40 minutes to drive.
From Austin, you will pass a number of small towns and cities like Manor, Elgin, Giddings, Brenham and Cypress, until you eventually get into Houston.
This is a very easy drive, but it is not the one we recommend, as it doesn't take you to as many interesting sights or places.
Road trip route from Austin to Houston
The route we suggest you take involves driving predominantly on the Texas Highway 71 and the Interstate 10.
From Austin you will join the Texas Highway 71 near Mckinney. This course will lead you past fascinating small towns like Del Valle, Wyldwood, and Ellinger. Once you reach Columbus you will then join the Interstate-10, which will eventually lead you to Houston.
This is a very easy route to navigate and will provide you with the opportunity to detour to a number of of fabulous places of cultural, historical or scenic significance.
Best places to stop between Austin and Houston
There are plenty of places to stay overnight on your road trip from Austin to Houston. If you are undecided of where you might stop over and need some inspiration, the following suggestions could help elevate your trip from good to great:
Soak up the history of San Antonio
San Antonio is the seventh largest city in America. A popular tourist destination, it is the home of the barbecue and hosts a number of famous tourist attractions like Sea World, The San Antonio Botanical Garden... and of course, the Alamo.
If you would like to stay in the city for a while the Omni La Mansion del Rio would serve as an excellent base. It's a deluxe 4-star hotel - located right on the River Walk and not far from downtown and the Alamo - that is noted for its fantastic onsite restaurant and bar.
So why not refresh yourself with a luxurious night's sleep before embarking upon a day of history and culture?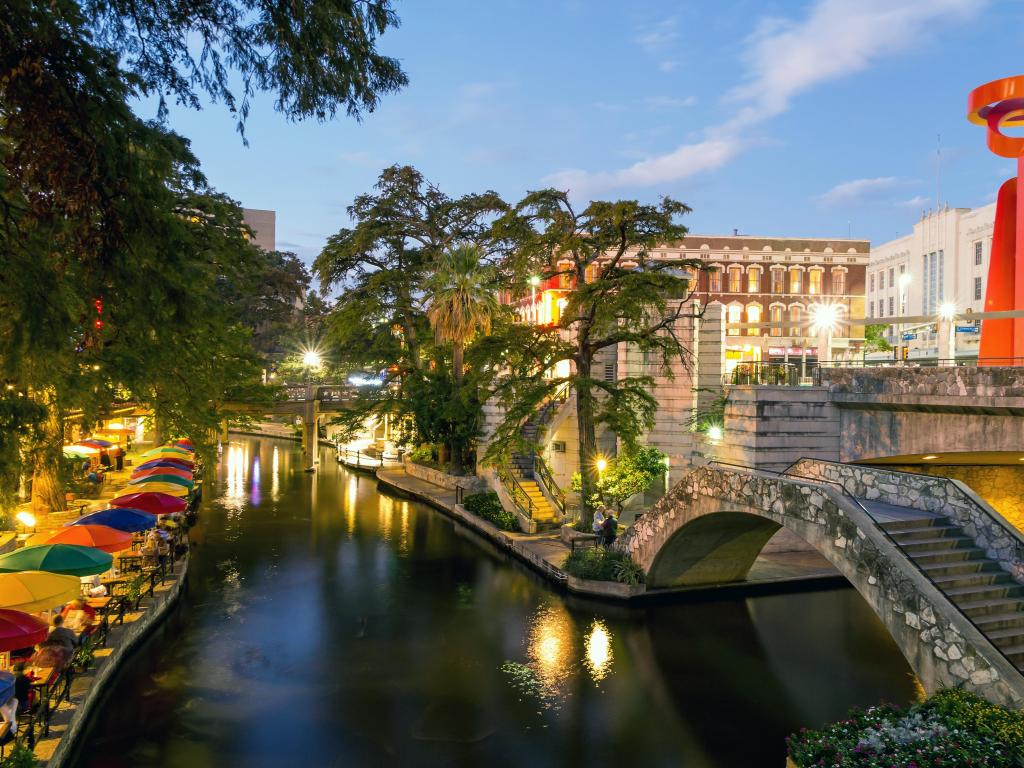 Rest and recharge in Galveston
Galveston is a quaint and charming coastal town that is full of stunning beaches, historic architecture, excellent restaurants and some terrific places to stay.
One of the best accommodation options in Galveston is the George Manor. This stunning property features a fabulous restaurant, a bar, a beautiful sun terrace and a picnic area. One truly cannot ask for more!
You will love the quirky period decor, which includes the easily recognizable red door of a British telephone box. This lovely B&B offers a delicious breakfast, true to its name, so make sure to fill up to reenergize before you head out to explore Galveston.
When you are ready to see some sights, Porretto Beach, Stewart Beach and Galveston Island Railroad Museum are located within easy access of the property.
Corpus Christi: an alternative overnight stop
Located in South Texas, Corpus Christi is well known for its spectacular sandy beaches and attractions like the Texas State Aquarium, Corpus Christi Museum of Science and History and the Texas Surf Museum.
Corpus Christi is also a renowned spot for kiteboarding, wind surfing, kite flying and sailing, plus bird-watching and nature walks too.
A fantastic option here is the Residence Inn by Marriott Corpus Christi Downtown. Located in the heart of the downtown area, the hotel is also located a short walk from McGee Beach.
The modern and stylish hotel has a fantastic outdoor swimming pool for when you want to escape the heat but don't fancy swimming in the open waters.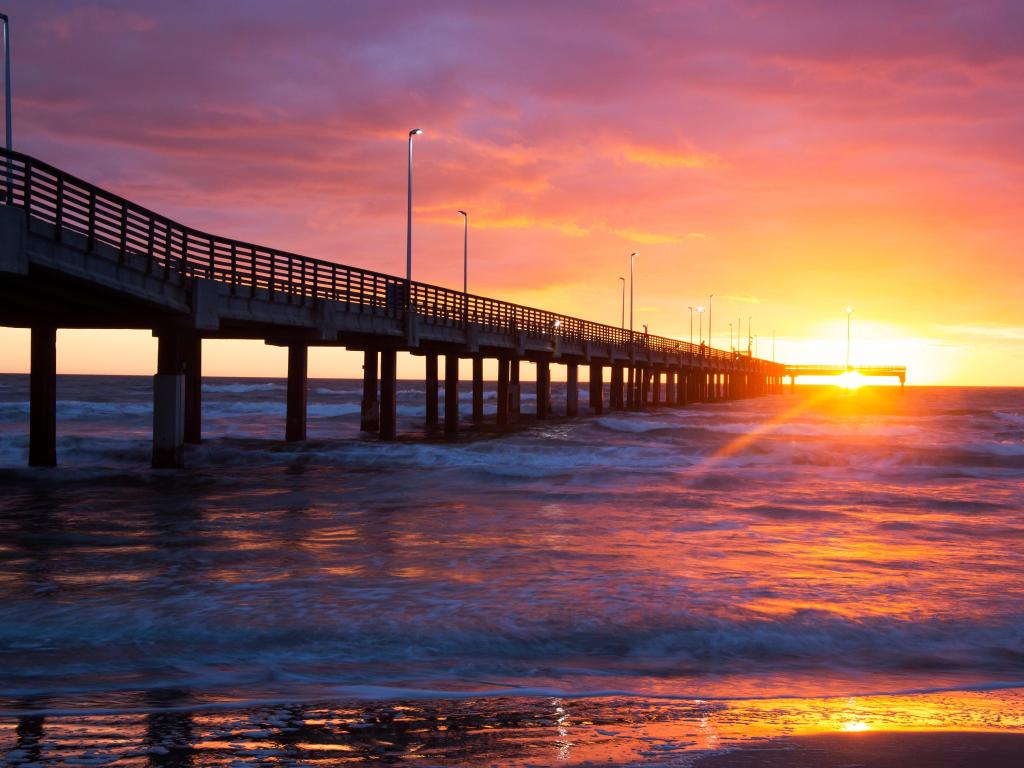 Where to stay in Houston
The fourth largest city in the USA, Houston is a very ethnically diverse city with around 145 languages spoken in homes around the area.
It is known as the world capital of space exploration and hosts a number of exceptional tourist attractions, like the Space Center, the famous Astrodome, museum of fine arts and the iconic Houston Zoo.
If you are planning on staying overnight in Houston (and yes - you should!), we'd recommend a stay at The Lancester Hotel. Housed in a stunning building, this luxury 5 star boutique hotel is located right in the heart of the downtown area, very close to the Market Square Park.
The hotel is notable for its fantastic onsite restaurant, which also serves made-to-order breakfast options. Make sure to grab your favorite coffee at the Speedy Boy Coffee on-site to perk yourself up before your Houston adventure.
The Houston Museum District is a short drive from the hotel and you will find Sam Houston Park and Tranquility Park a short walk away.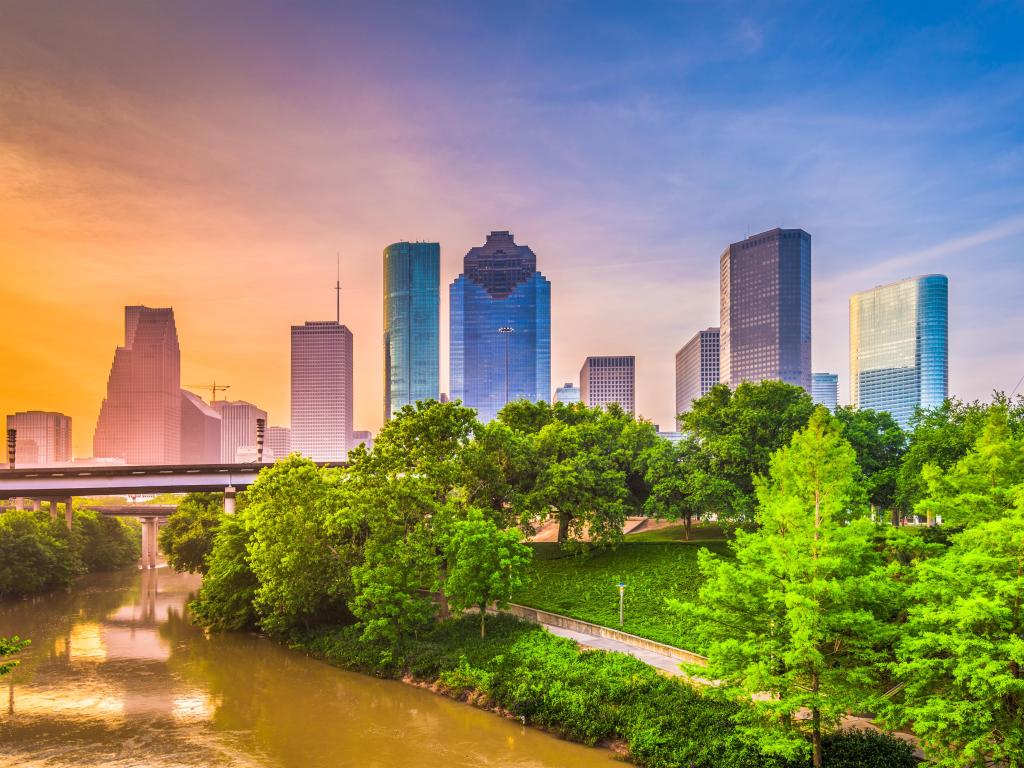 Things to see on a road trip from Austin to Houston
There are so many interesting places and tourist attractions to see a road trip from Austin to Houston, that choosing what to visit can seem a bit daunting at first. So if you need some pointers to provide you with inspiration, consider checking out the following:
San Marcos - Congenial college town which is home to America's largest outlet mall. Also boasts an historic downtown square, and lots of waterways which are perfect to kayak, paddleboard or swim in.
New Braunfels - Quaint German town that is renowned for its boutique and antique shops, and for hosting many excellent festivals. Also features the Guadalupe and Comal rivers, which offer plenty of terrific options for outdoor water recreations.
San Antonio - Seventh largest city in America. Home of the barbeque, it presents a collection of major tourist attractions like Sea World, The San Antonio Botanical Garden and the Alamo. You can also experience the Old West at the Texas Ranger Museum and the Buckhorn Saloon.
Braunig Lake Park - Picturesque park that is noted for its man-made lake that offers excellent fishing & boating opportunities. A lovely spot also for camping, picnicking and bird watching. There is a cool playground here for the kids too.
Choke Canyon Reservoir - Scenic waterbody provides very good fishing opportunities, for largemouth bass and catfish. Keep an eye out for the alligators that reside in the area though.
Lake Corpus Christi State Park - State park located on Lake Corpus Christi, its stoic lake provides fantastic conditions for swimming, boating, kayaking, paddleboarding and fishing. It's a lovely place for a picnic or a gentle hike as well.
Corpus Christi – City in South Texas that is well known for its pristine sandy beaches, and excellent attractions like the Corpus Christi Museum of Science and History, the Texas State Aquarium, and the Texas Surf Museum. Also recognized as a terrific destination for wind surfing, kiteboarding, kite flying, sailing and bird-watching.
Padre Island National Seashore - Situated on North Padre Island, the longest undeveloped barrier island in the world, it features a number of fabulous beaches, big sand dunes, and a collection of tidal flat environments, which include the Laguna Madre - a famous spot for windsurfing on its west coast.
Mustang Island - Popular state park on a barrier island that has a pleasant, dog-friendly beach. It is a lovely spot for swimming, sunbathing or beachcombing.
Rockport Beach - Stunning man-made beach that overlooks Aransas Bay on the south coast of Texas. Popular for its immaculate sand, and family friendly amenities, which include picnic tables, play areas, volleyball courts, and a pier that is a great spot for bird watching and fishing.
Aransas National Wildlife Refuge - Part of a long string of barrier islands that stretch all the way down the Texas coastline. It features a rugged terrain that houses many fabulous species of wildlife, including reddish egrets, whooping cranes, Kemp's Ridley sea turtles, alligators and coyotes.
Matagorda Bay - Matagorda Bay is the perfect spot for fishing, as it incorporates more than 50 miles of coastline and hundreds of miles of rivers, creeks and bayous which are home to a wide variety of fish.
Palacios - The Shrimp Capital of Texas. If you love shrimp there are a number of excellent places here in which to get a fantastic and very fresh meal.
Freeport – Popular coastal destination with a number of excellent Gulf Coast beaches. Some of which you can drive or camp on. Also boasts the Freeport Wetlands Trail which is a great spot for bird and wildlife watching.
Galveston - Charming coastal town that boasts a number of exceptional beaches, quaint architecture, fabulous restaurants, and some very interesting attractions, like the Galveston Railroad Museum, Moody Gardens, Galveston Naval Museum, Bishops Palace and The Bryan Museum.
Kemah - The Kemah Boardwalk is a 60-acre theme park in Kemah. Built entirely along the shores of Galveston Bay and Clear Lake, it is lauded by many to be one of the best boardwalks in whole of the USA.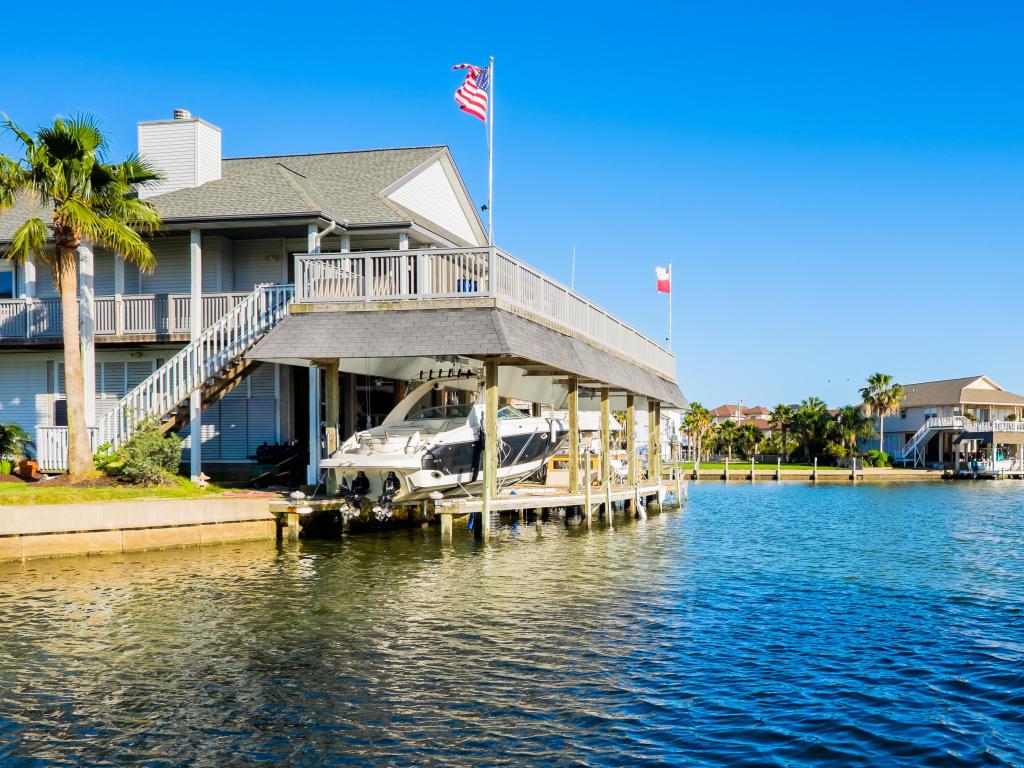 Best time to go on a road trip from Austin to Houston
You can partake in a road trip from Austin to Houston all year round, thanks to the mild winters and favorable driving conditions.
Typically you will find that traffic will be busier during the holidays, summer and weekends. During these times hotel prices are invariably higher too, and you can also expect longer queues at specific tourist attractions as well.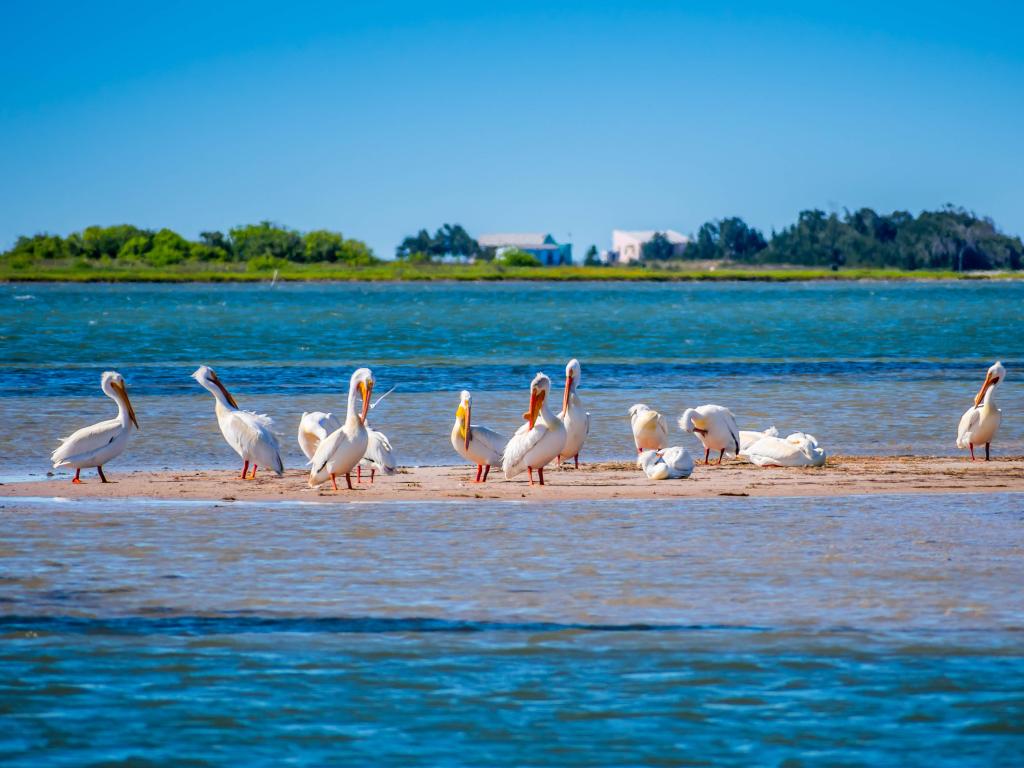 Many people choose to travel to - and around - Texas during the springtime (between late February and May), as temperatures are beautifully warm, but not scorching. It is also worth noting that Houston's most famous annual event - the Livestock Show and Rodeo - tends to fall in late February or early March.
Over the course of the winter, colder weather may impact on your experience at some of the places you choose to visit. But other than that you should be able to embark upon the trip at any time without any issues.